A collection of creatively designed best landing page themes & templates that will help you to showcase your products in the most spectacular way possible.
These landing page templates can help you to increase the revenue of your products dramatically.
The most important marketing tool you need as a business owner to reach your potential clients is a website. Likewise, to make the most of your website, you need a landing page that will stand out from others.
Below is a collection of landing pages WordPress themes that are created with the specific needs of a business person in mind.
Also, have a look at this article about best landing page examples to get some idea.
Creative Landing Page Templates
---
Div Theme
Divi is one of the most popular WordPress themes available on the market. Divi offers you a number of great-looking creative demo templates to choose from. You can use those templates to create your site quickly.
Divi is backed by one of the most experienced developers' team, so your site will be in safer hands. Also, Divi takes security very seriously so your site will be safer.
Divi theme is powered by the amazing Divi Builder plugin which is a very flexible drag-and-drop website builder. It comes with a huge list of amazing modules that you can use to create your pages.
So, you will never have to stick to the readily available designs, but you can create your own unique design for your site. It also offers you the option to save your designs in the library for future use.
Divi comes with some amazingly rich landing page designs that are perfect for any product showcase to attract more customers.
You can use this theme as a single page design if you wish to create a site and showcase all the important details on the homepage itself.
Divi theme is perfectly compatible with the WooCommerce plugin, so you can use it to create your online store.
The powerful live customizer makes the process of creating your site really fun. You can click on any section on your site and add different modules. For example, if you wish to add some text to a page, you can click on the section where you wish to add the text in the front-end of the site and start editing, it is that simple.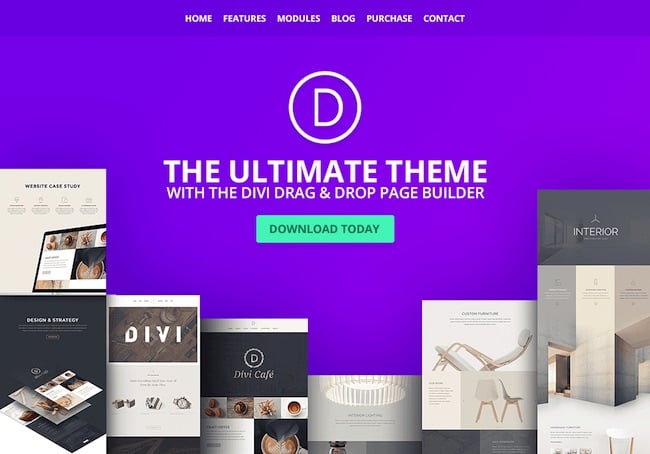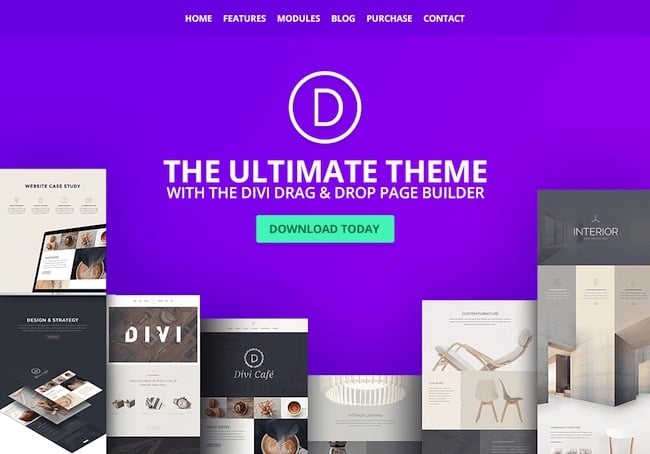 Astra Theme
Astra Theme is one of the most popular WordPress themes. It's perfect for creating a product landing page because it's easy to use and has a lot of features.
It is easy to use and has a lot of features that will help you create a successful landing page. Here are some of the features that make Astra Theme the perfect choice for creating a landing page.
Astra Theme is easy to use. You can easily create a landing page with Astra Theme without having to learn coding or hire a web developer.
Astra Theme is responsive. This means that your landing page will look great on all devices, including smartphones and tablets.
You can use Astra theme with some of the top WordPress website builders such as Elementor, Brizy, BeaverBuilder, etc to create your landing page.
It also comes with a large collection of ready-to-use starter site templates that includes a number of a professional-looking landing page design to make things easier and quicker for you.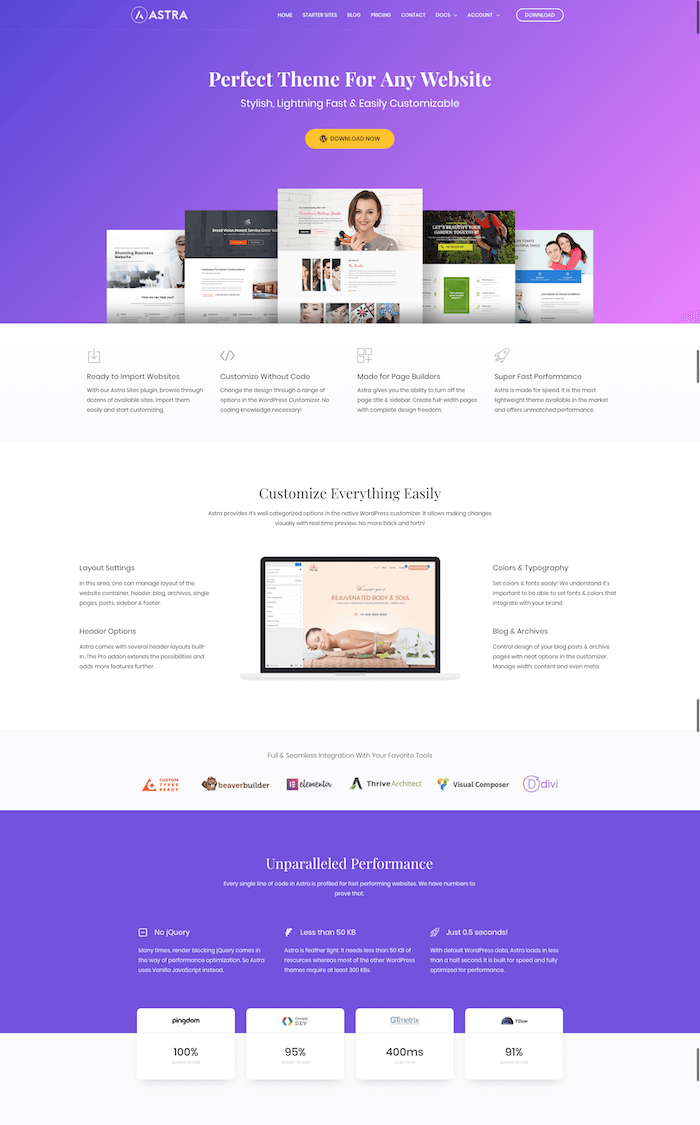 Landkit
If you're looking for a WordPress theme that's specifically designed for creating landing pages, then Landkit is definitely worth checking out.
This theme comes with a bunch of great features that make it perfect for creating high-converting landing pages, such as a drag-and-drop page builder, pre-built templates, and more. Plus, it's responsive and retina-ready, so your landing pages will look great on all devices.
The theme offers a number of ready demo design templates that you can use to create your product showcase page. It is perfectly optimized for SEO and fast loading speed to make sure that your website offers a great experience to your users.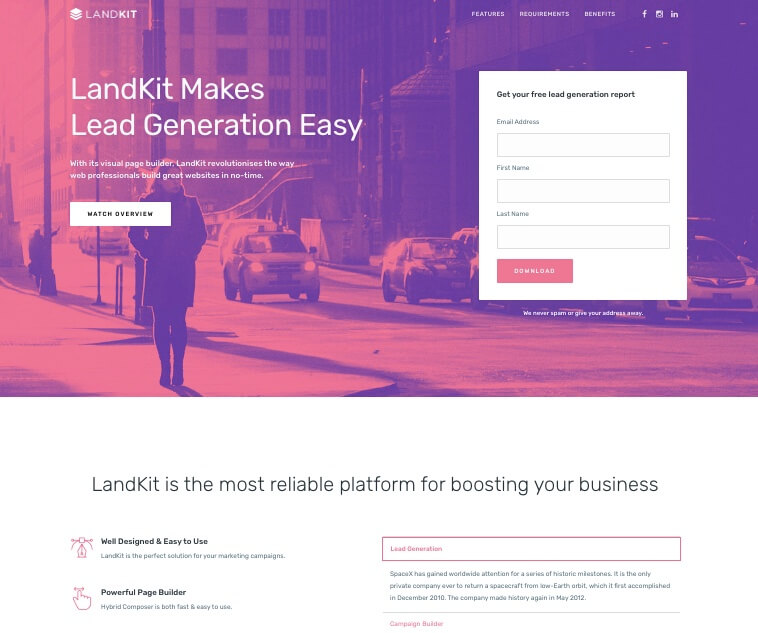 Univent- Event Landing Page and Ticketing
Available at just $17, this landing page theme is at present in the first position of WordPress themes meant for landing page designing.
Designed by QuadCodes, the Univent- Event Landing Page and Ticketing template is suited perfectly for sharing details about entertainment events and booking tickets for the said event.
In the homepage, you will get a Full-screen Video and Slideshow incorporated with a countdown timer. There are as many as 11 modules namely, about, speakers, schedule, blog, sponsor, faq's, tickets, Facebook, Twitter, Gallery, and venue.
To make ticket selling easy, you can incorporate 3rd party Embed Form or API. This template comes with a responsive layout and even works perfectly for old browsers.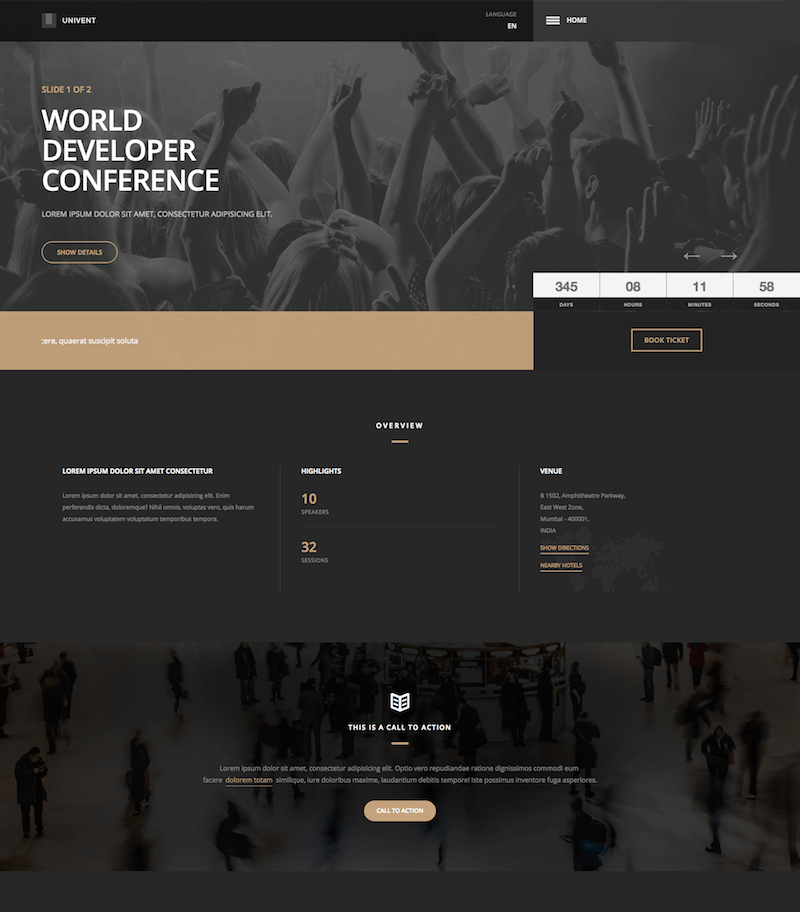 APPCO- HTML5 App Landing Template
This App Landing Page template is designed nicely and is up to date for using it to display any services like SaaS applications, mobile app, digital products, software and even magazines and books.
APPCO- HTML5 App Landing Template is designed by themexone and is coded with the lovely and smooth touch of jQuery, JS, Bootstrap, CSS3 and HTML5.
This is a user-friendly and highly responsive template using which you can create an awesome landing page. Available at $13 this is a well-documented template designed for offering top-notch support.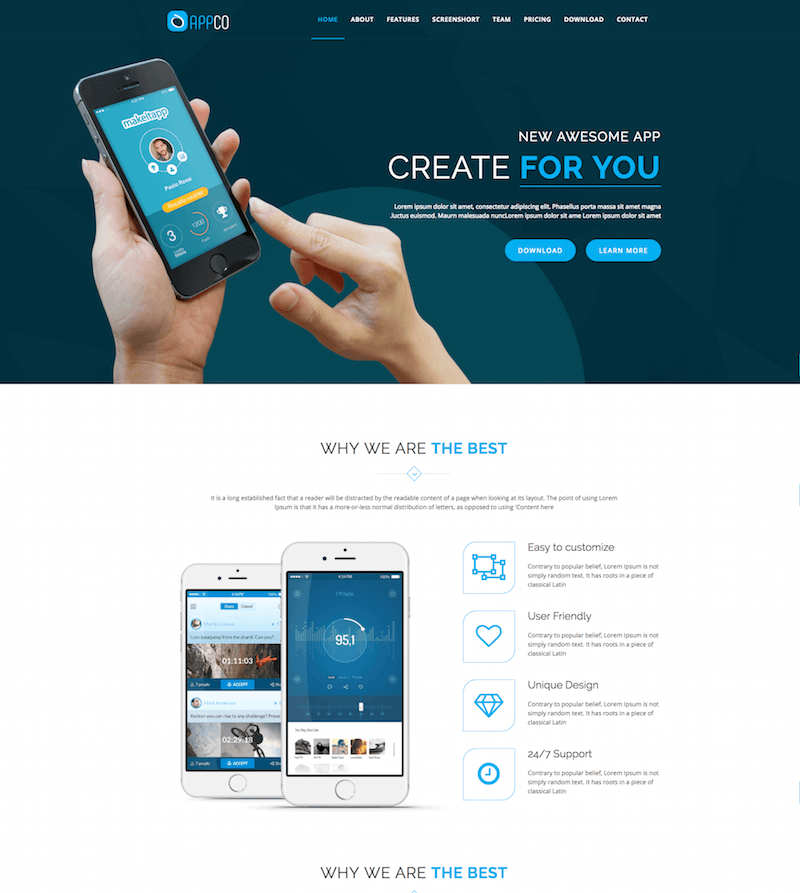 Vakavia
If you are thinking of purchasing a landing page template for your website, this is the best time as the Vakavia template is available for just $11.
Prepared by themes design, Vakavia is a multipurpose template that is perfect for use to build the landing page of an app development agency.
IT is built with Bootstrap v3.3.7 which offers it a fully responsive attribute. Customizing this template is easy, and you will be able to do it as per your need.
Vakavia is a well-documented template with clean codes and with a modern design. However, you need to note that this is not a WordPress theme but a static HTML5 template.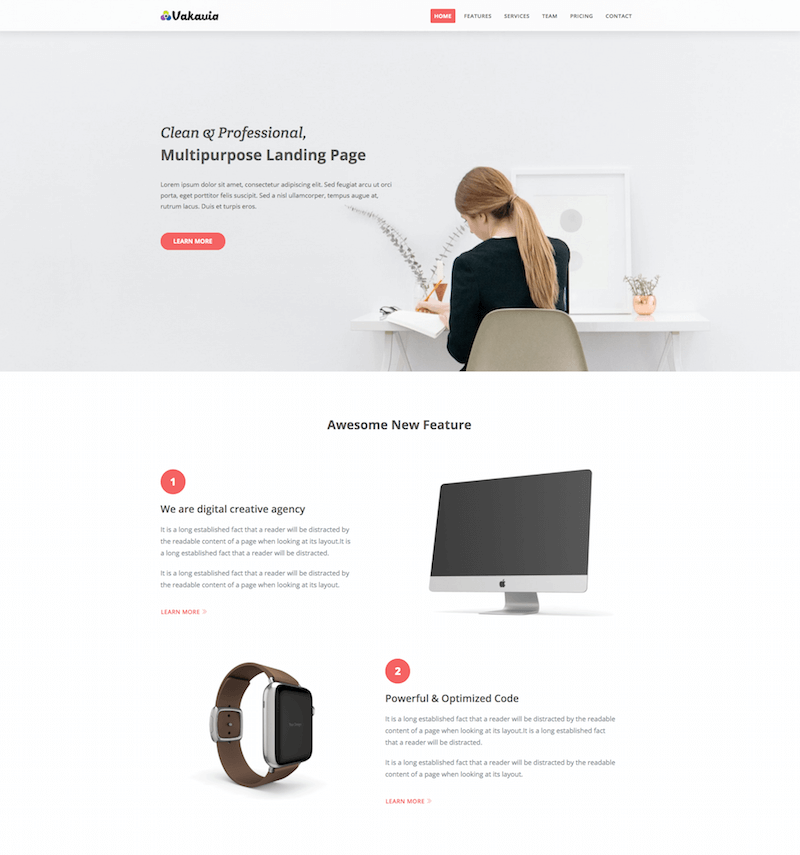 LeadGen
LeadGen, the multipurpose landing page template pack is designed by themezaa and is available at $15. The best part about this template is that it comes with a drag-and-drop page builder and thousands of ready-to-use elements as well as demos.
Such amazing features offer you a higher level of customization prospects. LeadGen comes with the best collection of
Such amazing features offer you a higher level of customization prospects. LeadGen comes with the best collection of landers that are well polished, modern, elegant, highly responsive and engaging. Moreover, this package also includes
Moreover, this package also includes a call to action buttons and forms which you can incorporate in your landing page to get in touch with potential clients. You can also use LeadGen as a one-page website as it comes with OnePage suave scrolling menu.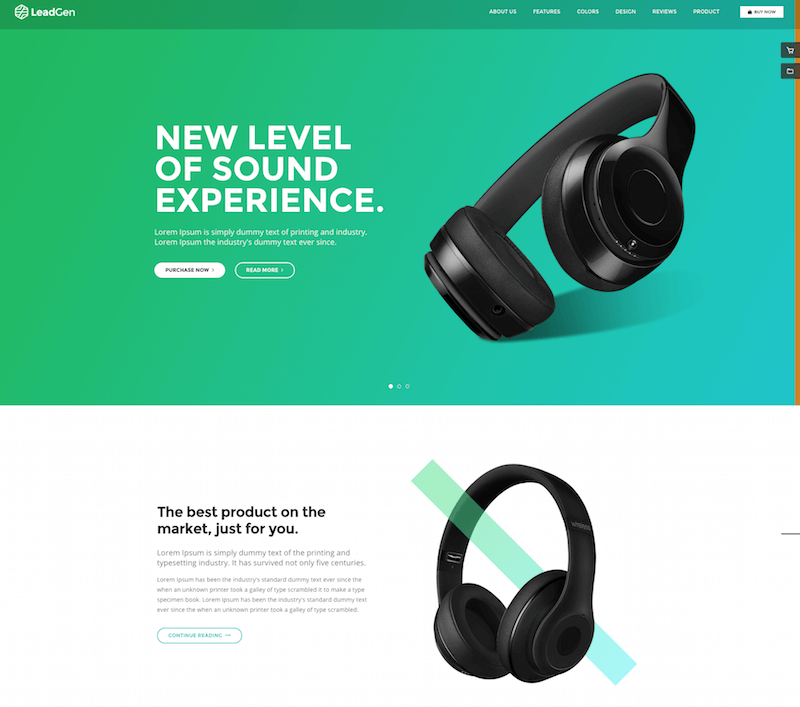 Koffie
If you are looking for a professional-looking one-page landing page template, Koffie is your best friend. Designed by ThemeAtelier, Koffie is an efficiently coded HTML5 template that uses Bootstrap 3 to function seamlessly.
It is a multipurpose modifiable template that comes with 6 distinct styles of color. Moreover, Koffie also comes with 3 different layouts, some awesome icons and 600+ Fonts.
This template perfectly suits the landing page of a Coffee shop website. Sections found in this template are our story, special menu, our offers, gallery, contact, testimonials, and footer.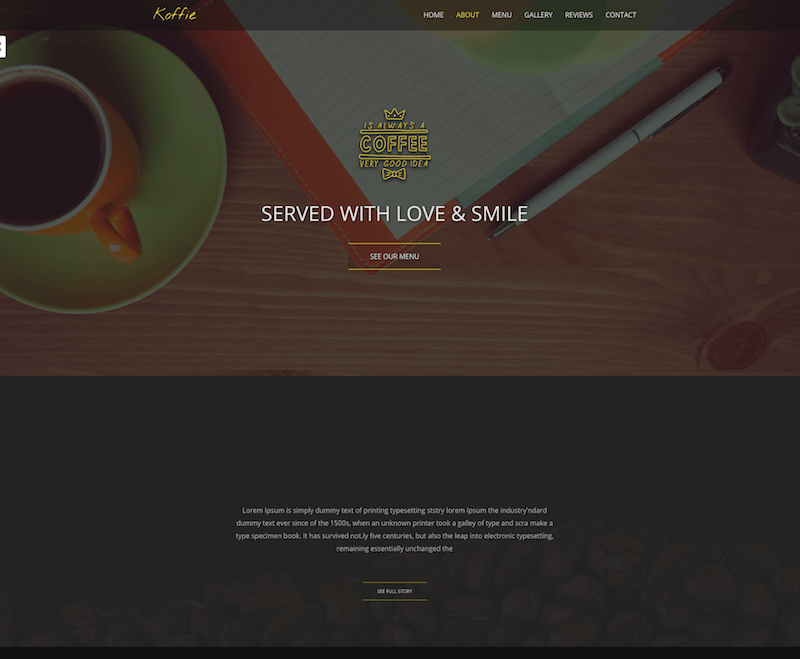 PIXEL- HTML5 App Landing Page
Choose PIXEL if you are in search of an up-to-date landing page template to display your apps. This template comes with a crisp design and suits perfectly for displaying any product in the industry like SaaS application, mobile apps, digital product, software, magazines and even books.
PIXEL is coded with the touch of smooth HTML5, JS, CSS3, jQuery, and Bootstrap. This template is extremely user-friendly and fully responsive. Once you start using PIXEL, you will be able to make your landing page look awesome and run the same on all devices.
Designed by BDEXPERT, PIXEL is available at $13.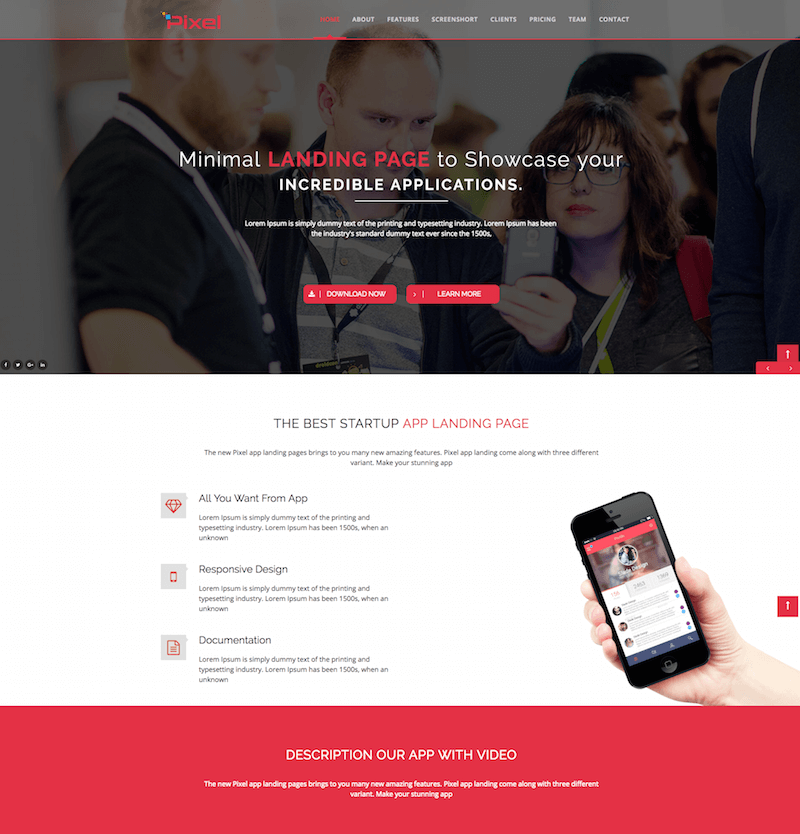 Felix Service Product Landing Page
Felix is a modern lander template that is minimal and light. This template is perfectly suitable for displaying web products, apps, services and also to showcase the skills of any startup business.
It is coded using Bootstrap 3x and it is a MailChimp Ready template that is easy to customize.
The code used is smart and clean and is also incorporated with Font Awesome icons. Felix is compatible with almost all the leading browsers like Opera, Safari, Edge, Chrome, IE 10 and 11.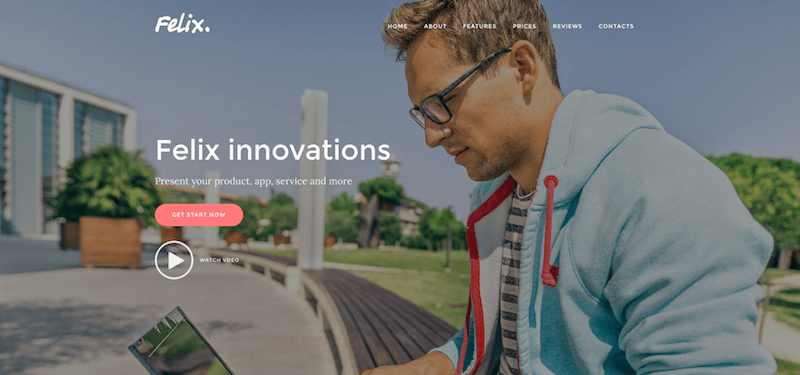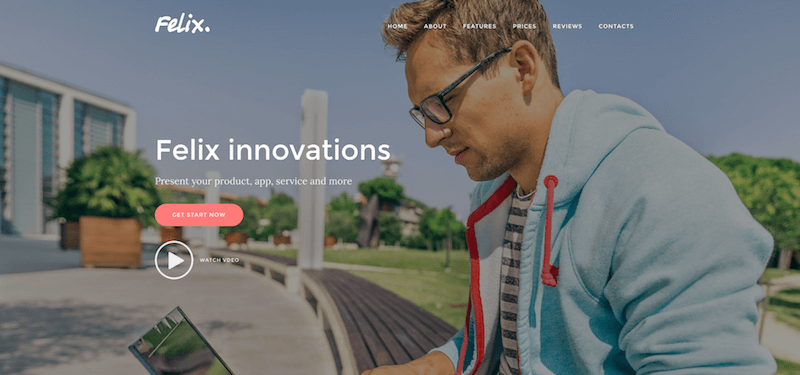 Landy One-page Startup Landing Page
Designed by SHOVON design, Landy is a fully responsive as well as retina ready One-page landing page. It comes with all the sections that are necessary for your startup website as well as various services websites. Landy is the best choice to display your service business or startup.
To customize this template within minutes, all you need to do is change the fonts and add images as per your choice. It is available at just $14 and comes with as many as six color schemes. Landy is built using CSS3 and HTML5.
This well-documented template is compatible with all the leading browsers.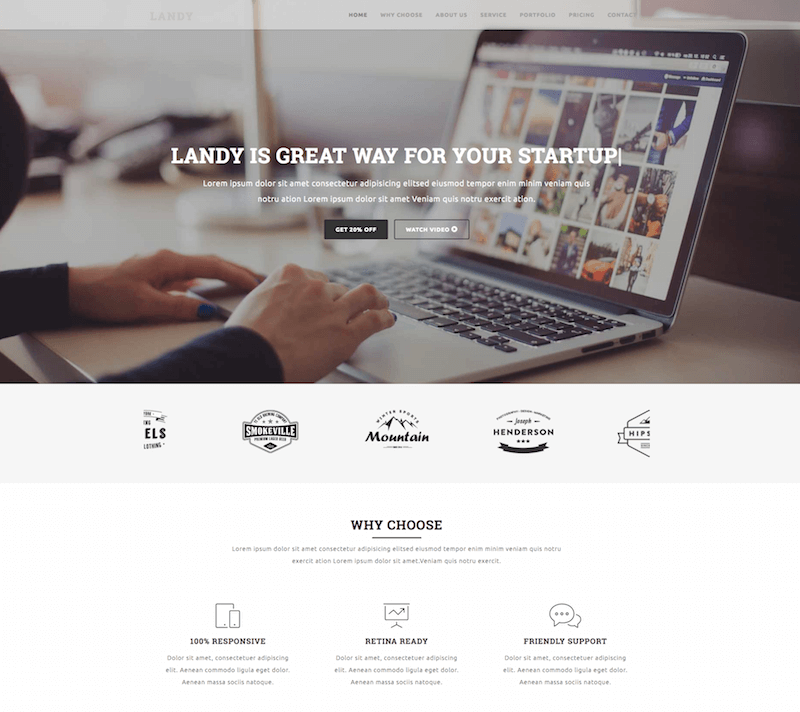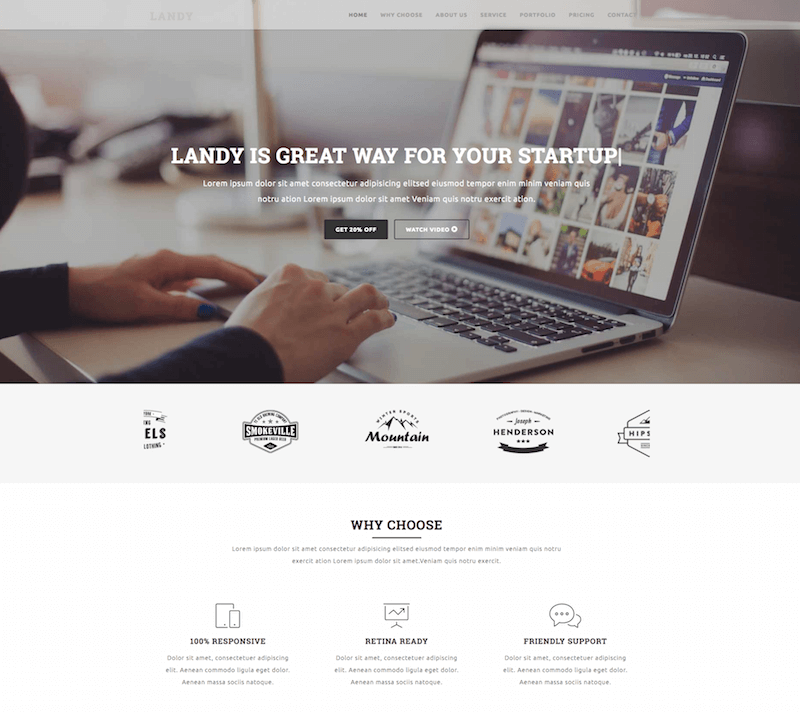 Takeaway
The above discussion presents you with some of the best WordPress themes that are perfect for creating a landing page for your product-selling website. Just choose from the list above and see your business getting bigger day by day.