Snapchat has surprised some businesses by showing an uncanny potential for content-based online marketing.
Despite the clunky interface and a steep learning curve, businesses are slowly churning out successful marketing campaigns on the platform.
A Completely Unique Social Media Outlet
The other main social media networks like Facebook, Pinterest, and Instagram all follow a standard generic code for businesses and brands but offerings on Snapchat are different. This can make marketers unsure about they are doing.
Why Market on Snapchat?
Snapchat can be valuable for small and niche businesses that cater to sector-specific audiences. Some of the statistics from Snapchat show that there is genuine potential for powerful campaigns.
Snapchat has almost 200 million active monthly users
700 Million photos and videos are shared every day
500 Million views are registered each day (according to Snapchat this number is well over 8 Billion!)
150 Million users log in daily
11% of the digital population in the US is on Snapchat
It has more users than Twitter
76% of Snapchat users are online shoppers
There are more relevant factors than these stats alone that make Snapchat a brewing ground for smart marketers.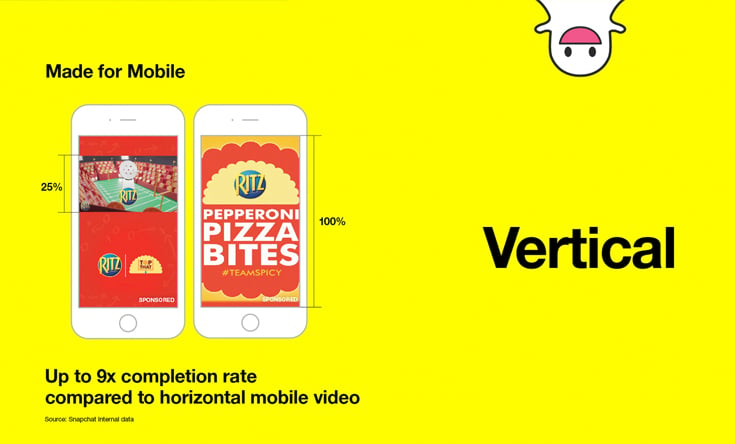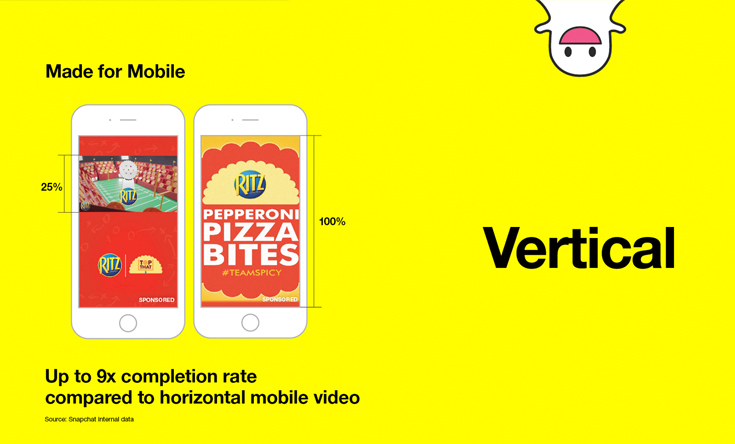 01. Low Competition
With outlets like Facebook and Twitter, there is maximum competition as most popular brands and already have fully funded campaigns. Snapchat is growing in popularity amongst brands, but there is still scope for businesses to benefit from low competition and reap the benefits of a clear field.
02. New Types of Content
Snapchat has some unique content types can provide added leverage to your campaigns. We will know about these later in our guide.
03. Authenticity
Snapchat is a mobile app with diverse features. Content publication by brands here is a direct means of organic outreach.
04. Real-Time Interaction
Social Media Marketing can be amplified on Snapchat. Photos can be edited through filters right on the app. Enhanced effects and enhancements can also be made.
You can create your brand's unique personality on Snapchat and build a genuine following.
With consistent surges in user base and activity over the past few years, Snapchat does present a genuine and viable opportunity for marketers to increase brand awareness and garner influence.
But, before you start making plans: Is your audience present on Snapchat?
This is a question you will find in all marketing guides. Your audience is the center of any marketing campaign, and just like Twitter or Instagram, you need to analyze and create customer profiles that will be attracted to your content over that platform.
Here are some figures that will give you a brief idea:
Over 60% of the people in the US aged between 13 and 34, who use a smartphone, use Snapchat.
37% users are in the age group of 8-24.
71% of these users are under 25 in age
70% of them are women
It is clear that Snapchat has a young audience. Thus, if your business caters to the millennials, then you have a goldmine of opportunities to look into.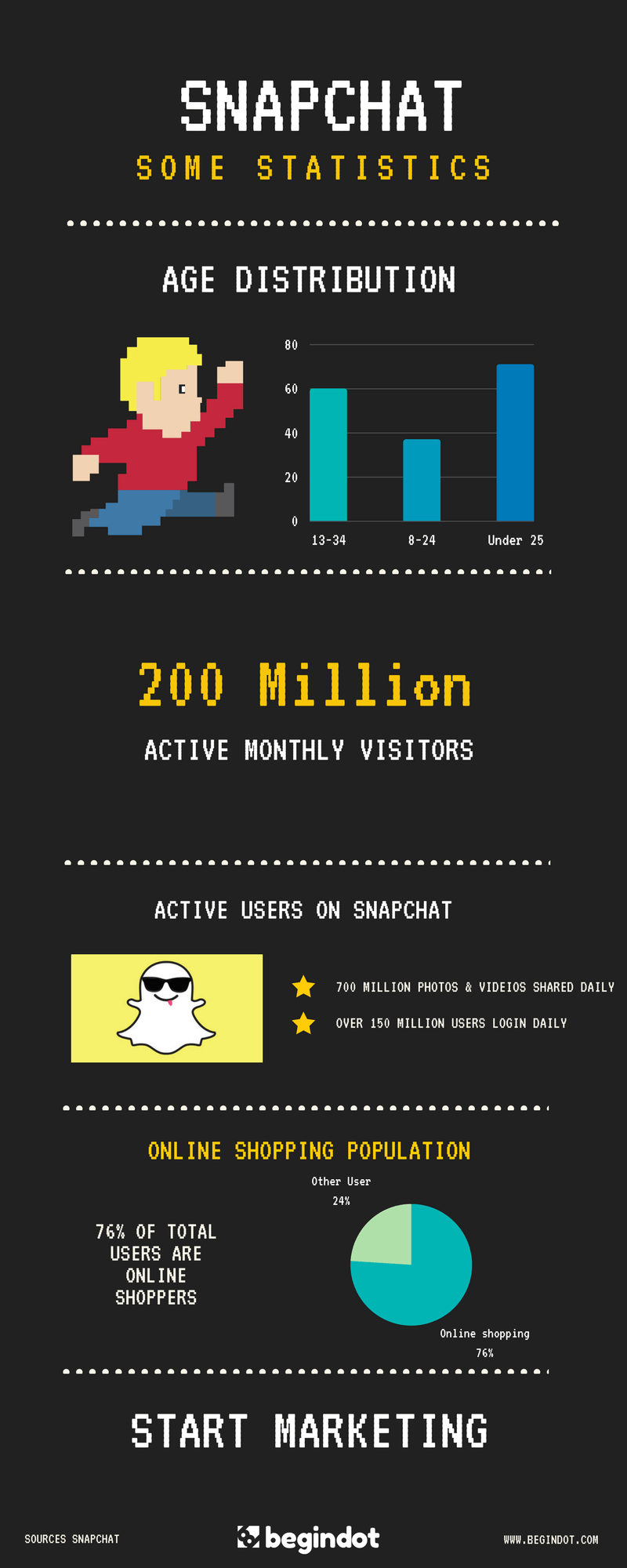 Types of Content on Snapchat
Snapchat provides you with a broad range of content options including:
01. Images: Image sharing on Snapchat is easy. You can share right from your smartphone or from edited or saved libraries. They are viewed as snaps in portrait format.
02. Videos: Snapchat allows you to share videos that are under 10 seconds in length. They can also be edited like images.
03. Snaps: These are images or videos that you send privately to specific users in your network. They expire after a certain amount of time after the user has seen them.
04. Stories: These are images or videos that you can share instantly with your followers and connections with a single click. They are an excellent option for mass content distribution.
05. Diverse Editing: You can edit all the snaps that you upload. These include drawing tool with which you can create basic images.
You also have text add-ins that allow you to add customized text to your snaps. You can also add customized banners using this tool.
There is a large collection of Emojis that can add to content personalization. Adding the right Emojis to a post can bring in just the extra spice that you need!
Settings and Features you can tweak for Maximizing Campaign Performance
They are:
01. View Times: View times can manually be adjusted from your profile setting. They can be set so that snaps and stories have a higher or lower expiration time. This can come in handy when you want to drive engagement.
02. Public Profiling: Setting your profile to the public is a good choice for businesses and brands. It can be updated from settings. You have to be visible to people out there. Being private won't help!
To Dos:
Change the "who can contact me" and "who can view my stories" settings to everyone.
Use the latest messaging system to chat discreetly with particular users
03. Video Notes
Videos are statistically the most engaging pieces of content. With Snapchat you can post 10-second video notes to play in loops for followers and friends. They can also be sent privately for enhanced outreach. They don't expire like normal snaps and stories.
04. Audio Notes
Similar to video notes, these allow you to send 10-second audio snippets to users.
Apart from these unique options, you have features like Multiple Photo Send that allows you to send multiple photos to a private chat system at once. You can also indulge in video and audio calls if you want to interact on a more personal level with users. You also have a collection of more than 200 stickers to spruce things up.
Snapchat feels truly different. You can share easily and privately. The interaction is always kept private. That is where anti-viral nature creeps up. You have to realize that going viral isn't the objective for a marketer with Snapchat. It is all about getting your content to those who are interested in engaging with it.
Generalized Snapchat Marketing Strategies
They are:
01. Connect with top influencers
Connecting with influencers and interacting with them helps nurture fruitful relationships. If your content appeals to them, their shares will bring in waves of new audiences to your content!
02. Build hype
If you are a product or a consumer brand then building a hype must already be a part of any new marketing mix. Snapchat provides a lot of features where you can add your creativity and create content that sells like hotcakes, making more people curious!
03. Incentive programs
It has been statistically found that coupon code incentives perform excellently on the platform.
Using Snapchat QR Codes to acquire more followers
Users can easily follow specific people or brands by sharing their QR codes across social media, in emails and even in print, as they need to be scanned!
This makes it easy and fast for users to follow other users. You can access your QR code by logging in to Snapchat. Each code is unique and is made of 3 elements:
The Ghost
The Code
The Frame
These variables cannot be altered!
However, the color of the body on the ghost can be modified. Once ready, it can be shared with people who can just click on it to follow you back.
Tracking Campaign Performance
Snapchat doesn't come with in-built interfaces for marketing and campaign insights like Facebook and Pinterest.
It is refreshing to note that it is more user-friendly than marketer-friendly at the moment. However, there are some elements of performance that can still be tracked.
You can see people who view the snaps
Track people who respond to a snap or story
Chat engagement
I know, it's not much. But, the platform is still in nascent stages. Therefore, if you want to reap the benefits, most of the tracking will have to be done manually. I am sure the developers at Snapchat will come up with some kind of analytics in the future.
Conclusion
Snapchat's growth in the past year has shocked many industry experts and businesses have proven that it can offer marketing potential and pay it off!
However, because of differences in functionality and how content is distributed, it is important for marketers to know the intricate details about its various dynamics.
Therefore, I hope this detailed post about various aspects of Snapchat and its marketing potential for brands will help you in getting a better handle on things.
Snapchat is poised to gain more users in the time to come, and the competition that's low now won't be this low again! Think Fast!