SEMrush and Moz are the two biggest juggernauts when it comes to premium SEO tools.
However, the $99/month base plan for Moz and $119.95/month for Semrush means businesses or entrepreneurs who are just starting out might have to choose between one or the other.
So if you had to pick one, which one would you go for?
Now, it will be impossible to state an objective winner between the two. However, depending on the features and user interfaces, one tool might better appeal to your subjective needs and taste.
This is why, for the purpose of this read, we have put together a detailed comprehensive review, comparing SEMrush Vs MOZ Pro in full depth. By the end, you will have a clear idea of how to operate each tool to get actionable SEO insights.
And so, without further ado, here is our Competitive Review of SEMrush Vs. MOZ – Which One Is Best For You?
SEMrush: Overview
Let's kick off this review with SEMrush – one of the most recommended tools by bloggers and SEO gurus. It offers a complete package to fine-tune your SEO game.
You can use it to better your on-site SEO, fix issues, find new keyword opportunities, create strong backlinks, and even analyze the backlinks and keyword strategy used by your competitors.
So with that being said, let's dive straight inside the SEMrush dashboard, and see what awaits.
SEMrush – Dashboard
Once you have logged into your SEMrush account, you will get access to the following dashboard.
As you can see, you will be asked to insert a domain name or keyword to begin the search. You can also add filters to narrow down the search results to only show data that matters to you.
Let's start out with some domain analytics.
SEMrush – Domain Analytics
For this guide, we will be doing a domain search for "begindot.com" and will select "All Reports" so you get a complete idea of what the tool has to offer.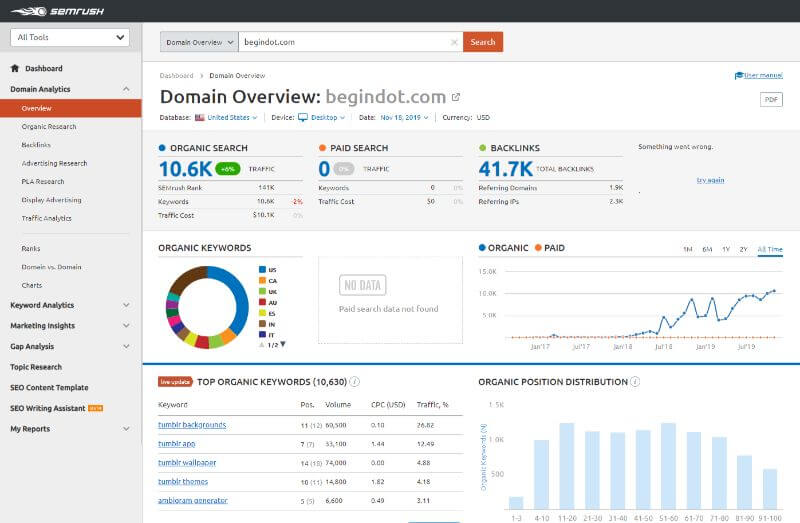 As you can see, the tool generates a detailed analysis of all relevant metrics. You will get access to:
And much more.
So as you can see, that's a lot of data to help you improve your SEO game. You can also finetune these searches by specifying which device you are targeting – mobile or desktop, as well as which geographical region.
Now, the tool will only show you an overview of the data. But you can export the full report to your excel sheet and run the numbers to get even more insights.
Also, to fine-tune your search results, you can use the left-hand side dashboard to browse through different Domain Analytics options – Organic Research, Backlinks, Advertising Research, PLA Research, and Display Advertisement, to get data specific to these options.
SEMrush – Keyword Analytics
Now, if you are looking for insights on a particular keyword, then you need to use the Keyword Analytics option. Here, for this guide, we will be using the "WordPress template" for our research.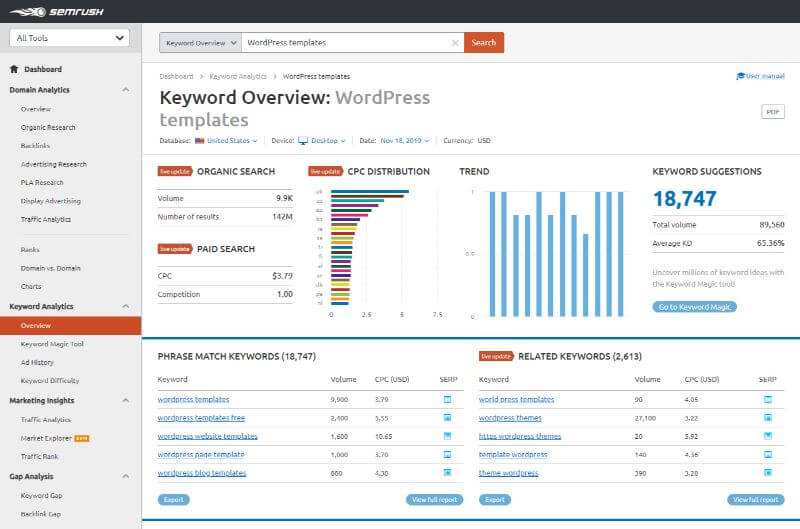 As you can see from the image, the tool gives you a complete breakdown of all relevant metrics involving the keyword including-
And much more.
As with the previous case, here too, you can export the entire list of data into an excel sheet for further calculations.
Apart from this, you will also like the Keyword Magic Tool available under the Keyword Analytics section.
It will help generate keyword suggestions based on your provided keyword. This, along with the Keyword Difficulty checker, can help you brainstorm and find profitable keywords for your marketing.
Discover Profitable Keywords Using SEMrush
If you read articles about keywords by the probloggers, you will understand how important keyword research is. Even a single keyword can change your life. It happened with so many bloggers who made thousands of dollars from a single keyword.
So, if you are randomly creating content without any proper keyword research, you probably have wasted a lot of your time already.
However, as they say, better late than never.
You can start using the Keyword Magic Tool by SEMrush to find profitable keywords. Now, let's understand how the Keyword Magic Tool works?
The tool is very easy to use.
As you enter your seed keyword, which is your broad keyword around the topic, the tool will offer you all the possible keyword ideas, and questions that are frequently asked around the topic, with a total volume of traffic and difficulty level.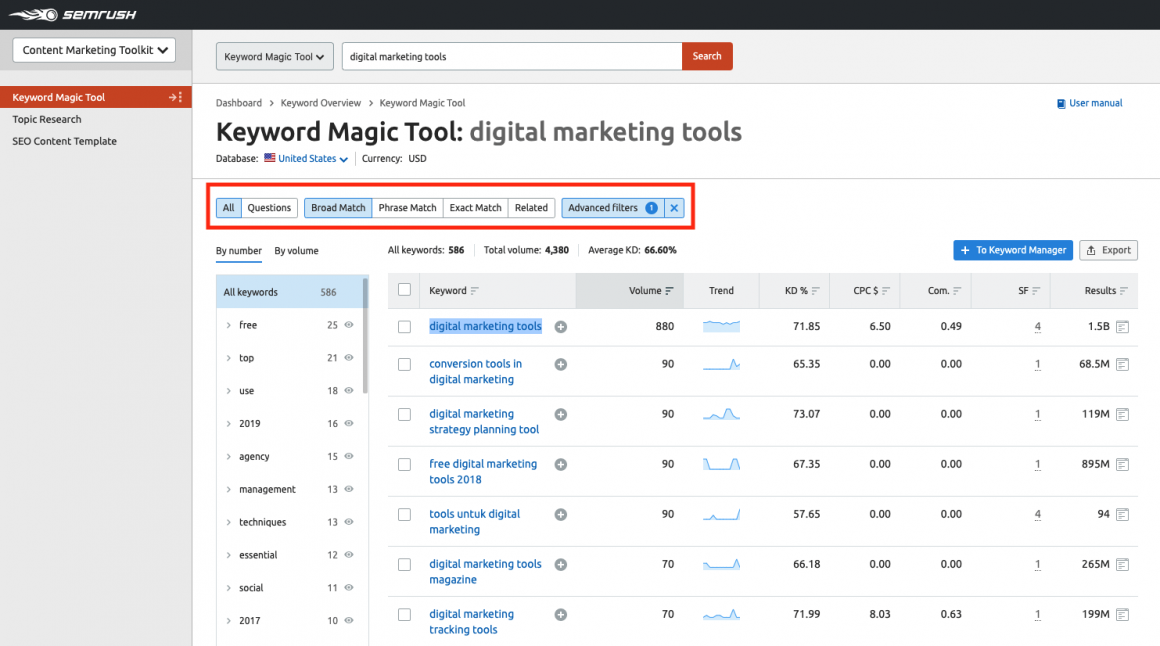 SEMrush – Marketing Insights
Next is their Marketing Insights tool. It gives you access to Traffic Analytics, Traffic Rank, and a new feature (currently in beta) called Market Explorer.
The tool allows you to enter a domain which will then analyze to give you useful insights like:
And much more.
Let's see how it benchmarks "begindot.com" and provides actionable insights to improve our marketing.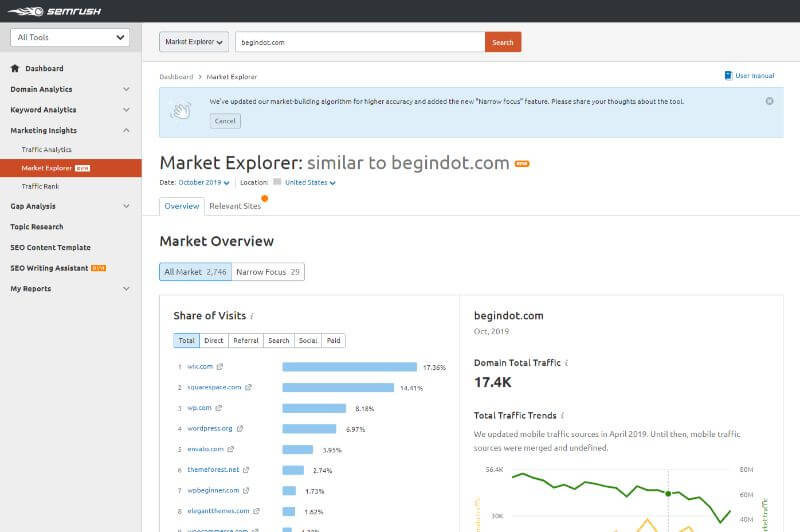 As you can see, the tool allows us to either get a complete marketing overview or scan only relevant websites. We can also fine-tune our results by narrowing down our focus to immediately related markets.
Under the overview section, we will get to see the total share of visits with the option to filter by direct traffic, referrals, social, and paid. It also creates a nice graph showcasing total domain traffic vs. market traffic, as well as from where we are getting all our traffic.
Besides this, it also shows in-market audience interests. This allows understand other related markets your audience is interested in, so you can make a foothold there as well, for a more-omnipresent marketing approach.
SEMrush – Gap Analysis
Here you get options to help you evaluate the gap between you and your competitors. For example, we are analyzing "SEMrush" against "Moz" for organic traffic, to see which company has done a better job.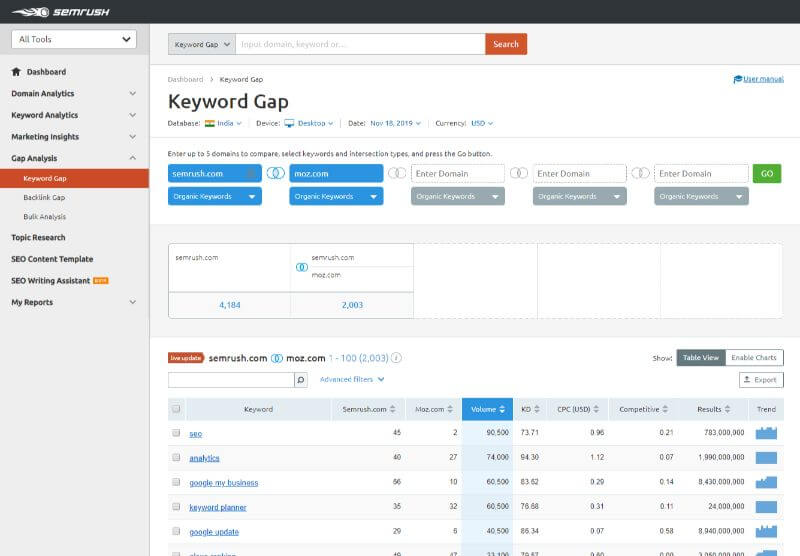 Now, as you can see from the image below, for the keyword "SEO", Moz has secured a ranking at 2, whereas SEMrush rank is way down at rank 45.
This can help you understand where two or more websites fall when ranking for the same keyword.
However, do note that you can only compare up to 5 domains at a time. Also, you can fine-tune the searches for organic keywords, paid keywords, and PLA keywords.
There is also an advanced mode that lets you analyze the common keywords targeted by both domains, and unique keywords targeted by only one of them.
Besides this, you can also sort the data based on specific keywords, position, volume, CPC, competition, and search results.
Alternatively, you can switch from the shown table format to a visual format if you are more comfortable with graphs and charts.
Of course, you can always export all these data and take them to your excel sheet for better evaluation.
Similarly, you can use the Backlink Gap tool also available under this section to get the same type of insights but for backlinks.
This is very powerful, as you can approach the website's backlinking to your competitors and show them your better content, so they link back to you instead of your competitors. 
SEMrush: Topic Research
Next up, we have the Topic Research tool. This allows you to analyze your competitors' content to help you come up with new content ideas.
As you can see, you will be able to enter the topic, specify which region and device you want to do a search for, and even pick a domain (option) for finding content ideas.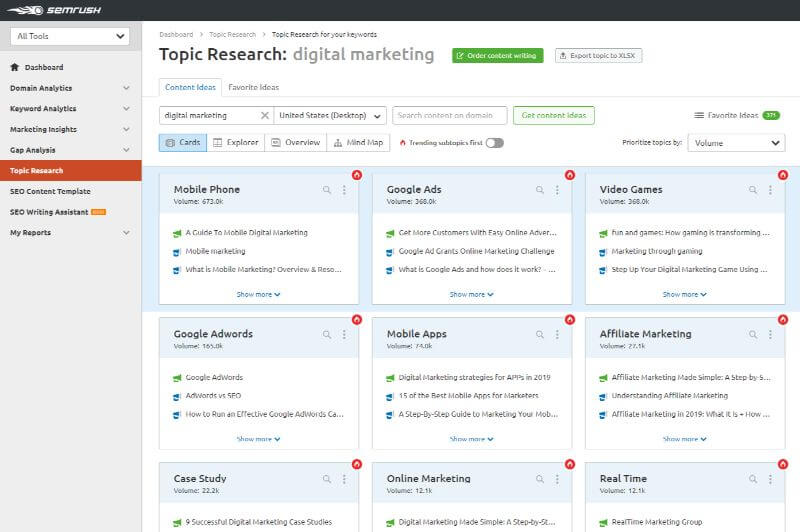 For this guide, we have created a search for the keyword "digital marketing" around the United States (Desktop). This was what the tool has fetched for us.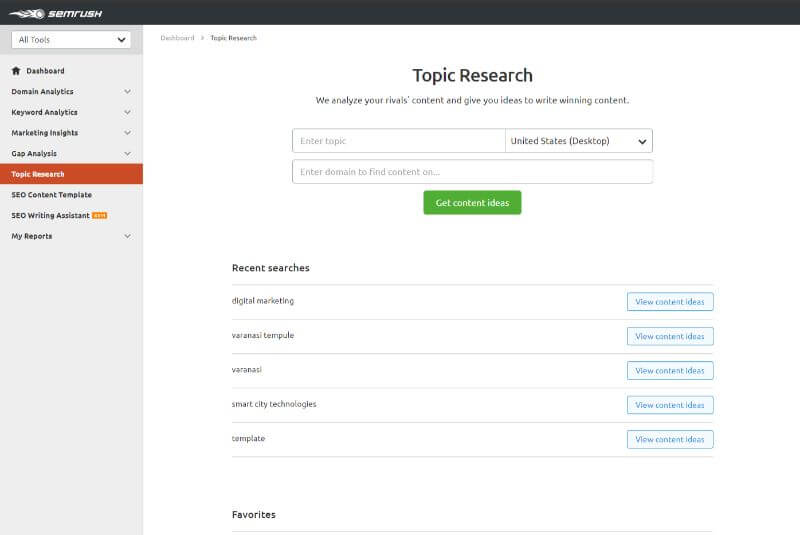 As you can see, it showcases different ideas neatly categorized into cards. You can also click on the overview tab, mind-map tab to view the search results in other formats.
There is also the option to prioritize topics on the basis of volume, difficulty, and efficiency, and filter through the trending subtopics first.
Overall, it is an excellent tool for users who are stuck and don't know how to find new trending keywords or topics to break into the market.
Also, as always, you have the option to export all these data to your excel spreadsheet.
SEMrush: SEO Content Template
The SEO Content Template will help you create SEO-optimized content based on the provided keyword.
The tool will scan through the various content that pops up on the top 10 pages of Google's SERP, and then generate recommendations so you can beat them with your variation of the content.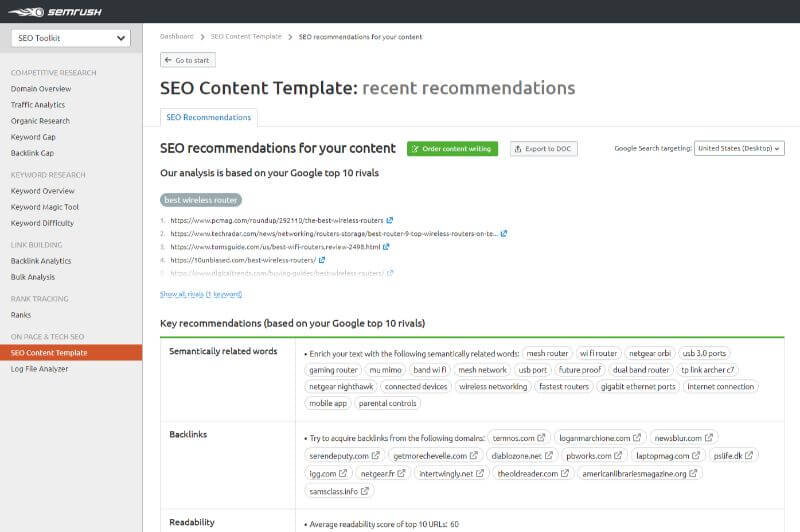 We are looking for a content template for the search term: "best wireless router". As you can see, the tool is generating its recommendations by analyzing the top 10 websites/content that have ranked for the keyword.
At first, you get access to the URL for each of the websites.
Next, it suggests semantically related words that you can integrate into your content to improve searchability.
You will also get insight into domains that you can target to acquire backlinks for your website.
They have also provided the average readability score for the top 10 URLs.
And finally, we have a recommended article length which shows the average number of words you need to hit each article to have a better chance of ranking on Google for the given keyword.
It can also help you with on-page SEO by showing you how your competitors have optimized their page titles, meta description, H1 tag, and Text.
SEMrush: SEO Writing Assistant
And now, for the final noteworthy feature with SEMrush would be SEO Writing Assistant, which is currently in beta.
Now, it won't write an article or post for you, but it will help you check whether your content follows all the best SEO practices, so you have a better ranking chance.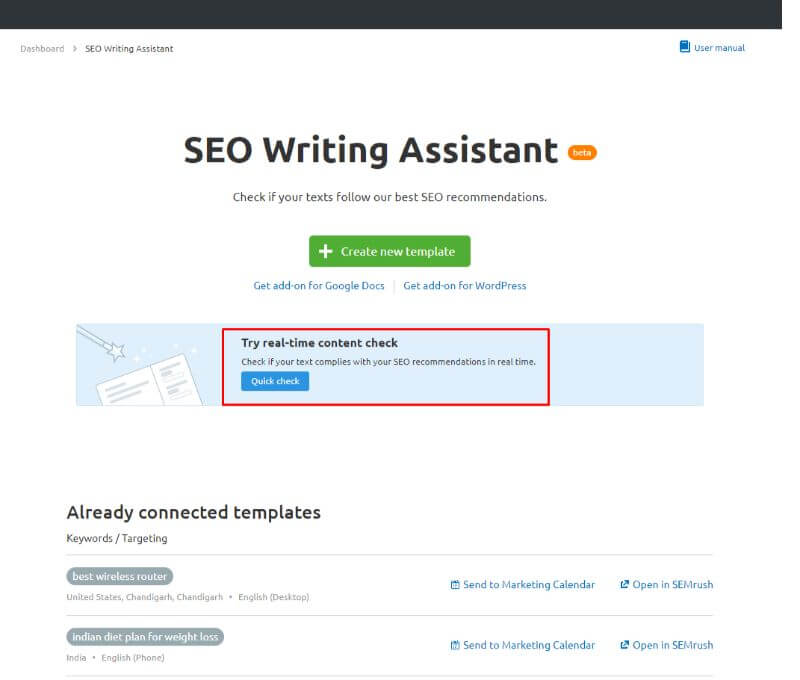 As you can see, the tool is currently available as an add-on which you can install straight to your WordPress website, or to Google Docs.
However, there is also the option to check your content straight through the tool by using the "real-time content check" feature.
Here you will be given a dedicated content editor where you can either write your article or copy & paste it from a different source to review its SEO score.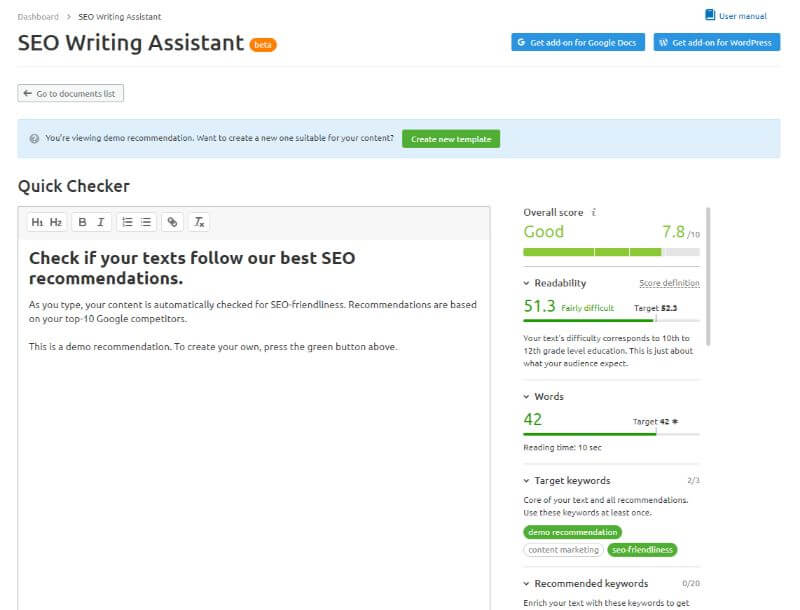 As you can see from the image above, it gives you an aggregate SEO score to show you how well you have optimized your content. Next comes the readability score, followed by the total number of words in the content and total reading time.
It will even highlight how many keywords you have integrated out of the list of targetted keywords as well as recommended keywords.
SEMrush: Pricing
Now that pretty much settles all the important features and functionalities SEMrush brings to the table.
Now let's take a look at its pricing.
As you can see, the base Pro plan starts at $119.95/month. This is targeted at freelancers and startups who are looking to gain access to the competitors' traffic sources, ranking, social media results, and so on.
Next is their Guru plan priced at $229.95/month where you will get all the Pro features paired with a dedicated content marketing platform, branded reports, and historical data. This is more suited for marketing agencies or SEO professionals.
And finally, we have their top-tier Business plan at $449.95/month dedicated towards large-scale agencies and eCommerce projects which has an extensive online presence.
It also comes with White Label reports, API access, and Google Studio Integration.
Note: If you get an annual subscription, you will get a 16% discount.
However, if you are looking for something more customized to your requirements, then that too can be managed with their Enterprise plan. But you will have to contact their support/sales team to get a quote based on what you need.
So is SEMrush the right tool for you?
Well before answering that, let's get an equally in-depth look at its competitor.
SEMrush will take care of everything as far as SEO analysis is concerned. Knowing your competitors better give a lot of power in your hands to grow your business.
Moz: Overview
Now let's discuss Moz, one of the thought leaders when it comes to modern-day SEO. They offer free tools (MozBar), courses, as well as regular digital marketing tips and tools. However, we are interested in their premium Moz Pro SEO toolset.
Functionality-wise, it shares pretty much the same DNA as SEMrush. You will be able to research keywords, analyze your competitors, and discover powerful SEO opportunities to help catapult your ranking up to the top. 
They also have a unique proprietary algorithm that shows the Domain Authority and Page Authority for a website or webpage, respectively.
These metrics are a quantitative measure to help you evaluate where you and your competitors stand which should help you better optimize your strategy.
With all that being said, let's now take an inside tour of all Moz Pro features and its UI.
Moz: Campaigns
This is basically the main dashboard of your Moz Pro account. This is the place where you will be tracking all your projects and active campaigns.
If you are a marketing agency, it can help you segment all your different campaigns as per clients, or if you are a larger business it can help you manage your different SEO campaigns.
Now, this is how the campaign dashboard actually looks like.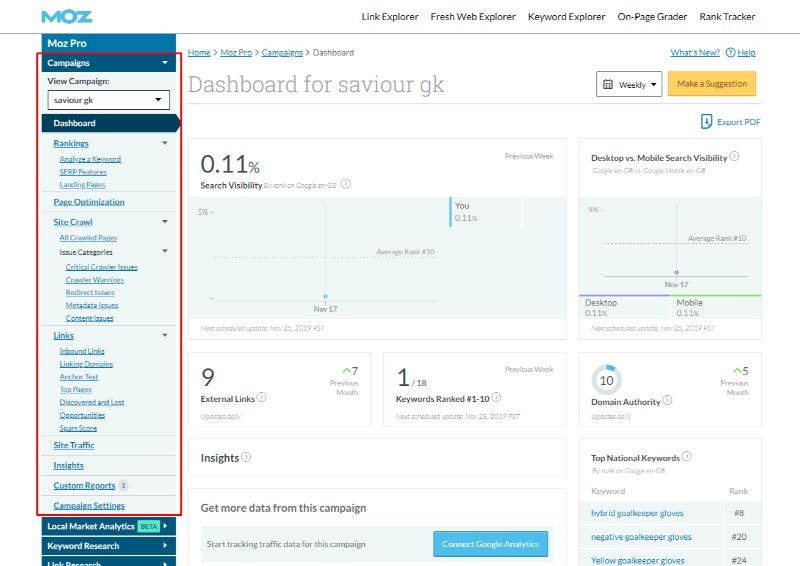 As you can see, we have selected the "saviour gk" campaign from the View Campaign list. If you wish to go to another saved campaign, then you can do so from the drop-down menu.
Next comes the dashboard view where we are right now. From here you will get insights on search visibility – mobile vs. desktop, number of external links, the domain authority and much more.
You should also notice the tons of other options located under the Dashboard tab.
You can use this to browse through data regarding ranking, page optimization, site crawl, links, site traffic, insights, custom reports, and campaign settings.
Ideally, after deciding to optimize your website for a set of keywords, you would want to create a campaign and visit this dashboard from time to time to see your current standing and what you need to do next.
However, if you are only interested in doing a one-off search then you don't need to go and create a campaign, as all these features are also available as standalone tools outside the Campaigns section.
Moz: Local Market Analytics
The Local Market Analytics feature is currently in beta.
While setting up the feature, you will be asked if you want to track a new site or import from a Moz Pro campaign. For this tutorial, let's see how Moz.com is optimized for local SEO.
Once you have done that, it will let you add the markets where you want to target your product.
Next up, you will need to add the keywords for which you want to rank. Let's target "SEO."
You will then be asked to enter your competitor's website. However, this step is optional and can be skipped.
With the Local Market Analytics for Moz.com setup for over 50 markets targeting "SEO," which is what you will get to see:
Under this section, you will also get access to an extra tab – "Site Dashboard."
From here you will be able to monitor the ranking and movement of the targeted website and get SERP of your competitors.
Moz: Keyword Research
Next up, we have the main feature of every SEO tool – the keyword research section.
Here too you will get access to all the necessary tools for keyword research and insights into your competitors' keyword strategy.
The Site Overview option allows you to explore the keyword structure of a particular domain.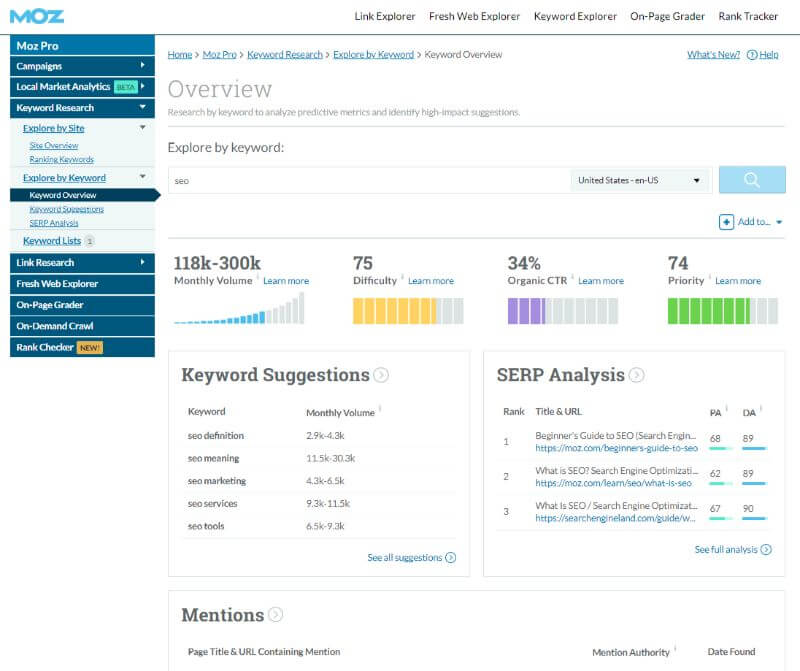 You can also enter an additional domain for competitive analysis. The tool will fetch information including domain authority, page authority, top positions, ranking keywords, and top-ranking keywords.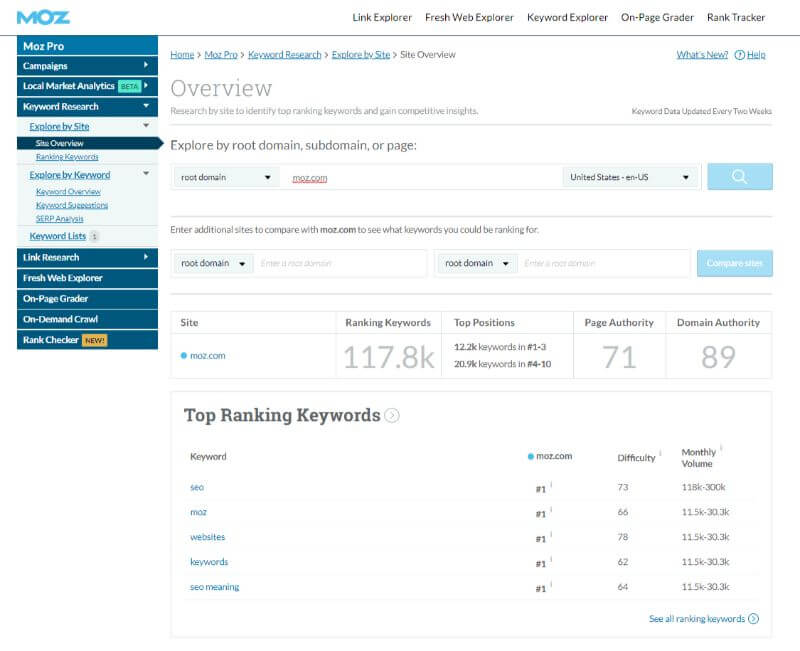 Moving over to the Keyword Overview option, here you will find detailed information like monthly search volumes, ranking difficulty, organic CTR, keyword priority, SERP analysis showing the top websites' ranking for the keyword, related keyword suggestions which you can target, and keyword mentions.
Similar to SEMrush, only a few instances are shown. You can, of course, download the entire datasheet and export it to your excel spreadsheet.
Moz: Link Research
The Link Research or Link Explorer tool gives you a complete toolset to help you conduct link building research, analyze competitor backlinks, and start with your link prospecting strategies.
All you have to do is enter a domain name and hit 'enter'. Here we will be conducting the link research for Moz.com.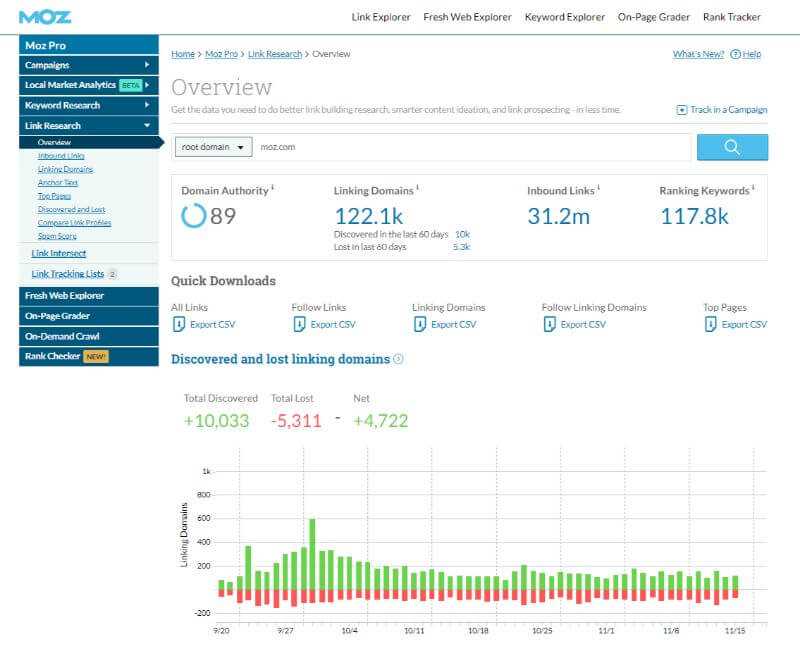 At the top, the tool will show you all the basic and generic information like website domain authority, how many other domains the website is linking to, how many of them are inbound links, and even all the ranking keywords.
Scrolling down, you will find a graph showcasing all the newly discovered and lost domains linking to the website.
Other useful information includes a clear distribution showcasing the number of following vs nofollow links along with what percentage of them are internal links and external links.
You will also get a rundown based on domain authority, the top sites linking to the website, the top pages on the website, and even the top-performing anchor texts on the site.
Moz: On-Page Grader
Next up is the On-Page Grader. It will ask you to enter a page URL followed by a keyword, and it will then generate suggestions on how you can improve that page ranking.
Let's see how we can improve the ranking of this URL: https://www.begindot.com/buddyboss-review/ for the keyword BuddyBoss Review.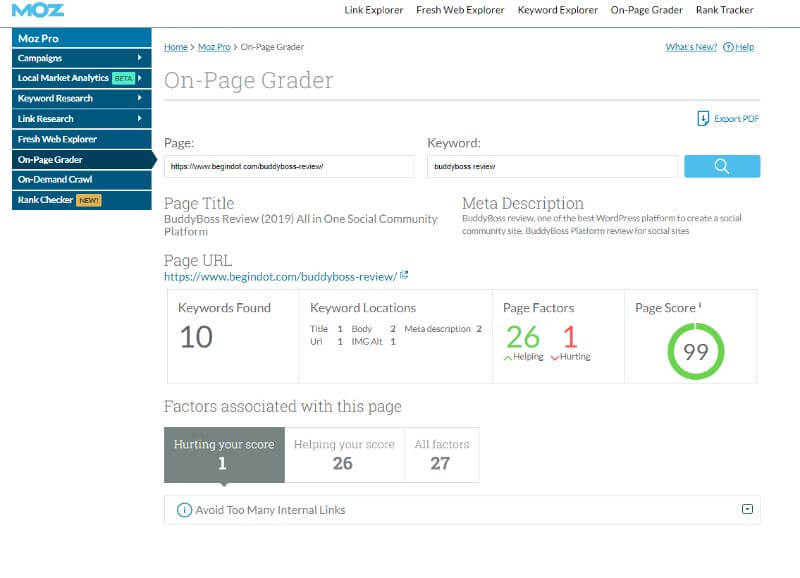 As you can see, it shows the page title, meta description, page URL, number of keyword instances found through the content, locations where the keyword is applied, and a page score.
It also shows the page factors that are helping or hurting your SEO performance.
For example here, there is only one hurting SEO factor – too many internal links in the content.
So if you manage to reduce it, then we will get a cent percent score which theoretically means completely optimized SEO performance.
Moz: On-Demand Crawl
The Moz On-Demand Crawl or Crawl Test functionality helps you evaluate technical SEO problems relating to web crawlers.
If your website doesn't provide sufficient data for the web crawlers or search engine bots, then they won't be able to properly index your website which will then affect your ranking.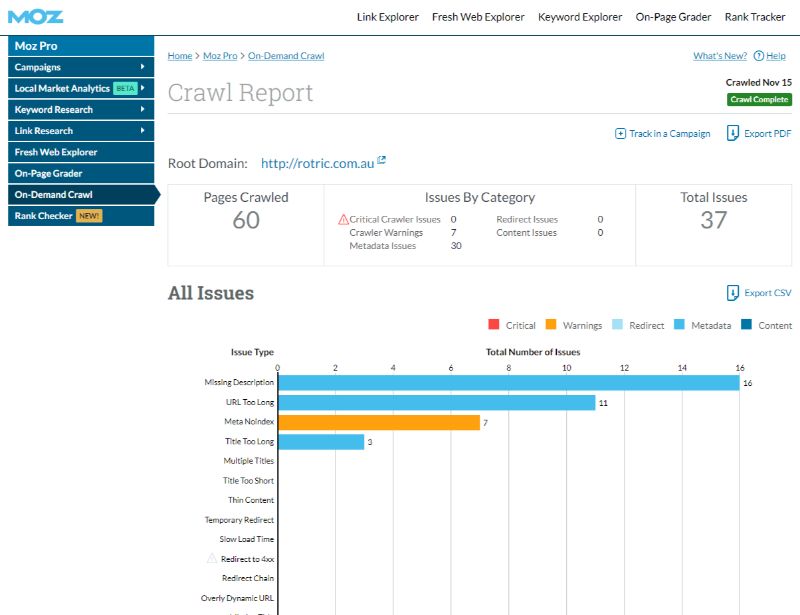 Now with the Moz Crawl test, you will be able to run a crawl-bot through a selected domain, and it will create a categorized list showing all the different issue types, how many of them are present on your website, and which web pages are affected by these issues.
This helps you know what's wrong and where it is, so you can immediately fix it to see improvements in your SEO performance.
Moz: Rank Checker
And now for the final notable feature on Moz's arsenal of SEO tools, we have the newly added Rank Checker. It is a pretty simple tool that will ask you for a keyword and a Domain URL, followed by a country and a search engine.
The tool will then show you the performance of the given URL for the targeted keyword specific to the country and search engine.
This will be most helpful if you are running an international business and want to optimize the local SEO of your website for different countries.
Likewise, it is also a useful tool for SEO agencies working with different clients across the world.
Moz: Pricing
By now you should have a clear idea of the different features and functionalities Moz brings to the table, and what you can do with the SEO toolset. So with that out of the way, let's see how much it is going to cost.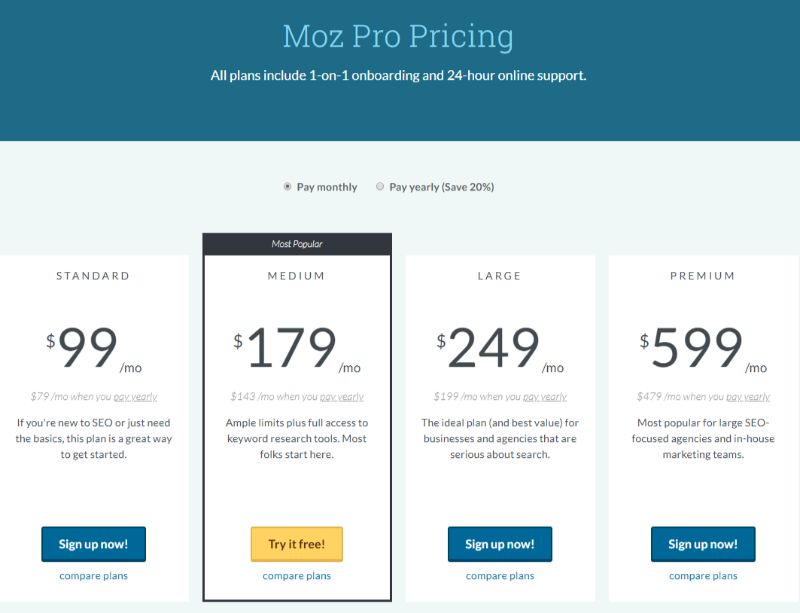 The Standard plan for Moz is priced at $99/month. This is targeted to users who are just looking for the basic features to get started with their SEO game, like bloggers and freelancers.
Their Medium $179/month plan is targeted at digital agencies with a lot of clients and as such, comes with ample limits on all its features.
Then comes the $249/month Large plan designed for large-scale businesses and agencies who wants to kill it with their SEO prowess.
And finally, we have the top-tier $599/month catering to large SEO-focused agencies and in-house marketing teams.
Note: All these prices are subject to a 20% discount for annual subscriptions.
So, Which One Should You Pick: SEMrush vs Moz?
By now you should have a clear understanding of what you are getting with each SEO tool. You might have also fixated on which tool you want to use for your personal projects.
However, if you are still feeling confused, then let's break them down based on different criteria.
SEMrush vs Moz: Pricing
First, let's talk about pricing. It is clear that Moz is a bit cheaper compared to SEMrush.
This is however amplified if you consider the annual plans as Moz offers a straight 20% discount for annual subscribers where SEMrush only gives a 16% discount.
Therefore, if you are most concerned about pricing and running on a tight budget, then Moz would definitely be the perfect tool for you. Furthermore, it offers a lot of useful free resources which is extremely helpful if you are a beginner.
SEMrush vs Moz: User Interface
The next stark difference comes in terms of the UI. Moz manages to cramp in more data which somewhat clutters the interface.
However, if you don't mind sacrificing some whitespaces in exchange for easily accessible important metrics and data, then you would definitely like Moz.
On the contrary, SEMrush was a clearer UI with more whitespaces and options neatly organized into categories and sub-categories.
Often, the same tool is located under two or more categories if intuitively they belong in both of them. This increases the discoverability of the tools and helps users to take the most advantage of everything that's included with the toolset.
SEMrush vs Moz: Features
It's pretty much neck to neck in this department. Both SEMrush and Moz offer access to the same basic tools to help with your SEO needs.
However, Moz offers features that are concerned with SEO and nothing else. It also has useful metrics like Domain Authority and Page Authority which can give you deep quantitative insight.
With that being said, SEMrush offers a toolset directed at digital marketing in general.
Besides the SEO tools, you will also find insight data on paid advertisements to help with SEM as well – hence the name. It will also help you write better SEO-optimized content which is something Moz lacks.
SEMrush vs Moz: The Verdict
As we said earlier, both tools offer a unique set of advantages. Therefore, you will need to pick a tool that appeals to your set of requirements and taste.
But with that being said, we do recommend using their free trial to its full advantage.
This allows you to try out both tools so you can see first hand which you are more comfortable using, and which one provides more useful metrics to improve your websites' overall SEO performance.
FAQs About SEMrush & Moz
01. Which Tool is Best SEMrush or Moz?
Both the tools, SEMrush and Moz are well known and have a very wide user base. We are using SEMrush for years and it can do almost everything that you will need to do detailed research on any website.
02. Is SEMrush Free to Use?
No, SEMrush is not a free tool (free with limitation) It offers you a few paid plans to choose from. However, they offer you a free trial plan to use the tool and make your decision before you go for a paid plan. With our link above, you will get an extended trial period.
03. Is Moz Free to Use?
Like SEMrush, Moz is also a padi tool if you use the tool to best of its potential.
04. Can I Find Traffic Sources of My Competitor Using SEMrush?
Yes, you can do a complete detailed analysis of all the traffic sources to any website by using SEMrush. You can also find the exact backlink sources, the pages, the anchor text and more.
05. Which Tool is Good For Keyword Research SEMrush or Moz?
According to us, SEMrush is a really good tool for keyword research. You can start your research by finding the top keywords of your competitor's site and finding all the related keywords to work on them. SEMrush offers you the Keyword Magic Tool that makes the process of finding high potential keywords simple and easy.