One of the great things about podcasts is that if well-conceived, they are an intimate, convenient and effective way to deliver content to a keen listener.
Further, whenever you refresh your feed, you will always find something that might substantially change the way you see the world as we know it.
However, the abundance of material can also be overwhelming. So, we, at Spotify, have stocked some of the best podcasts featuring the best narrators of all time.
While some of these have lasted for years, others are brand new. There are products of many contributors and a few that come from a handful of storytellers. No two are alike, spanning across various topics.
Before we start, have a look at this list of top podcast hosting sites that you can use if you are planning your own podcast.
01

. Over My Dead Body Podcast

The heartbroken father, Phil Markel, came forward as a narrator in Wondery's Over My Dead Body podcast which chronicles the senseless shooting of Florida State University law professor Dan Markel.

People magazine had earlier reported that Dan, 41, died after he was shot point-blank in the head while sitting in his Honda Accord car parked in the garage of his suburban Tallahassee, Florida, home in July 2014.

So, now you know why the podcast is called the Over My Dead Body podcast.

Police had quizzed Dan's ex-wife, attorney Wendi Adelson, as the couple had emerged from a turbulent divorce. However, Adelson was soon released.

Phil came up with the Over My Dead Body podcast in the hope that talking about the shocking death of his son would bring him closer to his grandchildren.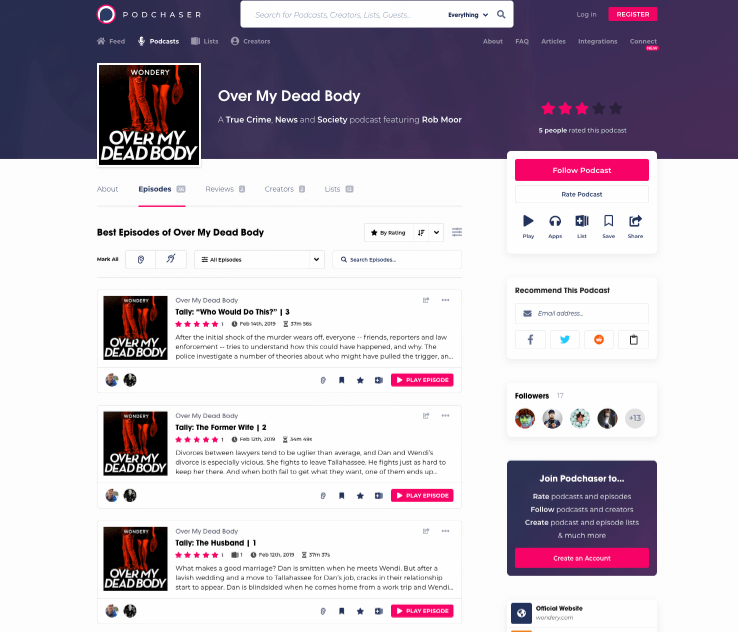 02

. You're Wrong About Podcast

This is a podcast by two journalists-Michael Hobbes and Sarah Marshall -who are obsessed with the past. Every week, they reconsider an event or trend or person who's been miscast in the public imagination.

The You're Wrong About podcast looks at major American violent crimes: the Columbine shooting, the Jonestown massacre, and the murders committed by Jeffrey Dahmer for example.

Further, there are episodes of tragedies like the Challenger disaster and those on a political

scandal. What makes the You're Wrong About podcast unique is that the two hosts deconstruct those very details.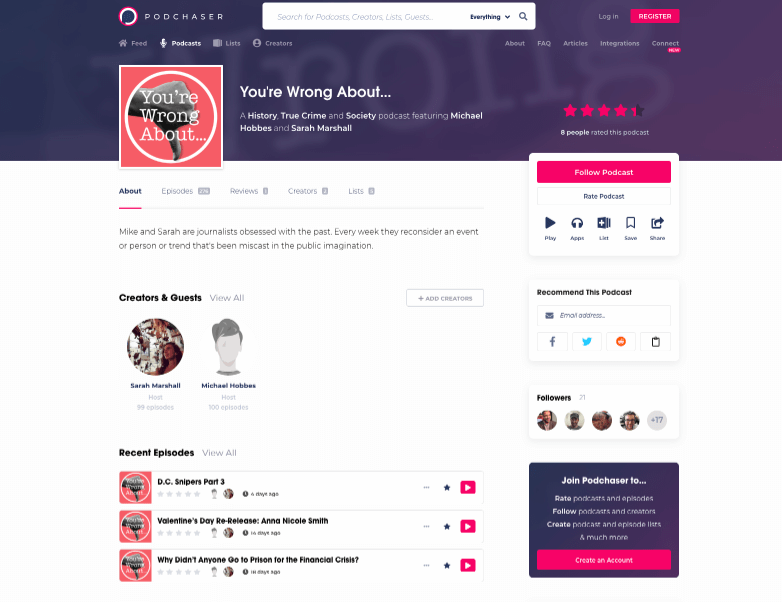 03

. Personal Best-48 Hours

How can things not go as per the plan when there wasn't even any real plan, to begin with?

That's a question that Andrew Norton and Rob Norman answer over the course of their avant-garde attempt to identify and solve somebody's problem in two days.

Besides reminding the listener of the importance of persistence, the audio also tells about the not-always-great returns of putting a hard cap on artistic pursuits.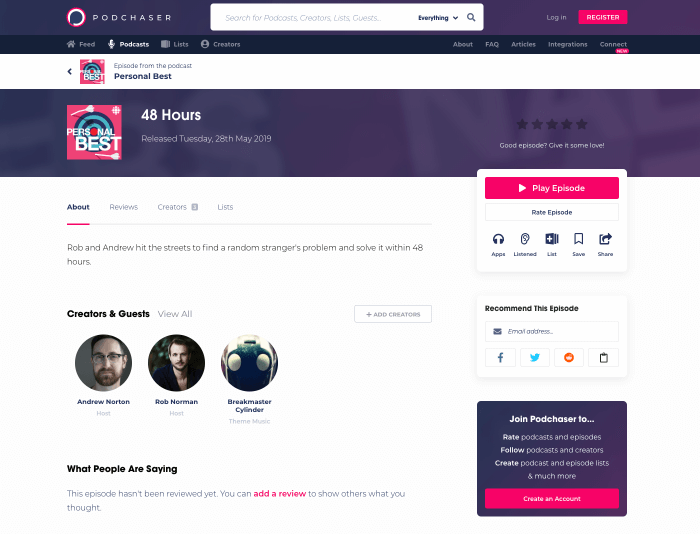 04

. 30 for 30 Podcasts-Back Pass

Before the world of sports turned its attention to France for this summer's Women's World Cup, '30 for 30' took a look at the United States Women's National Soccer team that took America by storm.

Highlighting the accomplishments of the squad led by Brandi Chastain, Mia Hamm, and Julie Foudy, the episode also informs the listener about what came after the launch.

The completion of a new women's professional soccer league became a sports economics case study and a tale of caution.

'Back Pass' tells how enthusiasm must be paired with equal faith in its workforce for new leagues to sustain themselves once the victory parades end.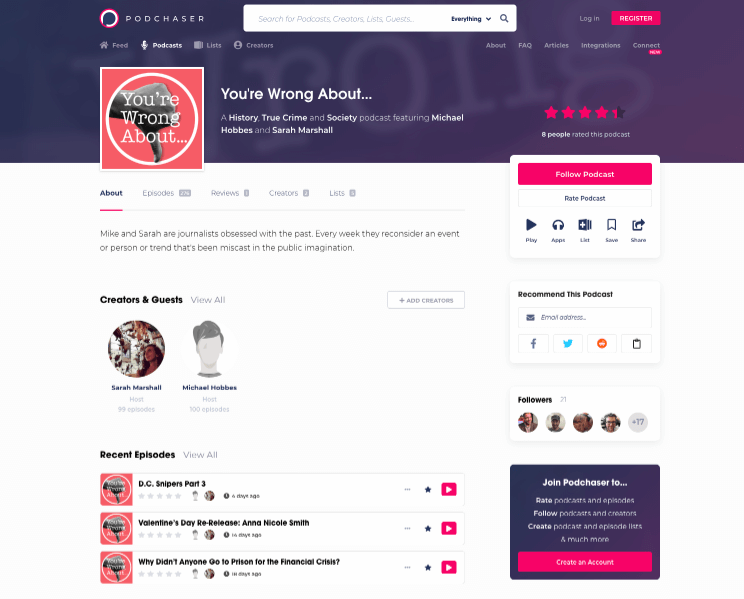 05

. Proof – Who Killed the Miracle Berry?

This series from America's Test Kitchen proves that food is not at all a finite resource to make for compelling stories.

Integrating various areas of the food universe that get nowhere near a plate; economic, regulatory, and safety concerns; this story has the intrigue of a spy thriller and a "what if?" that says a lot about the way the public gets to eat what they eat.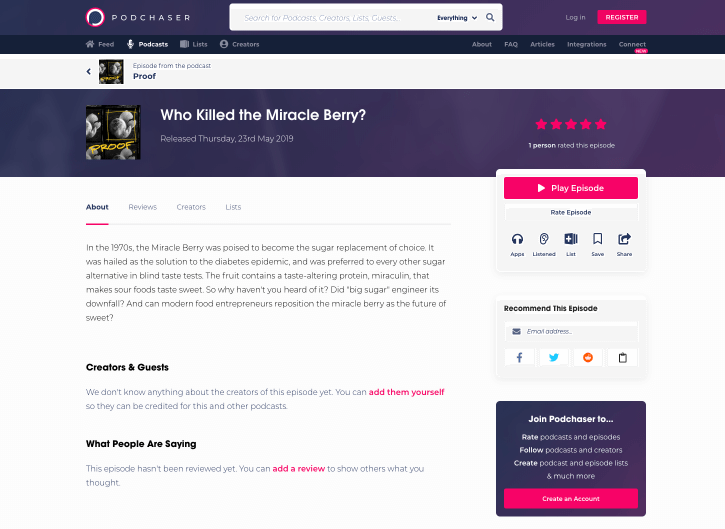 06

. Episode 19 Scurvy: Thanks a Lot, Evolution

Epidemiologists Erin Allmann Updyke and Erin Welsh bring the study of diseases to a listening audience, fortified by their academic pedigree and their easy, researched back-and-forths.

While scurvy itself is not an infectious disease, the Erins mix a historical knowledge of the ailment's spread across the world to share the information with interested listeners.

They have covered some common themes found across centuries, such as, how several communities have traditionally responded to illness?

As with the majority of the best historical series, they look to how practices of the past can be reflected in our present.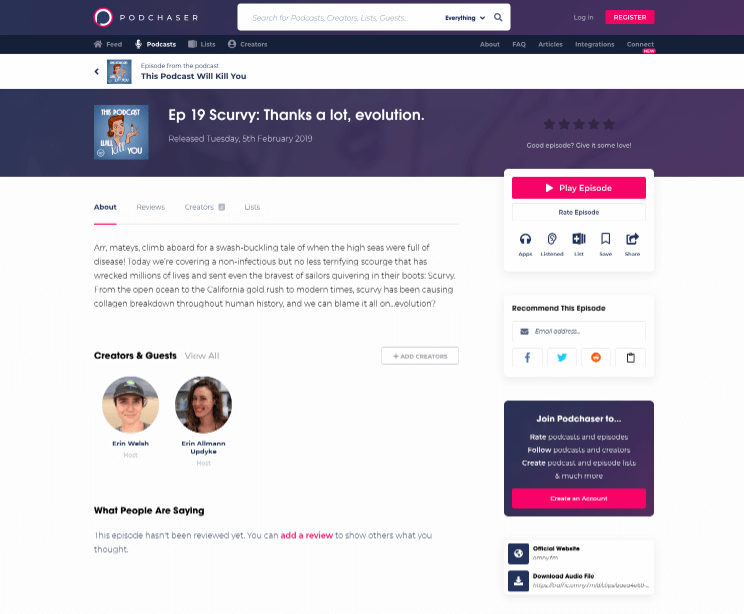 07

. Against the Rules – The Seven Minute Rule

In a number of his projects, narrator Michael Lewis has written about the referees from baseball to government regulatory agencies.

Making this unspoken common thread the main thrust of his maiden podcast, Michael examines the practices and norms across similar kinds of groups.

He looks at a swirling nonfeasance surrounding a consumer finance protection board under fire.

It is a podcast that highlights the wrongdoings of unchecked actors throughout money-related endeavours.

Lewis reveals, through personal stories, what havoc an unregulated student loan field can bring about in many lives.
08

. The Chernobyl Podcast-Vichnaya Pamyat

Among the significant accomplishments of 'Chernobyl,' in its TV series form, is the quantity of context it provides over five episodes.

In this companion podcast, with conversations led by 'Wait Wait Don't Tell Me' host Peter Sagal, series writer and creator Craig Mazin gives his insight into the great crew-wide effort to showcase a version of events that honoured those who ensured that the truth behind the Chernobyl disaster made it out to a larger world.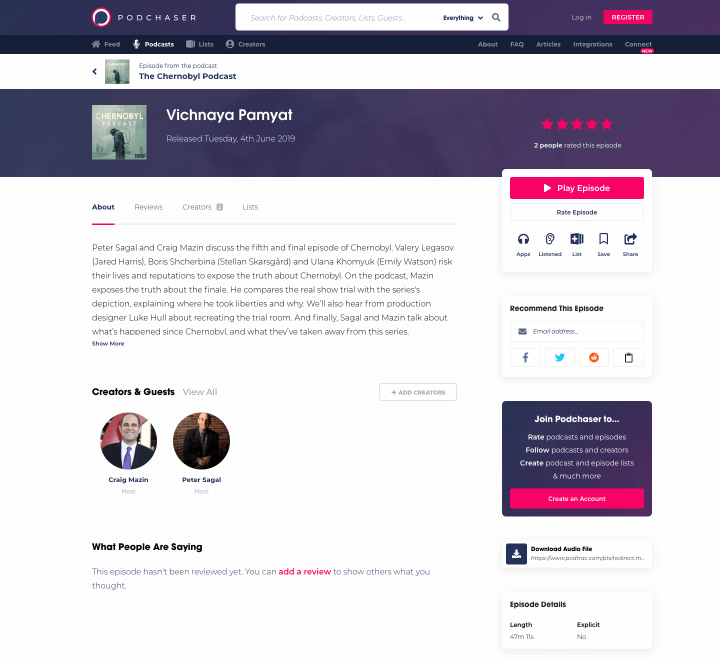 09

. Switched on Pop-What Makes An Award-Winning Song?

Narrators Charlie Harding and Nate Sloan have an unusual way of making the fleeting parts of pop music something to be understood and not just appreciated.

It is this breakdown of Grammy-award winning songs/albums that endorses that music is worth recognition and musical decisions (big or small) live far longer than any trophy.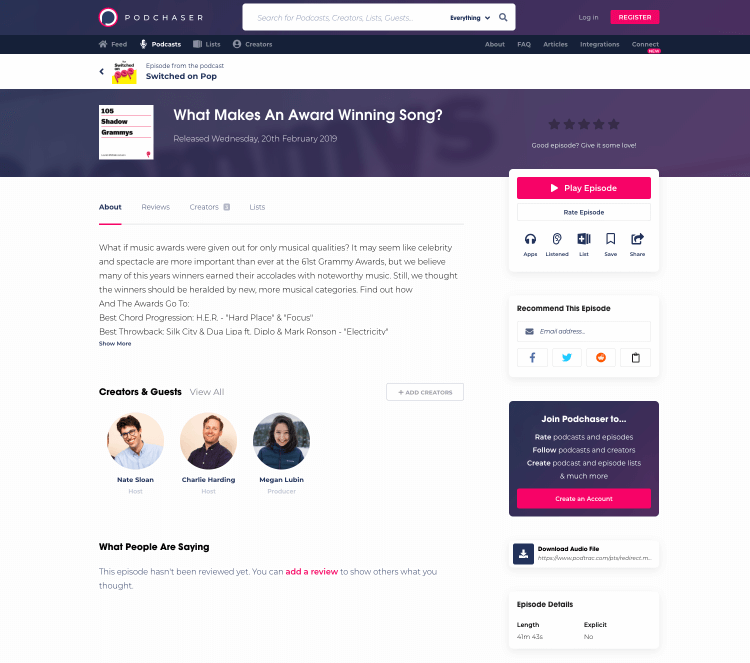 10

. CRUDE #1-Smell This Town

This season of the Canada land show 'Commons' depicts how the impact of drilling and other industrial practices goes far beyond the ecological and financial consequences of fossil fuel endeavours.

It covers the devastating effect that the allure of resource-related riches can have on Canadians, on and off the country's shores.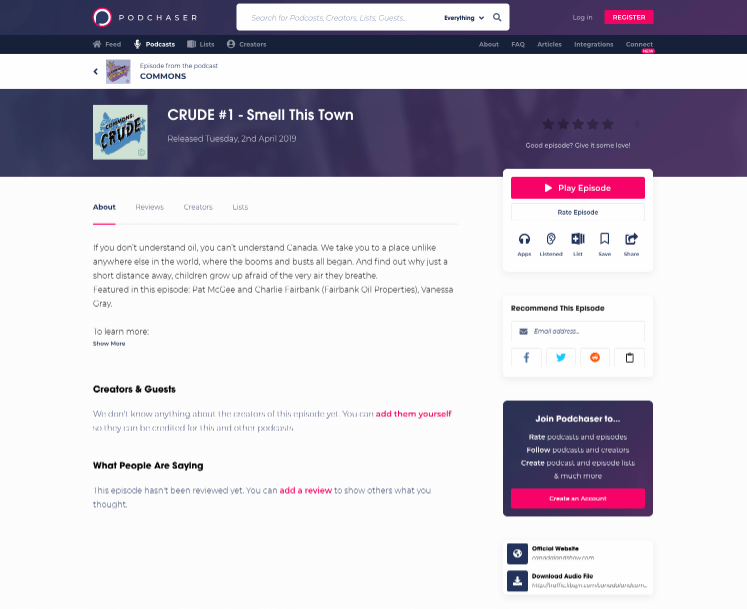 If you are planning to start your own podcast, you can follow these digital marketing related podcasts to get some inspiration.