Are you still wondering why isn't there any user engagement for around your eLearning portal? Well, marketing eLearning courses is a cumbersome task and you've put in a lot of effort so as to ensure that they gain the desired traction.
So, how do you market your courses in LMS? How do you make sure that your courses attract the right audience and entice them to take the desired action? 
Your hunt for answers to these questions finally comes to an end as we list down the various ways which will help you modify user behaviour and increase their engagement.
Read on and brace yourselves! 
01

. Make training relevant

Employee engagement has a significant impact on the overall success of an organization as per the Harvard Business Review. It is also relevant when it comes to training and development.

As it is, engaged learners take away and grasp more knowledge, are able to apply those skills in their job, perform better, and ultimately learn which is an essential factor to be considered for successful training. 

So, in order to make their training initiatives successful and keep their learners engaged, organizations must include content which is relevant to them.

So, make sure you create e-learning courses around the topics or themes which are most relevant to them. And, don't forget to include real-world examples as it helps them relate better. Doing this will not only improve your employees' engagement but also ensure that they apply those principles in their job.  
02

. Use simple and plain language

Online learning facilitates wider reach, i.e. it is available to a large number of people. Needless to say, employees of your organization have access to your online training.

The experience level of every person varies. That being said, make sure to use plain and simple language which is easily comprehensible by everyone. The purpose of creating training content is that the information delivered to learners is easily and clearly understood. 
03

. Use attractive visuals 

Does it ever happen that you first look at the colorful visual on a page than reading its text? Ever wondered why? Well, because the human brain processes image 60,000 times faster than text. Yes, it's completely true. 

That being said, you must make it a point to include attractive and engaging visuals along with different media. For example, like images, graphics, videos which promote clarity to a particular concept and helps users to gain in-depth knowledge regarding it.

Besides, this also improves post-training retention and makes the content even more comprehensible. 

Not only does it apply to your course but also to your LMS. If your LMS is boring, the learners would not be interested to undertake the course. So, do ensure that your LMS is very attractive and easy to navigate such that the learners don't have to dig deeper in order to find content.  
04

. Include simulation training

In simulation training, real-world scenarios are modeled with the use of basic equipment or computer software to help learners gain knowledge about a particular scenario and ways to deal with it.

They have the flexibility to make mistakes and learn from them which will enable them to perform better when the same situation arises in real life.

While implementing simulation training, course designers can incorporate various learner avatars which happen to be extremely fun, exciting, and game-like nonetheless being able to grab the learners' attention. 
05

. Make use of gamification badges

Games have usually been the go-to option when one wishes to take a break from serious work, even for adults. So, why not include some aspect of gamification in your LMS? 

The 'edutainment' feature (education+entertainment) of gamification guarantees increased engagement and focus. For integrating the same into your LMS, you must conduct thorough research of the market and then select the most appropriate application for it. 

Now, it needs custom development to create a community-based design with nice gamification. However, you can reduce your cost by using a product like BuddyBoss which is a community platform and it can be used to create a comprehensive learning management portal by integrating LearnDash with deep integration of gamification features.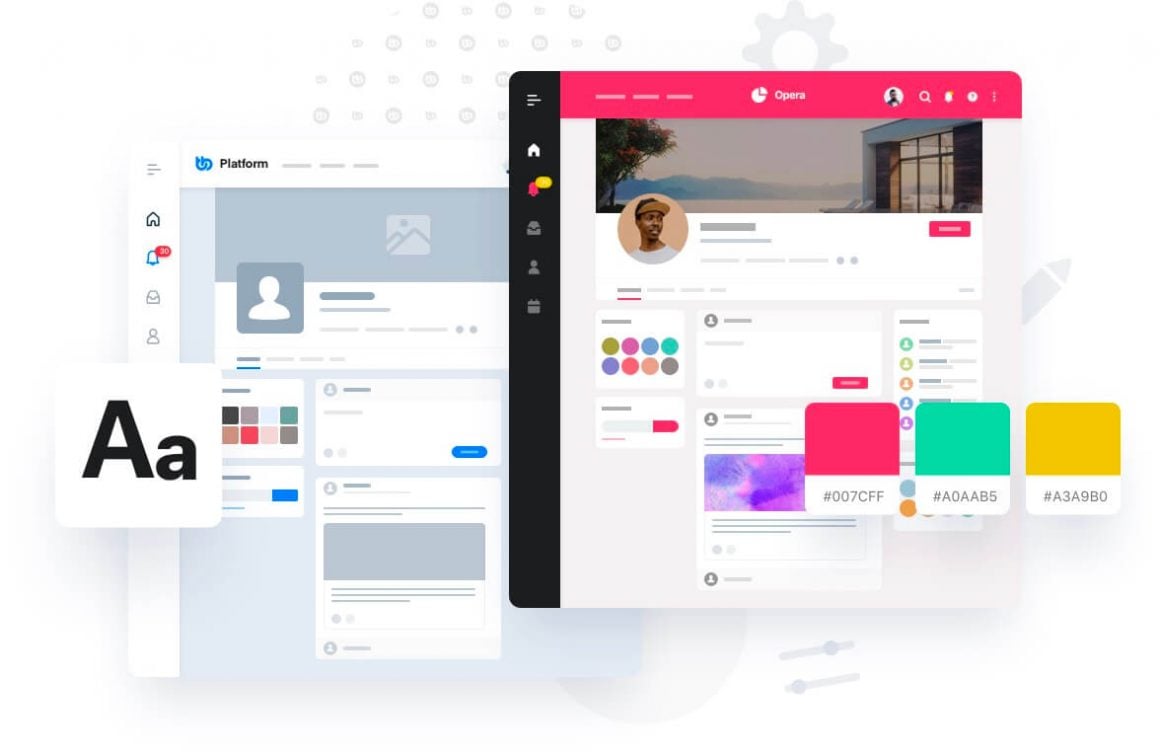 The key is to content gamification badges for different content types and define them clearly for your learner. This will motivate them to get started, follow the designed set of rules, actively participate, and also share inspiring ideas with fellow learners. 
06

. Track learner progress

Not being able to track their work progress is one of the most awful turn off for learners. As it is, the course is of no use for them if they cannot track their work progress.

A well crafted LMS which tracks learners' progress motivates them to take up the course and breeze through it smoothly. Moreover, it facilitates minimum support intervention which in turn encourages users for the course. 
07

. Invite feedback

What's the purpose of training when learners are not satisfied and don't get to enhance their skills? Well, the solution is not just restricted to creating good learning content and an attractive LMS.

But, engagement also can be witnessed if users have the option of providing feedback. So, include contact information, incorporate surveys that serve as a means to obtain user feedback which makes them feel their opinions matter and they themselves are valued by the organization.

Besides, polling and brief lead-in questions are also excellent techniques for inviting user feedback. 
08

. Sharing content with others

A learner who's enjoying learning your course would want to spread the word amongst his friends who might be interested. Enabling such a sharing option attracts users and persuades them even more.

There are various LMS software which even offers discounts on future course options once a learner shares a particular course with the required number of users. 
09

. Share valuable ebooks

Who does not like takeaways especially when it is educating! Make sure to arm your learners with a piece of learner relevant takeaway content and ebooks serve the purpose in this case.

Other examples of such freebies include a link to pdfs and other informative websites that will impress your learners into registering and sharing your course. 
10

. Demonstrate how to apply learned skills

According to you, how do we make training effective? Through its proper and constant usage, right? So, as a part of your course preview, include a video that demonstrates how the learners can successfully apply the course to their jobs. Make sure you focus on how your course is advantageous to them which in turn might invite more registrations. 
11

. Social media popups

Popups are the ultimate LMS marketing tools and have been gaining significance for quite some time now. A common trend witnessed for implementing these in your e-learning courses is offering free signup for a course for limited chapters to provide a good feel to users. However, you can also refer to popup banner best practices for your elearning business and devise a strategy accordingly. 
12

. Create an action-oriented LMS

Designing a learner interface rampant with actionable buttons is yet another method to instigate valuable actions such as making purchases or any other desirable behaviour. So, make sure you include relevant and impactful CTAs at regular intervals in your eLearning program to make the most out of it. 
13

. Microlearning to your rescue

Breaking information into small chunks and then presenting it to the learners increases the attention span, learning speed, and enhances learner retention, as per studies. And, this is what Microlearning is about. 

Use it to your rescue when you want to increase user engagement. Take note that more complex the information, the more it needs to be broken into chunks. 
14

. Seek professional assistance

Creating engaging content and designing an LMS which meets the expectations of learners is not always an easy task. In fact, it gets tedious sometimes, especially when you don't have the required skills and resources. In such a case, it is suggested to seek professional assistance from a renowned e-learning firm relating your course.

These specialize in various aspects and facilitate improvement in different areas of your e-learning course thereby increasing its effectiveness. 
Final thoughts
Elearning has become immensely prominent in today's digital arena and is sure to dominate in the future as well. With overly zealous information and eLearning tools available for your operation, you got to make the right choice by picking the one which caters to your course requirements. 
Using techniques like visual simulation, gamification, and microlearning can help you in the long run. These make the content more relevant and easy to understand alongside making training more effective.
Moreover, various modification strategies such as those mentioned above can be implemented alongside to make your course stand out, garner huge amounts of traffic, increase user engagement, and ultimately achieve the ultimate goal of increasing sales.