If you are looking for the best name for your YouTube channel, we have included some of the top tools to help you find an attractive name for your channel.
A YouTube channel name is critical for helping you to make your work more visible on a search engine.
Also, the URL and other features on your channel can come with a name that may be easy to identify in moments.
But you must see how well your name generator will work if you're going to make the most out of your content.
Let's look at a few of the best YouTube channel name generators you can find. These options will work well if you need assistance with finding a way to make your YouTube channel more visible.
Many of these tools are traditional name generators and others work as quizzes for helping you find interesting names.
But these are all choices that should be suitable for when you want to make the most out of the name you wish to prepare and make yourself available with.
The fun styles that these generators and quizzes offer are all worthwhile when you see how they can all work for your use.
Why Do You Need a Channel Name Generator?
When you create a new YouTube channel, it could be with your own brand name or you might have to look for a suitable name if your channel has a generalized approach. The channel name generator tool that we mentioned will give you hundreds of name ideas to pick from.
How to Use A YouTube Channel Name Generator?
The channel name generators that we mentioned in this article are easy to use. You can simply add the seed keyword that you wish to have in the name and then make a search. The system will quickly give you hundreds of name ideas based on the keyword you have added.
As your YouTube channel gets ready, you will need to create a nice intro for the channel. We have already written about the best YouTube intro makers that you can use to produce a nice into.
Spinxo
Spinxo is a choice for your use that offers a simple tool for YouTube channel names, Tumblr page names, and gamer tags.
For the YouTube option, you will enter in detail the topics you want to discuss, your niche or focus, and various keywords.
Any important words that reflect your business or any unique numbers or letters you would prefer to incorporate in your work should be added as well.
The assorted results you will get out of your search should give you an idea of what you wish to utilize for your site's display needs.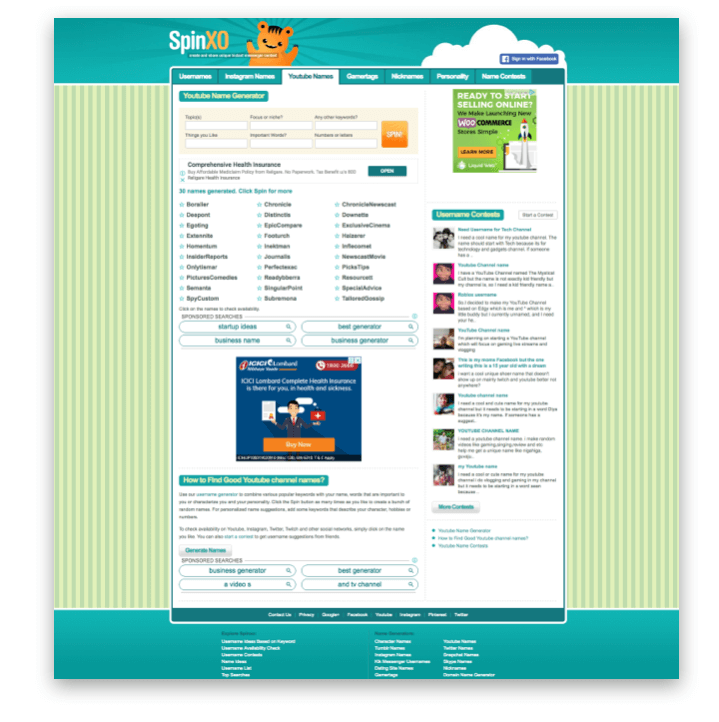 Username Generator
It is clear that Username Generator works mainly for helping people to produce unique usernames if they have not been created already.
But Username Generator can also work if you've got a need to produce a unique name online. You can enter a keyword of value and then ask for a number of lines.
The lines refer to the number of YouTube channel name ideas that will come about in the search. You can ask for many of them at a time, although a smaller number might be good enough for your use.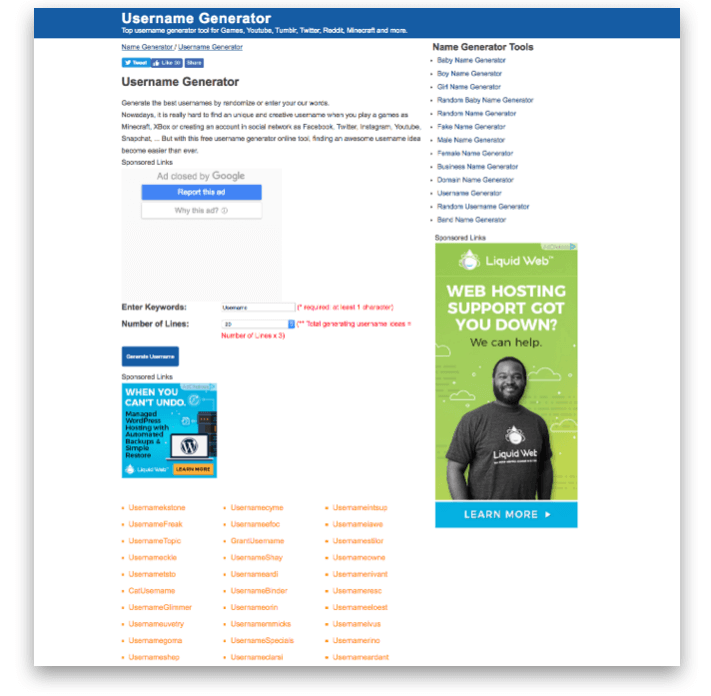 Name Generator
Name Generator provides a simple name generator that lets you find a good name for your channel. You can add the prefix and suffix for your channel name and then find a unique name of the value.
The random design works with various parameters that you wish to utilize when producing a quality name. The setup should not be hard to follow if used well enough.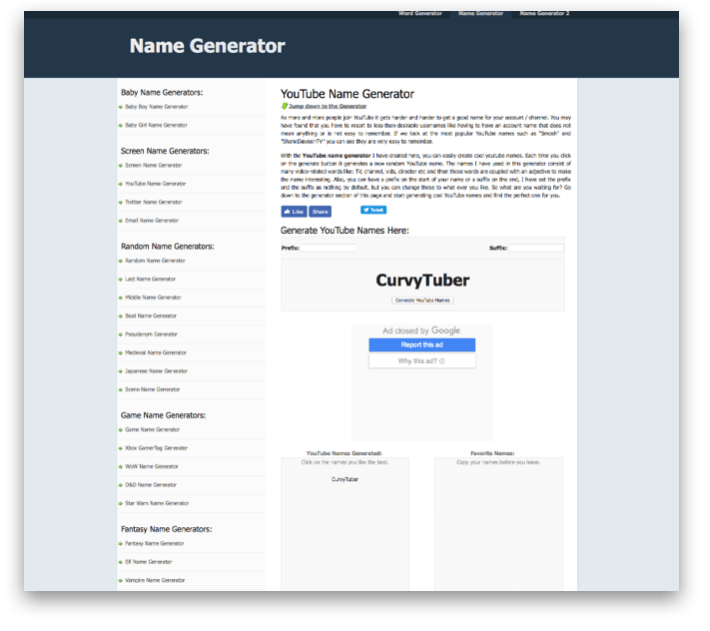 KParser
The appealing results you will get out of KParser will provide you with various options for a name that you can appreciate.
KParser uses a design where you can find names based on the country or language you are targeting. You can use as many keywords as you want when getting a search up and running.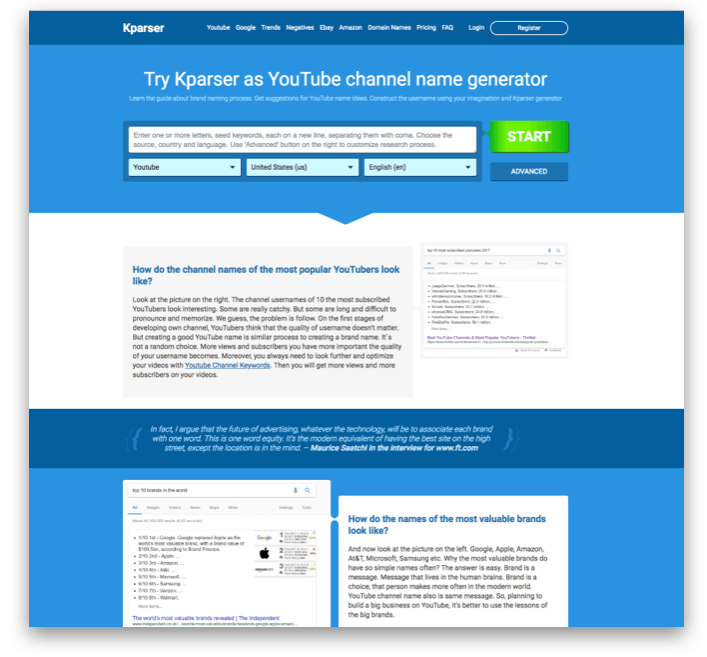 Best Username Generator
The fact that you're reading about something called Best Username Generator right after reading about Username Generator sounds unusual at the start.
But Best Username Generator goes one step further and lists information on usernames that are available on multiple social media portals.
You can use this site to see if the idea for a YouTube name that you have can also work on many other setups. The convenient design of this site makes it a must for people to check out when looking for convenient details on what's around.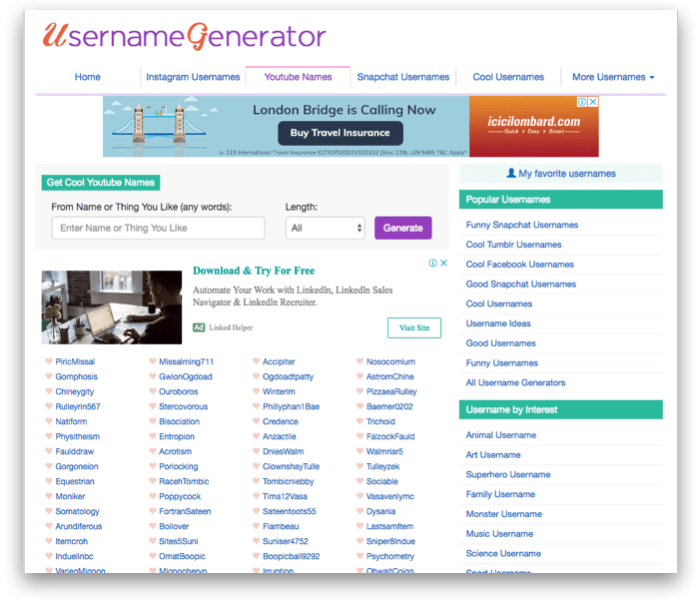 NameNami
NameNami is a generator that helps you identify names in many forms. The setup provides help for generating screen names, YouTube names, pseudonyms, and many other points.
But the approach that NameNami uses is a little different. The system gives you details on specific prefixes and suffixes that may work on your site.
You can use these features to figure out how well they may work with other bits of data that you plan on using when creating a convenient name. The feature here works wonders when you're trying to prepare something of value.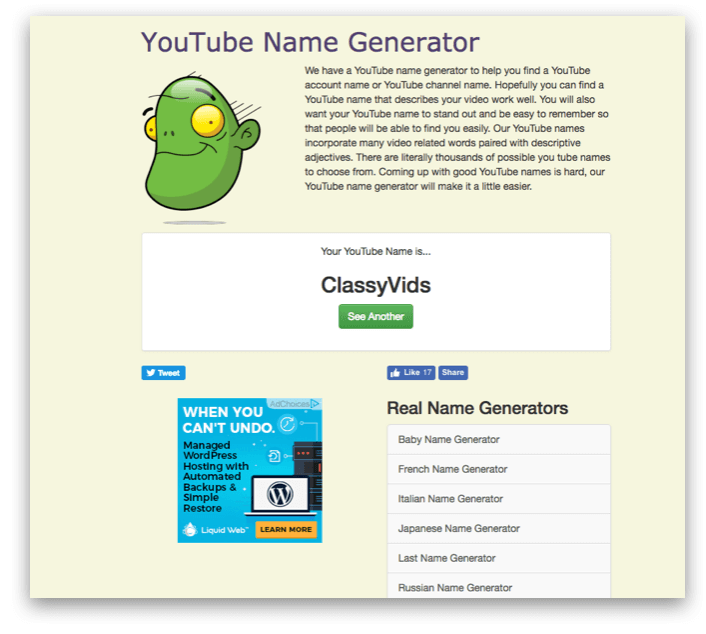 Naming
The simple name Naming might not sound too distinct, but it is an option for finding a name that you will love. Naming provides a clear approach to producing a new name that you will enjoy.
With Naming, you can produce a unique name that works in many forms. You can produce a name based on whether your name will appear on the left or right-hand side of the screen.
The positioning point helps with helping people to identify things on your site right away.
Also, you can customize the results based on the number of syllables you wish to incorporate into your name.
The common words you wish to utilize should also be added, although rhymes and other symbols may be incorporated into your name.
The flexible nature of Naming makes it an attractive choice for your use as you aim to find a quality name for your page.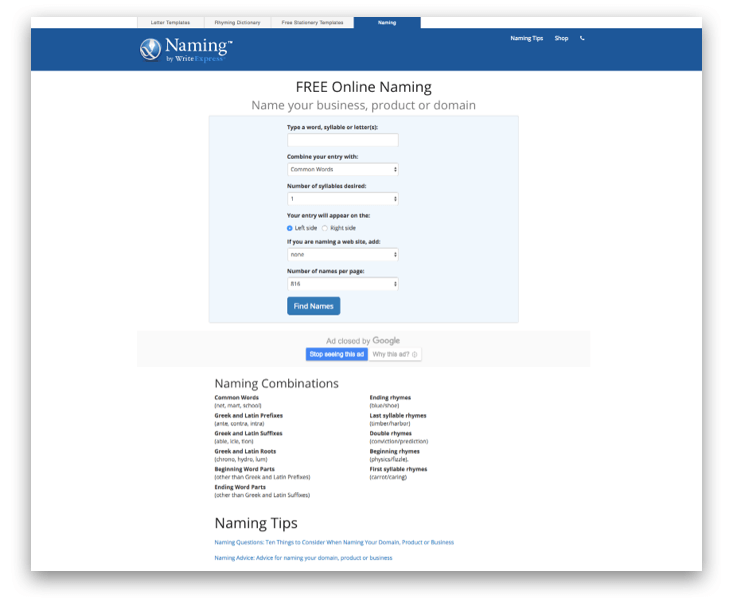 Cool Name Ideas
It is easy to produce an appealing name when you use Cool Name Ideas. The design works with a more intricate approach to producing a name, but the effort involved is worthwhile.
You can use Cool Name Ideas to create a name by entering words that describe your business and then details on the type of business you are operating.
You can also add details on the benefits you plan on bringing to your customers or the style of the business you are operating.
The options you have to choose from will vary based on the parameters you set up here. The layout focuses on producing attractive names that fit the style of your business and provide an intriguing idea to people about what you want to express or showcase.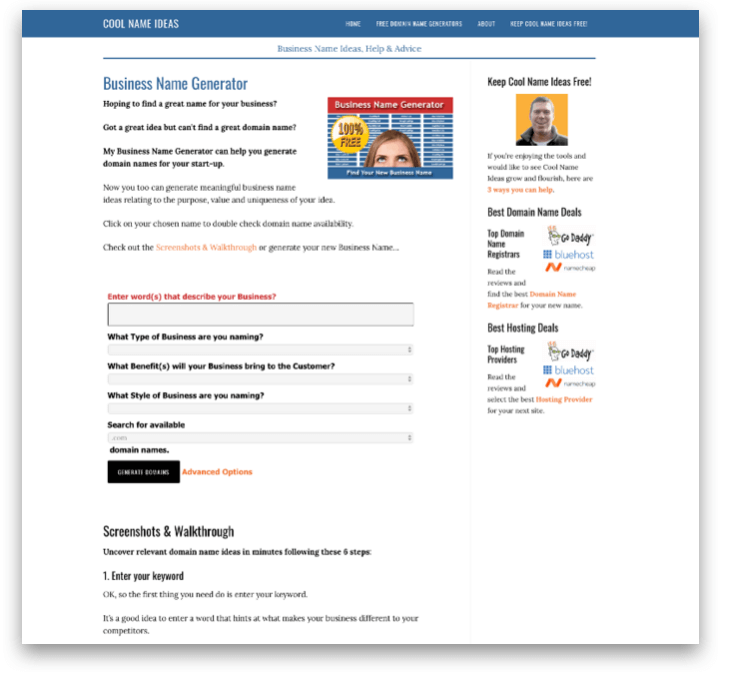 Jimpix
Jimpix is a site that lists details on many names that you can use. The listings on Jimpix are thorough and provide you with a good layout for creating something unique.
You can also use Jimpix to check whether your preferred name is available for use on multiple sites. The cross-searching feature gives you an idea of what is around and how you can get data for your needs.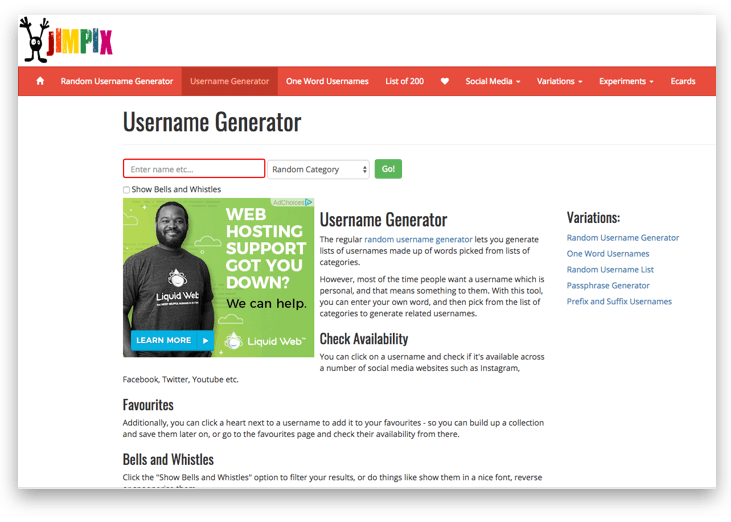 Quizony
Another quiz program, Quizony lets you answer various questions to figure out what name is right for your YouTube channel.
The program is more out of fun, but it does reveal some interesting ideas to utilize surrounding your YouTube name and how you can make the content work for your promotional needs.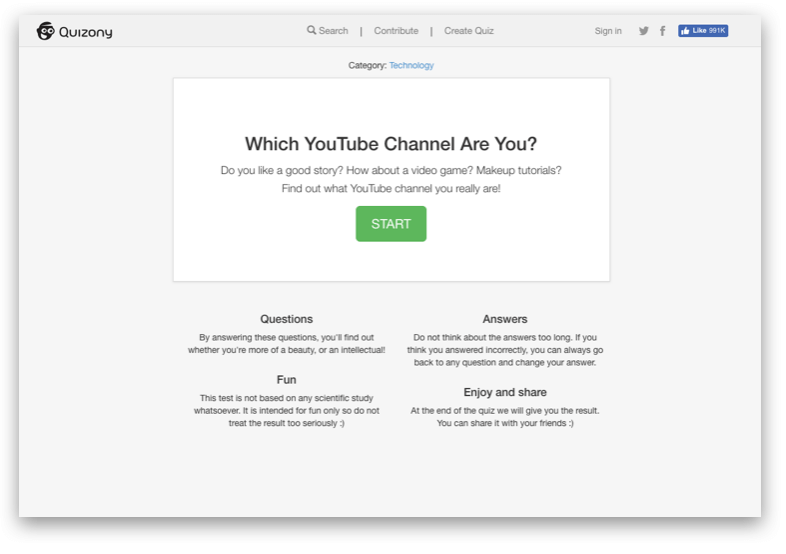 Big Business Name Generators
Big Business Name Generators as the name suggests gives you the tool that you can use to find names for your YouTube Channel or your blog.
The tool is easy to use. You just need to write any keyword that you wish to have in the name, the tool will instantly display hundreds of options that you can select from.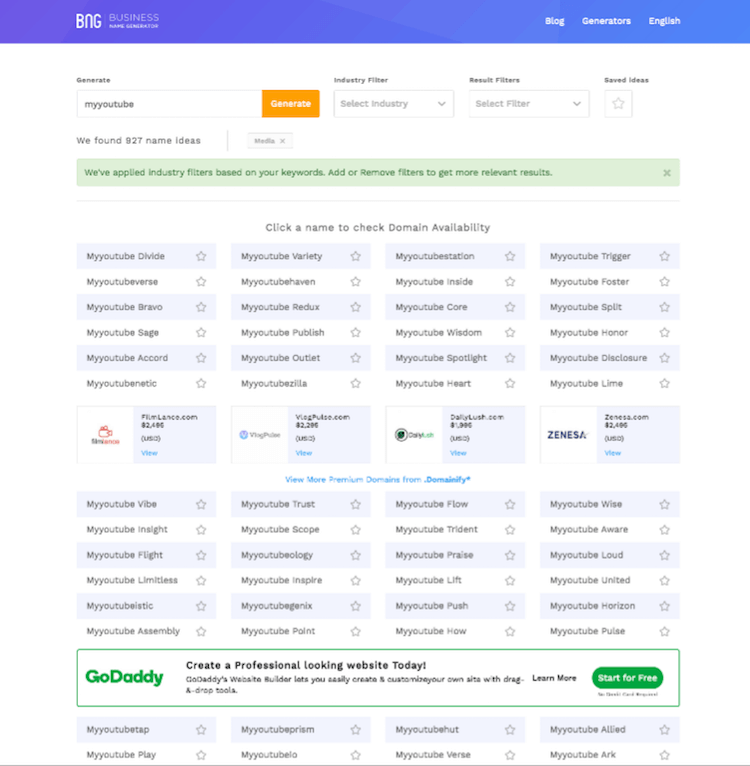 Final Word
Everything you do when finding a quality YouTube channel name for your use is important to note.
Be sure to see how well you can produce a YouTube channel name by using any of the programs that you have read about here.
We also have a detailed article listing the best blog name generators, don't miss that article.
Use These top YouTube channel name generators to start your channel today