Companies have been working remotely even before the pandemic hit and today over 50% of working professionals prefer to work remotely. With neither any office nor headquarters. Now with so many companies going remote, the dependency on technology has increased.
It would be impossible to imagine working remotely and managing a team without the use of remote tools.
Taking that into account, we have surveyed a few industry experts, journalists, and leaders on the tools that they use to manage their remote teams. Below are some of the top tools that make it easier for managing remote teams.
So without further ado, let's talk about these tools.
ZoomShift is an employee scheduling SaaS software that is created and designed mainly for hourly employees. It allows your business to schedule the employees faster, monitor the employee time, save a lot of money on the payroll, and manage their shifts easily.
The product dashboard is simple and it makes it easier for the teams to check the employee details in one place.
Distinct Features:
Pricing Details:
Whatfix is a digital adoption platform that empowers remote organizations to create in-app guided content for contextual onboarding and training, as well as on-demand support and knowledge management.
With interactive walkthroughs and in-app guides, streamline training for your WFH team members – all while tracking team member progress with task lists.
With interactive walkthroughs and contextual smart tips, personalize your learning and development, and provide on-demand, self-help support for employees.
Distinct Features:
Pricing Details: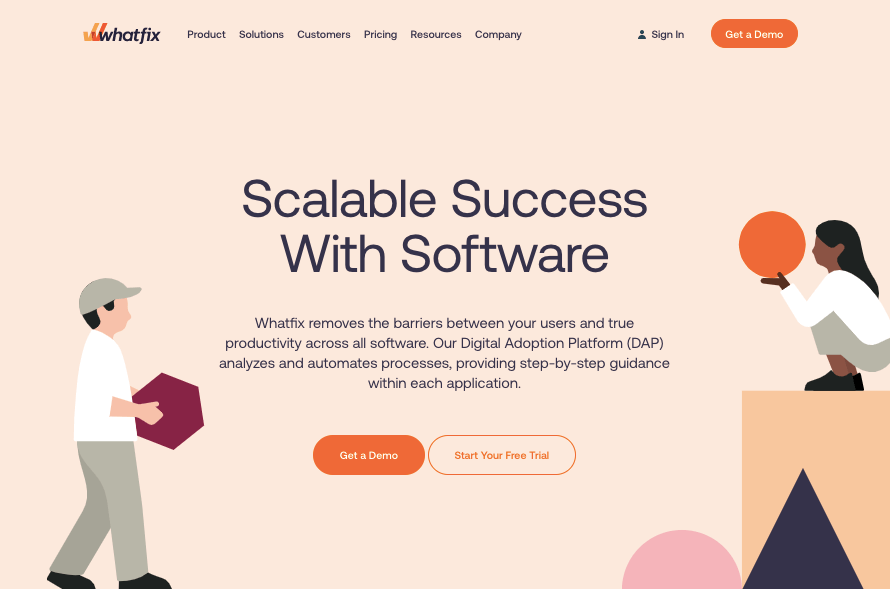 Apploye time tracker is appropriate for a wide range of users from freelancers to large corporations. It's an excellent software for tracking activities and organizing your workday more dynamically.
It helps you manage tasks, get reports on the employee performance, and monitor with the help of random screenshots, apps & URL usage. Apploye enables you to manage multiple projects, allocate budgets and set alerts. Its UI is top-notch, smooth, and user-friendly.

The dashboard is straightforward, and it compares your team's performance across projects. You can export employee performance reports for further analysis. Overall, Apploye is a handy tool for tracking your time and keeping your employees productive throughout office hours.
Distinct Features:
Pricing Details: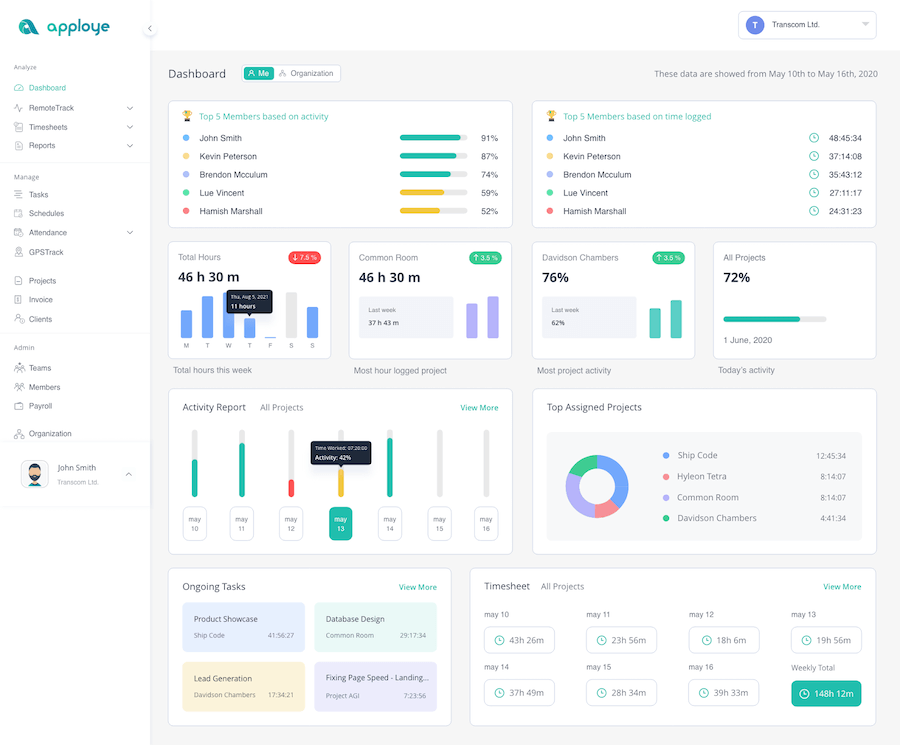 PDFLiner is an advanced online PDF editing platform that lets users create, upload, and edit their PDF documents without the need to download and install any software.
Using this platform, users can create unique PDF files, fill out important documents with full AES-256 account encryption, sign documents remotely in 4 different ways, share files with employees or clients, comment on project documentation, and many more!
What is more, there is an evergrowing integrated free library of document templates for various purposes.
This web app is also mobile-friendly, so it's very easy to use on both smartphones and tablets on iOS and Android. PDFLiner provides 3 subscription tiers for individuals and teams of up to 5 users.
Distinct Features:
Pricing Details:
The difference between the plans is only in the number of simultaneous users.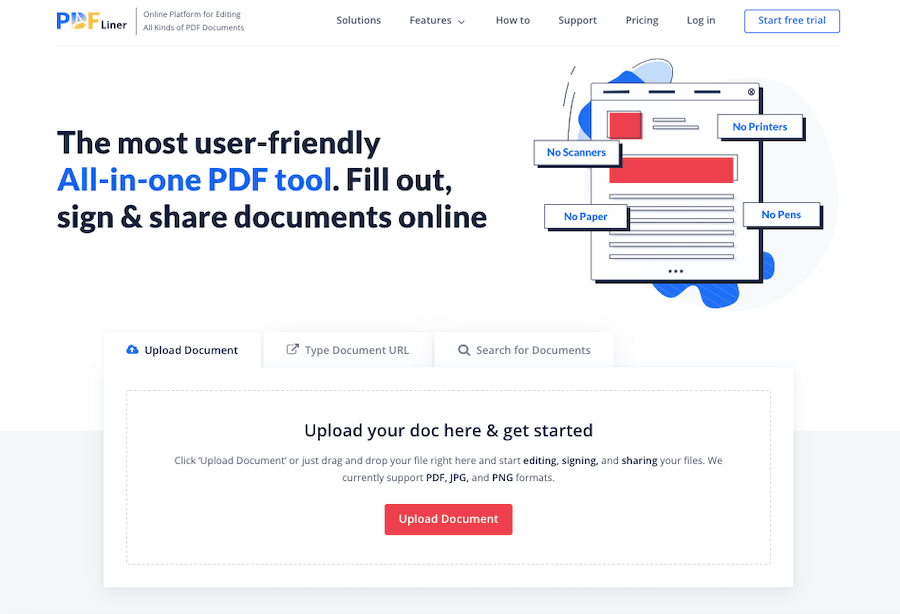 Mailbutler is an email extension that provides a collection of features for your inbox. Because Mailbutler integrates directly into your email client, there's no need to learn how to use any new software – it's quick and easy to get started right away. Mailbutler helps you to become more productive.
Distinct Features:
Pricing Details:
You can test Mailbutler out with a 14-day free trial for Outlook, Gmail, and Apple Mail to figure out exactly which features you need and learn how to use their program.
Then, once the trial has ended, just click on the upgrade button in your email client and you'll be taken to our subscribe page. It's as easy as that!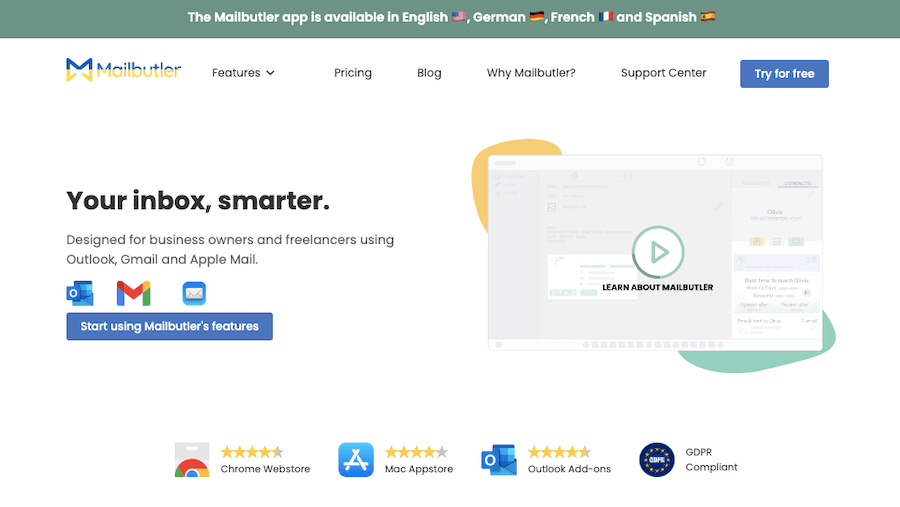 Airfocus offers a modern and modular product management platform for remote teams. It provides a complete solution for product teams to manage and communicate their strategy, prioritize their work, build roadmaps, and connect feedback to solve the right problems.
Designed with flexibility in mind, airfocus allows you to quickly customize the platform to fit your needs without disrupting the way your team works.
Distinct Features:
Pricing Details: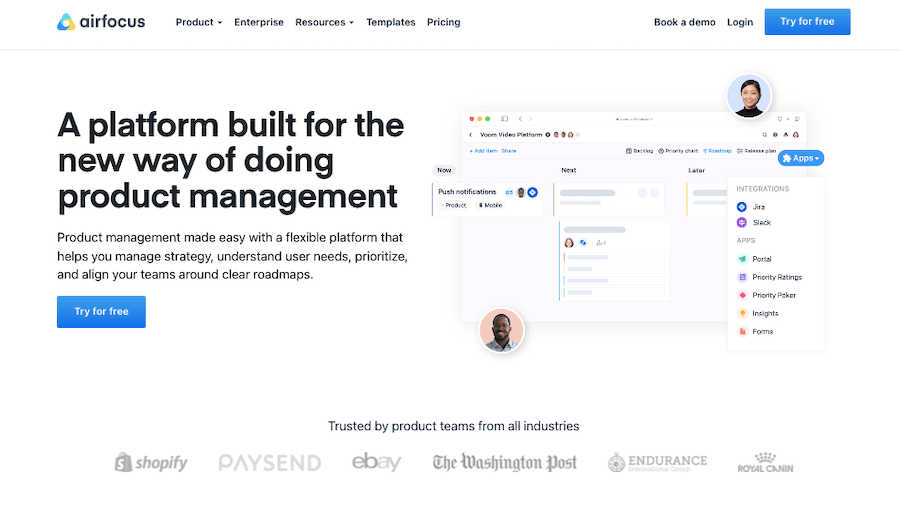 Quantum Workplace is a human resources technology provider, equipping workplaces with the smartest talent solutions so that they can grow and succeed.
The comprehensive platform integrates employee engagement, performance, and people analytics solutions. The same software is used for data collection for the nationally recognized Best Places to Work Programs.
Quantum Workplace's employee engagement solutions help organizations understand what is happening deep inside the organization so leaders can take action for business success. Integrated performance management tools align teams, empower critical dialogue, and celebrate employee success.
People analytics solutions help organizations uncover and explore meaningful insights and trends to make smarter business decisions. The engagement, performance, and intelligence technologies are interconnected and all in one place.
Distinct Features:
Resources – Each customer is provided with resources and tools for product education, adoption, and utilization.
From easy-to-follow guides for implementation and comprehensive success sites for each tool to ready-to-use promotional templates to boost user adoption and customizable technical resources to educate employees, customers have access to everything they need.
The help library is full of readily available resources to educate employees and teams about product navigation, functionality, and best practices.
Quality of support – The quality of support is unmatched. Quantum Workplace's mission to make a difference in the workplace guides everything they do. Support representatives are available for technical needs and questions from all users.
Employee and business success – The support team helps customers maximize the product's value and impact year-round, so the organization is getting the most out of the platform. The team focuses on each customer's key goals and outlines a path for them to get there.
Pricing Details:
It is a call center management tool that allows companies to simplify communications between support teams and customers through virtual call systems.
It seamlessly integrates with platforms like Salesforce, Hubspot, Pipedrive, and more through its VoIP phone system that can streamline telephony workflows across various locations.
Distinct Features:
Call Forwarding
Call forwarding can automatically forward incoming calls to external numbers, automatically redirect incoming calls from busy agents to available ones and allows for the manual transfer of calls to better-qualified agents.
Call forwarding is a feature that guarantees every customer that calls gets the help they need and reaches the proper agent. In addition, call forwarding can help take pressure off busy agents and helps to divide workloads evenly.
Automatic Call Distribution (ACD)
ACD is a feature that automatically organizes and distributes all incoming calls to the proper channels resulting in reduced wait times and more efficient handling of customer calls.
This feature can be triggered by various factors like an agent's availability, the phone number of the caller, the caller's location, the date, or the time of day.
For example, you can have all incoming calls from phone numbers with the German +49 area code automatically directed to German-speaking agents.
Auto Dialer
Autodialer is a system that automatically calls phone numbers, which is great for companies that want to make a high volume of calls without hiring troves of new agents. The auto dialer is a groundbreaking feature that has been shown to boost productivity and efficiency by 300-350%.
That is 3 times more calls per hour per agent. Since agents don't have to waste time manually making phone calls and searching for phone numbers, they can instead focus on more important things like lead generation.
Pricing Details:
The Starter plan starts from $25 per month if billed annually and then goes upto $50.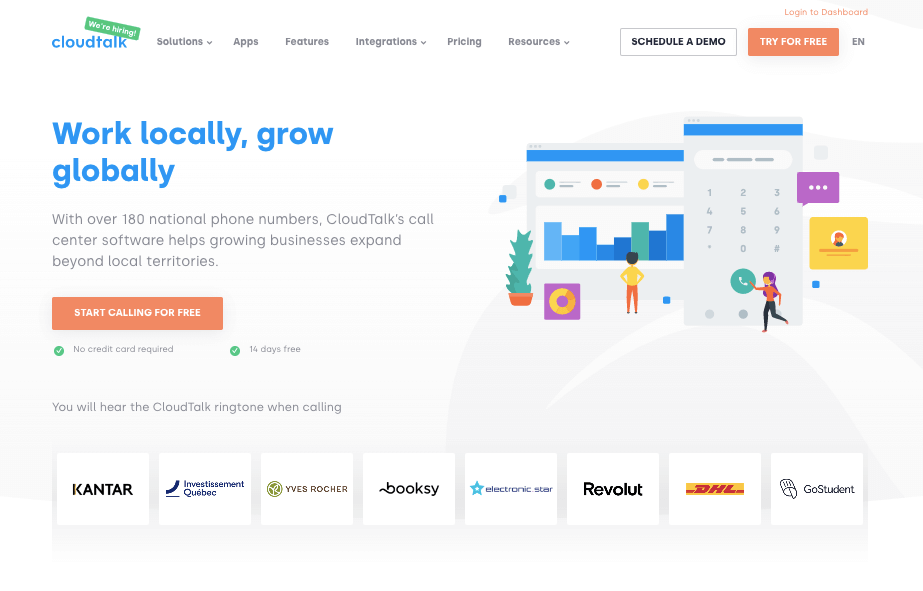 FactoTime is a full-featured tool for tracking employees working hours and payroll calculations that helps to automate and simplify attendance and payroll process. The app allows employees to mark attendance punch directly from their mobile phones.
In addition, the app offer feature called remarks while punch which allows employers to get a bird's eye view of employees' activity.
The tools have features like selfies and location-based punch that allow employees to mark attendance and eliminate buddy punching.
The app also offers a QR code attendance feature to mark the presence, which helps employers to know the employee's time even while working from home. It also allows employees to check timing data used for payroll calculation.
FactoTime is extremely simple to use and notes everything about employees, like in-out timing, leave and attendance, working hours, salary, and other details. With the attendance data, the app gives detailed data and salary calculations.
Distinct Features:
Pricing Details: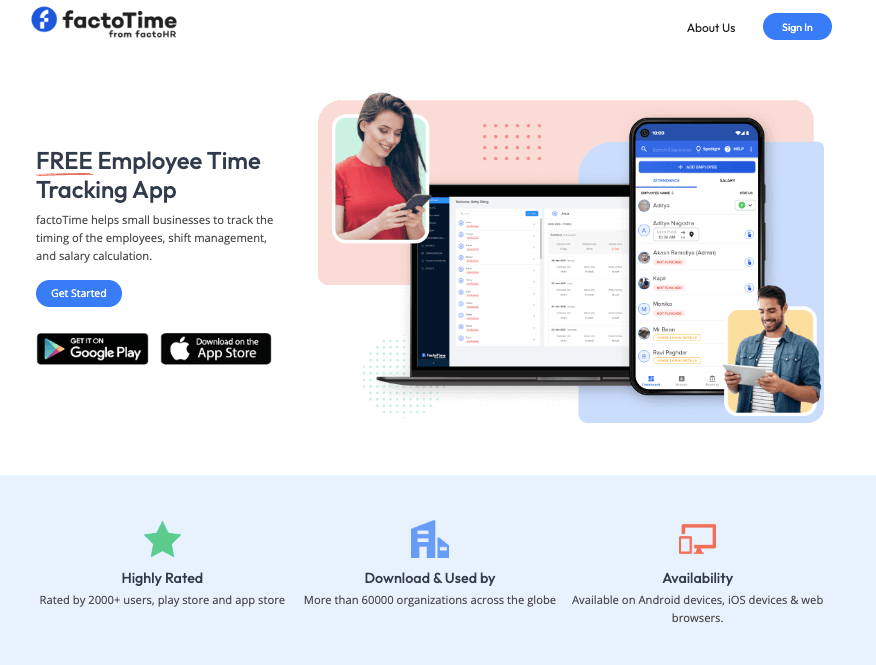 Alyce is a B2B gifting platform that simplifies sending gifts to employees, customers, and prospects. When recipients receive a gift, they can accept, exchange, or donate its value to a cause they love.
Core to the company's approach is to send gifts people genuinely want. When a gift is personal, relevant, and thoughtful, it builds relationships.
Rather than sending a branded mug, opt for an item related to one's interests. Alyce makes this entire process simple for businesses to grow employee engagement, customer loyalty, and sales.
Companies can choose from thousands of items in the Alyce marketplace. They can send virtual and physical gifts, plus the option of sending branded corporate swag kits. The platform also integrates with Salesforce, HubSpot, Marketo Eloqua, Outreach, and Chrome.
It supports numerous gifting campaigns, including employee rewards, partner recognition, demand generation, and customer success. Each campaign includes a budget, users, and controls to improve security.
Distinct Features:
Pricing Details:
The cost of Alyce depends on the volume of gifts sent and additional product features. The company primarily serves the mid-market and enterprises with all their corporate gifting needs.
Alyce has transparent pricing without any surprise fees. Sign up for a product demo to see how it works and get an accurate price quote.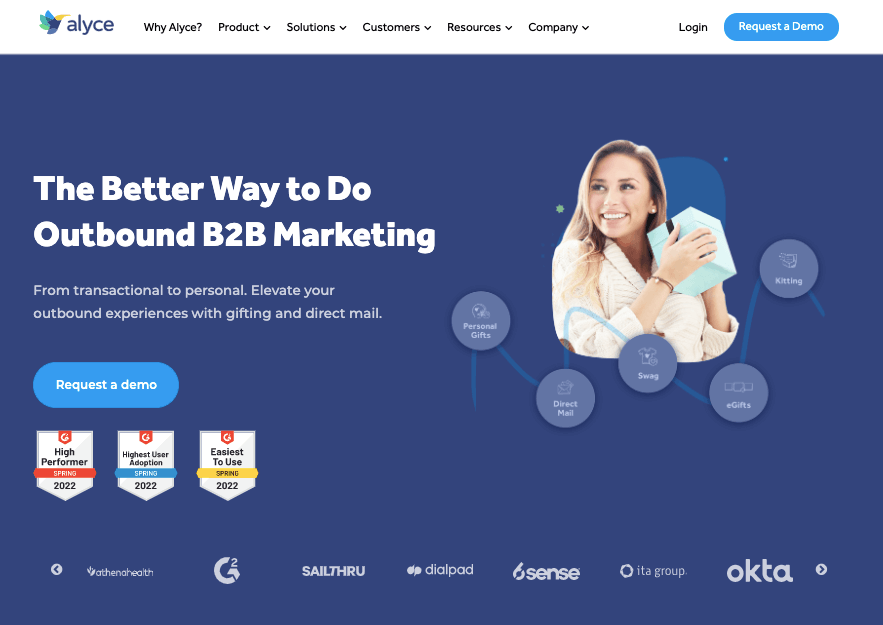 Hi5 is a simple, easy-to-use platform for giving feedback and recognition at work. Hi5 was developed within a company that recognized a need for an HR app that could radically reduce employee dissatisfaction at work without taking too much time and effort to implement.
In short, it needed to be quick to onboard co-workers, and the platform had to feature performance feedback tools as well as a way to recognize people for a job well done.
And, it had to be fun! Now, Hi5 is a popular choice for small to medium companies in various industries all over the world, especially those integrating with Slack, Microsoft Teams or WhatsApp.
Hi5 packs other cool features, too, such as communication tools and comprehensive manager reports.
Distinct Features:
Pricing Details: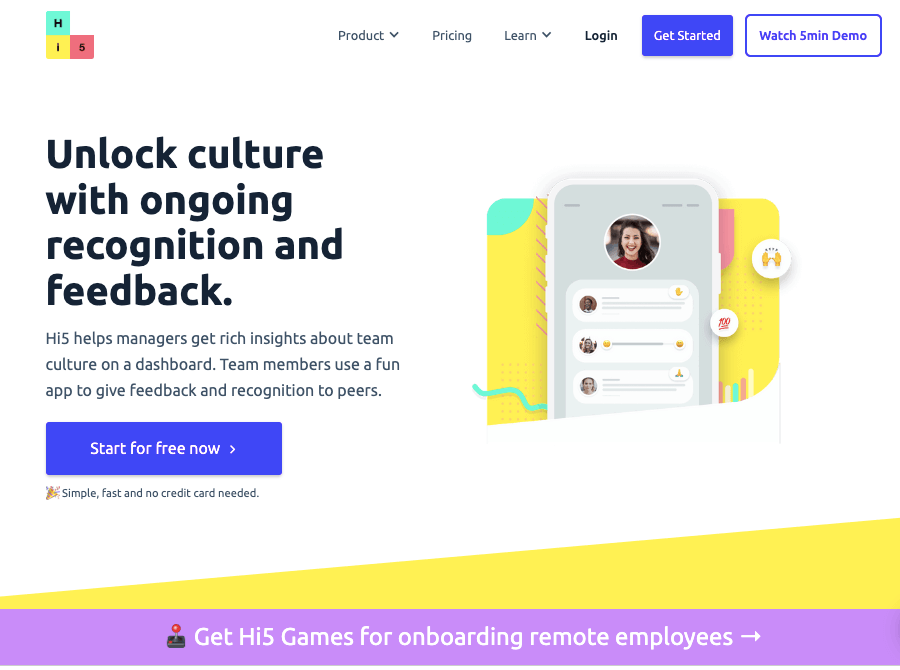 Rillo helps companies to boost lead engagement on the landing page and automate the pre-sales pipeline. Basically, it turns static product-explainer videos into interactive product tours adding fancy features that drive engagement.
Distinct Features:
Pricing Details: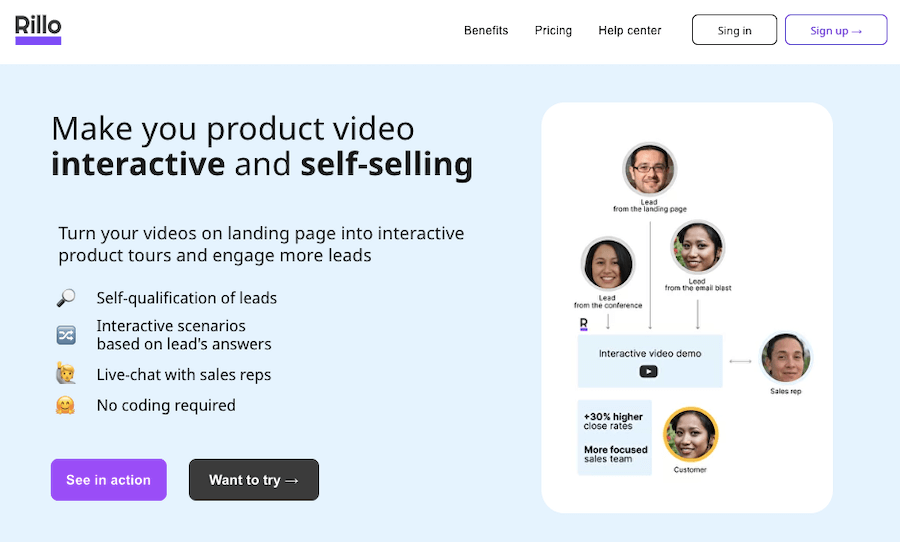 Fyle is a spend management software that completely automates your pre-accounting end-to-end. It enables you to control your business expenses while having access to financial insights that can ensure cost savings over time.
Recently, Fyle launched a real-time spend management solution for SMB folks using Visa corporate cards. This makes Fyle the first platform to offer direct transaction feeds to the user of any Visa-powered card from any bank. This means any SMB can now access software without changing their cards.
Distinct Features:
Pricing Details: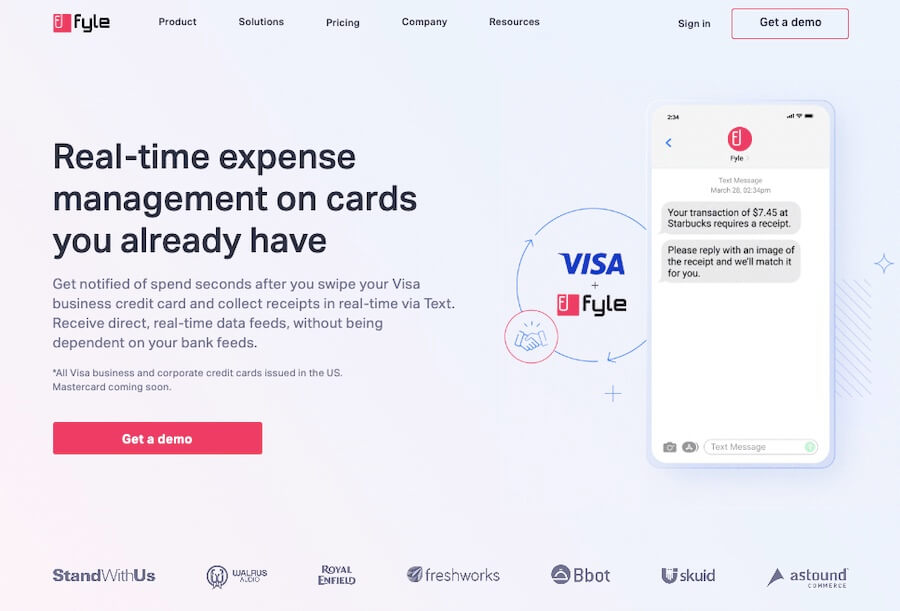 Zavvy helps remote and hybrid teams perform at their best with powerful workflows to connect, train, and develop. It seamlessly integrates with all your tools like Slack or Teams, HRMS systems, GDrive, and more. A few of the things you can do with it:
Distinct Features:
Pricing Details: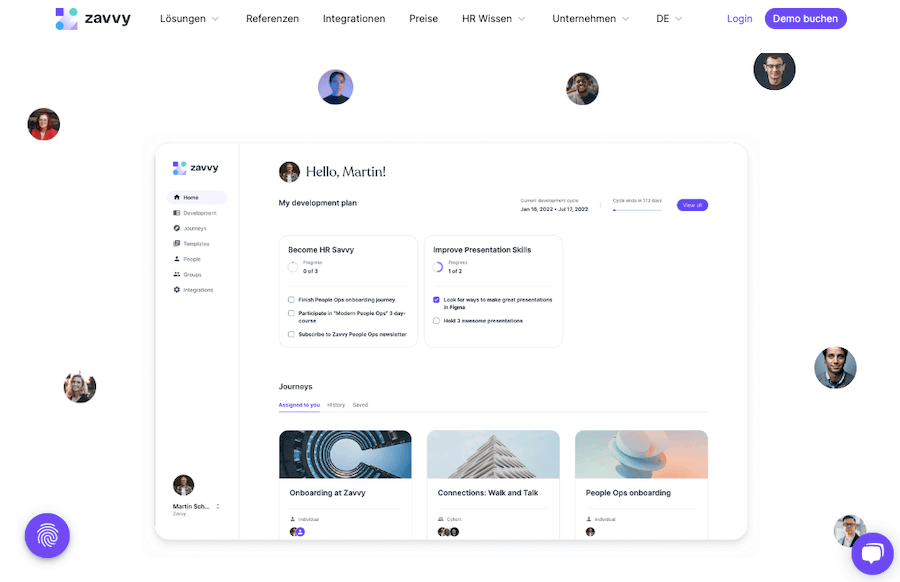 Jobsoid is a great recruitment tool that offers HR executives the to manage their recruitment activities. They can attract candidates using a custom-branded careers page and engage and communicate with them by sending personalized emails and SMS messages.
This can be swiftly undertaken via relevant templates. Workflows can also be automated, and it is possible to track applicant progress throughout the user's custom recruitment pipeline, assign related tasks to team members and collaborate and shortlist best-fit candidates with smart filters.
Users can schedule video interviews for candidates for initial screening rounds, create interview time slots and allow candidates to choose the desired interview times, and receive real-time notifications about their status.
Users can also post on their Facebook page's careers tab and job boards and social networks such as Indeed, Adzuna, Glassdoor, Facebook, Twitter, Trovit, ZipRecruiter, and more. Jobsoid includes mobile applications on both the Google Play Store and Apple Store.
Distinct Features:
Pricing Details:
Conclusion
Earlier it looked like remote teams would just be a temporary solution but with so many companies going remote and still productivity is unaffected, it's easy to say that teams would be working remotely for a long time now.
When you have people working in multiple time zones and different working styles, it's important to have technology help you. With the use of remote tools to manage these teams, it becomes easier for employees.