Are you looking for the latest remote work statistics? Well, here's a list of some top remote work stats that you need to know.
COVID-19 made remote working a mainstream trend. As we move beyond it, the hybrid models of work are spreading their prominence.
What do we expect going ahead? Check out these 50 remote work statistics that outline the reality of working away from an office.
Remote Work Statistics: Key Observations
| | |
| --- | --- |
| Surge in remote work | 173% increase |
| Improves work life balance | 70% Global employees feel so |
| Growth in business | 89% Business with remote team seen growth |
| Less anxious | 80% Employees feels less anxious compared to office |
| Reduce operational costs | 77% Organizations feel so |
Surge in remote work
01. According to the Global Workplace Analytics report, the remote workforce has surged by around 173% since 2005. The number is overgrowing post-COVID as more companies allow work from home.
Here is an industry-wise work from home distribution report.
02. As per Remote.co's reports, 62% of the total Millennials and Gen Z work remotely at least once a week, and this trend is becoming more common.
03. As per the Global Workplace Analytics report of 2018, non-union professionals are likely to have access to telecommuting.
04. Only 58% of Baby Boomers have workers who work a large part of their time remotely, according to Upwork 2020 reports.
05. According to Pesto's 2019 reports, remote working is prevalent in cities with a higher average income.
06. The reports of IWG say that around 70% of the global workforce works at least once a week as it helps them maintain a healthier work-life balance.
07. Among several industries, the top domains that encourage remote working are digital media, IT, and transportation, according to Gallup reports.
08. According to Buffer, most remote working professionals have unlimited flexibility, yet they prefer to take a break of 2-3 weeks per year.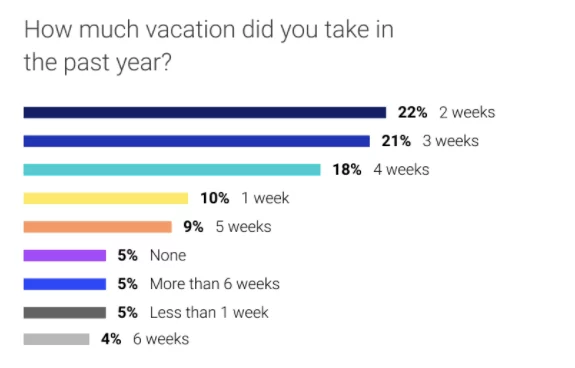 09. As per the SoapBoxHQ reports, remote managers have around 20.9% more direct reports from employees than onsite managers.
10. As per a Buffer report, around 84% of remote working professionals prefer to work from home rather than from a secondary location.
11. According to GWA reports, around 5 million professionals work from home for at least 50% of their time.
12. Virtual Vocations report says that around 58% of the working professionals would work a completely set schedule if they work remotely full-time.
13. Flexjobs reports say that around 42% of the professionals who work full-time said they're working remotely for more than five years.
14. As per IWG, one out of ten global professionals works outside their organization's head office location five times a week.
Remote work makes employees more efficient & productive
15. As per Stanford research, remote professionals are around 13% more productive and efficient than their in-house teammates.
16. As per GWA statistics, a half-time can save the equivalent of eleven working days in time that they would have otherwise spent commuting.
17. As per Flexjobs, around 47% of the employees without a remote work policy say they can work with more efficiency and deliver more productive results if they get an opportunity to work remotely.
18. According to the TECLA reports, companies with a diverse workforce, including remote professionals, are 35% more likely to do better than non-diverse ones.
19. IWG reports of 2018 say that organizations that permit remote work for team members experienced around 89% growth in business.
20. As per a report, around 50% of the remote workforce said that working from home has reduced their sick days 56% of them have said that WFH has reduced their absences.
21. According to Owl Labs reports, 68% of remote working professionals don't think working remotely will impact their career progression. On the other hand, around 23% of individuals say they fear it.
22. As per Stanford, organizations saw a dip of 50% in registration when employees could work from home.
23. As per GWA reports, 56% of working individuals have some work that they can do remotely without dropping productivity.
Remote work increase employee satisfaction
24. According to Flexjobs, 80% of working professionals feel less anxious when they work remotely than when they work in their office.
25. Millennials and Gen Z are three times more likely than older generations to consider their future workforce planning, according to Upwork reports.
26. According to Gallup, around 51% of the working professionals are willing to switch to remote working as it offers them more flexibility.
Working remotely saves cost
30. As per Stanford, organizations that let employees work remotely see an average increase of $2,000 in profit per remote employee.
31. As per Flexjobs, around 77% of organizations say allowing employees to work remotely may reduce operational costs.
32. As per TECLA's report, employees that work remotely save about $7,000 per year in transportation, childcare cost, and food.
33. According to WBUR reports, companies with remote working policies save an average of $5 billion.
34. As per GWA, individuals save around $2,500 to $4,000 every year by working from their homes half the time.
35. As per Owl Labs reports, remote working professionals earn 2.2x more salary than onsite workers, around $100,000/year.
36. According to the TECLA survey, 85% of managers say that their teams consisting of remote workers will be a mainstream norm in the future.
37. When given the option of working from home, Millennial employees are 28% more likely to take this opportunity than Baby Boomers, according to an Upwork survey.
38. According to a Remote survey, 76% of women working in the tech industry believe that work from home policy is a must to retain females in the industry.
Remote work reduces salary inflation
39. According to WBUR, 68% of millennials say they expect to work from home in a compensation package when considering a new job.
40. As per Flexjobs' survey, around 41% of global businesses already offer some remote working while 60% offer flexi-time opportunities.
41. As per Upwork studies, there is a prediction that 73% of all teams will have permanent remote workers by 2028.
42. As per a Virtual Vocations survey, 73% of employees say that they are happy to take a cut of 20% if they get a chance to work remotely full-time.
43. As per the IWC survey, around 64% of hiring managers say offering the option of working remotely helps them hire the top talent easily.
44. As per TimeCamp reports, remote professionals spend 2X more time in online meetings than people working onsite. The average time spent on MS Teams and Zoom usage increased by 1100% and 600%, respectively.
45. As per the Gallup survey, remote working professionals are 16% less likely to agree that their managers involve them in important decisions.
46. As per SoapBoxHQ reports, around 22% of managers supervising remote workers face problems in team collaboration.
47. According to the Gallup reports, remote working professionals are 35% less likely to agree that their team members offer their valuable feedback.
48. As per Buffer reports, the top three problems faced by remote workers are experiencing loneliness, communication issues, and unplugging after work.
49. According to Buffer, only 23% of employers cover coworking space for their employees.
50. According to Buffer's survey, around 95% of employees happily recommend remote working to their friends and family.