If you are a food blogger, these recipe WordPress plugins will be very helpful for you. These recipe plugins will help you to showcase your yummy food items in the most attractive manner.
WordPress is a powerful tool for the creation of a website and has become the mainstay of online marketing and communication.
Various food blogging sites are coming up every day and every blogger wants their site to be engaging while being the best.
In this competitive environment, your food recipe or blogging website should stand out in terms of image slider plugins, powerful Search Engine Optimization and conversion boosting tools.
And a WordPress recipe plugin can assist you in publishing your recipe without any hassles and can help you fine-tune the theme according to your specific requirement.
Move over the experts, even amateurs and budding chefs can be seen blogging and sharing their cooking experiences and recipes online. And if you're using WordPress, there are a lot of food blog themes that can help you in getting started.
The applications of some of the most useful WordPress recipe plugins enhance the performance of the website and provide an accurate, arranged and neat look.
In no time, your recipes will have a rating feature, a print feature enabling your users to print your recipes and impactful SEO that will help your site to pop up in the Google's recipe view search results.
Since there are a lot of plugins that can be used by chefs, food bloggers or even a layman who wants to share his recipes online, we have made your work easier and put forward the best plugins that you need to beautify your site and increase engagement:
Total Recipe Generator
Elementor is the most popular website builder with over 5 millions users. You can create any kind of design for your site without writing a single line of code using the Elementor plugin.
Considering you are already using Elementor or planning to use it for your food blog, here is the perfect recipe generator plugin for your that is specially created for the blogs created by Elementor.
This is an add-on plugin for Elementor that you can use on your site. It adds all-important recipe related metadata to make sure that your recipes are perfectly optimized with rich Schema microdata.
It also optimizes your recipes to share on social media platforms like Pinterest to make sure that you are able to drive a lot of traffic.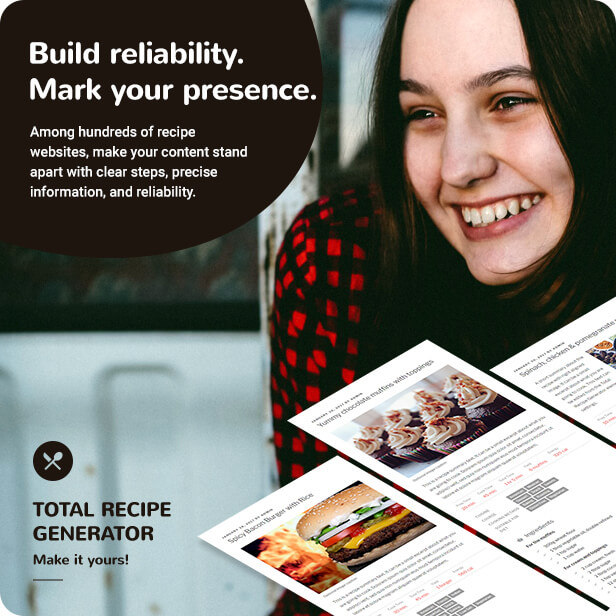 WP Ultimate Recipe
If you're a newbie and are looking for a user-friendly plugin that helps you add a recipe to any of your posts, then WP Ultimate Recipe Plugin can be a great option for you.
This plugin is fully responsive and will work on any device and apart from being useful to you, also serves your visitors well.
Your website's visitors can adjust print the recipes on your website, find other similar recipes and share your recipes as well.
This would mean that your recipes will have an increased reach. Buy the WP Ultimate recipe and make your visitors fall in love with your site.
La Chef Premium Recipe Plugin
Wouldn't it be an added advantage if you could also add Youtube videos apart from writing and posting your recipes? Well, La Chef-Premium Recipe Plugin has got you covered there.
This powerful plugin enables the support of YouTube videos and allows your users to share your recipes on social media websites as well.
The layout is highly responsive and looks beautiful on all the devices. As an admin, you can also activate the filter and change the color of the filter.
Cooked
This plugin will help you in making your site attractive, building beautiful photo galleries and displaying nutrition facts with ease. With the Cooked Plugin, you can create your recipe pages using an interactive drag and a drop button.
You can also customize your recipes; add cooking times with interactive timers according to the number of servings in your recipe.
The cooked plugin also comes in a premium version that helps you in getting custom recipes, custom login, ratings, customized emails, and many more amazing features.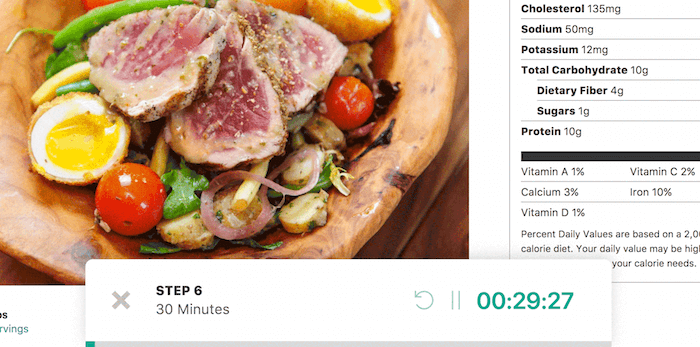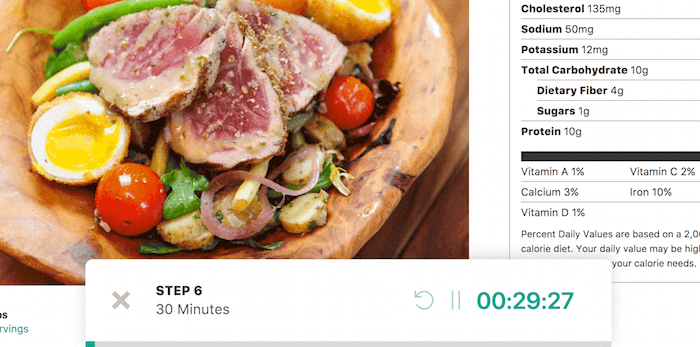 Recipe Box
The Recipe Box plugin gives you immense flexibility as you can change the entire layout,
including the colors of your website.
The plugin is user-friendly and you only have to add the required short-codes to publish a recipe. Quite true to its name, Recipe Box is a box full of happiness for your recipe based website.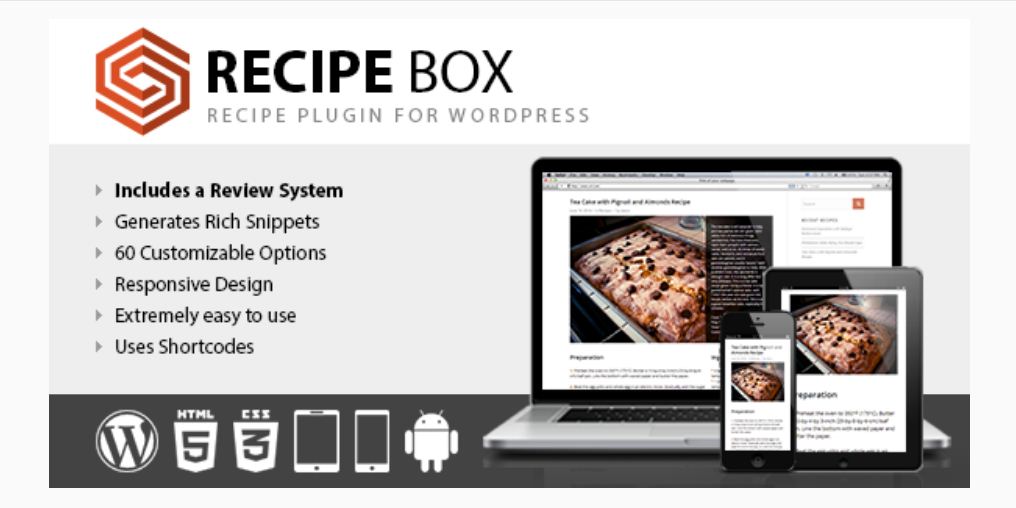 Easy Recipe plugin
As the name suggests, the Easy Recipe plugin is extremely easy to use the tool and because of its highly user-friendly working, it will give you various opportunities to add multiple recipes at once onto your website.
You can further add links and images to your recipes and the plugin helps you organize the process of the customization of your recipe pages with ease.
The Easy Recipe plugin comes ready with Search Engine Optimized pages and makes the content on your website receive the maximum exposure from all search engines.
All you have to do is create some easy recipes and witness your customer engagement escalate.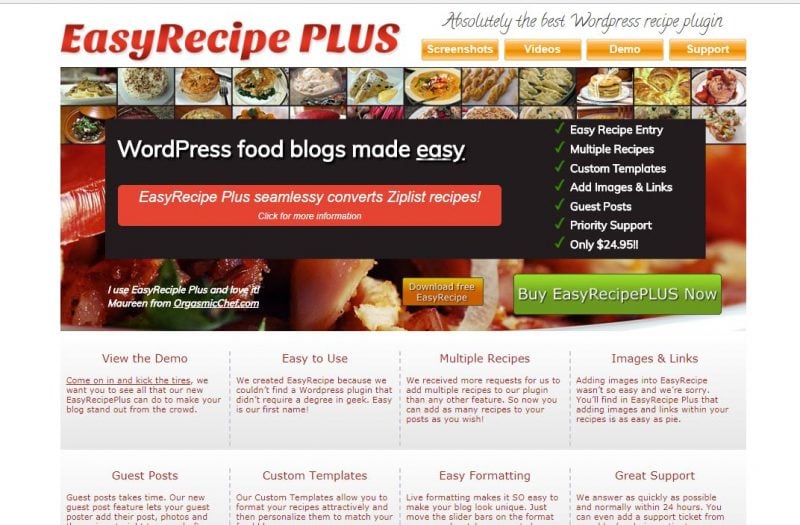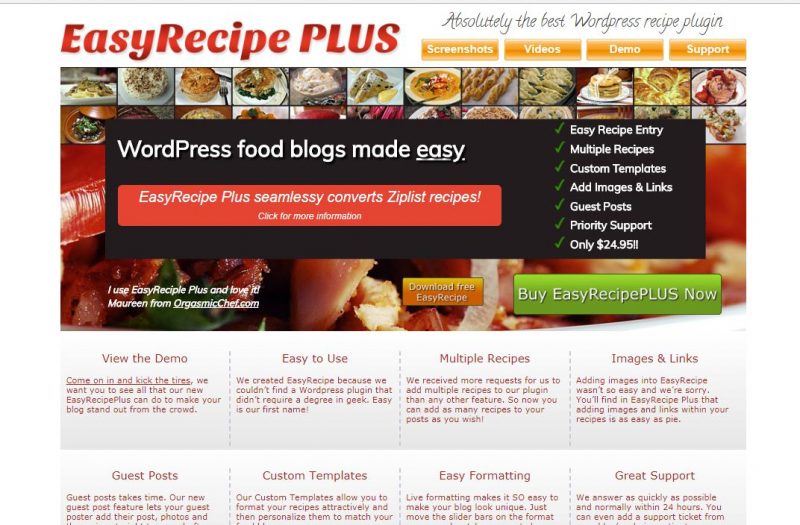 Recipe Card Blocks by WPZOOM
A free WordPress food recipe plugin created by WPZoom team. This plugin is specially created to work perfectly with the Gutenberg Editor.
This plugin will add three additional blocks to the Gutenberg editor that will help you to create great-looking recipe posts on your site.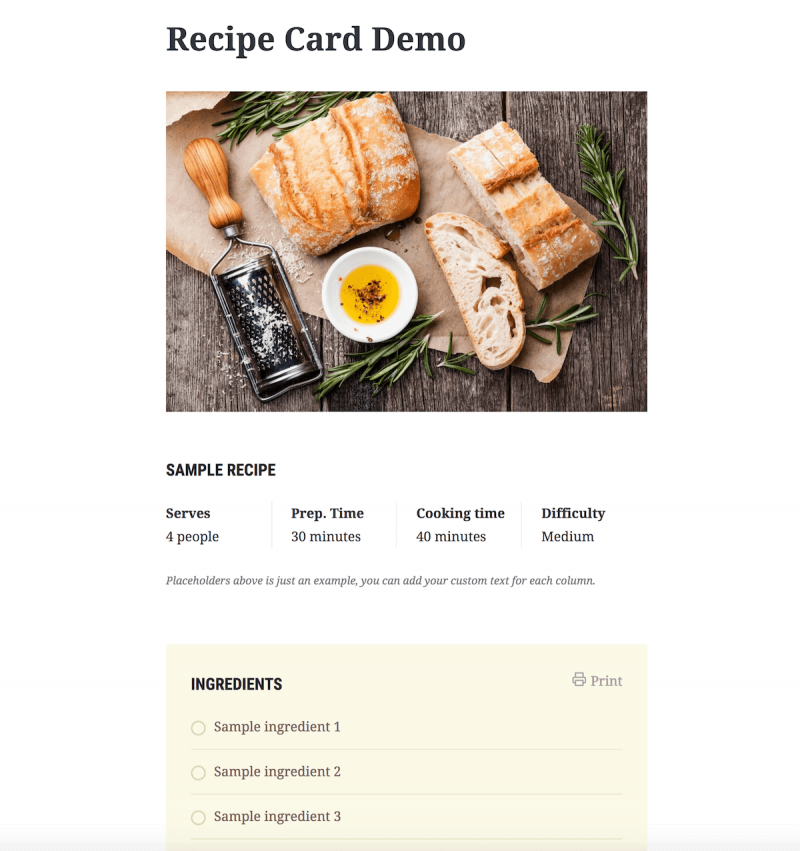 Zip Recipes
If you want to fine-tune your Search Engine Optimization and eventually increase the traffic on your website, then the Zip Recipe plugin is an ideal choice.
This easy-to-install and activate plugin is highly user-friendly and helps you in customizing your website's design and style in an attractive manner.
You also get some added features with this plugin including nutrition calculator, recipe index, author setting, recipe card design and more.
The plugin fully supports the AMP (Accelerated Mobile Pages) pages of your website and you also have an additional note field to mention the optional ingredients or added ingredients for a user. Pretty convenient!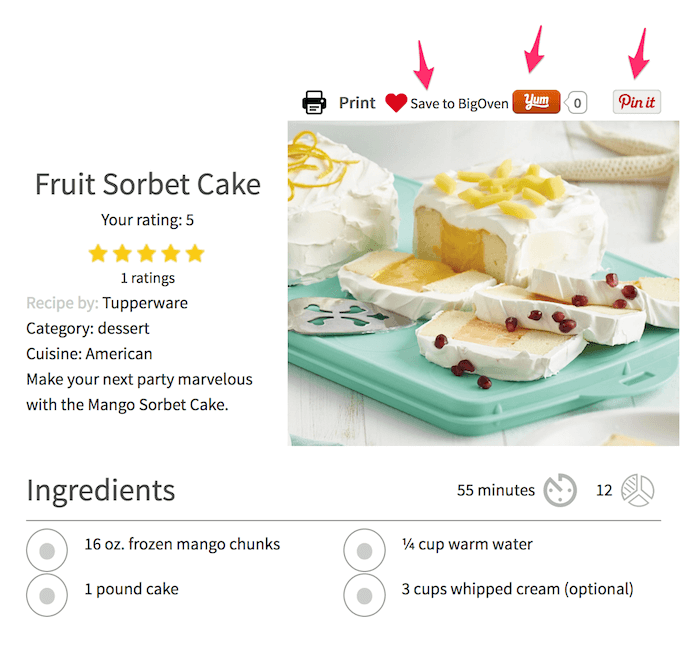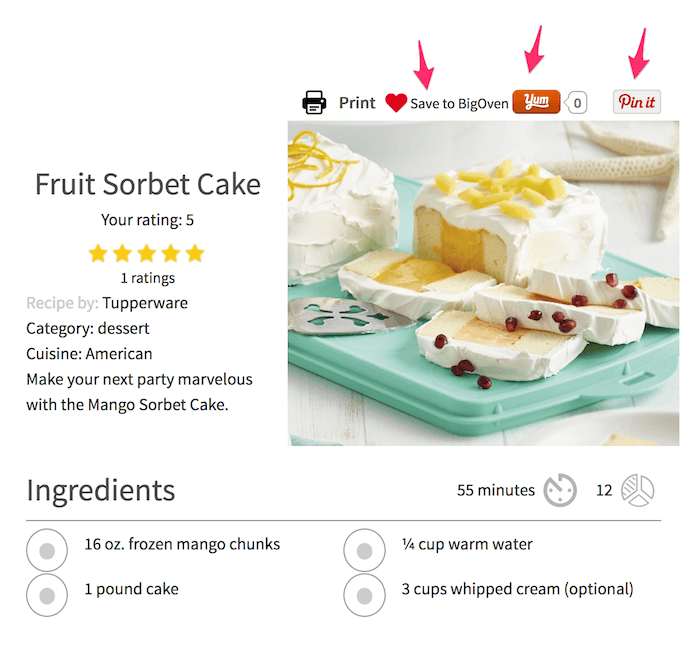 Yummly Rich Recipes
This powerful plugin will take care of the structure of your recipes to make them suitable for the search engines.
To enhance the SEO, post name is added to the recipe automatically and you can paste the entire ingredients at a click of the button and add the post name to the recipe. This not only enhances SEO but also makes your website look great.
With Yummly Rich Recipes, you can add images at any step of the instructions and readers have their own "yummily" boxes which they can fill with their favorite recipes by clicking a YUM Button on the recipe. Quite an interactive and creative plugin!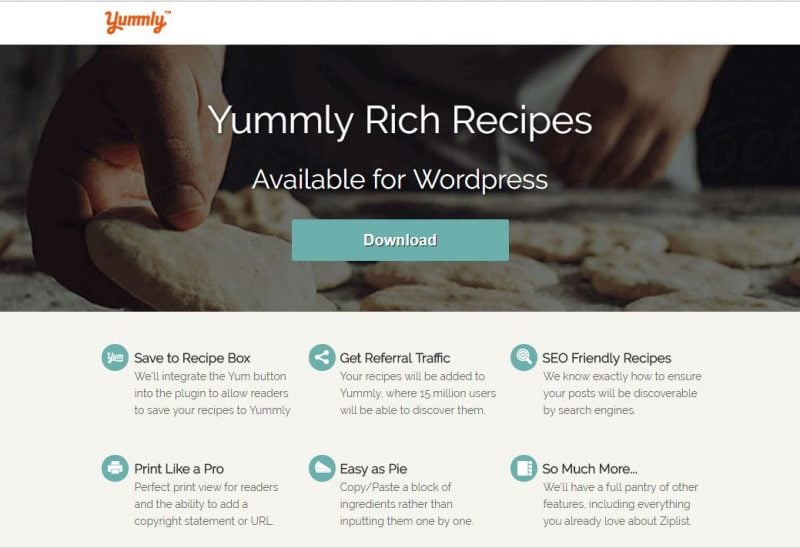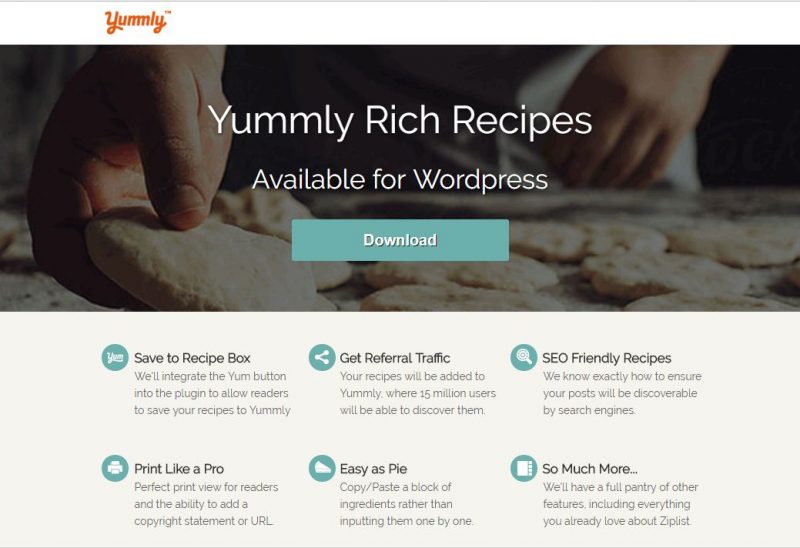 Recipes in Simmer
Embed your recipes in any post or page using this powerful plugin. With Recipes in Simmer, creating custom card recipe pages and styling them is a really easy task.
You just have to copy and paste the ingredients into the prebuilt blocks and you're good to go.
The plugin is highly user-friendly and flexible. You get your content localized in over 150 languages and the plugin works perfectly with most of the social sharing sites.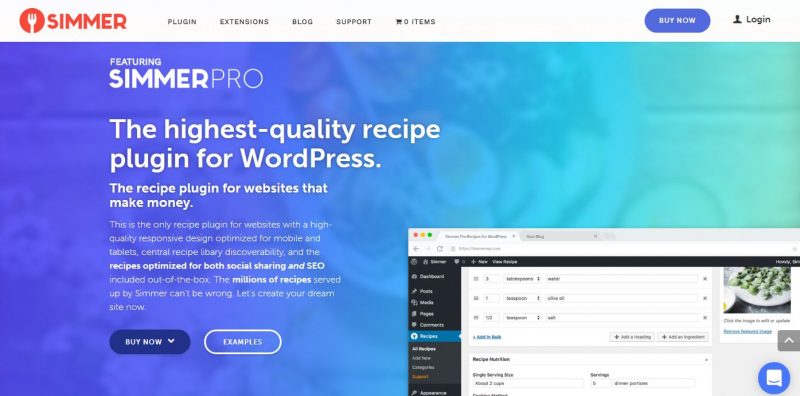 You can also upgrade to Simmer pro for customization support, complete nutrition support, and star rating support.
Cookbook
Cookbook is a well-built plugin and helps you in publishing a recipe in a hassle-free manner. It is an SEO friendly plugin as your each recipe share includes JSON-LD and schema.org recipe markup.
Another feature of Cookbook is that you can get your recipes to feature with Google Rich Cards. Visual views and printing are very simple and are mobile and desktop friendly.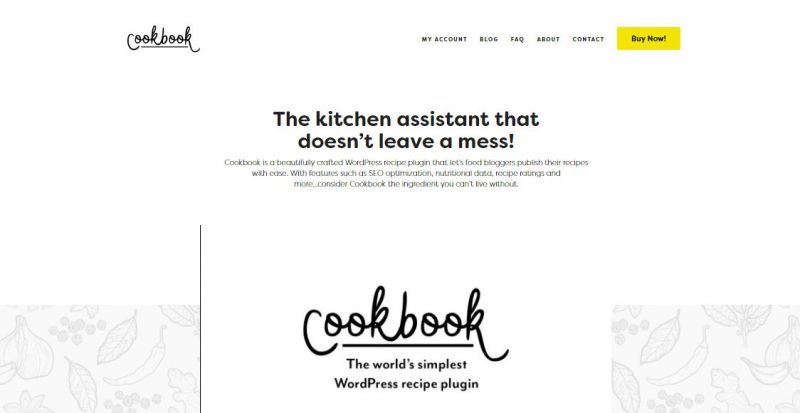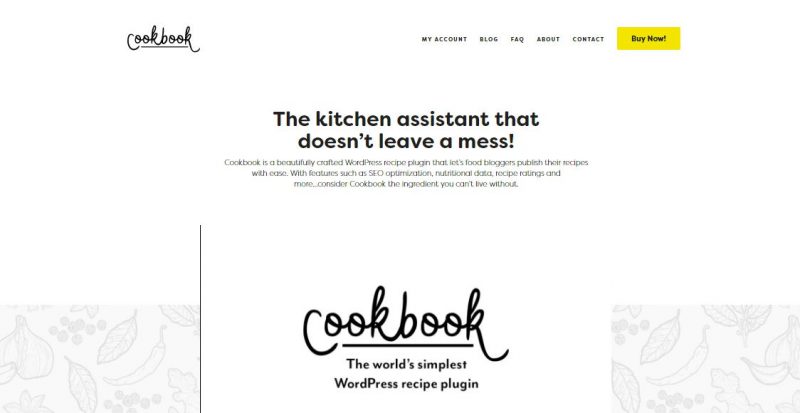 Meal Planner Pro Recipes WordPress plugin
If you ever wanted your own universal recipe box, shopping list or meal planning calendar, the Meal planner pro recipes WordPress plugin is perfect for you.
This plugin will allow your readers to take action on your recipes and is designed for desktop, tablet, and smartphones.
You can quickly attach affiliate links or links related recipes from the ingredients, instructions or summary fields with ease.
The plugin is fully compatible with Pinterest rich pins and Google recipe view. Add notes, required kitchen tools, equipment and additional features to your recipe with Meal planner pro.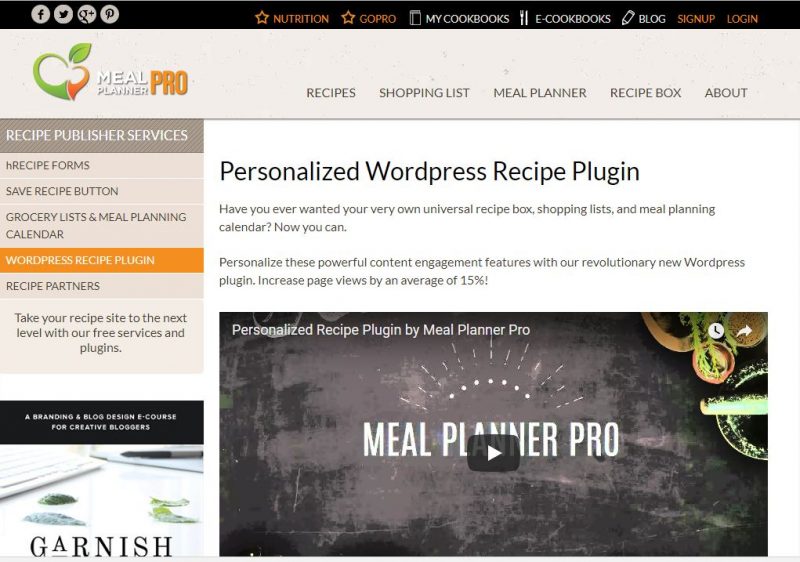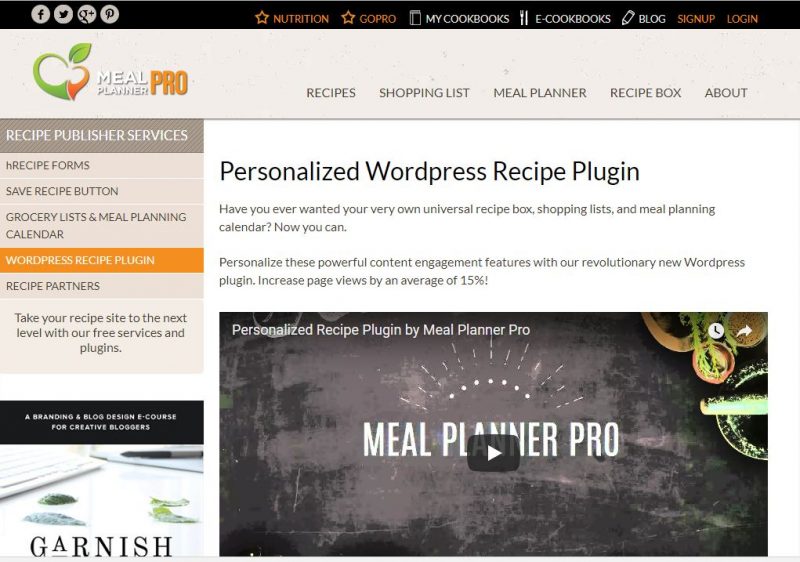 WP Recipe Maker
WP Recipe Maker is another amazing recipe plugin. You can use this plugin to add recipes to any WordPress post or page.
The plugin automatically adds the schema.org metadata to make sure that your recipes are presented perfectly in the search results.
As Pinterest is one of the best traffic sources for the food and recipe related websites, this plugin offers you the rich pis options for Pinterest.
With this plugin, you will be able to add food-related images at any step of the recipe description. Overall, it's a great plugin for the recipe sites.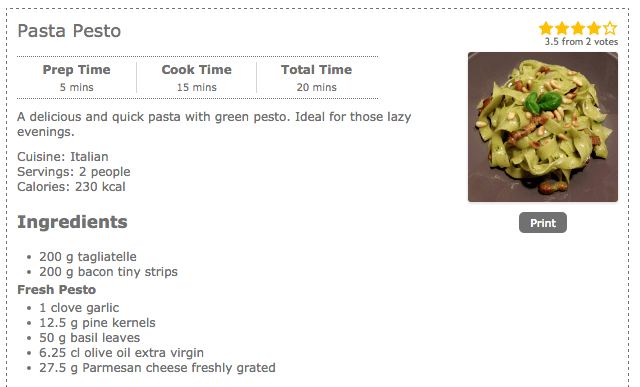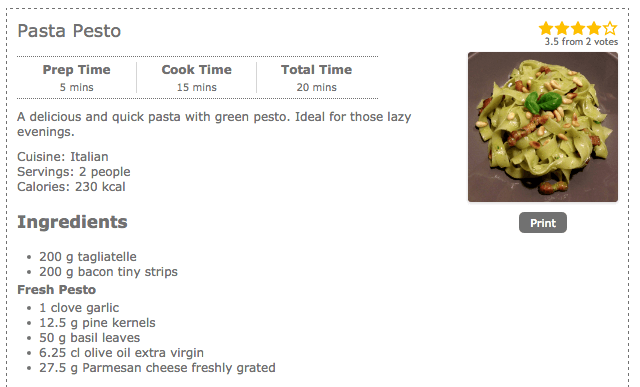 Chicory Recipe Ingredients WordPress Plugin
If you're a food blogger looking to monetize your website, this plugin will suit your requirements in the best possible way.
With the Chicory recipe ingredients WordPress plugin, you can easily connect your recipes to the famous online grocery shops like Peapod and Amazon.
This plugin takes your content and transforms it into a sales-driving tool which will help your readers make more of your recipes and eventually visit back again to your website for more.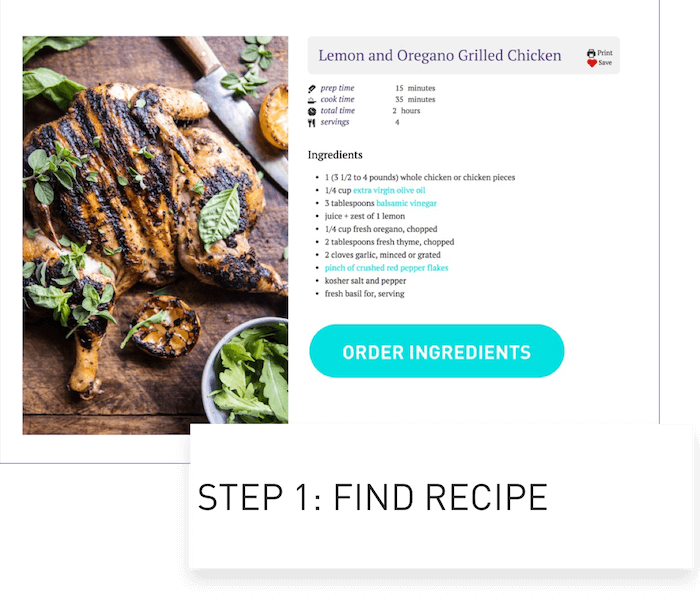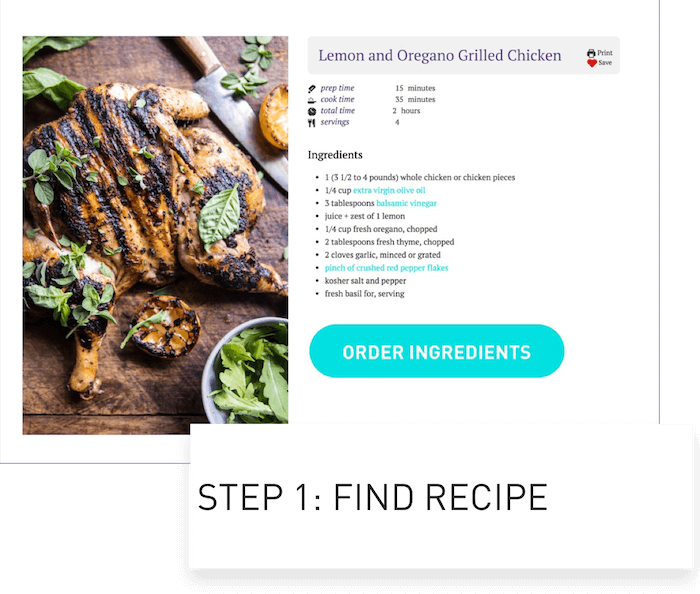 NutritionWP WordPress plugin
You can add recipes to your site with the NutritionWP WordPress plug-in. Using the plugin would make your recipe pages look beautiful and well organized and would improve your Search engine results.
The recipes can be easily embedded in your posts along with storing and displaying all the nutritional facts.
There are categories like special diets, cuisines, courses, wherein you can put particular information for your users making this plugin definitely worth a try!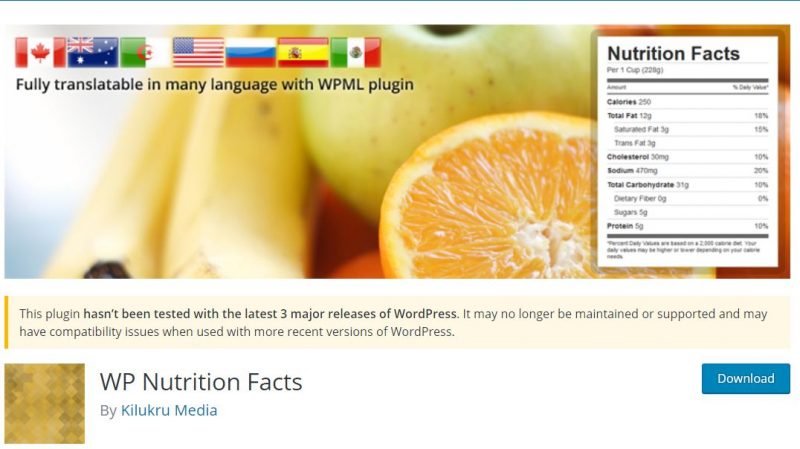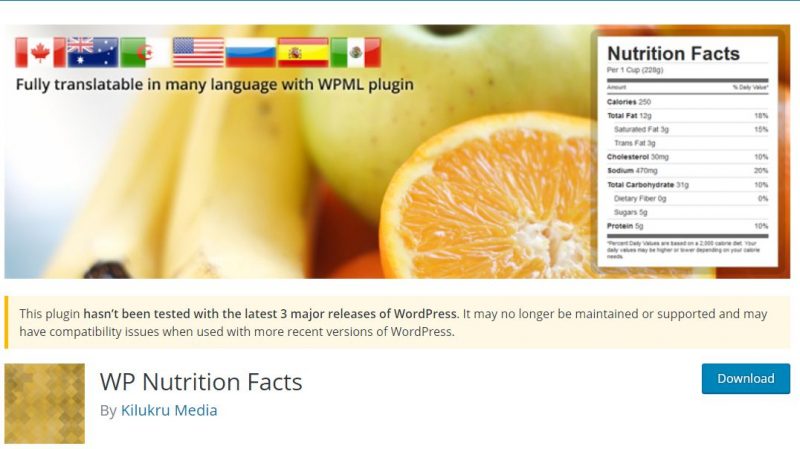 Boo Recipes
Boo Recipes, a free plugin for the food blogger to optimize your recipes in the search results.
The simplicity of the plugin makes it different from many other plugins. Your recipes will be automatically optimized by adding the Schema Markup.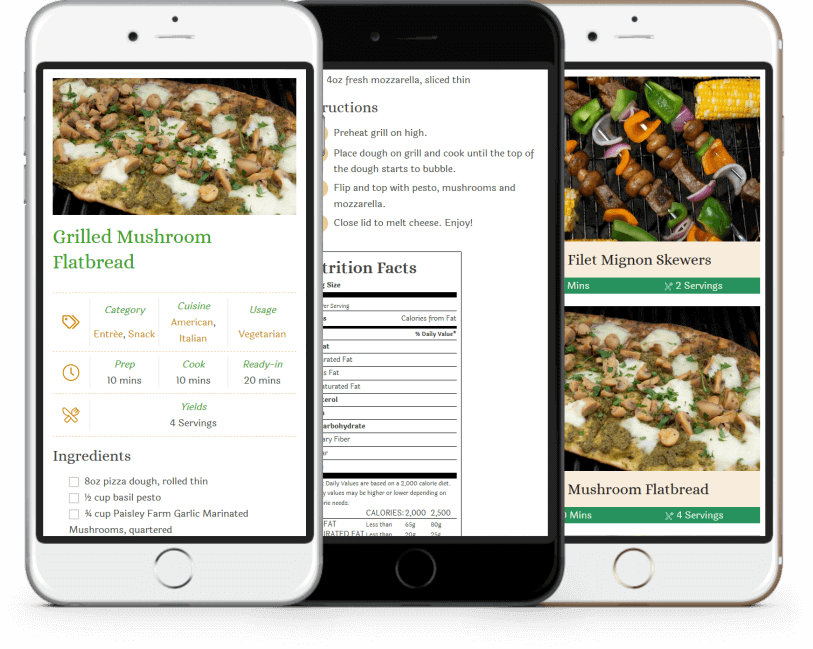 RecipePress Reloaded
A simple free recipe WordPress plugin that will add a new post type called recipe, you can use the new post type to create your recipes or add it in any other post or page.
With this plugin, you can present your recipes like a pro. You can create your own collection of recipes with the categories that is created by the plugin or you can add your own custom category.
You can add your recipe ingridients in a group and present the process of cooking a meal in a way that is engaging and easy for the readers to understand.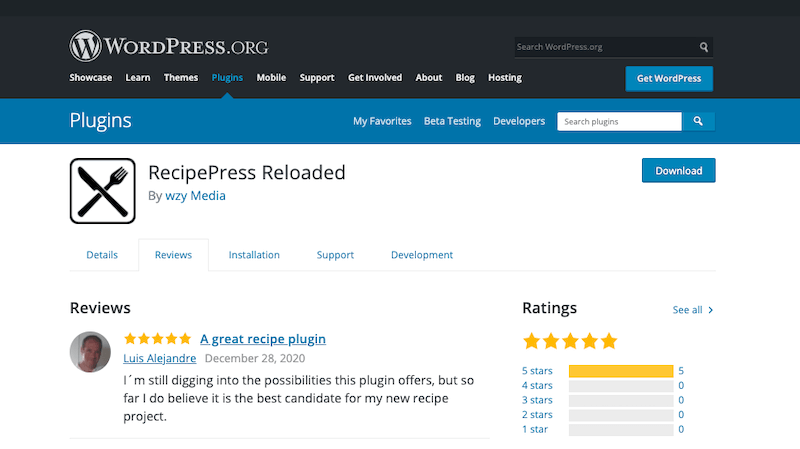 Final Word
Your choice of the plugin should be determined by your needs and preferences.
These plugins can help you change the entire layout of your WordPress website and give it a professional look. Choose Wisely!
Have you used any of the above-mentioned themes? Share your experience of using it in the comments section!