Creating an invoice is a part of freelancers' daily jobs. If you are offering any service online or you are managing your website, the invoice is something you will deal with regularly.
Creating an online invoice can be a big deal for newbie users simply because it's a new thing and you must learn to do it in the most professional way so that you don't appear like an amateur in front of your clients.
In fact, managing your invoices properly is something that is very important for every online professional.
If you are a professional content writer, your clients will ask for the invoice before they pay you, if you are writing paid product reviews on your blog, your clients will ask for the invoice, and so on.
So, creating a professional invoice and managing them properly is something you must learn at the early stage of your online career.
There are some amazing online tools that make the invoicing process very simple and easy.
If you are using PayPal to receive payment for your services, it offers you a built-in invoicing option that is quick and easy.
You can create your invoice online or you can create it offline using Microsoft Word, Excel or any other similar software and you can convert it to PDF before you email it to your client to make it look a little more professional.
A general invoice design includes the invoice number, your business details such as the name of your company, company logo, company address, client address and business details, the item details, number of items, the price, the tax applicable and the final price.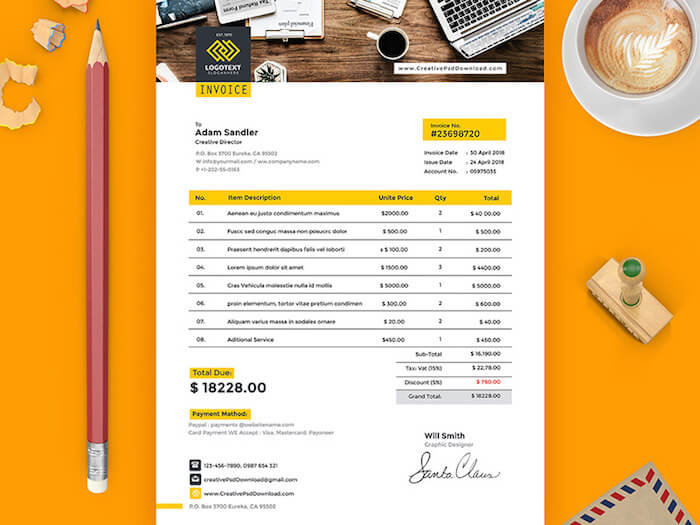 If you need to create invoices on a regular basis, I would recommend you to use a professional invoicing service that offers you a comprehensive solution to create and manage your invoices.
Especially the online freelance professional and small business owners must use a professional invoicing service to make the process easier, make it more professional and create an impact on clients and overall ease of managing the invoices.
So, let's have a look at some of the best online invoice maker options available for us.
Also Read:
01. FreshBooks
I would recommend you to have a look at the FreshBooks invoicing services. They are one of the most popular and widely used invoicing management solutions.
With the FreshBooks business management system, you can literally put your business on autopilot. You will save a lot of your time and you don't have to keep chasing your clients for the payments. So, you will have more time to focus on your core business.
You can completely personalize the invoice before sending it to your clients. Easily add your business details, logo, auto-calculate tax, add the invoice due date and all other details.
You can preview the invoice before sending it to your clients. FreshBooks also gives you the option to offer discounts to your clients.
FreshBooks offers you a comprehensive reporting system as well as a project management system so that your business details, payment, clients details, and everything about your business is in one place making it super simple and easy to retrieve the information whenever you need it.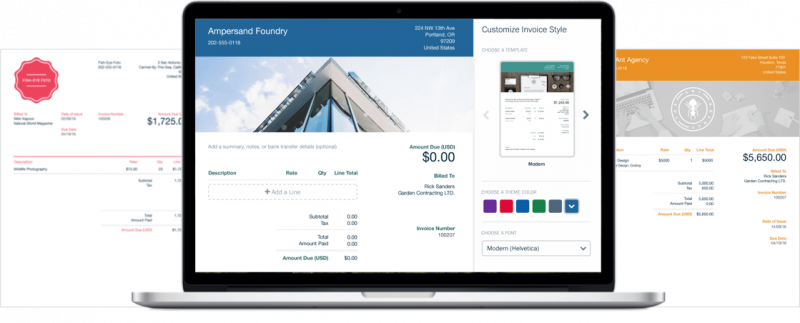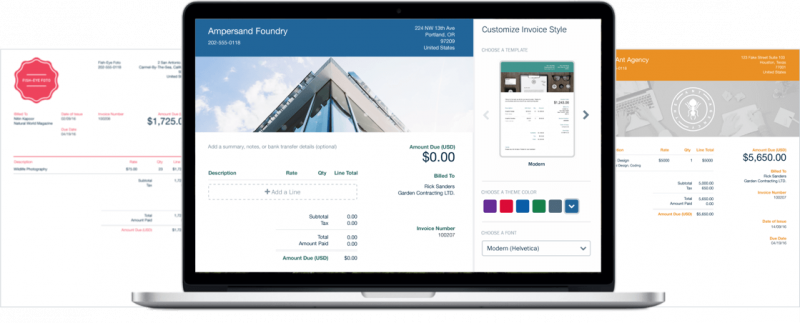 Automatically Remind Your Clients
FreshBooks offers you the option to auto-remind your clients for the payment. So, you don't have to waste your time reminding the clients of due payments.
You can set the number of days when you wish to send the reminder and the system will do the rest for you.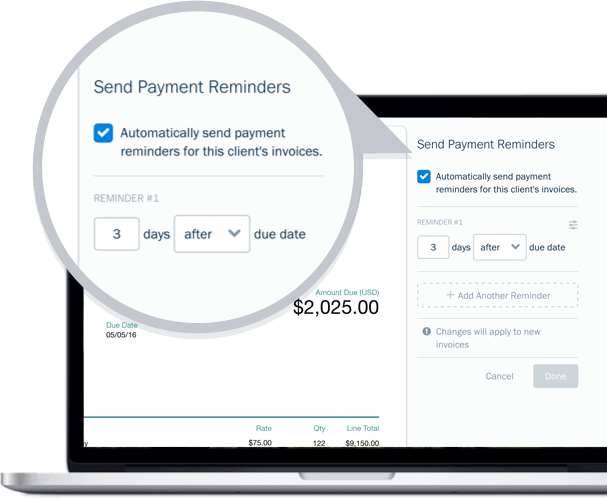 Comprehensive Stats
FreshBooks offers you complete statistics about your business to keep you updated on how your business is performing.
You will literally have all the financial numbers at your fingertips. The complete profit and loss statement will be ready at any point making your income tax process simple and easy to manage.


And the best part about FreshBooks is that it offers you 30 days free trial period without giving your credit card details, you have the option to cancel it anytime you wish.
02. Invoice Quick
As the name suggests, Invoice Quick is a free solution to create a professional invoice for your services quickly and for free.
It's a simple online invoice maker that will allow you to add the details of your business and the payment particulars and send it to your client.
You have the option to customize the look and feel of the invoice to make sure it looks professional and reflects your brands with your own color combination.
The interface is very simple and easy to understand. Even a complete newbie user can quickly create the invoice without any hassle.
Be it the date, logo or address details you just have to click on the section that you wish to edit and start writing.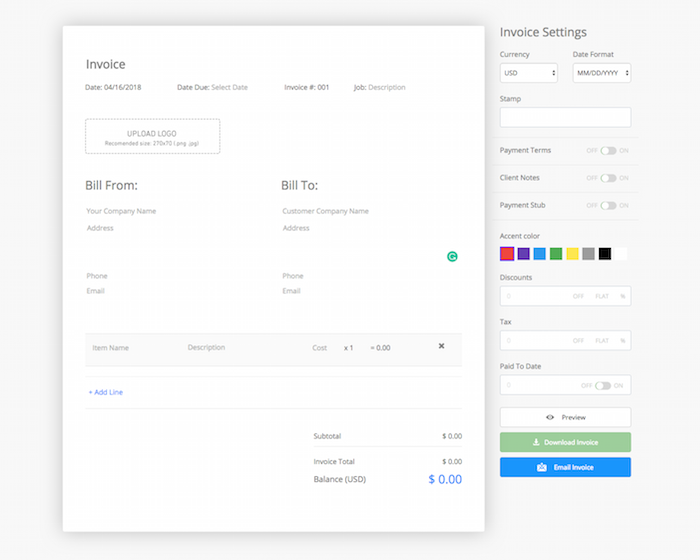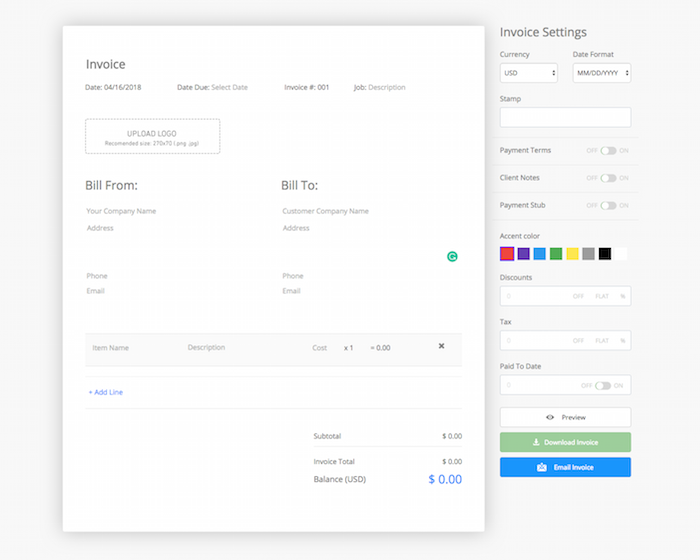 03. Invoiceto.me
This is another free service to create great-looking, professional invoices for your business.
You can edit the invoice template online and generate PDF to send it to your clients.
As you visit the site, you will see the invoice editor. You have to simply click on the section you wish to edit and add your invoice details.
Once you are done with your editing, you can import the invoice in PDF format and send it to your client from your business email.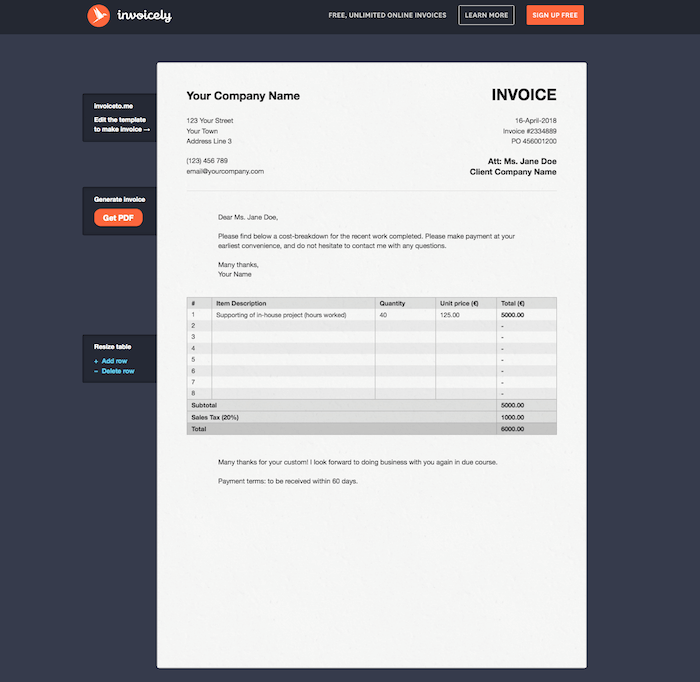 04. Indy Invoice Generator
The Indy Invoice Generator uses the industry's most trusted online payment solutions, and clients are one click away from paying using the method of their choice.
Indy is an all-in-one management software that helps self-employed people and small businesses easily manage their invoices. Invoice templates include all the info your clients need and give you the ability to add your personal branding.
You can link working hours directly to an invoice using the Time Tracker tool and save yourself time. You can generate two invoices for free and get unlimited access for $5.99 per month.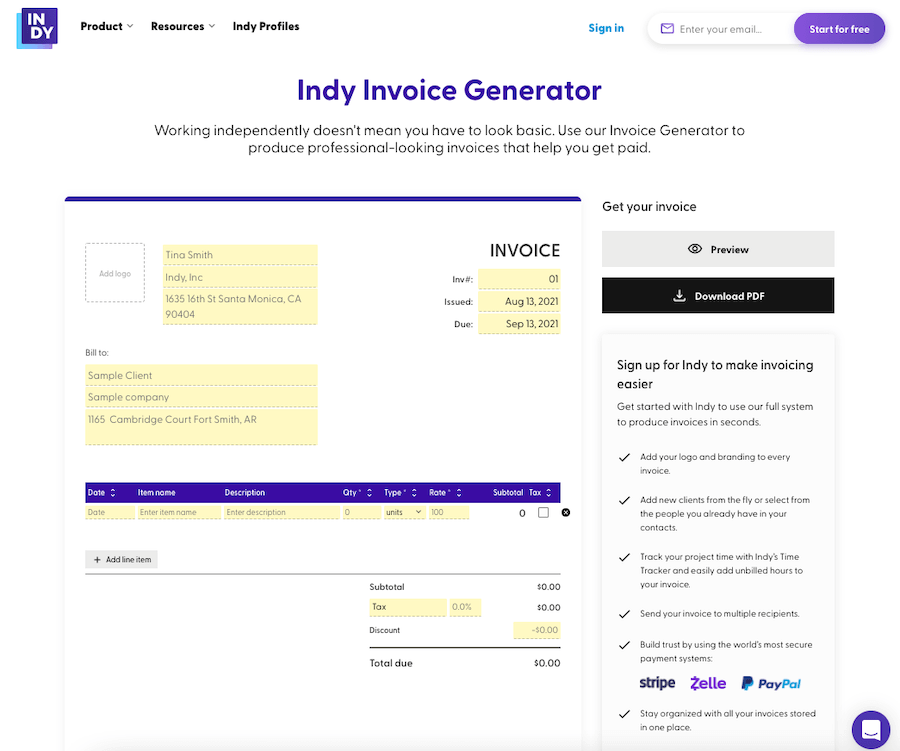 05. PayPal Invoice
A large number of freelance professionals and small business owners use PayPal as their preferred payment platform.
If you are using PayPal as well, you can easily create and send a professional invoice to your client right from your Paypal account dashboard.
The process is quick and simple. Before sending the invoice, make sure that you have your client's email where you need to send the invoice.
Login to your Paypal account and head over to the send and request money section and click on the create invoice option.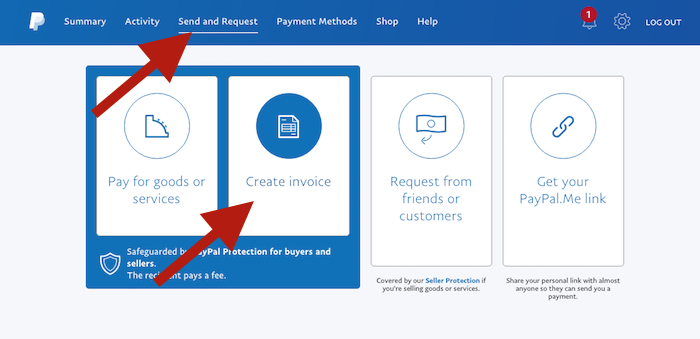 The interface to create your invoice will look like this. You have the option to upload your logo, add your business address, your client's email ID and the business details, your invoice payment details, and the service details.
Once you are done creating your invoice, you have the option to preview it before sending it to your client. You can quickly send the invoice to your client with just one click or you can get the invoice link and share it yourself.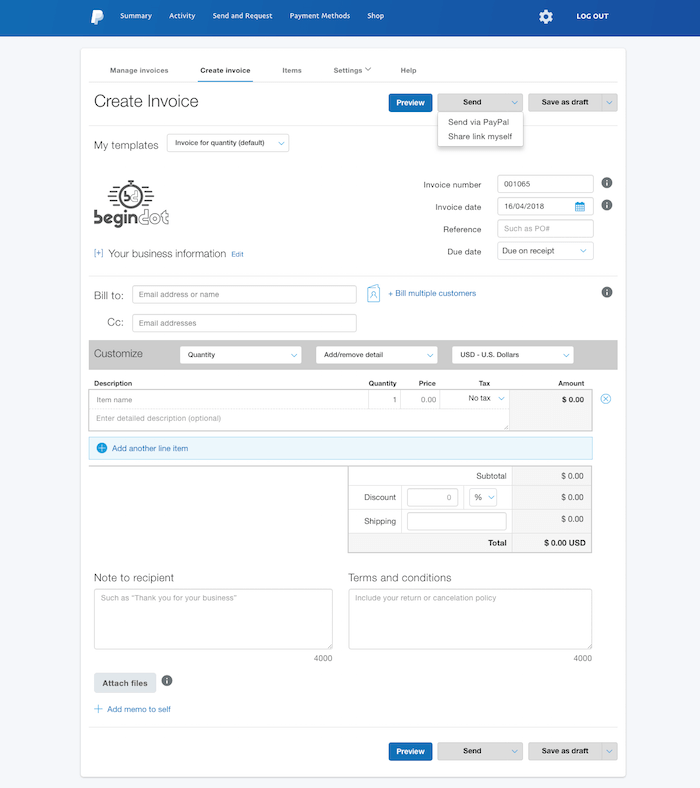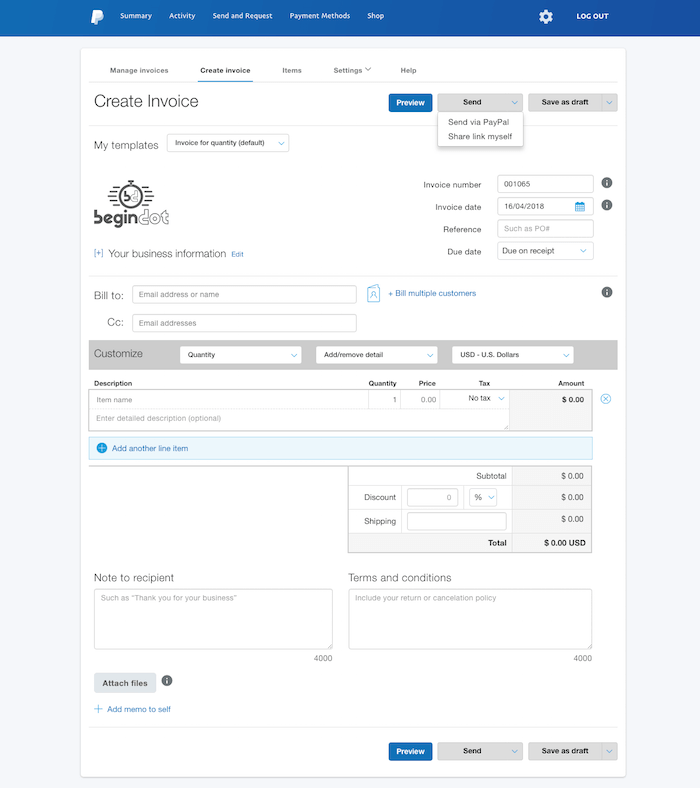 06. Free Invoice Maker
Though the name says free invoice maker, it is not completely free. After the first three invoices, there is a monthly fee of $ 2.99 which is as good as free.
Again the interface to create the invoice is very simple and quick. You will love, how easily you can customize the look and feel of your invoice.
You have the option to add your invoice details and you can customize the color combination of the invoice to reflect your brand feel.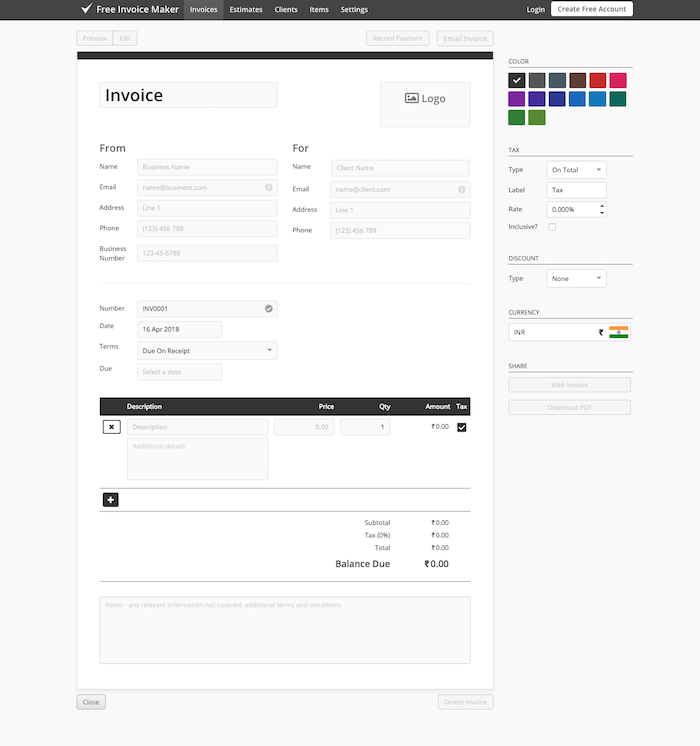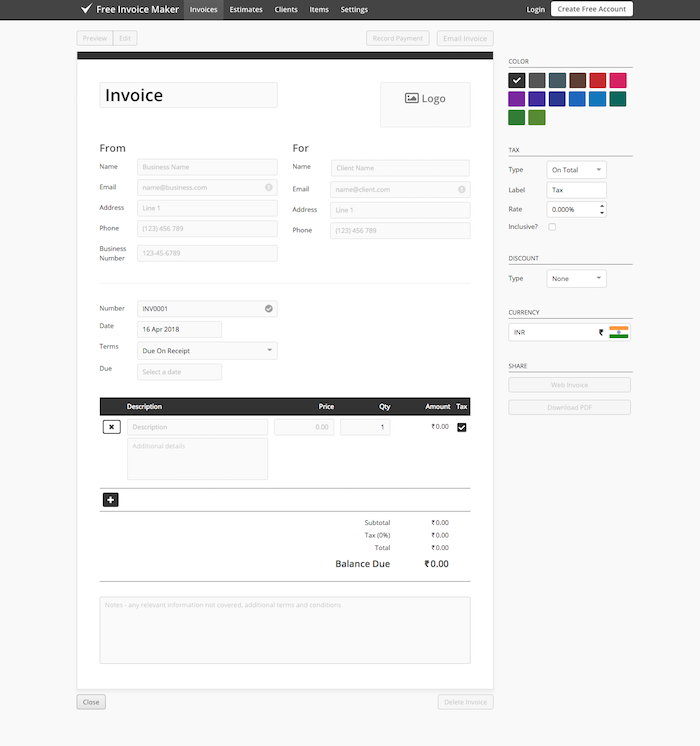 07. Shopify Invoice Generator
Shopify has always been a very popular platform to create an online shop and it is grown even further in the recent past.
Shopify gives you an easy and simple solution to create your own online store and start making money. So, you will save a lot of money that you would otherwise spend on the development of your store site.
For the Shopify users, it offers a quick and easy solution to create and send invoices to the clients. You just have to fill in your business details and your invoice is ready.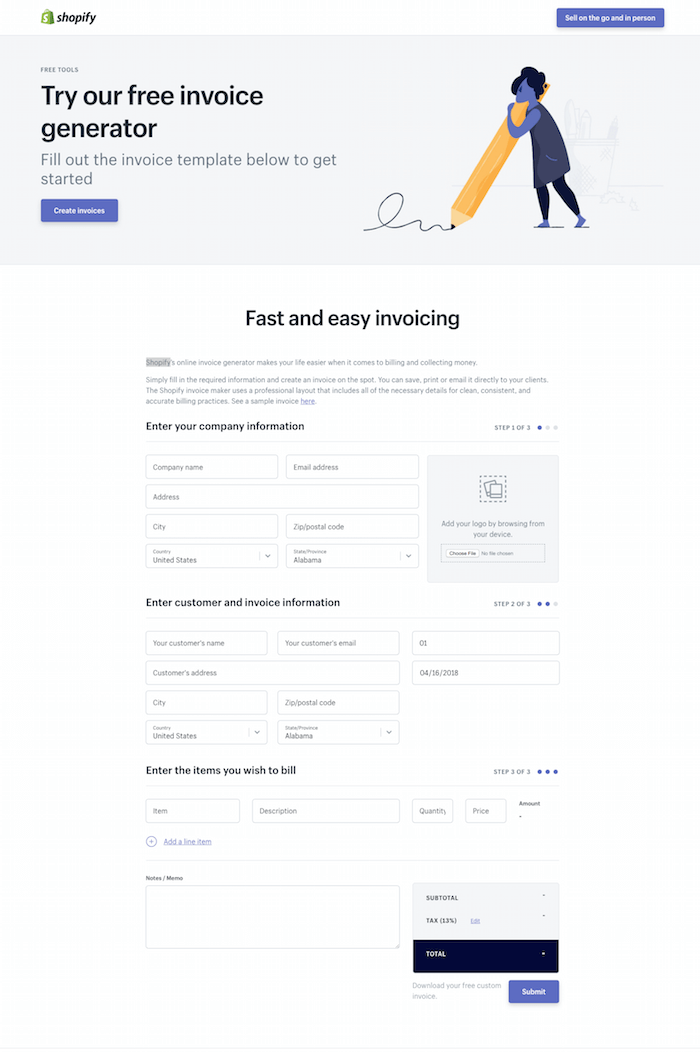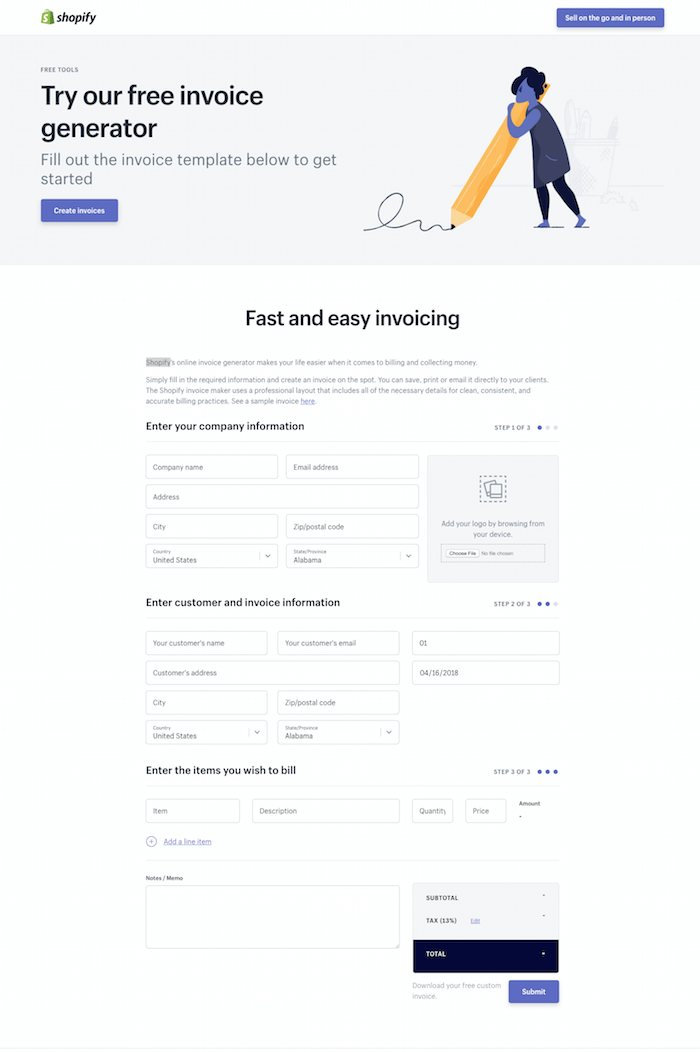 Final Word
There are a number of other online invoice generators, but there is no point in overwhelming you with more options when you already have the top options listed here already.
If you wish to go for a free online invoice maker, both Invoice Quick and Invoiceto.me are nice options, and if you need to invoice your clients regularly and a lot of business details to manage I recommend you to go for Freshbooks as it is a complete solution to manage all the financials about your business at one place.
Also, their 30 days free trial offer makes you completely safe, you just have to signup and start using their services you don't have to give your credit card details before you decide to continue.