Best WordPress news plugins that will bring in some amazing features to your news site created on the WordPress platform.
Want to create a news site, but you don't know to code? You don't need to worry now as WordPress has got you covered!
WordPress is a robust content management system, and you can use it with just your web browser. It is free! This is because it is an open-source project where many programmers all around the world are continually developing and improving the WordPress code.
If you would like to expand your overall knowledge about the most popular CMS, you can use HostingWiki to know more about it.
Plugins are a crucial part of it. They are categorized according to their functionality!
WordPress contains thousands of plugins that are both free and commercial, helping you to create a fantastic site. Today we are discussing the different WordPress news plugins that you can use to boost your site.
A news site should always be catchy and updated. There are various news plugins for WordPress to choose from each having their characteristic features.
Starting from different types of news scrolling to different types of tickers even different kinds of widgets. All of them ensures you have a brilliant news site.
Let us discuss the best news plugins. We will be listing their features along with it!
Top WordPress PLugins for News Sites
---
Ditty News Ticker
The first plugin in our list is Ditty News Ticker. It is a multi-functional display plugin. This one is used most widely than any other plugins.
The main reason is that it allows you to display news in 3 different formats. Another advantage of this plugin is its simplicity.
Features
You add custom news Ticker using direct codes or shortcode. You can also use a Custom Ditty News Ticker Widget.

This is a paid plugin.

The plugin contains three types of news reading: scroll, list and rotate mode.

You can also add Ticker Types and Modes.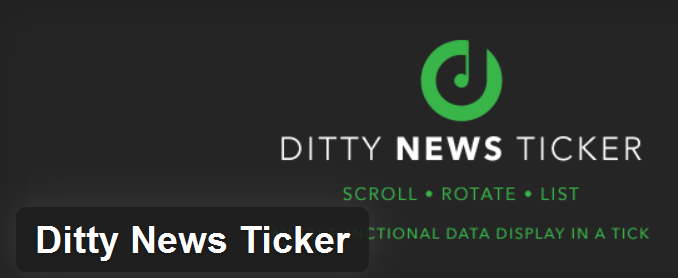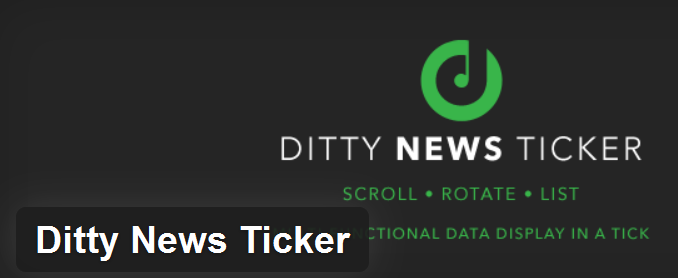 Simple News
Just as the name suggests, this is a very simple and easy-to-use plugin. No complications at all. On top of that, it is free. This plugin displays the news in an unordered list.
But the plugin cannot be used for any other complicated functions like template features.
Features
News are shown according to their published dates.

You can set the image size and unset the plugin CSS from the setting.

"News" post type is always added.

It supports shortcodes.

Simple News contains a widget to show your defined number of latest news.

Another feature of it is, there is an option to filter results by category Id.

WP News and Scrolling Widgets
WP News and Scrolling Widgets is a very robust and excellent plugin. It helps you to add and manage the news.
But not only that, it helps to display news, data archives, widgets, vertical news scrolling and news with thumbnail widgets on your site.
This plugin also adds a New Tab to admin menu allowing you to add news like a regular post. It is a paid plugin, so there are many fantastic premium features!
Features
Fully customizable and easy to install.

It supports Multi-Language. It can also translate into different languages.

There are 120 + stunning cool layouts and Google Fonts.

It Contains template codes and six different types of shortcodes with various parameters.

Supports List view.

You can customize your permalink for your convenience.

Options like Show News Date, Show News Categories, and Select Category have been added.

Scrolling setting page options have been added to the widget setting.

Options like full and short content are also supported.

Different design of slider and Post grids are possible.

Last but not the least you can post your news on social media using this plugin.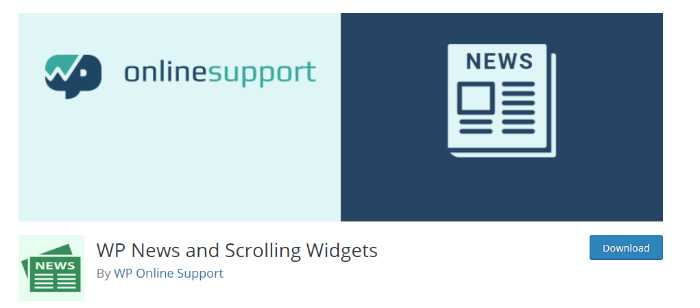 Swift Box
Using Swift Box, you can display news in a unique environment by gathering them from different sources. Sources can include social media sites too.
It is an innovative plugin and sorts the news by date. Not only that, it is fully responsive and adaptive to any screen, and it doesn't matter whether the news contains just plain text or a combination of links, videos, images, etc.
This plugin will speed up the loading time of your site.
Features
Sources are gathered in a "box" thus the name.

The sources can include sites like any RSS feeds, Facebook pages, Pinterest boards, Twitter profiles, YouTube profiles, Google +, SoundCloud, Tumblr.

There are two types of layouts – horizontal or vertical. Auto-switch in handheld devices is available too!

Most operations are JavaScript based.

Besides containing three skin styles such as light, dark and minimal, there are 30 + custom skin builders.

You can share your news on proper social networking sites.

Images are "lazy-loaded" to grant optimized loading.

Besides continuous slider effect and expanded contents view, there is a full-size font control and more than 30 options to control any of the "box's" behaviors and aspects.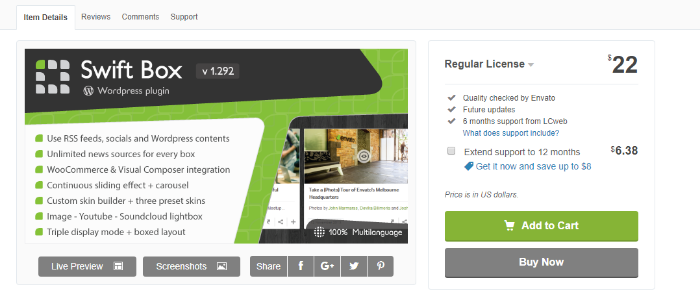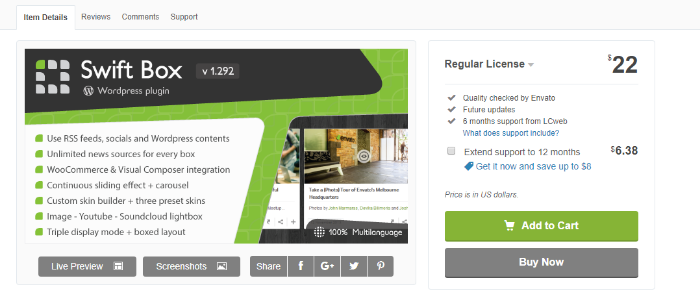 Live News
Live News was inspired from the news tickers which are used by broadcast television stations to communicate financial news, latest news, weather news. This plugin gives live news. So your readers need not have to update the page periodically.
Features
You can use the Featured news menu and Sliding news menu to add news manually.

News can be added from RSS Feed, Twitter, WordPress, etc.

You can customize anything. It comes with 56 customizable options per ticker, or you can temporarily enable or disable any ticker.

Time can be displayed based on either server or reader. Also, you will have the option of either showing or not showing the clock.

Tickers can be enabled or disabled for mobile devices.

You can apply the news ticker to the entire website or a specific URL.

News can be viewed either on the same tab or a new tab.

It is super optimized.

It supports Multi-Site and Multi-Language.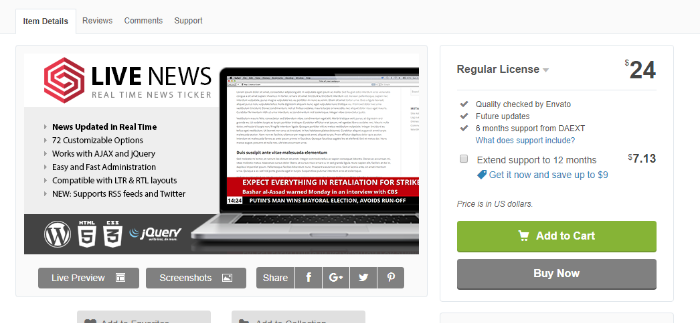 News Announcement Scroll
News Announcement Scroll is a wonderful plugin which helps you to post updates, announcements, etc. in your site.
Be it new sale announcement, blog updates, offer updates, contest announcements or latest happenings. It also gives you the option to add links to your news.
It helps your readers to find everything in one place and that too, easily. It is easy to use also.
Features
The plugin contains mostly widgets so you can add anything.

Contains easy style override feature.

You can add a redirect link to the news.

You can prioritize the order in which news will be displayed.

Admin can set up an expiration date for the news.

Admin can hide any news temporarily or divide news into various groups and show them as he decides.

Shortcodes are available.

It supports localization.

Premium support is available.

An unlimited number of news can be added, and a scrolling direction is vertical. Either from upside to downside or vice versa.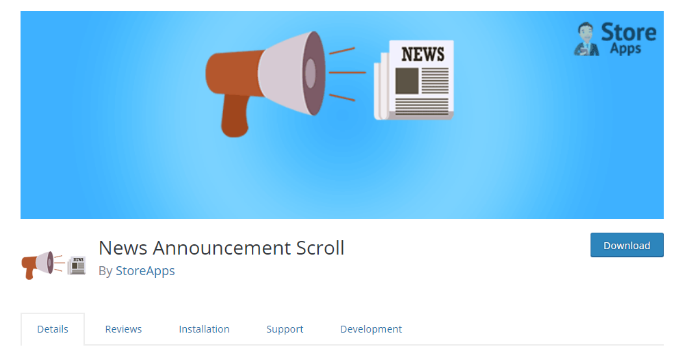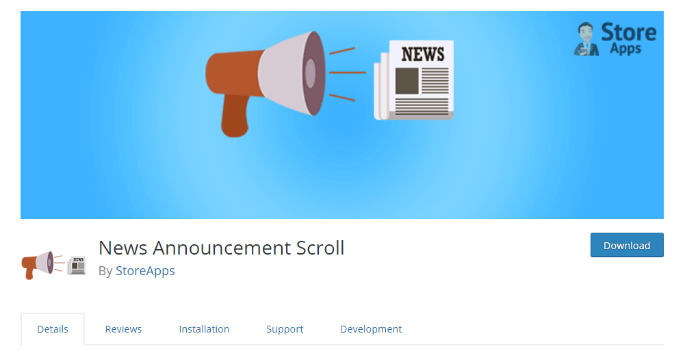 Yandex.News Feed
Convert your news site to Yandex.News format using Yandex.News Feed by Teplitsa. It will support turbo pages. This will simplify the integration of your site to this format.
Features
Your site will be entirely compatible with Yandex.News.

There will be custom post type support in the feed.

The filtering can be done by category.

Different post in feeds will have different settings.

A cache can be enabled if the feed generation process overloads your DB server.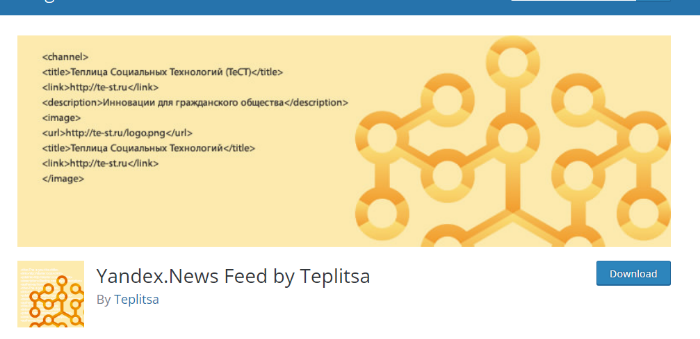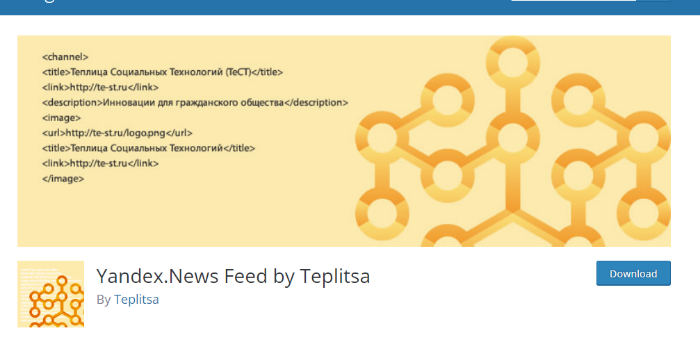 Vertical News Scroller
Add vertical scrolling to your news site using Vertical News Scroller. It gives admin, ample options to view news. The plugin is straightforward and easy to use as well!
Features
The admin can add any number of news.

Addition, editing, and deletion of news are possible.

It gives the admin the option of displaying news by its title or news text.

Admin can display any number of news for the reader.

It is easy to install and free plugin.

The news is customizable according to the WordPress theme.

Premium support is available.

Fonts can be changed.

Shortcode is available.

Support 2 types of news style – modern and classic.

Category wise news viewing is supported.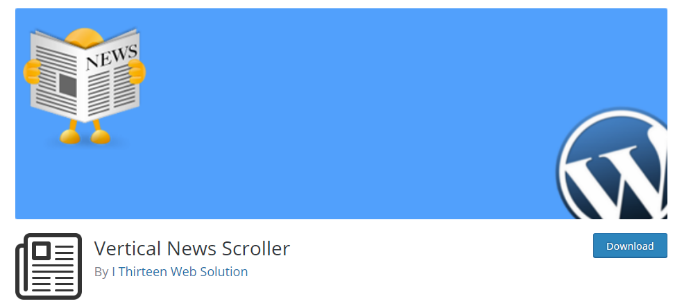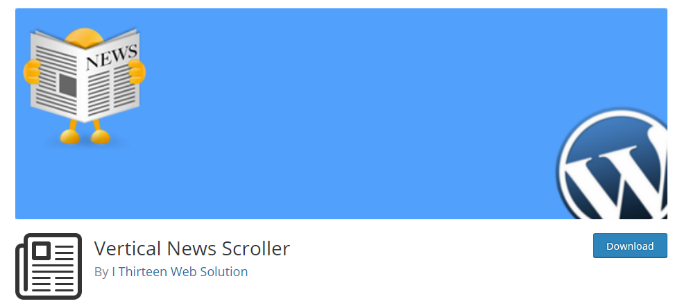 Newscodes
Newscodes will revolutionize how you use and display your news. It will also improve the way readers interact with your news website, magazine website or any project that you are working on containing posts to generate and present content. This is a paid plugin.
Features
It is a shortcode generator.

There are demos included!

20+ Newscodes posts layouts.

There are unlimited Newscodes styles.

The updates are automatic.

Supports all types of posts.

Entirely user-friendly and absolutely no coding required!

Different types of layouts are available such as Featured Poster, Grid, Lists, Column Lists, Marquees, Tickers and many more.

There are unlimited design possibilities with an extensive font, color options, and advanced text formatting.

Every element is fully customizable.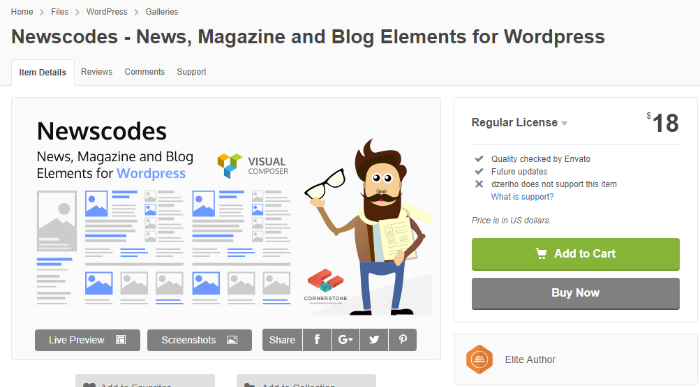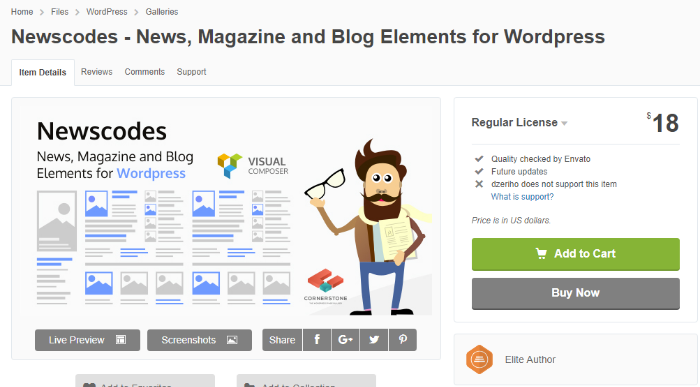 WP Latest Posts – WordPress News Plugin
This is a plugin that will help you to showcase your latest content in style. The plugin offers you six different design options to showcase your latest posts.
You can use this plugin to display content from posts, pages, custom posts, category pages, tags to make sure that you have a comprehensive and custom solution to display any kind of content you wish to.
Generally, the news sites need to show a variety of different content on the home page of the site so that you can cover all the important categories on your site.
This plugin will make the process easier for you, so you will not have to spend money on customizing the design of your site.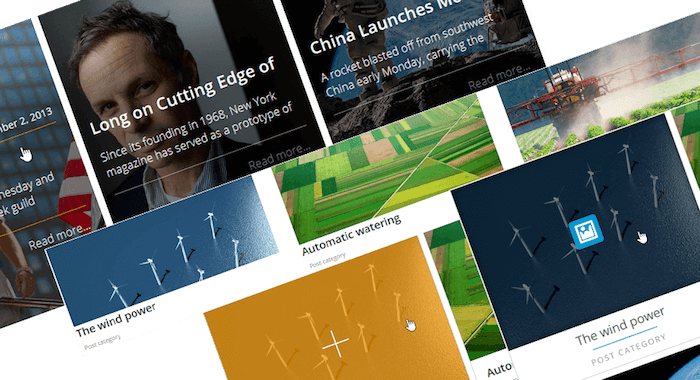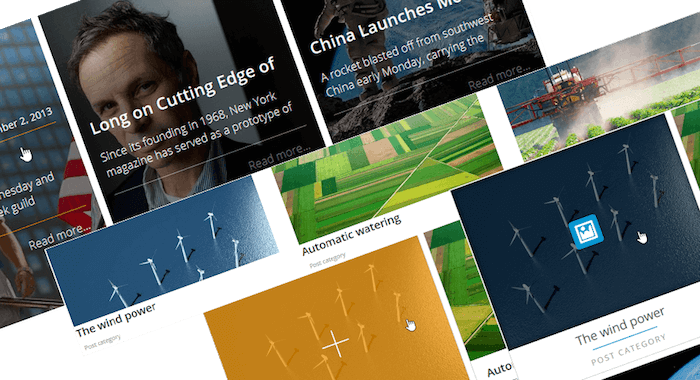 WP Latest Posts, The WordPress Recent News
A plugin by JoomUnited, this is a very handy plugin to display the latest posts or if you are managing a news site then the recent news in a very attractive way.
The plugin comes with 7 different themes to select from and you can further customize each of the the news blocks separately to make them even more engaging.
Another advantage of the plugin is the advanced filter option to make sure that you are able to filter content from a number of different categories in your site.
Features
Different themes to select form
Fully customizable themes
Add unlimited news blocks
Compatible with all website builders
Advanced content filter
Fully responsive and Gutenberg friendly
Works with WooCommerce plugin
Final Word
The above-mentioned WordPress plugins are some of the best WordPress news plugin options that will surely add value to your news site.
If you know any other plugin that is worth mentioning in this list, do let us know by using the comment form below.