Are you looking for the best time management apps? Well, we have listed some of the best free and premium time management apps to make you more productive.
Bad habits once rooted in your system, take a long time to break and to break that, you would need the help of the best tools and practices.
You are in a better mood when you finish your work effectively and efficiently. Not only do you show better productivity but also you manage to accomplish your work in a shorter duration of time.
Technology has made it possible for us to avoid unnecessary distractions and maintain our focus. While there are plenty of time management apps available on the internet, we have managed to compile a list of the Best Time Management Apps.
Read on!
Bonsai is an all-in-one business & financial management solution that also offers time-tracking & scheduling features. It lets you track your time on projects and specific tasks, instantly add them to your invoices and generate time reports.
Also, you can send clients your time booking link or embed your booking page on your website to let clients book you easily.
There are few time management apps on the market that combine client, project and financial management in one single place.
Best Features:
Instantly billable: set an hourly rate per-project for tracking time and automatically invoice the completed timesheet.
Project-based: track time on projects with your collaborators and see how many hours still need to be billed.
Time reports: maximize your billable hours with real-time reports on where you spend your time.
Integrated scheduling: let clients book you when you're free, charge for your sessions upfront and pay for one less subscription with Bonsai's easy-to-use scheduler.
Pricing – $17/month, and includes a number of features to manage clients, projects and finances.
Todoist's popularity in recent years has reached a new platform as it has completed more than 150 million projects. The importance of time management allows you to perform high-quality work and this app is the right one for it.
There are few task management apps in the market that can provide you with the facilities that Todoist provides.
Best Features:
You get "Karma points" if you have successfully completed your tasks and assignments.
The quick add feature allows you to save time by organizing tasks in seconds.
You can list favorites as your priority and delegate tasks to your team.
Pricing – The premium plan costs $3/month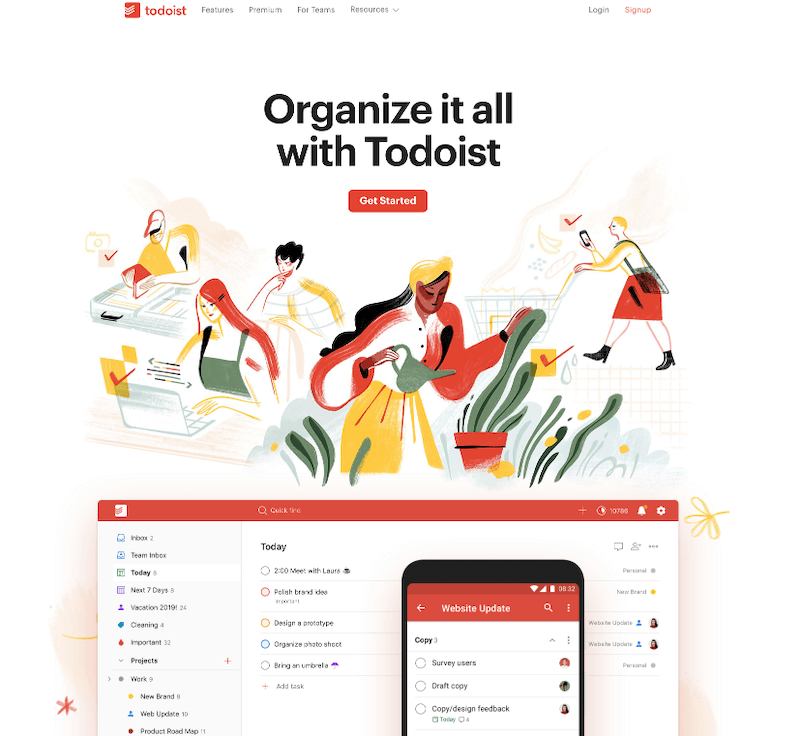 To help you stay focused and keep track of your progress, Be Focused Timer is a time-management app that you can use on iOS and Mac. 
For maximum productivity, it allows you to keep track of work and customize interval durations, long and short work durations. 
Best Features:
You don't have to worry about the alarm sound even if the app is running in the background.
Easy synchronization between iPhone, iPad, and Mac.
Interactive notifications and the ability to start and stop the current intervals
Pricing – It is available for free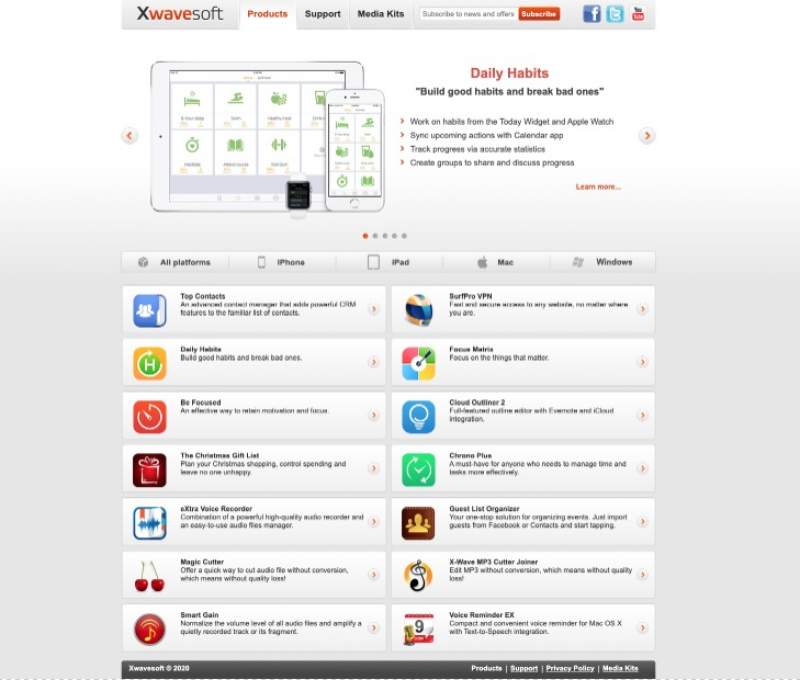 Apploye's online employee timesheet app is a very handy solution for businesses to keep track of time management and utilization by your team members.
The app offers a free trial for 10 days for you to understand how effective it is when it comes to keeping track of team productivity.
The app comes with a simple interface to help businesses get started quickly. It is a nice solution for remote as well as in-house teams.
Best Features:
Simple user interface
Offers free trial
Create custom timesheet
Timesheet review option for managers
Pricing – The premium package starts at $2 per user per month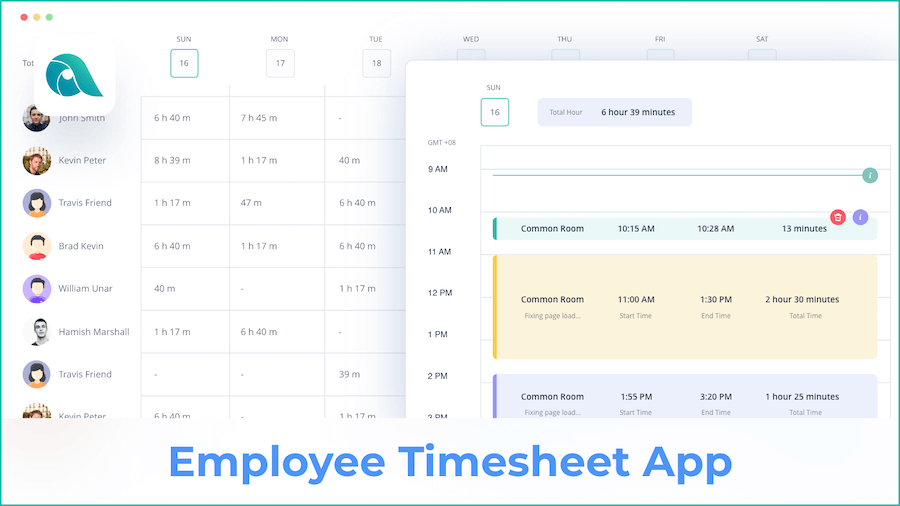 We all know how much integration of different apps while working can get you into time management troubles. nTask is the perfect task management app that provides you with more than 1000 integration solutions.
Whether it is the visualization of project plans through Gantt charts or billing your project by hourly rate, nTask allows you to see the time spent on each individual task.
Best Features:
Easy creation and organization of tasks to save time.
Reminders that won't let you miss any deadlines.
Smart search and advanced filters for easy tracking.
Pricing – The premium package costs $2.99/month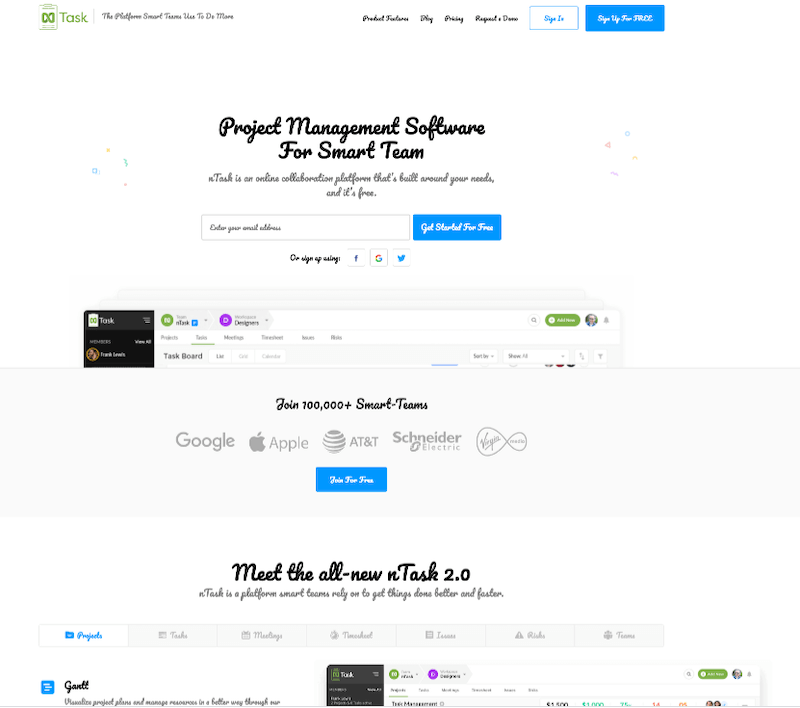 A free time tracking software that provides you with a timesheet app so that you can work on different projects easily. On top of that, there is no limit to the number of users. So, you can work effectively and efficiently on Clockify with your team.
Clockify does not only provide you with time management features such as tracking productivity but also the management of billable hours.
Best Features:
You can benefit from the visual time breakdown feature.
For team activity, it allows you to see hourly rates and current activities.
You can select either the timer mode or the manual mode for time tracking.
Pricing – It is available for free.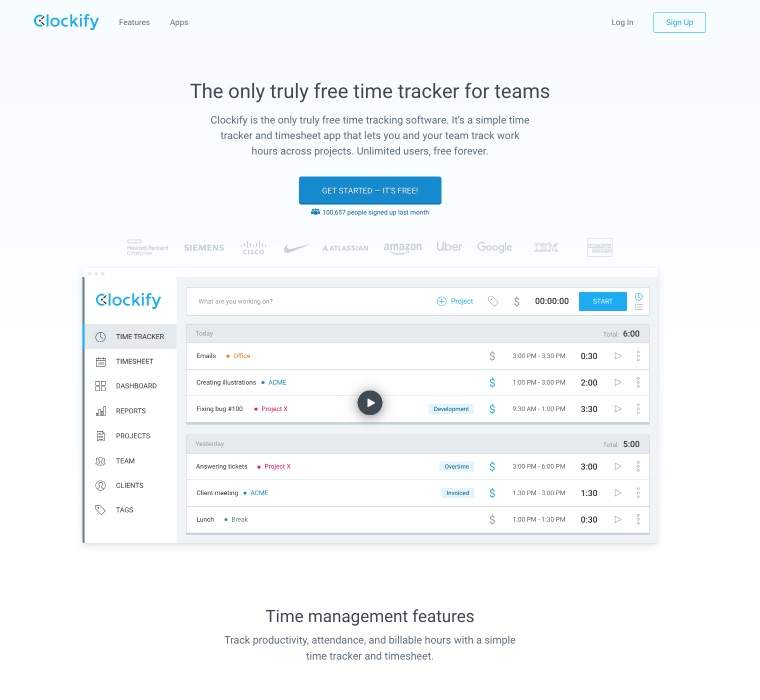 One of the best things about using Calendar as your time management tool is that its machine learning will provide you with customized solutions. So, the more you use the better it gets.
Easy synchronization with Google, Outlook, and Apple allows you to create events in a much easier and faster way.
Best Features:
The Calendar Analytics will help you be more creative by maximizing your most valuable resource.
A smart scheduling link will allow you to find the best meeting timings.
Meeting transcripts so that you can remember the important details.
Pricing – The pro pack is available for $10/month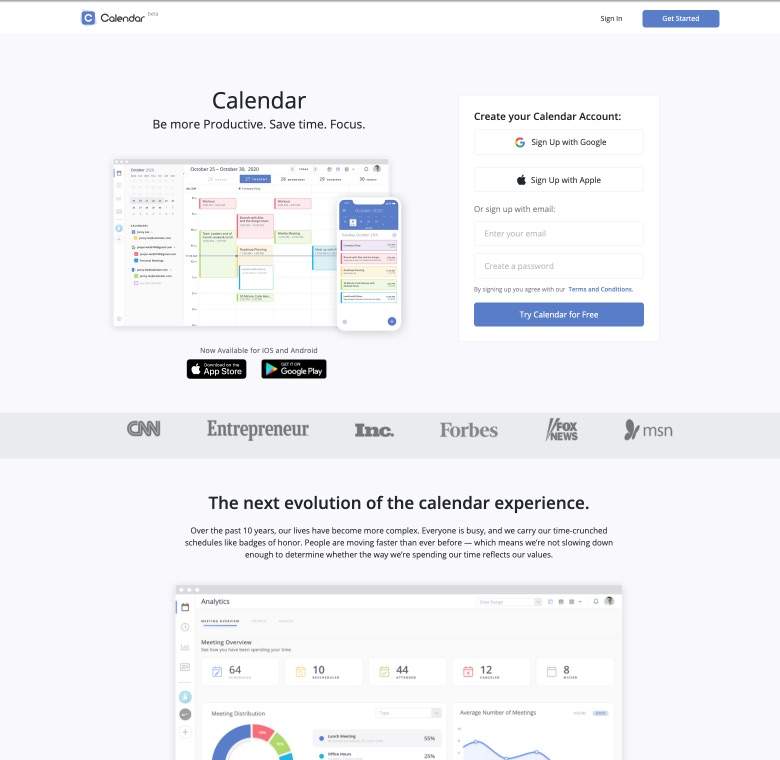 One of the oldest and most resourceful time/task management apps, Remember the Milk is known for its simplicity. With this app, you can organize your tasks according to your priorities and keeps you on your toes with reminders and notifications.
Moreover, you can attach files to your task, so that everyone on your team is on the same page.
Best Features:
The advanced sorting feature will help you manage your tasks without any hassle.
Easy synchronization with Apple watch for adding and reviewing tasks
Integrates your daily apps such as Gmail and Google Calendar.
Pricing – It will cost you $39.99/year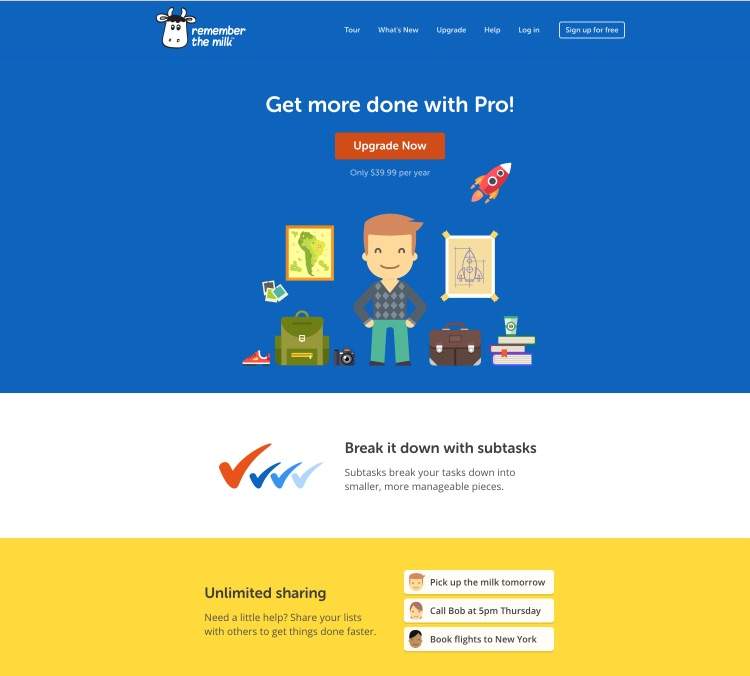 What is the major factor that doesn't let you concentrate and finish your tasks on time? Well, distraction is the answer. We are surrounded by so many apps that manage to steal our attention. Rescue Time is the perfect time management app to deal with such distractions.
While using Rescue Time, you'll realize how much overuse of social media was causing you time management problems.
Best Features:
You can set time limits on different apps and websites.
Easy customization of the block list and white list.
Distraction reports analyzing the time issues.
Pricing – The premium pack will cost you $6/month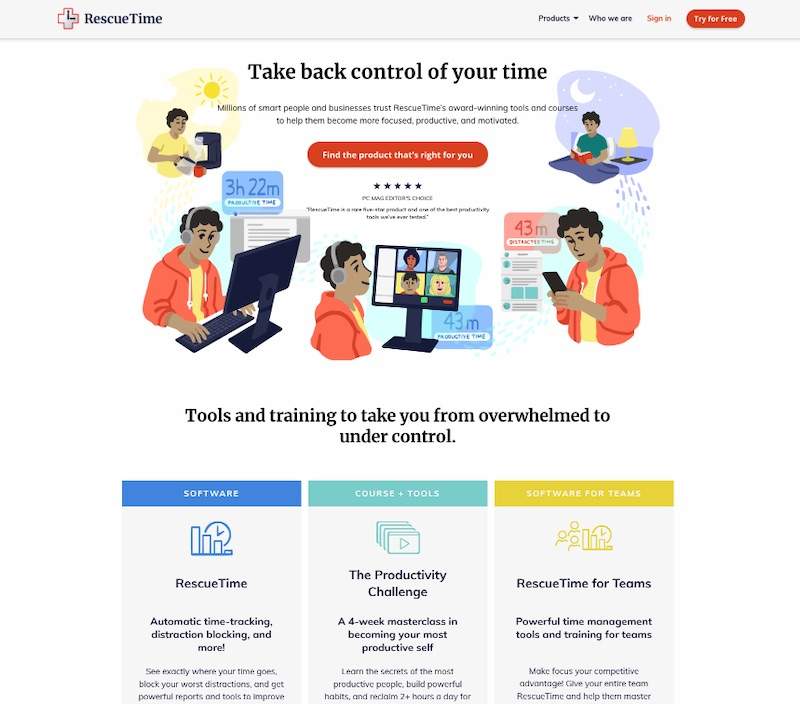 If you would want to know about how you use your time and where exactly are you spending it, Focus Booster with the help of the Pomodoro timer will assist you in finding it.
The laser focus will help you take frequent breaks while dividing your work into short subtasks.
Best Features:
The sessions are automatically recorded so that you can review them anytime.
Visualized progress will increase your productivity.
It lets you overcome distractions and save incomplete sessions.
Pricing – The individual pack is available for $2.99/month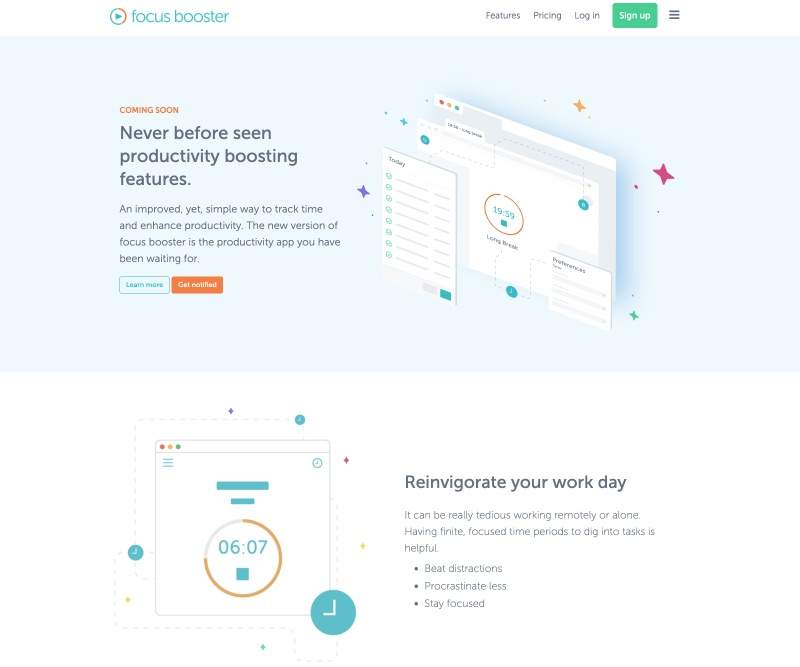 It is the bad habits that make you forget the importance of time and goals. With Loop Habit Tracker, this won't be the case anymore. The lightweight interface of this app will help you create long-term good habits.
With this app, you just need to set your goals and then the app will keep track of all your habits. The only drawback is that it is only available on the Android app.
Best Features:
Colorful widgets for quick reminders
It allows you to work online as well as offline.
It enables you to have flexible schedules.
Pricing – The individual pack is available for $2.99/month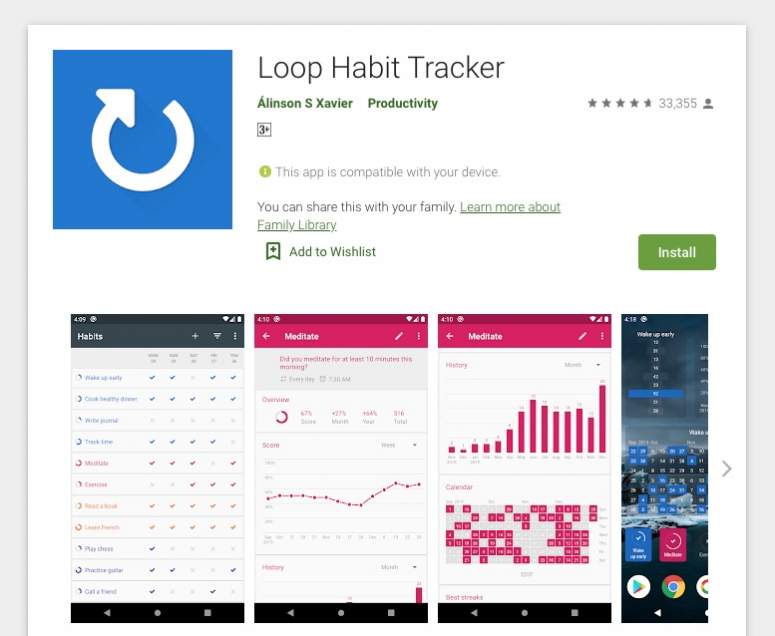 If remembering to track wasn't sufficient enough, Toggl will provide you feedback on the habits that you can improve. With more than 100 app integrations, you won't have to shift between the apps that cause a distraction.
The billable rates feature makes sure that everyone gets paid accordingly.
Best Features:
It allows you to choose between real-time tracking and manual tracking.
The time tracking reports can be exported into Excel and PDFs.
You can automate processes such as email tracking reminders.
Pricing – The starter pack will cost $9/month.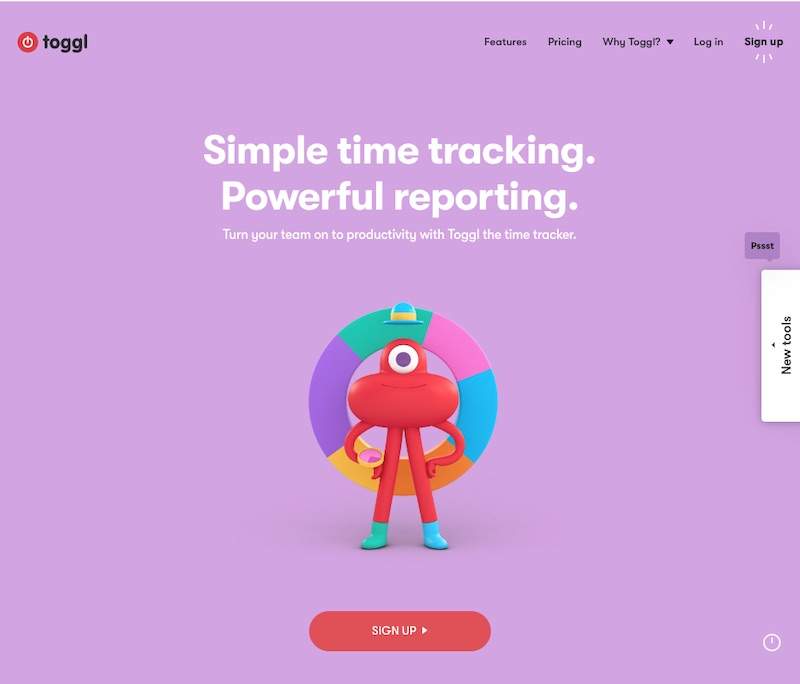 Trello is one of the best task management apps on the internet that makes your life easier by organizing work appropriately and keeping track of tasks.
By integrating all the major apps, Trello does a brilliant job of getting everything customized in one place causing fewer distractions.
Best Features:
Won't let you miss any deadlines with constant reminders and notifications.
Keeps a track of the task assigned with the help of cards, boards, and checklists.
Calendar-view option to adjust your to-do lists.
Pricing – The Business class plan will cost $9.99/month.
Read this list of best Trello alternatives.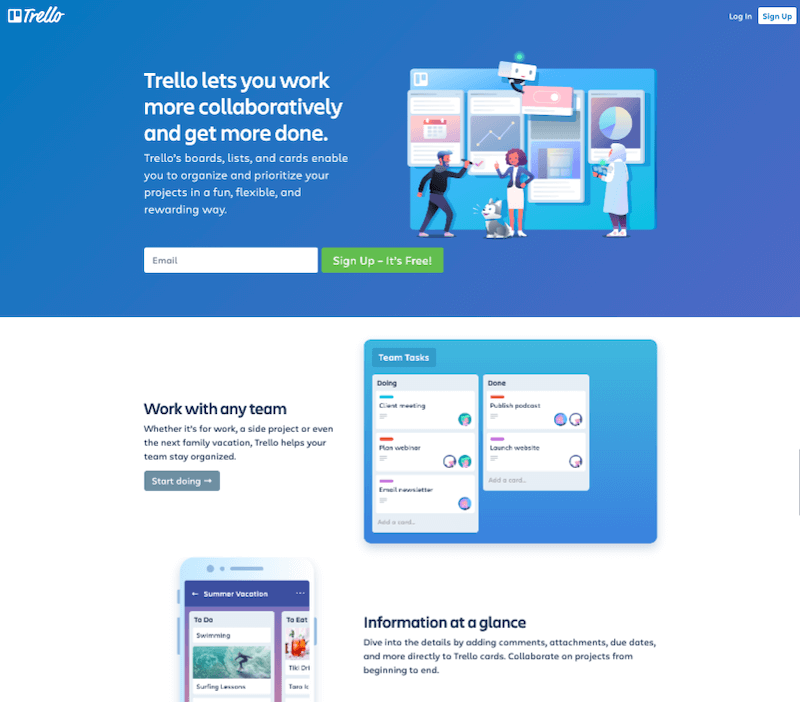 What's the best thing that helps you relax and concentrate more? The answer to this statement is Music. With Focus@Will, you get a collection of neuroscience music that will help you focus more on work.
Focus@Will has already made a huge client list with more than 2 million subscribers on board. You just have to select the genre of music without having to look for your earphones.
Best Features:
The built-in productivity tracker will allow you to check your progress.
Music tracks are specially designed for you to concentrate.
The sounds will help you retain important pieces of information.
Pricing – The annual package costs $35.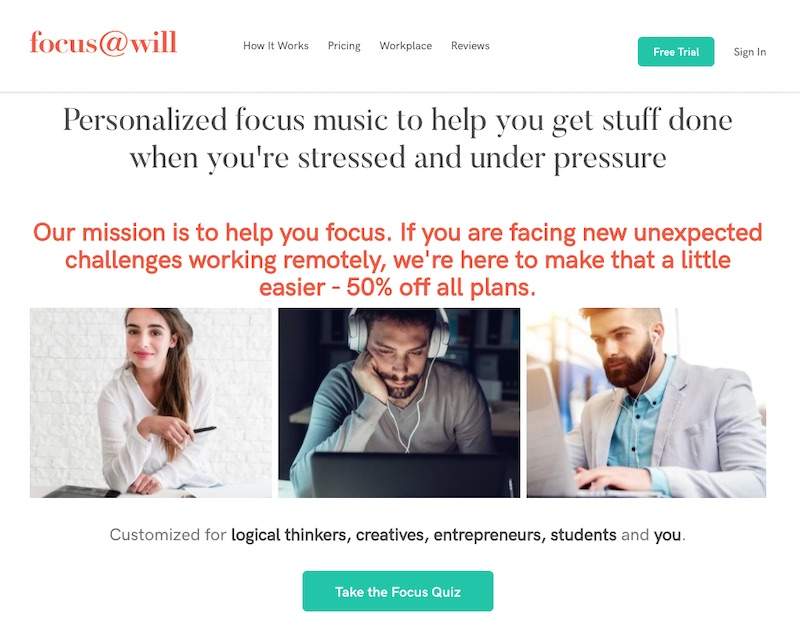 You probably would have already heard about this concept of a special alarm clock. Kiwake App is available on the iOS app store. This app forces you to jump out of your comfort space and complete a task in order to stop the alarm.
To set up a strong routine that will help your time management needs, Kiwake App is an ideal alternative.
Best Features:
It prompts you to go through your goals and routines.
A Cooldown timer would allow you to stretch yourself before the alarm.
You can customize your wake-up process according to your needs.
Pricing – It is available for $7.99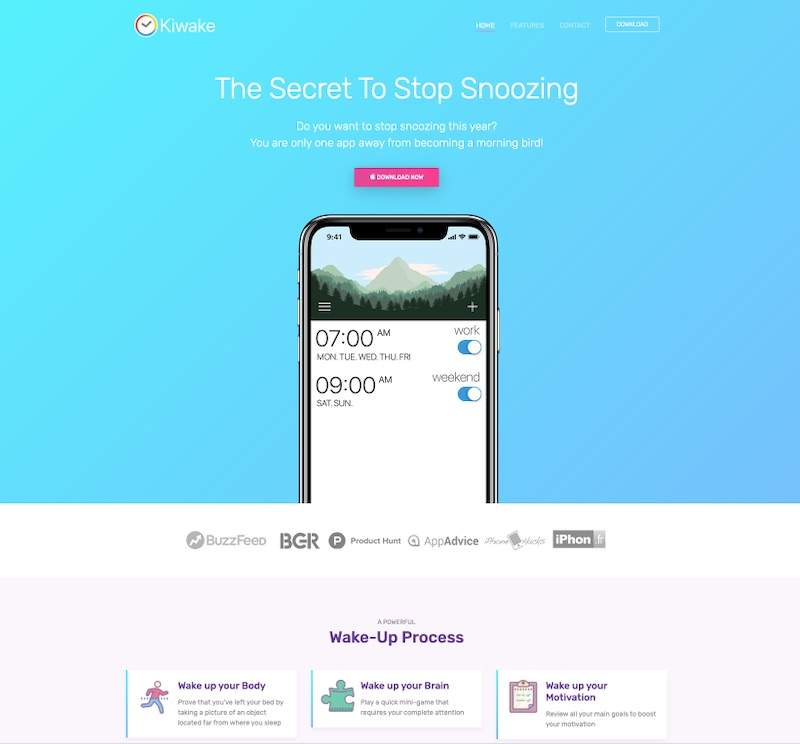 If you have been using your mobile phone for procrastination, Forest App is here to help you stay focused. While performing a specific task, you can put a website on the blacklist to avoid distractions.
You have to then, plant a seed while starting with your project and after its completion, you'll see it grow into a tree. If you fail to complete your task, your tree will die. It is available on the android and iOS app stores.
Best Features:
If you stay focused, you can help plant real trees.
Easy user-interface.
It allows you to check your progress.
Pricing – It will cost $1.99.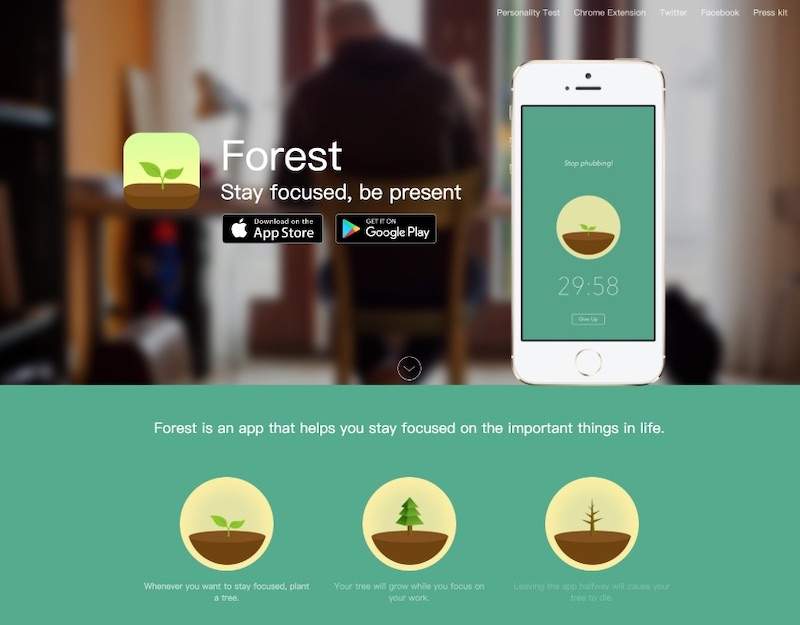 Keeping all your notes customized in one place, Evernote helps you deal with time management problems. With Evernote, you can not only take notes faster but also share them with your friends easily.
Best Features:
You can record your meetings as well as add attachments.
It allows your team to be at the same place.
The offline feature helps you manage things without the internet
Pricing – A premium plan will cost $7.99/month
The motivation to complete your tasks is what will make you drive for the aforementioned time-management apps. Since time is limited, you have to make the most of every hour and these apps will help you in the process.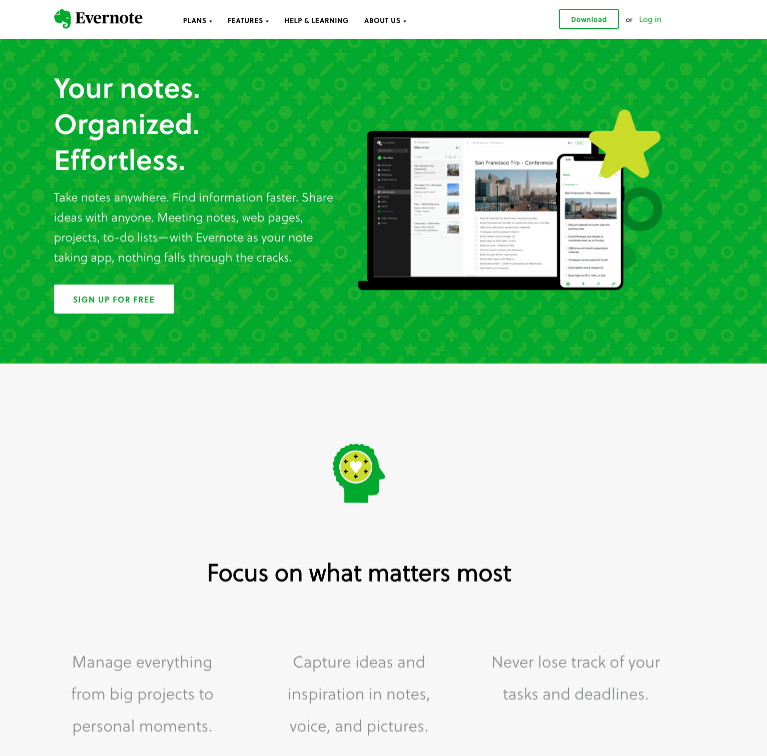 Workflow is a process optimization tool that will help you to combine the best and the most frequently used features of the apps you use in a single interface so that you need to spend lesser time working on those apps.
This will certainly save a lot of your time and make you more productive as you don't have to shift between different apps.
Best Features:
Save your time by optimizing your process
Create easy-to-use shortcuts for your regular apps
Simple drag and drop interface to create unique shortcuts
It can work inside other apps like Evernote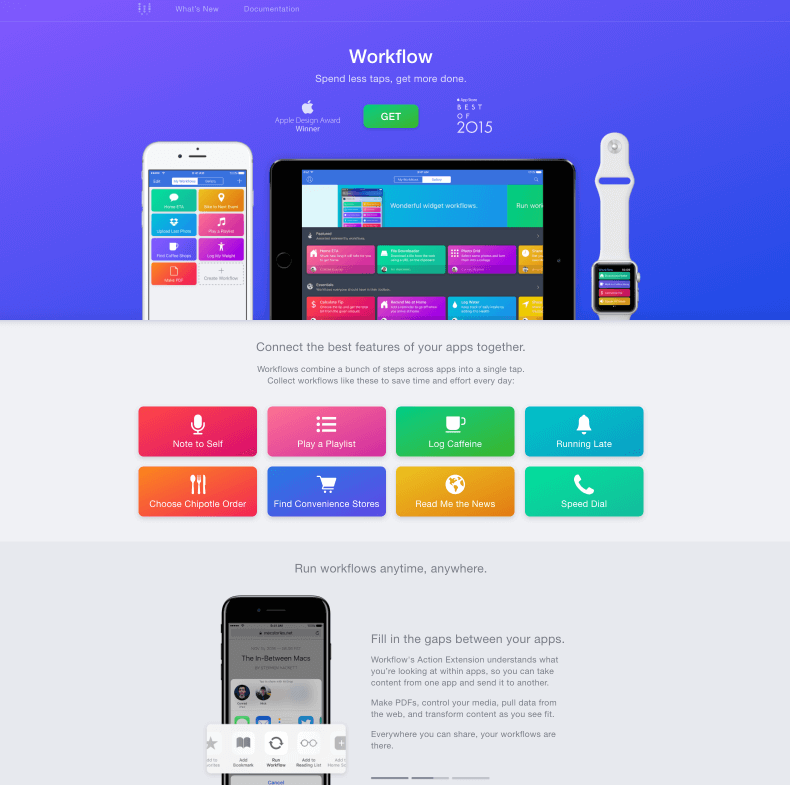 MyLifeOrganized, as the name suggests is a tool to organize all your tasks, to-do list, and everything else to make your life easier.
You can write things, list items, organize, flag, start things in a simple drag, and drop element interface. It will make your life a lot more organized and always keep you updated about the things to be completed.
Best Features:
Easy-to-use interface
Generate an ordered to-do list
Easy and effective goal planning
Task reminders
Project tracking and more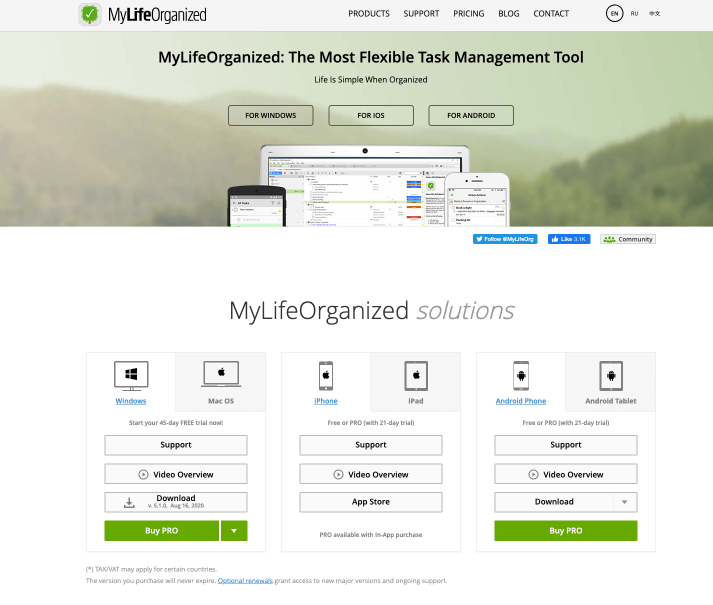 MindNode is a very handy tool to keep a note of all the thoughts that comes to your mind and help you to organize your thoughts so that you can turn them into big businesses.
It is a productivity tool to organize your thoughts and ideas. You can use it to outline your ideas and keep a track of your progress. You can create a map of your thoughts and look at them as actionable.
The app comes with themes to design your outline and style quickly so that you can keep adding to it as you progress and get more clarity.
Best Features:
Easy-to-use interface
Outline your thoughts quickly
Ready to use themes
Visual tags to add more context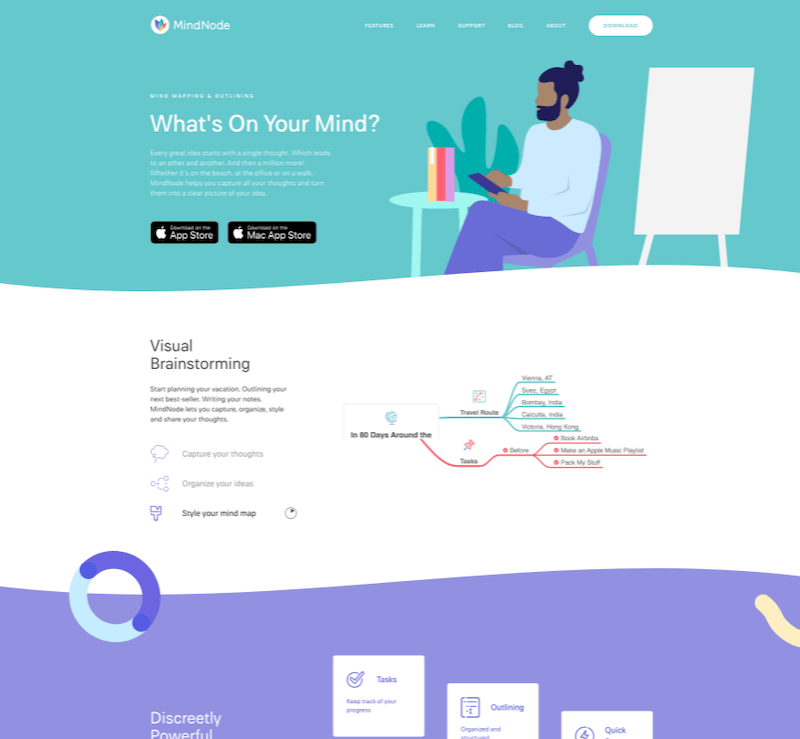 FAQs ABOUT TIME MANAGEMENT APPS
Question 1: How do various task-management apps help in solving time-management problems?
Answer – To deal with time management problems in a working atmosphere, these task-management apps are one of the best options to deal with unnecessary delays and distractions. These apps help in integrating various apps and team members in one place which increases a person's productivity.
Question 2: How can one successfully imply time management?
Answer – One can successfully imply time management by following these steps:
Create a time audit and set your desired goals.
Put a time limit and create a plan
Avoid all distractions and keep writing things off your to-do list.
Question 3: Which of the aforementioned apps helps in avoiding distractions?
Answers – Although all of the aforementioned apps help in avoiding distractions, these specific ones are created for this special purpose only:
Rescue Time
Loop Habit Tracker
Focus@Will
Forest App
Question 4: Which of the aforementioned apps are free to use?
Answers – There is a free pack or a trial pack for the majority of the aforementioned apps but some are absolutely free to use such as:
Be Focused Timer
Clockify