A collection of the best vCard resume WordPress themes that you can use to create your online portfolio to impress your potential employers.
Your name, designation and other details, nicely printed on superior design, do make an impression but suffers from a few drawbacks.
In today's world, it is extremely important to have an online presence and you can easily make an impressive design for your personal branding using the resume designs mentioned in this post.
Now, you have the choice to opt for vCard, the virtual visiting card. The best part is you can create beautiful vCards with WordPress CMS, and there are plenty of themes to make a selection.
What's more, these electronic business cards can be exchanged through emails and instant messages. Have a look at the themes.
Have a look at the themes.

Best vCard Resume WordPress Themes
---
Divi Theme
Divi is one of the most popular multipurpose WordPress themes in the market that you can use to create any kind of website including a personal portfolio site.
If you are looking for a theme that you can customize according to your needs and have all the modern features and options, Divi is one of the best choices without any doubt.
Divi comes with the powerful drag and drop website builder, the Divi Builder. It brings along a large collection of modules that you can use to create your website.
And not only your web design, but it also offers you all the important tools and modules to market your website. You don't have to look at any other tool to do testing with your setup and maximize the return.
The front-end editing option offered by the Divi Builder will make it super simple for you to design each and every section of your site perfectly without any coding.
Here is good news for you. You will get a 20% extra discount using our link below.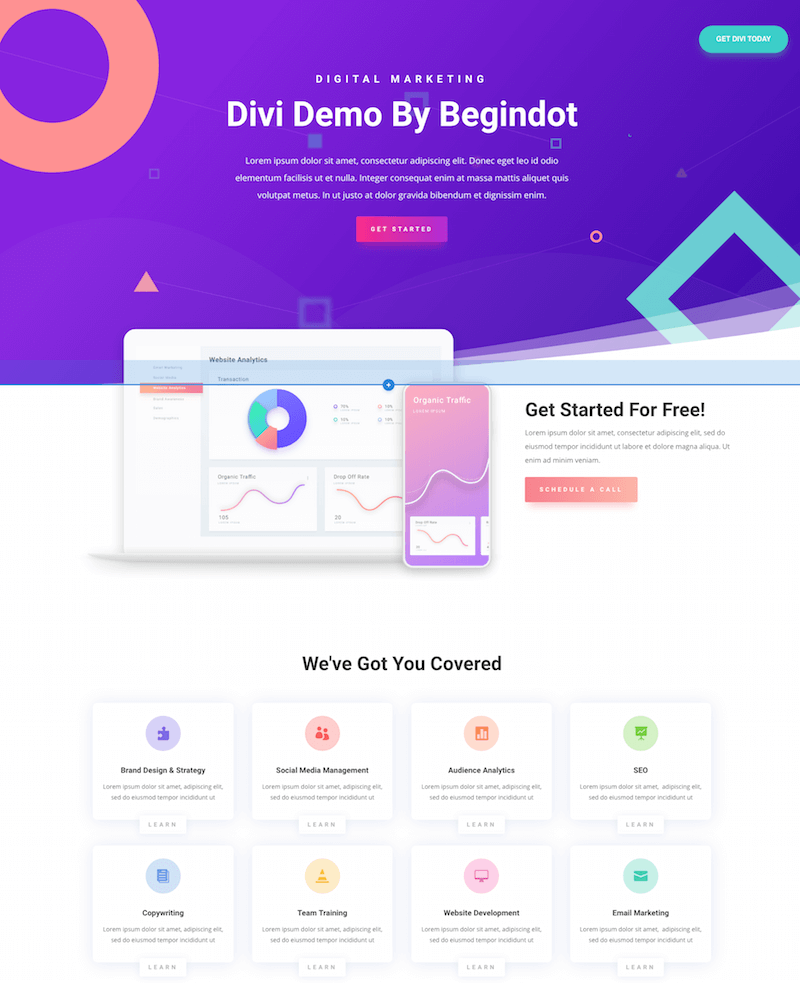 Elementor Pro
Elementor is the most popular website builder for WordPress at the moment. You can use the Elementor builder to create any custom layout for your website.
You can combine this builder with any good quality theme such as the Astra theme to create your resume site.
Elementor is a drag and drop front-end website builder that is used by most of the pro bloggers and marketers to create their sites these days.
We have reviewed Elementor Pro in detail, you can read that post to know more about the builder.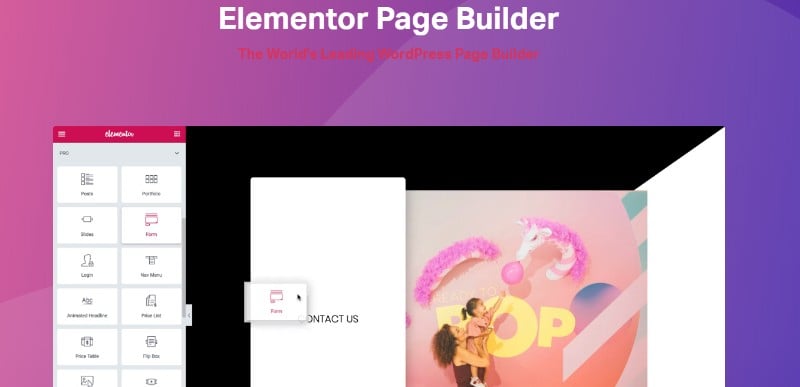 RS Card
This theme is specifically meant for professionals. It is flexible, with an elegant material design that makes the card stand out from the rest.
All you need to do is to use your imagination and combine different blocks to get a vCard of your choice and design.
This theme has been created by Robert Smith, Developer, and Start-Up Entrepreneur. This vCard theme sells for $49 and, according to user feedback, it is brilliant, easy to set up and looks amazing.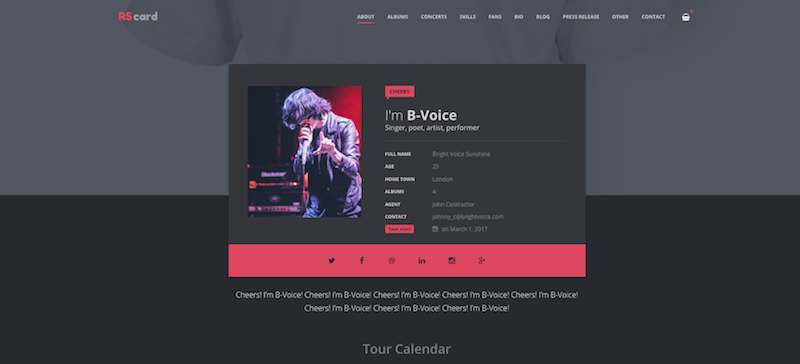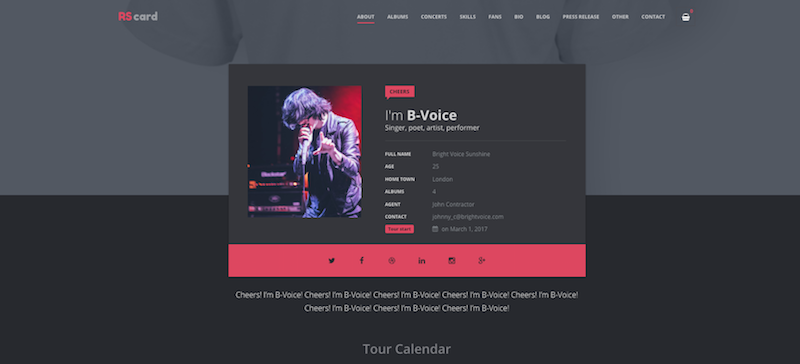 uCard – A vCard Theme
With uCard, you have a readymade tool for promoting yourself online. For $49 you get a vCard theme that showcases a sophisticated design that impresses those viewing your profile.
Its unmatched flexibility makes it possible to reflect your style through several customization options in the quickest possible manner.
You have a choice of a number of themes that offer modern designs that are not run-of-the-mill kind. They are nice to look at and easily adjustable to suit your requirements.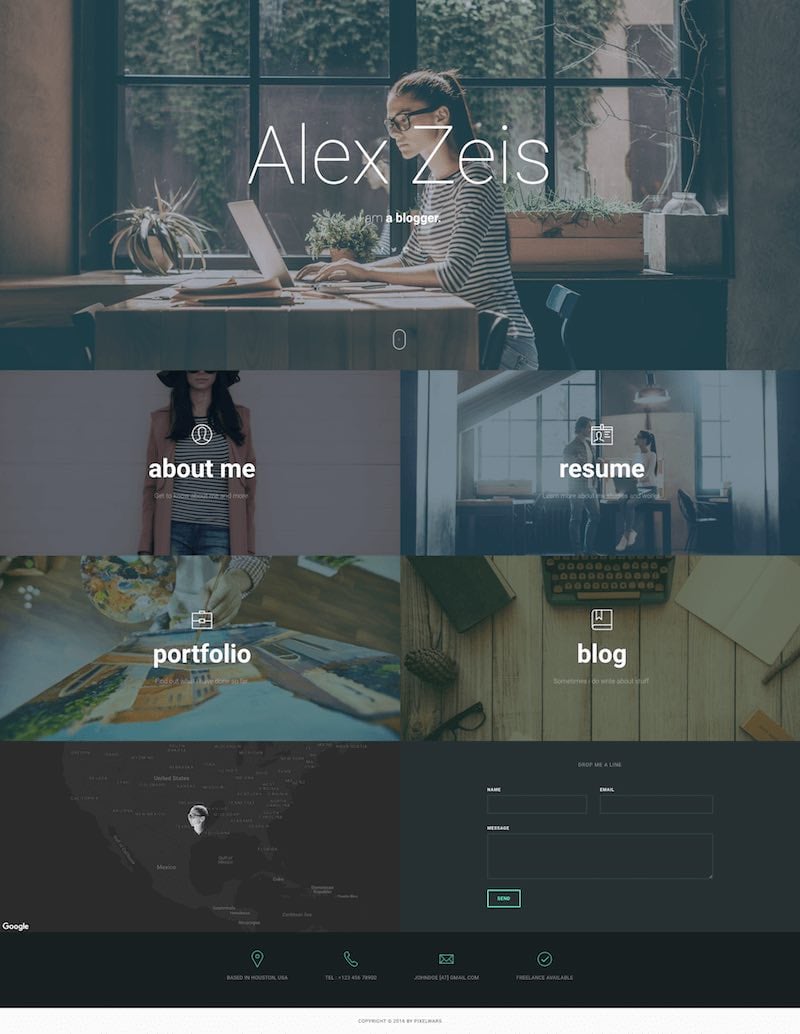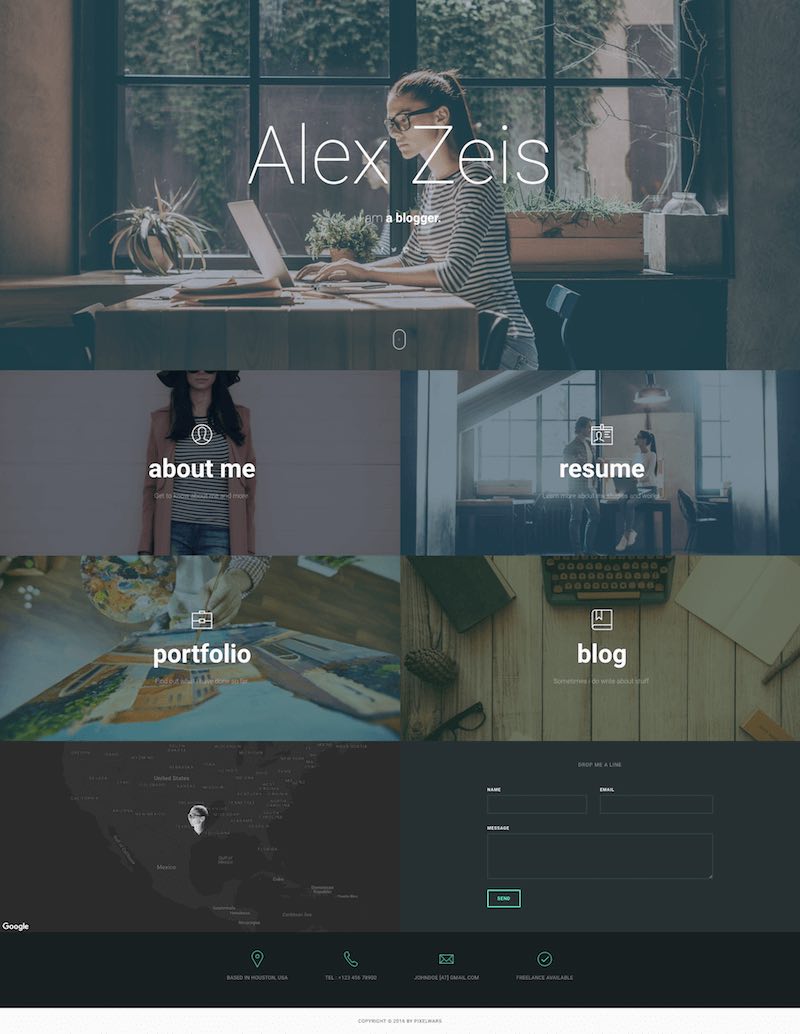 Henderson
The vCard WordPress theme is the brainchild of Joseph Henderson, web designer, and front-end developer.
The flat and minimal design of this vCard WordPress theme offers a multi-purpose, customizable template that includes a slider, Visual Composer framework, and Kirki customizer to name a few.
It is fully responsive to mobile devices and tablets and comes loaded with 675 Font Awesome icons. The best part is that its regular license costs only $20.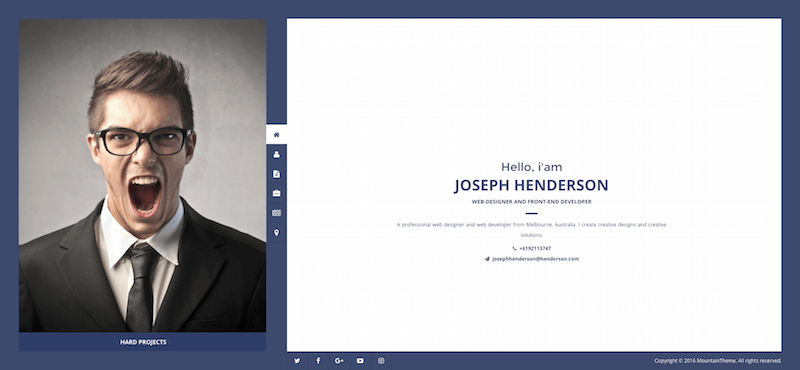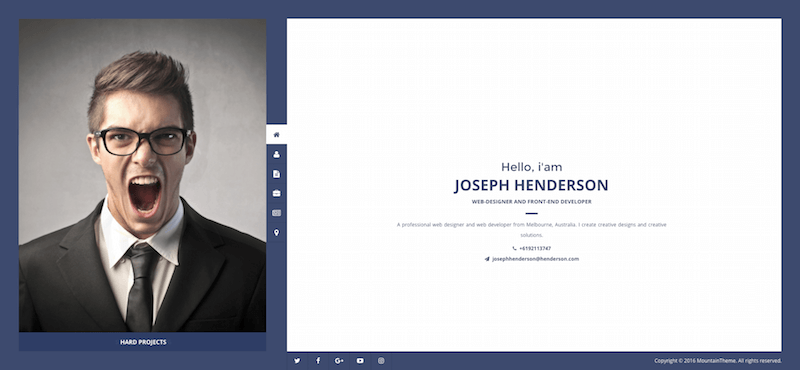 Empathy
Finding it difficult to get your blog noticed? Use Empathy, a vCard theme that is designed to grab eyeballs. According to one of its users, this lightweight theme is very understandable and easy to set up.
It offers a choice of over ten unique designs. Empathy is the idea of Jack Allen, an avid blogger, and costs $49.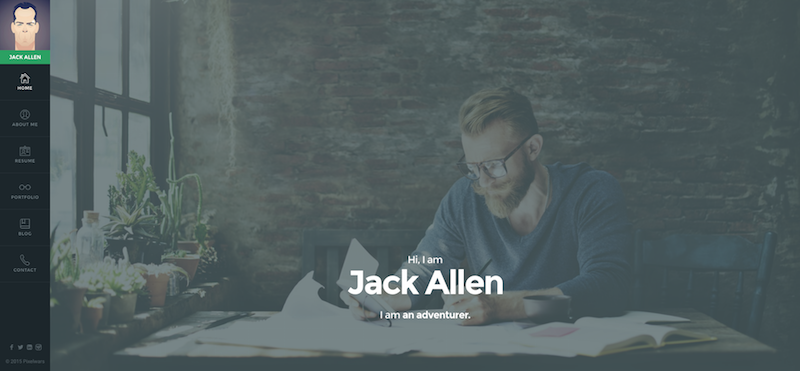 Cascade
This minimalistic personal vCard WordPress Theme, aptly named Cascade, is different. It offers colorful menu tabs and tabs presenting the content of the pages. The dark and light skin theme provides some good options.
Sample this, Cascade offers eight predefined tab colors, ten predefined tab icons, twenty predefined page backgrounds, and ten predefined social icons.
The theme can be easily used with a build-in lightbox, Google Maps shortcode, working contact form, latest tweets widget, and much more.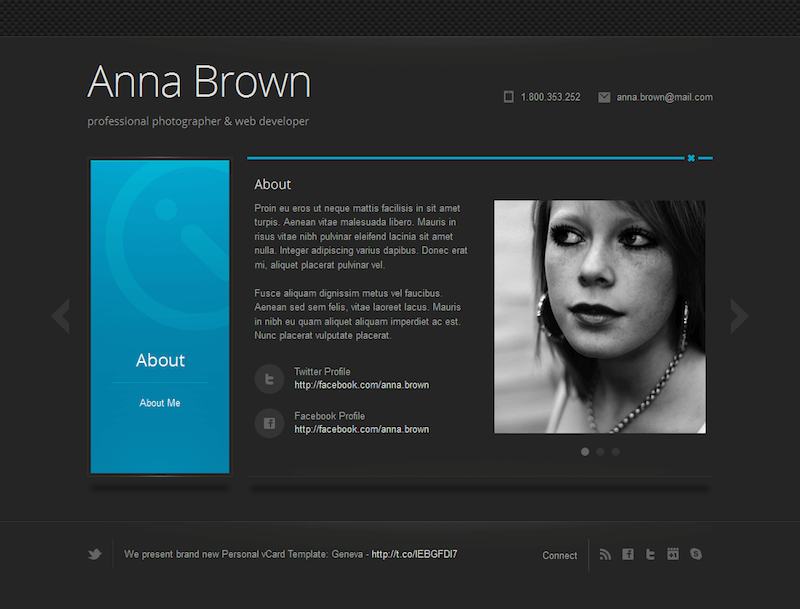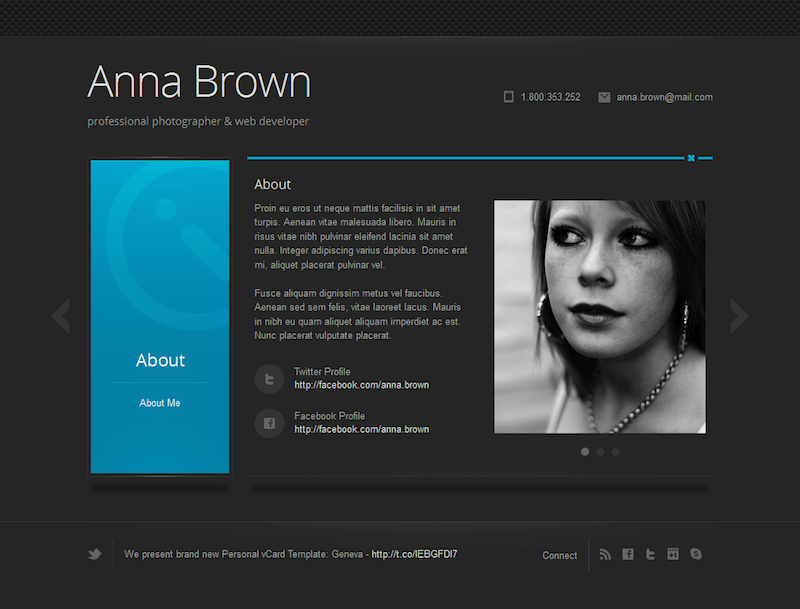 Vertica Resume Theme
Vertica is a beautiful modern resume WordPress theme that you can use to create your online portfolio. It's a must to have a personal website, especially for creative professionals so that you can display your work portfolio in style.
This trendy theme comes with a few different design options to choose from and you can also customize the design as per your requirement. It is a fully responsive and retina-ready design so that your site looks great on modern mobile devices.
This theme is based on Bootstrap and coded with HTML5, CSS3 code to make sure it is lightweight and has a high-performing design.
You have over 600 Google Font options and Font Awesome icons with the theme so that you can work on the typography.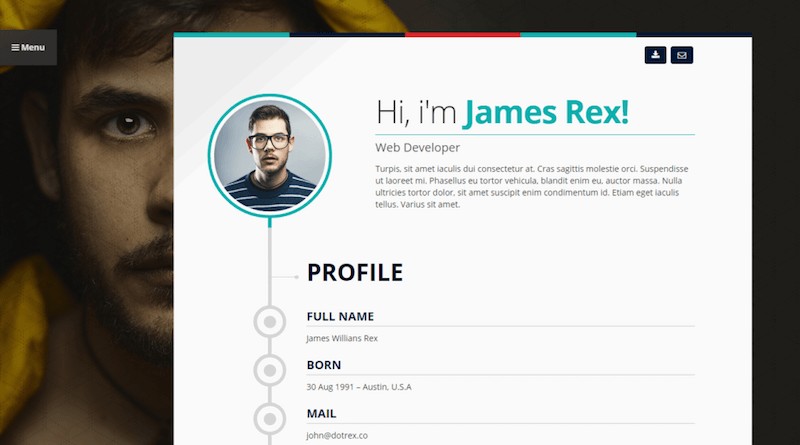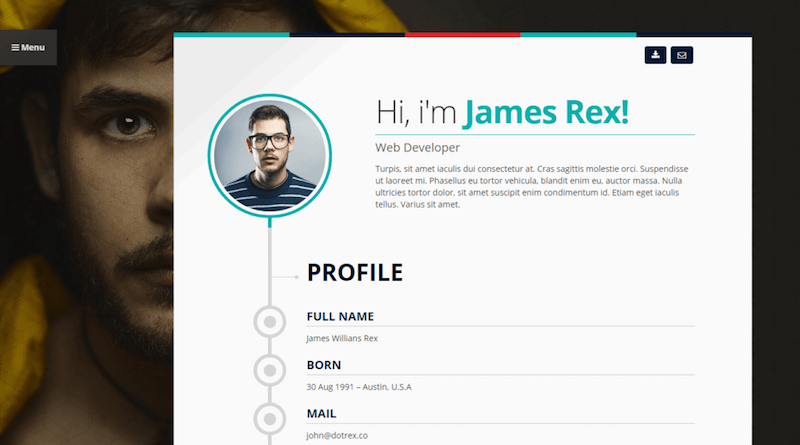 Personage: Easy Setup CV Resume
A very attractive, modern vCard and Resume theme that you can use to create your online portfolio. The theme comes with four different demo design options that you can use to create your site.
It's a fully responsive WordPress theme that will make your site look great on all devices. It comes with a powerful theme options panel where you can setup your site perfectly.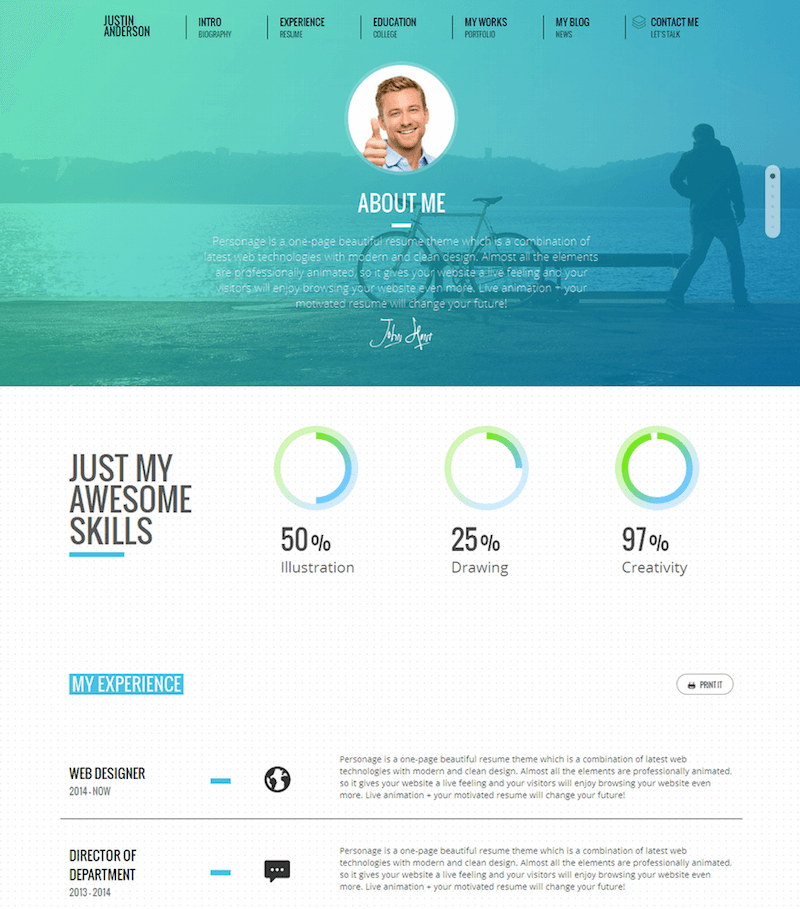 NEW Retina Ready WordPress Vcard Theme
The name of the theme says it all, it's a modern resume theme with a fully responsive design. You will be able to create the perfect personal portfolio site with this theme without any coding.
You will get a drag-and-drop website builder with the theme making it super easy for you to create the perfect design for your site that is trendy and unique.
It's a very clean design coded with HTML5 and CSS3 making it a high-performing and SEO-friendly design.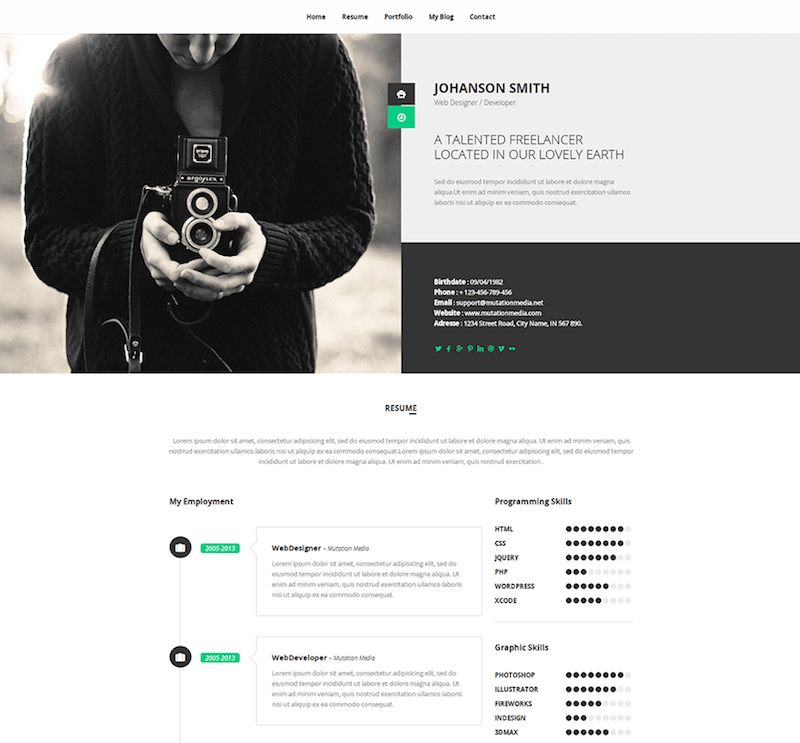 Intima: Resume & Portfolio WordPress Theme
A trendy modern resume theme created with HTML5 and CSS3 code. It's a very professional-looking minimal design that will make your site look great.
You have different blog design options with the theme making sure that you have the possible customization to make your site modern.
This theme is perfect for any creative professional who wants to create an online portfolio to showcase their work.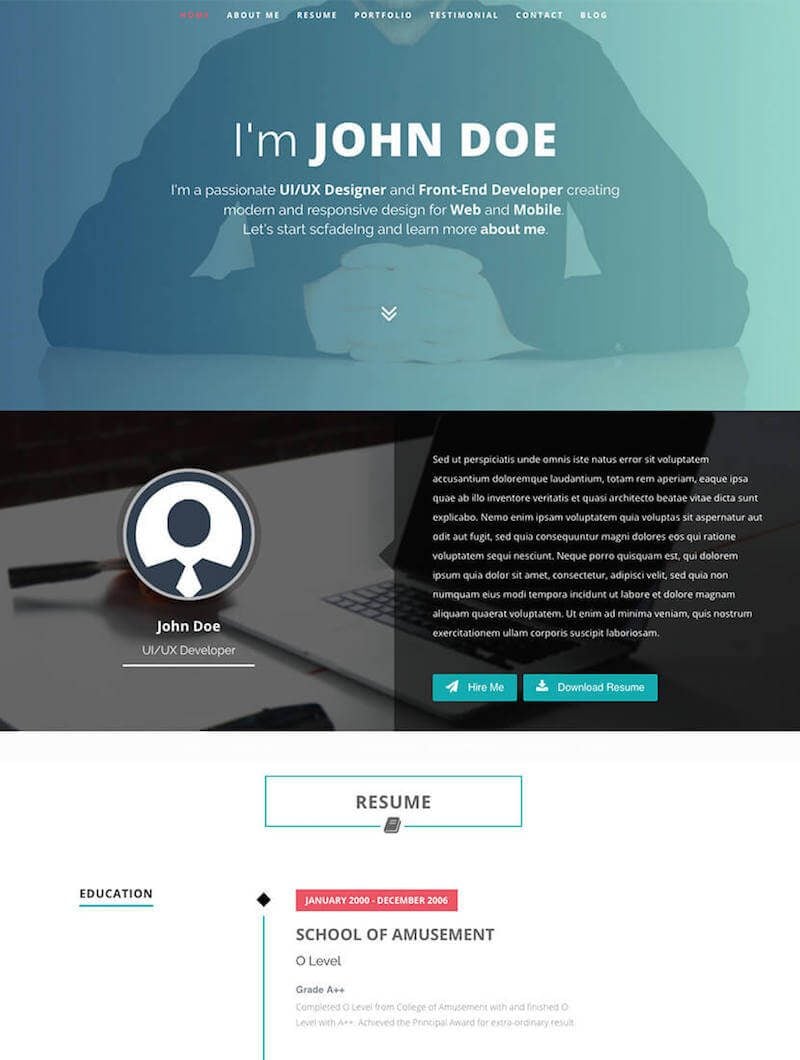 Sam Martin
If you are a professional or in a creative field, you can find no better theme than Sam Martin to showcase your portfolio and resume. Designed to impress, this elegant and beautiful personal vCard Resume WordPress theme is with the times.
Ideally suited for a host of professionals, such as lawyers, writers, doctors, and others, this theme is designed to create a lasting impression. Its unique Visual Composer allows you to easily adapt the templates to your requirement. This $39 theme offers the best.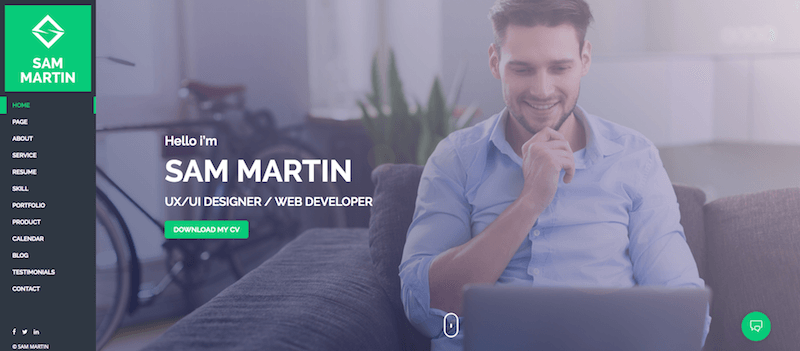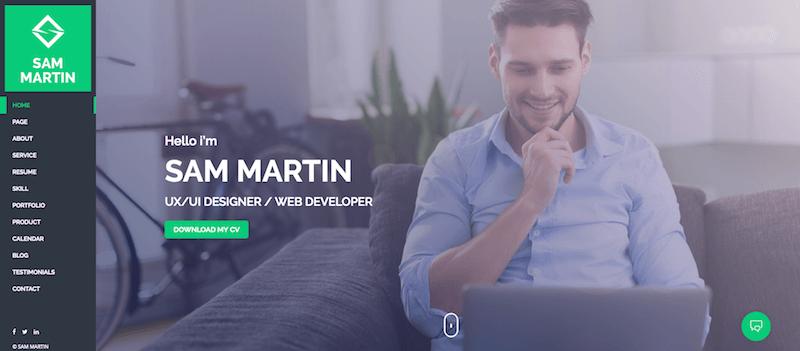 LRK
This Bootstrap-based Creative vCard WordPress theme has been developed by John Smith, who likes to get introduced as 'a cool and creative designer that makes websites.' His creativity is quite apparent in this theme that is fully customizable and responsive.
The well-organized layers make it easy to customize. Its modern and minimal design, and multiple device layouts make it both easy to use and flexible. If you want to show yourself off invest $44 on this theme.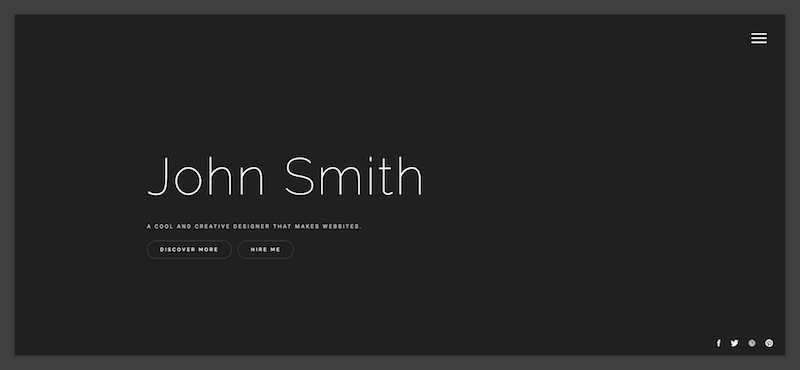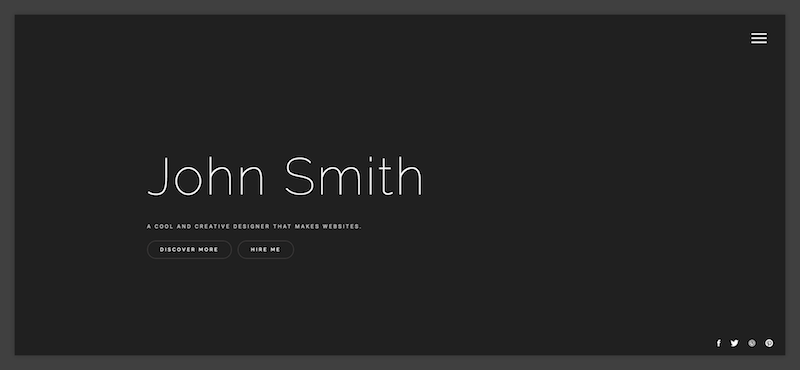 UREKA
This Responsive vCard WordPress theme has earned its spurs by offering a neatly designed creative portfolio/resume theme.
Inculcating the latest trends in web design, it magically transforms your content in the most creative way possible to impress. UREKA has a drag-and-drop page builder, one-click demo installer, speed optimization, unlimited color options to match your theme, and much more. It sells for $44.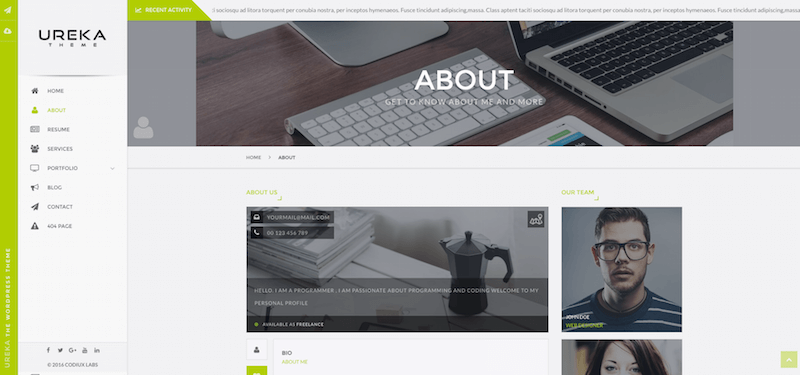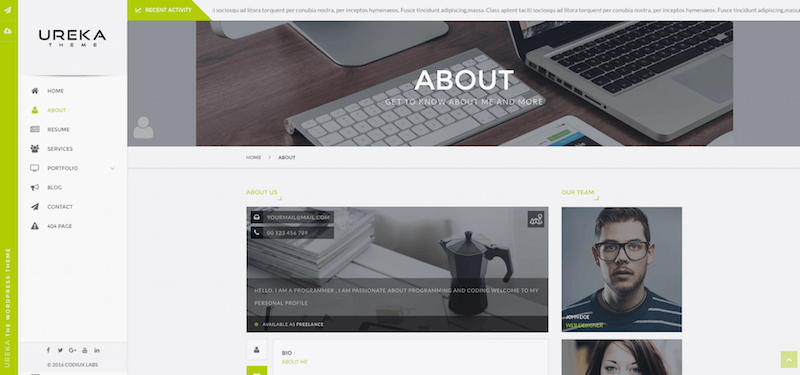 cvCard WP
The user response to this Responsive Ajax-enabled vCard theme with sliding horizontal layout says it all, "This beautiful theme works perfectly.
It is a little tricky to set up, but if you follow the instructions carefully and search the support fora for advice, you will get a response from the designer who will help.
After persevering, you will have an online CV with excellent features and a high degree of customization." The vCard offers four styles to suit your needs.
This long-awaited vCard avatar was welcomed by all with one user commenting, "Finally, an attractive and modern vCard Theme." The product is available for $49.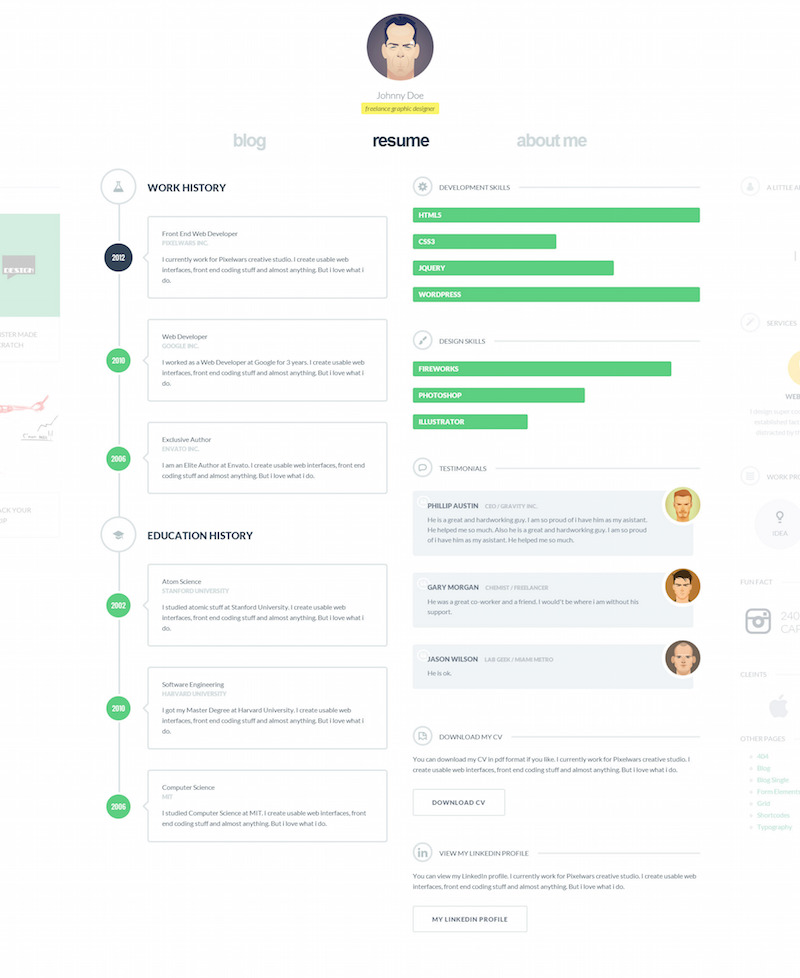 Biopic
Weaved out of simple ideas, Biopic is a stylish and responsive vCard HTML Template that has multiple uses. You can use it as a vCard or make brief personal portfolios, photos, and wedding journals.
Flexibility is Biopic's key feature and enables it to work on all devices, such as desktop computers, tablets, and smartphones.
To fit the smartphone screen, this adaptive theme hides the blog sidebar. Unlike other vCard themes, the $34 Biopic supports regular blog pages, such as the main blog page, category, and single page.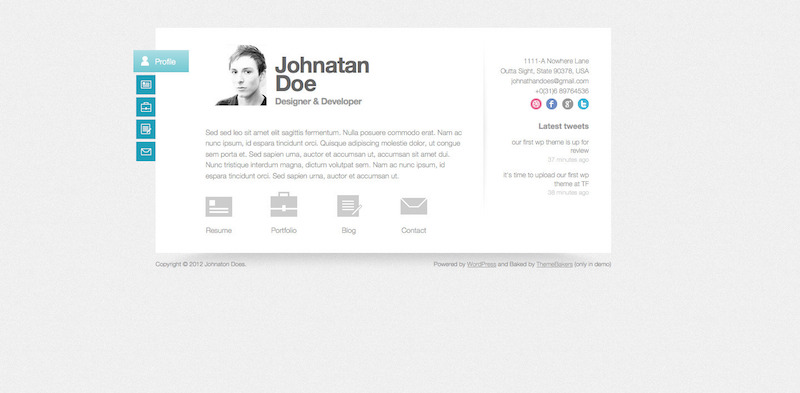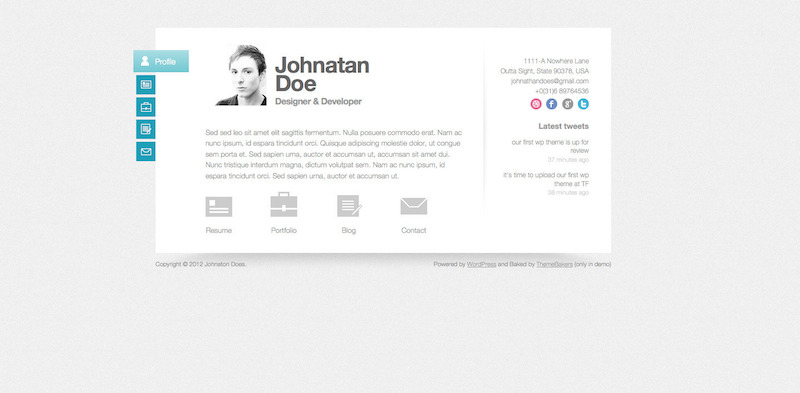 Ivery
Ivery is a colorful personal portfolio WordPress theme that can surely attract your users' attention to your page.
Premium plugins like WPBakery, Slider Revolution are included in the theme bundle for free.
If you are looking for a good design option for your personal CV, resume site, this is a nice option for you.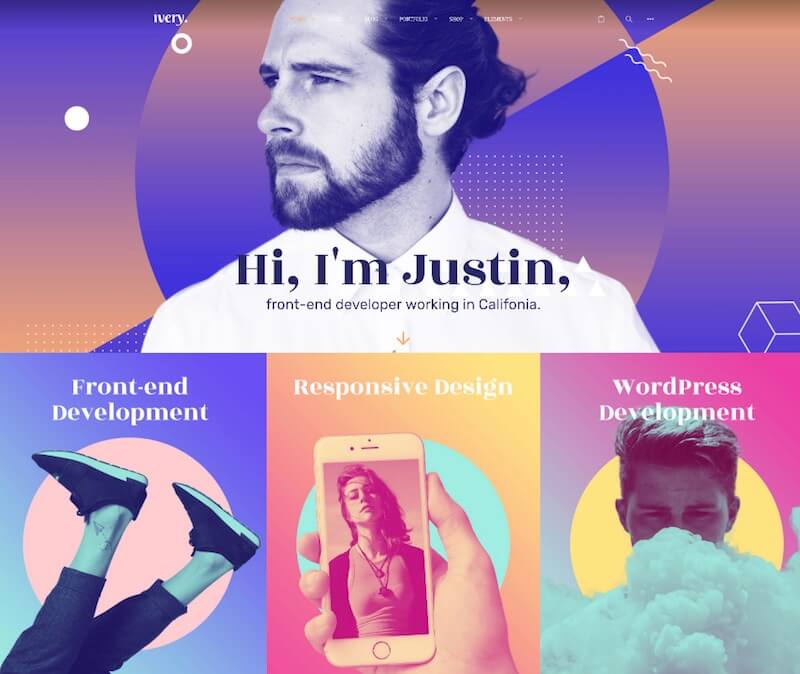 Solonick
Solonick is a beautiful personal portfolio WordPress theme that you can use to create your own resume site.
The theme is modern and offers you multiple homepage design options to select from.
Also, as the theme comes with the WPbakery website builder in the theme bundle, you will be able to create unlimited custom designs for your site without any coding.
It offers you unlimited styling options, unlimited color options, multiple portfolio designs and a lot more.
Final Word
In conclusion, you should choose the best theme that serves your purpose from amongst the wide range given here. For this, a little research is in order. Happy selection!