A powerful and elaborately functional presentation tool, the Apple's Keynote can conjure quite impressive, professional and vibrant presentations with its innate tools, several color themes and templates.
It is impressive that you capture the attention of your target audience effectively and keep it trapped for the due course of your presentation.
Therefore, picking the right kind of layout to make every slide seem distinctive is an important task and you need all the help you can get.
We have put together a detailed and varied list of the Best Free Keynote Templates you can use to make your presentation stand out!
UNLIMITED DOWNLOADS: 50+ Million Keynote Templates & Design Assets
All the Keynote Templates you need and many other design elements, are available for a monthly subscription by subscribing to Envato Elements. The subscription costs $16.50 per month and gives you unlimited access to a massive and growing library of over 50 million items that can be downloaded as often as you need (stock photos too)!


Classy
The first template- Classy, prides itself on being a multipurpose and multifunctional interface. Largely creative yet minimalistic in its approach, this template will strike you as a distinguished and safe choice.
With a 5-colour scheme and around 30 unique slides, this template allows you to fully customize it in accordance with the nature of your content. It also supports a picture placeholder.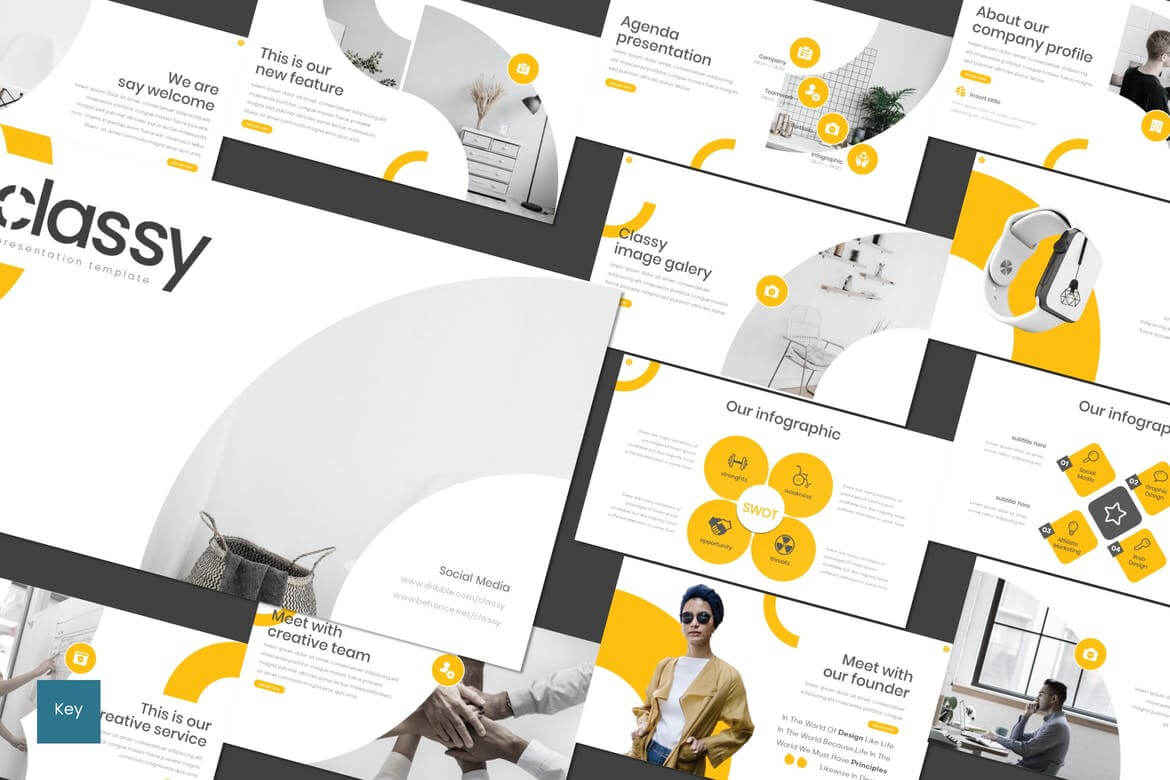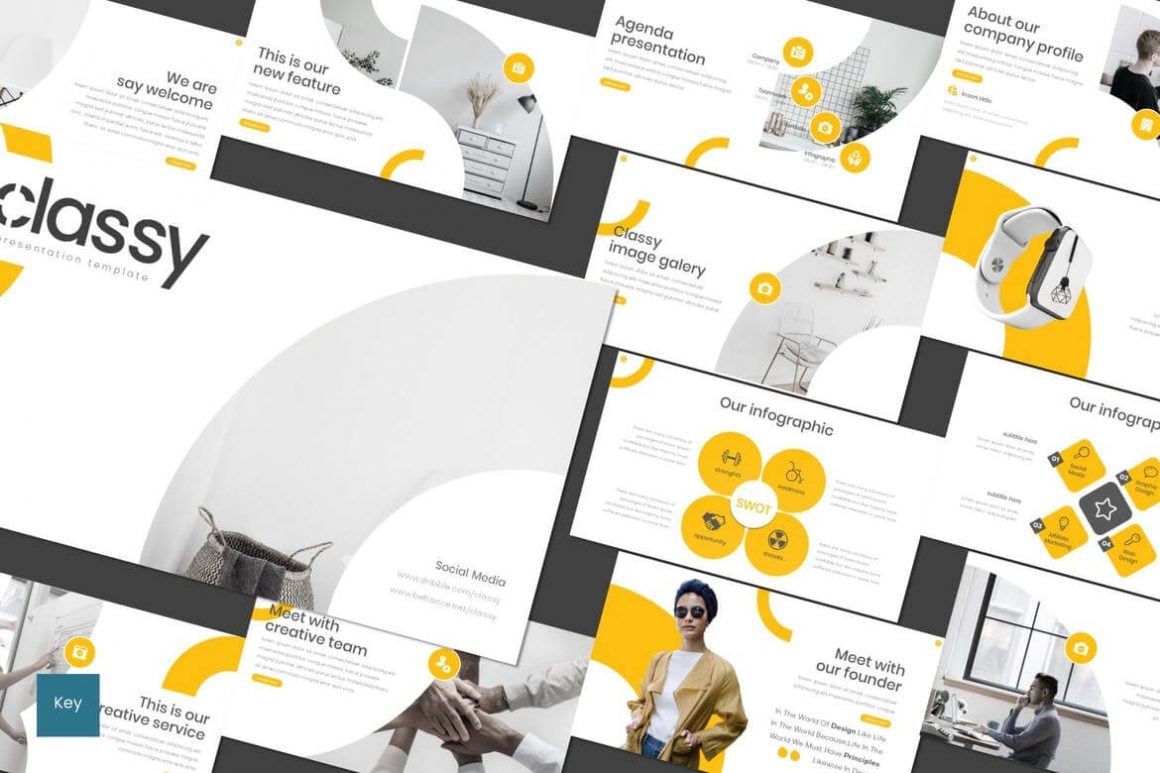 Cruch
Cruch in all its versatility can be used for all kinds of presentations and is conducive for all kinds of businesses; be it corporate, photography or even a personal portfolio.
It has a total of around 30 custom made slides, which are easily editable and customized to your convenience. This keynote template has perfected modernity and minimalism in its seamless structure.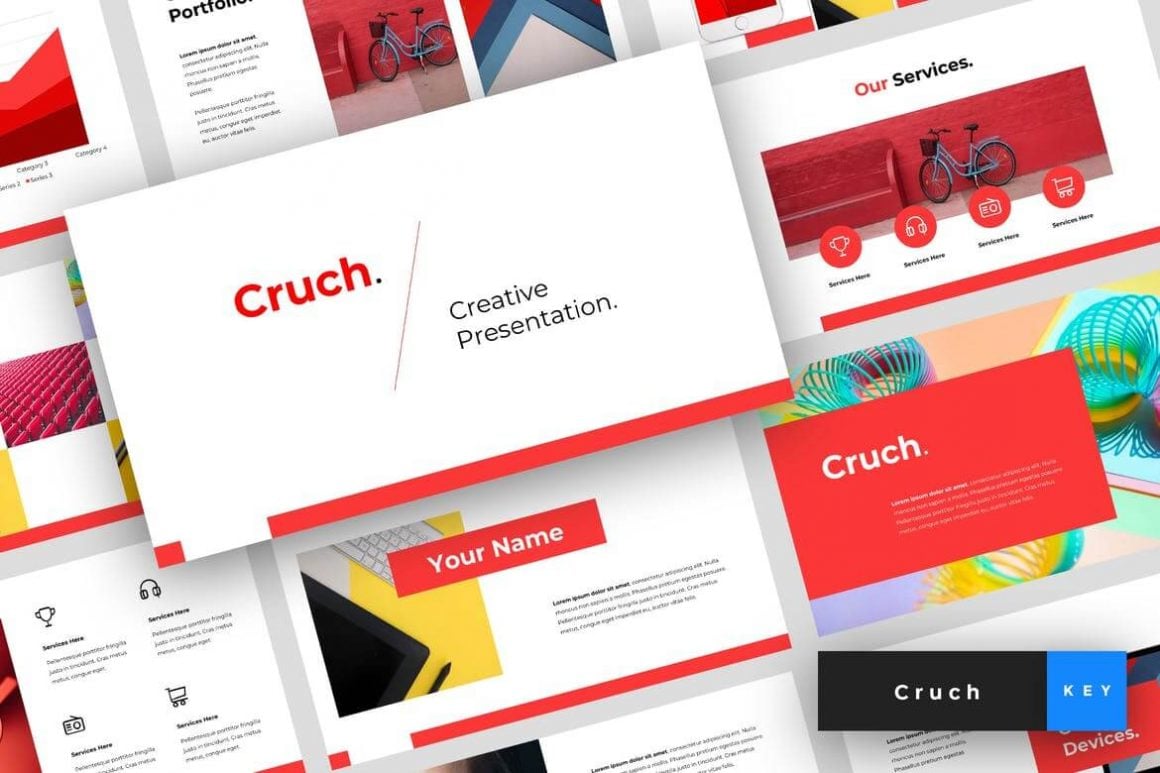 Highlight
Sleek design and optimized simplicity, Highlight is a colorful template that is stylish and practical at the same time.
With an image placeholder with the allowance to drag and drop your own images, it possesses professionally crafted slides with predefined textual styles. You also have access to certain unique portfolio slides and free support or assistance.
Keton
With a 16:9 aspect ratio, it houses more than 50 slides and a spread of 3D infographics, elements and icons.
It adds credibility to your content and enhances your explanation by supporting the necessary images, graphs, and charts. Its vibrant and posh aura makes it conducive especially for the creative industry harbouring fashion, photography and other arts.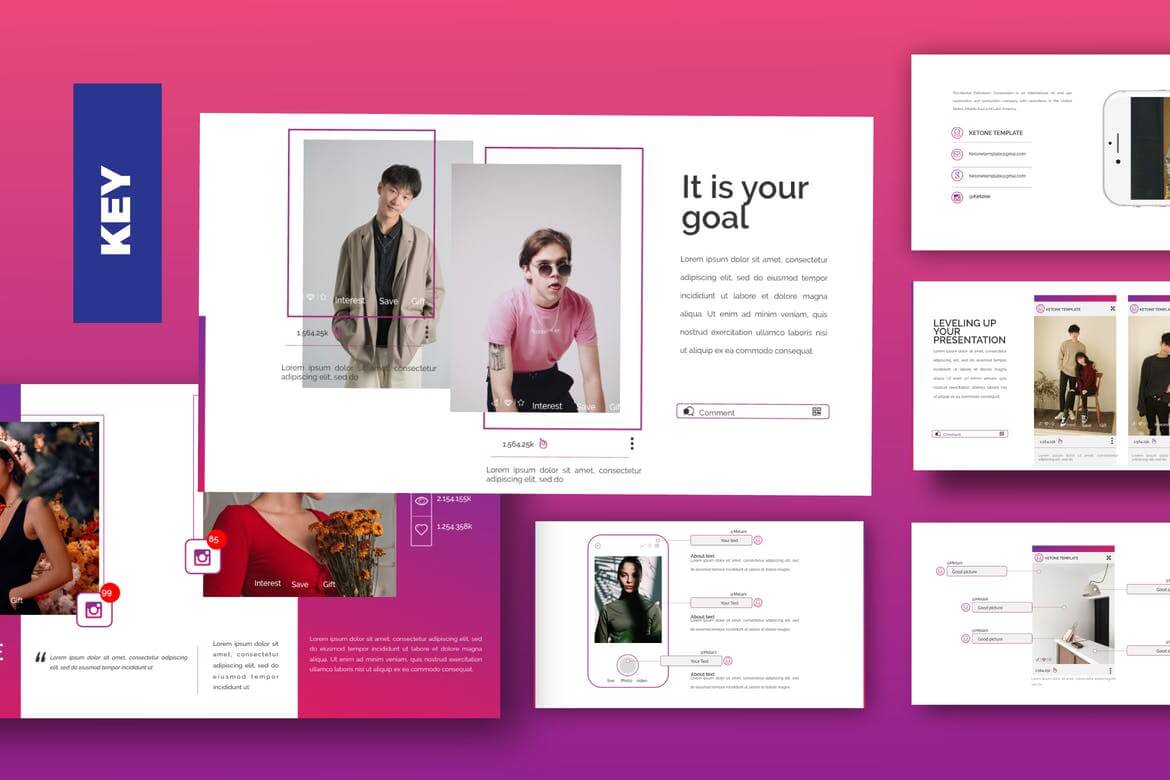 Corona
This template is the epitome of sophistication and glamour. It can vow your audience and most importantly retain their short-lived attention.
It is an excellent choice if your presentation is image-heavy, and your text is minimal and just captions to give an insight to your image. This also hosts a 5 color scheme and has around 30 modern and sleek slides for you to choose from.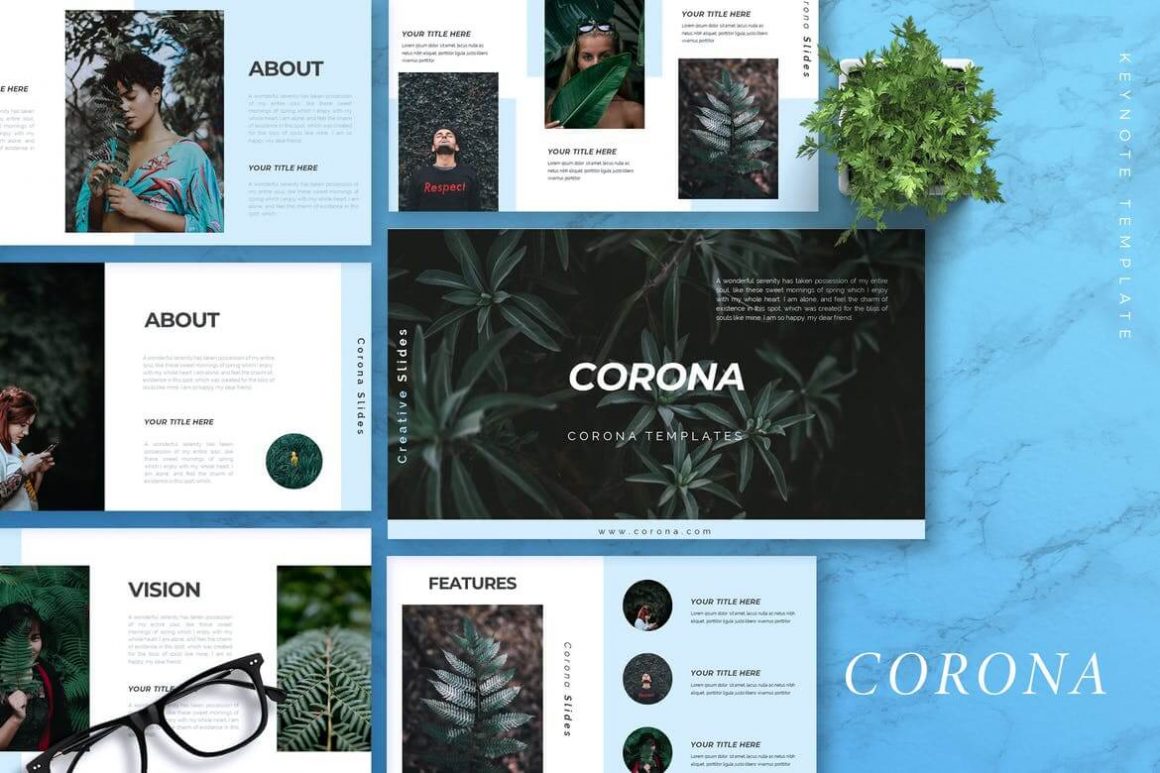 Creative Six
As the name states, this also caters to the elaborate needs and necessities, particularly of the creative industry.
Fully customizable, it has an HD display of 16:9 aspect ratio alongside its highly functional tools and elements. There are easily accessible free fonts which are inclusive of picture image links. It has proven viable as a professional, modern, efficient and corporate design.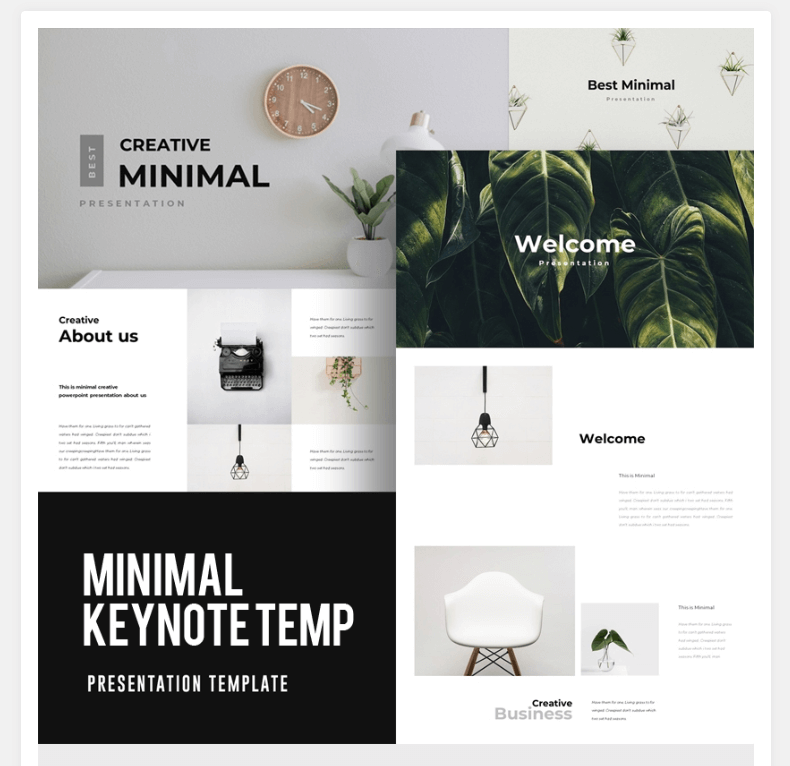 Colourful Portfolio Keynote Template
Reflecting 2019's modernity and complex framework, this template is surprisingly easy to use and navigable.
This template hosts a set of 20 plus custom creative slides, all the consecutive slides take after the structure of the master slide. Inclusive of free font and picture image links, this template prides in its custom animated built-in slides.
Note
Note is as minimal and simple as a business presentation can get, so that the background doesn't overshadow your content. This Vector-based template as a picture placeholder and its 5-color scheme is easily and entirely editable. Uniquely designed, it works well for commercial enterprises and for personal use alike.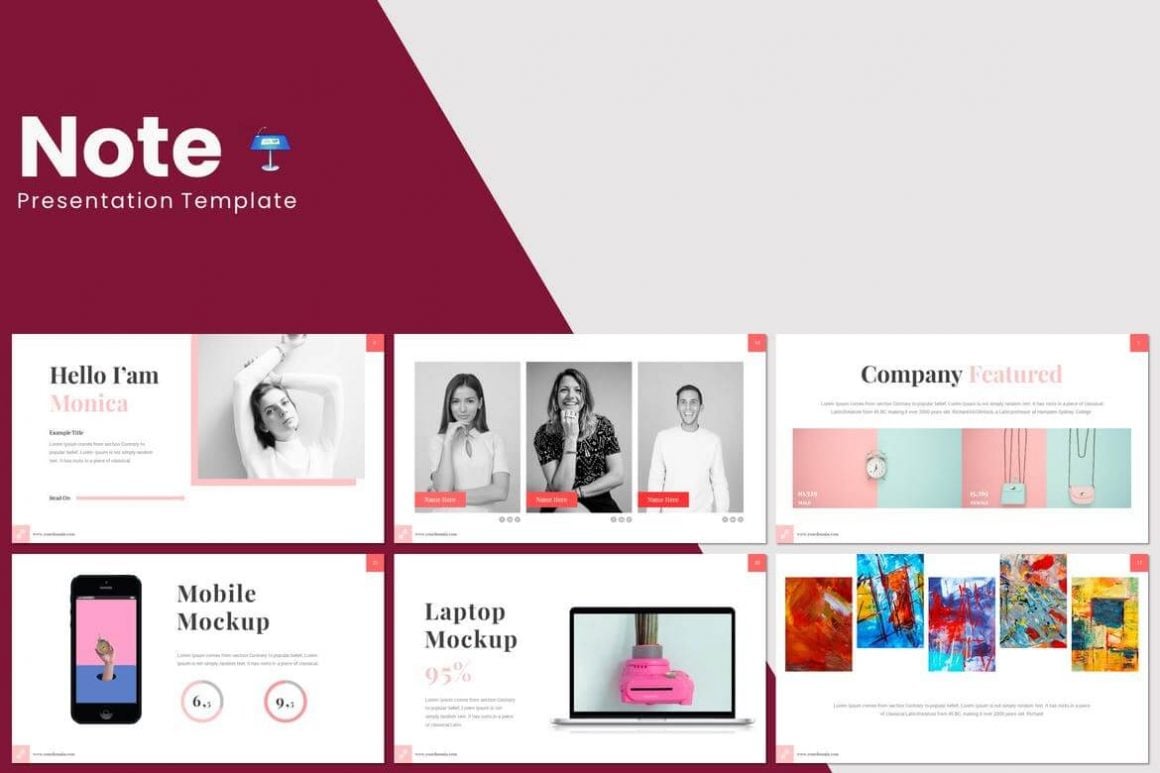 Libero
Exclusively designed for business showcase presentations, this template is effectively categorized and uniformly compartmentalized. Boasting about 150 slides, Libero is very creative and allows you to craft your presentation as per your needs. It is highly functional and allows documentation along with 5 premade colours.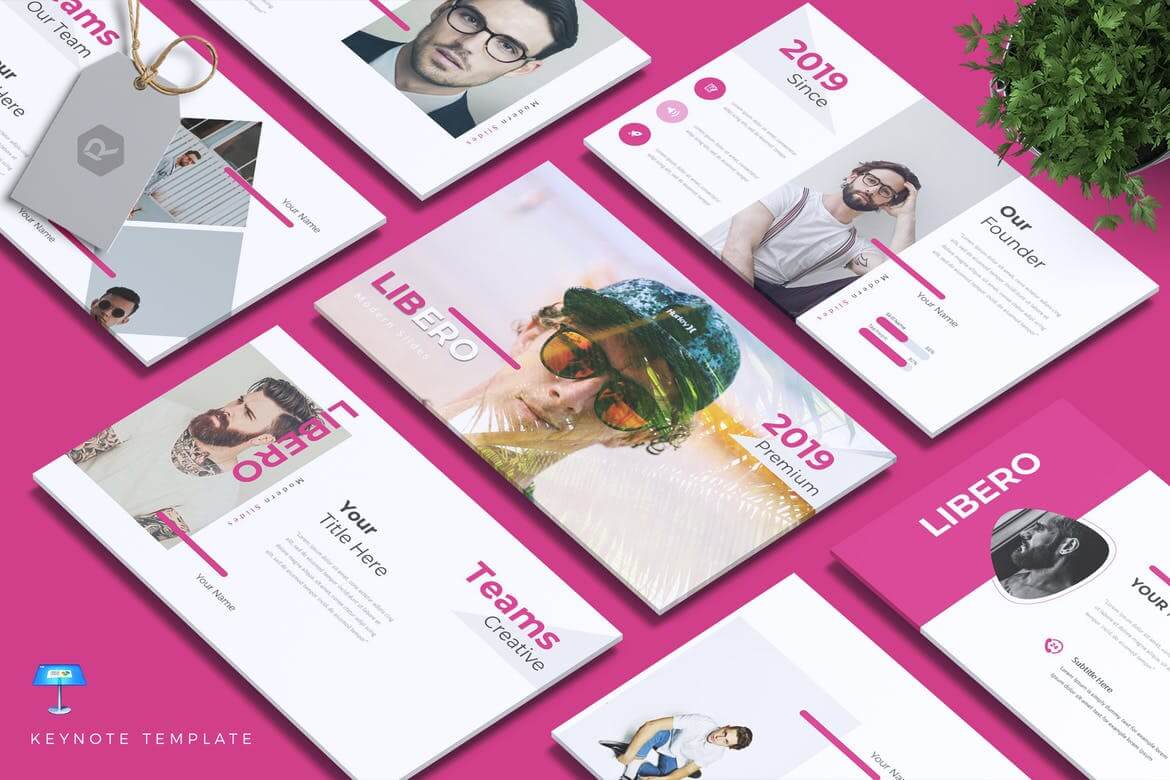 Duotone
This dual tone slide is fiercely different from the monotonous minimalist and monochromatic designs. It will give you creative liberty while also making it appear professional and previse.
Supportive of retina and full HD display, you do not have to worry about the template compromising on your content or image quality. It also has free fonts and can be printed hassle-free.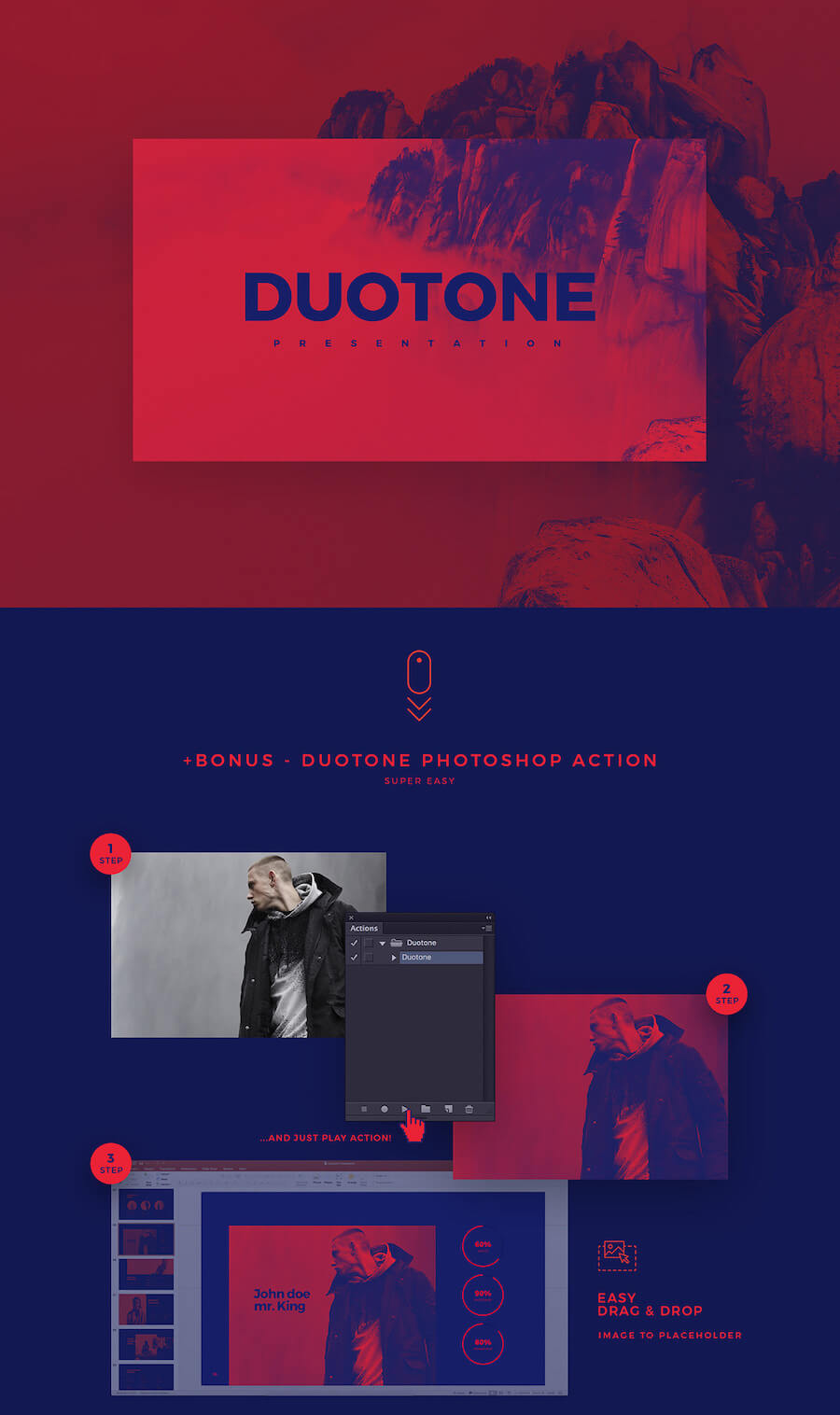 Yellow
With a 16×9 spread that is easy to print, Yellow has over 60 premade slides which are fully editable and can be tailored to your needs.
What is impressive is that this template is its availability in PowerPoint version as well. You can structure your presentation in the most complex of combinations and Yellow will still prove its versatility.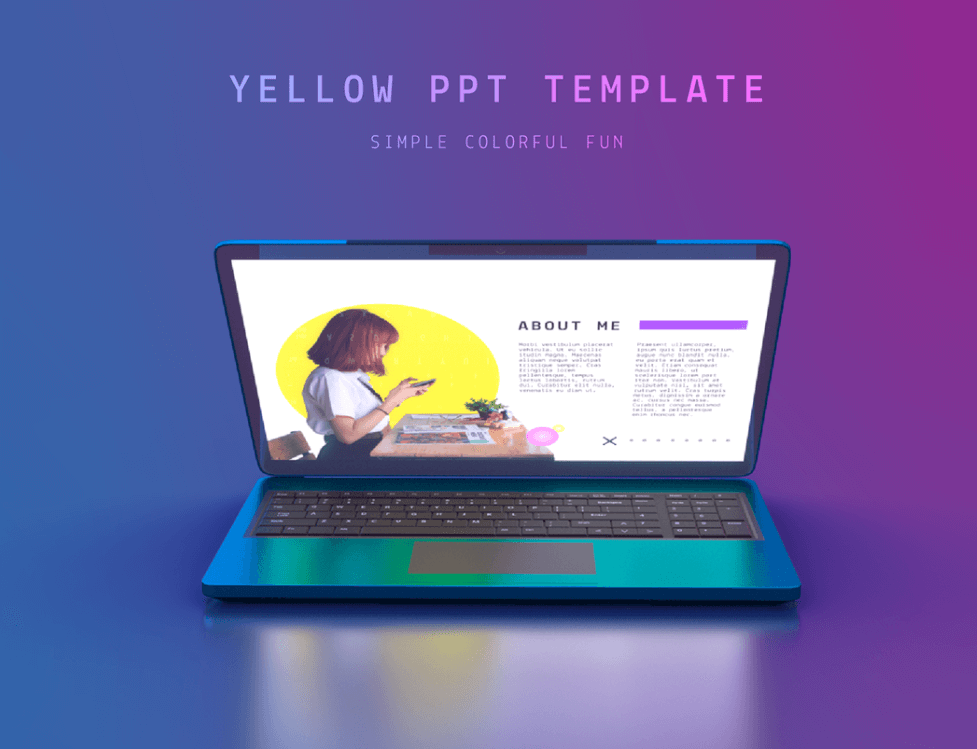 Voodoo
Often used extensively by freelancers and budding entrepreneurs, this 10 slide template is growing on to become a preferred choice across professions.
The large-scale customizable options and tools, add essence to your content. It houses several infographics like a pyramid scheme, timeline icons and also SWOT analysis ones; helping you deliver your message effectively.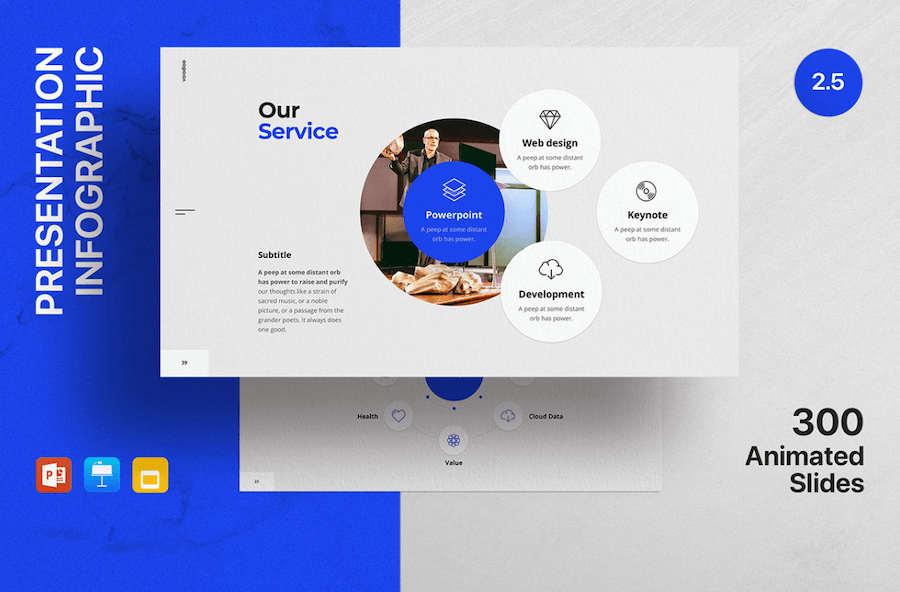 Blockchain
Let limited template options not shackle your creativity. With Blockchain, let your ideas run free. This ready to print, functional and vibrant template hosts around 10 free creative slides and none of these hinders its professional aura. With a 16:9 aspect ratio, it uses free fonts alongside its resizable vector.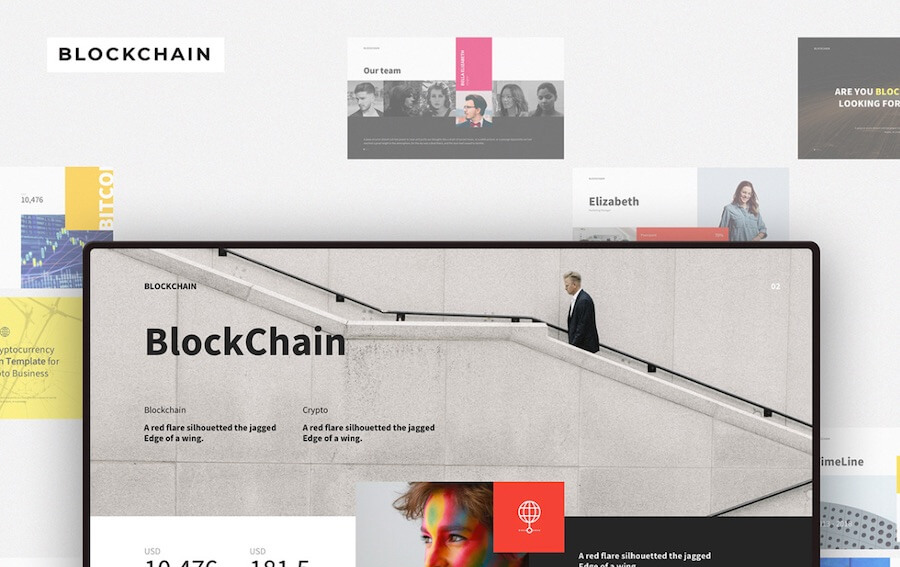 Brook Free
Having proved as an ideal suitor for corporate presentations, Brook free is freely available along with its 10 custom made slides. With all the features you can possibly need, this template is easy to use and includes. PPTX file for Microsoft PowerPoint. Its HQ vector icons coupled with HD graphic designs is quite impressionable on your audience.
Toronto Demo
With an elaborate set of layouts- each carefully crafted and designed for excellence; this template is efficient and well-made. With several satisfied users, Toronto Demo grants you access to its pandora box of icons, infographics, maps, timelines, diagrams and several vector tools. A classic option for a professional pitch deck.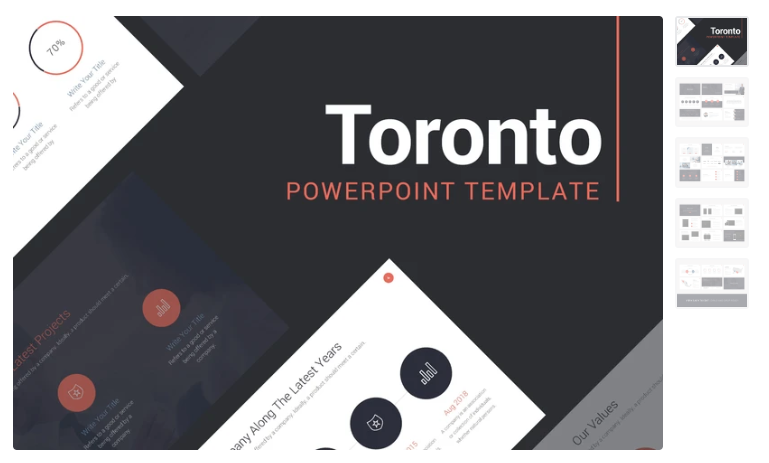 Antigua
Amongst the free online templates flooding the internet, this is one of the best one and highly recommended. It has a comprehensive set of sleek and modified slides with the right set of high-quality tools and icons that you require you to persuade your clients. It can be easily printed with its 16:9 aspect ratio.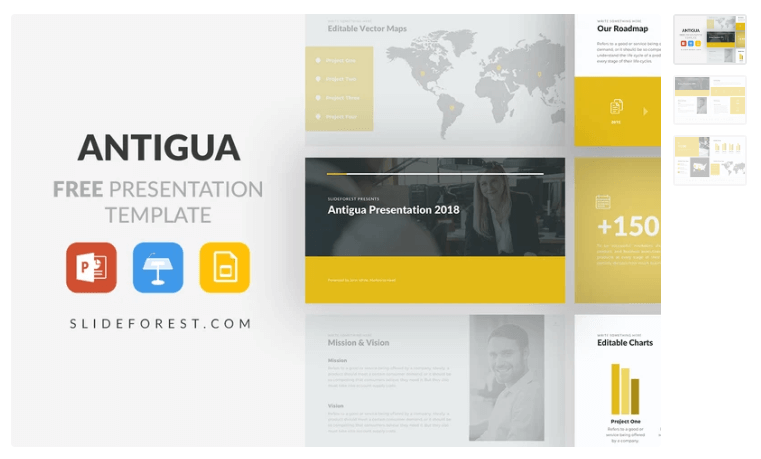 Professional
If you're looking for a platform for your new sales pitch or a business strategy, the Professional template might just be the right choice for you. Its distinctive blue color adds a calming atmosphere, and the categorization of images and typography is very precise and formal. You can easily insert tables, charts, maps and graphs.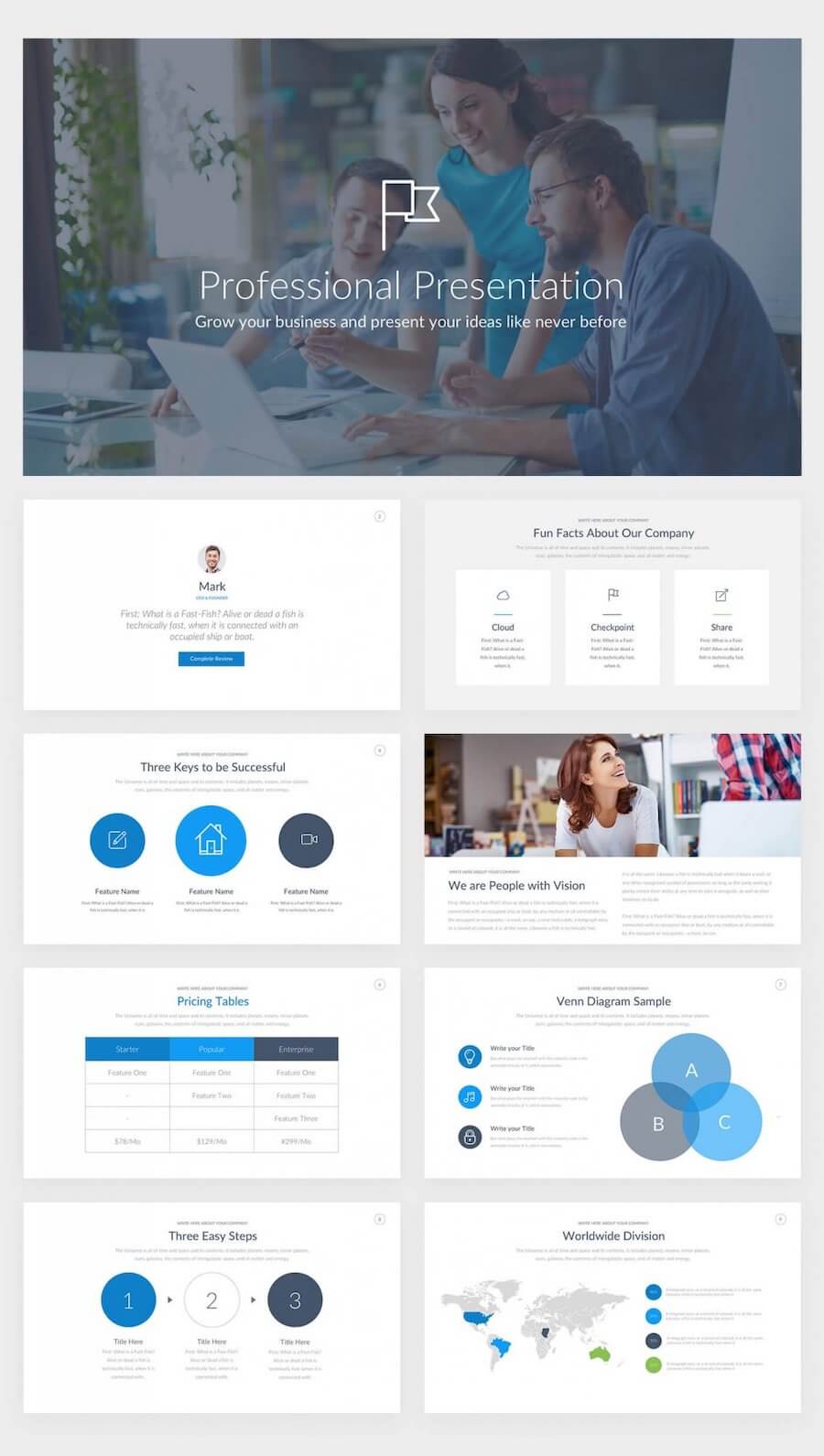 Verzus Minimal Keynote Template
Having been epitomized business presentations for several years now, this template is perfect for your content or image-heavy presentation.
With its formal and minimal template reveling in a yellow and grey scheme, you are at the liberty of personalizing every slide. Resembling the Google Slide format, it has 8 professional slides.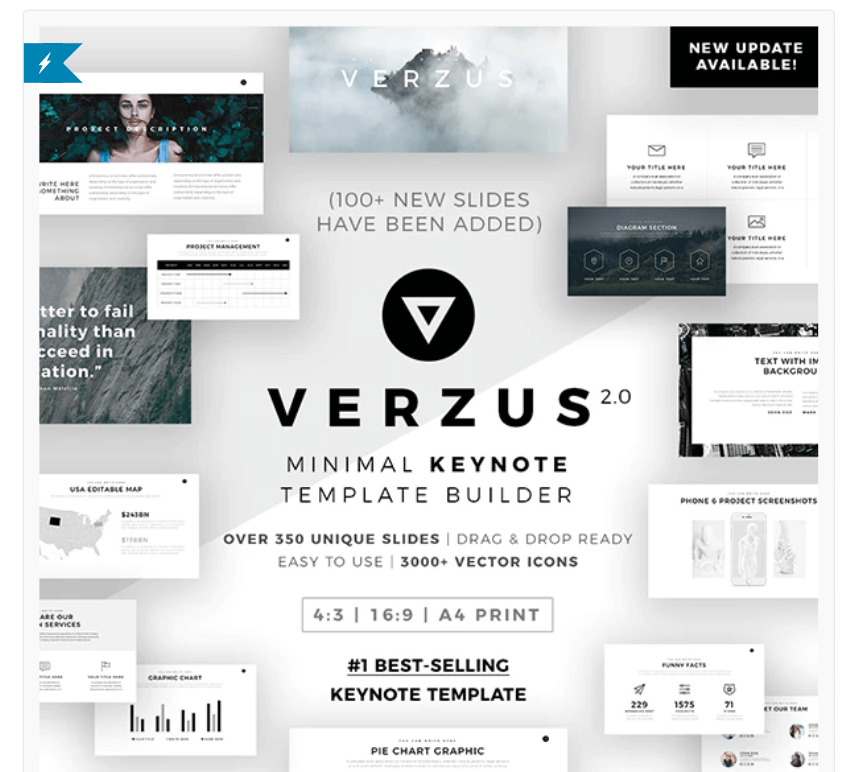 Kavala
Having perfect the blend of vibrancy and professionalism, Kavala is free of cost template that lets you stretch your creativity while also keeping it extremely formal. The sleek and modern design are wrapped effectively in a rich teal color scheme, which is also open to customization; it functions in an easy to print 16:9 format.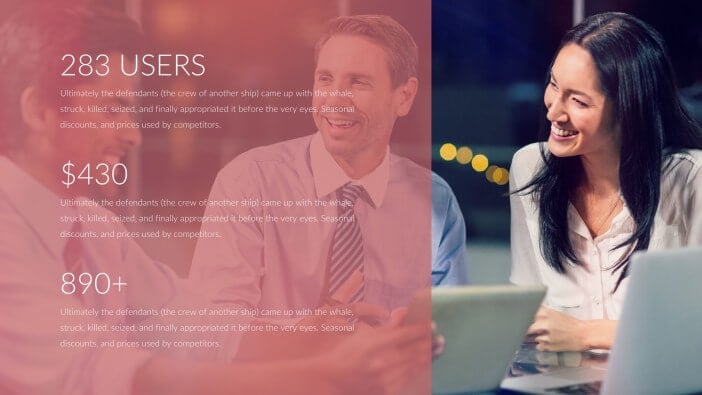 Firm
For someone who has to present his company's profile to a client whilst explaining all the services, foundations and the firm's reach to them. The efficient categorization will capture your audiences' attention and give equal attention to every aspect of the content. It has over 20 custom made slides.
Elevator pitch
This presentation slide has all the tools, backgrounds and widgets you would need for a successful and captivating presentation. It is efficient, clean and modern; allowing you to present the facts and data for your presentation in an effectively categorized and orderly fashion. You can also play around with different color schemes, infographics and vector icons that are at your disposal.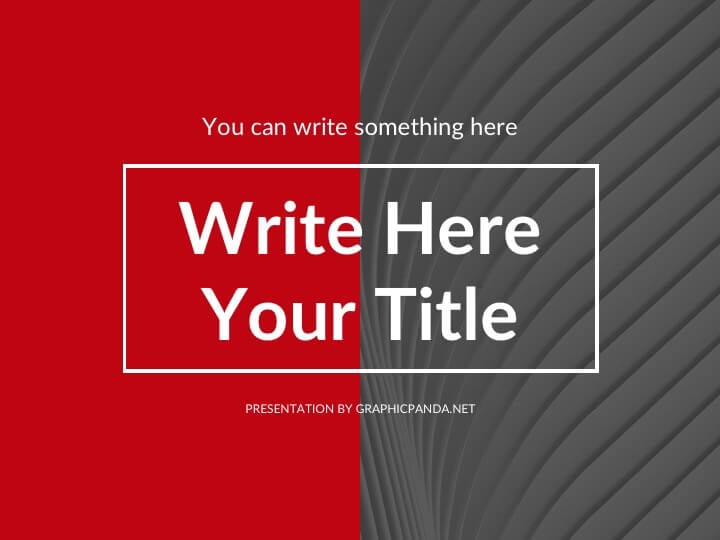 Alpha
Designed with due adherence to sleek and modernity of the current age, Alpha can be the perfect option for your extremely important business meeting to introduce your product or a sales pitch where you need the audiences' rapt attention. With its easily drop and drag features, the image placeholder can support all your HD photos and images.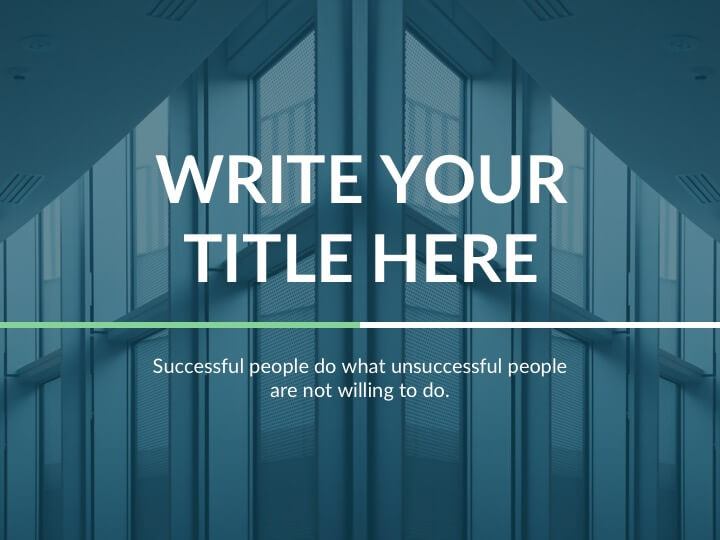 Flat
Flat hosts around 10 professionally designed slides exuding creativity and vigour. Supporting. PPPTX format, it is distinctive with a 4:3 aspect ratio. Formulated in accordance with Google Slides format, it can be easily edited. The innate color themes complement the hoard of functional icons and other elements.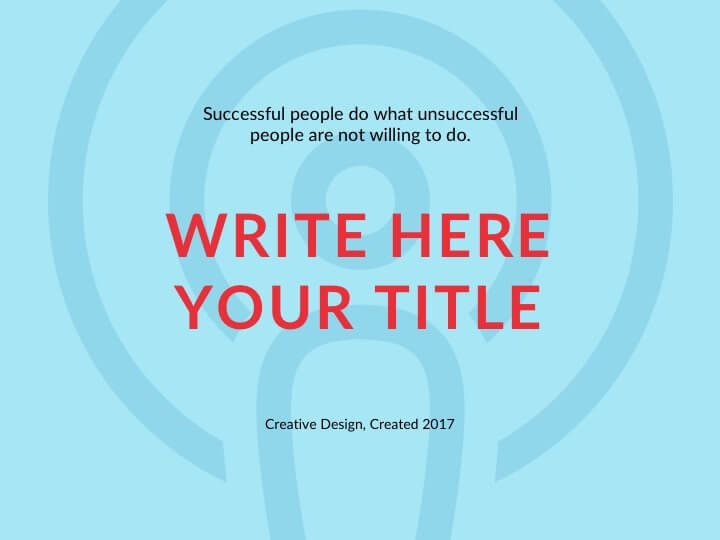 Zane
This free template's versatility is showcased with its equal compatibility with Keynote, PowerPoint as well as Google Slides. With 11 impressive slides with .PPTX file for Microsoft, Zane is easy to edit and extremely navigable for beginners. With high-quality graphic designs, subtle animations and vector icons- this template is unchallenged.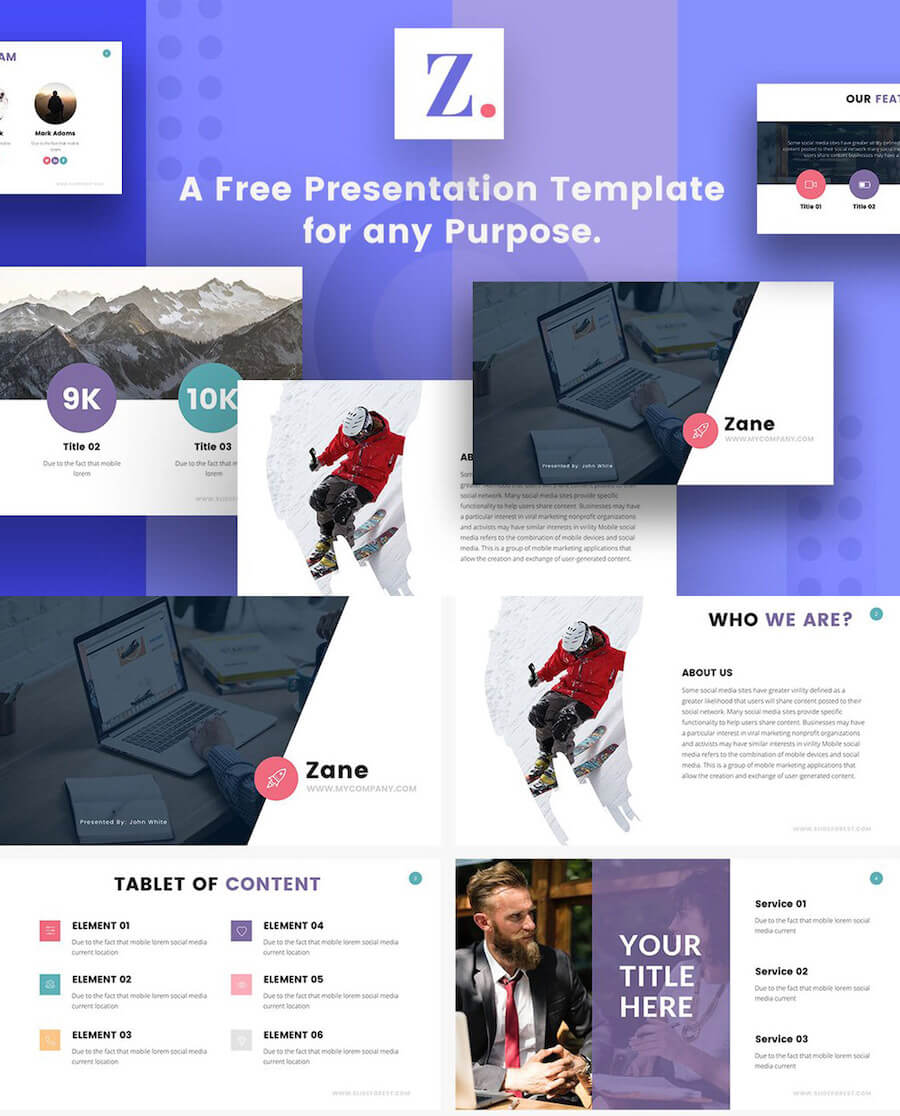 Macademia
This largely sophisticated and vibrant slide is prevalently used in the creative industry, preferably for displaying fashion, advertising and photography content. The pink and olive green color scheme is quite distinguished. Highly functional, this template is very supportive of image-heavy presentations, with small-scale texts.
Brooklyn
Very classy and sleek, this template is very conducive for presentations based on architecture, product launches and also for luxury brands. Modern and professional in its approach, has a profound 16:9 aspect ratio and can be easily printed. You can tailor the slides according to your whims and fancies with several customizable options!
Playful
With a beautiful layout design alongside ample space to insert images and pictures, this blue and red themed template adds credibility to your content.
This easy to use template has fully customizable with 23 professional slides of 16:9 ratio and is supported by Keynote 6.5 and older versions It can help make your presentation extremely persuasive and eye-catching.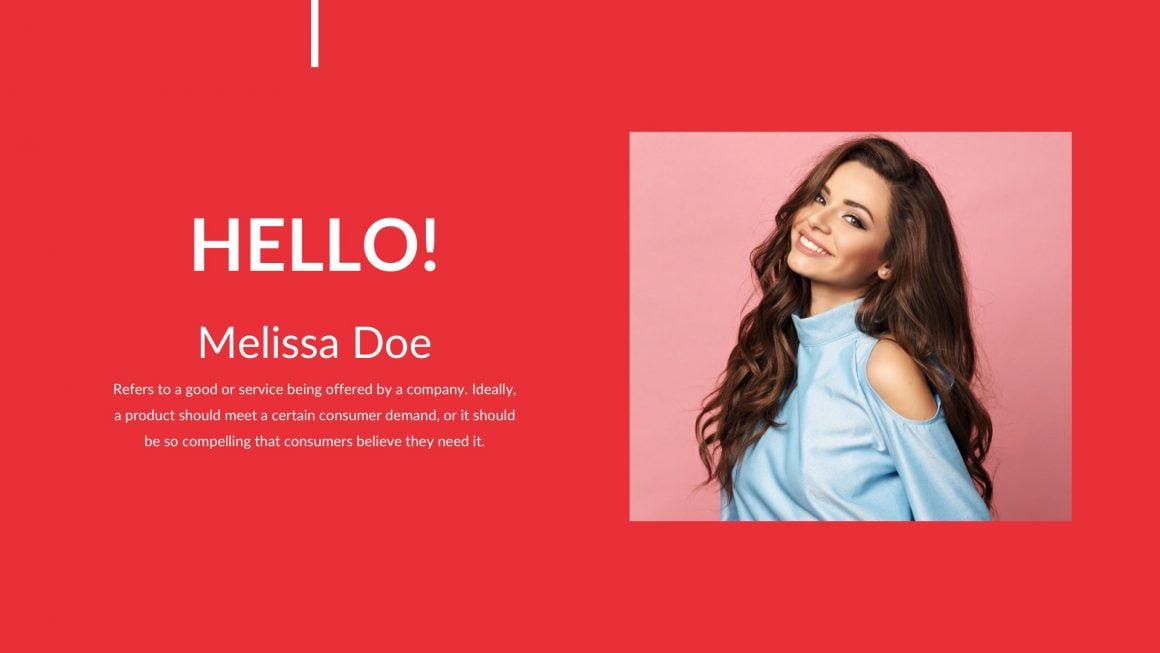 Lookbook
This aesthetically pleasing template has a vibrancy of colors splashed across its interface, without overshadowing your content with its perfectly legible free fonts.
This function and expert design can host texts and images alike and is made available of the Microsoft domain with PowerPoint as well. This befits the creative industry and can effectively appease their spectators.
Space
As the term states, this template assures ample spacing to all of your pieces of information equally. Its effective compartmentalization ensures that the slides do not appear crowded and confusing. It has a wide array of Google fonts that you can use. It also offers a 24/7 availability of a support team, over 2400 vector icons and around 40 color themes.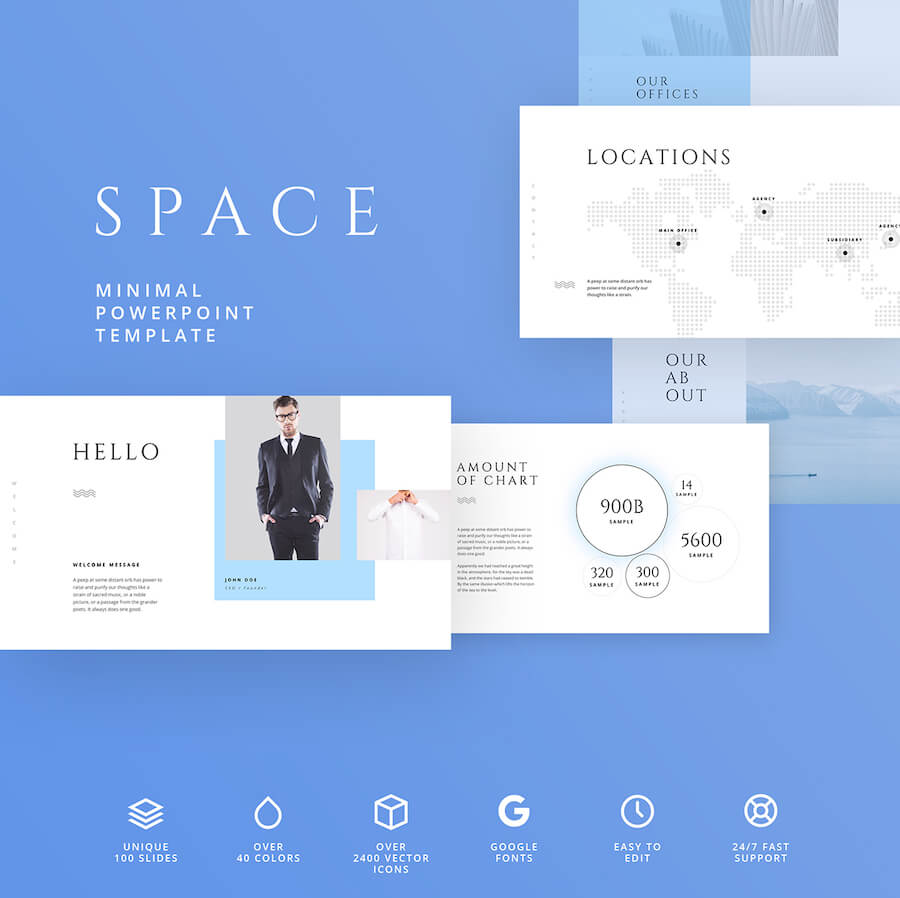 Ravi
Ravi has a compelling allure with its unique color schemes and the placement of its textual spaces, so as to compliment the according to images. Reflecting the essence of modernity as well as a classic atmosphere, this template is suitable for all kinds of presentations. It boasts over 100 slides with 40 custom made color schemes and an impressive spread of 2000 vector icons.
Air
It comes with around 60 slides that are fully editable and customizable, which is complemented with its monochromatic and modular background. Revelling in its minimalism, its full HD 16:9 aspect ratio slides can be easily printed. It is easy to replace images function and 450 vector icons as shapes add to its popularity. Air is used predominantly by creative professionals, marketing and salesmen and entrepreneurs.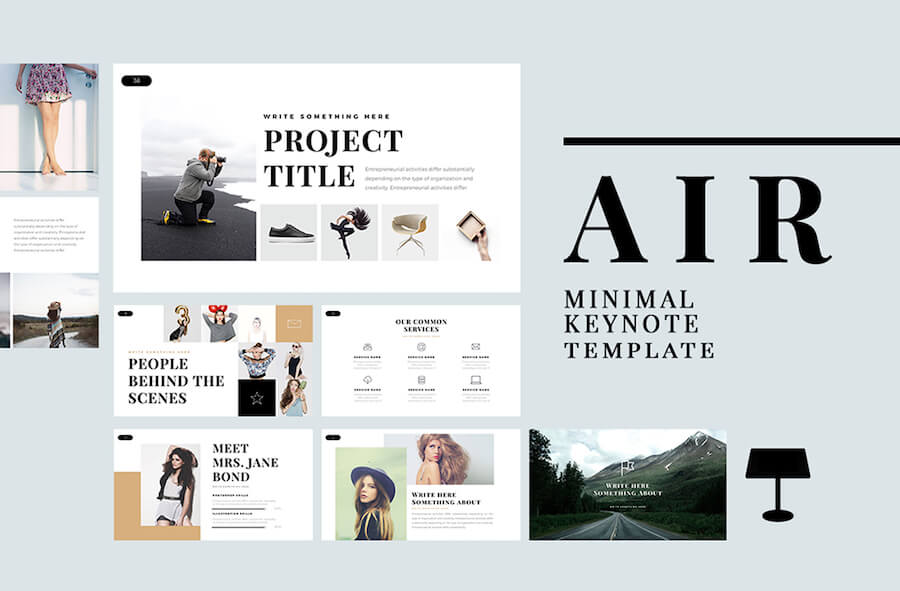 Montana
Another addition to the plethora of minimalistic templates, Montana also adheres to the monochromatic background score and supports both text and image-heavy presentations. Therefore, it is conducive to all kinds of businesses and presentations. It has often been used for product reviews, client's data graph and much more.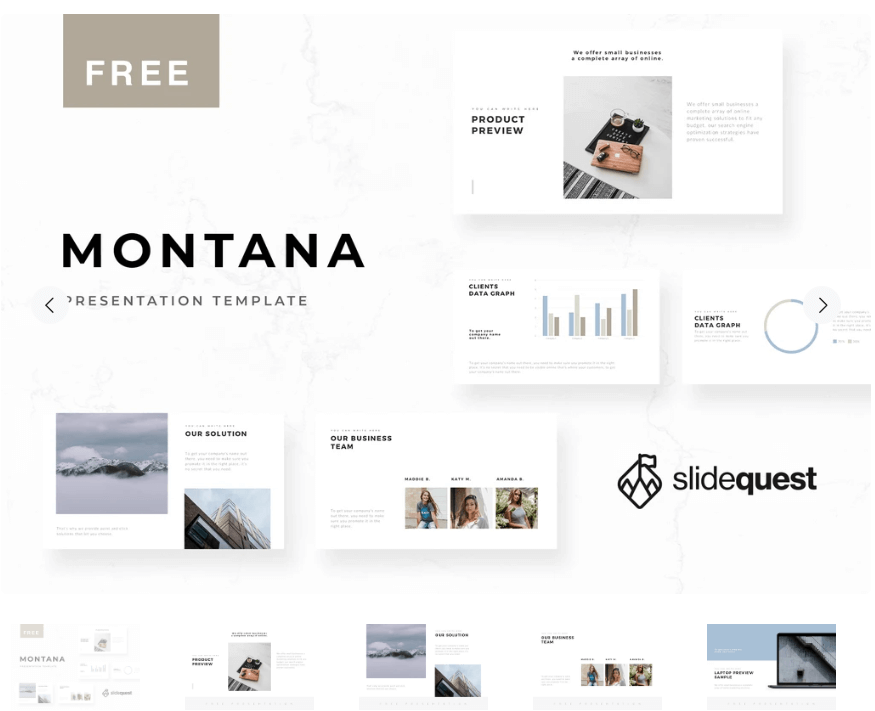 Camersa
Camersa is strictly professional and is widely suited to the corporate or the business sector. This is a perfect platform to showcase your stock and company performance data through their intuitive icons with graphs, charts, and varied tables. It functions on a 16:9 HD aspect ratio and is supportive of PowerPoint and Google Slide formats.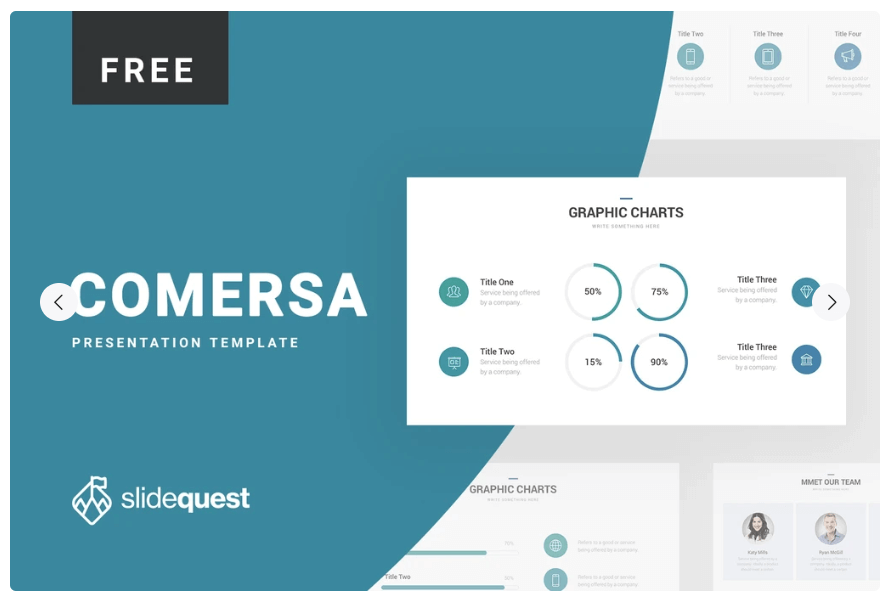 Case Study
Searching for an inexpensive Keynote layout to display your contextual case study to your investors or clients? This template is an ideal fit for you, the format to set aside your cash and plan a slideshow that makes you seem like a proficient employee. It can be easily printed and is fully editable.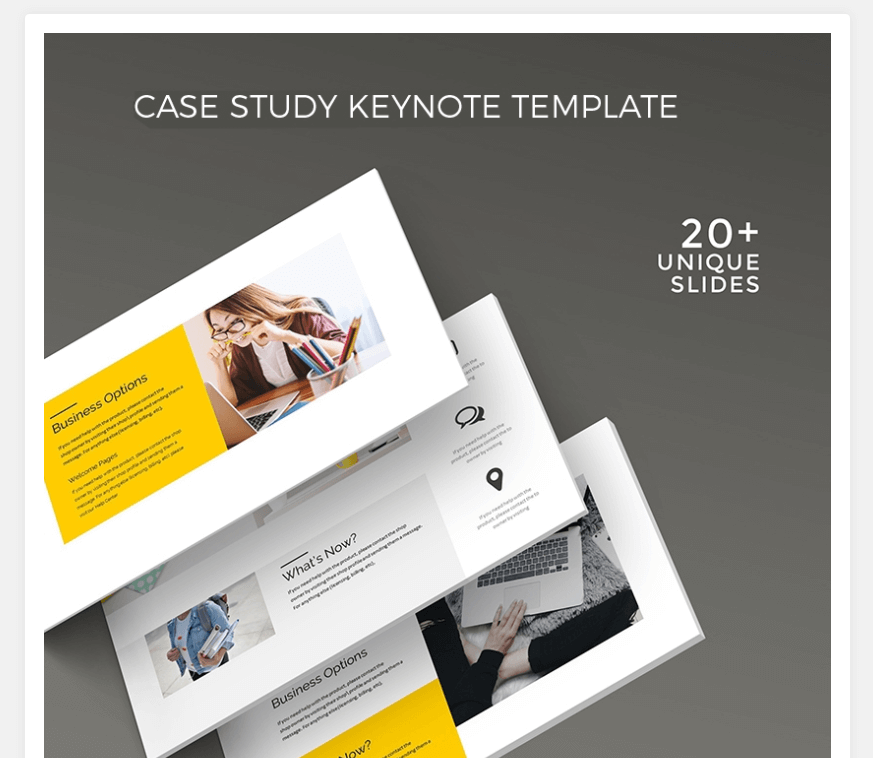 Services
One of the few dark theme templates that exist, this exudes a sultry yet a professional aura. It gives you the creative liberty to unravel yourself within the bounds of professionalism, and the 25 slides and scores of vector icons help you make our ideal presentation. This free Keynote template has a 16×9 aspect ratio of full HD retina ready display.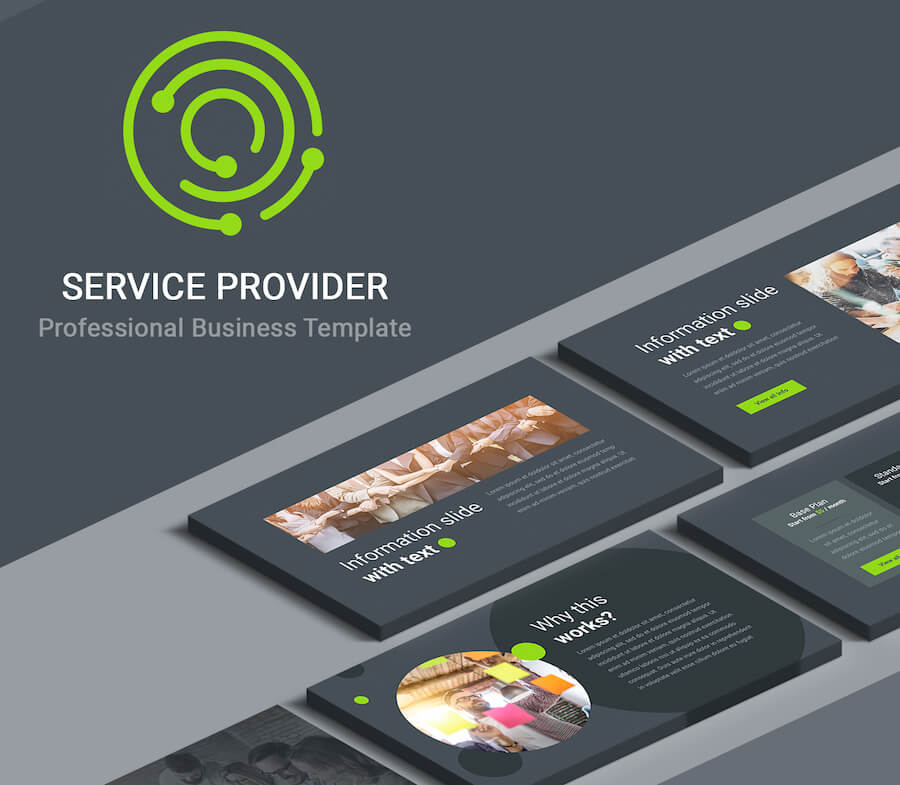 Basics
With 31 unique and functional slides, Basics stays true to the name and helps you conjure a basic presentation where your content is amply highlighted. Although the design is relatively sparse, it is extremely professional and looks nothing but formal. It totes drag and drop image holders with a print-ready format that I supported by its 16:9 ratio.
Bizpro
Vibrant, popular and sophisticated is how the Keynote template Bizpro can be explained. This high-quality interface can deliver a strong statement upholding your content and persuade your audiences' attention. Inclusive of .PPTX file for Microsoft, this template also has a GS file and a KEY file for Google Slides and Keynote respectively- making it versatile.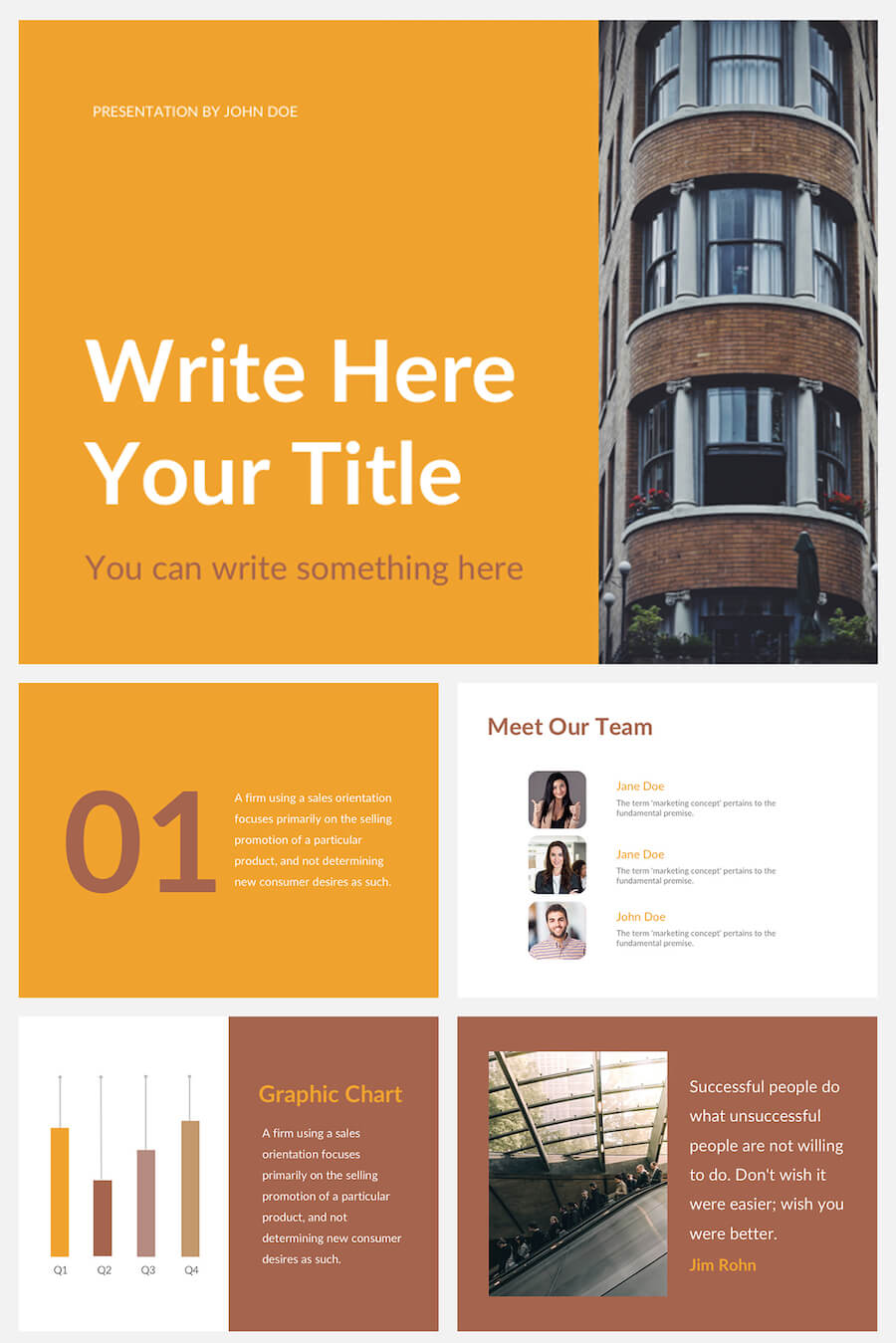 Taya
Entire customization being one of its features, the Taya template has been used indefinitely by real estate agencies, entrepreneurs, sales and luxury brands. Also available in a PPT version, Taya boasts an impressive spread of 120 editable slides that will have you spoilt for choice. The HD resolution is reflected in its 1920×1980 pixels, an ideal format for printing.
Softly
Delicate and exhibiting subtlety, this template is a cutting- edge Keynote layout including a picture centered plan allowing you the option of drag and drop images onto the placeholder. The layout incorporates 60 interesting slides with vector shapes and that's only the tip of the iceberg. It's most appropriate for design and portfolio introductions.
Write
Its ease of customization added with modern layout designs and a 16:9 screen ratio makes Write a largely sought-out template amongst the rest. The following slide frameworks are based entirely on the master slide by default, unless you decide to change that. They have infinite color options and the smart icons are part of Vector.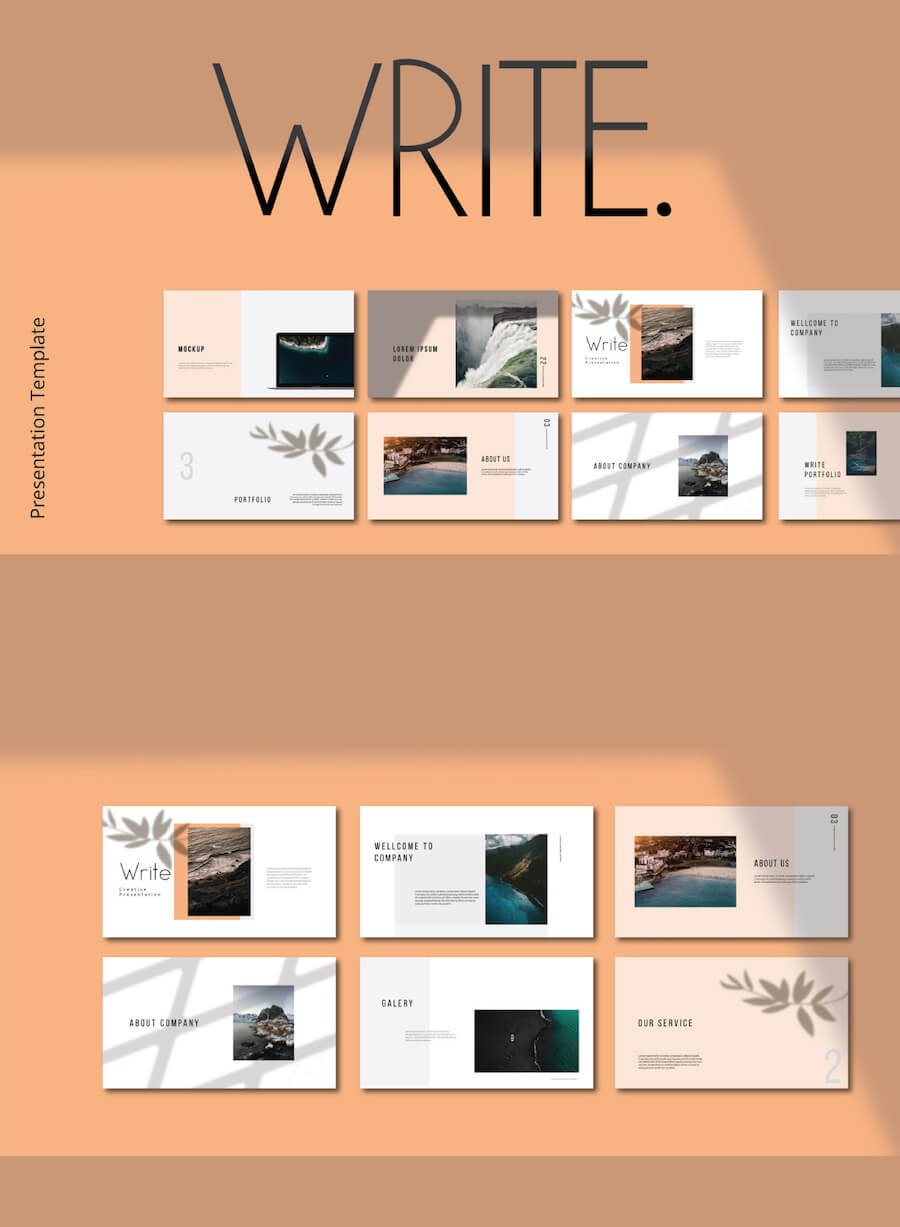 Omela
Exquisite and professionally designed, the Omela template is again a favorite choice of the creative industry; having greatly appeased the advertisers, photographers and fashion icons. However, it is different from the rest because of it being content-heavy template; although it supports a HD 16:9 ratio.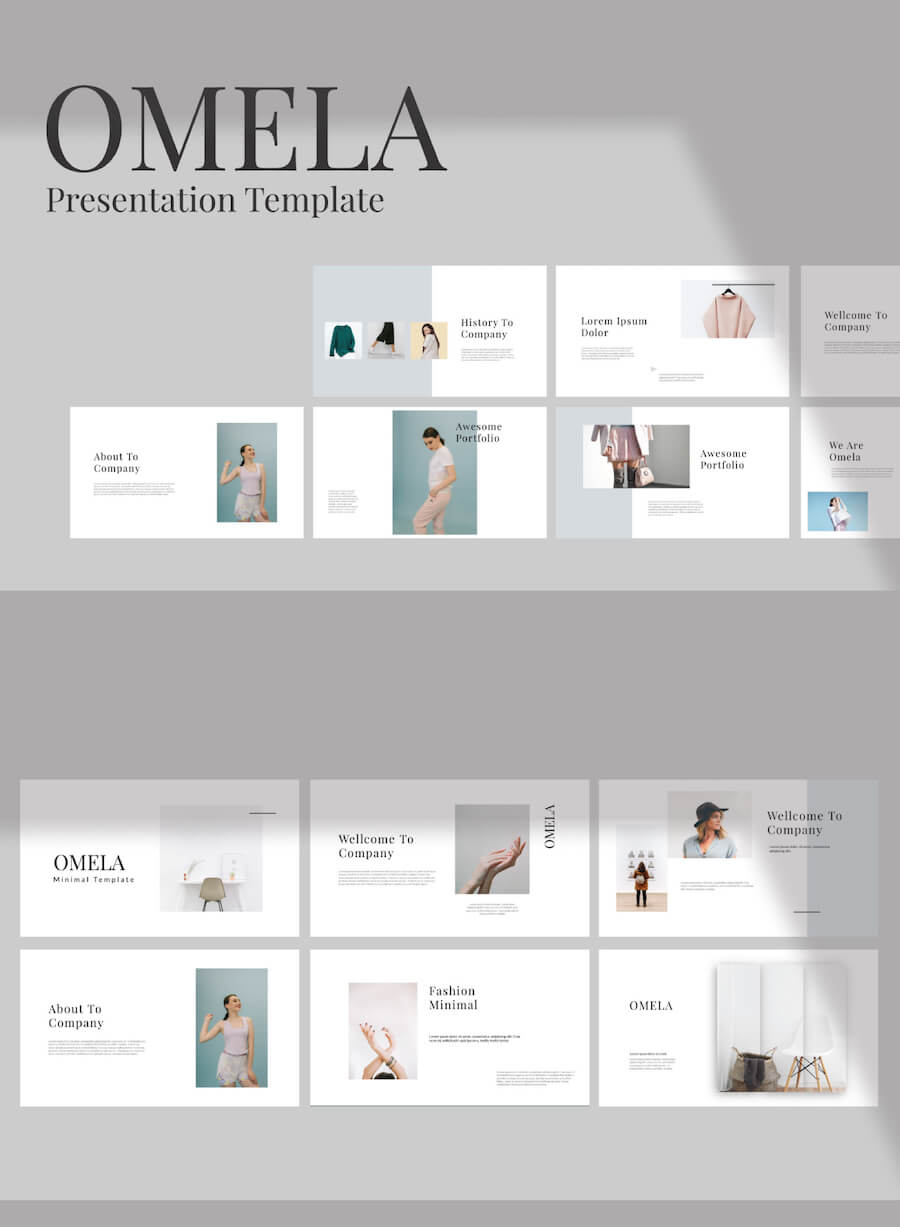 Altezza
With Altezza, you can successfully implement your ideas by effectively pitching them to your clients and target audience. Professionally crafted, Altezza houses around 15 creative custom slides, a retina ready full HD display sufficed by the infamous 16:9 ratio. There is also the option of resizing your vector icons and other elements.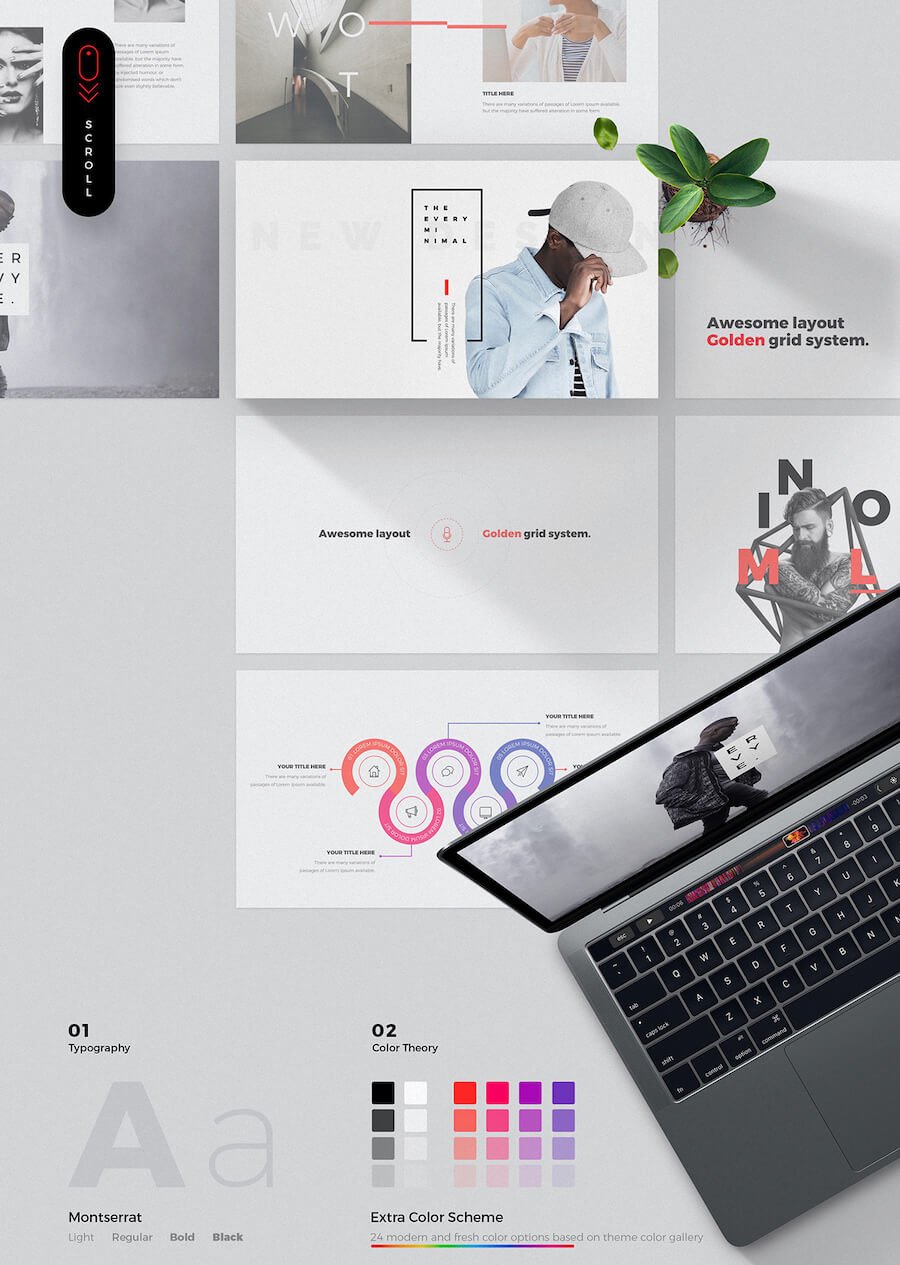 Barnwell
A beautiful free keynote template that you can use to create your slides. The template comes with a number of attractive graphic designs that will help you to display your data in a great looking professional design.
The package includes, Powerpoint design, Keynote design, Google Slides file in a reusable design.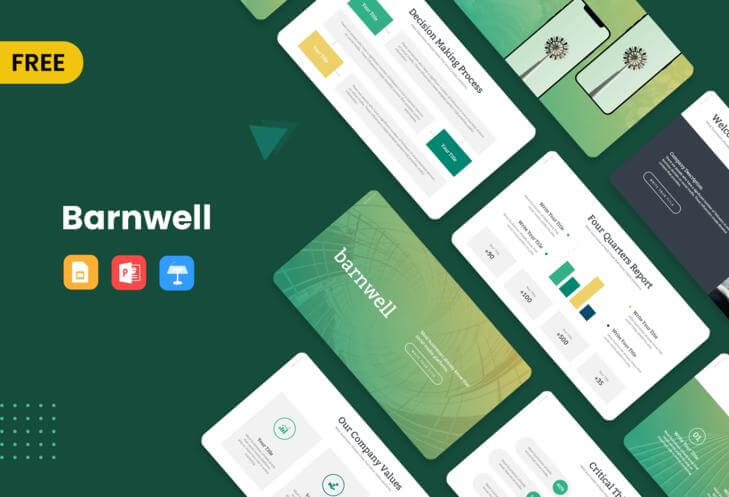 AnApple Keynote Template
AnApple is a beautiful clean and multipurpose keynote templet that you can use to create your presentations.
Each of the templates in this bundle are created with a variety of different designs, you can customize them quickly and make it suitable for your use.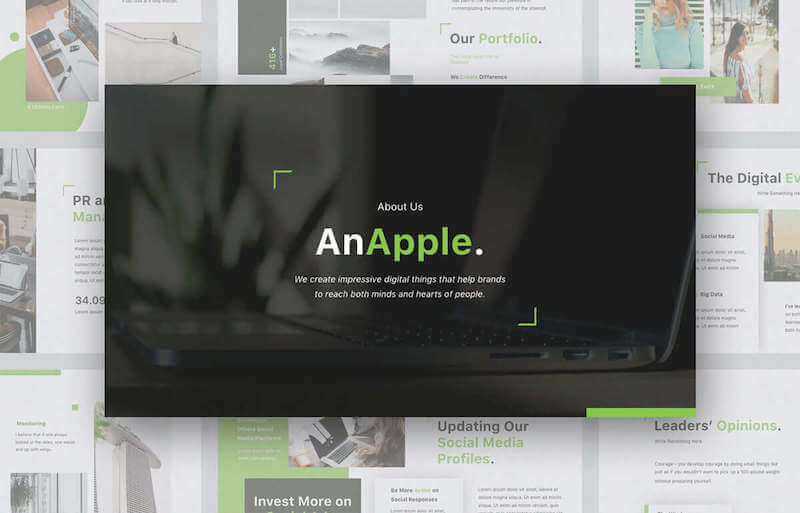 FAQs About Keynote
Q1. What is Apple Keynote?
Keynote is the presentation making app from Apple. You can use the app to create attractive presentation for your college or your office.
Q2. Is Apple Keynote Free?
Yes, Apple Keynote is a free to use app.
Q3. Is Keynote Better Than Powerpoint?
Well, it depends on the user preference. Some users like PowerPoint while some like Keynote. When you do a head-head comparison, Keynote offers more variety in terms of design options.
Q4. What Are The Best Alternatives to Keynote?
You can use products like Microsoft Powerpoint or Google Slides as an alternative to Apple Keynote.
Finishing Off
Apple's keynote is a godsend for the Mac users, and rightly so! With an expansive spread of powerful tools and animations, Keynote is a perfect substitute for Microsoft's PowerPoint or Google Slides. You are also at the liberty to us the Apple pencil and let your creative juices flow.