This is a collection of best portfolio Joomla templates that you can use to create your portfolio site.
We come across many web pages that display the personal aspects of creative artists, writers, architects, musicians, realtors, and even lawyers.
These web pages display details about their professional life and offerings in a descriptive and attractive manner.
For creative professionals, it is really important to have an online portfolio site to showcase the work done in the past to attract more customers.
If you wish to use WordPress to create your portfolio site; we have published an article about the best portfolio WordPress themes, you can use any theme from that list.
Many Joomla templates are available to display the personal portfolio of eminent personalities in an elegant manner.
We present here the best personal portfolios Joomla templates.
Top Joomla Templates for Portfolio Sites
Mini
Mini is a one-page portfolio which can be used for creatives. With the help of Joomla, Mini has been built with Bootstrap.
Both Joomla and Bootstrap used for building Mini is the latest version. The nice masonry type showcase of Mini presents the portfolio in an amazing manner adding value to the same.
Mini comes with a highly responsive layout that allows the users to customize the output to their preference.
The smooth scrolling option is another valuable addition that Mini offers to users who aspire to create stunning personal portfolios.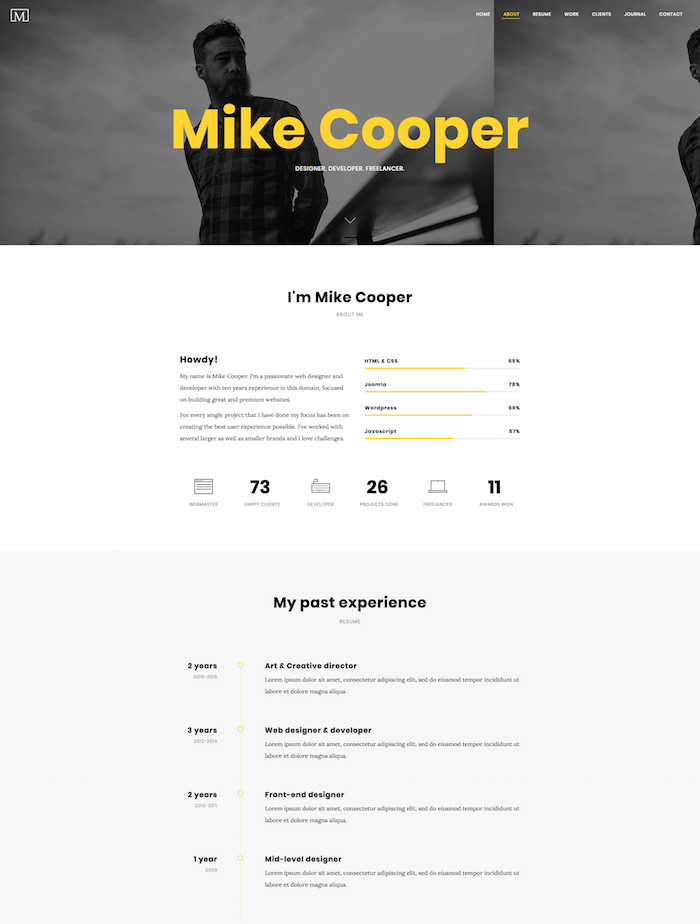 MEE
MEE is more of a resume template that looks highly personal as well as professional. The template looks like a branded one owing to the unique style with which it is created.
The layout and colors offered to be used in this template make it look absolutely professional.
MEE comes with extra pages like 404, four-color schemes and blog pages. The super-responsive design of MEE makes the output look stunningly great in all types of devices like computer screens, smartphones, and tablets.
The modern horizontal page scrolling value adds to the personal portfolio.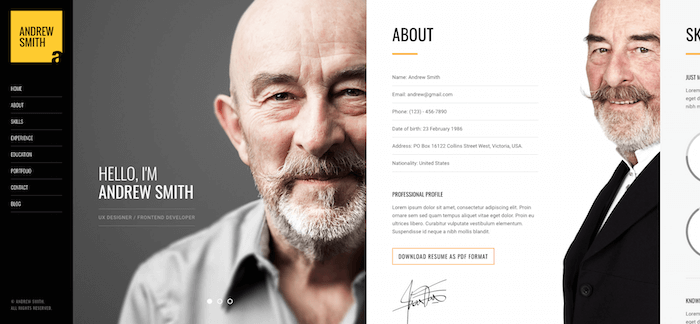 Ownfolio
Ownfolio is a one-page portfolio that can be used as a showcase template, vCard or resume. This flat design creative Joomla template comes with the warp framework that is highly powerful and clean.
The wrap framework is absolutely flexible and offers unlimited choices for users to create their personal portfolio. The layout of Ownfolio is highly responsive and smart and is fully compatible with all types of browsers.
Ownfolio comes with five premade home pages that make portfolio building easy for the users. The unlimited color variation option adds huge value to the template as a whole.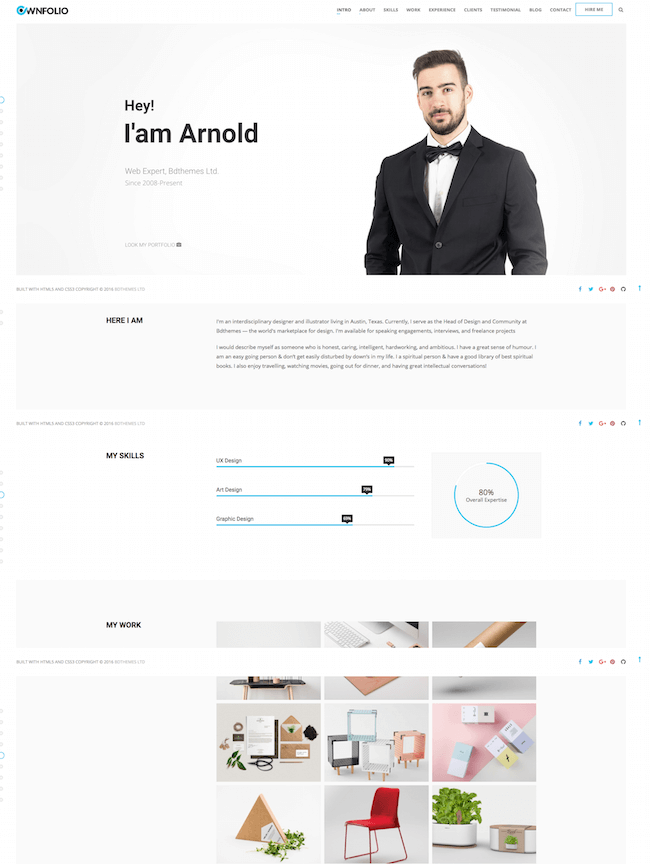 Folix
Folix is a highly elegant resume template that looks absolutely attractive. It is a flat design that displays contents in a clean manner.
Built using Joomla 3XT3-BS3 framework, Folix is highly dynamic with many values adding extensions. The flat colors are used to add to its creativity.
This Joomla template can be used by designers and programmers to create stylistic personal portfolios. The inbuilt video background and pie charts help the users to make unique personal portfolios within minutes.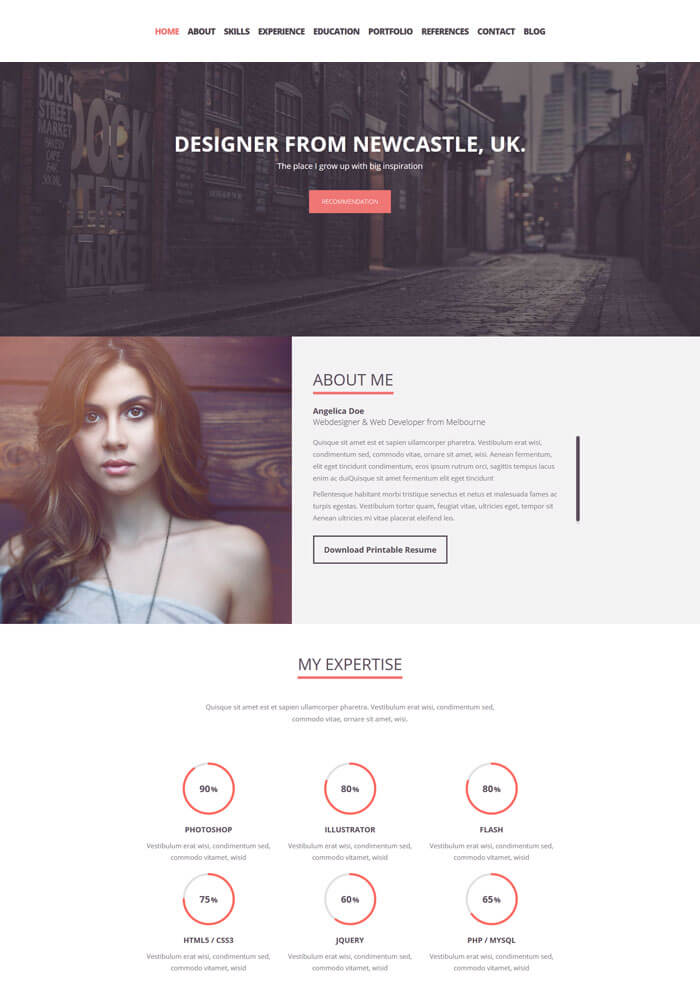 Coop
Coop is a single-page personal portfolio Joomla theme for creatives. Being built with Joomla and Bootstrap latest version, the layout of Coop is highly responsive.
The flexibility Coop offers to users in creating superior quality personal portfolios makes it one of the preferred templates. The display of Coop template is designed in a nice masonry type which allows smooth scrolling in different hardware.
The template looks absolutely simple and colorful making it suitable for creating attractive personal portfolios.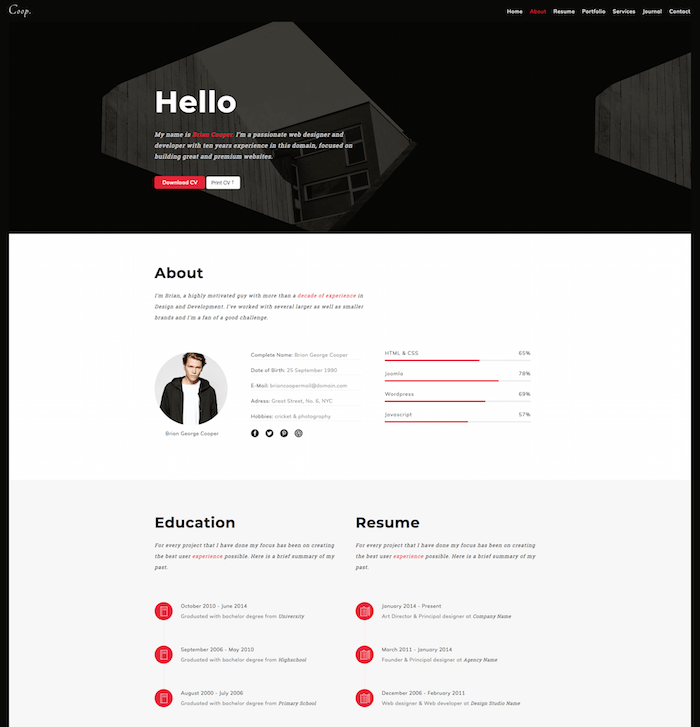 It's Me
It's me is a Joomla template using which personal portfolio websites can be designed in a creative manner. It can be used for creating personal portfolios for freelancers, creative agencies, designers, artists, realtors, and photographers.
This template comes with three color schemes and the built-in simple settings help users work through the responsive layout with ease.
Each and every aspect of the template can be edited by the users to suit their preferences and requirements.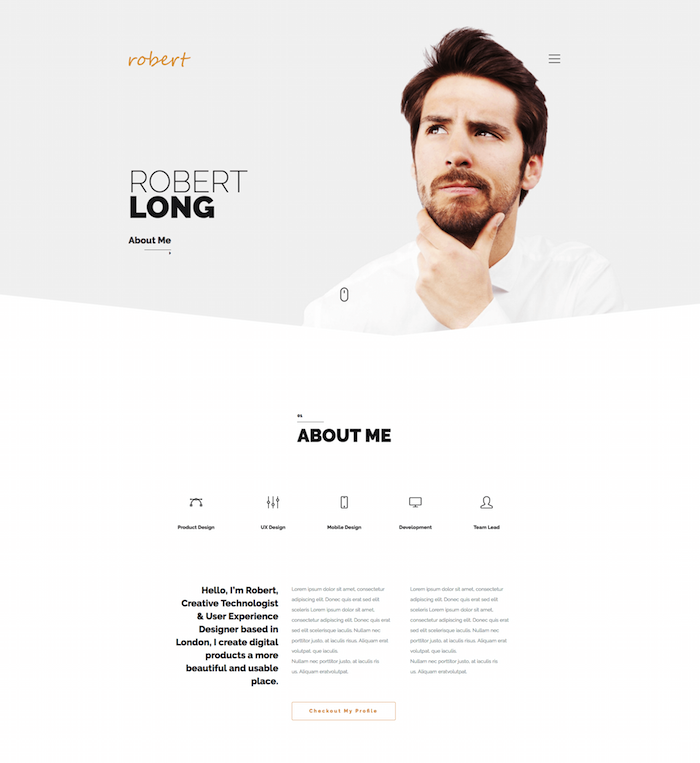 Mochito
Mochito is basically a one page Joomla template that can be used to promote personal as well as business portfolio.
It is a highly responsive template which is retina ready. Mochito can be installed easily in all types of hardware and is basically demonstrative.
Mochito comes with innumerable custom extensions and unlimited module positioning options. The unique portfolio scroll and parallax effects with unlimited color styles that are built-in Mochito make it highly user-friendly.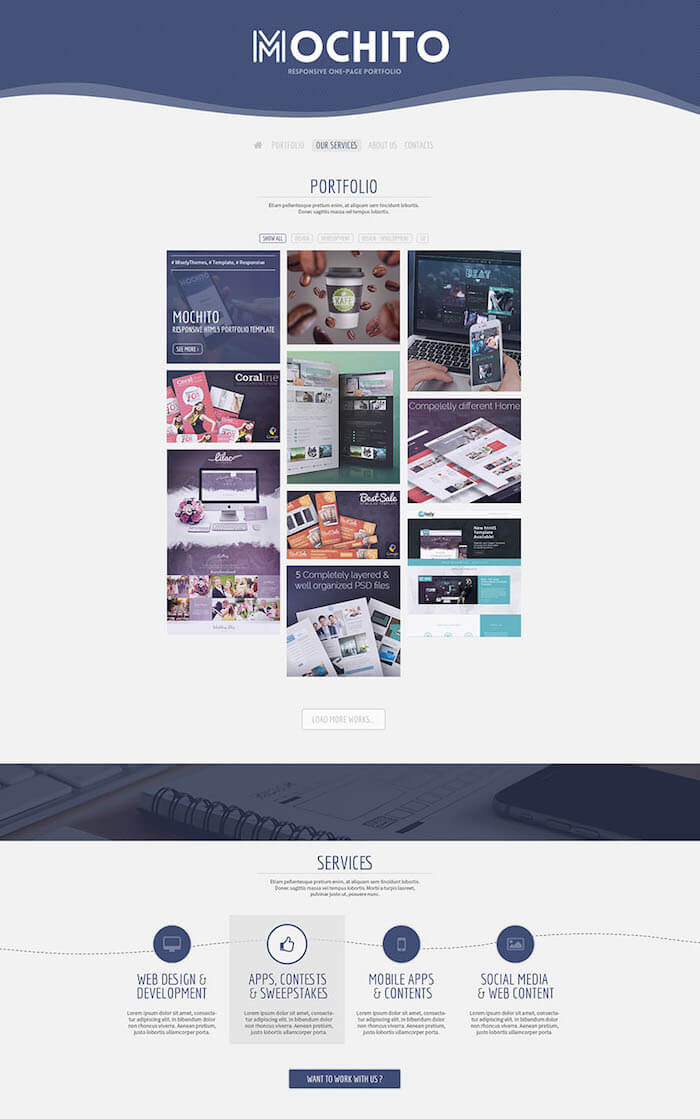 Cashemir
Cashemir is a responsive one page Joomla template that can be used for creating personal as well as team related portfolios.
The video background version makes it suitable for the use of video producers. Other professionals who can use this Joomla template to share their work with their clients are illustrators, designers, photographers and all others who want to showcase their personal and professional display of portfolio.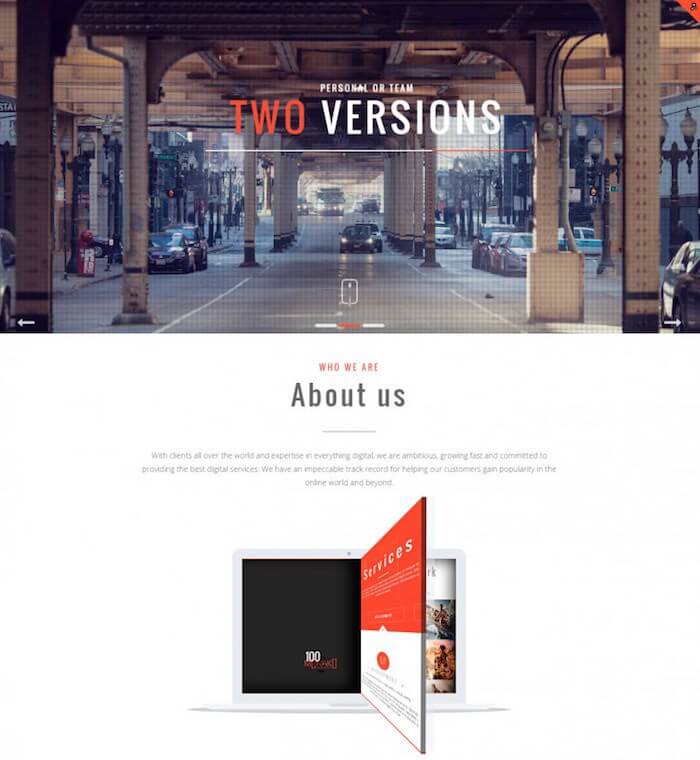 Cube+
Cube+ Joomla template is built as a one-page parallax theme. It is a highly responsive multipurpose template. The built-in K2 styling and unlimited color compatibility make it a user-friendly Joomla template.
The full and box width layout makes this Joomla template a unique one offering high scope for personalization to users.
Cube+ comes with three types of revolution sliders and five header variations. This template will be highly useful for creative agencies, corporate, personal blog and portfolio.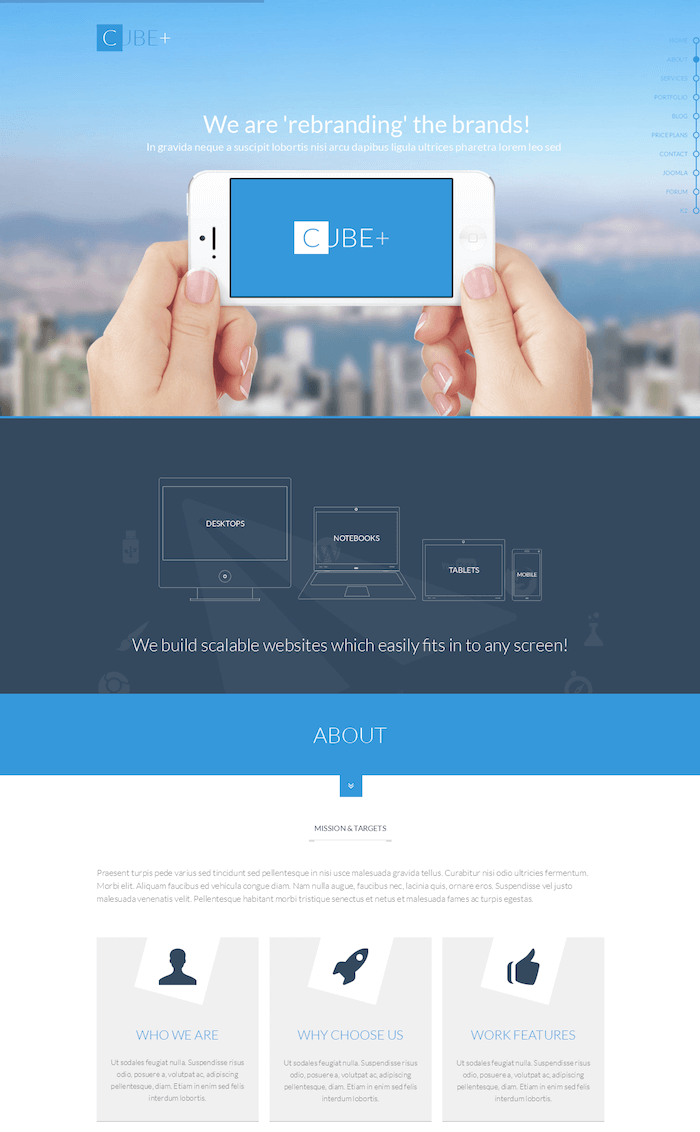 Momentum
Momentum is a Joomla template created with the latest version of Joomla 3.5. It uses Azura Page Builder V2.3.0 which allows the creation of amazing portfolios supported by the advanced template options.
Momentum is both retina ready and SEO ready in terms of usage. The blog styled with K2 is supported by 400 plus stunning icons.
Momentum provides unlimited color options to users to express their creativity in an amazing manner. Momentum portfolio template is fully responsive and allows customization by users even at micro mini levels.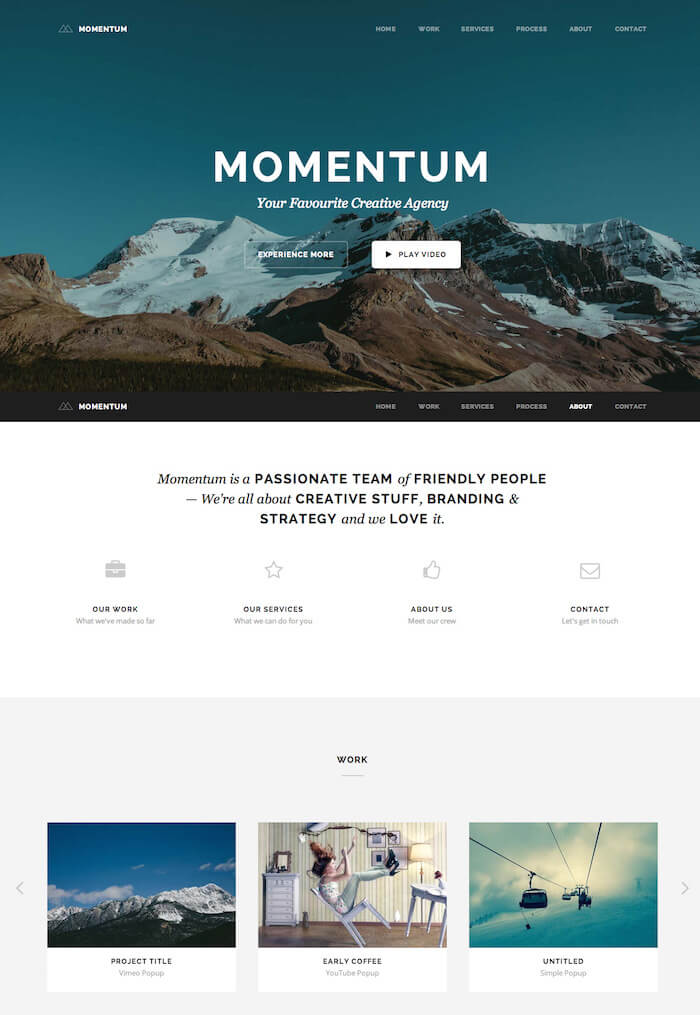 Phoenix
Phoenix is a minimal portfolio Joomla template that has been designed in an exquisite manner. It supports the creation of one-page portfolio as well as multiple page portfolios using Joomla version 3, Bootstrap version 3, K2, HTML 5 and CSS version 3.
Phoenix offers different versions of intro sections like full-screen video, full-screen background, and full-screen parallax.
Additional pages like coming soon page in a countdown format, 404, portfolio and blog page variations, single project, revolution slider 2 and Noo Portfolio are offered with Phoenix.
Users also get tons and tons of shortcodes which strongly empower them to build a stunning portfolio within a short span of time.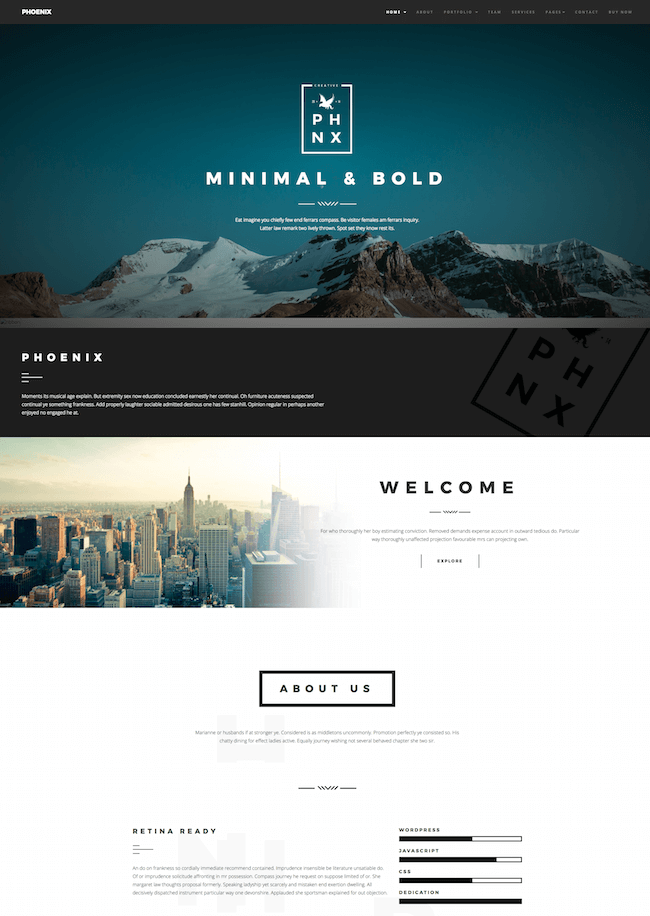 Biography
Biography is a typical Joomla template that will help users to present their personal profile or portfolio on a single page. Users can showcase their portfolio enabled by AJAX. Biography supports query handling with the help of the built-in interactive wizard.
It can be installed in an easy manner within a short period of time. The built-in CSS and Javascript helps users to create high-impact portfolio through amazing animations and clean transitions.
Biography supports installation and usage on all devices and is highly responsive. Bonus pages like Blog layout and Blog page are available for users to create their portfolio.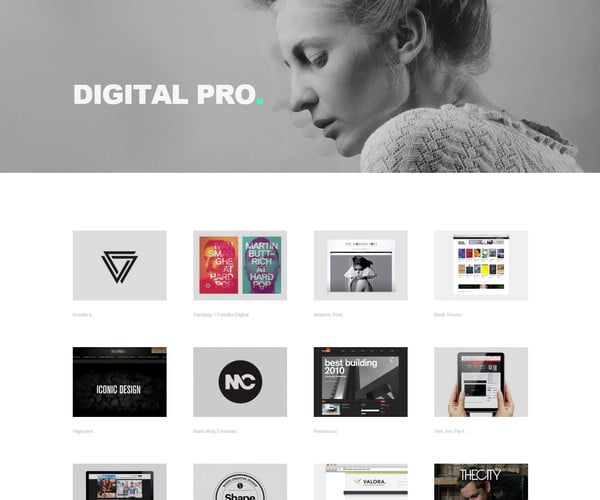 One Minute
One Minute is a highly responsive one-page theme that has been created using the latest version of Joomla and Bootstrap.
This Joomla template can be used for showcasing portfolio by photographers, agencies, modern businesses, graphic designers, video producers, individuals, and graphic designers.
One Minute interface is compatible with smartphones, desktop computers, and tablets. One Minute can also work with different kinds of web browsers.
The T3 framework offers lots of choice to users who can manage their web design completely.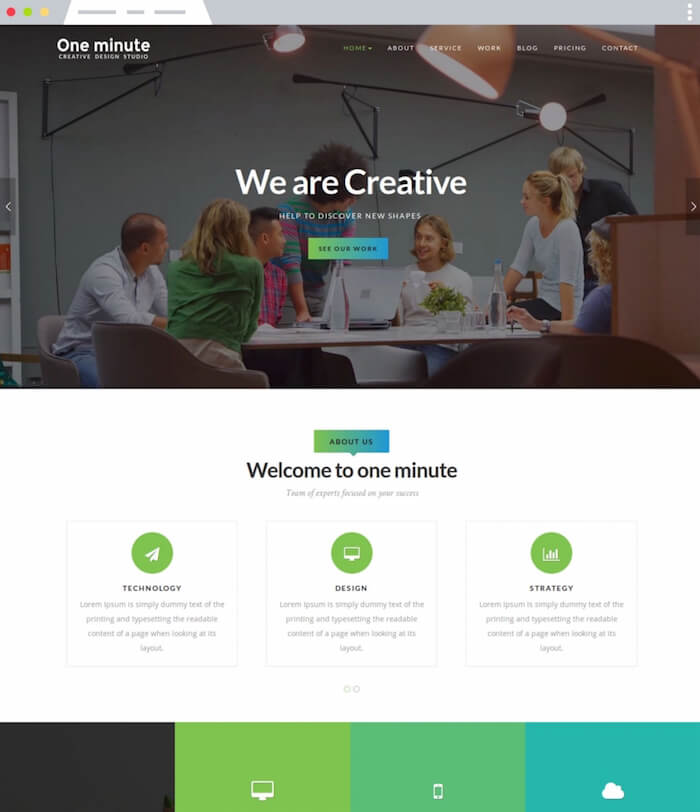 Jollyness
Jollyness is more of a business Joomla template created using Joomla 3 and Bootstrap 3. It comes with eight numbers of built-in home pages and supports unlimited color usage by the users.
Jollyness is a modern-looking and clean template that is sure to make one's website astounding. Be it the availability of rich features or the quality of code used, Jollyness is one of the best portfolio templates in Joomla.
The stunningly designed Jollyness is completely customizable by the user to suit their requirements and preferences.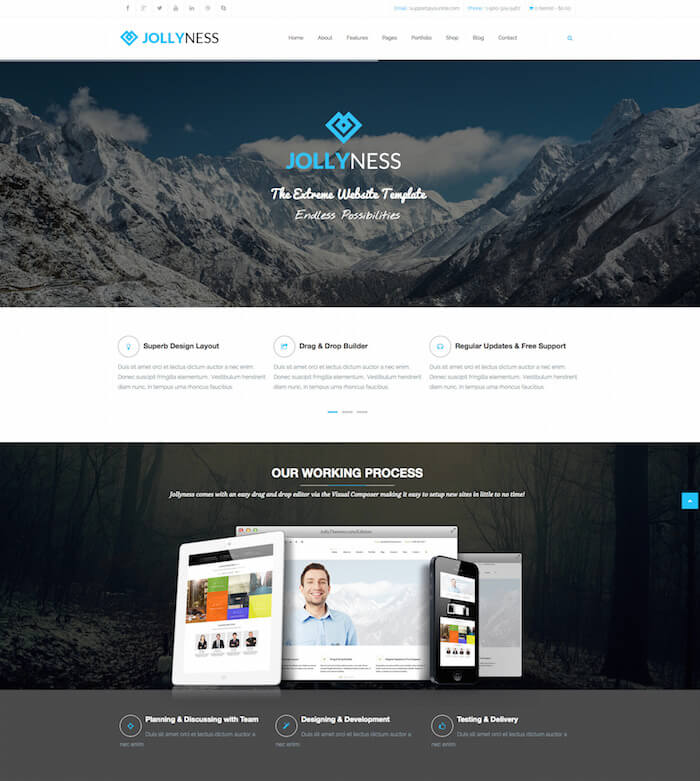 Finance Press
Finance Press is a professional-looking Joomla template that can be used by people in Consulting Business, particularly in the field of Finance.
The style of the layouts looks highly corporate and can be used by finance blogs and finance related websites, Finance professionals' personal portfolios, and auditing firms.
Finance Press comes with slide resolution and provides innumerable theme options to users. The quick-start installation package provided with Finance Press guides users in the installation process in a quick manner.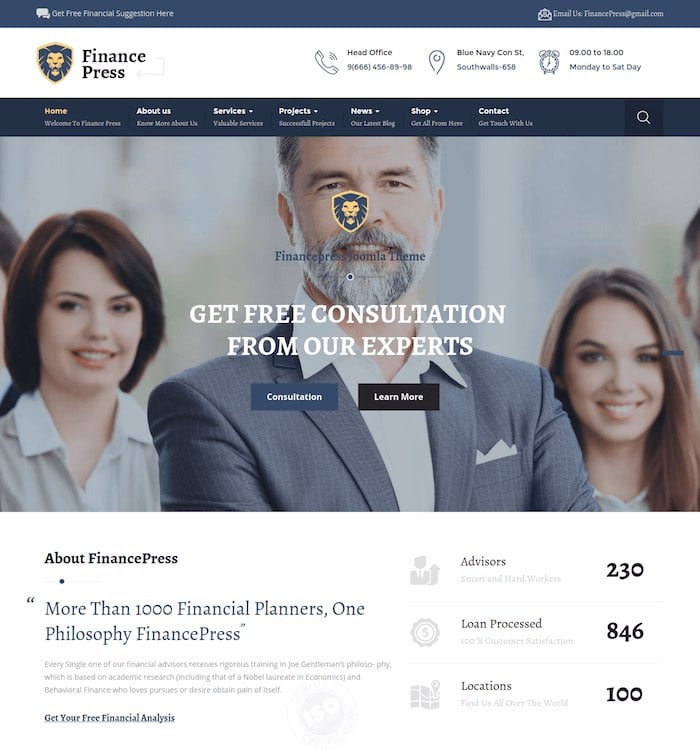 Aviation
Aviation is basically a Joomla theme that can be used for multiple business purposes. Aviation has been designed in a manner to be fully responsive to all sorts of devices.
Powered by Bootstrap, the retina-ready graphics supports unlimited module positions. Aviation comes with nine essential colors presets some of which are fully finished creative ideas.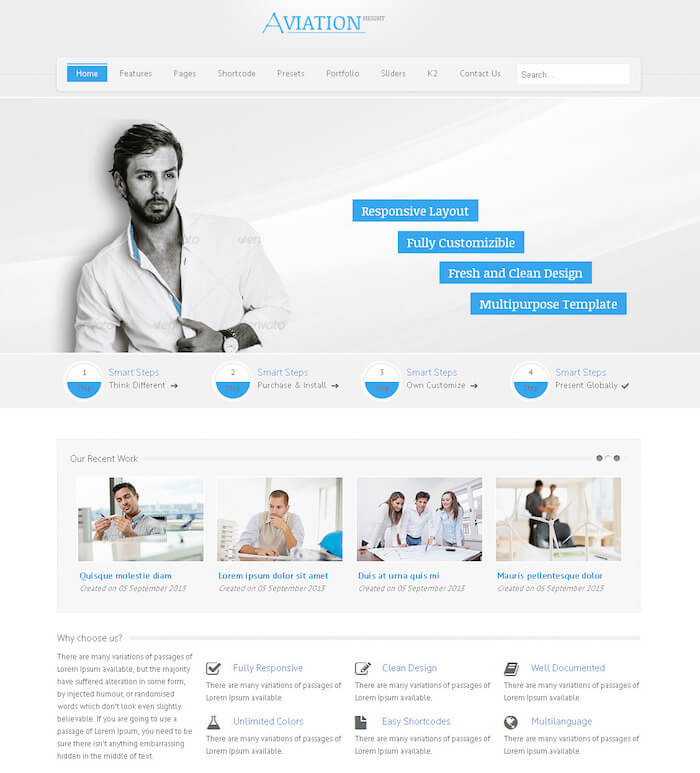 Effortless
Effortless is a high capacity multipurpose and multifunctional Joomla template that can be used for creating a portfolio.
The highly responsive and flat design makes gets value-added K2 project and blog template styles. Effortless comes with ten plus custom modules and 60 plus shortcodes that can be used by the users based on their requirements on a readymade basis.
Effortless, nevertheless helps users to create a portfolio in an effortless manner.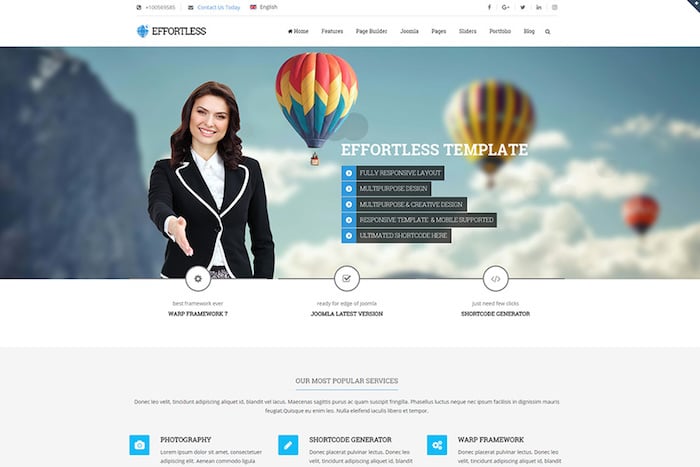 NowaDays
NowaDays is a powerful one/multipage Joomla theme which will more suitable for the creative agency, portfolio, and blog. It has one page and multiple page layouts, and there is more space for the user to customize the theme as per their wish.
Also, 14 different home pages are available. The blog layout consists of "No Sidebar, Left Sidebar, and Right Sidebar." Whereas, the portfolio layouts include options like Grid, Masonry, Fullwidth, Boxed, with or without gutters, Homepage, and other features.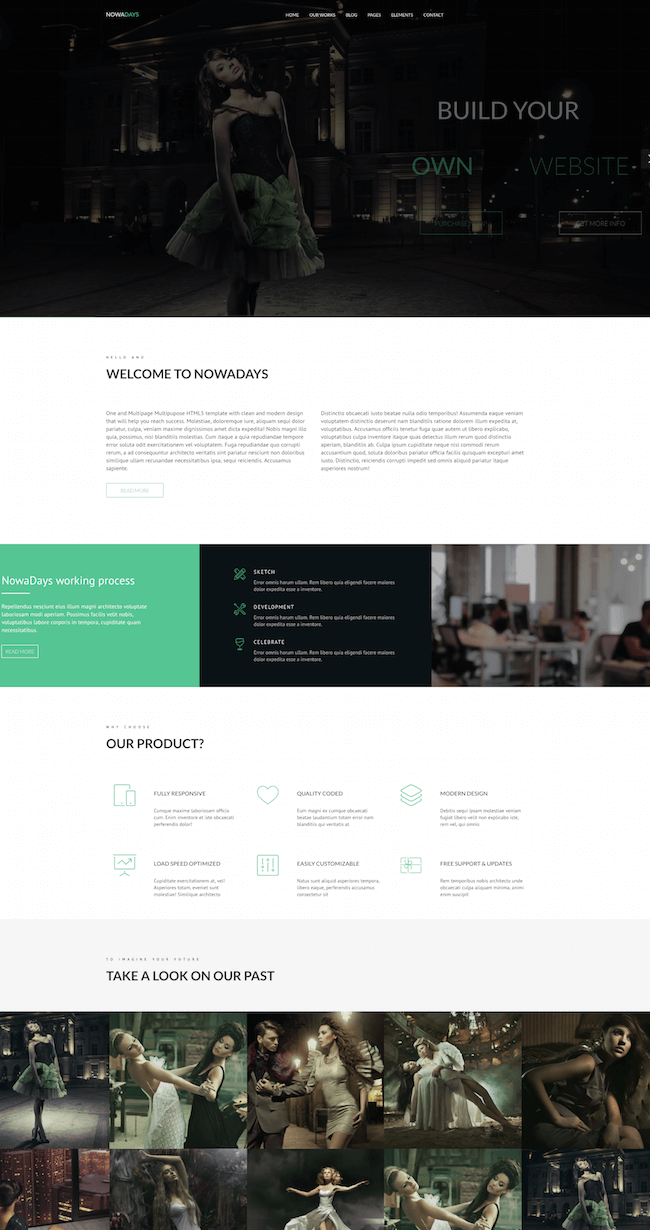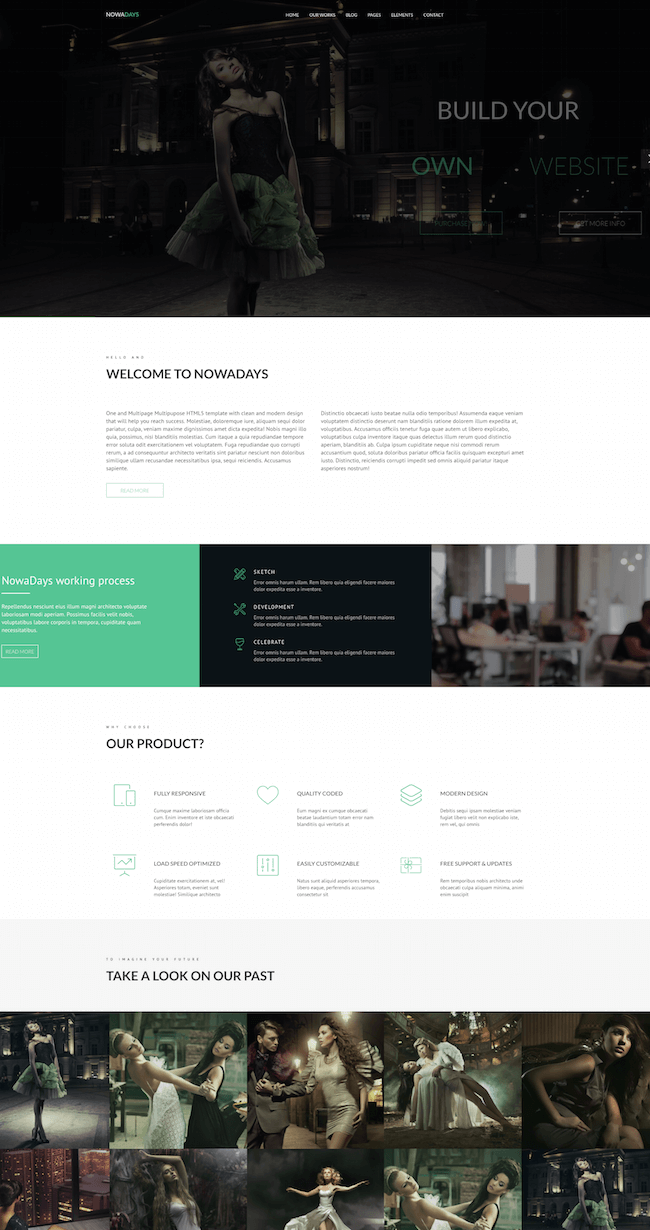 Who am I
This is a professional and personal template as well. It is a Portfolio resume Joomla template which is built using the Twitter Bootstrap framework. The bootstrap version is 3.3.1, and it acts as a responsive template.
Varied fonts and filters with the user-friendly interface are the main features of this template. It comes in Black and White version with Template Manager Options.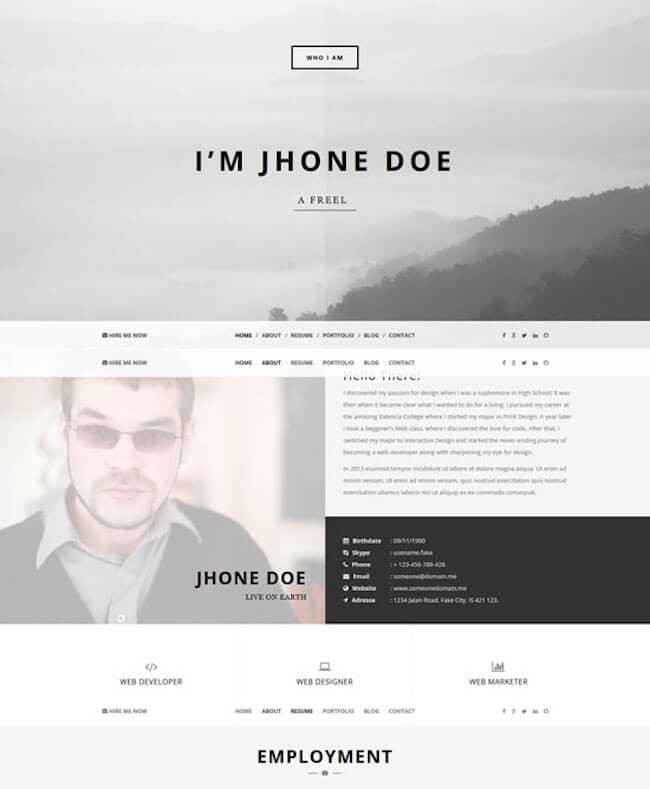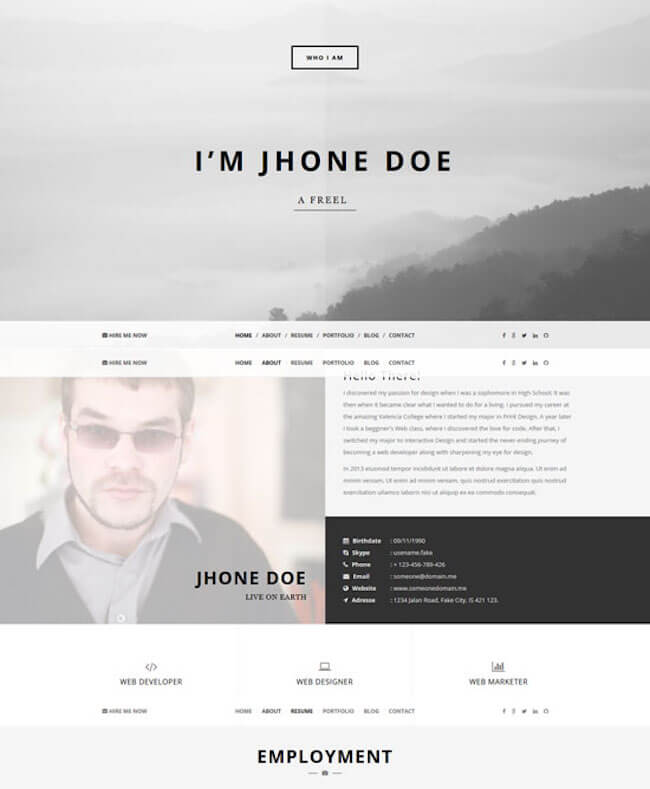 Cubic
This one page responsive Joomla template will help the user to build a modern website in minimal time. It also has many features that make your blog site stay unique among others. Cubic is built with Bootstrap 3 and includes seven different homepage layouts.
Also, it has amazing animation options that enable the user to access animated elements on the scroll. It has a Parallax background inbuilt along with Video background.
The light weighted font icons are cool to use, and the filtering gallery option is more useful. Compatible browsers list is IE9, IE10, IE11, Firefox, Safari, Opera and Chrome.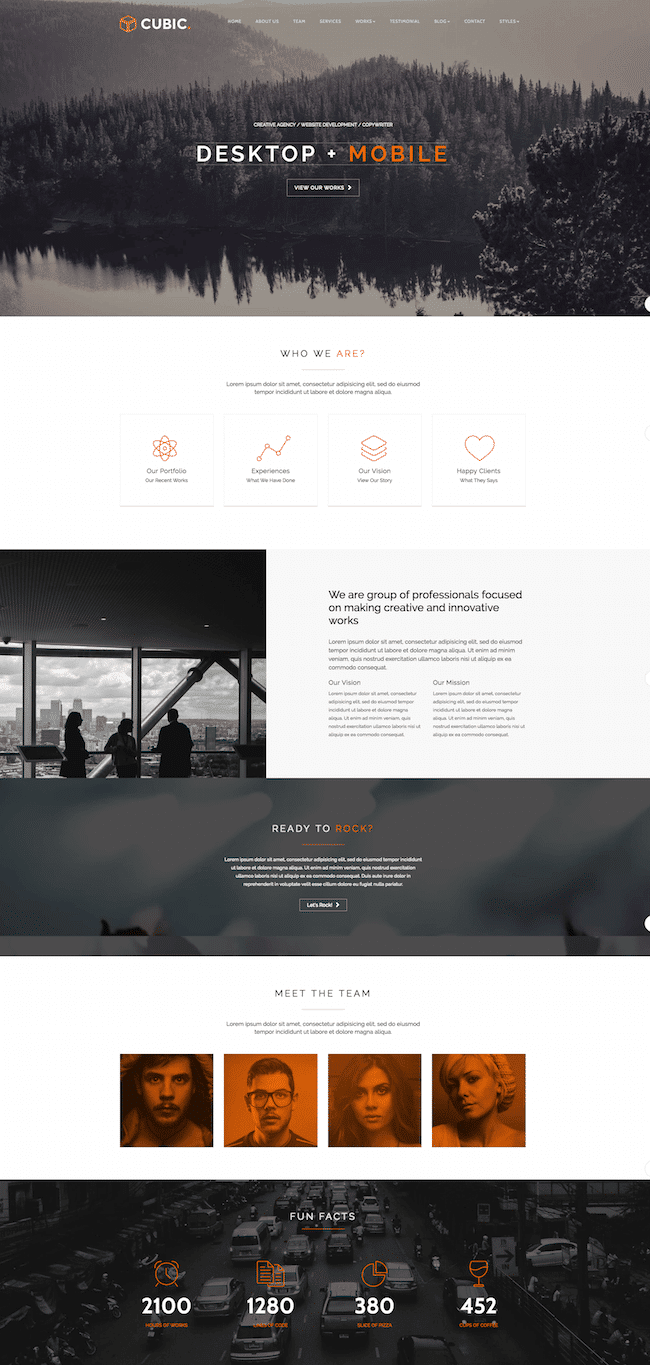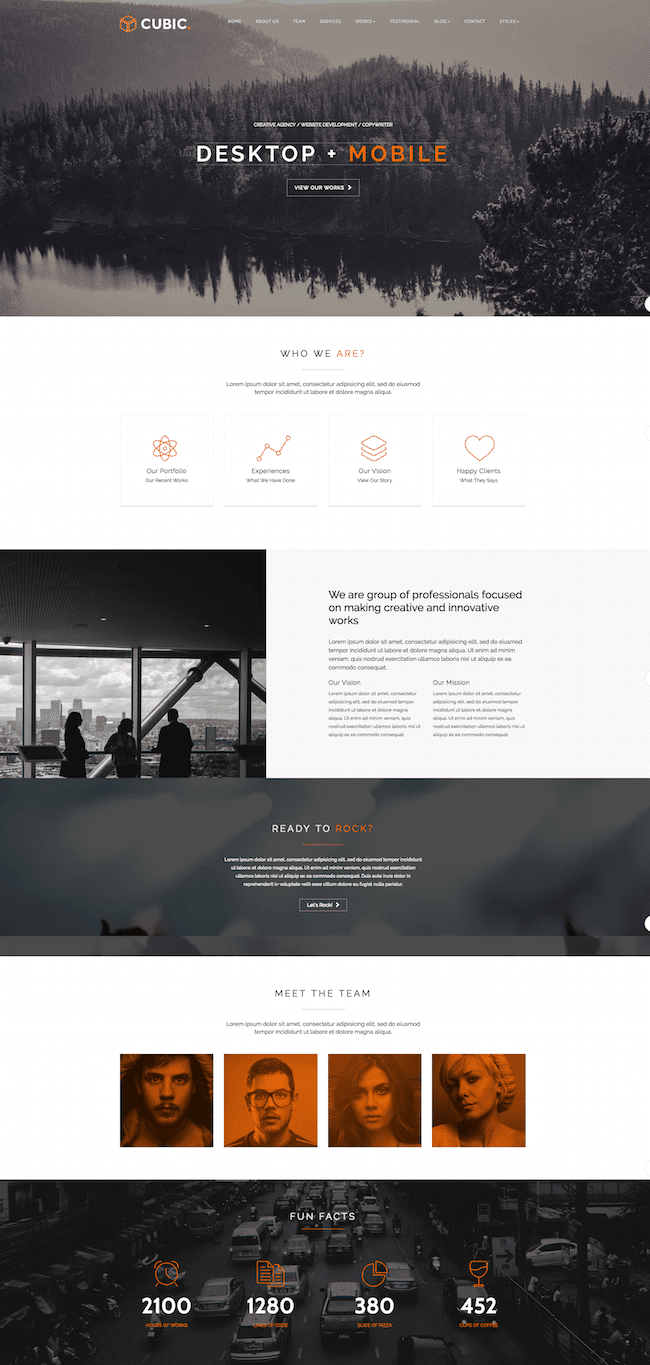 Amazed Photography
This is beautiful and easy to use Joomla template which everyone will fall in love with. The flexible menu system is supported by a well-developed menu system that provides unlimited menu items, and the users are allowed to add subtext for each menu item and make columns by simply setting a menu item.
The font resize has three alternatives like decreasing, maintaining the default size and increasing the font size. This can be disabled or enabled easily. The vertex is built on the upgradable version, so it will easily upgrade to the newer version whenever the release is made.
The parallax background will allow the background image to scroll at different speeds. Amazed photography supports all popular browsers like Safari, Firefox, Internet Explorer, and Chrome.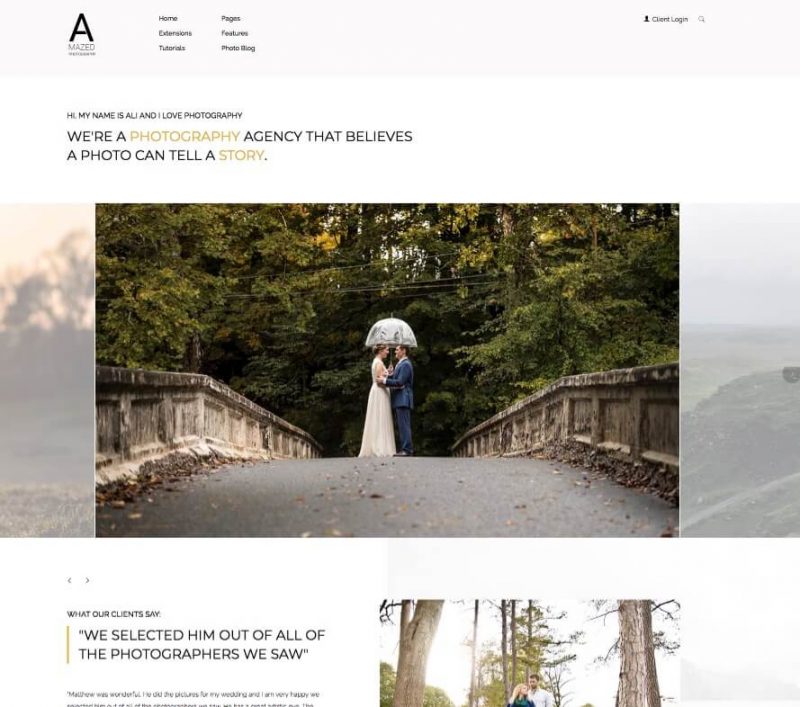 Phoenix
Phoenix is a multipurpose Joomla template which will best suit for a creative agency and personal portfolio for freelancers or any nominal website. This multi-page / one-page template is built using Bootstrap 3.
The homepage has different sections with the full-screen background, full-screen video, and full-screen parallax and additionally included pages like 404, coming down with countdown timing and portfolio page variations.
Phoenix is compatible with all popular browsers like IE 9 & 10, Firefox, Chrome, Opera and Safari and 100% responsive.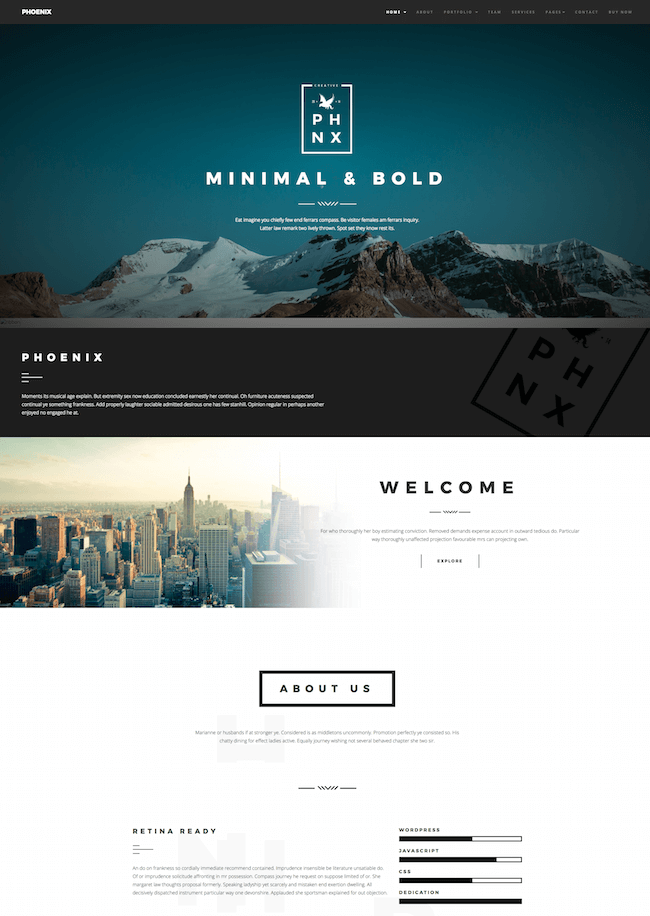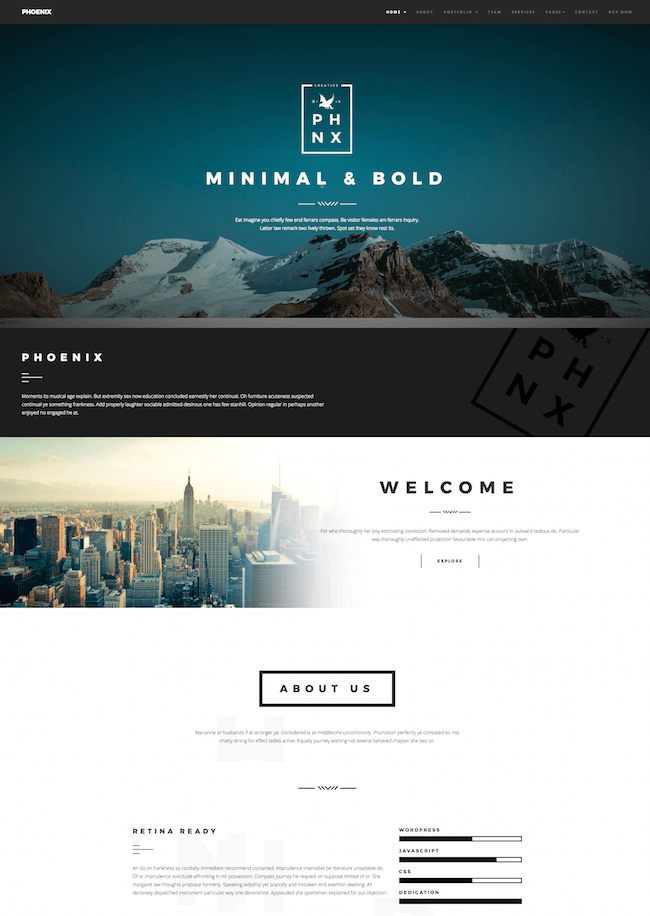 JSN Ares
It is the ideal template for those who are looking for a personal portfolio and application website. The template is designed in such a way it is found to be easier to customize as per the user's wish and also there are many options available with style and effect.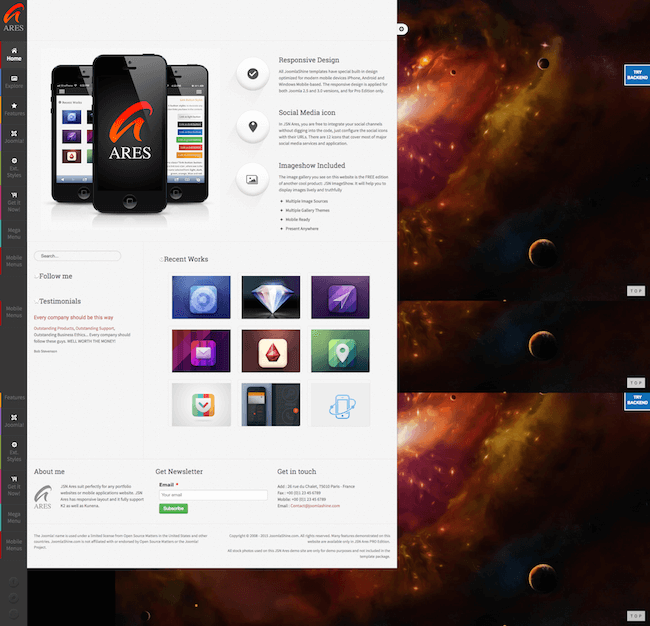 Framed
Framed Joomla template is a simple, flat, and clean with numerous features. This is compatible with all modern browsers like Firefox, Safari, Chrome, and Internet Explorer 9+. The template is designed for multipurpose so that it can be used for any portfolio site, blogging, personal website, and software firm.
Framed template is multilingual supported. There are 360 and more icons as per user's need, so it is possible to add subtitle and also make any modifications such as text alignment, padding reset, margin reset, subtitle, icon, and other features.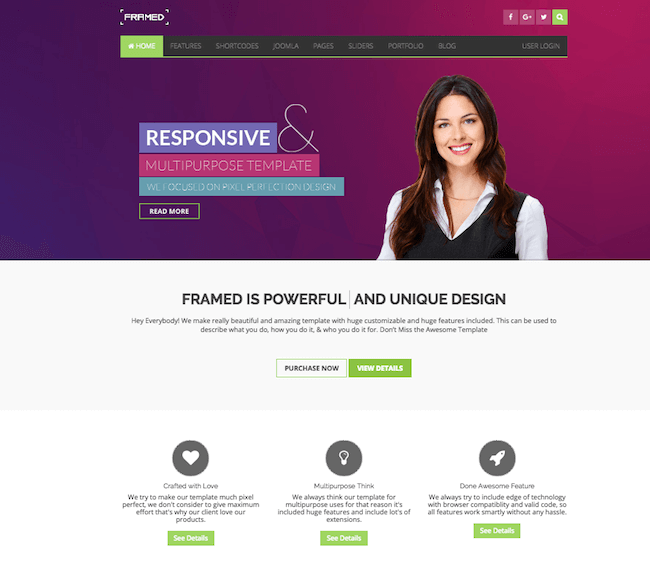 JM Portfolios
This is the best photography portfolio Joomla template for photographers, designers, and creative agencies with varied effective portfolio templates to support your picture. JM portfolio can support any kind of photography websites like wedding or events category.
Also, it is best suitable for a professional photography website. The user can display high-quality photos and videos here.
It acts as an eye-catching foundation which attracts the viewers. There are unlimited template color versions and also multipurpose. The canvas site bar can be enabled or disabled easily. Also, customize the template layout that suits the user needs.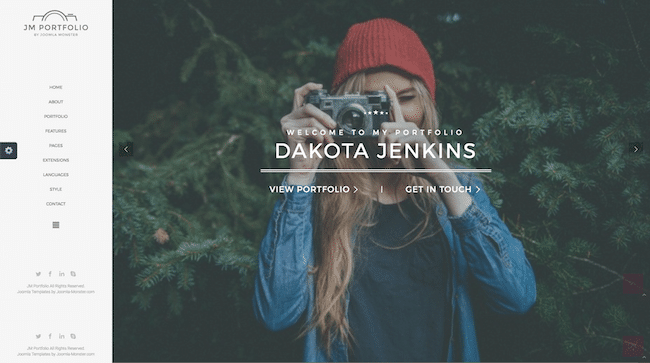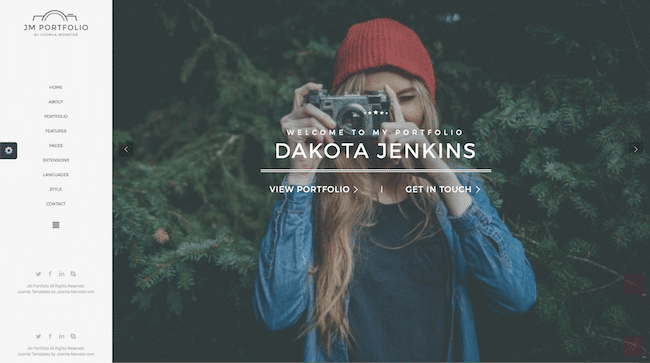 Joomla portfolio templates are available for multiple purposes. Users who want to create their portfolio can choose the one that most suits their requirements from the many templates available.
Joomla templates that focus on specific functions adds immense value to the portfolio created providing it a huge reach among the targeted audience.
[kkstarratings]