If you are looking for the best FAQ plugins for WordPress, then you have landed on the right page.
The FAQ section is a must-have feature of any website that revolves around products or services. There are a few questions that anyone new to the website, service or even your product would have in mind.
Rather than manually answering all the queries, it is a good idea to compile a list of frequently asked questions in the FAQ section.
Not just that, the FAQ section helps you rank better in search results, as people search for exact questions on search engines quite often.
And if you are running some kind of online business website, then you just can't do without an FAQ section. Your customers will definitely need a section where they can get their general business-related queries answered.
To help you with this, here is the list of the best FAQ plugins for WordPress. 
FAQ Schema Update
---
If you are aware of the latest SEO updates, you are probably aware of the FAQ Schema. There is a lot of discussion around FAQ Schema these days. And nicely implemented FAQ Schema will certainly increase the click-through rate for your blog post.
If you are confused about what FAQ Schema is, let me clarify that for you.
When you make a Google search these days, you must have seen a few questions attached to the result. Here is an example. If you make a search for the best Google Chrome alternatives, you will see FAQ Schema links in our result.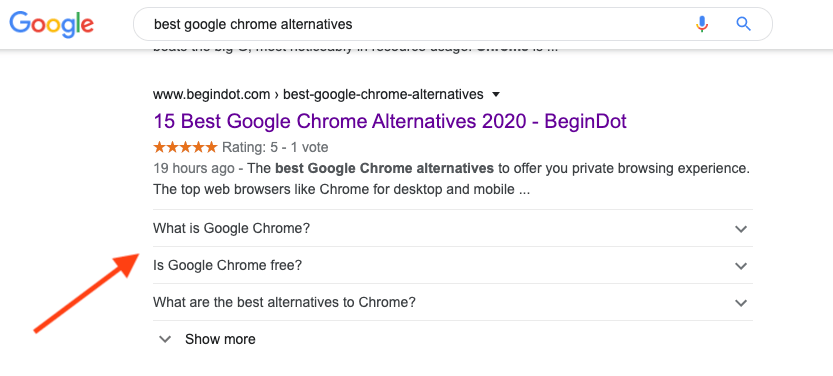 Now, the question is, how to implement FAQ Schema for your blog posts?
You can use an FAQ Schema plugin that will help you to add the necessary code or you can do some research and implement it without any plugin.
If you are using the Yoast SEO plugin, you will find a built-in option to add the FAQ Schema. We have added a couple of FAQ Schema plugins in this list.
Ultimate FAQ
One of the best FAQ plugins for WordPress, the Ultimate FAQ plugin offers you all the features and options that you will need to create a fully optimized and modern looking FAQ section on your site.
This plugin has one of the most beautiful and professional-looking layouts. You get 5 layout options to choose from, namely – default, color blocks, block, list, and all answers displayed.
You get 14 days money-back guarantee, 15 different icons set, WooCommerce FAQs, email support, and many more such amazing features with this plugin.
If you are looking for a plugin with a lot of unique features and multiple layout options, this one is for you.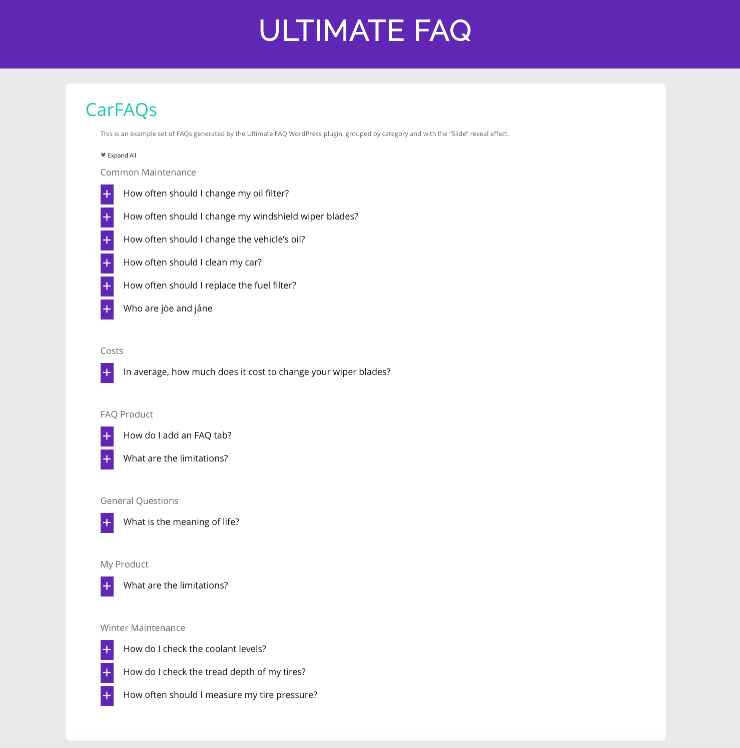 Heroic WordPress FAQs Plugin
Heroic WordPress FAQs plugin is fully compatible with the latest version of WordPress and offers some of the finest features. Over 23,000 customers have used this plugin, including some of the most famous names, such as WIX, CrazyEgg, and so on.
This plugin also offers a one-page dashboard feature to easily edit and customize FAQs of all the webpages of your website. You get an easy to use drag and drop FAQ editor as well to set the positioning of the FAQs.
The plugin is completely mobile-friendly and 100% responsive, as well as compatible with all modern web browsers.
You will have multiple design options to choose from to create your FAQ section. You can select any of the design templates and start creating your question and answer content.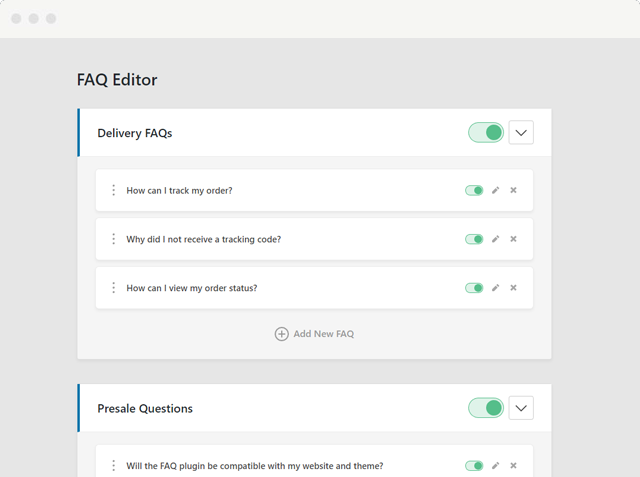 WooCommerce Product FAQ Manager
You'll get a lot of plugins over the internet having compatibility with WooCommerce, but WooCommerce Product FAQ Manager is specially designed for the WooCommerce plugin.
The sole aim of this plugin is to provide an FAQ set up for WooCommerce plugin and to help sell your products online with ease. 
Responsive layout, translation ready, RTL support, FAQ counters, along with drag & drop sorting are some of the most significant features of WooCommerce Product FAQ Manager. 
The plugin offers many other unique features, such as the option to insert video/images as FAQ content, an unlimited number of FAQs to add to your website, along with animated, live FAQ search option. 
The unique features of this plugin, along with the other must-have features, make it a great deal.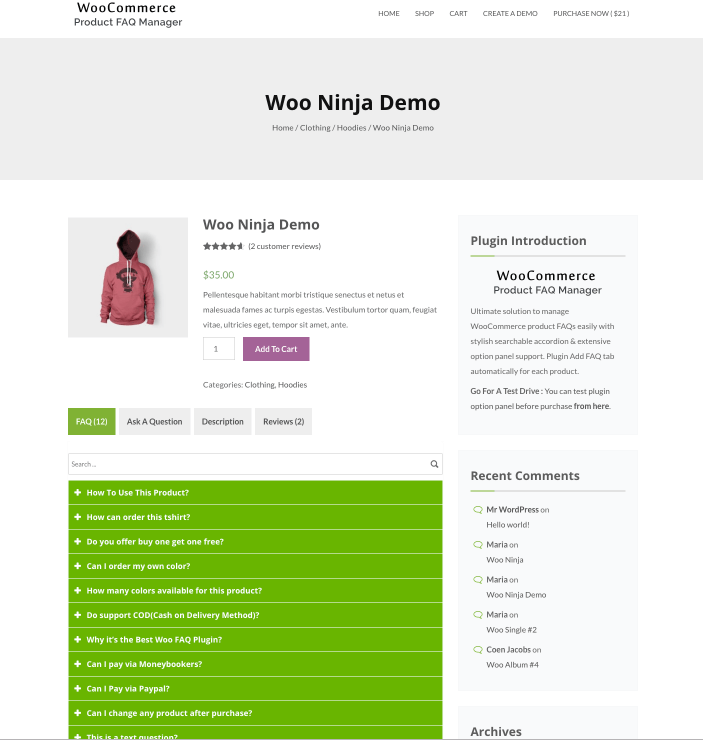 WP Clever FAQ Builder
WP Clever FAQ Builder stands quite true to its name, as this plugin allows you to add some of the most complex and conditional FAQs to your website. This allows you to create an infinite number of questions in your FAQ list.
Unlike other plugins, this one offers you in-built contact forms along with the FAQs, so that the admin gets notified instantly through email.
Unlimited color options, easy import/export system, WPML support, visual composer, and customizable fonts help you edit the plugin as per your needs. 
Also, you get a dedicated and simple to use dashboard, translation ready layout, shortcode support, visual composer, and options to customize the FAQs.
FAQ Plus
FAQ Plus is packed with tons of amazing and future-proof feature. You get a lot of customization options for the layout and look of the plugin.
You get over 25 animation effects and shortcodes to add FAQs to any part of your website. Unlimited colors,  FontAwesome icons, drag and drop editor, and easy animation effect helps you set up FAQ sections as easily as possible.
The plugin is also cross-browser compatible and offers some of the fastest animation speeds in the market. Also, custom CSS animation, jQuery easing effect, and unlimited FAQ options make this plugin a great pick.
Fancy FAQ
Fancy FAQ is a very simple and straightforward FAQ plugin that lets you quickly add an FAQ section to your web pages, post or any other part of the website.
The layout and functioning of this plugin are 100% responsive. It offers you accordion or toggle animation option to choose from, for displaying answers of the FAQs.
There might not be a lot of customization options available with this plugin, but you get a separate "settings page" where you can edit some colors and styles of the FAQ.
You also get 6-months complete customer support from the author for free. Also, categorized FAQ items, and answer section editor make this plugin the one to consider seriously.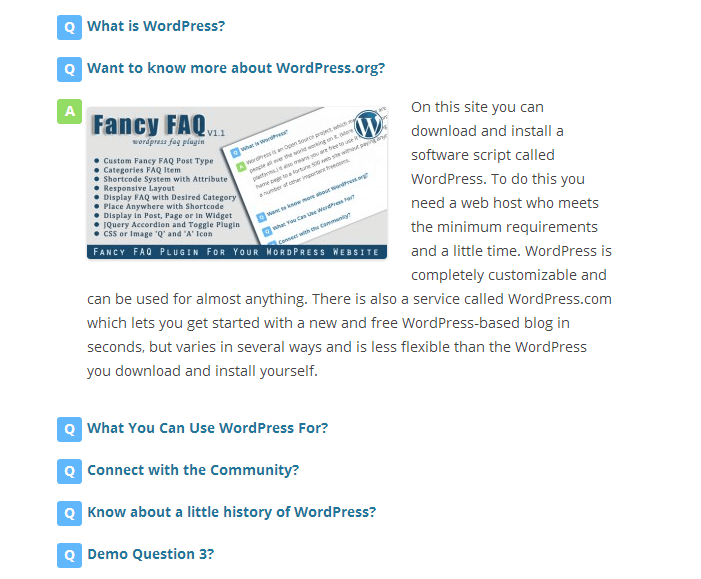 Arconix FAQ
Arconix FAQ is one of the most famous FAQ plugins available. The plugin is absolutely free to download, is fully functional and 100% responsive.
Developed by the well-trusted team of Tyche Softwares, Arconix FAQ is one of the easiest to use FAQ plugins in the market. You get a fully animated show/hide jQuery toggle box that helps your website look more professional. 
Arconix FAQ enables you to create groups of FAQs so that it becomes easier for you to sort and answer questions. "Return to top" option provided at the bottom of this plugin helps your customers navigate easily through the FAQ section. 
Supporting over 5 languages, the latest WordPress version and frequent updates of this plugin have helped it achieve success.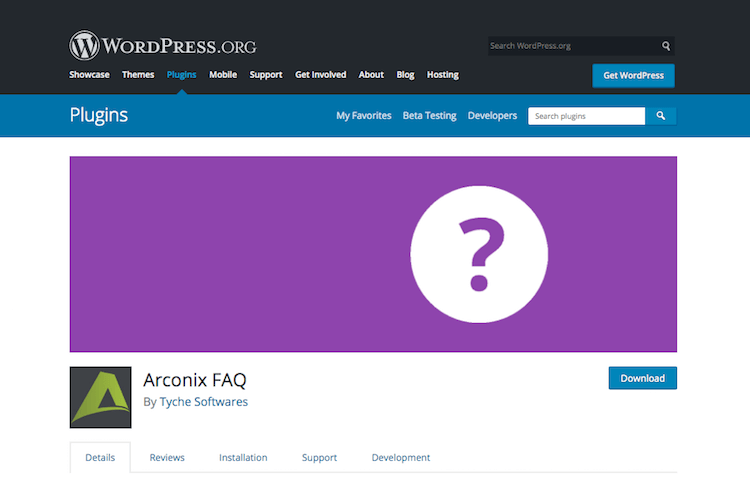 Quick and Easy FAQ
Quick and Easy FAQ is packed with a lot of must-have WordPress FAQ plugin features. Shortcode is used to enter and display custom FAQs on your websites. The layout is quite a simple list style that gels up well with all kinds of websites.
This plugin enables you to display FAQs in simple list styles, display FAQs in toggle style, set the page to change text, background and border color.  
You get features like support for visual composer plugin, custom CSS box, settings page to change background style and right to left language support with this plugin. 
Keeping the given features and the speed of this plugin in mind, Quick and Easy FAQ is definitely a must-try.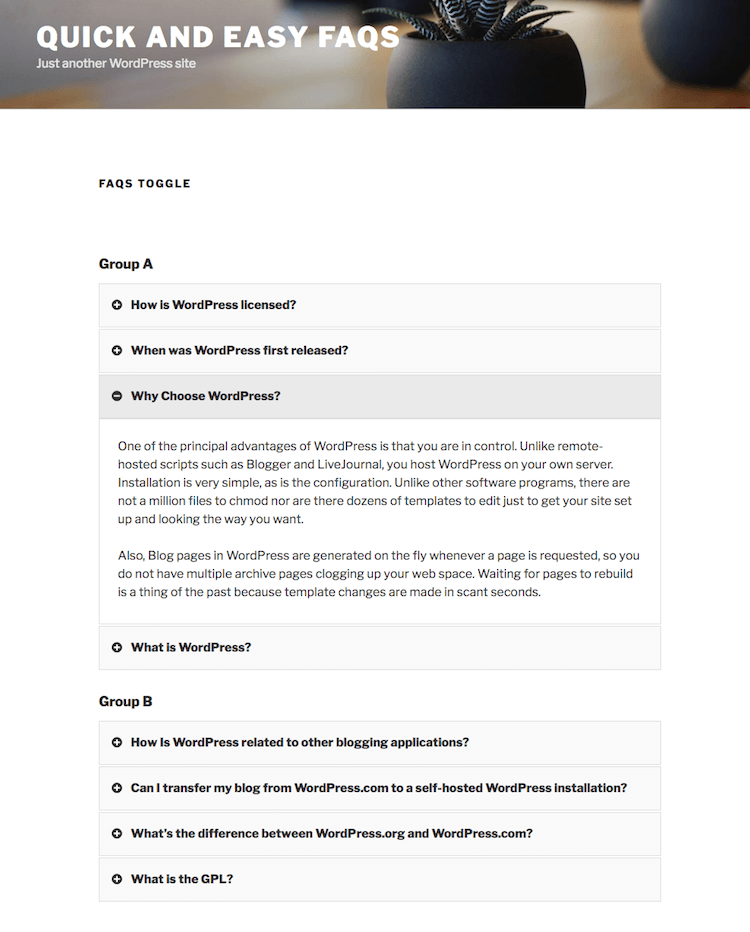 HTML5 Responsive FAQ
HTML5 Responsive FAQ has currently over 10,000 active installations and is one of the most frequently used FAQ plugins of the world. The plugin is SEO friendly and allows you to select your heading types for FAQs.
This plugin has seen some frequent updates previously and will definitely see more in the future. It is easy to use, handle, operate and customize. The plugin is fully compatible with all the modern and old responsive website designs.
It is fully responsive and offers easy to use shortcode. You can add multiple categories to your FAQs and customize the layout as per your needs.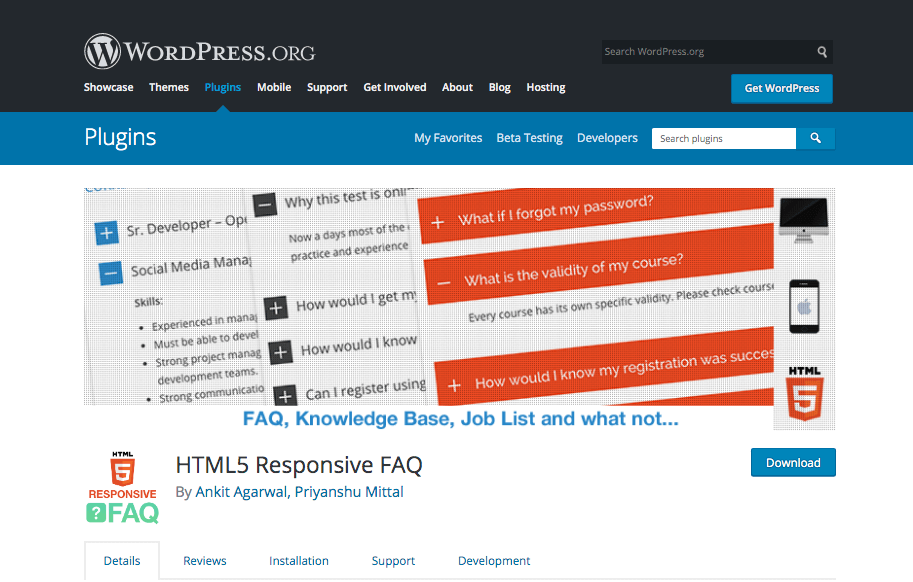 Accordion FAQ
The Accordion FAQ is simpler to use and group, as you do not need to create a separate post for each question, instead you simply need to create an accordion that can hold multiple items and posts. 
You get to access and work on all FAQs from a single dashboard. The plugin is Bootstrap based, offers unlimited color options, and is compatible with all modern web browsers.
Unlimited color options, easy shortcodes, Bootstrap framework, and FontAwesome icons support makes this plugin a must-try.
Also, integration of drag & drop builder API along with draggable accordion items helps in making this plugin a lot more simpler to use than others.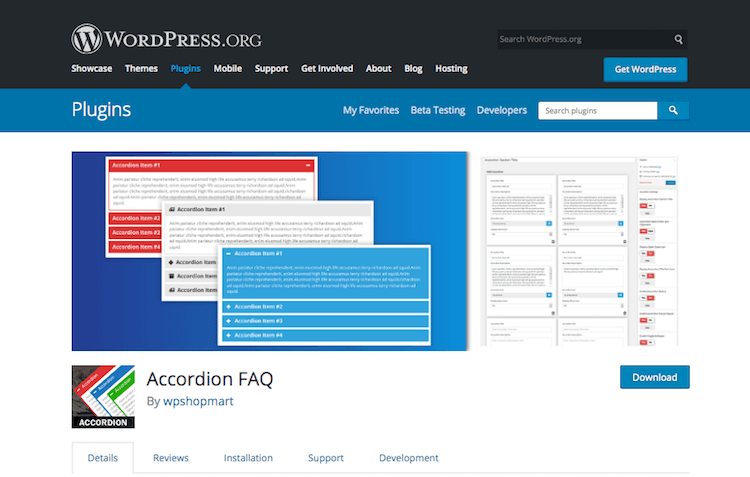 WP FAQ Schema Markup for SEO
As the name suggests, this plugin is created to add the required FAQ Schema markup for your site. As mentioned at the start of this article, FAQ Schema is big these days.
The plugin will add the recommended JSON-LD format automatically to WordPress sites to help you make your blog post stand out in the search results.
The plugin works perfectly on both Gutenberg as well as the classic editor. It is a lightweight plugin that can surely add value to your site.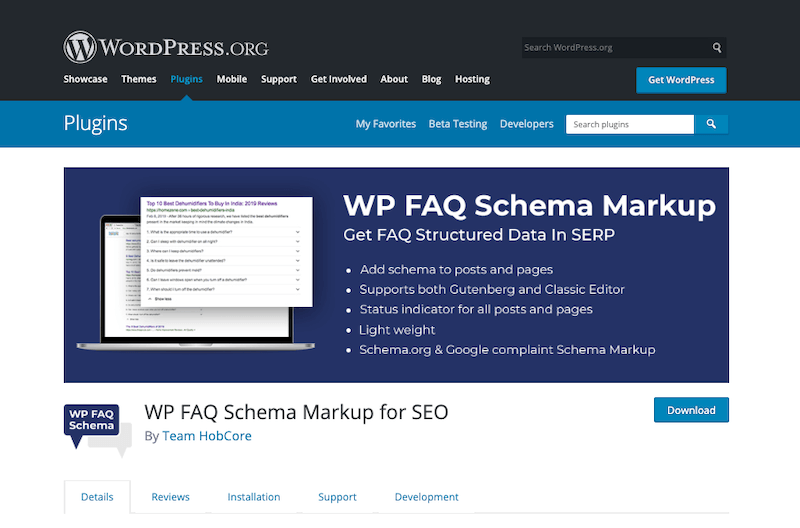 Summing Up
This list of the best FAQ plugins for WordPress is sure to help you out. All of these plugins are packed with some unique features that an FAQ plugin must possess.
These plugins have been tried and tested on a lot of websites and web browsers. Each plugin has its own prospects, along with a good and experienced customer support service to help you with any queries.
You not only get a tool to help your customers, but you also get a tool to help your website rank higher in web search results, as all of these plugins also help in improving your websites' SEO, which is a must-have these days.
Choose the plugin that fits best with your website and holds that agile traffic to your website as tight as possible. And got any FAQs plugin of your own? Do let us know in the comments section below.
If you find the article useful, don't forget to share it with your friends