Einthusan is a popular website to stream Hindi and other Bollywood movies. A huge collection of dubbed movies are also available here.
The huge collection of other regional movies has made Einthusan website an ideal choice for many. But currently, the website is not working.
In such a scenario, you might be looking for Einthusan alternatives.
We have made the job easy for you by curating a list of the best Einthusan alternatives. Let's have a look at the list now.
Top Alternatives of Einthusan
---
01

. Hotstar

Undoubtedly, the most popular alternative of Einthusan is Hotstar. It is an online video streaming platform by Novi Digital Entertainment Private.

More than 100,000 hours of movies and Television shows. The website supports content in nine languages.

Hotstar supports adaptive video streaming technology that ensures that the video quality automatically syncs itself with mobile network and Wi-Fi internet connection. It also has a user-friendly interface that comes with a smart search. 

Hotstar supports content in the following languages:
Hindi
Bengali
Telugu
Malayalam
Tamil
Marathi
English
Kannada
The popular genres of Hotstar include:
Romance
Drama
Family
Reality
Comedy
Mythology
Crime
Action
In addition to it, other genres that are present on Hotstar include Lifestyle, Awards, Biopic, Science, Travel, Wildlife, Horror, Sport, and Documentary.
Currently, Hotstar supports 36 channels. Popular channels of HotStar are Star Plus, Life OK, Asianet, Star World, HBO, ABC Studios, FOXlife, and V channel.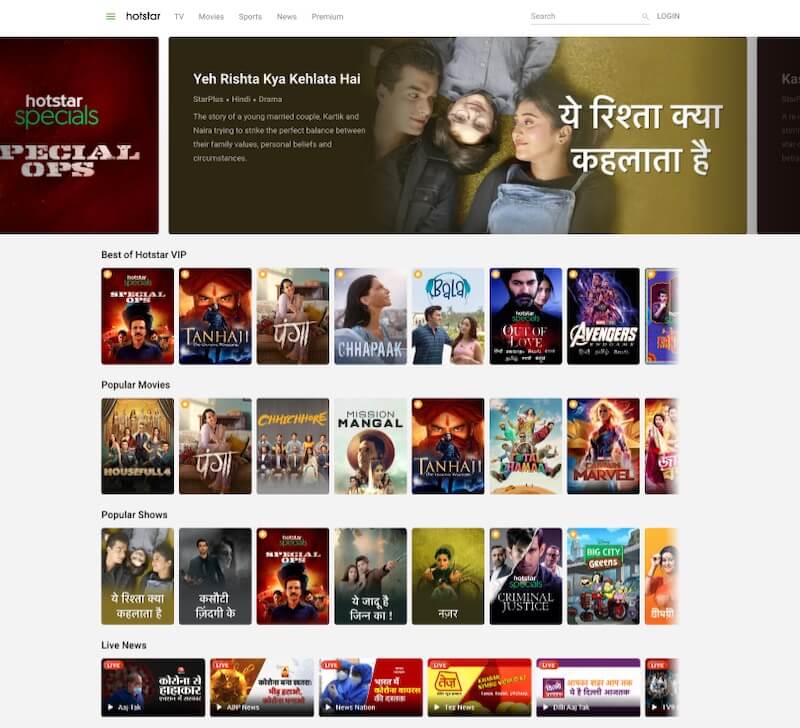 02

. Voot

Launched in 2016 by Viacom 18, Voot is a popular entertainment website. Currently, Voot is available only in India.

The website houses video content of more than 40,000 hours. The premium version of the Voot is Voot Select. The premium version of Voot supports ad-free and unrestricted access to International content and other Voot Select Originals.

Voot supports 26 channels. Popular channels of Voot includes:
Colors
MTV
Colors Infinity
MTV Beats
CNN-News 18
The content of Voot is available in the following languages:
English
Hindi
Kannada
Marathi
Gujarati
Marathi
Bengali
Tamil
Telugu
The video content available on Voot can be sorted on the basis of language and genre. The video quality is available in three categories: auto, high quality, and data saving. On the basis of your data plan, you can choose any one of these video quality.
03

. MX Player

MX Player is your one-stop solution for enjoying short videos, music videos, web series, TV shows and movies.

Currently, MX Player houses video content in the following languages:
Malayalam
Tamil
Bengali
Punjabi
Bhojpuri
Kannada
The television, web shows and movies are available in the following genres:
Action
Drama
Horror
Thriller
Comedy
Anything that you have missed on television can be enjoyed in the MX Player layer. What makes MX Player different is that it supports Turkish TV serials too. In addition to that, one can also watch sports here.
04

. SonyLIV
SonyLIV is powered by Sony Pictures Networks India Private Limited. It was launched in January 2013. 20 years of content is available on SonyLIV.
SonyLIV is a one-stop destination for discovering audio and video content. Let's have a look at different categories that are available on SonyLIV.
Live TV channels
Movies
TV shows
Originals
Kids (also includes nursery rhymes)
Sports
Music
LIVFIT
SonyLIV is available in all countries except for Europe, the United Kingdom, and the United States.
The premium version of SonyLIV is available for the following countries: India, UAE, Kuwait, Saudi Arabia, Oman, and Bahrain.
The movies available on SonyLIV are available in the following categories:
Hollywood movies
Drama
Action
Comedy
Romance
Horror
Short Films
News can be enjoyed both in Hindi and English languages.
05

. YuppTV

YuppTV is the largest over-the-top entertainment solution available in the world. With YuppTV, you can experience virtual home entertainment anywhere and anytime.

The features of YuppTV include:
Live TV: You can watch live Indian channels of your region according to your convenience.
Catchup TV: Don't miss a program now with the YuppTV. You can catch everything up to 10 days here.
Mini Theatre: The latest movies can be watched as they appear in the theatres.
Seamless access: The content available on YuppTV gets synched seamlessly across all the devices.
You can choose your preferred languages to access the content that you want. Currently, YuppTV supports Hindi, Tamil, Telugu, Malayalam, Kannada, Marathi, Bengali, Punjabi, Gujarati, Oriya, English and Bhojpuri.
06

. AltBalaji

Digital entertainment is taken to a whole new level by AltBalaji. It is a subsidiary of Bali Telefilms Limited. After conquering the world of television, AltBalaji is ready to leave its strong mark in films.

In addition to Einthusan alternative, if you are looking for an alternative to mainstream content, then AltBalaji is just the right website for you.

The following genres are available in AltBalaji:
Thrillers
Mystery
Crime
Drama
Comedy
Romance
AltBalaji is available in Tamil, Punjabi, Gujarati, Hindi, and Bengali. The content available in AltBalaji is specially curated to meet the needs of the Indian audience.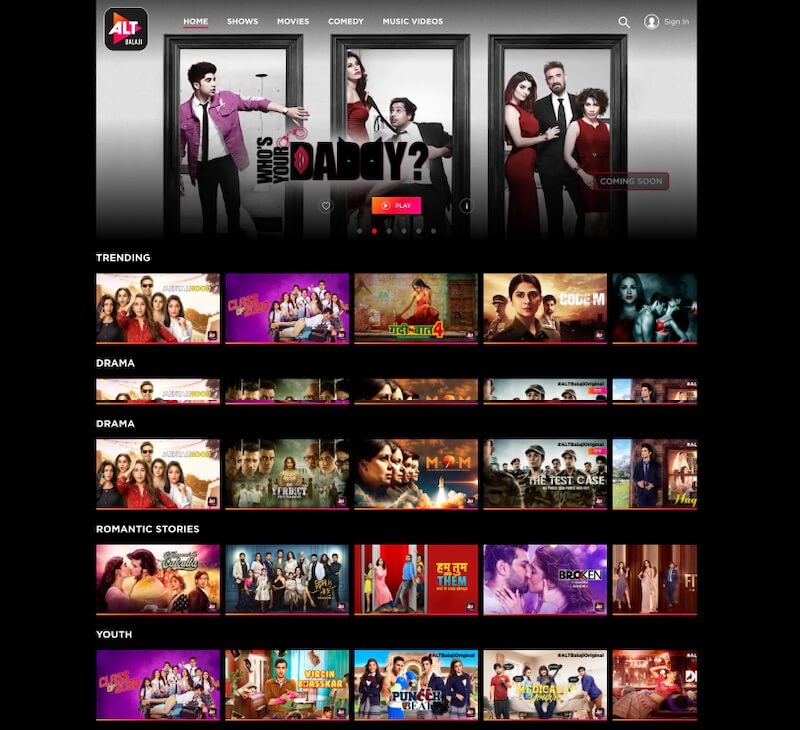 07

. Tubi

Tubi houses thousands of television shows and movies. The website can be used anywhere and anytime. There is no need of any subscription fee for using the Tubi app.

All the video content which is present on Tubi app is divided into 16 categories. In addition to that it also houses the following collections:
Award winners and nominees
Cult classics
Highly rated on Rotten Tomatoes
Weekly Watchlist
The channels that are available on Tubi are:
BabyFirst TV
Complex Networks
CONtv
Docurama
Dove Channel
The Tubi website and app can be used on Android, Roku, iOS, Apple TV, Amazon Fire TV, Xbox, Sony and Samsung smart TVs, PlayStation and of course, the web.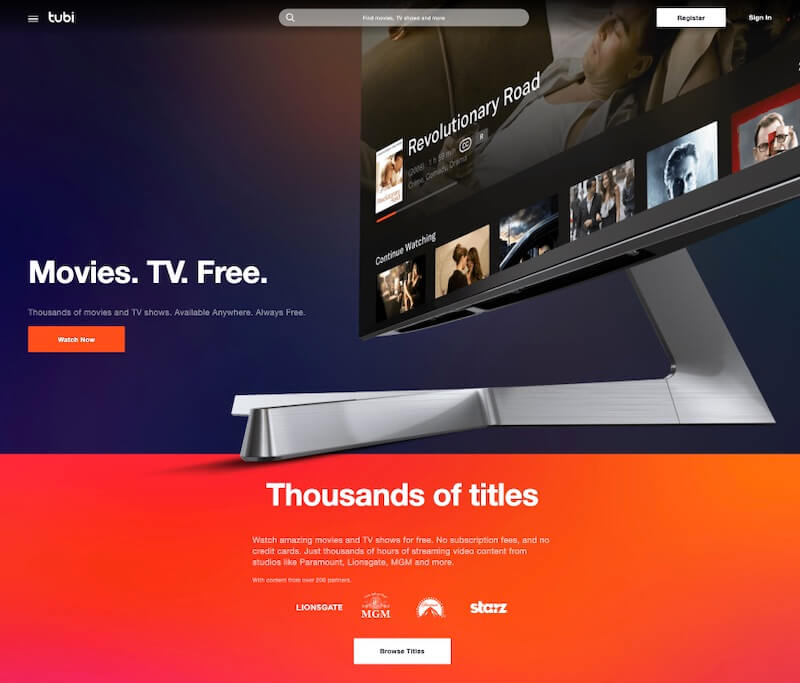 08

. YouTube and YouTube TV

We all know that YouTube can be used for enjoying songs, music videos, television shows, and even movies.

YouTube has recently launched YouTubeTV. CNET has appreciated the platform by saying that it is the best overall TV streaming service in 2020.

The new platform supports live TV from 70 plus channels. The popular networks of YouTube TV are ABC, FOX, ESPN and TNT. However, the only drawback is that the app is currently available only for US.

It is simple to use and intuitive and is very reliable to use. The live guide of YouTube TV can be customized.

In addition to YouTube TV you can also use YouTube to watch television shows and movies too.
09

. Airtel Xstream

With Airtel Xstream, you have live TV on your mobile. The app currently supports 350+ live TV channels, 10,000+ movies, and 100+ TV shows.

Enjoy live TV shows from the beginning even if you login late. You can use the app to catch up on your missed shows. One can access Airtel Xstream app on up to 5 devices with a single log-in.

The popular channels of Airtel Xstream include:
Colors
HBO
CNBC
News 18
CNN
Cartoon Network
Pogo
The content is available in multiple languages like English, Hindi, Urdu, Gujarati, Bhojpuri, Punjabi, Assamese, Oriya, Marathi and many others.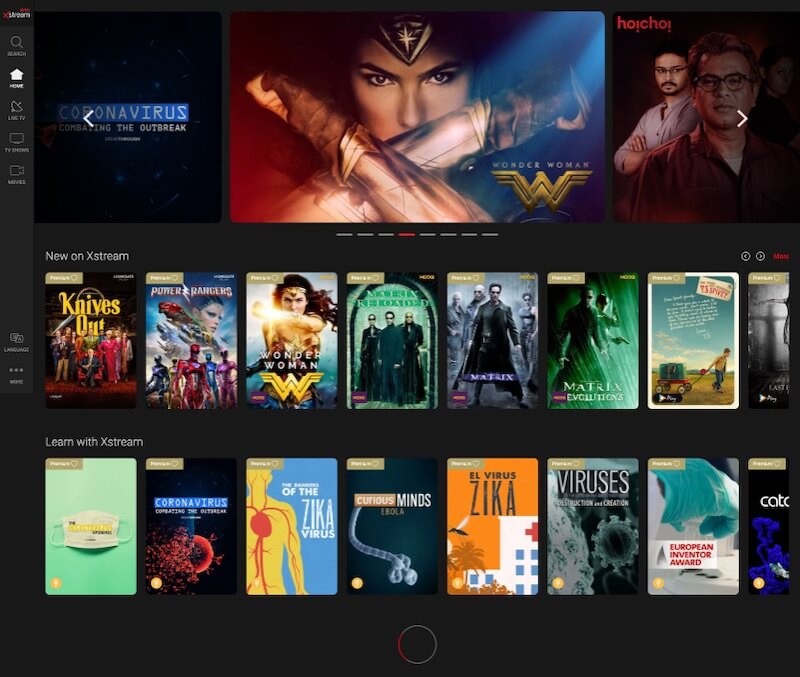 10

. TVPlayer

TVPlayer is a media streaming movie that is available in the UK. The website was launched in December 2013. Since then, it has become one of the fastest-growing platforms in the UK.

The service of TVPlayer is available as both TVPlayer Basic and TVPlayer Premium. Currently, the website supports 40+ channels. Basic channels of TVPlayer Basic includes Five, CNN, ITV and BBC.

You can use TVPlayer on:
PC and Mac
iOS
Apple TV
Android
Fire TV
Chromecast
Popular channels of TVPlayer include BBC One, Quest, TLC, History, Species, Quest Red and Cheddar.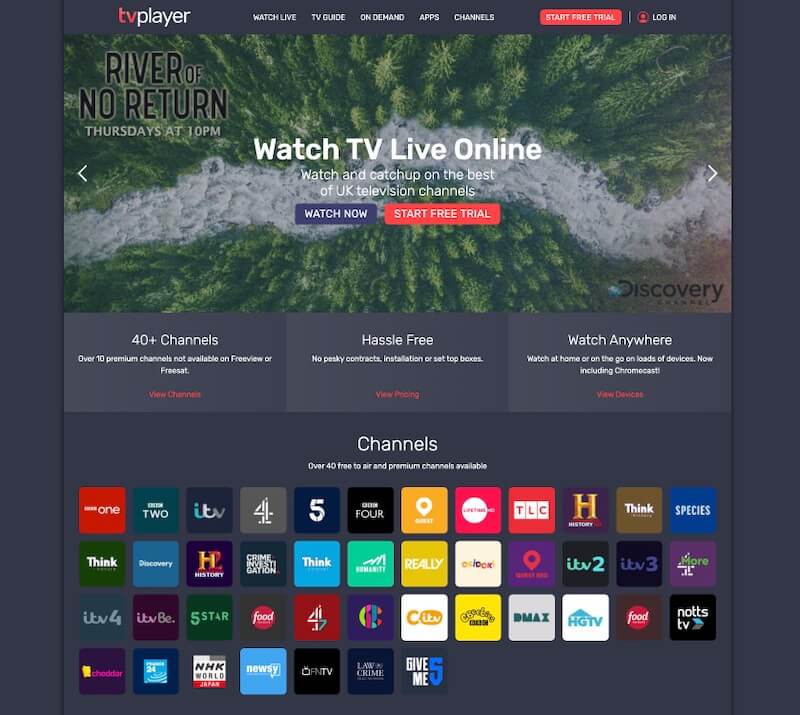 FAQs About Einthusan
01. What is Einthusan?
Einthusan is a premium streaming content website that is highly available in South Asia. On this platform, one can watch audio albums, movies, and television shows. It is a feature-rich app.
It contains 4000+ legally licensed content in 9 languages. Unlike other websites, it adds new movies each day.
02. Why should we look for an alternative to Einthusan?
Currently, most of the people are looking for an alternative of Einthusan because the website is down. Hence, people are not able to use it.
03. What are the popular over-the-top (OTT)' media services in India?
The popular OTT media services in India are:
Hotstar: 150 million active users
Netflix: 20 million
Sony LIV: 30 million
Amazon Prime Video
Eros Now: 128 million
04. What is OTT?
OTT is the acronym for over-the-top media services. OTT includes the media services which are offered directly to the users via the internet. In short, OTT bypasses satellite television, broadcast, and cable.
05. How can OTT be accessed?
OTT can be accessed via devices that can be connected to the internet.
Phone: Android, iOS, Windows
Smart TVs
Set-top boxes
Computer and laptop
Gaming consoles
Tablets
45% people use the OTT via phones and 39% of people prefer to use the web for accessing the OTT content.
Wrap Up
You already now know why you are not able to access the services of Einthusan. There is nothing to worry about, as you now have the list of the best alternatives to Einthusan.
Perhaps, you already use a few of the media streaming apps which are already listed here. Let us know in the comment section below which is your favourite OTT.