Twitch has become the hub for gamers to live stream games. Since YouTube revenue is decreasing with time, gamers are moving to Twitch.
This service has expanded quite a lot since 2011, at first it was a gaming centered spin-off but in time has become a place for other types of content, such as Twitch Creative Communities, for creative purposes, Twitch IRL and Twitch Social Eating.
For several years, Twitch has replaced the TV in many people's lives and this should be a great reason for you to start your channel.
If you've already found your community and you're avid to try new things and share them, do some research and plans regarding your channel.
It's very important to start with the right mindset and be prepared for failure because any big streamer has started from the bottom and that's no reason to be ashamed.
Here are a few tips that any noob streamers should consider:
01

. Choose Those Trending Games

You already know that to make your channel popular you should start with some popular games. Find something that currently attracts the audience's attention such as League of Legends, Fortnite or World of Warcraft.

By choosing trending games you'll be more likely to gain the attention you need and will bring more viewers to your channel.

If you're in doubt and don't know which game should you choose first, visit the Twitch page and check which one is most wanted this week.
02

. Be Consistent

Every streamer knows that to attract viewers and maintain their number, you should stick with a regular schedule.

Choose some topics and stick with your plans. You can adjust your schedule according to your needs but don't forget about consistency.

If you don't respect your streaming schedule viewers will easily get bored and change the channel. Find the suitable sounds for when your streaming starts and while you're playing.

If you are tight with your budget you should check Melodyloops, it has an amazing list of tracks that you could use for your channel.

Be creative, keep the conversation going, learn the game rules so you can avoid situations.

At first, you won't have to be an ace with a game because many viewers are experts and they will love helping you and giving you the necessary hints. Don't forget to be funny and honest, gamers love to see someone as funny and creative as them.
03

. Find the Perfect Streaming Software

It is important to have a good program to stream with, there are plenty of free options such as Streamlabs OBS.

This amazing program will save all your graphics and layouts in the cloud and is super easy to use. You can also customize your stream look after your needs.

Also, Twitch has its streaming software, it looks amazing has some cool features that will come naturally from Twitch's software such as chat integration and visualization.

Learn how to adjust your stream preferences so it can fit with your internet connection, but first of all, you should gain some more streaming experience to understand the whole depth of the software.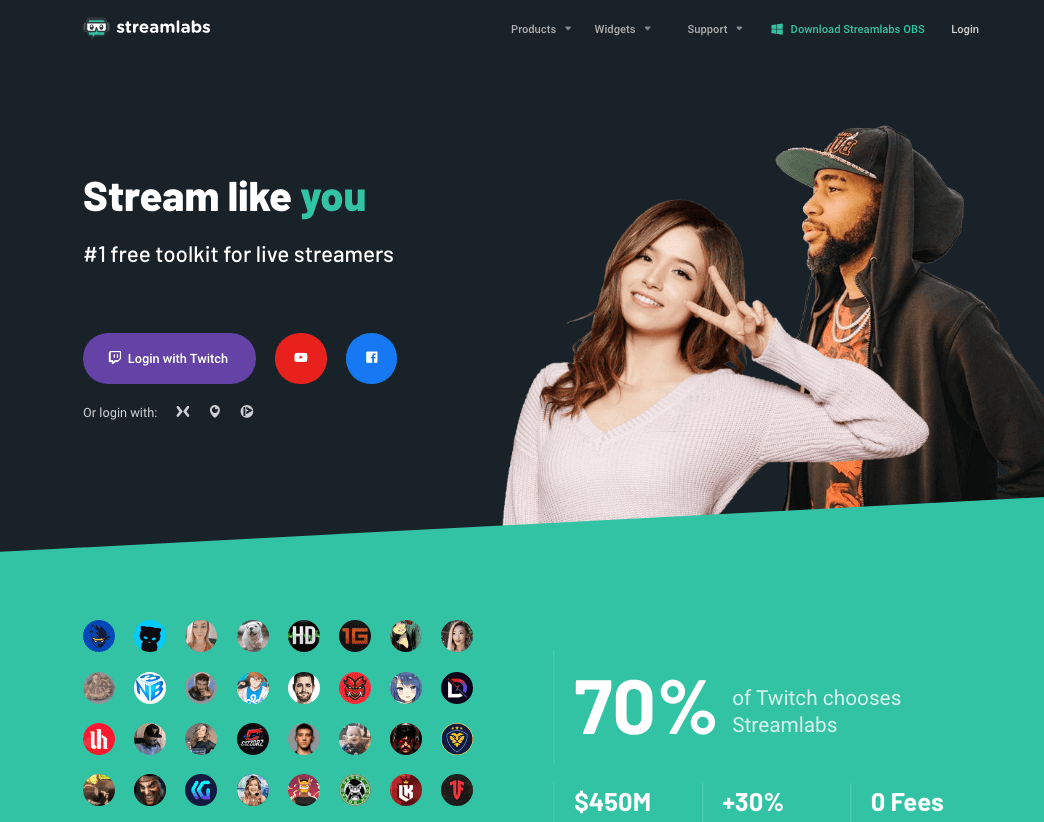 04

. Test Before Going Live

A lot of things could happen if you don't test your equipment before going live. It might be disastrous if you have to interrupt your streaming due to technical issues.

Test everything before, do it as you are streaming. Play the game, check your microphone, camera and the streaming software to be sure everything works as planned.

Do this as many times as you need until you get the perfect experience. As soon as you've received the much-expected results, you can go online and enjoy yourself with your community.
05

. Get a Sponsor

Another great way to gain some audience is to choose a sponsor. It can be anything from energy drinks to all sorts of gaming equipment.

If you can find a suitable sponsor, you can be an affiliate with Twitch. This will increase credibility while obtaining some income.

This might be just another solution to gain some viewers but it can be an extremely complicated process for some streamers and it won't guarantee you success.
06

. Don't Forget to Thank Your New Subscribers

Beside your well-planned schedule and the necessary equipment, the subscribers are the core ingredient of your channel. It's super important for you to learn how to care about your audience's opinions.

You can plan your schedule according to them or why not, ask them which game you should play next time.

They will love getting involved in your streaming. If you love playing songs during your stream, let them choose their favorite songs. Don't forget to show them that you care and thank your subscribers whenever you have the occasion.
07

. Use Social Media to Interact With Your Audience

You should keep in mind that mentioning your social media through stream will bring you more audience. Learn to interact with your subscribers outside your Twitch chat.

This might be a great way to announce them whenever you can't keep up with your schedule and announce your next live stream.

Many people are interested in what you have to say outside the Twitch community and this will bring you more viewers than you think.

Your audience will always feel like they're part of something big, therefore you'll receive tons of encouragement.

If you've decided on what your next stream should be about it means you already are on the right path.

Just be curious about the whole streaming process and learn as much as you can before sharing your face to millions of people. At first, it can be tricky, but you need to make mistakes to learn.

Before starting everything, you should be a part of the audience. Check the big streamers such as Dr Disrespect, Ninja or Cohh Carnage, see how things work for them, take some notes or even ask them if you need it.

There are plenty of things you can implement on your channel to make it great, you just have to be creative and patient.

If you need more viewers on your streams, then you can also try a Twitch bot