Online directories have been a popular and evergreen business on the internet. The users will always need the help of the online business directories to find a local business.
So, the importance of this business makes it evergreen and there is always a scope to create a useful local directory to help others in the locality.
We have already mentioned the best directory WordPress themes that you can use to create a directory site. However, if you wish to use a custom WordPress theme for your directory site, a quality directory plugin will do the trick for you.
A directory business can be a long-term profitable business, so you need all the resources to be dependable and top quality so that you have the support to handle your business.
When you select the best directory WordPress plugin, you need to make sure that the plugin is reliable, well coded, managed and updated regularly.
Also, as the directory sites receive a lot of traffic, you will need a strong hosting server to make sure that your site doesn't go down when it receives traffic spikes.
You can get hosting for your directory site the from WPEngine, one of the most reliable and managed WordPress hosting providers.
Without any further delay, let's have a look at the best directory WordPress plugins.
Top WordPress Local Directory Plugins
GeoDirectory
A quality WordPress directory plugin with over 10k downloads. This plugin is good enough to scale your business to millions of users every month.
The theme offers you all the important directly features that will mold with your preferred WordPress theme perfectly and make it a part of the setup.
It's a free directory plugin that can be downloaded from the WordPress plugin directory. However, there are a number of amazing premium add-ons that you can get according to your requirement.
Whenever we talk about a directory site, the search option on the site becomes very important. The GeoDirectory plugin comes with a great looking advanced search option that can be compared to the best directory sites in the business.
The plugin is very quick and responsive so that your users have a great experience on your site. You can use this plugin to create a local or multilocation directory site.
Main Features
You have a drag-and-drop form builder to create a front-end submission form.
Complete control over the front-end property listing option.
Over 15 custom widgets to choose from.
The plugin can be translated to other languages easily.
WordPress multisite setup compatibility.
Easy to use shortcode for all core features such as add listing, related listing, popular listing etc.
Google Analytics widget for the property listing owners.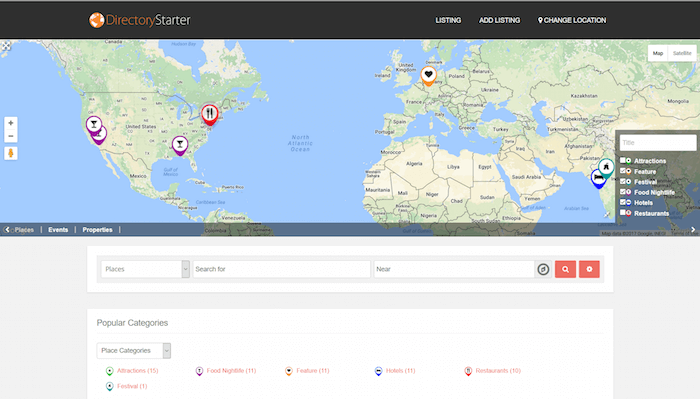 Sabai Directory plugin for WordPress
A feature-rich premium directory plugin for WordPress, the Sabai Directory plugin brings in all the important features to your site.
The plugin offers you advanced custom search option with keywords, category, distance, location, etc. It is a perfect plugin option from the admin as well as the users' point of view.
The users can easily add their listing in the site and upload the details, images to the listings to make it a lot more comprehensive.
Main Features
Amazing custom fields option with the visual customizer.
Bookmark option, listing, and image upload option.
Paid listing option with the custom listing package.
All important payment gateways, PayPal, Authorize.net, 2Checkout, Stripe.
Fully interactive map to make the listing complete.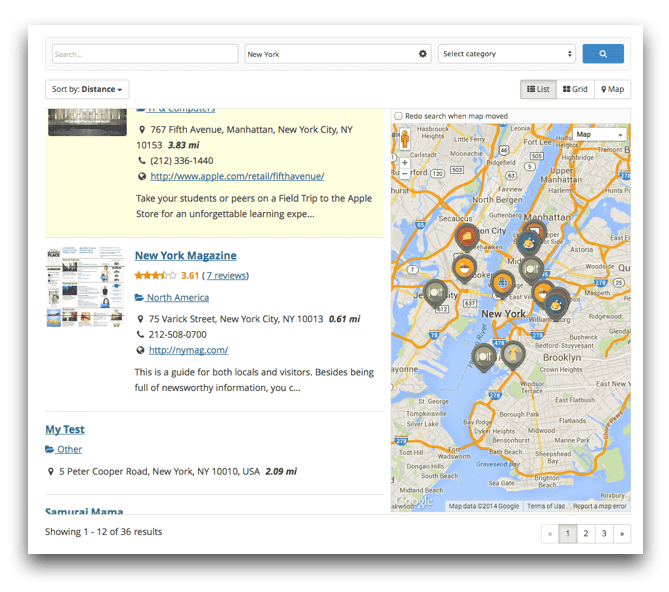 Directory Pro
A fully responsive SEO friendly directory WordPress plugin that you can use to create your business listing site.
With this plugin, you will be able to create a clean and beautiful directory site. Also, this theme works perfectly with the Visual Composer website builder to help you create a custom site.
Bidding system for top search ranking is one of the top features of this plugin. This option will help the users to pay the top bid and move their listing to the top of the directory site.
Main Features
Users have the option to contact the listing owners directly.
Bidding system to move the listing to the top of the search.
Fully responsive touch slider.
Create unlimited paid subscription packages.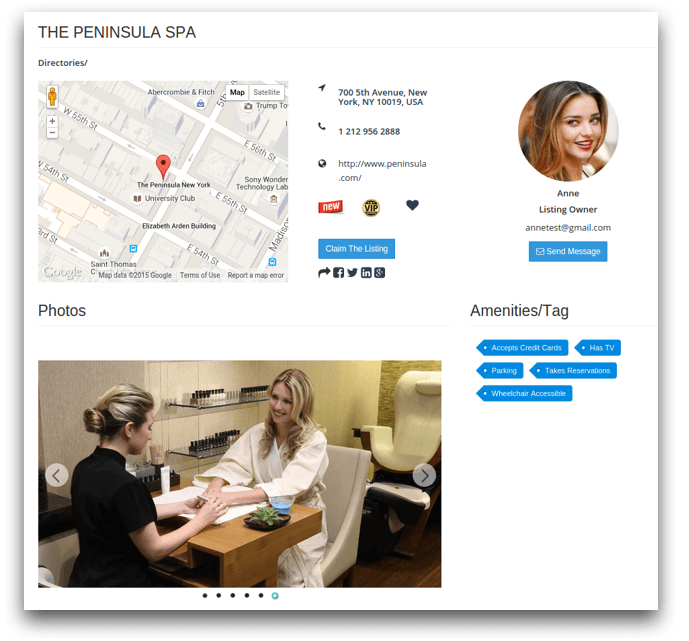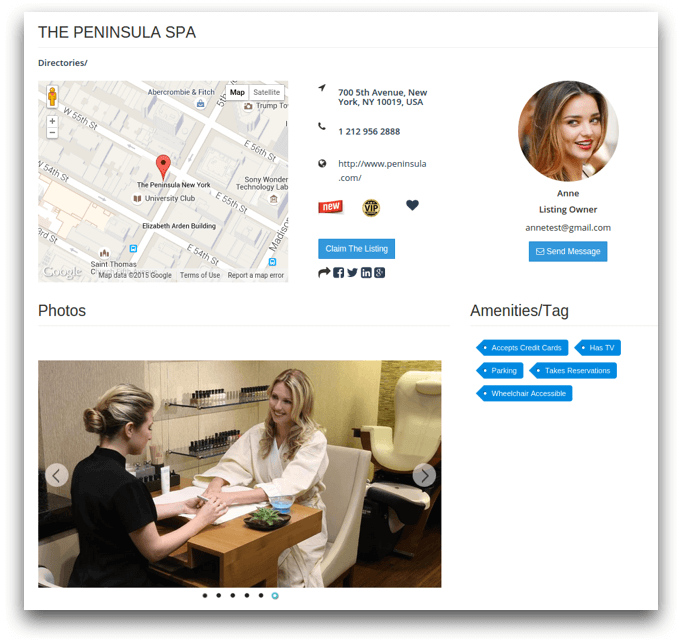 Business Directory Plugin
One of the most comprehensive directory WordPress plugins, the Business Directory plugin is promoted as one of the top Yelp clones.
You can use this plugin to create any kind of big or small online business directory. This plugin offers you easy monetization options and all leading payment options such as Paypal, Stripe, 2Checkout etc.
It's a translation ready plugin, so you can create an online directly business in many languages other than English.
Main Features
Good for a small as well as very big directory site
Mobile friendly interface and optimized for small devices
Easy option to translate to other languages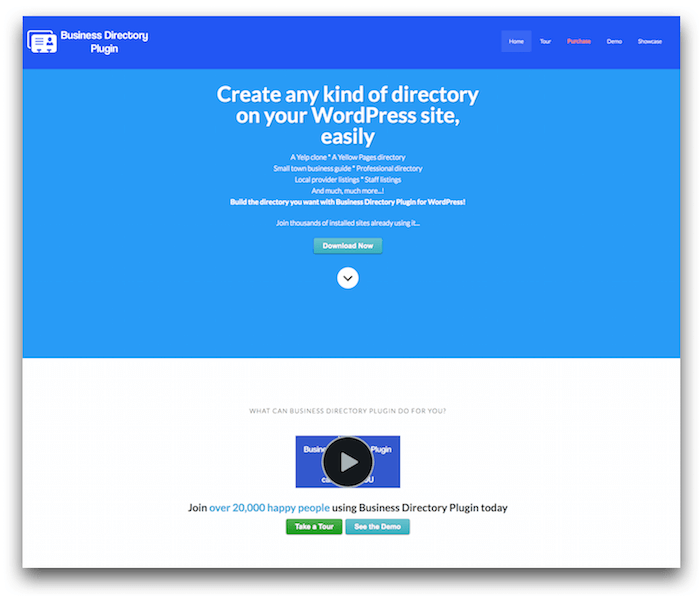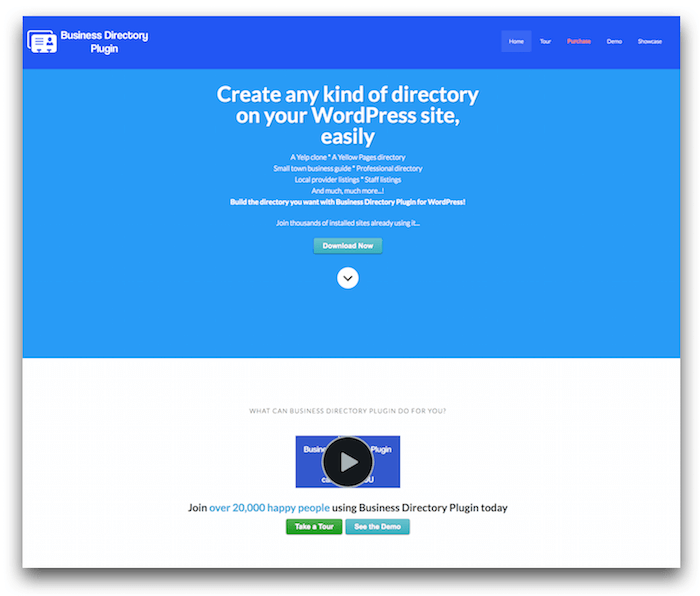 Web 2.0 Directory plugin
Another powerful premium directory WordPress plugin, the Web 2.0 directory plugin is loaded with amazing features.
The plugin makes great use of Google Maps, the users will be able to mark the business location with amazing interactive maps and markers icon.
This plugin will transform any WordPress site into a fully featured directory site. You can use this plugin to create any niche directory site such as a local business directory, car directory, restaurant directory, yellow pages site etc.
Main Features
Create listing packages & earn while user lists their business.
Option to restrict users from listing depending on package type.
Fully responsive and mobile-friendly layout.
Claim & renew old listing in the site.
A number of different search control options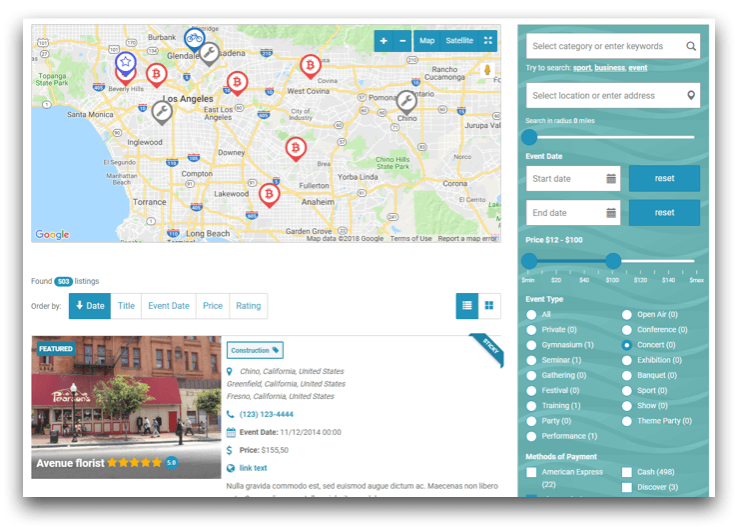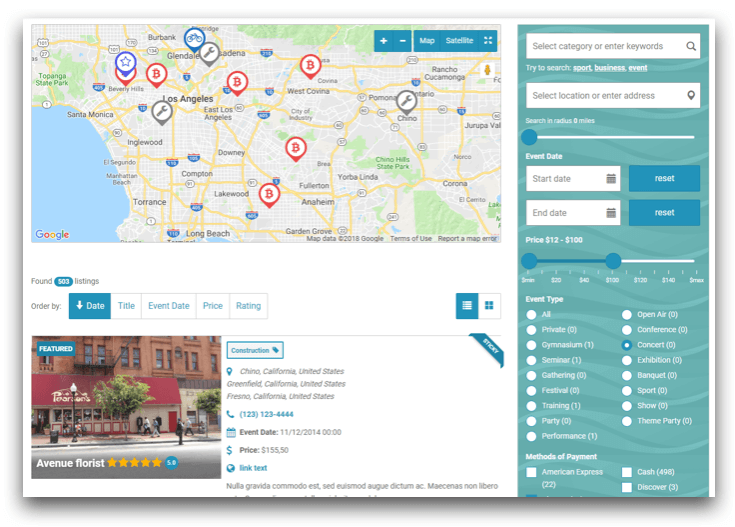 Business Directory Plugin
As the name suggests, this is a free business directory plugin for WordPress. You can use this plugin to create any kind of Yellow Pages site, a local business directory, Yelp clone site etc.
The plugin offers you completely customizable form fields, so you have the flexibility to change things around according to your requirement.
The plugin offers you the option to create multiple different packages and assign categories to the packages as you need.
Main Features
Custom payment system.
Fully configurable search filed options.
Useful custom widgets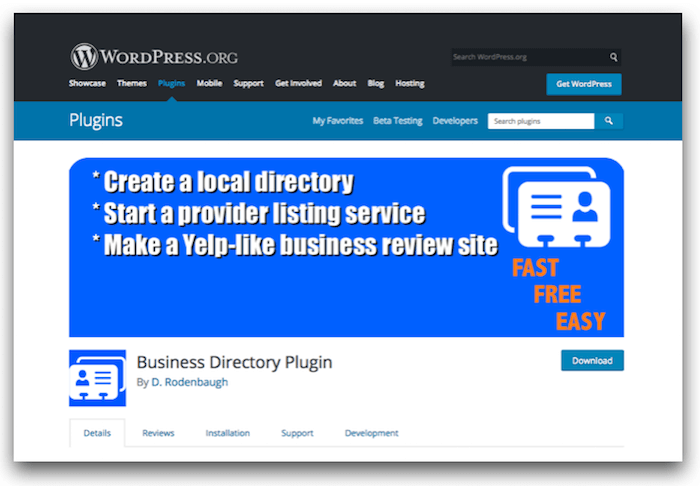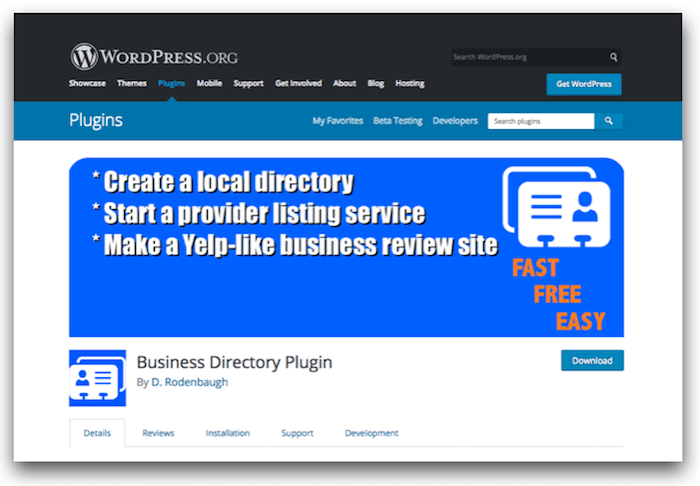 Advanced Classifieds & Directory Pro
As the name suggests, this is a plugin for the classified and directory sites. We have listed some of the best-classified ad site WordPress themes that you can use to create your own classified business site.
And if you wish to use any other theme and have the classified features on a plugin, you can use this plugin.
With this plugin, you can classify your business listing on an unlimited number of categories and subcategories.
The plugin gives you the option to add custom fields to the categories. And you also have the option to customize the search widget by adding any custom field to the search widget.
Main Features
Make any field filterable in the search widget.
Easy to use and manage.
Create an unlimited business listing categories and subcategories.
You have the option to monetize your site with the featured listing
Users can pay and make their listing featured.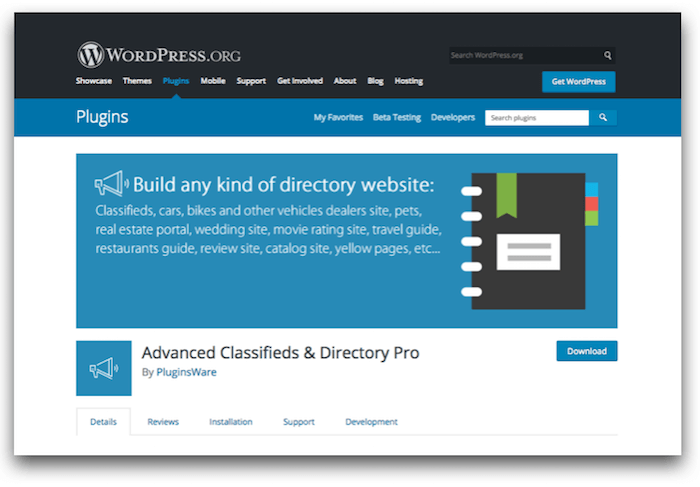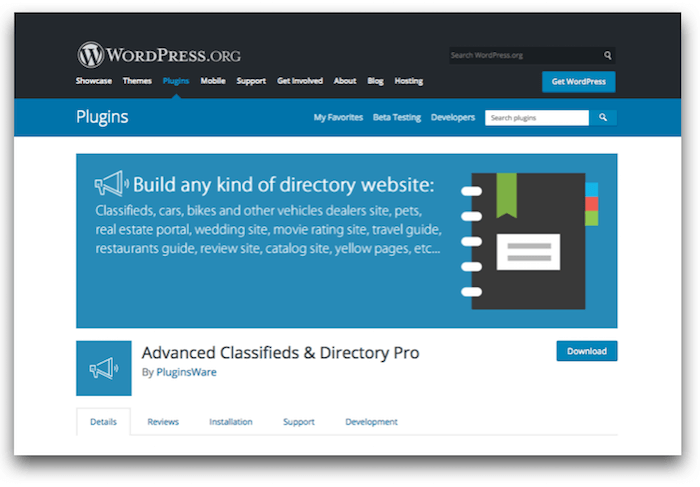 BePro Listings
An easy to use free online business directory plugin that offers you front-end business listing option or you can list it from the backend as well.
The users get the option to add multiple custom fields to add to their listing such as name, image, Google Map, address etc.
Main Features
Free to use plugin.
Perfect Google map integration.
Suitable for any kind of business directory.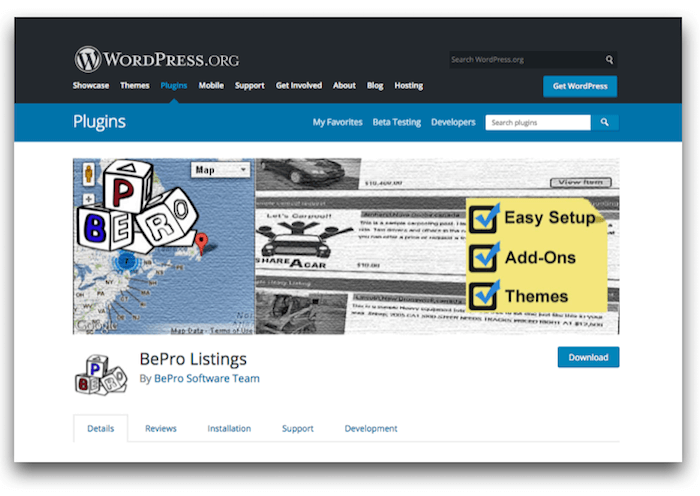 MapSVG
One of the most comprehensive Maps and directory plugin, the MapSVG will help you to create an interactive directory site quickly.
You can easily showcase custom objects on the map to help your user understand the business type on your business directory site.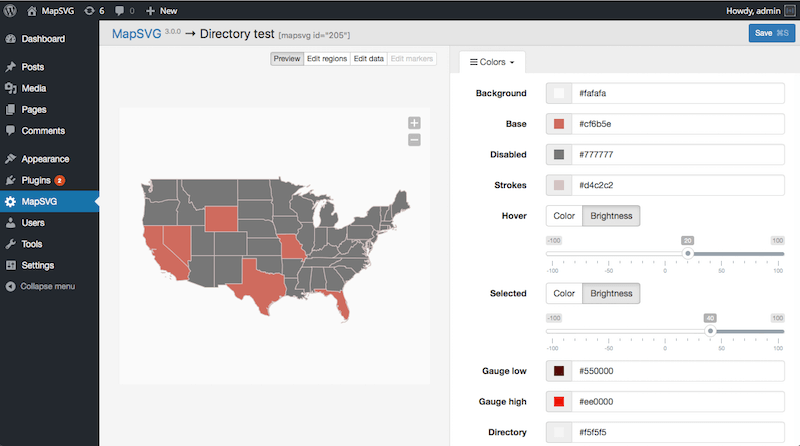 Name Directory
This plugin doesn't work as a traditional directory plugin but it works more like a glossary that will help you to outline a series of text information in the most disciplined way.
If you are managing a business site and wish to create pages with information related to your business, you can use this plugin.
You can create an unlimited number of directory pages with this plugin and place them on any post or pages with the shortcode provided by the plugin.
You can add multiple information with the plugin such as the submitter name, title, description, suggestion and more.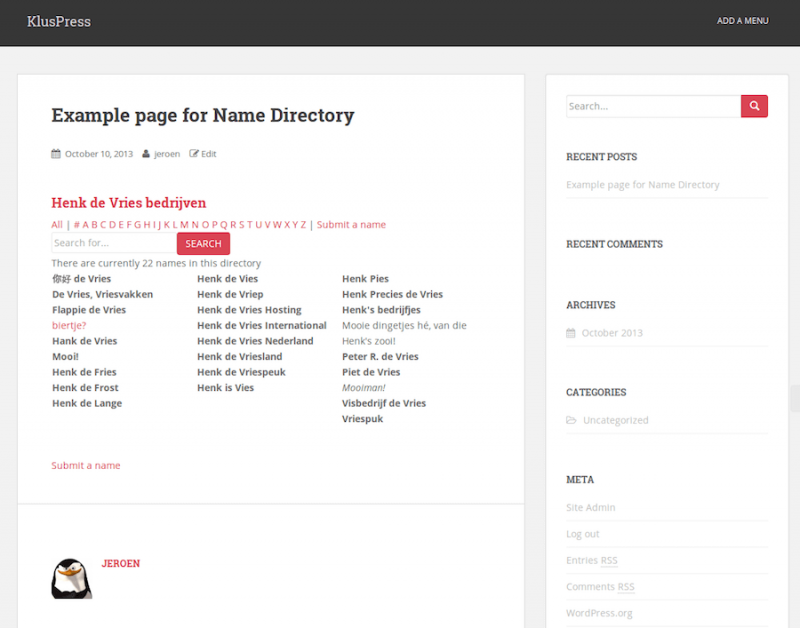 LDD Directory Lite
One of the easiest and quickest ways to create your online directory site is by using the LDD Directory Lite plugin.
You can get this plugin for free from the WordPress plugin directory and start using on your site.
Within minutes you can install the plugin and start accepting submissions from your site.
If you already have a site and you wish to add a free directory section to make the site more interactive and engaging, this is one of the best directory plugins for you.
This free plugin works with any WordPress theme and it will make sure that it is mobile responsive.
The plugin offers you easy to use shortcode option to add the directory section anywhere on your site.
Main Features
Free to use
Easy shortcode option
Mobile responsive
Customizable email notification option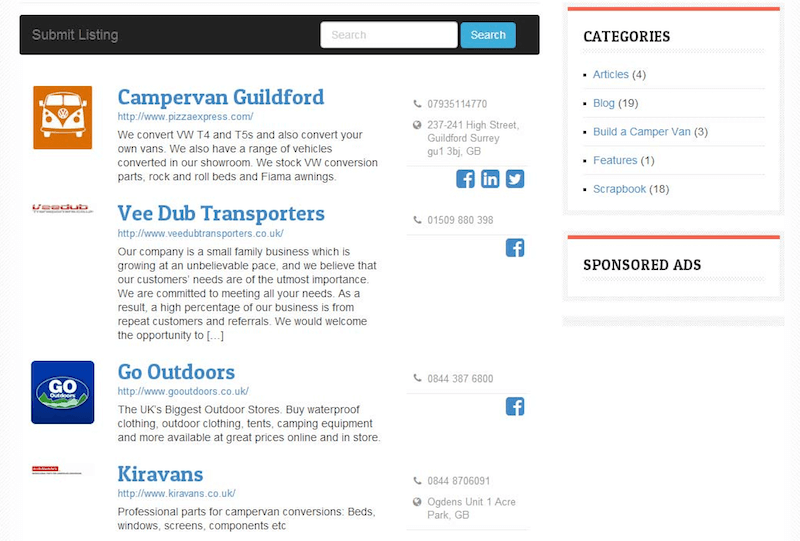 Directorist
If you are looking for a free solution to create your directory site, the Directorist plugin is a good option to go for.
The plugin is simple and easy to use and it has recently been updated with new features like a featured listing, monetization options, listing expiration and other important features.
The plugin is fully responsive, so your directory site will look great on all modern devices.
Main Features
Free to use
Add to favorites
Ready social media integration
Google Maps
Front-end user dashboard
And more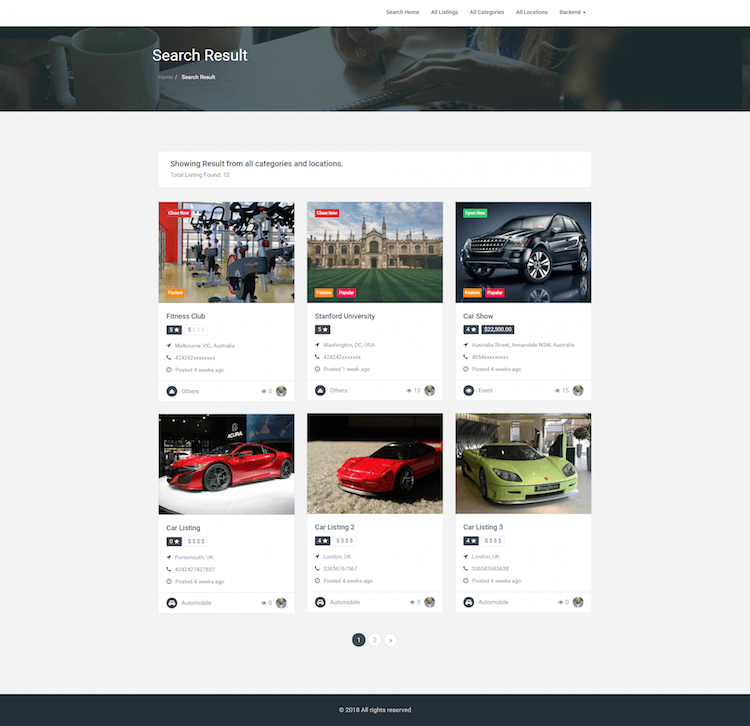 Final Word
As already mentioned, the online business directory is a great business model that can bring you recurring revenue every month once your directory site becomes popular.
We have included the top directory WordPress plugins from the available lot in this article. If you know any other plugin that is worth mentioning in this list, do let us know by using the comment form below.
[kkstarratings]