The best affiliate link cloaking WordPress plugins that will help you to mask long affiliate links with your own domain name making it safer from the SEO perspective.
You might be aware of the fact that affiliate links are somewhat ugly. And if the links aren't alluring, then your readers will refrain from clicking it ergo, you will end up earning less money.
Furthermore, long and clumsy links also hamper your SEO performance. So what's the solution to this problem?
Well, say hello to link cloaking. When you cloak an affiliate link, you are basically hiding your link behind another link which here is supposed to be shorter and clearer, which gains assurance from your readers.

Now, if you have your affiliate business is running on a WordPress website, then here are some awesome plugins to help your cloak the links. So without further ado, here are 10 Best Affiliate Link Cloaking WordPress Plugins:
Another important article that you shouldn't miss is the collection of custom affiliate marketing WordPress themes here.
Why Should You Cloak Affiliate Links
Now, this is an important question because this process will increase a little work for you; so why should you do that?
I am sure if you go for cloaking your affiliate links it will increase your work by one minute for each link but it is time worth investing. If you don't cloak the affiliate links, your site might get into trouble in the near future because search engine like Google doesn't like ugly affiliate links.
You must mask the affiliate links from the SEO point of view as well as user experience. For example, if you are writing about ten affiliate products in a post without cloaking the links, your site will look spammy and filled with advertisements.
The short and clean masked links will make those links look much better and it will never affect the SEO of your site. So, invest that extra one minute to make your site safe, here are some of the best affiliate link cloaking plugins that will make the process a lot easier for you.
Also, don't forget to check our collection of the best WordPress affiliate themes that will surely help your business grow.
Also Read: Best Amazon Affiliate WordPress Plugins
Best Affiliate Link Management Plugins
Thirsty Affiliate WordPress Plugins
Thirsty Affiliate is one of the most popular link cloaking plugins which gets used by most of the professionals. You get to manage all your cloaked links from a central panel.
It is also very easy to use, and you will be able to seamlessly create affiliate links, customize them, choose your desired prefix and then insert them into your pages, posts and comments as well.
Some notable features of the plugin include the option to open the links in a new window, integrate a 301 affiliate link redirect, include category slugs into the URLs, include Dofollow/Nofollow options and loads more.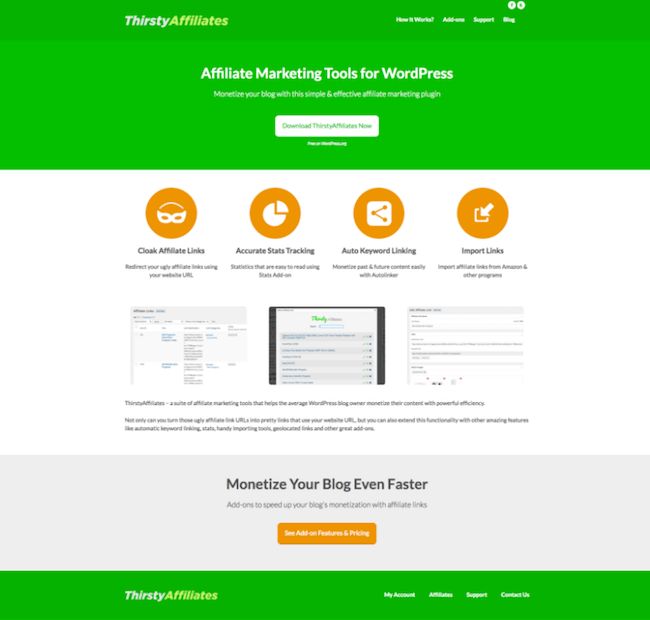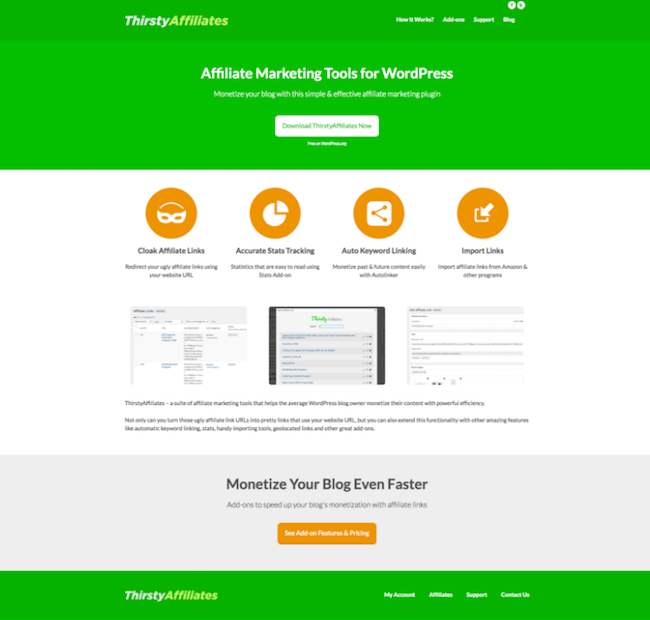 Pretty Link Pro
Pretty Link Pro is one of the most powerful and premium affiliate link cloaking plugins which not only lets you cloak your links but also helps to track, organize, share and test all of them.
All the links can be easily accessed through the admin interface. You will get options to group, sort, search and track the clicks on all the links.
Furthermore, there is the option to do automotive repetitive tasks. You can also automate the creation of short links for all your posts and pages and then automatically tweet a customizable message to as many twitter accounts as you want.


URL Shortener Pro
URL Shortener Pro helps you to – shorten URLs and cloak the links in the process. The plugin will also help you quickly remember the short links.
One of the highlighting features of the plugin is that it uses Javascript with all the redirects which mean you can add different functionalities to the redirects if you like.
Some of the different redirection methods used by the plugin include 302 temporary, 307 temporary and 301 permanent. You can also set the links to no-follow which will restrict spiders and trackers from following your links.
Other advanced features of the plugin include the ability to information on like devices, referer, OS, clicks, and tracks by URL.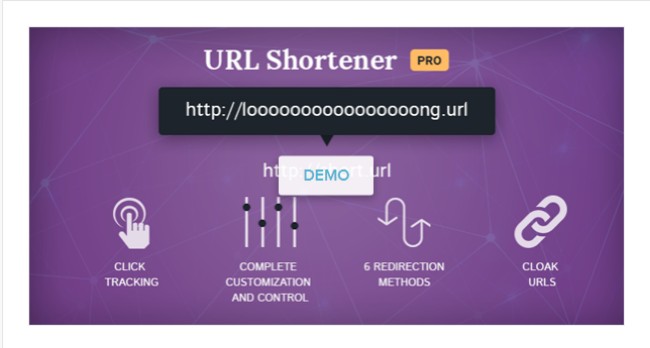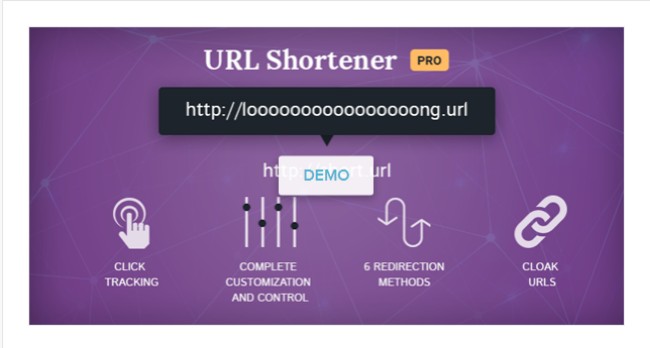 Affiliate Links WordPress Plugin
With Affiliate Links WordPress Plugin you will be able to shorten internal and external links as well as get details like the number of times a user has clicked on the link, what browser they are using, the respective language, the conditional redirects and much more.
With all these data, you will be able to personalize your redirect URLs to resonate better with your user base.
With the plugin, you can even use all your affiliate links as shortcodes, widgets, HTML/shortcode generators. Besides this, the plugin also comes with Google Analytics tracking, recent and popular affiliate links, link click stats and much more.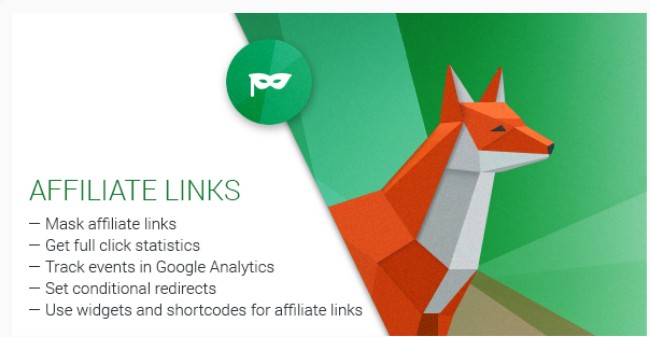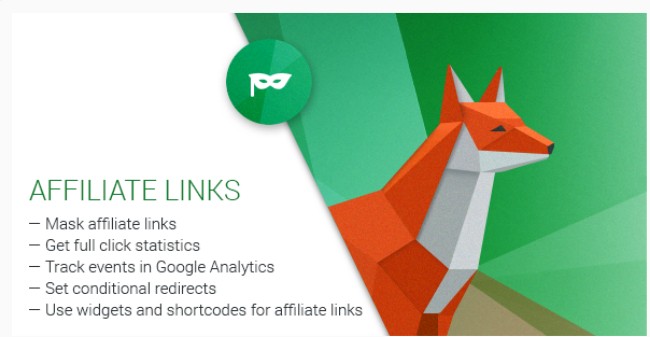 Simple Link Cloaker
Simple Link Cloaker is a free link cloaking plugin which you can use to convert long and repealing URLs into shortening links with your domain name attached to it.
This simple trick enhances the trust level between you and your readers to a whole new level. You will also get options that allow you to convert the links into 301 permanent redirections or 302 temporary redirects.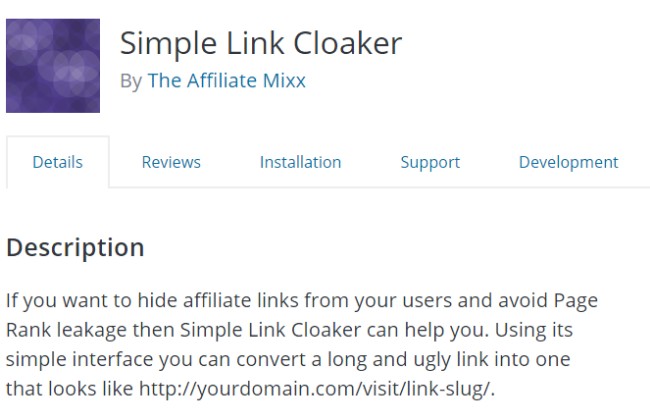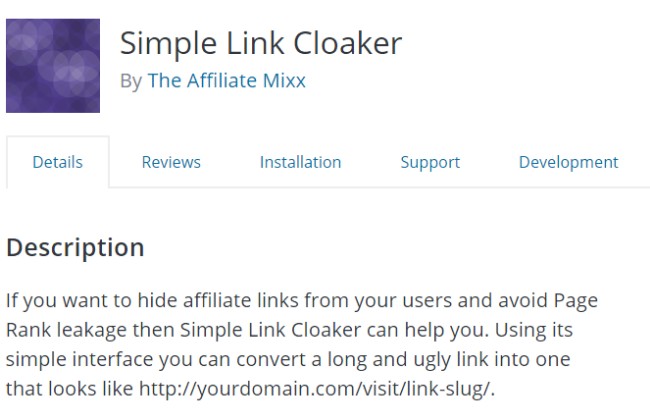 EasyAzon
If you are a regular user of Amazon affiliate market then this plugin is for you. Once you get this plugin, you can use it on the unlimited number of sites.
There are marketers who create amazing Amazon affiliate websites and flip it on marketplaces like Flippa to make quick money if you have the same business model you can use this plugin in all those sites once you purchase the license.
This plugin makes the use of Amazon marketplace a lot easier for you as an affiliate. This plugin will help you to add the no-follow attribute to the links, cloak the affiliate links, make them open in a new window as well as display product pop-up.
This plugin also helps you with the product localization, that means when a user visits your site from the UK, the user will be redirected to the UK store automatically.
And the best part is that you will get 30 days risk-free money back guarantee in case you don't like the plugin.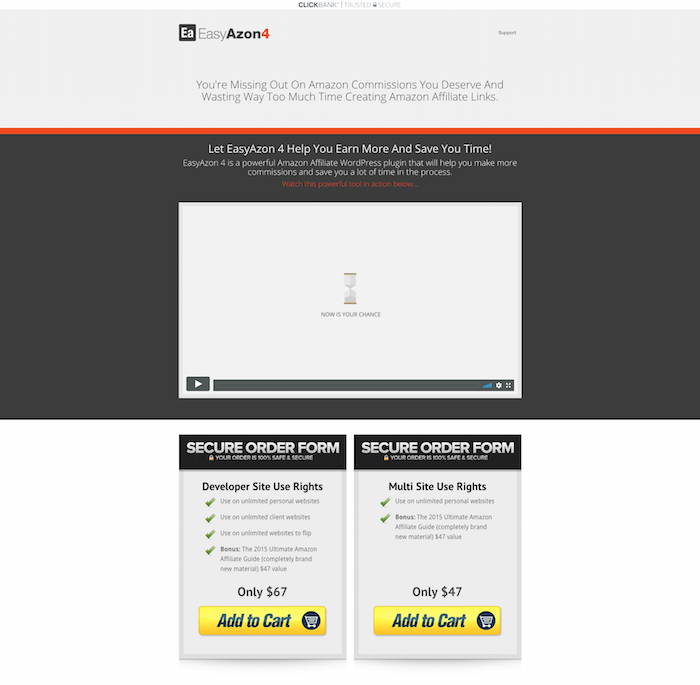 Hidden Affiliate Links
Hidden Affiliate Links is an appropriately named WordPress plugin which perfectly describes its function. The plugin can seamlessly hide all the affiliate links on your site and make everything clean and tidy.
It can also hide any link in your posts and help you redirect the links if you desire. There is also a handy feature which replaces the defined keyword with the affiliate links which can help to increase the click rate and therefore improve revenue.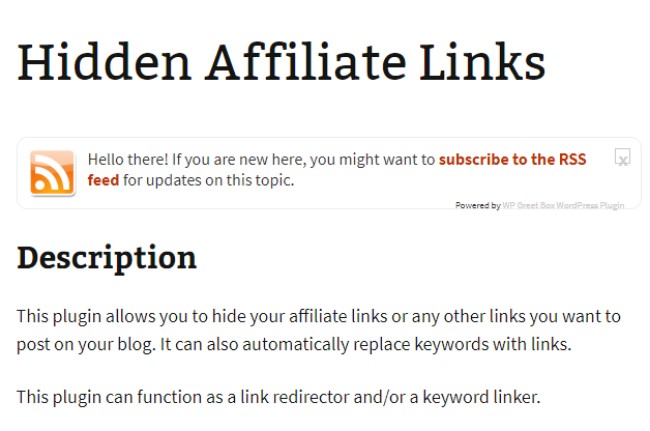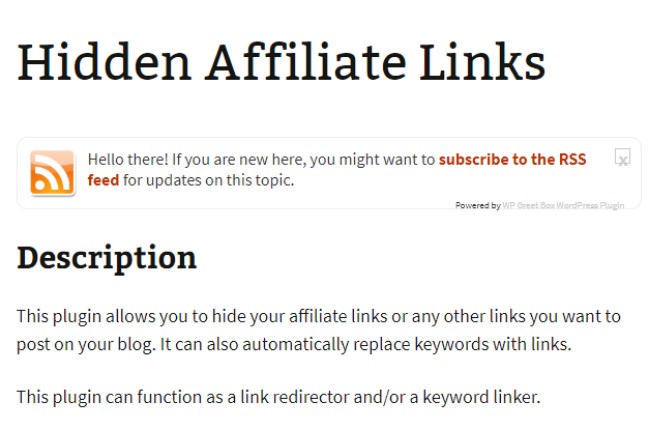 WP Cloaker
WP Cloaker is another free WordPress plugin which can help you create custom redirection types and also track each link for how many clicks it got.
Other than this, the plugin also provides information about the IP address and country of the visitors who click on your links. You can also use the plugin to categorize all your links, create custom permalink prefixes and much more.


Easy Affiliate Links
Easy Affiliate Links allows you to seamlessly manage all your affiliate links and shorten/cloak them right from one place.
Notable features of the plugin include the ability to easily access all your links in the visual and HTML editor in WordPress. You can also assign categories to your links, keep track of monthly or lifetime clicks, and also import affiliate links from XML.


WP Dynamic Links
WP Dynamic Links is a free yet advanced WordPress plugin for cloaking affiliate links. It can help you shorten the links as well as the track them and help you do split testing.
Some notable features of the plugin include the option to get click reports which let you know where all your clicks are coming from. It can also help you turn your keywords into links which is always a plus.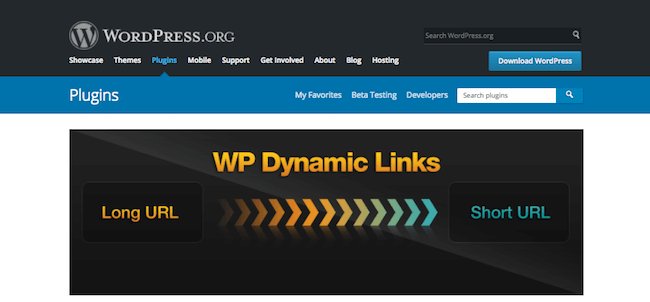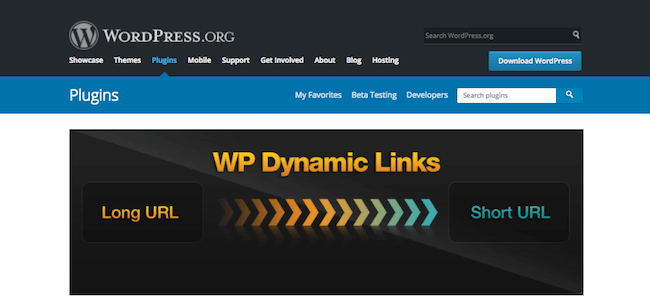 ClickMeter Link Shortener
With ClickMeter Link Shortener, you will be not only able to shorten your affiliate links but also get real-time analytics to help you track everything about your website visitors.
Some notable features of the plugin include an option to create cloaked links which contain your domain name. You can also track the links, get important details like referrer, keywords, parameters and so on, protect the affiliate code with advanced cloaking.
You will also get some advanced redirect options which will redirect your visitors based on nation, language, unique visitor, click cap, and even custom time frame.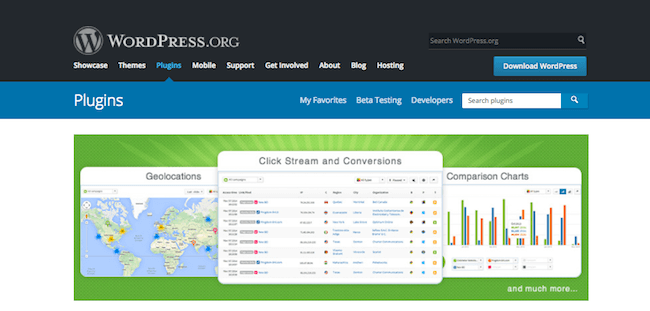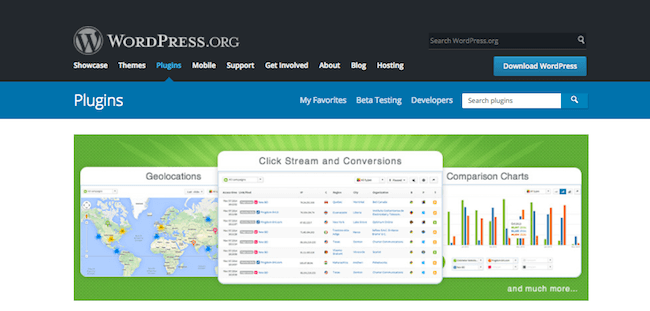 WP Wizard Cloak
A very simple and free link cloaking WordPress plugin that will help you to create optimized affiliate links on your site.
The process is quick and simple. Go to the plugin admin panel once you activate the plugin, enter the link that you wish to create like www.yourdomain.com/test-link and set teh destination URL which is the affiliate link and save it.
Though the plugin is free and simple, it does offer you all the important features like tracking teh number of clicks on your optimized URLs.
The plugin also offers you the option to create country-specific URLs and send your users from different countries to different URLs.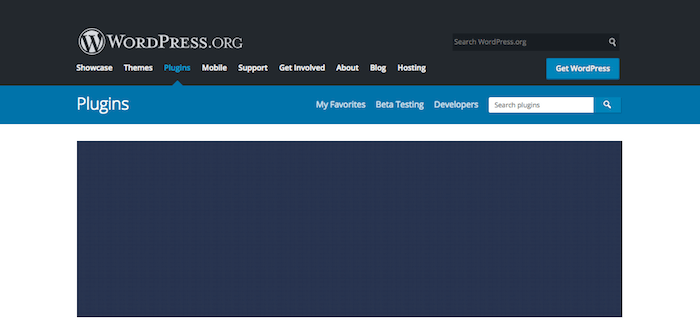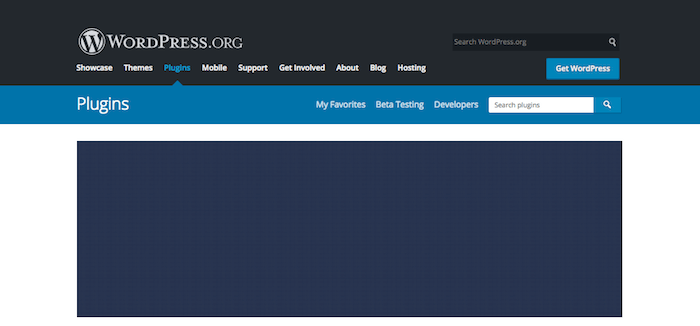 Simple URLs
A complete URL management plugin for your WordPress site. This plugin offers you the option to redirect any URL on your site and mask it according to your requirement.
After the installation, this plugin will add a new custom post type on your WP admin backend that you can use to create SEO friendly URLs on your site.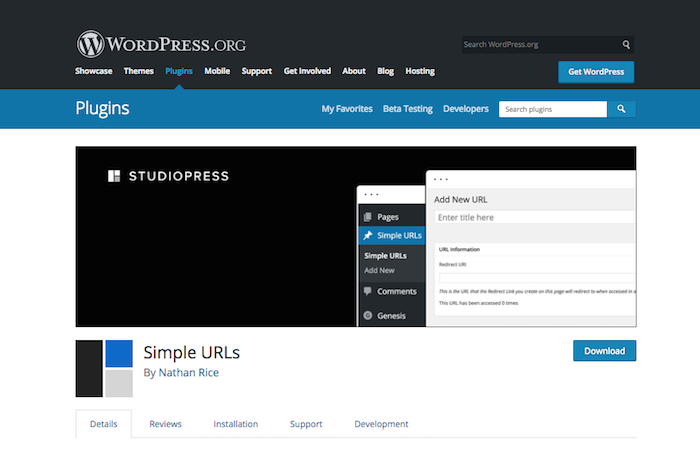 In Conclusion:
So this was our list the best affiliate link cloaking plugin for WordPress. Do let us know how you liked the plugins cited here and if you are aware of a few more powerful plugin that should have been mentioned then do be afraid to let us know in the comments section below.
Your contribution will also prove to be helpful to your fellow readers.