Are you looking for the best accounting software for small businesses? Then look no further, because you have landed on the right page.
Here we bring you a list of the best accounting software for small businesses.
Did you know that around 60% of small business owners feel they are not very knowledgeable about accounting and finance and around 64.4% of small businesses use business accounting software.
But if you start searching for the best ones over the internet, it is pretty much sure that you will be lost in the options available.
Worry no more! Because we bring you this well-curated list of the best accounting software for small businesses. Check it out!
01

. FreshBooks
Modern and upcoming businesses are moving towards cloud data storage and cloud computing. Based on the same technology is FreshBooks.
FreshBooks is based on cloud computing and is packed with a lot of must-have features.
Irrespective of the pricing plan you choose, you get to send an unlimited number of invoices, the ability to accept credit card payments online, track time and expenses, and also can automatically sync your bank account.
Also, the software includes a built-in inventory management feature, called the BarCloud app.
FreshBooks offers three different pricing tiers, namely the Lite plan, which costs $15 per month; FreshBooks Plus for $25 per month; and finally, the Premium plan costs $50 per month.
The price is a little bit on the costlier side, but keeping in mind the different features available, this is a pretty good option. So overall, for the one-person startups and small businesses who can compromise on some minor features, this is the one for them.
02

. Bonsai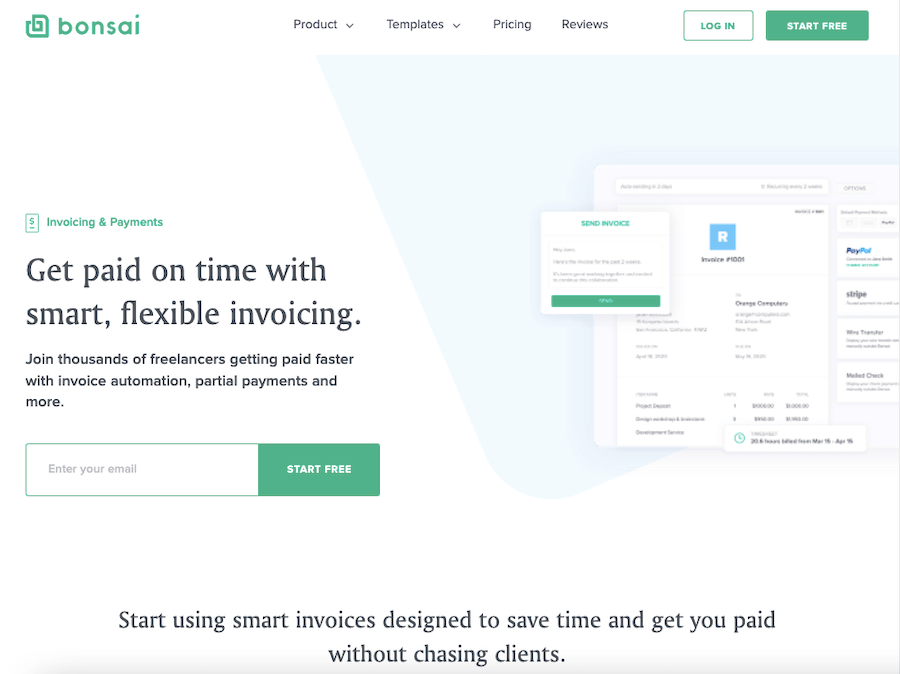 Bonsai is the perfect accounting software for small businesses and freelancers. It is easy to use and has all the features you need to manage your finances efficiently and achieve profitability goals: invoicing & payments, accounting, taxes, and even banking.
You can easily track income and automatically categorize expenses to maximize write-offs for bigger tax returns. It enables you to get paid faster by creating professional invoices in seconds with global payments and automatic reminders.
Besides financial management, Bonsai offers a complete client and project management solution. It includes contracts & e-signing, proposals, CRM, client forms, scheduling, time tracking, and many other features for running and growing a business successfully.
Very easy to use: Bonsai is designed to be easy to use, even for businesses with no accounting experience. The software is intuitive and user-friendly, so you can get started quickly.

Simplified financial management: Bonsai's automated expense tracking helps you easily monitor and categorize these expenses, ensuring accurate financial records and simplifying tax preparation. Combining expense management and online banking in one platform you can have a unified view of your financial transactions.

Time & money saving: Bonsai includes all the features you need to manage your finances, projects and clients in one place, so you don't need to use any additional tools to manage your business. By automating all your processes, you can spend more time helping your clients while Bonsai takes care of the rest.
Bonsai Pricing
Bonsai offers three plans to choose from, the Starter plan starts at $17 per month, including 7-day free trial.
03

. QuickBooks Online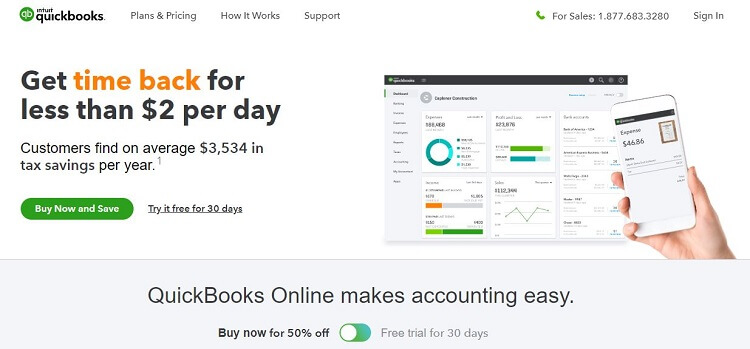 One of the simplest and easy-to-use small business accounting software in this list, QuickBooks Online has recently added some amazing features such as the addition of project management and invoicing tools.
The first thing you notice about QuickBooks Online is the interface. It is pretty simple to use and uses charts & graphs to display expenses and financial up-downs.
You get features like Multiple Users, which means that you can have your employees on board with you and also, you can set user-access levels for them.
You can also keep track of all your expenses and payments. You can secure payments from different bank sources, PayPal, Square, and credit cards.
The dashboard offered is amazingly simple and explanatory. You get all the profit and losses explained right on your dashboard.
The pricing plans start from $75 and go up to $235, which is quite a respectable amount for small businesses.
But features like Custom User Permission, Enhanced Custom Fields, and Accelerated Invoice make this software a good choice.
04

. Sage 50cloud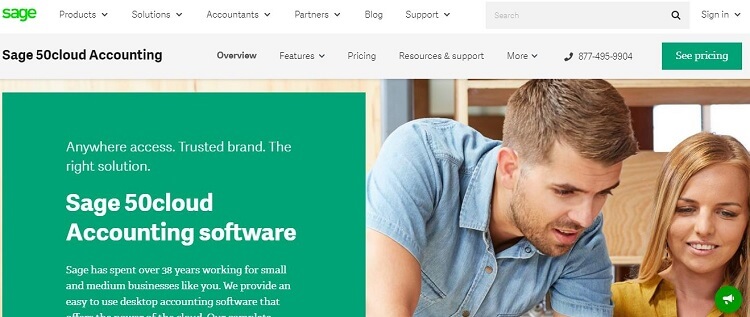 Sage 50cloud is quite a famous and well-known name on this list. Sage 50cloud works amazingly quite perfectly for small, as well as for medium-sized businesses.
Administrative tasks and inventory management will seem very easy by using Sage 50cloud.
This accounting software is packed with a ton of unique features, such as easy invoicing, simple job costing, secure remote access for employees and accountants, and so on.
One interesting feature of Sage 50cloud is the Sage City 24/7 online community, which is comprised of tons of industry experts and certified partners, that are there to help you resolve all your questions and queries.
The pricing plans start from $50.58/month and go on till $197/month for a single user.
So if you have a single person run a small business, then this is a great choice for you.
05

. GoDaddy Bookkeeping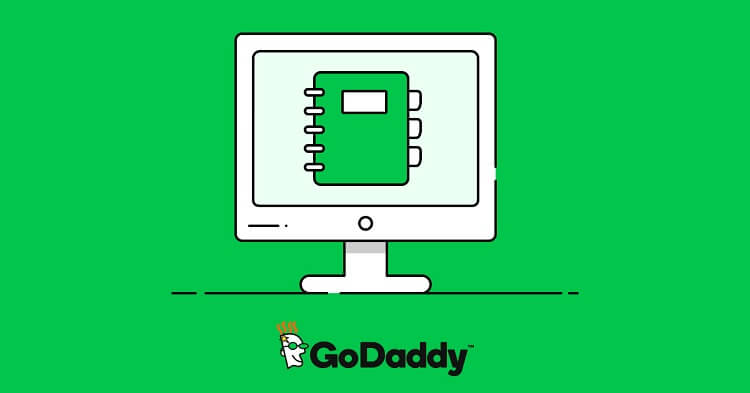 GoDaddy is a name quite famous in the online web hosting industry. GoDaddy also offers a complete business accounting solution for small-sized businesses.
GoDaddy Bookkeeping is a great option for low-cost and medium-sized businesses, which need to import data from platforms like Amazon, eBay, Etsy, and your banking accounts.
Some amazing and easy-to-use features available are invoice generation and calculating tax estimations.
One notable feature here is the integration of the above-mentioned website, which means in case you are selling or looking to sell your products on the above-mentioned website, then the accounting and management of sales and profits become very easy.
You will have all your data and information at a commonplace.
The pricing plans start from $4.99/month and go up to $14.99/month. Overall a great option for small and emerging businesses.
06

. Kashoo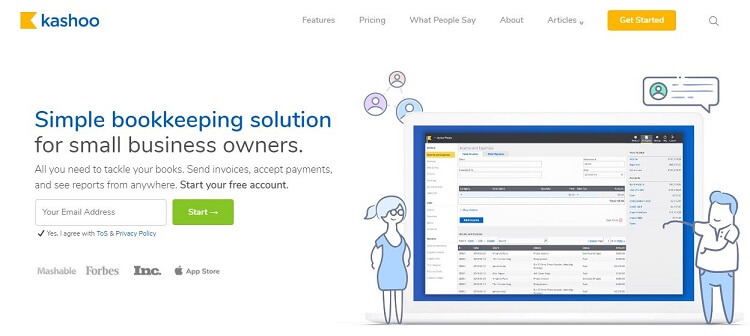 Kashoo aims and targets small businesses that are trying to create an effortless accounting environment for small business owners.
Quite a perfect solution for businesses looking for a simple-to-use tool for small business accounting, as the software is packed with a ton of simple-to-use features.
Kashoo helps you track your expenses and enables you to customize invoices and offers a lot of in-depth analysis of your transactions.
You can also integrate Stripe and BluePay integrations to accept credit card payments.
Kashoo also provides real-time bank feeds to help you keep up with your ongoing banking transactions.
The pricing plans start from $16.65/month and go up to $199.95/year. You can also choose the "Pay As You Go" feature, which is offered for only $29.95/month.
Overall keeping in mind the number of unique features and real-time bank feedback, Kashoo deserves a try.
07

. Xero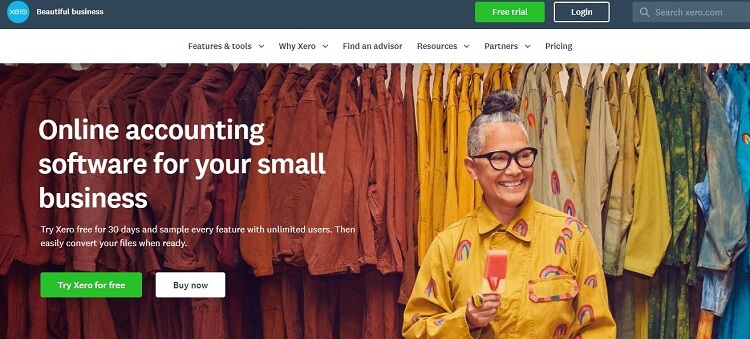 Xero is a great solution for single-person small businesses and for the ones which are done on the go. Xero is packed with all the must-have features such as invoice generation, tracking inventory, and creating purchasable orders to attached bills.
The best part here is that you can run this accounting software directly from your mobile phone and tablets pc's.
Features like financial performance reports, can be sent straight to you and can you can connect your bank accounts directly into your Xero account for a seamless and smooth experience.
You can also go for the premium payroll services, which you can have installed through Gusto, coming in partnership with Xero.
The pricing plans start from $9/month and go up to $70/month, which is quite cheap compared to others.
Overall a great choice for small businesses.
08

. Zoho Books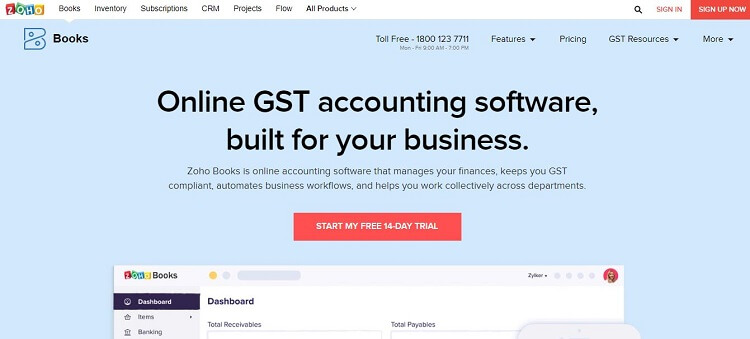 Another very simple-to-use software for accounting and Zoho Books is quite popular for its user-friendly interface and for a simple layout.
It is packed with a ton of amazing and must-have features, such as business workflow automation, and collective work sharing, and also consists of other important financial practices.
One of the key features of this accounting software is that it offers over 40 applications to be integrated into your software, so as to increase your productivity and functionality.
No need to buy any third-party inventory management software, as Zoho Books is packed with an inbuilt inventory management application. You can keep track of your inventory levels, set records, and can also organize your inventory as per your choice.
Talking about the pricing plans, there are three pricing plans available, namely the basic plan, which costs $9/month, the standard plan, costing $19/month, and a professional plan which costs $29/month.
09

. OnPay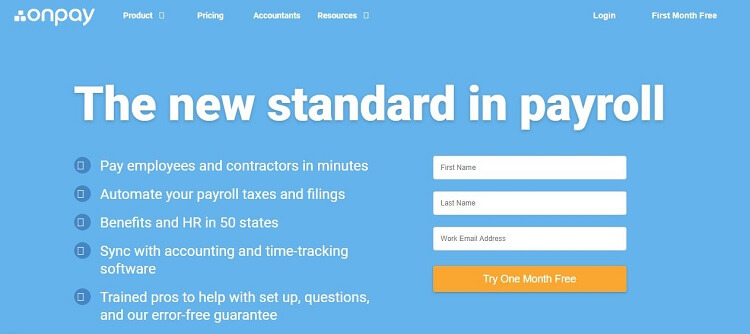 If your small business or a single person running a business needs a simple streamlining payroll system, then this is the one for you.
OnPay is quite a popular name in the feature-packed, simple-to-use accounting software for small businesses. You get some amazing features like automating tax filing, payment data entering ease, and so on.
Unlike others, the software also manages your health insurance, compensation insurance, and 401(k) with super ease, so that you can focus on your business.
The pricing plans start from $36/month and include a $4/month charge for each person you add to the program.
Overall not a bad choice to try, if ease of use is your sole purpose.
10

. FreeAgent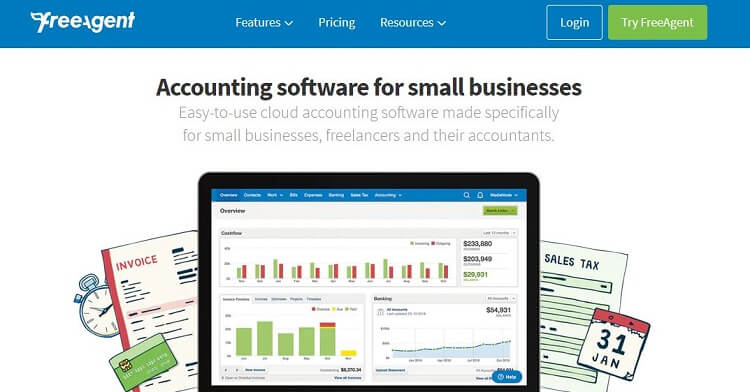 FreeAgent is very detailed and easy-to-manage accounting software, packed with a ton of amazing features. You get a lot of features to estimate your expenses, create invoices and track your work time.
FreeAgent allows you to incorporate and connect your bank account to your accounting software dashboard, which helps you to easily keep a track of your income and expenses.
FreeAgent allows you to use a 30-day free trial, which is not offered in other software.
The pricing plans start from $12/month for 6 months and then costs 24/month, which is not a bad choice at all.
11

. WordPress Accounting Systems
Apart from cloud software, web-based solutions are also emerging for small business finance management. Take WordPress, for example, it's used by 35% of websites in the world. So it only makes sense to develop web-based and online accounting systems.
However, the number of Accounting solutions on WordPress is extremely few. And those that exist, are not very feature-rich, it cover all financial aspects of a business. One plugin, however, is making its mark amongst WordPress users as a complete small business manager.
WP ERP is the first WordPress-based ERP solution, with a full-fledged built-in Accounting system as well as a CRM and HR manager. Combined with the benefits of a WordPress platform (open-source, web-based, customizability, top-notch CMS), WP ERP stands out because of its comprehensibility & ease of use.
The Accounting module deserves special attention because it's designed intuitively for non-accountants. So even beginners find it easy to get started. Recently, it has developed a host of new functions allowing business managers to perform everything accounting – from basic to advanced functions.
Some of these features are – overview dashboard, accounting statements, setting up the financial year, creating quotations, receiving & make payments, unlimited bank accounts, opening balance, preloaded accounts, sales invoices, create products, unlimited users, partial payments, journals, taxes rates, agencies, zones & categories.
In addition, WP ERP's Accounting module has paid add-ons like Payroll, Workflow, WooCommerce, Payment Gateways, Asset Manager, Inventory & Reimbursement.
The plugin has 10,000+ active installations with a 4.5-star rating and is continually updated. For user convenience, WP ERP Accounting comes in 3 tier plans based on the stage of the business, and there are discounts & sales going on all over the year. It can also be purchased along with the CRM and HR Manager module as Complete ERP.
12

. Myob
If you are doing business in a country like Australia, you are probably aware that the tax department has made it mandatory for the business to use Single Touch Payroll to report tax.
With Single Touch Payroll, you can report all your payroll data to the tax authority so that you don't need to go through the process during the financial year-end.
Myob is a platform that offers a number of accounting-related services in a country like Australia. They have a Single Touch Payroll stem that makes the payroll reporting process very simple and easy.
With Myob system, you can use the hassle-free tax management system just for $5 per month.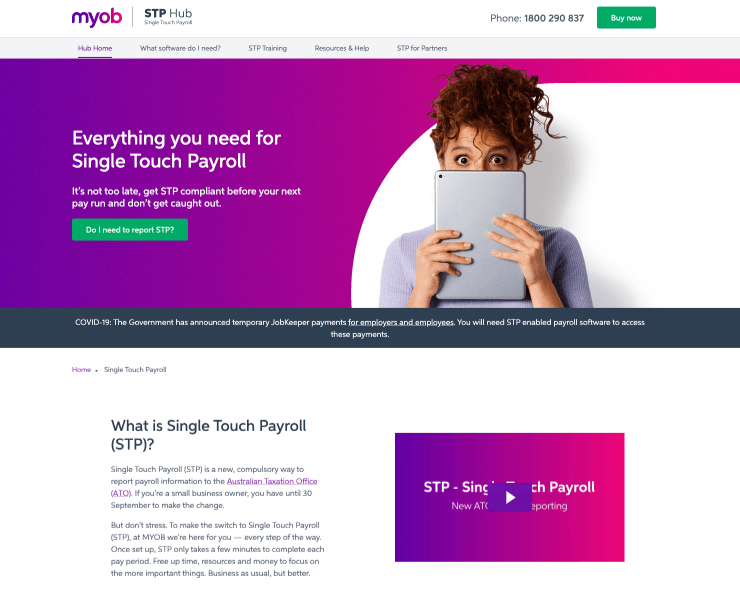 13

. Wave
Wave is a cloud-based accounting solution that helps small businesses manage their finances. The software offers a range of features including invoicing, bookkeeping, and financial reporting. Wave Accounting is easy to use and provides a free trial so you can try it out before committing to a paid subscription.
The Wave Accounting software Top Features:
1. Online accounting: Wave Accounting software is cloud-based, so you can access your accounts from anywhere, at any time.
2. Invoicing: The software makes it easy to create and send invoices, and you can even set up recurring invoices for regularly billed services.
3. Bookkeeping: Wave Accounting software can help you keep on top of your finances by tracking your income and expenses.
4. Financial reporting: The software provides a range of financial reports, so you can see how your business is performing.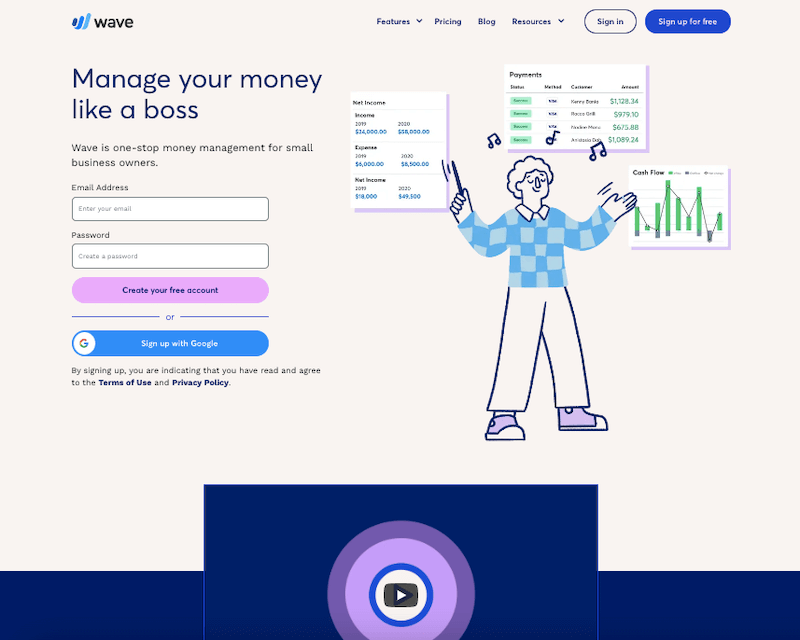 Final Word
So this was the list of the best accounting software for small businesses. Choose the one according to your needs and do let us know your choice in the comments section below!
Don't miss this article about the best chatbots for small businesses.
Further Read: