Right from its launching and presenting to people, Gutenberg was a controversial and disputable WordPress update.
New editing experience and revolutionary blocks approach have scared some of the WordPress community, since all got used to the old, tried, and tested TinyMCE, which they have been using for years.
In this article, we will explain to you what is the reason why some people don't want to work with Gutenberg and don't even try to give it a chance. Keep on reading!
Apple of Discord in the WordPress Community: Gutenberg
It is always very hard to understand the reaction of your interlocutor, especially hard it becomes when you talk on a controversial topic, and extremely hard it is when your conversation takes place on different Internet forums. As you understand, Gutenberg belongs to the most complicated case.
As WordPress is directly used for the Internet, it becomes the first place to start a discussion. Apart from the Internet forums, there are some big events like WordCamp, where people also talk about Gutenberg and WordPress.
BUT, to express your criticism and negative thoughts on the Internet is much easier, since no one will "punish" you. That's the reason why many people write rude comments about some things to which Gutenberg also belongs.
There are at least three camps of people which you can find on WordPress forums and platforms.
The first type is – "I am just reading the comments and upvote them". These people do not participate in discussions and as they are just looking for a proper solution to their problem.
The second type is – "I like to write negative comments, and don't accept another point of view". This is the type of person who likes to express their opinion in a rather rude way.
They tend to be selfish and aren't open at least to try to understand other people's point of view.
The third type – "I share my truthful opinion with other people, and open to learning new". These people are always trying to help others in solving different issues, give meaningful advice and like to implement innovation into the work.
Unfortunately, people tend to share their negative experiences much more often than positive. That's the reason why you may find so many adverse comments concerning Gutenberg right after its launch.
Let's dive deeper and understand who wrote those comments.
As WordPress Gutenberg was announced, it was a truly beta software; it was rather buggy and had many things to work on.
And the first people to try Gutenberg were developers. They saw all the issues that Gutenberg had on its FIRST stage, made the decision, and wrote so many negative reviews that they have even prevented other people from trying it.
But this is not the only reason for so many negative comments. Coders, who were the first ones to test Gutenberg, were focusing on the inner functionality of Gutenberg, i.e. how easy it is to switch into code mode, they wanted to be sure it won't break, and will perfectly interplay with their plugins and themes.
This is how the default WordPress theme 2020 looks like right in the editor: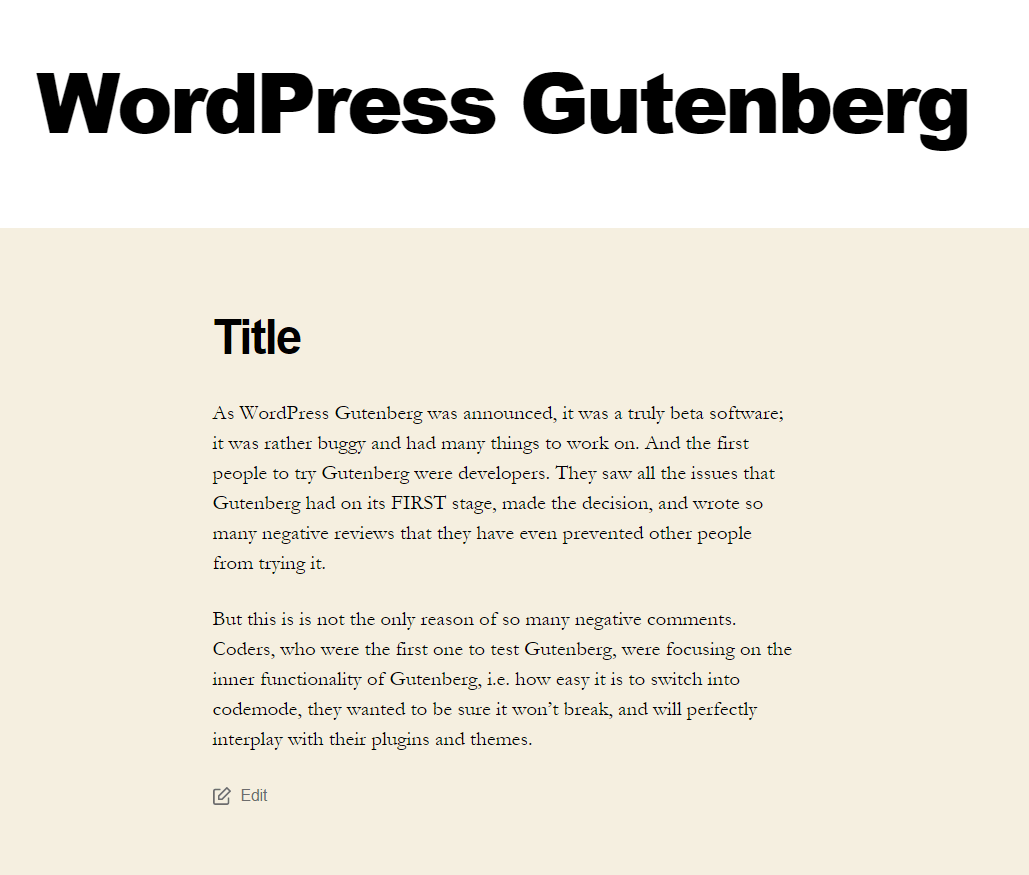 But you can always switch it to the Code editor if needed (Ctrl + Shift + Alt + M):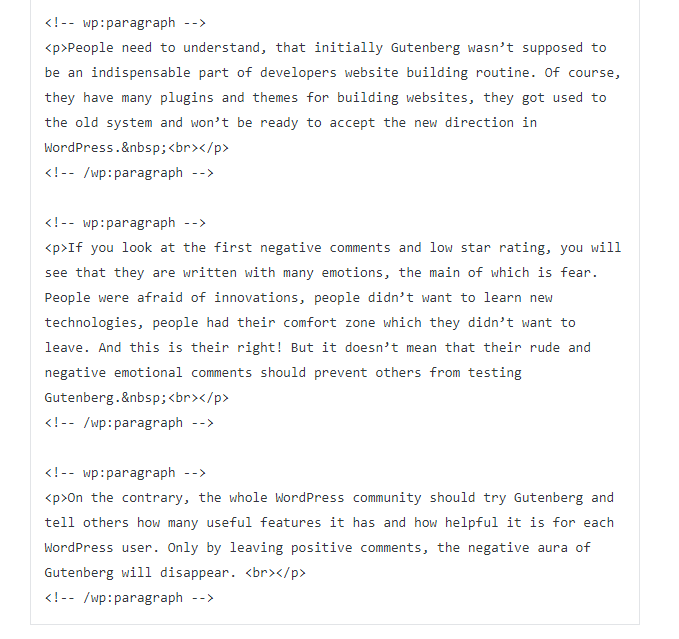 People need to understand, that initially Gutenberg wasn't supposed to be an indispensable part of developers' website building routine.
Of course, they have many plugins and themes for building websites, they got used to the old system and won't be ready to accept the new direction in WordPress.
If you look at the first negative comments and low star rating, you will see that they are written with many emotions, the main of which is fear.
People were afraid of innovations, people didn't want to learn new technologies, people had their comfort zone which they didn't want to leave.
And this is their right! But it doesn't mean that their rude and negative emotional comments should prevent others from testing Gutenberg.
On the contrary, the whole WordPress community should try Gutenberg and tell others how many useful features it has and how helpful it is for each WordPress user.
Only by leaving positive comments, the negative aura of Gutenberg will disappear.
What is One Thing People Forget About Gutenberg
As WordPress is a voluntary platform, there is no sponsoring and additional funding. Subsequently, WordPress doesn't spend hundreds of thousands of dollars into the promotion of Gutenberg.
Have you ever seen a Google Ad of Gutenberg? Surely no. That's another reason why Gutenberg wasn't that popular at the very beginning.
Luckily, nowadays one can see more and more new positive comments on the Gutenberg page, which is a vivid proof of people willing to learn new and that they are ready to accept this new stage of WordPress history.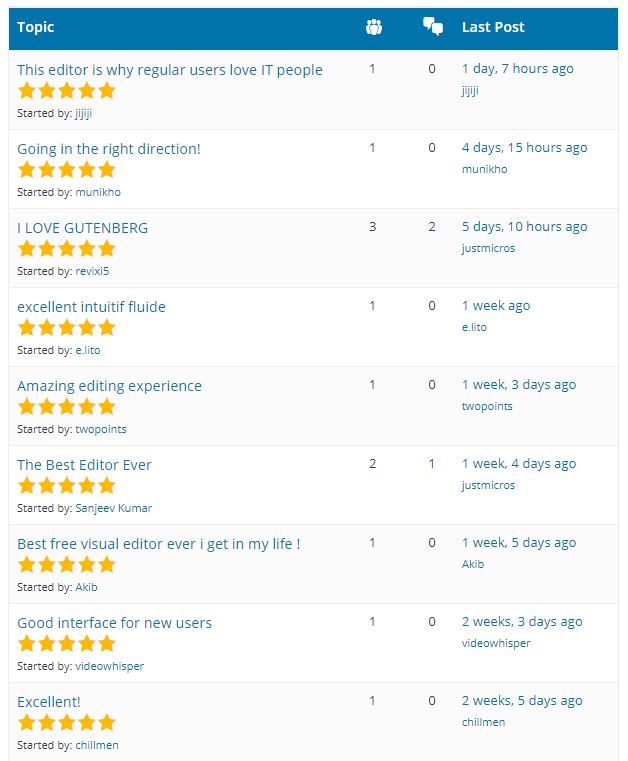 What Benefits Does Gutenberg Give Us?
Nowadays, one may find Gutenberg very helpful for building websites from scratch.
Let's look at Gutenberg's advantages closely.
WYSIWYG Editor
WYSIWYG abbreviation stands for "what you see is what you get", and Gutenberg users work directly with the content layouts and see how it will look like on frontend.
This feature saves a great deal of time and provides users with almost the final result they will get at the end.
Accessible to All
WordPress 5.0 is open for all people regardless of their level of knowledge. Whether you have just installed WordPress, or have been using it for some years – all people will understand how to deal with Gutenberg.
It is user-friendly and very intuitive, which makes it easy to use and start creating real projects right away.
Draggable Content Elements
Block is a single content unit in the Gutenberg editor. Imagine that you want to change the website layout, move some galleries lower, add more new titles etc.
With Gutenberg such adjustments are just a matter of a few clicks. The new editor allows you to drag the content to whatever place you want on your website.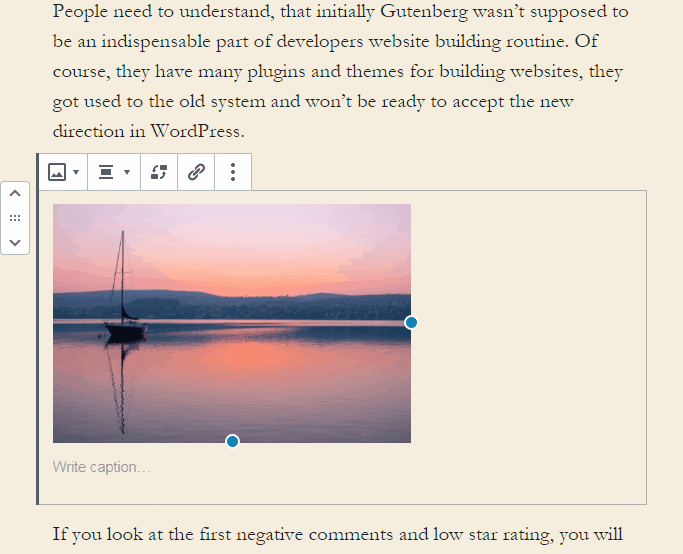 Integration Between Blocks
What's cool about Gutenberg is that each block may exist as a separate unit and as a part of another block.
For example, with the help of the Gutenberg Group block, you may create full-fledged layouts by adding a few blocks into one big parent block. That opens wide opportunities, and lets users create some unique and interesting layouts.
Fullscreen Editing Experience
As you know, the Gutenberg editing area has sidebars with lots of tools and options. This makes it easy to see what exactly you want to use for certain elements.
However, you may hide these toolbars by enabling the fullscreen mode, which lets you fully dive into the workflow and really understand how your visitors will see the website.
Keyboard Shortcuts
Shortcuts greatly ease the work with content, especially when there are tons of articles to post – shortcuts become very handy.
The cool thing about Gutenberg shortcuts is that they are very similar to the ones that are used by Windows and Mac users.
You may not only edit the content of the blocks with shortcuts but operate by blocks, navigate and switch between editing modes.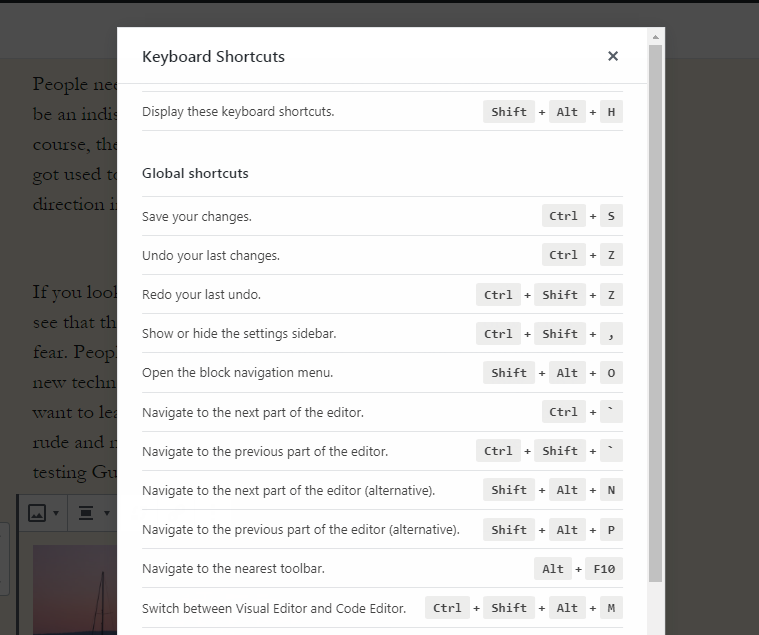 Reusable Blocks Option
If you have some certain section which appears constantly in your projects or in multiple pages, you may create a reusable block where you insert all the needed content and elements.
This feature is also very time-saving and lets you devote more attention to the other important blocks.
Mobile-Friendly Blocks
Gutenberg blocks are responsive to any device, including mobile phones. That means, if you accidentally want to edit your WordPress website while driving home in a subway or waiting for a bus at the station, you can easily open WordPress and start editing your content.
Constant Updates and Improvements
Since December 6, 2018 when Gutenberg was for the first time introduced to the public. there have been 22 updates and fixed hundreds of bugs, as well as added new cool features.
This proves that Gutenberg always changes, and is open to hearing the real feedback from people, and add some missing features so that they can fully enjoy the editor.
Free Add-Ons
One of the biggest advantages of Gutenberg is the variety of Gutenberg add-ons that are freely accessible on wp.org.
Gutenberg add-ons are some special plugins, which provide you with additional unique blocks that the Gutenberg editor misses. More than that, some add-ons providers went much further and enhanced their plugins by template library, so that people can choose directly from premade layouts.
Getwid Blocks plugin is one of the free WordPress blocks add-ons with 40+ free unique and feature-rich blocks, and it has up to 40 premade templates which you can easily add to your website.
Here is a live example of a theme built solely with Getwid.

Conclusion
As you can see, the negative reaction of Gutenberg is based on fear of change and innovations, even if these changes provide major help to developers.
It was the first Gutenberg release (beta-version) that received the biggest number of bad reviews, which were written because of bugs and flows the Gutenberg developer team had to fix.
Over time, all the issues were resolved and the number of negative comments also stopped to grow.
Now people have a ready-to-use tool for managing their websites easily and with a big pleasure. Both developers and general users look absolutely differently at Gutenberg, as they now understand how revolutionary it is.
Gutenberg content editor has built an absolutely new and fresh experience for all WordPress users.
It became more accessible to people who only started working with WordPress, furthermore many big WordPress developing products companies have also supported this new direction and contributed to it with Gutenberg add-ons.
At this moment, we can surely say that many people have changed their minds as Gutenberg and its editing opportunities. The number of positive reviews gets only bigger with each day, and there are more themes and plugins developed especially for Gutenberg.
It is super easy to start a blog website on WordPress, and Gutenberg is the most perfect tool for this, as content managing becomes a breeze, and the website speed remains extremely fast.
Gutenberg has become a solid and confident reputation and already gained some followers, which even states that Gutenberg may replace some big page builders.
Well, it really can, but let's remember that Gutenberg is a content editor, and in its functionality has greatly succeeded.
What is your attitude to Gutenberg? Share your thoughts with us in the comments section.