A list of Websites that pay writers. Content writing is a hot freelancing business these days, so why not make some money when you have tons of opportunity.
Nowadays, writing has become an attractive alternative for earning money. But, before plunging into the industry and thinking about saving the bucks, one must know the ways of earning it.
Do you want to start a freelancing career? Then why wait anymore. Start writing now and get paid instantly. I know it sounds easy to say that. But if you are a beginner, you might not know where to start.
Over here, we are listing the websites that do not fret to pay their writers justly. Check out and choose. The payment is sent via PayPal, so create the PayPal account first before getting on with the publications.
Tips to Get Published on these Sites
This list won't help you much if you don't have the skills to approach and write beautifully. Here are some tips to help:
Get Paid For Your Content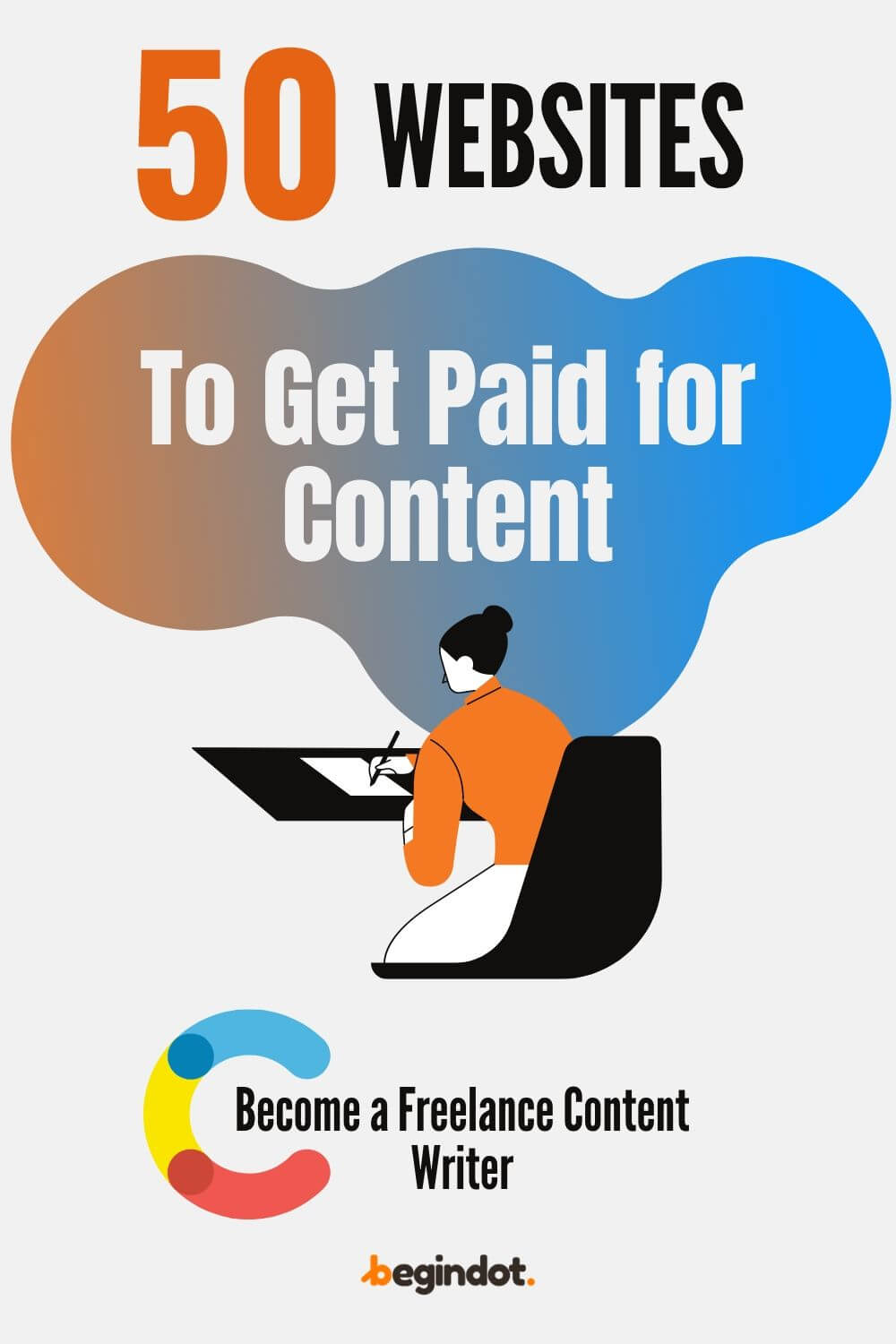 Do note that we did our best in creating your list; however, do your due diligence before applying on these sites and confirm the fees, every time.
Link-Able
This is a site that offers SEO services to build traffic by creating high-quality links for the clients. This is done with the help of content writers who can create useful links with guest blogging and content submission.
If you are good at creating content, you can join the platform as an author and start working on projects to make money.
How much money you make depends on different factors such as the domain authority of the site where you post. You have to find guest post opportunities and post on those sites.
You can make upto $1000 for posting on a high authority site.
Watch Culture
Here is another site to make good income as a content writer. Watch Culture is an online magazine based in UK and get traffic millions of traffic every month.
You can become a regular writer on the site if you are interested in creating content around entertainment niche. They cover TV, music, films, and other related topics.
To get your content approved for publishing, you have to make sure that your content is unique and of great quality.
Once your content is published, you get £0.50 for every 1,000 views for the first 28 days. As the site gets millions of traffic, you probably be earning really good amount for your content.
dotdash
dotdash was previously Aboutcom which is one of the leading content publishing networks in the world. You can make good money on this network as a freelance writer.
However, you need to be really good to write for a site like about, you need to be skilled enough and have expertise over the topic you write.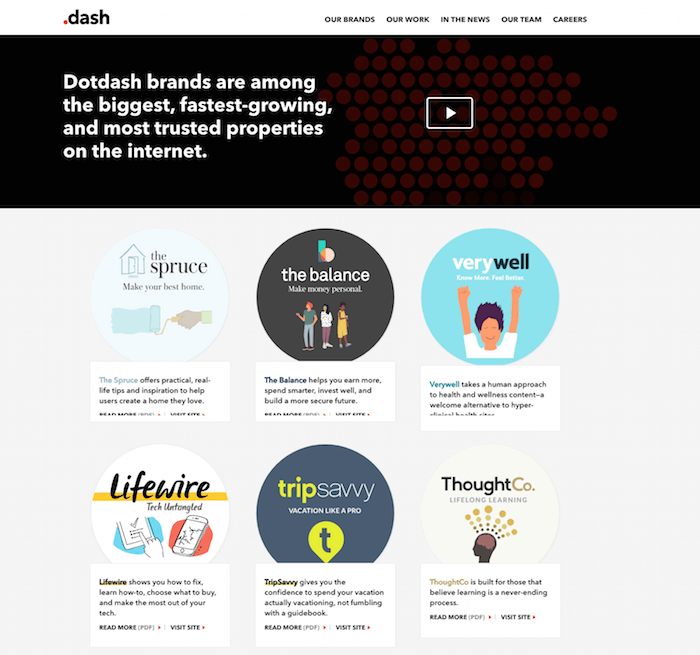 Listverse
If you are good at creating interesting list posts with over 1800 words, Listverse is the site to make some money. This is one of the viral content type websites that create interesting content regularly, do give it a try and more $100 per article.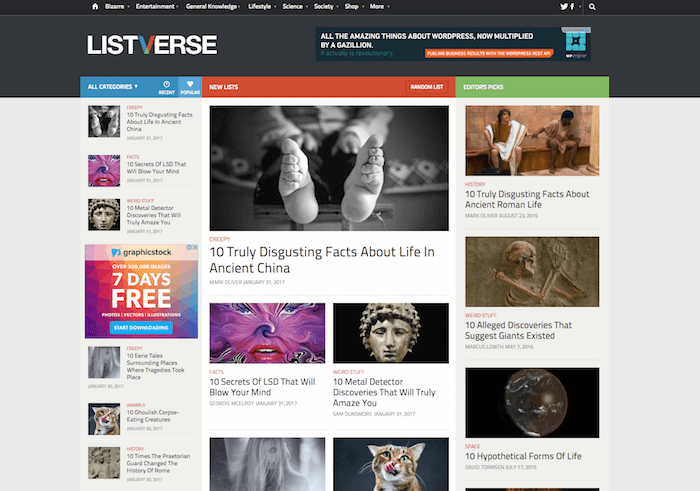 Good.is
The motto of the website is live well; do good, centering this concept is the overall content of the Good website. The site accepts a variety of articles about how to survive and thrive when the situation is adverse. Amount paid per post is $150.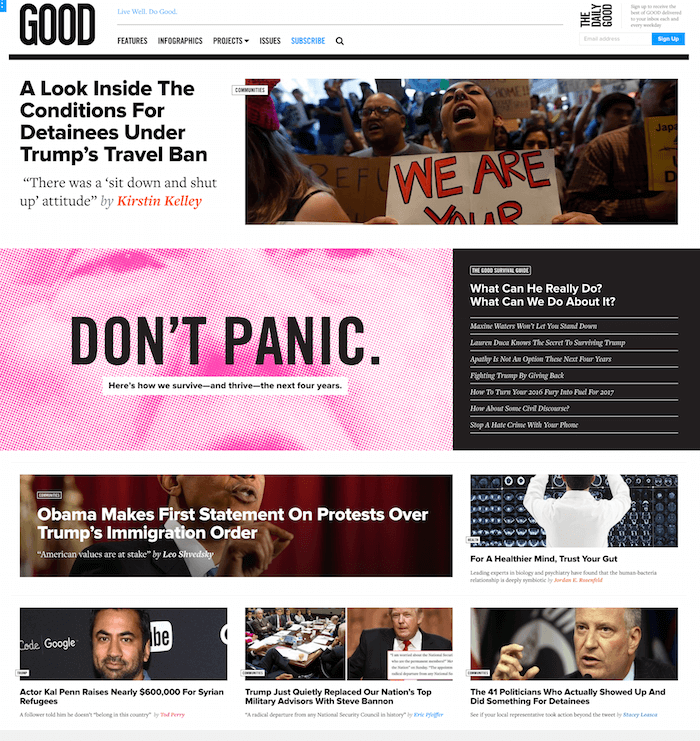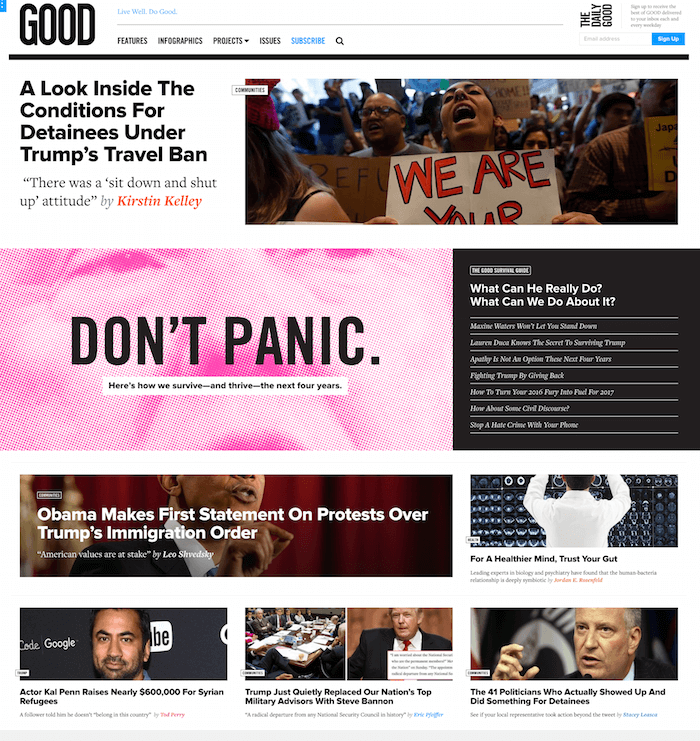 Cracked
Cracked cracks all the boundaries and becomes a potpourri of sarcastic and humorous representation of ideas. This is a gossip site, where you will find all types of spicy topics, and so you are also free to share your opinions via this.
They agree to pay from $50 up to $200 per articles and are also free about the writers introducing their own-self.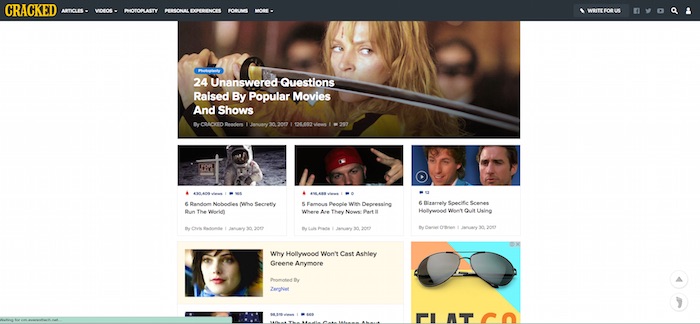 Site Point
Site Point is perhaps the oldest website on the Internet dealing with the field of web development. They want writeups about SASS, CSS, HTML, new web technologies and latest innovations. They want to present articles that entertain and enlighten people simultaneously.
Their pay division is different. For articles, they pay $150, for tutorials they give $200 and for in-depth posts with a lot of matter are paid $300.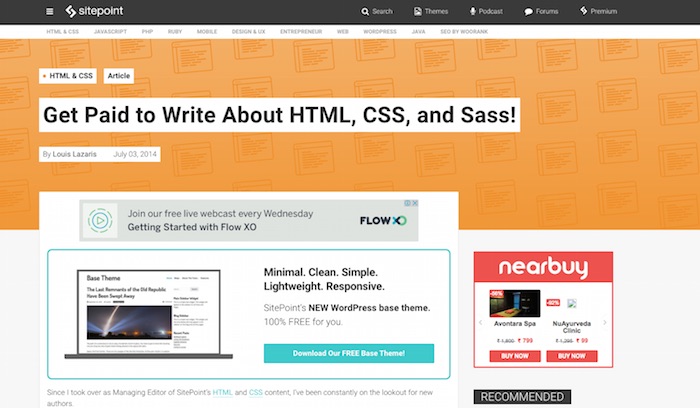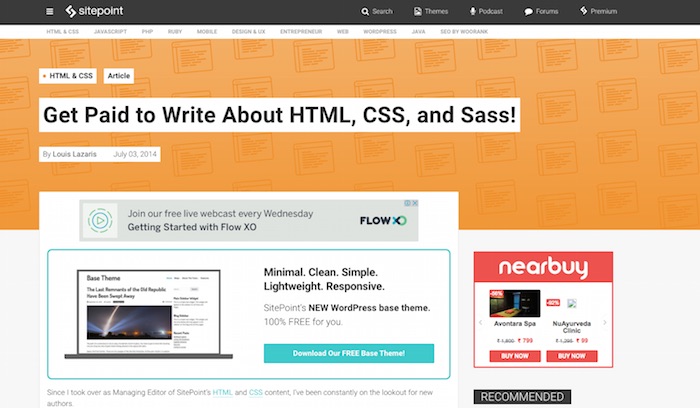 The Progressive
This is a web magazine that preferably deals with politics and its strategies and its myriad twists and turns. Many politicians, statesmen, and businessmen publish their content here. You can contribute an editorial also.
Once they have accepted the writing, their payment ranges from $50 – $1300.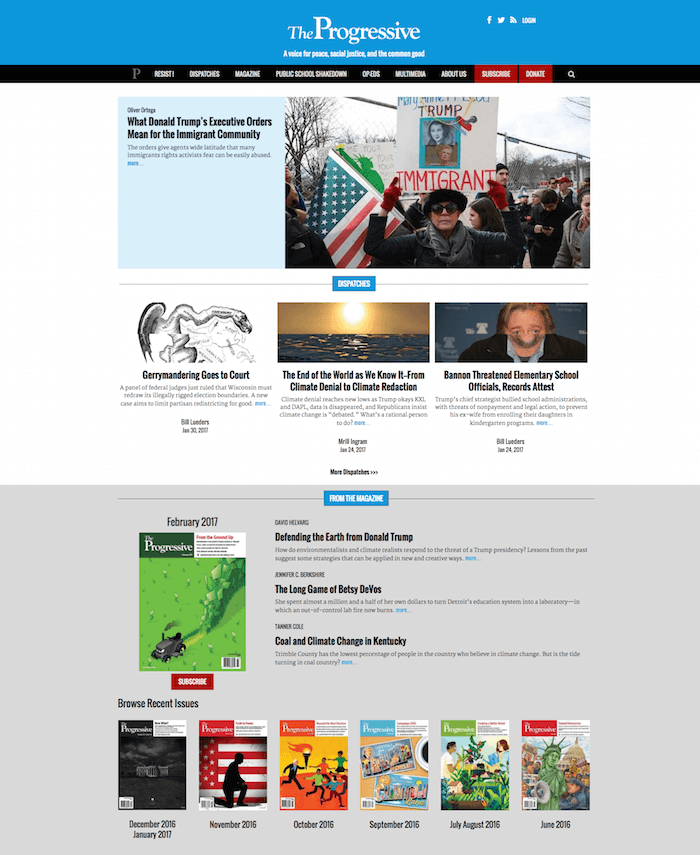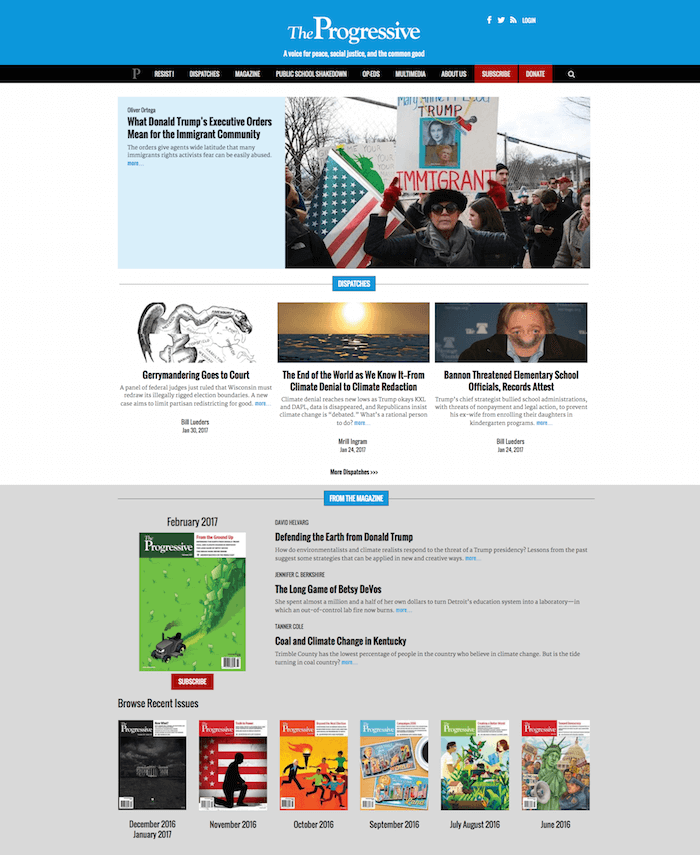 VQR
VQR supports the emerging writers and pays them for their work. For poetry, they pay $200 per poem, up to 4 poems; for a suite of 5 or more poems, they usually pay $1,000.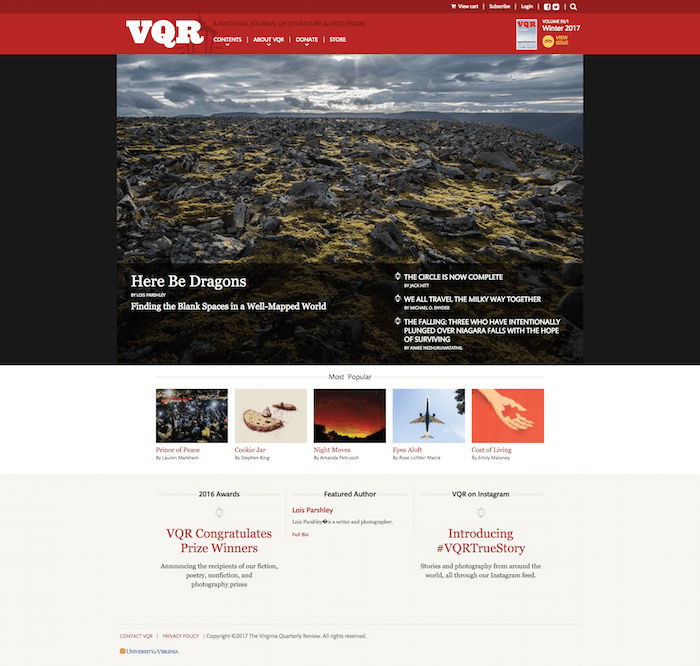 Back2College
Back2College website is for adults returning to pursue their studies once again. They provide all information regarding adult schooling program and the scholarships and welcome content submissions to help adult professionals in their study.
Rather than a pitch, send them a complete draft for consideration, and if it's accepted, you get paid anything between $75 to $135 for the submission.
Matador
This is another website waiting with open arms for the creators to submit all their views about diverse topics and happenings. Ranging from politics to travel, business to cultural, everything can be discussed here freely.
The interested blogger just needs to update his/her profile and then submit the work for the editors to check. They are ready to pay $60 for each such post that is useful to them. You will get your money via PayPal once the contribution is accepted.
Smithsonian
This is an open arena for the wordsmiths to display their talent and knowledge about anything and everything. There is no limitation about topics, it embraces all kinds of content, thereby providing both the writers and readers with variations.
You need to fill up a short form and express the preferred topic for writing. If approved, you must send them the draft for publication. Again, if approved, they will pay $0.50-$0.60 per word.
Travel and Leisure
The name itself hints about the topics that are covered and shared here. This is a website which welcomes guest writers to write about places of interest and the best methods to make the journey. You can get paid a maximum of $1000 for an interesting piece of contribution.
BootsnAll
This is another website that talks about travels and unlike the previous one, this site also plans the tours and trips.
The articles they accept are related to travels only, and there are four varieties of posts they take in. For a feature article, they pay $50, and they do so via PayPal.
Hongkiat
This is a generic website that publishes content on myriad topics, from blogging to design; from entrepreneurship to freelancing – everything is covered. Articles containing designs, tutorials, how-to are submitted here.
They prefer the length between 800- 1000 words per submission. The amount paid for per post is $50.
Belt Magazine
A website dedicated entirely to the trends centering on the rust belt area is published here. Any form of writing is welcomed here, starting from the essay, long report, commentary, or first-person narrative about the region of the rust belt. The cost per post ranges from $50 – $500.
A Fine Parent
This is a website dedicated to parenting. The site welcomes such articles that are based on the intricacies of parenthood.
You can share parenting experiences, guides, and motivate new parents through your words. The standard pay is $100 per post, but if any of your contributions become viral, a maximum bonus of $200 is paid.6
Income Diary
Income Diary is one of the popular sites on the "making money online" niche. You can find articles on search engine optimization, blog designs, expert's interviews, setting up websites, traffic building methods, how to sell products, social media marketing and more. You must pitch an idea to them for consideration. The payment amount ranges from $50-$200 per post.
eCommerce Insiders
If you have information to share about the e-commerce and the education business industry, you can pitch this site. Trending news, columns, and informative posts are accepted. For posts between 400-600 words they pay $75; for above 600 words it is $125, and for 600+ words of content, the amount is $150.
Payment is done every month for the work done in the preceding month.
Write Naked
This is a website that dissects the delicate issues pertaining to writers. As they claim – a writing life cut open – they accept anything and everything about publishing trends, interviews, tips about self-publishing, success stories penned by a freelancer and more.
Before accepting your article, they need a pitch from you, a query letter, and a write-up about why you are the most suitable candidate. They pay $50 – $200 for articles that are in between 450 – 650 words.
Transition Abroad
The site wants articles connected not just with travel but detailed guides on how to transition and settle into a new place. It concentrates on the cultural, social, and aesthetic nature of a place.
They want accurate information about how to stay, where to study, how to earn, and documentation required for transitioning into a new place altogether. Via Check or PayPal, they pay the writers at about $50-$150 per article.
Budget Travel
Everyone wants to travel but not all can afford the extravagant outings, and this is where this website fulfills a gap. They accept articles about places that are easy and affordable.
In short, if you have traveled a place in the budget, you are welcome on the site to write about your experiences and share tips on how you spent within a budget. They pay $0.50- $1 per word.
Digital Ocean
The website is in search of technical experts who have the profuse knowledge and the capacity to explain about Linux and its variety of ecosystems for the benefit of others.
They are in search of tutorials and will willingly accept any apt topic. The payment per article is between $50 and $200.
American College of Healthcare Sciences
Health demands continuous supervision. The Internet has paved the way for easy availability of medical information.
This is one such website which collects articles written over health-related issues that help others to stay updated. They offer $50 per post ranging from 600 – 1000 words.
Your Online
The site is dedicated to online business, growth, and sustenance. The articles that they want are about business and how to make it bigger and better.
This is a tutorial about how you can flourish in your business. Every accepted contribution is credited with $100 to the writer.
Consumer Search
The purpose of Consumer Search is to protect the interests of the people. Over here, multiple reviews are collected for the benefits of the users. Of all the products bought, the cell phone is the one with most followers, and hence, reviews regarding it are the most popular.
If you want to share any experience, write an article, and if approved, you can get paid almost $350 for it.
Global Comment
Deciphering the name, it is understood that this is a website open to people to come and discuss issues and problems. It's a generic website and $50 per post is the specified payment upon publication.
Ontext
This is another website about writing, where ghostwriters and authors and their works are welcome. Through PayPal, the site will pay $40 per post after approval.
Greater Good
Maintained by Berkeley University, Greater Good is a website that looks for articles that are scientific in nature but wrapped with interesting stories to attract more viewers.
Varieties of posts are published here, targeting people with varied interests. Up to $350 is paid for a single article here.
International Living
This is an interesting website that provides aid to those who are in search of a place to spend their life peacefully.
Over here, you will find the necessary information about the ways of living and stay in any country, apart from the US. For a single post, $400 is paid upon publication.
MIT Technology Review
This is an internationally acclaimed website that provides all the necessary information about recent technological developments. The site puts up our undeniable adherence to technology and how essential it has become for us.
The publications are read in various countries. In order make your writing accountable, you need to submit a pitch. A fee of $1 per word is paid upon publication.
Funny Times
This is a newspaper featuring cartoons and humor. This is a hub for satires upon various fields which indirectly, using laughter, discusses serious issues. The reward of the work is $60 per article.
Bird Channel
When we are discussing so many things, how can we forget about those who make our lives more loving and happy.
Yes, animals, birds, be they domestic or wild, are the ones that have many mysteries surrounding them. This website welcomes all such posts about those living beings. Anyone who has vivid knowledge about them can submit their works.
For every article contributed, the amount ranges from $100 -$400.
Intense Blog
This is a website that deals with the do's and doesn't of blogging. Here, expert bloggers, that is, bloggers who have experience in blogging share the strategies which help in the making of an efficient blogger.
So, anyone who knows how to improve and excel in this art is free to share their tips and tricks.
This website pays up to $50 for per post. Confirmation of paying status is also shown.
Labmice
This is a website about technical assistance. Being a branch of the Windows network, it helps and tries to guide the IT professionals to the resources that are found online.
These professionals look after Microsoft products, and so articles shedding light on these matters are welcome here.
They are ready to give $60 – $100 and will confirm the payment info online.
Desert USA
The website is in search of writers that can provide information about the Desert Region in the US. This is originally a site of wildlife and adventure, where all stories about geology, travel, wildlife, histories- natural and social – are written in the form of articles.
They have made their preferences known and want articles that are 1000-1700 words long. The amount that they are ready to spare is $50.
Freelance Mom
This is the website that teaches how to manage both the fronts –home and work without taking that much tension. Through this site, Moms or even Dads can share their experience and techniques about this.
The site prefers articles between 900 to 1500 words and has three popular types: researched articles, personal articles, and educational articles that guide others. They pay $75-$100 per post.
Babble
Babble is a multi-themed site, publishing content for entertainment and informational purposes only. So, if you have ample knowledge in matters like parenting, pregnancy, cooking, traveling, and other themes, you can send your article.
You can share both guidelines and personal experiences on Babble. The amount that this site offers is $100 – $150.
Psych Central
As the name suggests, the site deals with mental health issues. In the present-day situation, life has become so complex that special attention needs to be paid to the well-being of the mental state and this site serves the purpose to share mental health knowledge.
For their library, they prefer articles between 900 and 1400 words and for the blog, they want 650 and 900 words.
Though the amount that they pay hasn't been disclosed and though they mention on their site about no pay for submissions; yet, you can talk to the editor about payment for approved submission.
Aish
This is an essay related site where first-person accounts of the Jewish religion is published. The essays are about how the conformist Jewish beliefs in daily life have a positive effect on people.
So, if you have any say in this, you can forward it here. On publication of the essay, $200 is paid.
Be a Freelance Blogger
This is a website which discusses the art of freelancing. It is about the work of freelance bloggers and topics regarding that by some pro writers.
The tips found here are indeed helpful to encourage the blogger within you. The accepted word limits here is 500, but they welcome lengthy articles as well. The guest writers are paid $50 per post via PayPal.