Getting your services or articles to show on Google's SERP (search engine results page), or any other search engine for that matter, isn't easy.
This is where a keyword research tool like Wordtracker can be of great importance.
It will help you find the right keywords to infuse with your articles and site content to make sure you get more relevant rankings of the search engine ladder.
Most businesses or bloggers simply use keywords that they think will fetch them a great deal of exposure.
But as it turns out, rarely anyone searches for those specific keywords or keyphrases which reduces exposure, ergo site traffic.
If you want to make it big with your SEO game, then you need to focus on proper keyword research.
Now, you might be thinking – doesn't Google already provide a dedicated keyword planner to help webmasters with their keyword research and planning?
Well yes, the search engine giant does have a proprietary solution to help you with your keyword planning as well as ad campaigns.
In fact, there are multiple such tools in the market, many are free, while the more advanced ones are available behind a paid wall.
Wordtracker is a premium (paid) keyword planner tool. But when you consider all the information it makes available compared to its flexible and affordable pricing structure, it is surely a bang for the buck.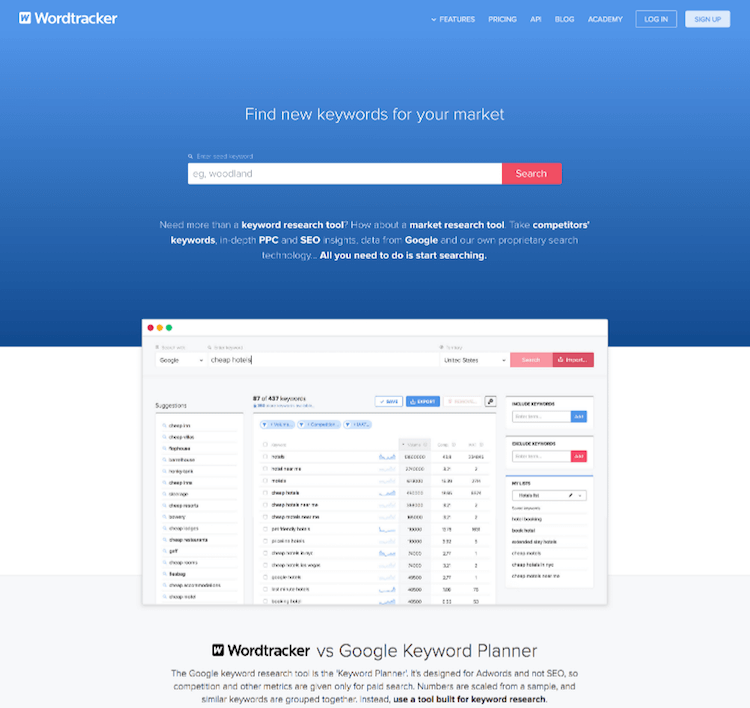 Furthermore, it really gives you access to tons of actionable stats and data that can really improve your ranking on the SERP.
And so, for the purpose of this read, we have put together a comprehensive review going over the different features and functionalities the SEO tool brings to the table.
By the end, you should have a clear idea of what it can do, and whether or not it is worth your time and money.
So without further ado, let's get started:
Wordtracker: Google Keyword Planner VS. WordTracker
As stated earlier, many people take to Google Keyword Planner as their go-to keyword research tool.
However, despite the misleading name, it is not created primarily for keyword research, but as a complementary tool for Adwords users.
For free users, it will only give you access to the basic stuff that won't help you better your SEO score.
Paid users, on the other hand, will get access to competition data and other metrics, but that still doesn't qualify it as a powerful keyword search tool.
Now, we consider WordTracker which has been curated for keyword searches. Here is a short list going over all the awesome features it has under its belt:
Access actual keywords (not grouped keywords)
Access actual (non-branded) results
Learn about search trends
Gain metrics on SEO competition
Compare SERP
Know about related and lateral searches
Keyword suggestions for Amazon
Keyword suggestions for YouTube
Shows negative keywords
Quality Support with access to live chat
Furthermore, since Wordtracker is using its own database and toolset, you will get access to over ten thousand keywords per search along with other related keywords.
Wordtracker: Pricing
Now that you have an idea of what features the tool has in store for you, let's quickly look over at what it will cost you. This is a premium keyword research tool that comes in 3 different pricing tiers.
Their base Bronze plan is priced at $27/month which comes down to $17/month if you go for an annual subscription.
But do note that if you pick their base plan on a monthly subscription basis, you will have to commit for a 3 months' period.
In terms of features, you will be allowed 1000 keyword results, 7 territories, option to search by time, and access to competition metrics.
Up next, would be their most popular Silver plan priced at $69/month, or $38/month with their annual plan.
Feature-wise, it is similar to the Bronze plan, but the amount of keyword results has been upgraded to 5000 along with support for 14 territories.
And finally, we have the Gold plan priced at $99/month, or $54/month if billed annually.
For the premium price, you will get access to over 10,000 keyword searches per month paired with access to over 200 territories. The Gold plan also gives you API access along with $99 credit.
The company even offers access to a 7-day free trial so you can take the tool for a taste spin.
In this period, you should be able to decide whether you want to commit to Wordtracker or not.
Now, because of the free trial offer, the company doesn't offer any money-back guarantees, so you need to watch out for that!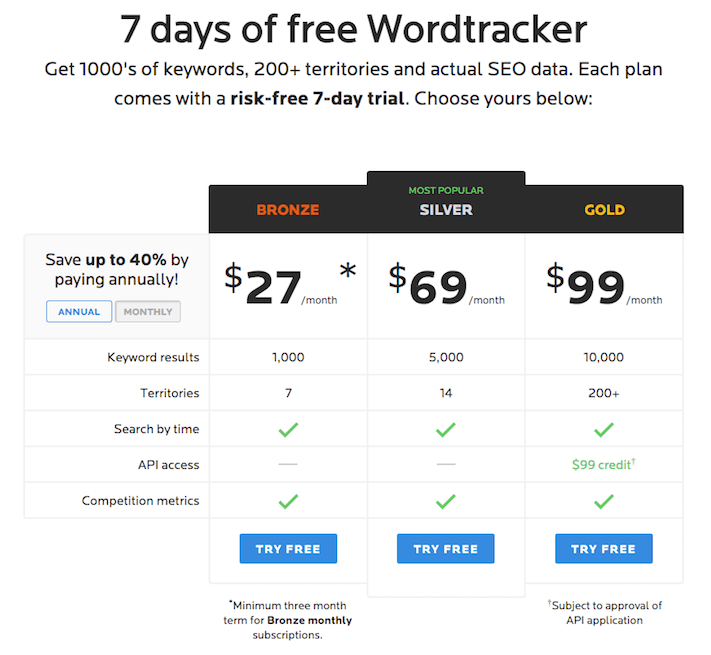 Wordtracker: Sign Up
By now you should have a complete idea of how much Wordtracker is going to cost, and what you get for your money.
With this part settled, let's guide you through on how to set up an account with the service.
Hit the signup button, and you will be asked to create an account and avail of their free trial.
Do remember that you will need to provide your credit card details even if you wish to sign up for the free trial.
And if you don't want to continue, then remember to cancel your subscription before the trial period is over.
Wordtracker: User Interface
Once you are done creating your account, you will be taken to their awesome interface where you get to plan your keywords, inspect competitors, and even manage a list of all your search keywords or campaigns.
Now, the best thing about Wordtracker would be its refined interface. All necessary tools are intuitively placed throughout the UI.
Even beginners with no prior experience with keyword research tools will find their way through Wordtracker and quickly accumulate a lot of useful data and statistics.
The entire layout is divided into three sections as shown in the image below:
You will get a SEARCH section where you can search for new keywords. Then there is the INSPECT section to help you analyze keywords used on other websites and by your competitors.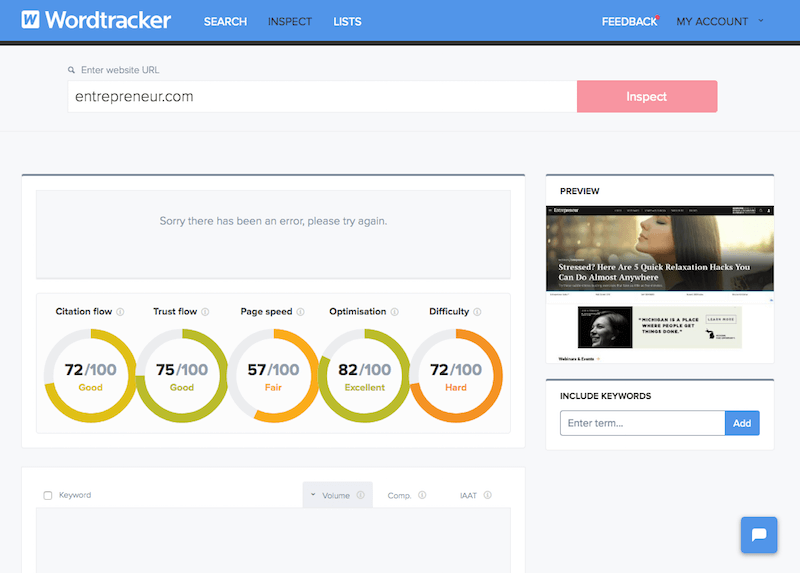 And then we have the LISTS section which acts kind of a project management dashboard.
Let's go over them one by one.
Wordtracker: Search
The above image should give you an idea of how keyword research works with Wordtracker.
First comes the searching part. Here you will get a lot of search filtering options that allow you to specifically choose which keyword database you want to use.
Options include:
Google Planner
Google Raw
Amazon
YouTube
eBay
Wordtracker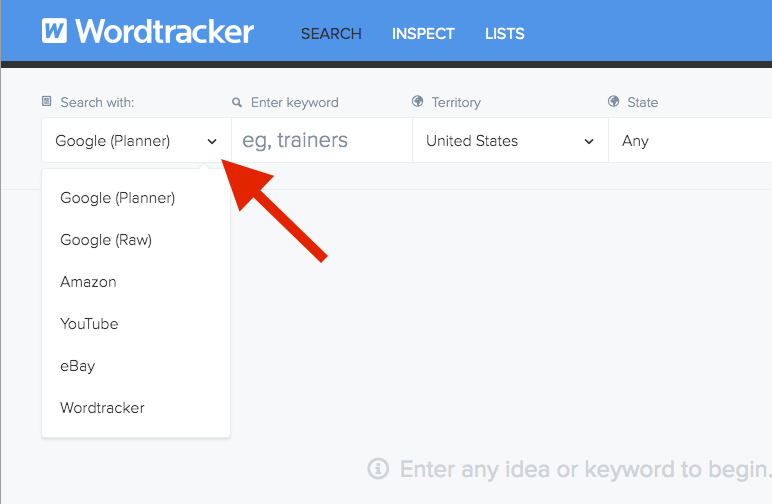 Then comes the option to specify the territory. Depending on which plan you pick, you will get access to different territories.
You can finetune the search by choosing the country as well as the state. This can be very useful for setting up your local SEO.
Now, as you can see, we are researching the keyword "Lose Weight" using the 'Wordtracker' database specific to the 'United States' but without any specific state.
In the list of keywords provided, you will be able to finetune your searches for PPC as well as general SEO.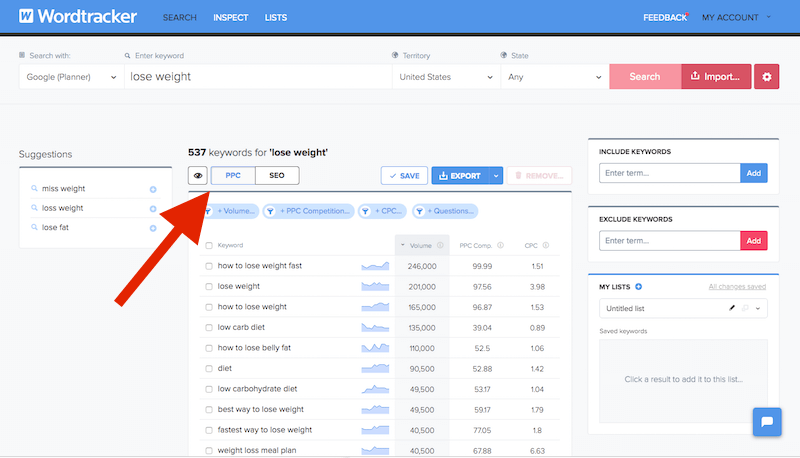 As you can see, the tool will also provide you access to different metrics against each keyword including:
Search volume.
Organic competition for the keyword.
IAAT (in anchor and title) – how many webpages use the keyword in both anchor and title.
KEI (Keyword Effectiveness Index) – shows you the popularity of your keyword.
PPC competition
CPC
Intent
Do note that the metrics on PPC competition, CPC, and Intent are only available if you use the Google Planner database.
Besides the keywords feed, to the left, you will notice a multitude of keyword suggestions.
Whereas, the right sidebar gives you the option to include certain keywords and even exclude certain keywords from your search.
All these options will allow you to create a list of keywords fine-tuned to your specifications.
Once done, you will be able to save this list of keywords for later use. There is also the option to export these keywords in CSV format.
Wordtracker: Inspect
Next comes the Inspect section where you can study and analyze your competitors or any website in general.
As you can see from the above image, we are doing a study on the dogfoodadvisor.com website.
As you can see, Wordtracker will give you access to their site title, all the different headings used on their website, along with site description.
You will also get a graphical description which will show you different statistics like:
Citation flow – A metric that shows you how good they have done their link building.
Trust flow – A metric based on links going to trusted domains.
Page speed – A metric to help you analyze their page loading speed.
Optimization – A metric used to give you an idea of how many SEO criteria the site fulfills.
Difficulty – A metric that takes into account the page speed, optimization, citation flow, and trust flow to give you an idea of how difficult it would be to beat the site on the SERP.
Below is the 'Opportunities' section which shows you a list of keywords that you can target to come on top of this website.
Following that, you will get a list showcasing 'Potential Keywords' followed by 'Top Keywords On-Page.'
The right-hand sidebar gives you a quick preview of the website above-the-fold.
You can even include and exclude keywords from the list of keywords. There is also the option to save and export these keywords if you want.
Wordtracker: Lists
The Lists section, as mentioned earlier, acts as a project management hub where all your saved keyword searches will be stored. As you can see, our 'dog food' search is saved under this tab.
Opening it will bring up the corresponding list of keywords.
The Wordtracker Academy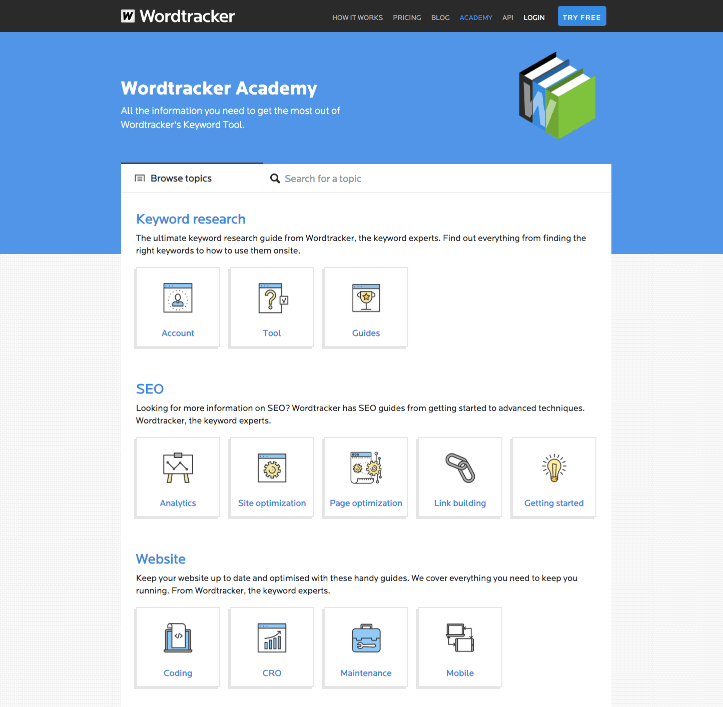 The Wordtracker Academy isn't something that comes with the subscription plans but is available for free to all users as well as website visitors.
However, don't let the free availability fool you, as it is practically a treasure trove of useful information.
A part of it is dedicated as a guide on using the Wordtracker tool, but much of it is dedicated to helping users learn how to properly SEO their website.
It covers a variety of topics including
SEO

Analytics
Site optimization
Page Optimization
Link Optimization

Website
Marketing

Mobile
Email
Display
Video
PPC

Google

How it works
Services
Updates

Social

Getting Started
Visual
Twitter
Facebook
LinkedIn

Content

Creation
Blogging
E-Commerce
There are detailed articles on each of these topics with many accompanied by professionally curated videos.
Whether you are a beginner or a veteran in the world of SEO, this will truly help you in your efforts of ranking higher on the SERP.
Is Wordtracker Worth It?
As mentioned earlier, the Wordtracker Academy is an awesome resource that everyone serious about SEO should check out.
But since it is available for free, we won't include it while making the decision on whether Wordtracker is "Worth it" or not.
So summarizing what we just discussed, Wordtracker gives you access to a powerful keyword research tool with advanced filtering options that provides you with actionable data and statistics to improve your SEO game.
The project management feature – lists, allows you to neatly manage all your searches which you can use as you are strategizing on surpassing your competitors.
The interface is also minimal and clean with a focus on an intuitive UI which does make it extremely beginner-friendly. This goes to say that Wordtracker is an excellent tool for newbie SEO analysts or beginner bloggers looking to up their SEO game.
And finally, when you consider the pricing, it is pretty affordable and comes with flexible monthly subscription plans.
With all things considered, we think that Wordtracker is excellent for users new to SEO and looking to create a keyword strategy for not only Google but YouTube and Amazon as well.
If you find the article helpful, don't forget to share it with your friends.