There is no shortage of options when it comes to workplace productivity software. Choosing the right one can be a daunting task with so many different products on offer.
Businesses are turning to one popular option Monday.com, which provides an easy-to-use and intuitive platform for teams big and small. Whether you're looking for a project management tool, a CRM system, or simply a better way to keep track of your team's progress, Monday.com could be the answer.
This review will take an in-depth look at Monday.com and what it has to offer businesses of all sizes. We'll cover the key features, pricing, and how it can help your business productivity and efficiency. So whether you are a small IT firm or a startup, let's figure out if Monday.com is the right choice!
Top features of Monday.com
This work management software comes with many features that are designed to help businesses get more done. Here are some of the top features on offer:
Customizable workspace
One of the great things about Monday.com is that you can tailor the workspace to your specific needs. You can add and remove columns, create custom views, and even change the color scheme to suit your preferences. So regardless of your niche, you should be able to create a workspace that works for you.
Moreover, if you're used to having multiple tabs and windows open at once, Monday.com makes it easy to stay organized in one place. With a straightforward design and minimal effort required, this is an excellent tool for teams of all sizes.
Collaboration tools
Another great feature of Monday.com is that it allows teams to collaborate seamlessly, no matter where they are. You can add and assign tasks, leave comments for everyone to see, and even easily schedule meetings. All in all, this makes communication between team members more straightforward than ever before.
In addition to integrating with a range of third-party applications, Monday.com also offers its own set of integrations. These include Google Calendar, Slack, Dropbox, and more. With so many options available, you should have no trouble finding the right tools for your business.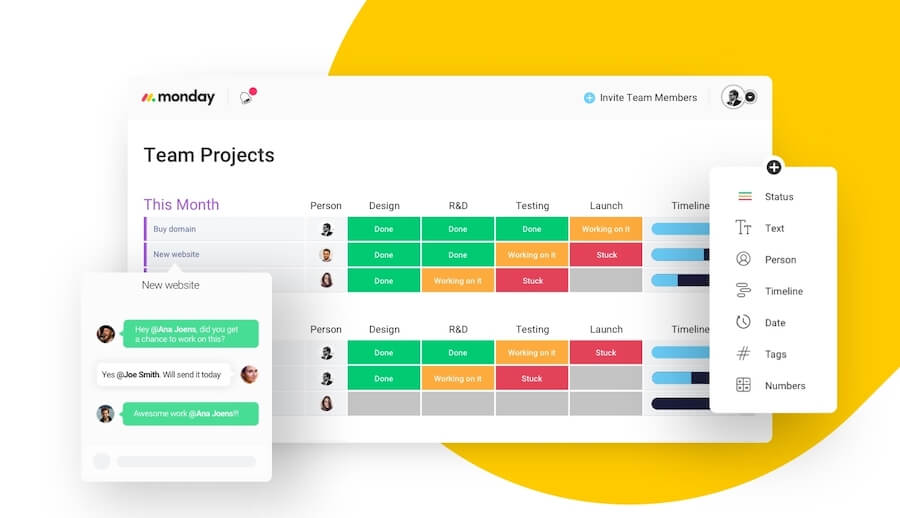 Quick people management
Another thing that makes Monday.com so effective is keeping tabs on everyone's progress quickly and easily.
With features like time reporting, work tracking, and team analytics, you always know what your team is working on and how they're performing. Additionally, you can address any comments right away if there are any issues or concerns.
Whether you manage a small team or a large one, Monday.com provides the tools to manage your team effectively. In addition, with its intuitive and straightforward design, you'll be able to get started quickly and see results in no time.
Intuitive user experience
Many business software products on the market today are complicated to use. It can lead to a lot of frustration and wasted time trying to figure out how things work. Monday.com is different in that it's designed to be easy to use.
With its intuitive design, you'll be up and running. Even if you've never used a work management tool before, you should have no trouble getting the hang of Monday.com. You can easily manage your projects and teams efficiently by leveraging its powerful features.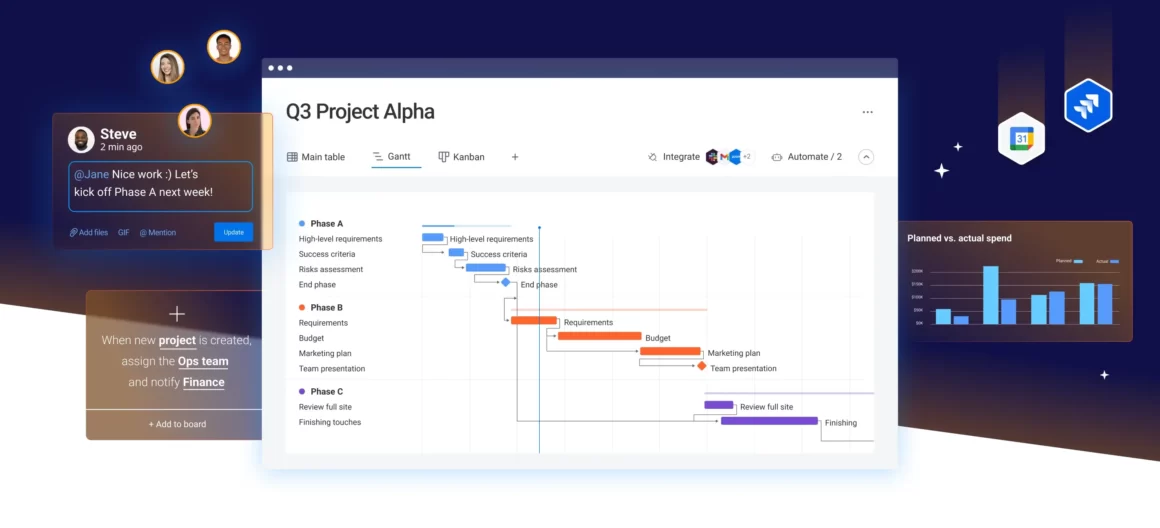 It manages your workload efficiently
One of the most significant benefits of using Monday.com is that it makes managing your workload a breeze.
Instead of wasting time trying to keep track of all your tasks, activities, and deadlines, you can do everything in one place. It means less hassle, lower stress levels overall, and improved team productivity.
The collaboration it brings to a larger team is also of great value. Whether you're working on a project with a colleague in another city or managing dozens of team members, everything is streamlined and easy to use.
In-depth reporting and analytics
If you want to get the most out of your work management tool, it's essential to choose one that offers in-depth reporting and analytics.
Monday.com excels in this area, giving you valuable insights into your team's performance. With its customizable reports, you can track progress, identify areas for improvement, and ensure that everyone is on the same page.
Additionally, if you're ever unsure about something, the team at Monday.com is always happy to help. They offer 24/7 support via live chat so that you can get answers to your questions quickly and easily.
Seamless API integrations:
In today's business world, it's more important than ever to have a work management tool that integrates seamlessly with the rest of your applications. Monday.com offers a robust API that makes it easy to connect with your daily tools.
So whether you're using Google Sheets, Zapier, or another application, you can rest assured that Monday.com will work seamlessly with it.
Compared to other tools, Monday.com is a top-notch work management solution that offers many features and integrations.
So if you're looking for a tool to help you get more done, Monday.com is the way to go. In addition, as all businesses need to integrate several platforms through APIs, this product is the perfect solution.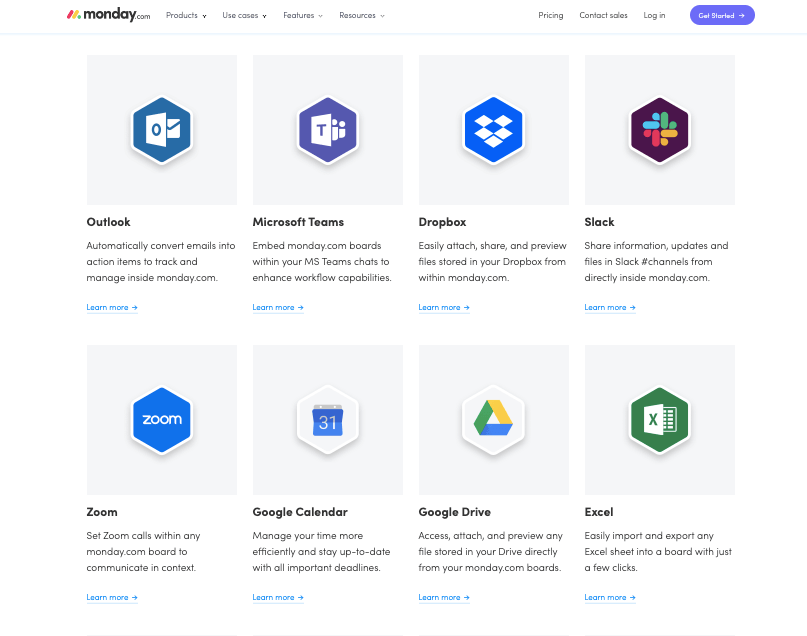 Quick timeline planning:
Monday.com's timeline feature is one of its standout features. With it, you can easily create a visual representation of your project timeline, complete with milestones, tasks, and deadlines.
It makes it easy to see at a glance what needs to be done and when. Additionally, you can use the timeline to track progress and ensure that everything is on schedule.
If you and multiple teams work on numerous projects simultaneously, the timeline can also be a great way to keep track of everyone's progress. By seeing what everyone is working on, you can avoid overlap and ensure that everyone is productive.
Seamless mobile ecosystem:
Another great thing about Monday.com is that it offers a seamless mobile ecosystem. With its mobile app, you can access your work management tool from anywhere, at any time. So it is perfect for when you need to make a quick update or check on something while you're away from your desk.
Additionally, the mobile app is designed to be just as user-friendly as the desktop version. It means you won't have to waste time figuring out how things work. Keep track of your work, meetings, and people on the go with the Monday.com mobile app.
It's also ideal for sales and CRM
If you're in sales or customer relationship management, Monday.com is the perfect tool. With its customizable pipeline, you can easily track your sales process and ensure nothing falls through the cracks. In addition, its CRM integration makes it easy to keep track of your customers and their contact information.
You don't need to use a separate tool for sales and CRM anymore. With Monday.com, you can have everything in one place. It saves you time and makes it easy to stay organized.
How can it help your organization?
Monday.com is a powerful work management tool that can help organizations of all sizes streamline their processes, manage projects more effectively, and stay on top of important deadlines and milestones.
Its in-depth reporting and analytics features make it easy to track progress, identify areas for improvement, and ensure that everyone has access to the same information.
Moreover, its seamless mobile ecosystem and API integrations make it easy to use Monday.com from anywhere, at any time.
If you plan to set a process for your team and project management, it can be the best tool. As it comes with several integrations, you don't need to look for other platforms and have everything under one roof.
From Google and Zapier to other applications, it works well with them. You can easily connect your Monday.com account and get started.
Not to mention, the customer support is fantastic and always there to help you. The community forum is also a great way to get answers to your queries.
Wrapping up!
Monday.com is an all-in-one work management tool with all features and options to make it a complete virtual office for your business.
With its in-depth reporting and analytics, customizable reports, and integrations with other apps, it's easy to see why Monday.com is one of the most used management tools on the market.
You can go for the free version to test out its features and then upgrade to one of the paid plans as your needs grow.