Online learning courses are the next big thing. No doubt about that. In fact, according to Marketsandmarkets, by 2023 the LMS market is expected to grow up to $22.4 Billion.
Whether you are planning to start an online course for students of technical courses, such as web development, or for students of non-technical courses, such as management studies, there are various LMS plugins available to add training programs to your websites.
Now if you Google search "Best LMS Plugin" you'll surely see LearnDash on top of many LMS plugins lists. The LearnDash site says
"The #1 choice for Fortune 500 companies, major universities, training organizations, and entrepreneurs worldwide for creating(and selling) their online courses."
But is it really true? Is LearnDash all you need? Is it worth the investment?
In this review, we jump deep into the functioning and dynamics of this plugin. We provide you an all-in-one analysis of this leading LMS plugin and help you decide if it is the right choice for you.
So check out this review of LearnDash LMS plugin and decide if this is the LMS you are looking for.
LearnDash Review: An Overview
There are no second thoughts to the fact that LearnDash is the most popular learning management system plugins available for WordPress. Briefly saying, LearnDash helps you in creating a training program on your website.
You can create many different courses, arrange and manage their contents, manage students and their accounts, manage PayPal for transactions and so on.
First things first, this is a WordPress plugin, so you must have WordPress installed to access this plugin.
And not just that, LearnDash offers many unique features, such as selling of your courses and training programs, developing membership packages, configuring one-time payment offers, and most certainly it helps you in developing more engagement on your website.
Users of LearnDash
LearnDash has been known widely for being used by famous universities and Fortune 500 companies.
Also, many well-known training programs and organizations are using LearnDash WordPress plugin for creating and maintaining their training programs. Some of them are :
Keap: Formerly known as Infusionsoft, this is quite a popular email marketing service provider and is in the business for quite a while now.
Keap uses LearnDash to train new employees and new customers. This way Keep saved a lot of training overhead time and surely a good amount of money.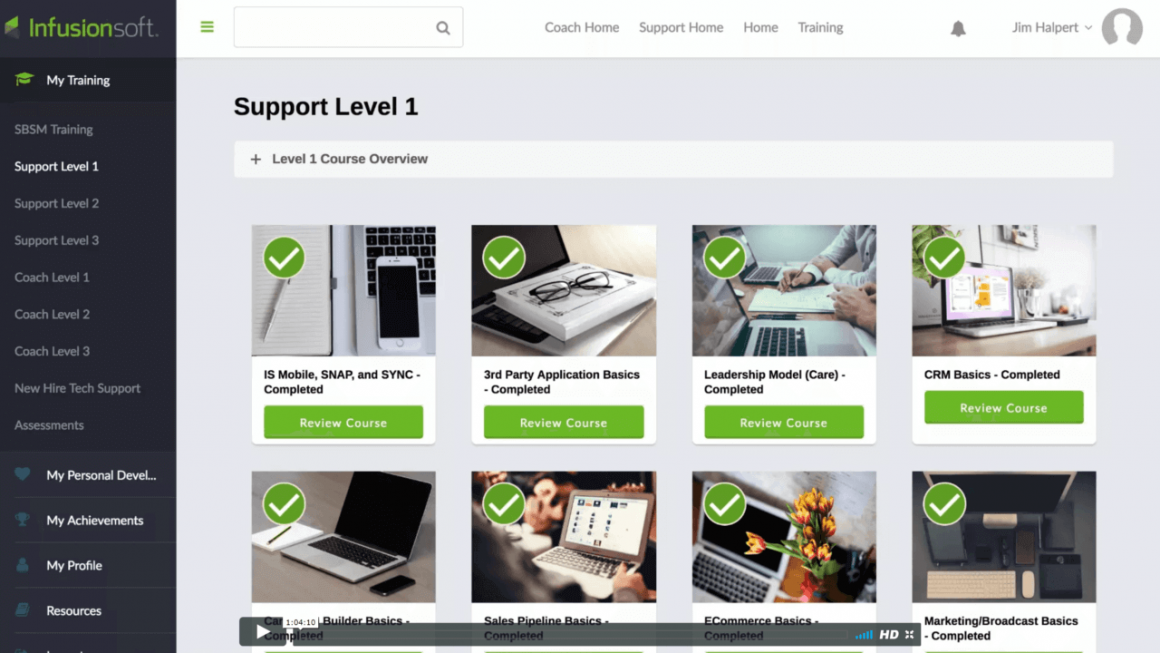 Yoast Academy: A leading name in the search engine optimization industry, Yoast uses LearnDash, via Yoast Academy to provide tutorials for SEO training.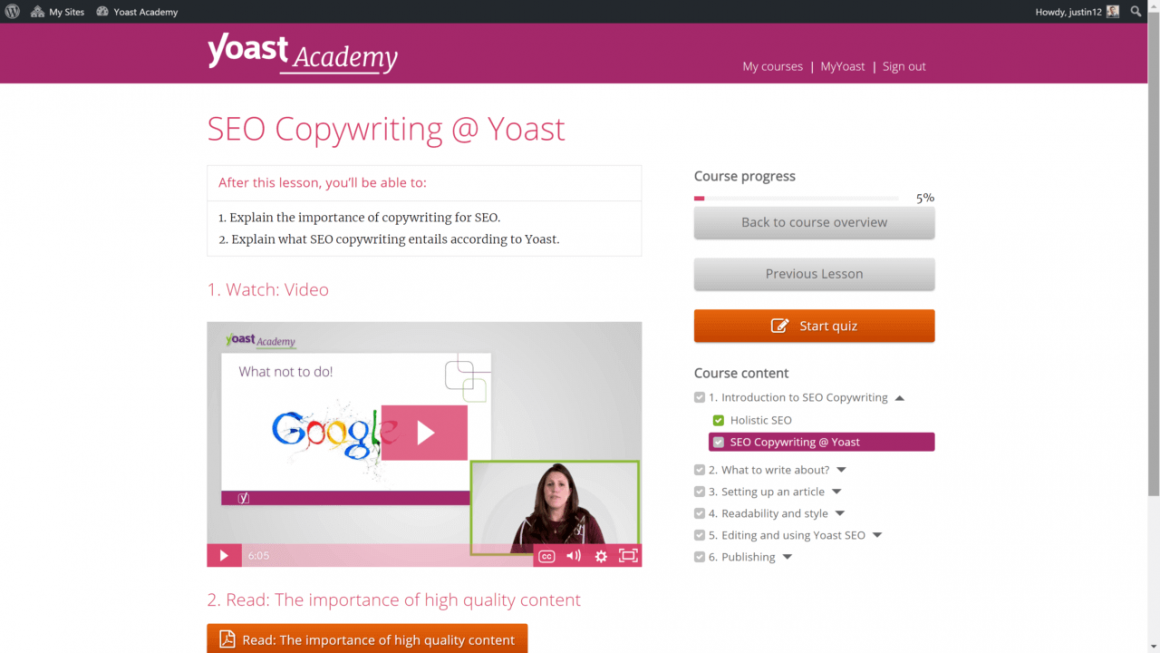 University of Michigan Center for Socially Engaged Design: This one is a decent example of how distance learning can be achieved using LearnDash. The University is offering 17 courses and has an almost 85% passing rate through the program.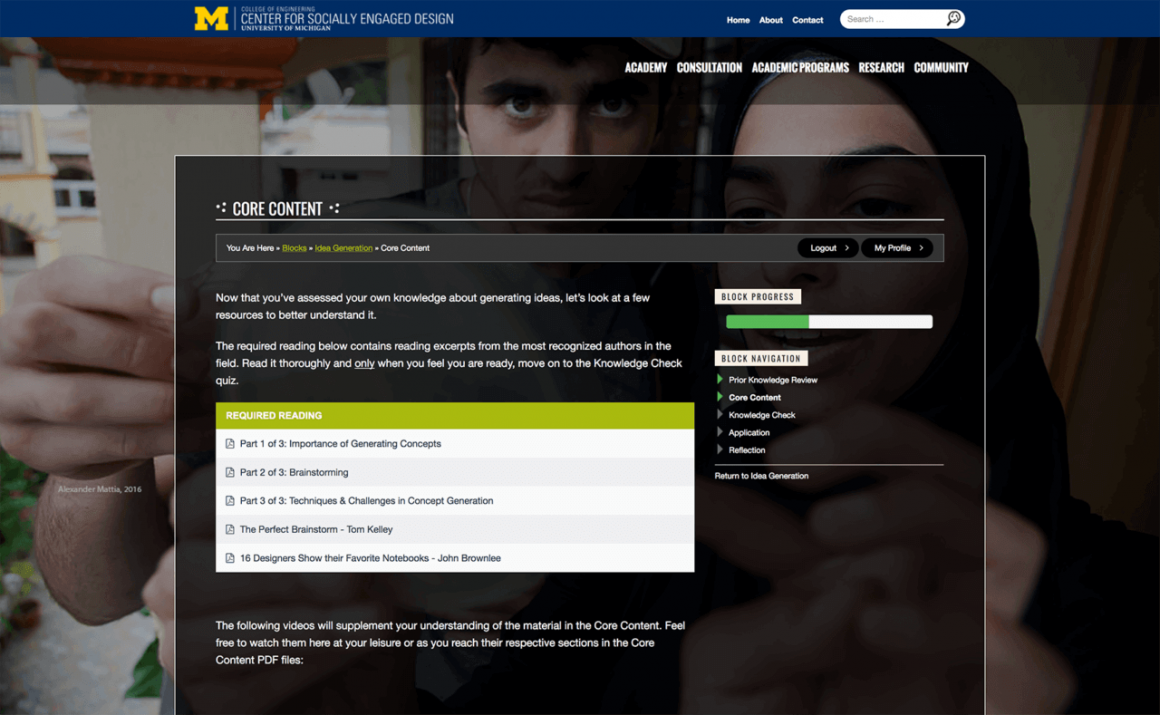 User Profile
LearnDash offers you a comprehensive user profile dashboard where every user can manage all their courses, lessons, profile related details.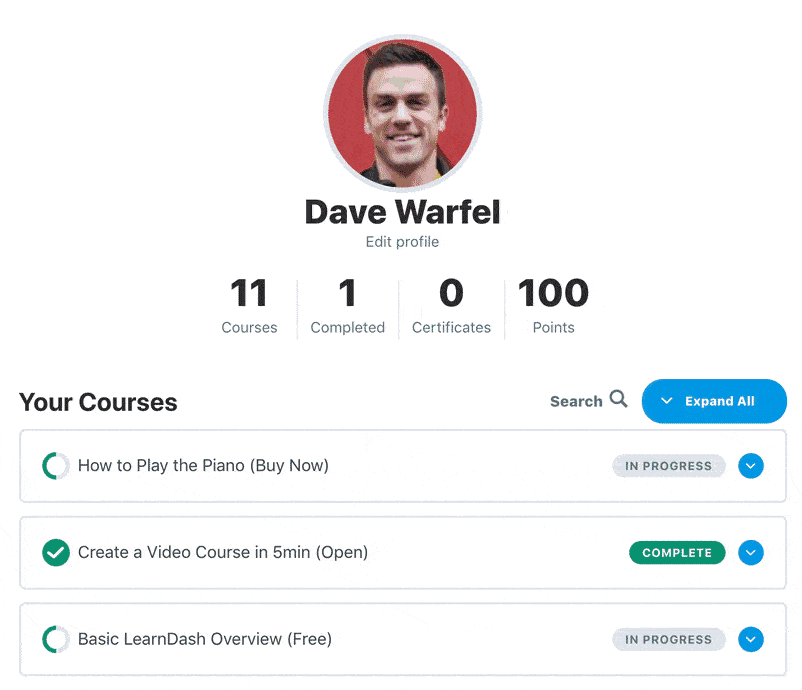 A Quick Guide
Online courses are big business these days, if you are planning to start your own online course, her is how you can set it up with the LearnDash plugin.
Installation Guide
If it comes down to installing and ease of use, then surely this plugin is a good choice.
All you've got to do is to install the LearnDash LMS WordPress plugin on your website.
Installing this plugin takes no extra effort and is similar to installing any other WordPress plugin. Follow these steps below to install LearnDash LMS plugin:
Go to Plugins > Click on "Add New" > Upload the plugin zip file > Activate the plugin
Now you'll see LearnDash LMS plugin in your WordPress Dashboard.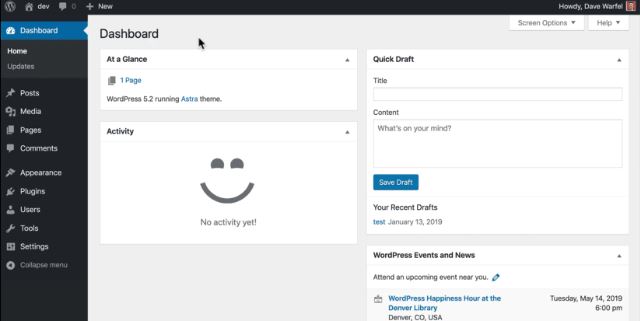 Make sure you configure the settings of the plugin after you install it on your website. To do so, click on LearnDash LMS and then click on settings.
Now click on the tap "LMS Licence" and enter your email and license key. You get your license key after you buy the LearnDash LMS subscription.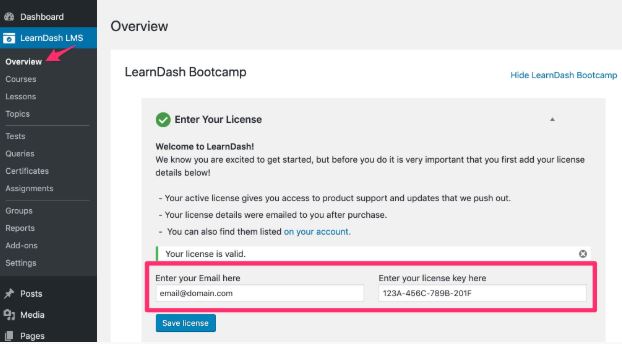 LearnDash Review: Getting Started
After you've successfully installed the LearnDash plugin, you will see the LeanDash section in your site's WordPress dashboard.
This is where you can access LearnDash to create courses, lessons, and topics on your website.
To add a new course, click on Courses in the LearnDash section and then click on Add New.
Now you will see a LearnDash course editor section that looks very similar to the regular WordPress editor section.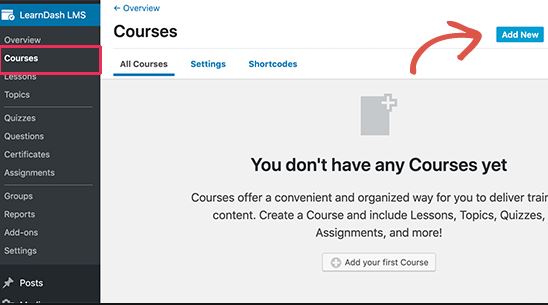 Here, firstly you'll have to add the title of the course, followed by the description of it.
Now when you scroll down the LearnDash editor, you'll see a drag and drop course editor called LearnDash Course Builder.
This drag and drop course builder helps you to create and add lessons, topics, quizzes and so on. This way organizing and managing your course and its elements gets very easy.
To add a lesson in the course, click on the '+' sign in the lessons column. Similarly, you can add more lessons in your course.
When you are done with adding the desired number of lessons, just drag them to the section on the right side.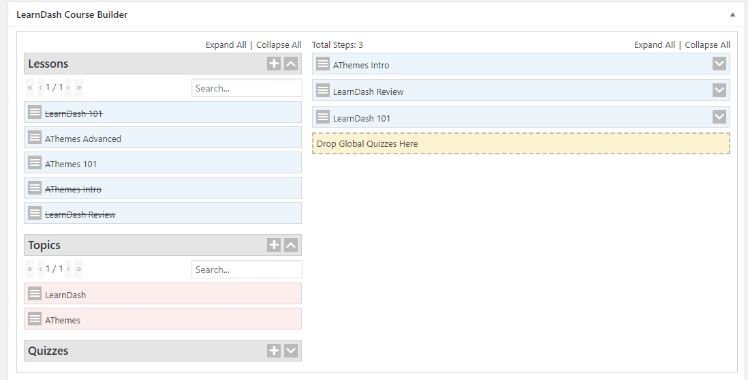 Of course, you'll have to individually edit your lessons but here you can create and add them to the course easily.
You can add topics and quizzes the same way you added lessons in your course. Now when you scroll down from the LearnDash Course Builder section, you will see the LearnDash Course Settings section.
This section will help you to simply configure different options for the course, such as price type, associated certificates, course materials, and so on.
Adding Content in Lessons, Quizzes and Topics
Now that you have created a structure for your course, you'll have to add content and material into your lessons, quizzes or topics.
All you have to do is to go to the lesson or topic or quizzes from the Associate Content section, which gives you an outline of the course.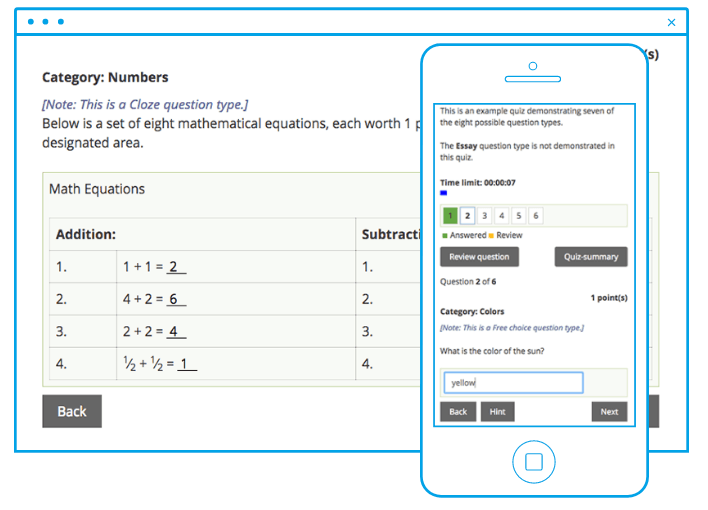 Now, you'll be taken automatically to the editor of the lesson or topic or quiz you choose. Here you can add various elements in your lesson, such as images, text, links and you can even embed videos in your lesson or quiz or topic.
Drip-Feed Content
Every student has their own pace when it comes to learning. And a lot of content at once can be overwhelming for any student.
So, to make the process of learning easier for the students, LearnDash offers you the drip-feed content options.
You have the option to release courses at set intervals. You will have amazing control over how you wish to deliver the content.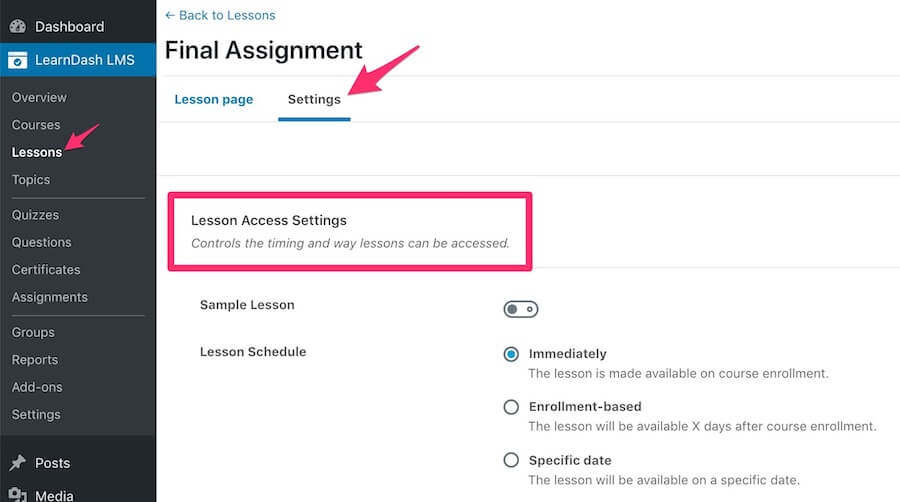 LearnDash Shortcodes
LearnDash offers you tons of shortcodes to add additional content to your course. You can use shortcodes to do many different things, such as :
You can access the shortcode of a particular course in the Course Shortcode tab in the Course Editor.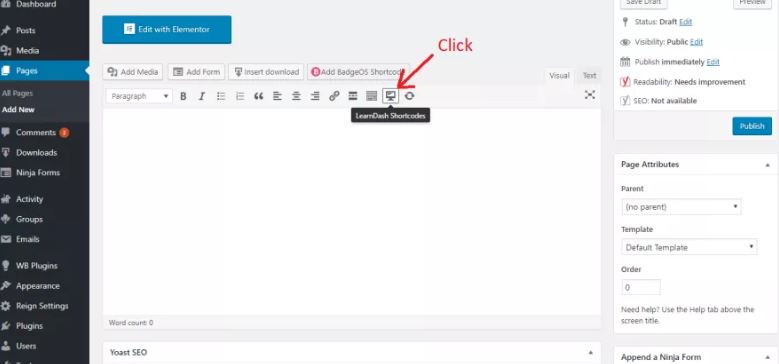 Other LearnDash Features
LearnDash plugin offers various other useful features to help you make a completely online course, such as:
User Groups
LearnDash User Groups feature provides you methods to group certain users in a group. This helps you to manage and organize custom courses for specific users. You also get the ability to assign group leaders for different groups.
For example, a tutor can divide certain students in a group and can create special courses for them.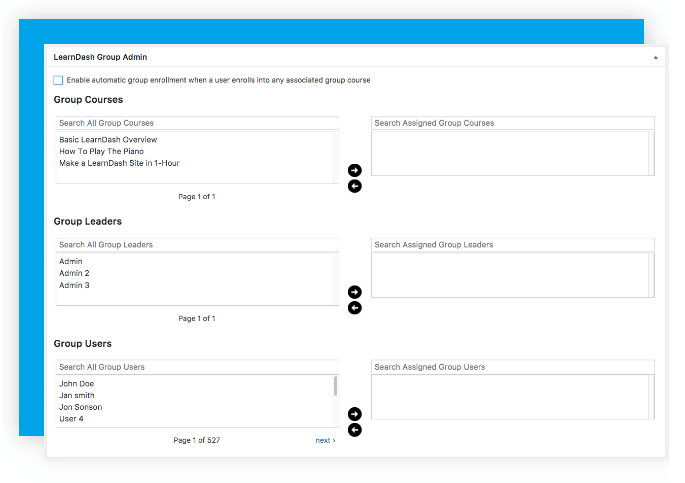 LearnDash Certificates
This is a great feature to acknowledge students based on their performance. LearnDash offers you two different ways to generate a certificate for your students.
Either on the completion of a course or the passing of quizzes. You can add a certificate to any of your courses or quiz and it will be generated on the successful completion of the course of the quiz.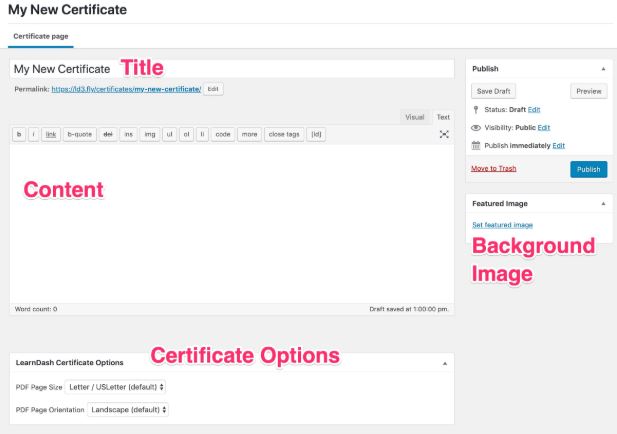 LearnDash Add-ons
You get a bunch of free and premium add-ons to enhance your LMS plugin system. You get to add various tried and tested features in your LMS plugins such as WooCommerce, MailChimp, Slack, GrassBlade LRS, and many more.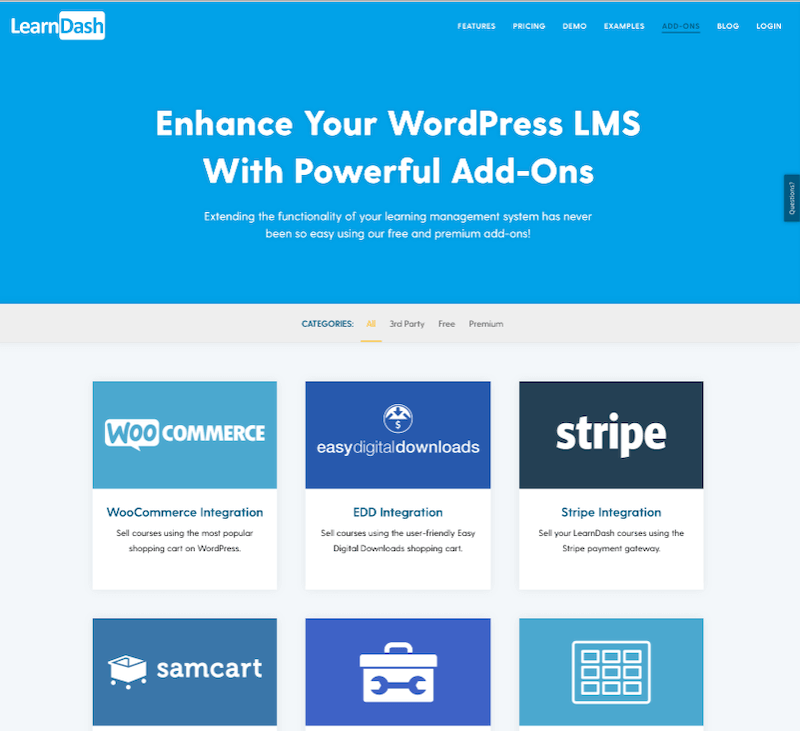 Administration Features
Organizing and managing the complete LMS plugin system is quite easy to execute in LearnDash. You can manage and create groups, manage assignments, analyze performances, automate email notifications and so on.
LearnDash ProPanel Overview
Propanel gives you insight access in your courses, such as the latest leaner activity and metrics of course completion. This additional feature is only available in the Pro and Plus packages.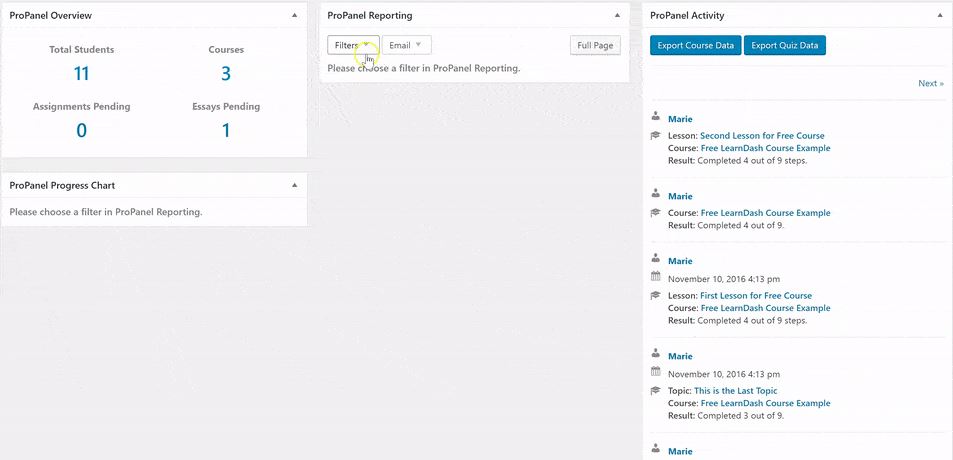 ProPanel gives you some of the most helpful and easy-to-use features that help you to plan and organize your courses. You can view the data of some specific courses using ProPanel filters.
Also, you can send emails directly to some specific users based on your filter search results. ProPanel can also be embedded onto the front end of your website using ProPanel shortcodes.
By default, the ProPanel can only be accessed by the user having the admin rights. Also, ProPanel is also visible to the Group Leaders, but the Group Leaders can only see the data of the group members.
The Pros & Cons of LearnDash
Here is what we love about LearnDash and what needs some improvement as per our review
Video Progression
Video Progression feature provided in LearnDash helps you easily embed videos in your courses. You can very easily add videos in lessons, as well as in topics of your courses.
You can either add self-hosted videos or videos from some external source such as YouTube.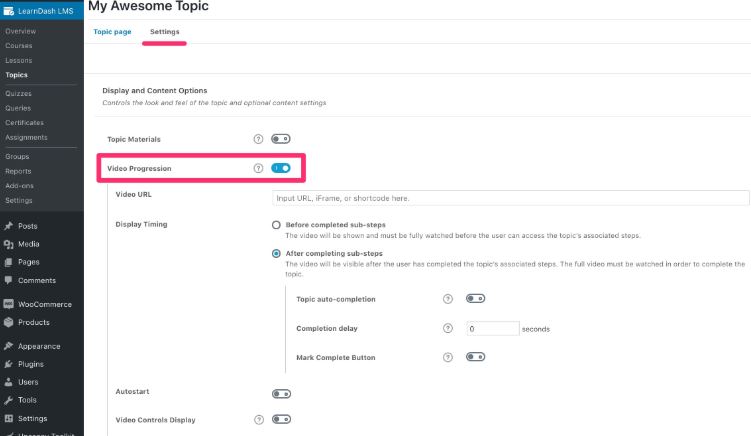 You also get to manually place your videos at some specific part of your lesson or topic. By default, you get your video embedded at the top of your content.
You also get to choose if you want to allow your user to access the controls of the video or not. Autostart on/off is also available. There are various other important features available under Video Progression.
You can also enable a setting option called Lesson/Topic Auto-Completion, which marks the course as completed after the user has watched the entire video. You can also automate your video to be shown at the start or end of a course.
Focus Mode
Focus Mode is a very unique feature that is surely helping LearnDash to shine out of the crowd.
Focus Mode can be applied to your lessons, topics, quizzes and assignments to help your user eliminate unwanted distractions. This feature helps in increasing the completion rate of your course.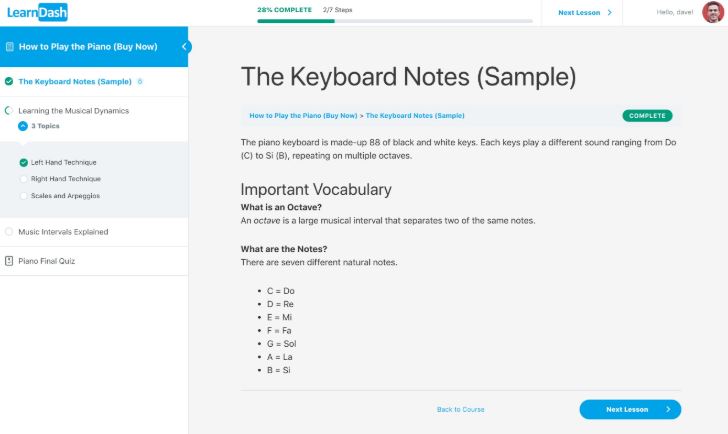 What exactly happens is that when the Focus Mode is applied, the main navigation menu, sidebars, and footer elements are completely removed from the page.
You also get a dedicated, custom Focus Mode menu, which is only displayed when a user hovers over his avatar on the top of the page.
Various other features, such as the ability to create an unlimited number of courses, multiple plugins support, such as WooCommerce, Pro Membership, MailChimp, and tons of controls and settings options under very reasonable pricing packages has helped LearnDash to make a mark in the LMS plugins market.
User Forum
You can create user specific forum so that the users can discuss topics among themselves and you can limit the forums to a specific group of users.
This is done with the help of bbPress which is one of the most popular forum plugins for WordPress. LearnDash offers deep integration with the forum plugin.
Good Amount of Documentation
For anyone new to LMS plugins or even experienced users need proper documentation to understand the functionality of the plugin.
The official website of the plugin, as well as the embedded tutorial videos also helps you better understand the plugin.
Create a Learning Community Site
A highly engaged community around good quality online courses is probably best recipe for success when it comes to online course business.
LearnDash comes with deep integration with a number of WordPress themes. However, you can use a product like BuddyBoss Platform which is the best community solution for WordPress at the moment.
You can create a social community site as good as Facebook when it comes to the features. It offers you great looking modern design and very strong and deep integration with the LearnDash plugin.
You can learn more about BuddyBoss Platform here.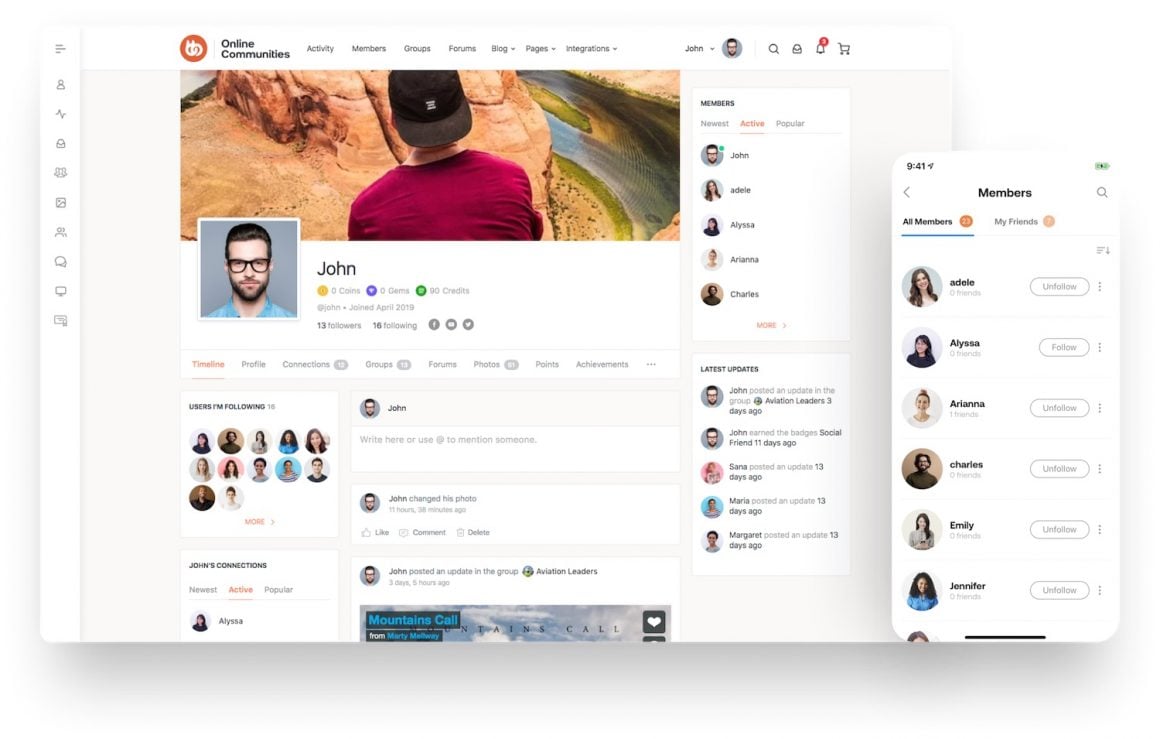 BuddyBoss comes with highly optimized design for online learning with strong community features. Now, you can create a complete community around your courses.
If you are expert in any topic, you will be able to create a very strong community around your courses with this product.
You can also create a completely private community using BuddyBoss so that it is only accessible to your students.
There is a Learning Curve for Beginners
LearnDash has a ton of unique features to offer. But it gets a little too overwhelming in the case of beginners.
Initially, when you install the plugin, you don't get any step-by-step wizards to guide through the plugin.
Yes, you do get the documentation and guides along with the plugin, and on the official website of LearnDash. But a setup guide or wizard would have been another feather in the cap.
Final Thoughts
LearnDash LMS Plugin is definitely one of the best LMS plugins available these days. You get to create an unlimited number of custom courses with as many lessons, topics, quizzes as you like.
One of the things that make LearnDash a winner among the competitors is the simplicity and ease of use.
While navigating through the features and course editor, it is clearly visible that the design and functioning of LearnDash are very straightforward and completely hassle-free.
No doubt a new bee in the business will definitely feel a little puzzled, but it does get simpler and easier with time. LearnDash demands your time.
LearnDash is used by many multinational and professional organizations around the world and is similarly feasible for small businesses and organizations.
So if you have good experience of WordPress and if you are ready to invest a little time in it, then this is the LMS plugin you should go for.  
LearnDash Review Conclusion
LearnDash is undoubtedly one of the top learning management plugins that are already being used by many leading businesses. If you are planning to start your own online courses, get the plugin now.