Looking for the best email marketing services and not able to decide which one to choose?
With the rising competition in the online business world, selecting the best email marketing service becomes very important.
In fact, 93% of B2B marketers are using emails to distribute their content worldwide.
Irrespective of the kind of business one is running, email marketing is one of the most cost-efficient methods of marketing.
These days there are tons of new and unique marketing tools available but nothing has taken over the popularity of email marketing.
And the best part? It is still very fastly changing and upgrading. The competition is very high between the different modern-day email marketing service providers.
When it comes down to choosing the one email marketing tool for yourself, you must not compromise with your priorities. You must make sure that your email marketing tool doesn't land your emails into the spam boxes. 
To help you out, we've compared the best email marketing services and listed out the best features in all of them. Check it out !!
Also Read: Best Email Opt-in WordPress Plugins
MailChimp
Undoubtedly one of the most famous email marketing service provider, MailChimp offers very flexible pricing plans and some amazing free offers.
Mail is quite popular for the different integrated tools, such as e-commerce tools and email automation tool.
MailChimp offers upto 12,000 emails per month for your 2000 subscribers absolutely free.
You get dedicated and easy to use email designer, where you can simply drag and drop elements to create campaign mail.
MailChimp also takes care of your global audience, as you can schedule for sending your emails for people living in different time zones.
Pros of MailChimp: MailChimp is a hot favorite because of the number of additional features it has to offer.
You get complete landing pages, you can connect with Shopify and Salesforce tools, A/B testing, free 12,000 emails, and drag and drop email designer are some of the features that other email marketing providers lack.
Cons of MailChimp: MailChimp holds the right to suspend or cancel your MailChimp account.
The pre-installed templates in MailChimp are very basic, you have to design an attractive one.
The layout and interface are good but can be a hassle for someone who has previously used some other email marketing tool.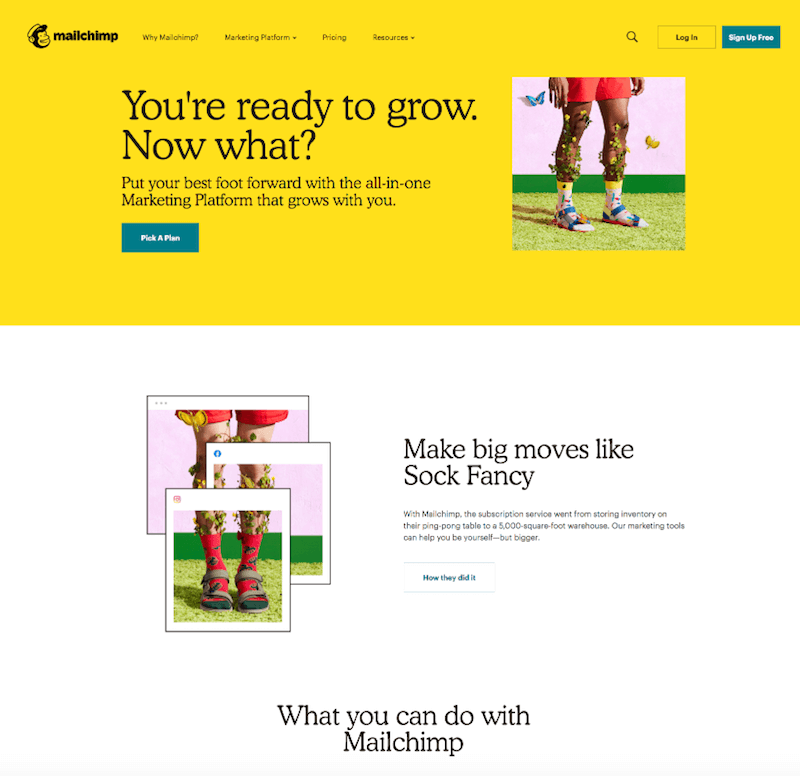 Omnisend
Among the more sophisticated and complete email marketing services in this list, Omnisend offers marketing automation for ecommerce brands.
Omnisend offers a free plan for basic email marketing needs which allows you to send up to 15,000 emails per month and has no limit on the number of contacts you can have.
However, where Omnisend really shines is in marketing automation, which is available on the Standard plan, starting at $16 per month.
Omnisend is an intuitive and easy-to-use platform, employing a drag-and-drop visual builder for emails, automation workflows, forms, and anything else you need to create—plus a ton of templates to help you get started quickly.
Pros of Omnisend: Omnisend sets itself apart from the crowd in automation: you can add additional channels, like SMS and push notifications, alongside your email messages within the same workflow.
Omnisend also offers a 14-day free trial for any of its paid plans.
Cons of Omnisend: At present, Omnisend doesn't offer a mobile app and is best suited for campaign creation on the web.
AWeber
Aweber aims at providing you more than just to connect to your customers. You get a lot of must-have features in Aweber, such as autoresponders, blog to email, third-party app integrations, and responsive email designs.
Comparatively speaking, the number of ready to use templates is one of the highest in Aweber.
Also, you get different choices for text fonts, such as web fonts that most other email marketing services don't provide.
Talking about the monetary factor, Aweber is somewhere close to the average price of email marketing services. Not too costly, but not too cheap either. It really depends on the size of your contact list.
Pros of Aweber: Aweber is comparatively very easy to use. You get a lot of reporting tools and a wide variety of templates. All the templates you get are fully responsive. Extensive features are vast in Aweber.
Cons of Aweber: The templates you get are a little old and outdated. There are a lot of other cheap options available out there. The reporting tool's interface is very basic.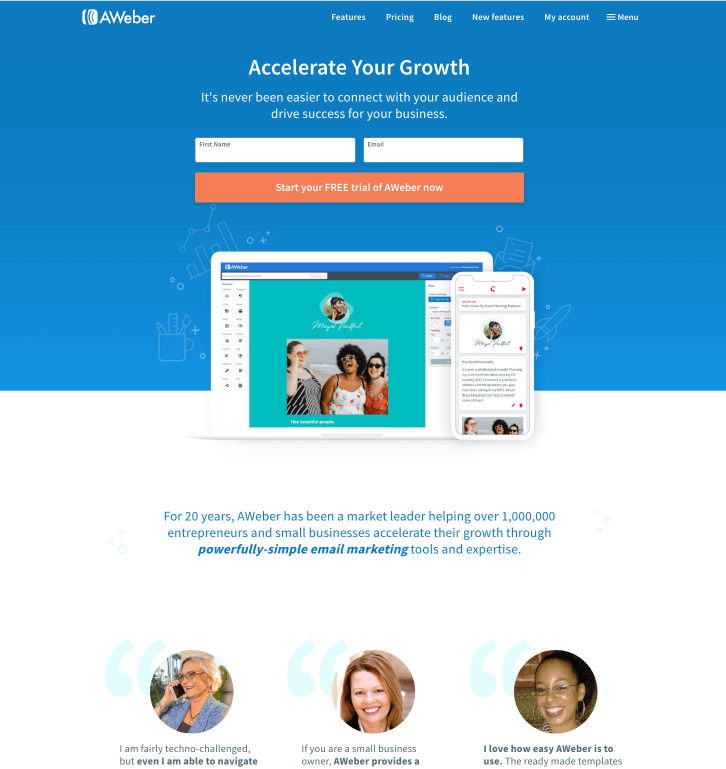 GetResponse
GetResponse focuses highly on easing your email marketing experience. All the expected features are there in this service.
Some of the important features of GetResponse are landing page creator and Webinar engagements.
You get a decent pricing plan that is close to the average pricing value in the market. You also get 30 days free trial for 250 subscribers.
If your niche is into eCommerce and if you want to capture customer feedback and analysis, GteResponse is one of the best possible options.
Pros: Landing page creator and spam testing are the top features of GetResponse. Easy of use and a great number of email tools, make this a great choice.
Cons: No free plans. Spam rate conversion is quite high in GetResponse and this is a big no for any email marketing service.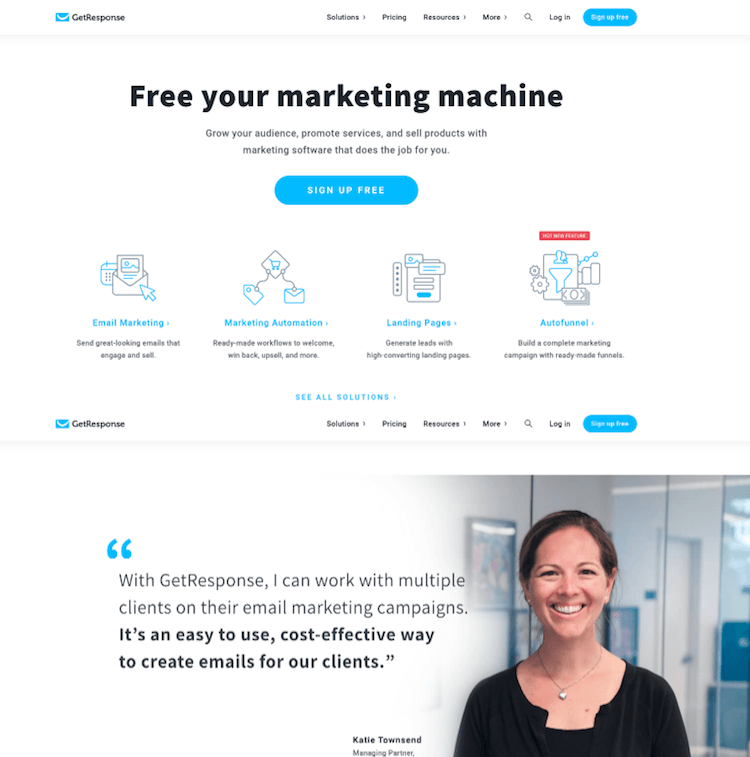 Constant Contact
One of the oldest in the business, since 1995, Constant Contact is one of the most popular email marketing services available these days.
In addition to its great email automation feature and event management tool, you get a lot of other great features such as third-party integration with over 400 apps.
Pros: Easy of use and good looking design are a plus point. A great option for some specific businesses like event planning.
Bounce management is a great feature you manage your bounced emails in a separate folder.
Cons: Not much of high-end automation are available in Constant Contact. Comparatively, the prices are quite high and the number of features offered is also very basic.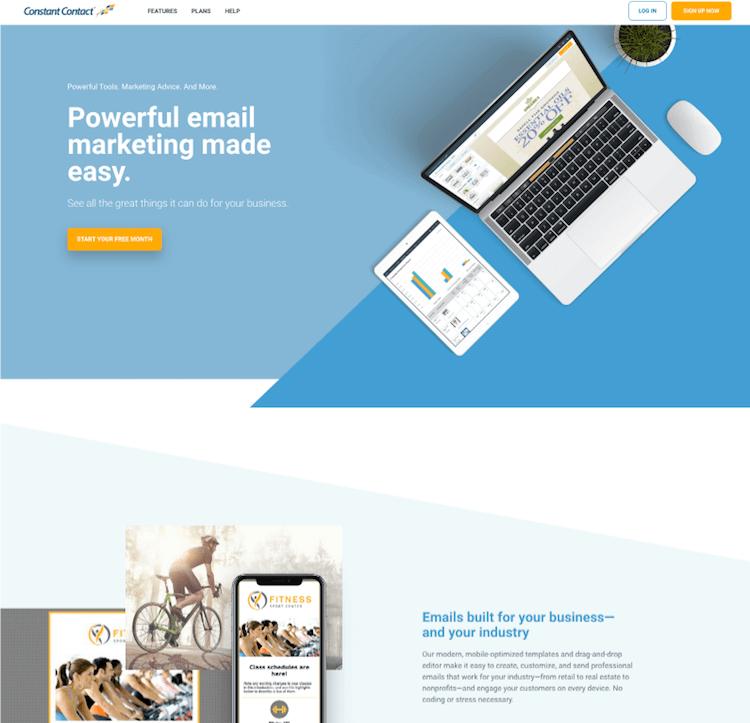 ConvertKit
ConvertKit deals in marketing automation, and serves easy to use drip campaign forms to automatically send emails to subscribers.
ConvertKit is specially designed with keeping people with low technical knowledge in mind.
Although it serves all the minimal requirements, ConvertKit is not a very great option if you are looking for some advanced email marketing features.
The tag-based subscriber system, various forms types, dynamic emails with merge tag, and A/B testing system are the prime features you get with ConvertKit.
Pros: Constant updates and visual automation builder are some of the great features of ConvertKit.
Ease of use, dynamic emails and tab-based subscriber system will definitely help you in the long run.
Cons: Comparing the price with others, this is not an option for people with a tight budget.
No free plans and above-average pricing plans make ConvertKit a costly choice. Also, the spam rate in ConvertKit has been quite high in many tests.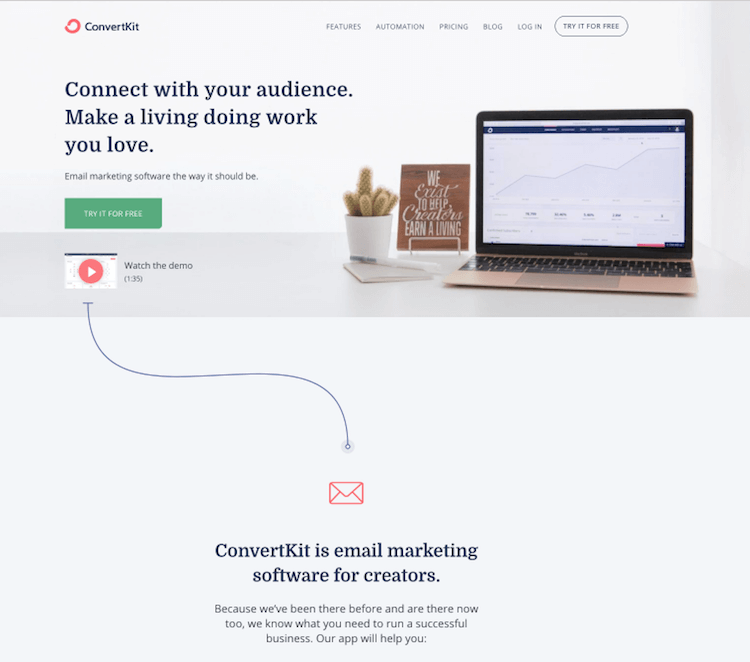 Drip
Drip is quite a popular email marketing tool these days. Started in 2003, Drip is still a very new email marketing tool in the market. Drip stands out of the crowd with few of its amazing features.
You get to know the insights of your subscriber and then you can send custom emails based on the data collected.
Event tracking, visual workflow, custom fields, and integration with many 3rd party tools make Drip a great option.
Comparing Drip's pricing is on the expensive side. You get three different pricing plans to choose from, starting from $49/month, which is quite expensive, but the exclusive features you get in Drip, $49/month is very much worth it.
Pros: The event tracking feature steals the game for Drip. Email automation is quite perfect. The easy to use user interface and 24/7 customer support makes this a noticeable choice.
Cons: Getting a custom HTML template in Drip is quite a challenge if you are not a pro in programming. Understanding the features and workflow takes a while for beginners. It is not cheap at all.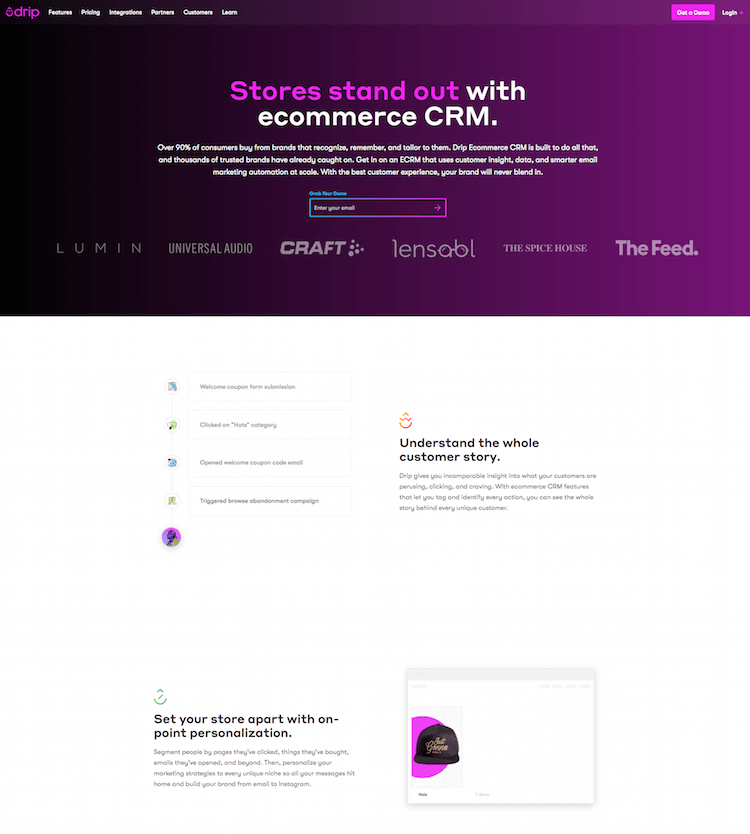 SendinBlue
SendinBlue has a lot to offer for digital marketers. It can be called a complete package of digital marketing tool, with services like CRM, email campaigns, transaction emails, and Facebook Ads.
There are tons of email marketing features packed in SendinBlue. Event-Triggered Emails, auto-responders, Landing pages, Report & Analysis are some of the top-notch features of SendinBlue. And yes it does offer a free trial.
Features like mailing list management, subscriber management, template management, and image library provide you a complete easy to manage and administer your email marketing campaign.
Comparing the price, SendinBlue is very cost-efficient. You get free trails to try on and the premium pricing plans start from as low as $25/month for 40,000 emails.
Pros: The cheap price tag is a winner. Great and complete email marketing management system is a plus point. The 24/7 supportive customer support and industry advanced tools make this service a good option to try.
Cons: Comparing with other email marketing services, SendinBlue has quite a lesser number of email templates to choose from. Third-party integration is not up to the mark.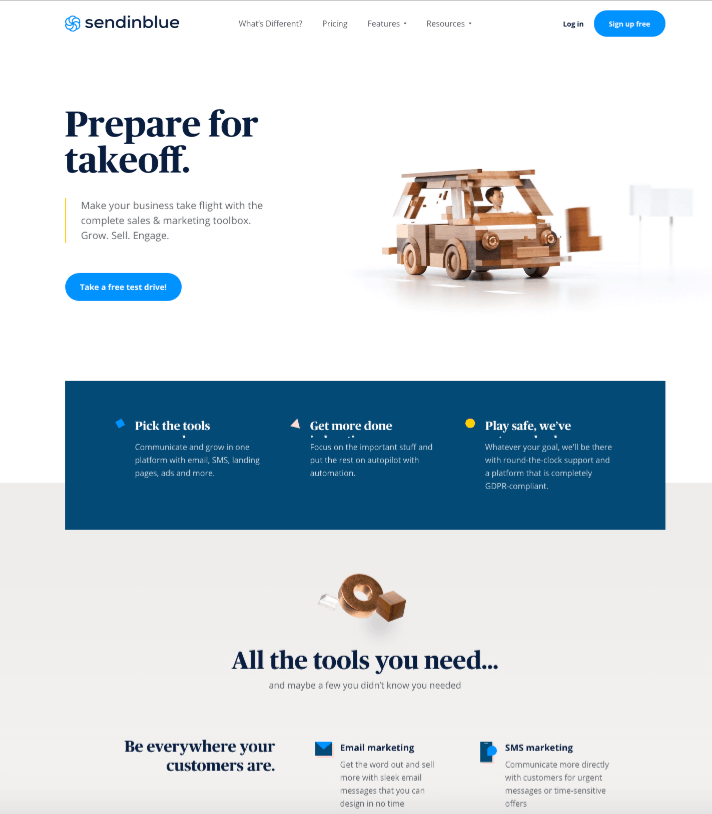 MailerLite
MailerLite is a very popular email marketing tool that is based on the cloud storage system. Number of different easy to use features has helped MailerLite become a good choice in the recent past.
Campaign reporting tools, complete email automation, and result tracking are some striking features of MailerLite. You get very easy to use drag and drop newsletter builder to create good looking newsletters with images, videos and texts.
Tracking the number of clicks, views, spam & spam complaints, and unsubscribed recipients are some must-have tracking features in MailerLite.
Pros: This is a great option for beginners. You get a very large amount of features at comparatively cheaper prices. Dedicated support and easy to track features are a plus point here.
Cons: There is an approval system that surely annoys some of you. Some insight rules might be a bit confusing for all kinds of users. There are a lot of features, but no unique and striking feature you get in MailerLite.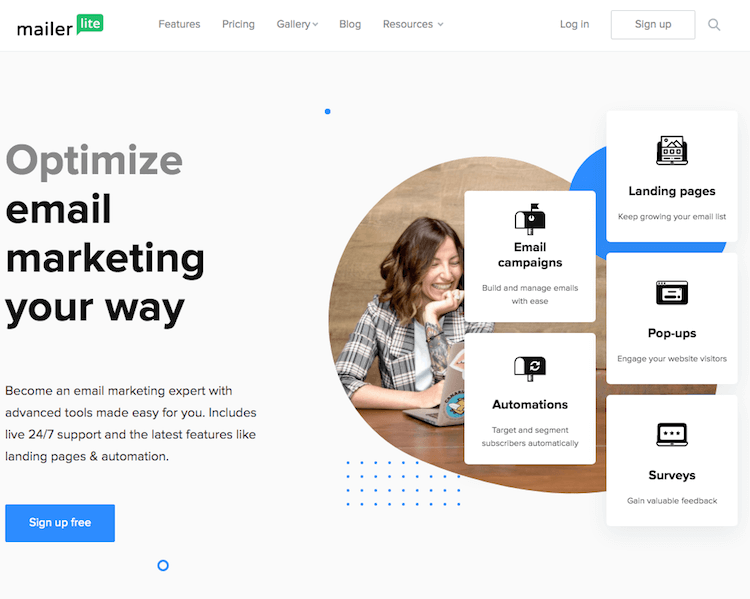 ActiveCampaign
ActiveCampaign is famous for its great deliverability and complete automation tools. ActiveCampaign is very easy to use and the design speaks for itself.
Autoresponders and automated CRM system are some of the great things you get in ActiveCampaign. You also get a messaging system using which you can easily send direct messages to some specific visitors.
If you need complete automation providing and multi-channel marketing email marketing tool, ActiveCampaign is the one for you. You also get a good amount of integrations, such as eCommerce and data analysis, which will definitely help you in the long run.
Pros: Account migration is absolutely free. Deliverability is one of the highest in the industry. You also get a good amount of reporting and analysis features in ActiveCampaign. Comparing the pricing plans, you get a lot cheaper deal than others.
Cons: This is definitely not the easiest to use. The features will be a bit complex for first-time users. And this is not a low maintenance one, you'll need to regularly update your profile.
SendGrid
SendGrid is another very popular cloud-based email marketing tool. SendGrid has been and is being used by many renowned brands, such as Pinterest, Airbnb, Spotify. And Walmart. SendGrid has been widely known for its great deliverability and scalability.
And Walmart. SendGrid has been widely known for its great deliverability and scalability.
You get a ton of different and must-have features, such as email template engine, list management, spam filtering, feedback loop, unsubscribe tracking, custom API integration, ISP monitoring, and 24/7 complete customer support.
You get a free option in SendGrid, where you can send upto 40,000 emails the first month, and 100 per day thereafter, which is definitely one of the best in the industry. The three premium plans are very competitive and start from as low as $9.95.
Pros: The API is one of the best in the email marketing market. Overall SendGrid is very easy to use.
Spam deliverability is low in SendGrid, which is a great selling point. The pricing is very competitive and the free plan offered is quite a winner in the category.
Cons : The automation part is not as easy to get along as in many other email marketing tools.
Also, the overall interface will be quite a thing to understand for beginners. And also, the templates offered are very basic.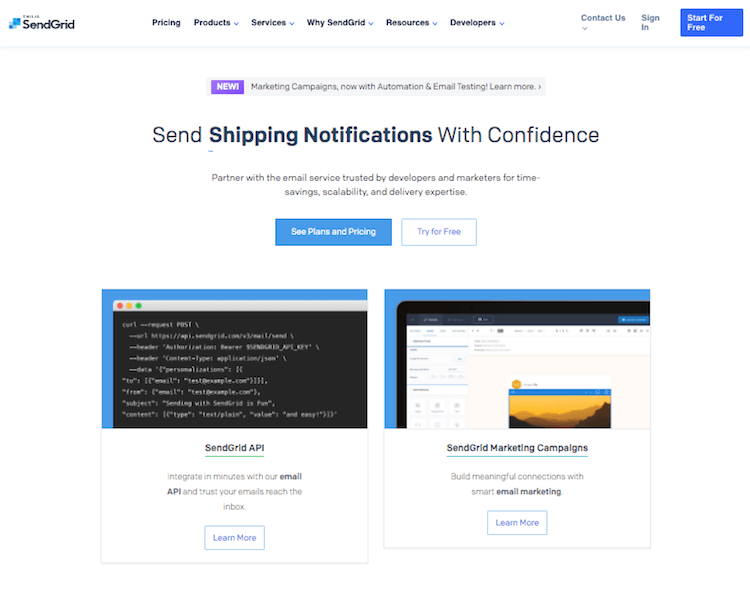 Final Word
All of these email marketing tools have some of the other great features.
Talking about the pricing plans, rather than simply looking at the price tags, one should always check the number of emails that can be sent and the amount of maintenance your account would need in the future.
So, while choosing the best one for you, always look at the features you are looking for and those which are best for your business.