Get a 10% exclusive discount on any BuddyBoss product using our coupon code "begindot10"
BuddyBoss is the most popular name when it comes to creating an online community using WordPress is concerned.
So, if you ever wanted to create your own Facebook or Twitter, here is your chance to get your hands around quickly.
We have been writing and BuddyPress and BuddyPress theme on BeginDot in the past.
BuddyBoss is one of the most experienced WordPress development teams when it comes to the BuddyPress themes. They have been creating WordPress themes that are specific to BuddyPress-based community sites.
BuddyPress is an open-source WordPress plugin (the most popular) to create a social community website. You can download the plugin for free and start your social networking site. All you need is a BuddyPress-compatible WordPress theme.
Now, they have their custom solution (BuddyBoss Platform) to create an online community site that will offer you everything that is required to create a high-quality social community site.
BuddyBoss social community platform is based on WordPress, the most reliable CMS. So, you will have the power of WordPress to boost your community site and BuddyBoss to bring social features.
If you want to know more about the BuddyPress themes offered by BuddyBoss, you can read the BuddyPress themes article that I have linked above.
This review will be mainly around the BuddyBoss platform to create a social community site which is a custom solution to create any kind of social community site on WordPress.
BuddyBoss Platform Review: An Overview
BuddyBoss is a platform to create a social community website like Facebook or Twitter. Your users will be able to create their profiles and start engaging with the community. It offers you all the features and options that you will need to create a successful community site.
Over 50,000 users are already using BuddyBoss products to create their social community websites. So, you can certainly trust the quality offered by the BuddyBoss team.
BuddyBoss Themes Vs BuddyBoss Platform
The BuddyBoss themes are created to work with the BuddyPress plugin. The themes are limited as far as the featured and options are concerned while the BuddyPress platform is way more comprehensive and modern.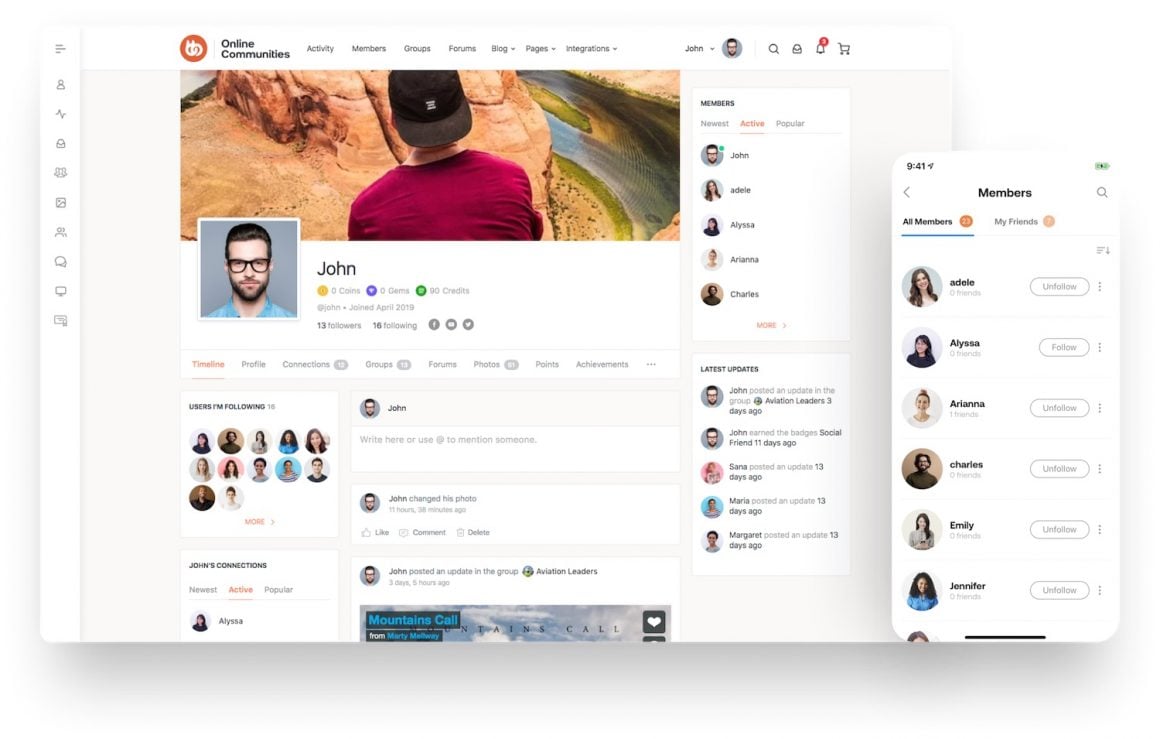 So, what can you create with the BuddyBoss Platform?
Almost any kind of social community site. No matter what your requirement is, the super flexible BuddyBoss platform will not disappoint you.
A quick overview of the top features offered by BuddyBoss Platform
Customize It completely
You will never have any restrictions with the BuddyBoss Platform. You will be able to create your own brand image with your own custom design.
BuddyBoss Platform is an open-source platform that is fully customizable. You can have your own color scheme and other design options to make your site unique.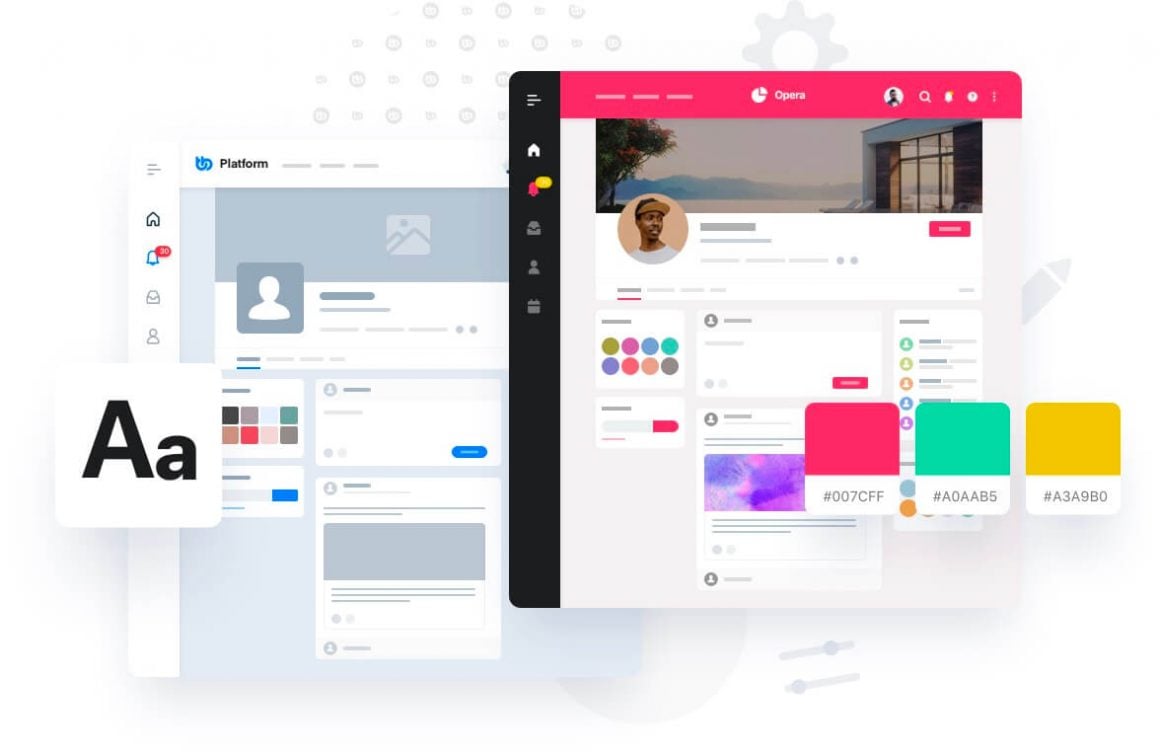 Member Profiles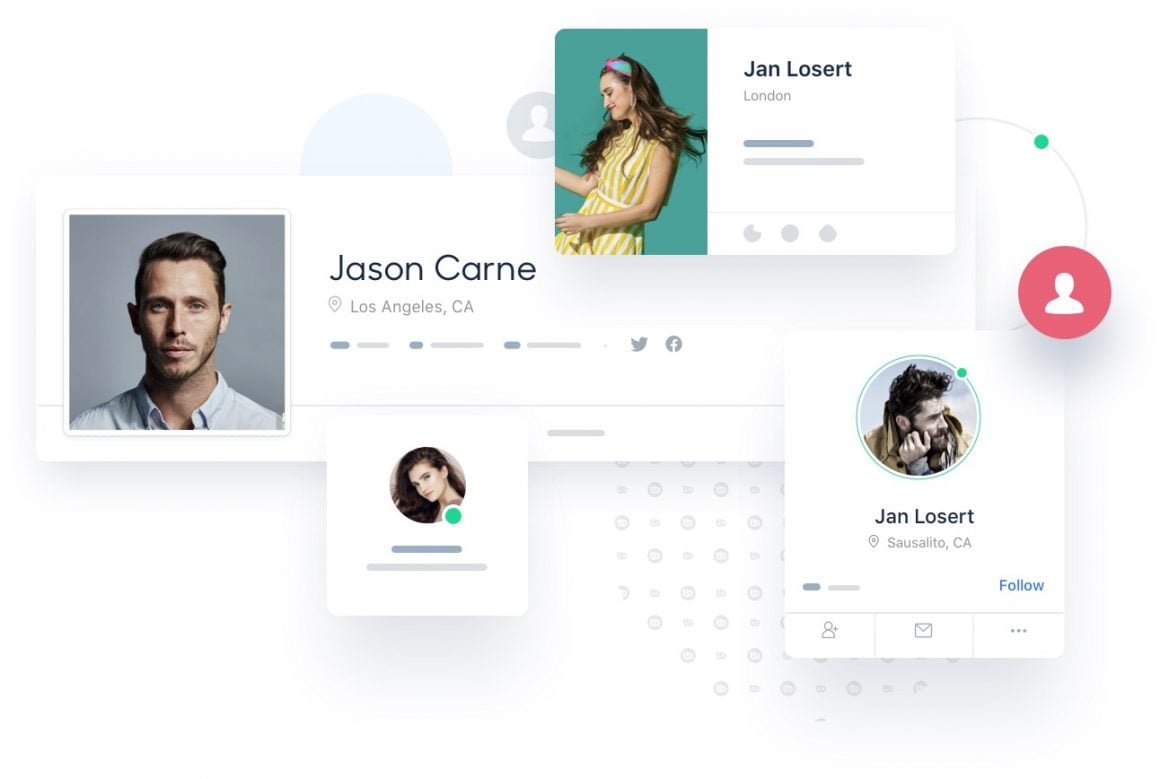 Every online community is unique and it is important to be unique because if you create just another social community site, why would the users use your platform while there is Facebook available already?
So, is it important to be unique and custom as far as the branding of your community is concerned to attract users?
BuddyBoss understands this well and hence offered the option to create a completely unique profile option as per your requirement.
You can quickly customize the design as well as the fields in the user profile section to make it different.
Custom Profile Fields
As already mentioned, you have the option to create custom profile fields as per the user so that they can express themselves accordingly.
Profile Permissions & Roles
This is another very important point when it comes to a social community site. The permission or access level to the users.
BuddyBoss gives you the option to create different access levels depending on the member type.
If a user is a paid member, you can allow different access levels, permission than a free member.
This will enable you to monetize your community well.
Every user can quickly customize how their profile page looks like. They will have the option to change the details, the profile picture, the cover image. They can also decide which field to be public and which one to be private.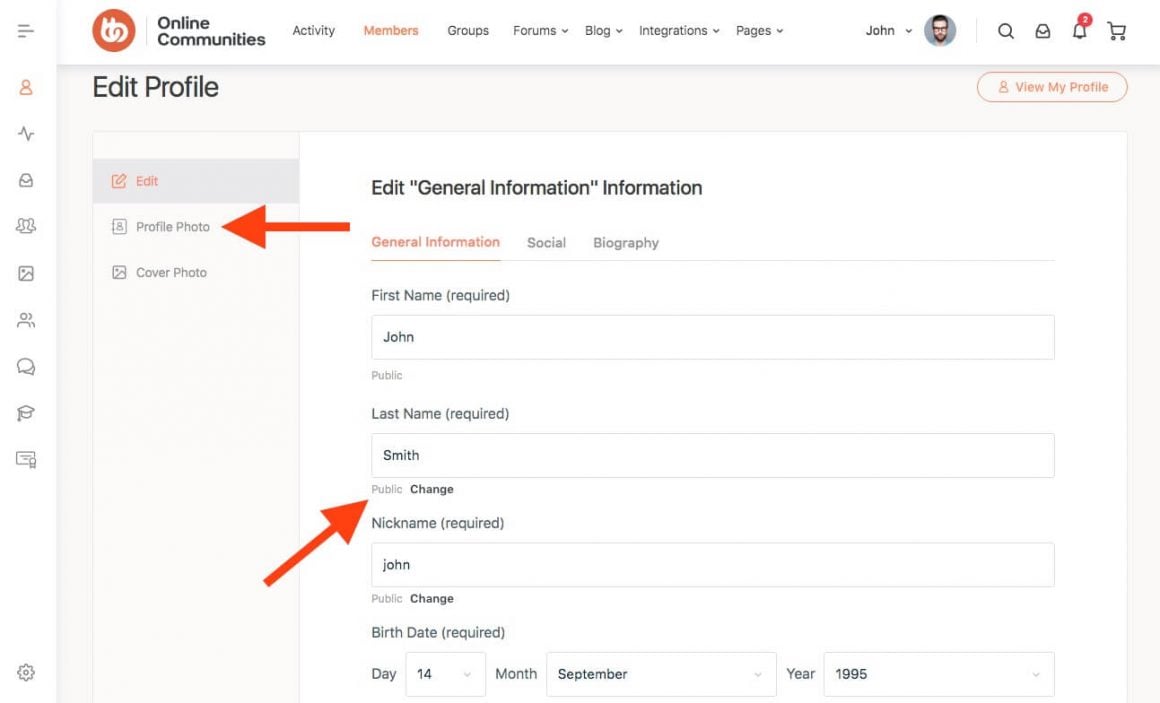 Create Social Groups
Like Facebook, BuddyBoss offers you the option to allow your users to create groups.
The users will have the option to create public or private groups to discuss different topics with other group members.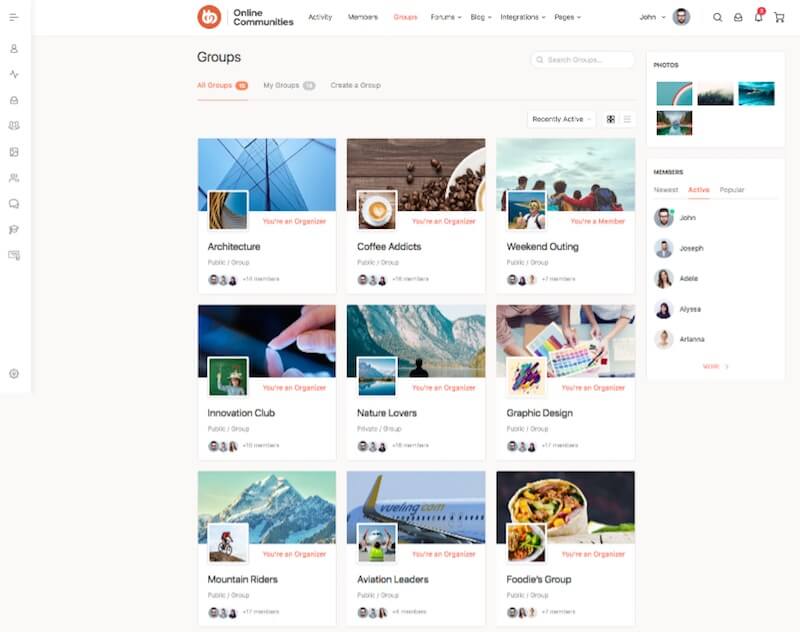 Modern Forum Section
When we talk about a social community site, a forum section is an integral part of it. With the BuddyBoss Platform, you will have a perfectly optimized bulletin-board-style discussion forum so that your community members can exchange thoughts and resolve issues.
BuddyBoss gives you the option to create a forum with a group or without a group.
If you are planning an outing for a specific group, you can create a section for the group to discuss the details. Similarly, you can create groups for almost any kind of event, and groups of any size.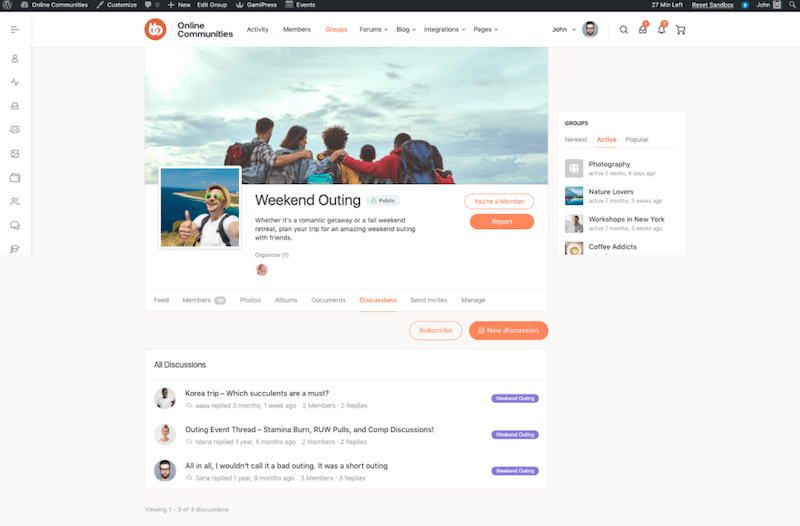 Activity Feeds
The activity feed is the lifeline of any social community site. This is the place where you will see the recent updates from other users who are in your community or your connections.
This works in a similar way to how Facebook is operated. You will have the option to update your activity feed, you can like or comment on the updates of other members.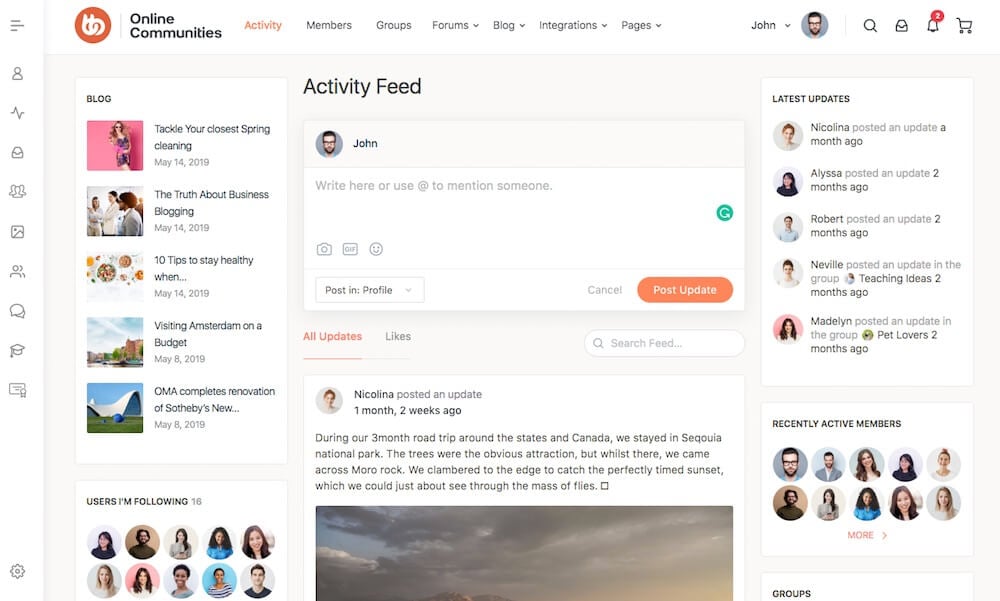 Create a Private Community
Creating a private community that is only accessible to the logged-in user is simple and easy with the BuddyBoss platform.
This feature can be useful when you plan to create an intranet kind of system for a closed group, for your business users, a community of small group, a non-profit organization, churches, and other similar groups who needs a closed community system to discuss things and share ideas.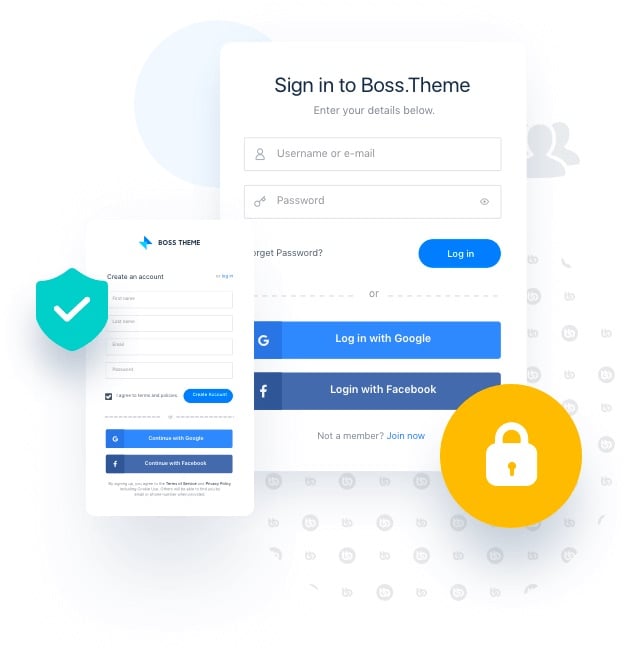 Create an Event Community
If you are an event organizer and wish to have a community around it, the BuddyBoss platform is for you.
On the other way, if you create a community site on any topic and wish to display the events related to that topic or niche community, the BuddyBoss platform integrates itself perfectly with the Events Calendar Pro and other extensions.
You can have site-wide or group-specific events as per your requirement.
The plugin makes it easier for you to update the details of your events in many different ways. You have a calendar view, list view or you can display the events on a Google map.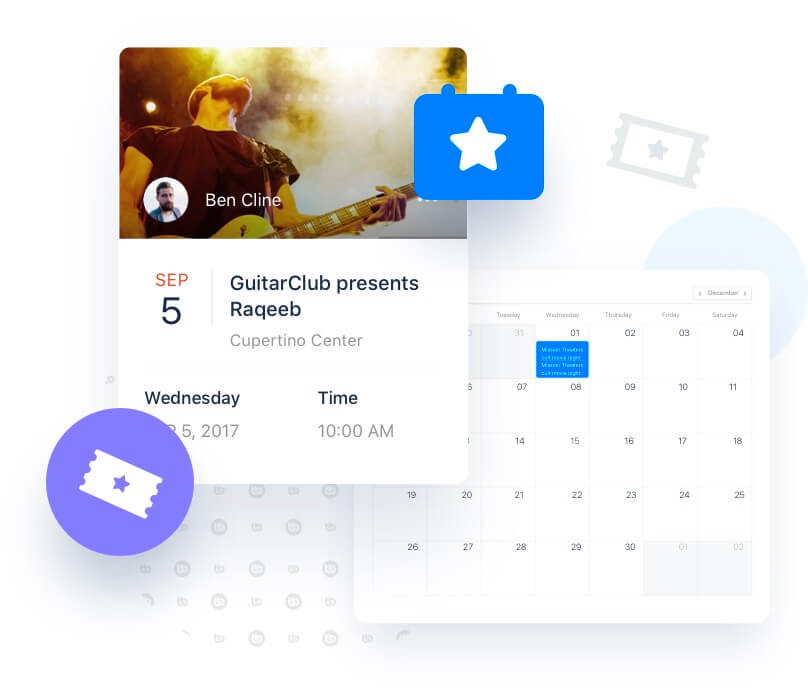 Create a Membership Site
With the BuddyBoss platform, you will be able to create a paid membership site. So, your users will have to pay a one-time or monthly subscription-based payment to access your community.
If you have created an eLearning community site, you can create a membership structure where only the paid members will be able to access your content.
This is a great business model. You will be able to make thousands of dollars with your community if you are able to create some value around your site.
For example, you create a membership community site around digital marketing courses and you teach people digital marketing who subscribe to your site.
So, if you are able to acquire even 1000 maid members who pay as low as $10 per month to access your courses, you make $10,000 every month.
All you need to do is offer value on a regular basis. You can keep on updating your courses with the changing trend. Also, you can keep adding new courses and give access to all paid members.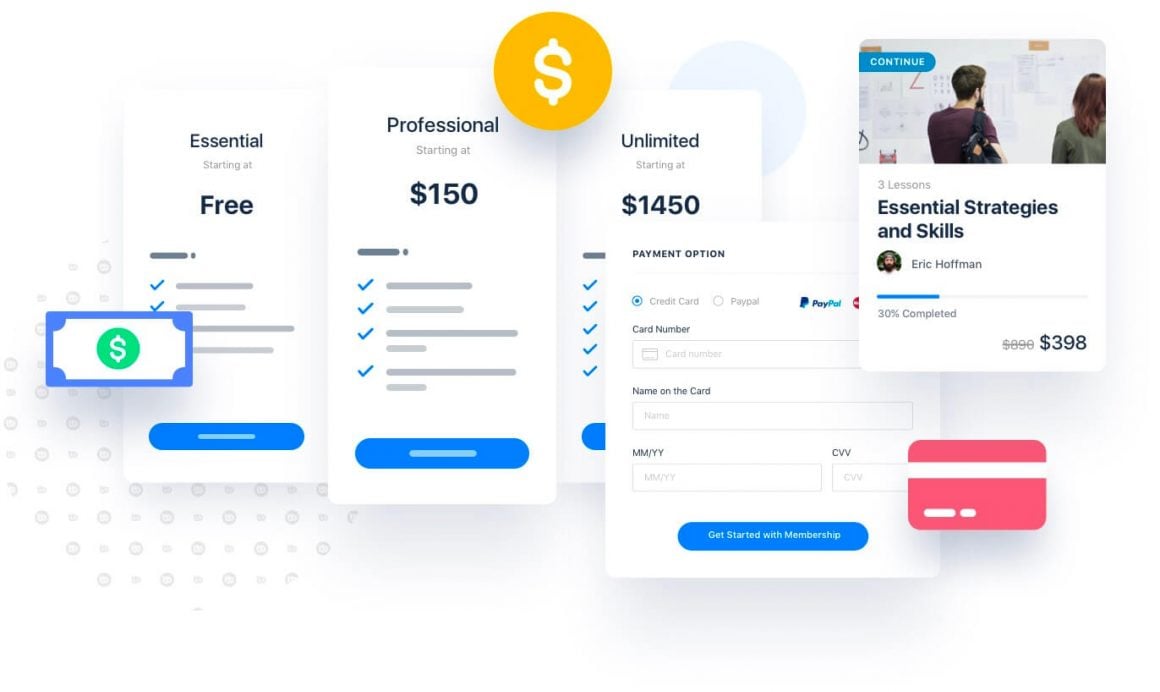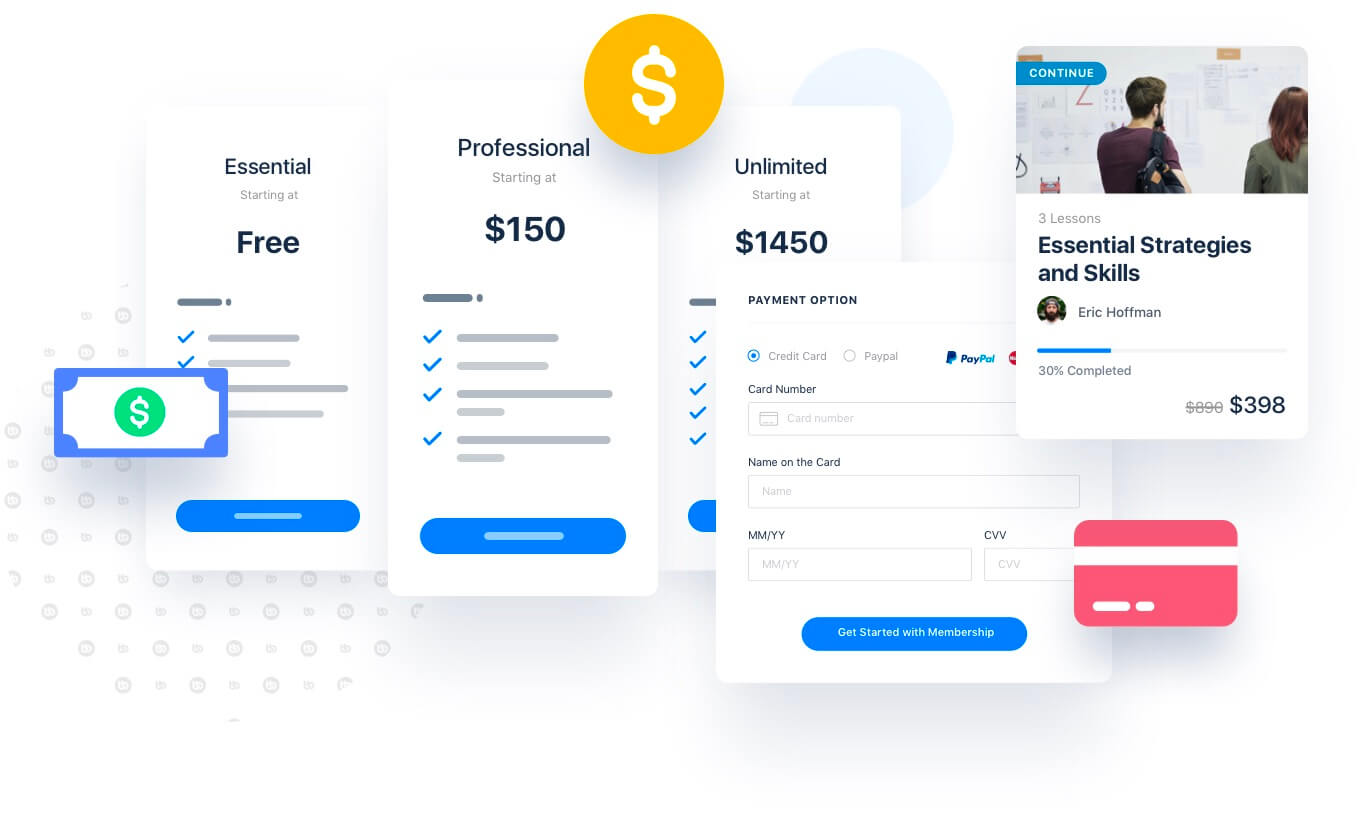 Launch Your Online Courses With BuddyBoss & LearnDash
Create a completely modern and profitable online course community by integrating BuddyBoss with LearnDash
LearnDash is one of the most popular LMS (Learning Management System) WordPress plugins in the market. BuddyBoss integrates itself seamlessly with the plugin.
In fact, the BuddyBoss Platform comes with custom design and solutions to work perfectly with the LearnDash plugin.
You can create a fully optimized learning portal where you can create your courses, take payment from your users to access your courses, create quizzes, and manage all other aspects related to online learning.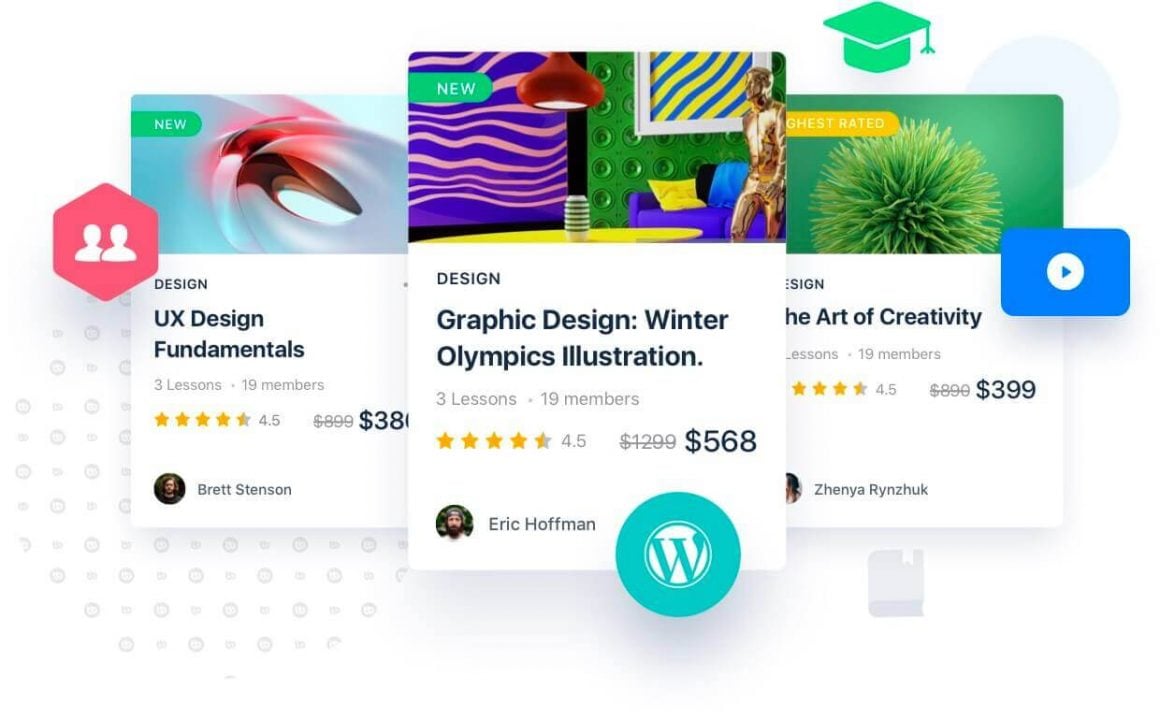 Here are the highlights of the courses
Here is how a course will be presented on your website. The summary of the course will offer a glimpse of what is included in the course.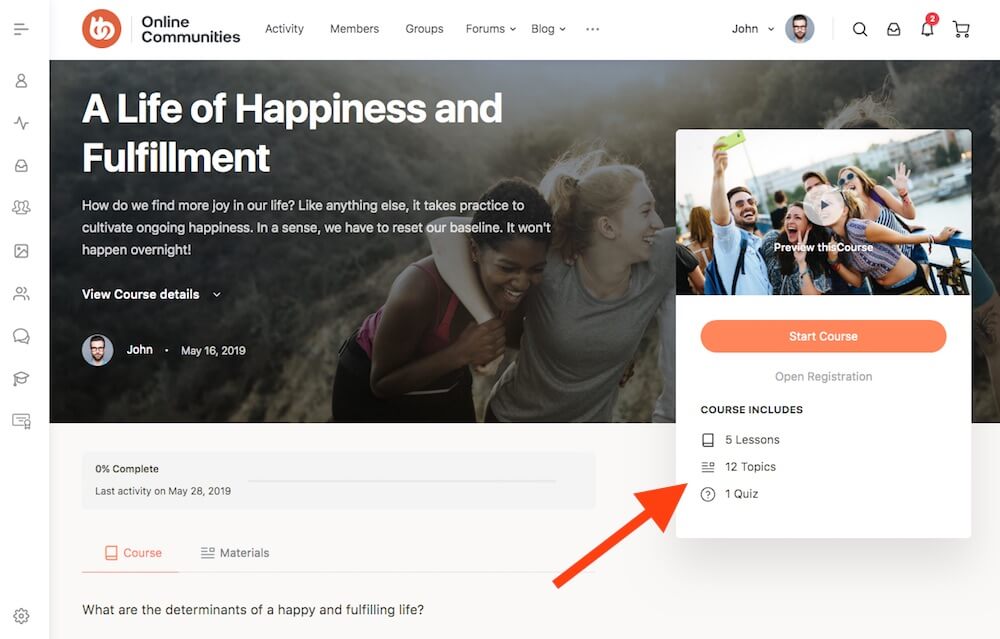 Drip Feed Content
This is an important feature for any online learning portal. While you can deliver the entire course at once. You have the option to drip your content, which means it will be scheduled over a period of time making it easier for the students to learn step-by-step.
Every student has a different capacity to learn. While some students may pick up things quickly, there will be students who will need time to get around things.
So, it is important to offer content at the convenience of the student so that they can go step by step.
The drip content method will make sure that the lessons are not bombarded to the students rather it is served in steps as per the flow and difficulty level.
Quizzes
Without the quizzes, the course will never be complete. You will have to understand if your students are learning what you intend to teach.
Also, it is important to mark a course as complete so that you can evaluate the students and offer them the certificate of completion.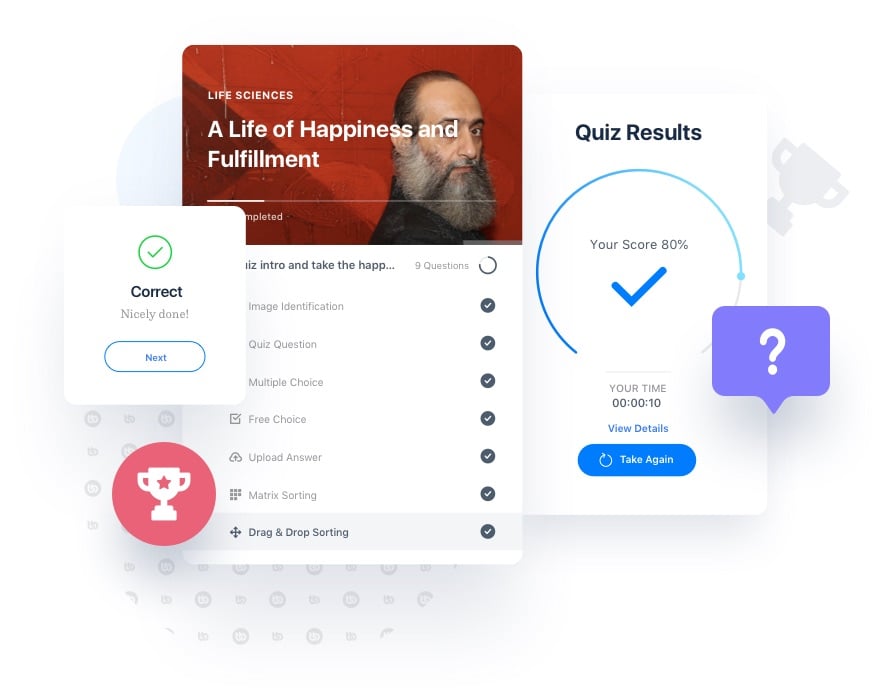 Create an Online Learning Site With LifterLMS + BuddyBoss
LifterLMS is another very popular online learning management system with all the features and options that you need to create a successful educational portal.
BuddyBoss comes with deep integration with this LifterLMS plugin to help you create a comprehensive online learning community.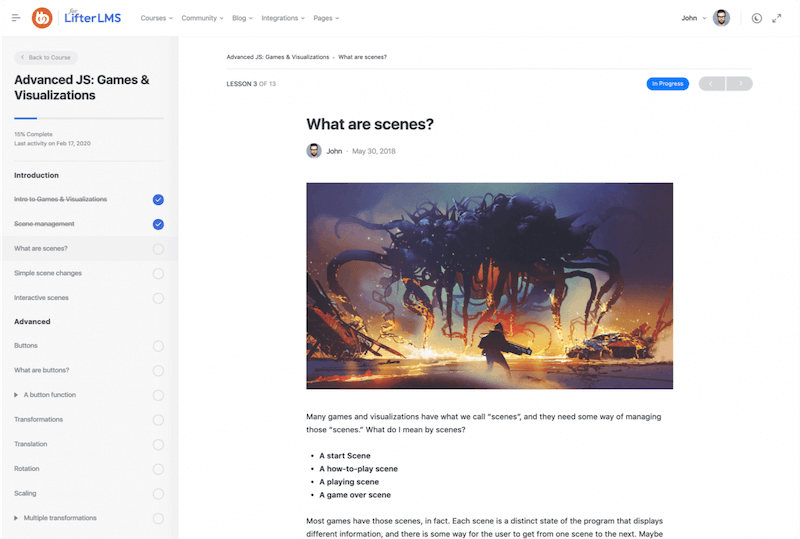 LifterLMS Offers all the Important Features Such As
BuddyBoss Review:

Gamify Your Online Community
Points, badges, rewards, ranks are an important part of any online community. BuddyBoss gives you all the options to use it for your benefit.
The BuddyBoss platform comes with out-of-the-box styling integration for the popular gamification plugin GamiPress.
The ranks, points, and badges increase the trust factor in a community site. If a member is active and constantly contributing to the community the badges will signify the contribution.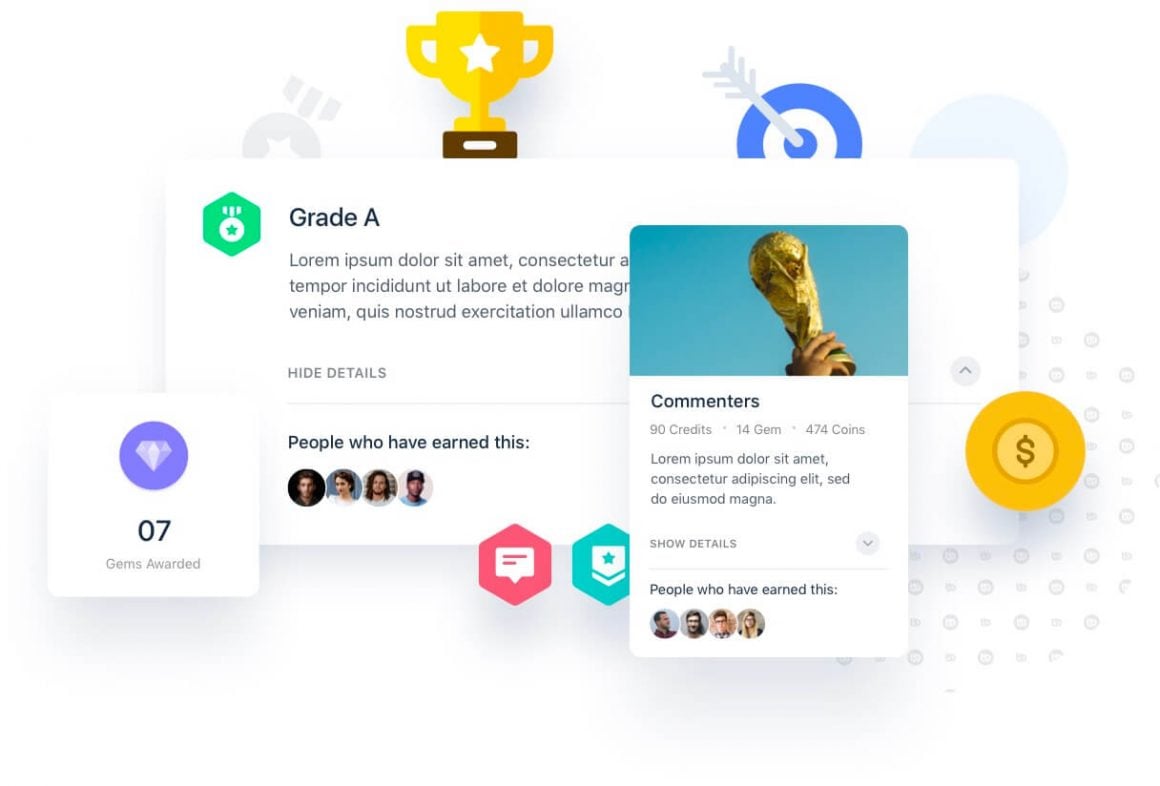 The members will have the option to complete specific tasks and unlock different badges.
This feature will be very useful if you create a social learning portal with the BuddyBoss Platform.
The members can regularly contribute and make their profiles visible. It will help them to establish themselves as an authority or expert on that topic.
BuddyBoss Review: Create Your Mobile App
If you are creating a community at large scale, the mobile app is extremely important because most users access the internet through mobile devices these days.
You don't have to be a technically sound person to understand the importance of creating a mobile-first website these days.
If your online business is not good enough for mobile devices, you are sure to lose a large section of potential users.
BuddyBoss Platform makes it super easy for you to have a mobile app for your online community site that will be hosted on Google Store as well as the iOS app platform.
The mobile app will not only help your online community but will increase the trust factor and make your business look a lot more serious and professional.
With AppBoss which is a BuddyBoss platform for mobile apps, you will be able to create a completely modern mobile app for your community.
Everything that is available on the web version of your community such as the activity feed, the profile pages, the forum, the courses will be available on the app so that the users can use your community on the go.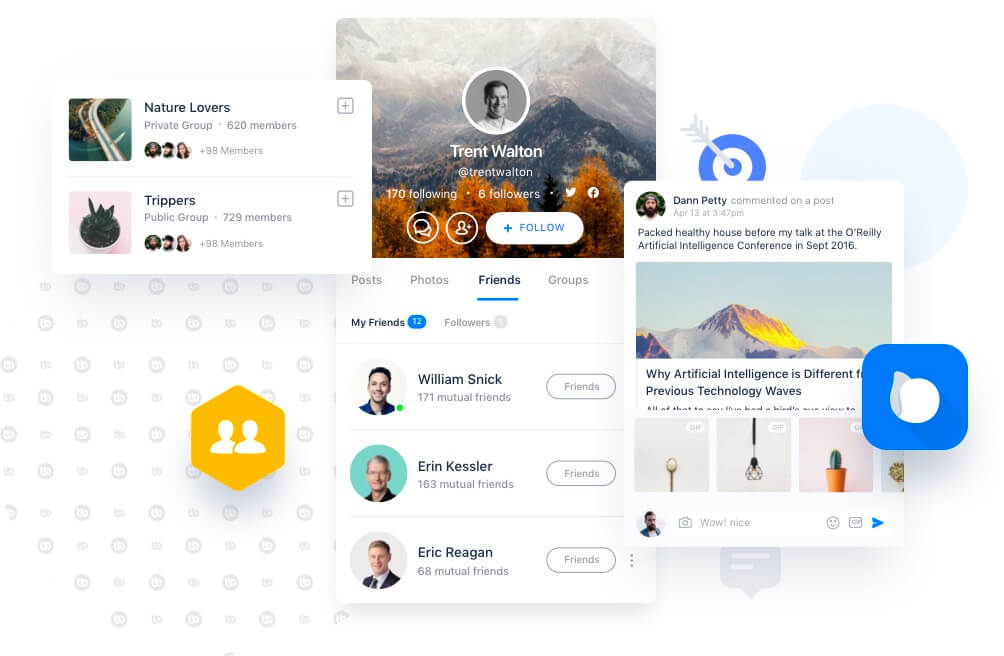 Learning On the Go
If you have created an online learning community using BuddyBoss and LearnDash, your users will be able to access your courses through mobile devices at any time from any location.
This will built-in trust among your students and potential students to opt for your courses.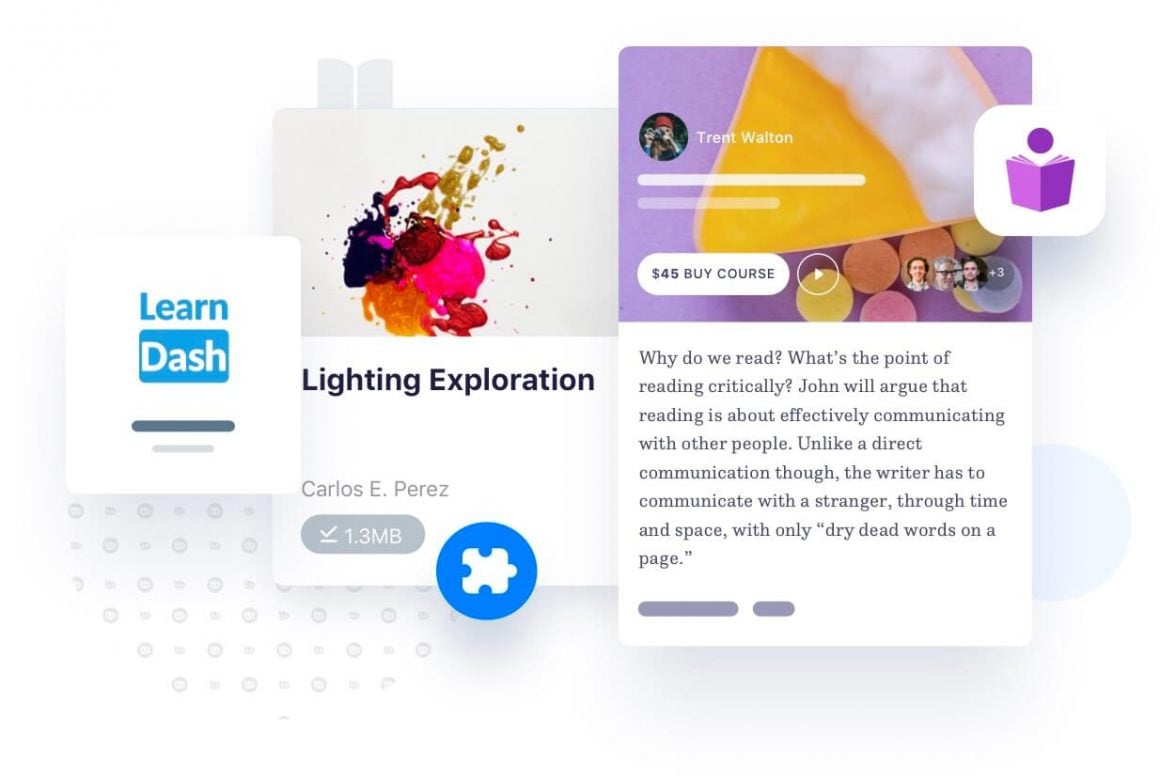 Monetize with in-App purchases
As already mentioned above, you can create different packages and charge your community app users to subscribe to your courses or to access your community.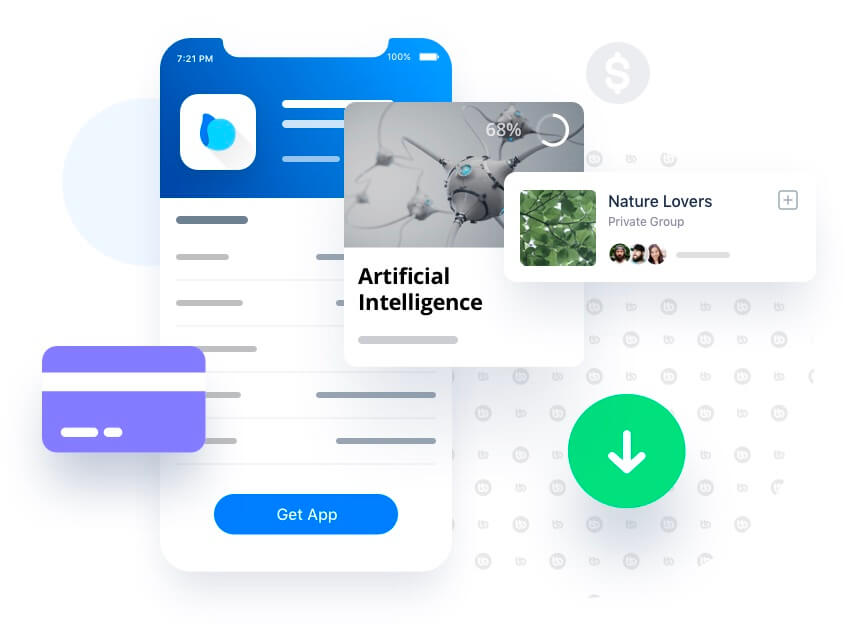 Advanced Push Notifications
Push notifications are in trend these days and why not because they are very useful and quick.
BuddyBoss gives you the option to segment your community users and send the right notification to the right group in the community quickly.
If a user is active on your mobile app, the push notification will always keep them updated with all the happenings in the community.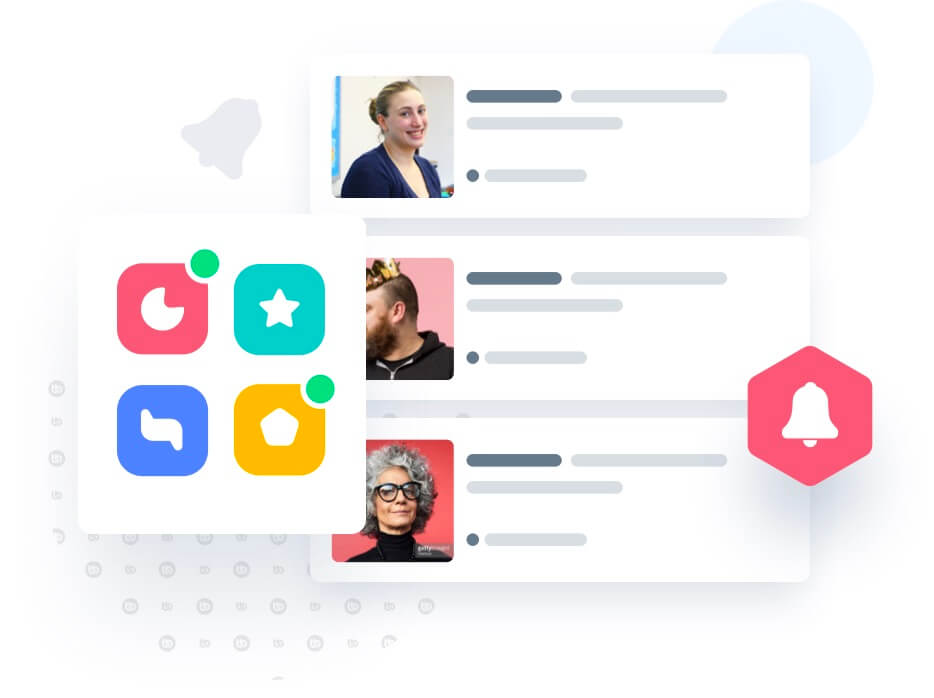 On-Screen Notifications
BuddyBoss recently released an update about the on-screen notifications. So, when any other users mention you in any comment or send an email, you will get a notification on your screen so that you can check the message quickly.
You will get the option in your BuddyBoss dashboard to setup the notifications. You can select when you should get a notification.
This feature will make sure that you never miss any important updates.
Private Messaging
Private Messaging is another important part of a community website. With the BuddyBoss Platform, you will have the option to allow your users to send Private Messages to another user or another group member.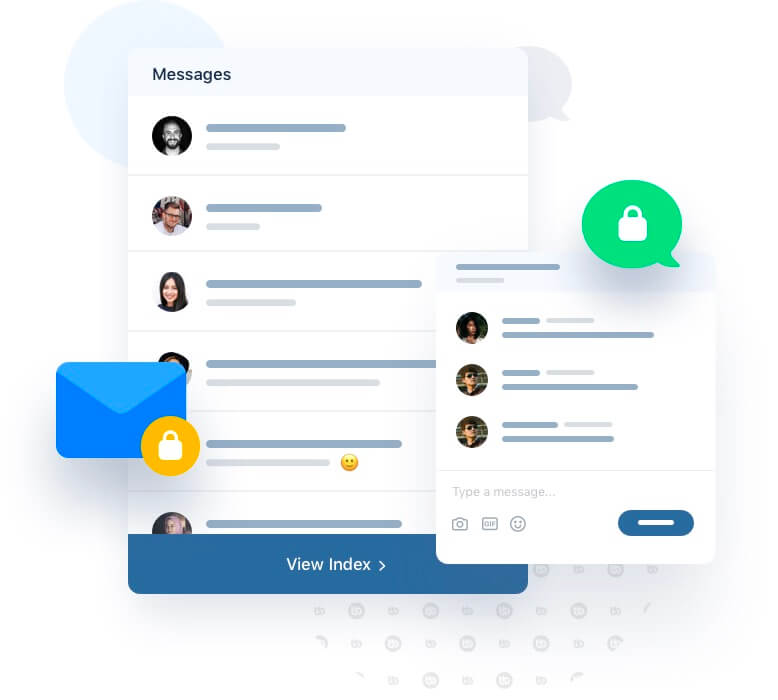 Zoom Integration
A video conferencing system is very important for every business these days, as most of the businesses are working from home.
As we all know that most businesses are forced to work from home due to the Covid-19 spread all across the world. So, the importance of video conferencing apps and tools has increased naturally.
As you probably know that Zoom is a popular video conferencing app that has come to immense popularity during these Covid-19 times. Many businesses, small or big created using the app.
Though there are a number of security-related concerns around Zoom, and businesses started looking for Zoom alternatives, the app is still going strong and is used by many businesses all over the world.
The BuddyBoss team came up with detailed integration with Zoom to make it easier for your community site using created with the BuddyBoss platform to conduct video conferences.
You will need to use the new BuddyBoss Pro plugin that is recently released to integrate the app. Don't worry, you will not have to buy the plugin, you will come free to all the present and future BuddyBoss customers.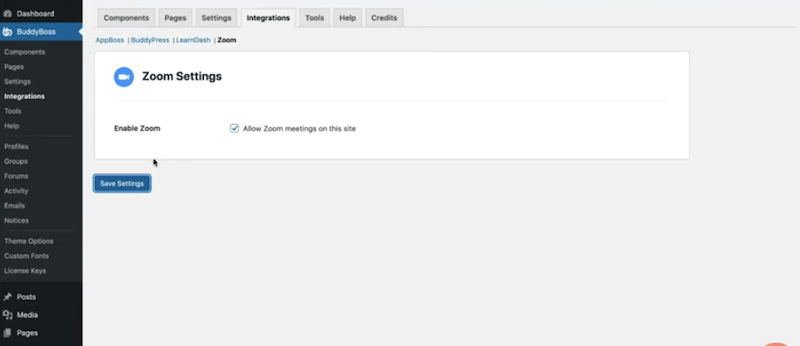 You can enable us to have a Zoom conference on the site or you can even allow your team members to have a Zoom meetup within a group and no one else outside the group will be able to view your discussions.
You can save the recording and access the past discussion at any point in time.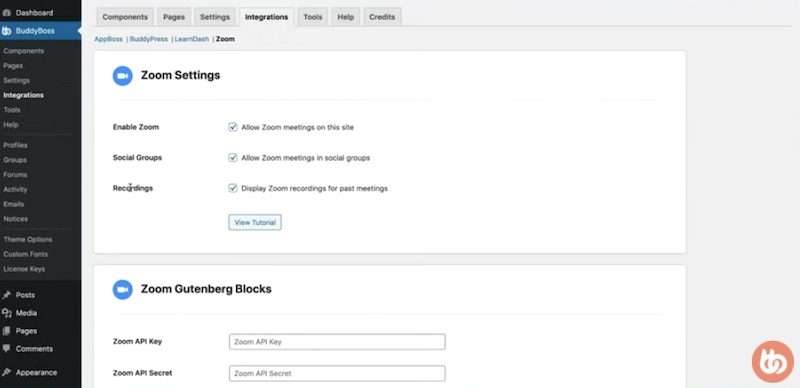 The WordPress Advantage
BuddyBoss platform is based on WordPress. So, you will have all the advantages that WordPress offers.
Like many other platforms including SaaS, you will never be locked in. You will always have the free don to change things around and grow with time.
As the BuddyBoss platform is based on WordPress, you have the freedom to use any free or premium WordPress plugin to bring in any kind of additional functionality into your community.
Another advantage is that you will not be locked in with the BuddyBoss platform.
You can break free at any time and move on with other solutions that you come across or you can go for custom design when your site grows very big (though BuddyBoss Platform can manage a site of any size)
Use Elementor Page Builder
BuddyBoss Platform is completely compatible with the most popular WordPress builder, Elementor.
You can use the website builder to create unique custom pages on your community site without writing a single line of code.
We have reviewed Elementor in this article.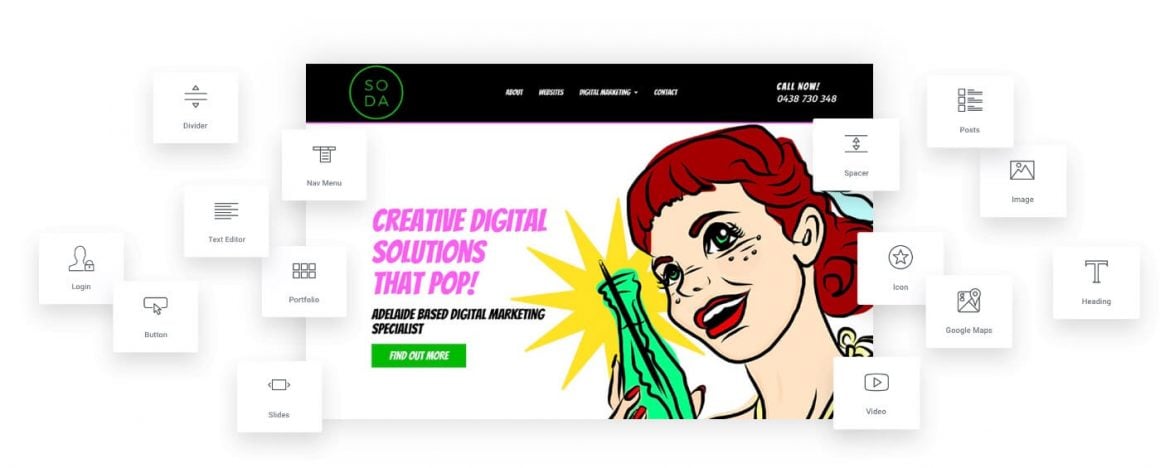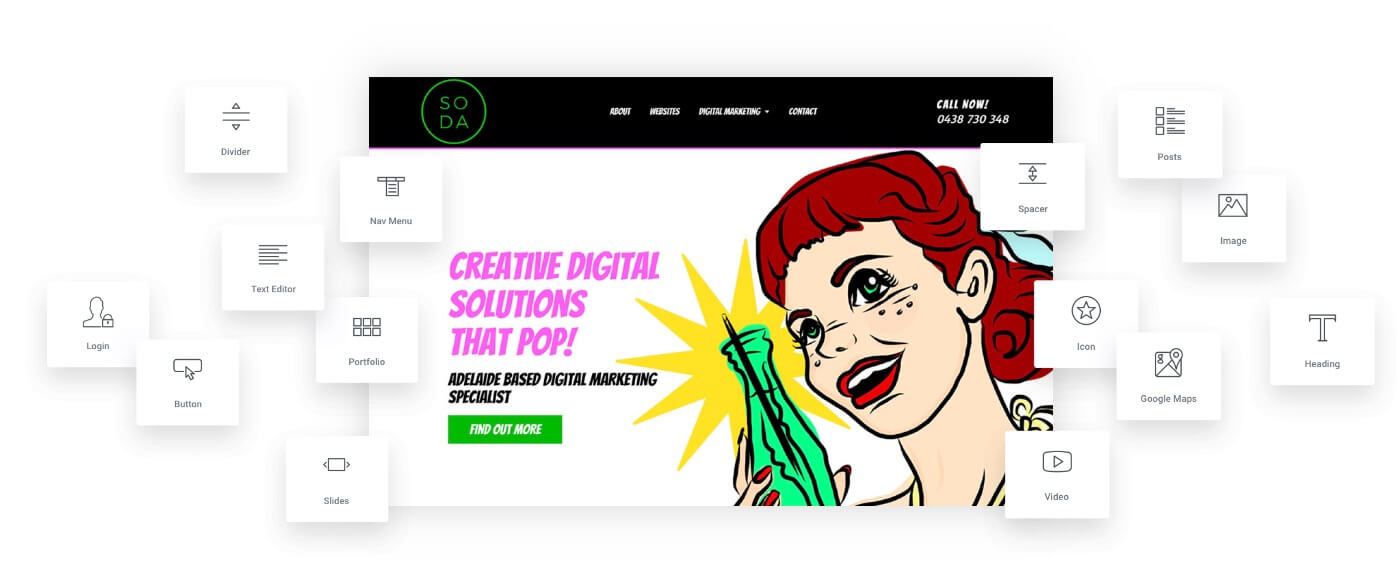 Create a WooCommerce Store
BuddyBoss platform is perfectly compatible with the number one eCommerce plugin for the WordPress CMS WooCommerce.
A community and shop are a great combination. Think of a situation where you have an amazing engaging community on your site created with BuddyBoss, be it an eLearning community or a general community.
Now bring in some great products on the site. You will not have to do anything extra to promote your product as you already have an engaging community. Your online store will start making revenue from the very first day.
BuddyBoss platform is perfectly compatible with the most popular eCommerce plugin for WordPress which is WooCommerce.
And the best part is that BuddyBoss comes with a custom design for an online store that is created with WooCommerce.
You just have to do the basic setup, upload your products, and make money. Please note, as the platform is compatible with the Elementor plugin, you can customize the design of your store completely.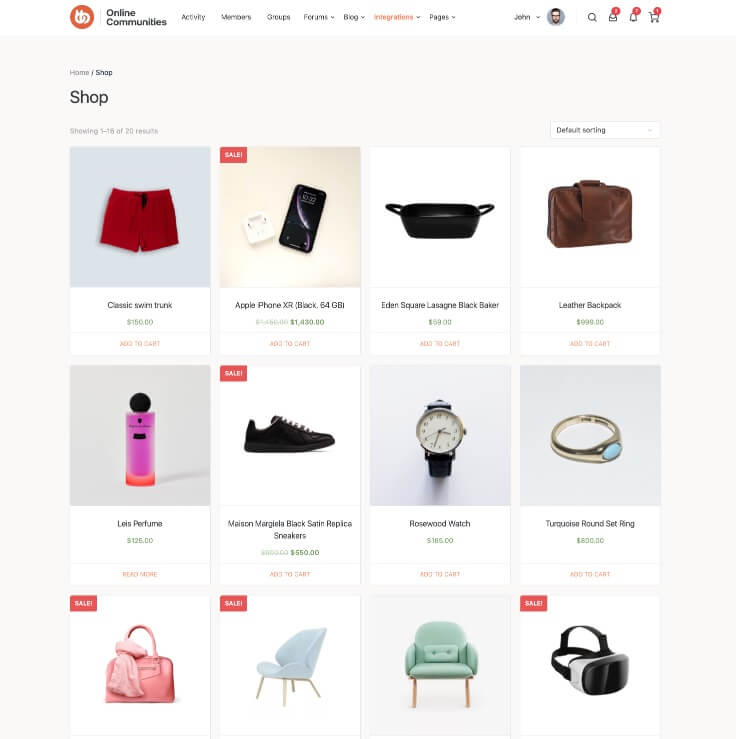 BuddyBoss Platform Review Conclusion
Without any second thought, you can be sure that the BuddyBoss Platform is the most comprehensive solution to create an online community using WordPress.
No matter what kind of community site you wish to create, the BuddyBoss theme will be a perfect fit for your needs.
It is a much better choice to create a custom and fully featured community site than going for custom development that will probably need thousands of dollars.
Who Can Benefit from BuddyBoss Platform & App?
BuddyBoss is basically a product that will make it simple to create an advanced-level community website or app even if you don't have any technical knowledge.
It used to be a big deal to create a community site that looks at per Twitter or Facebook, it still is. However, a product like BuddyBoss brings it closer.
Any business can benefit from a product such as BuddyBoss. You can create an independent community, grow your users and start making money, or you can have a community around your existing business with an existing user base.
No matter what kind of business you manage, the community around it will surely be helpful in engaging the users.
It can help to improve the customer support process by constantly engaging with them and answering their potential queries or engaging with them through virtual conferences.
The BuddyBoss system comes with all the tools and features you need.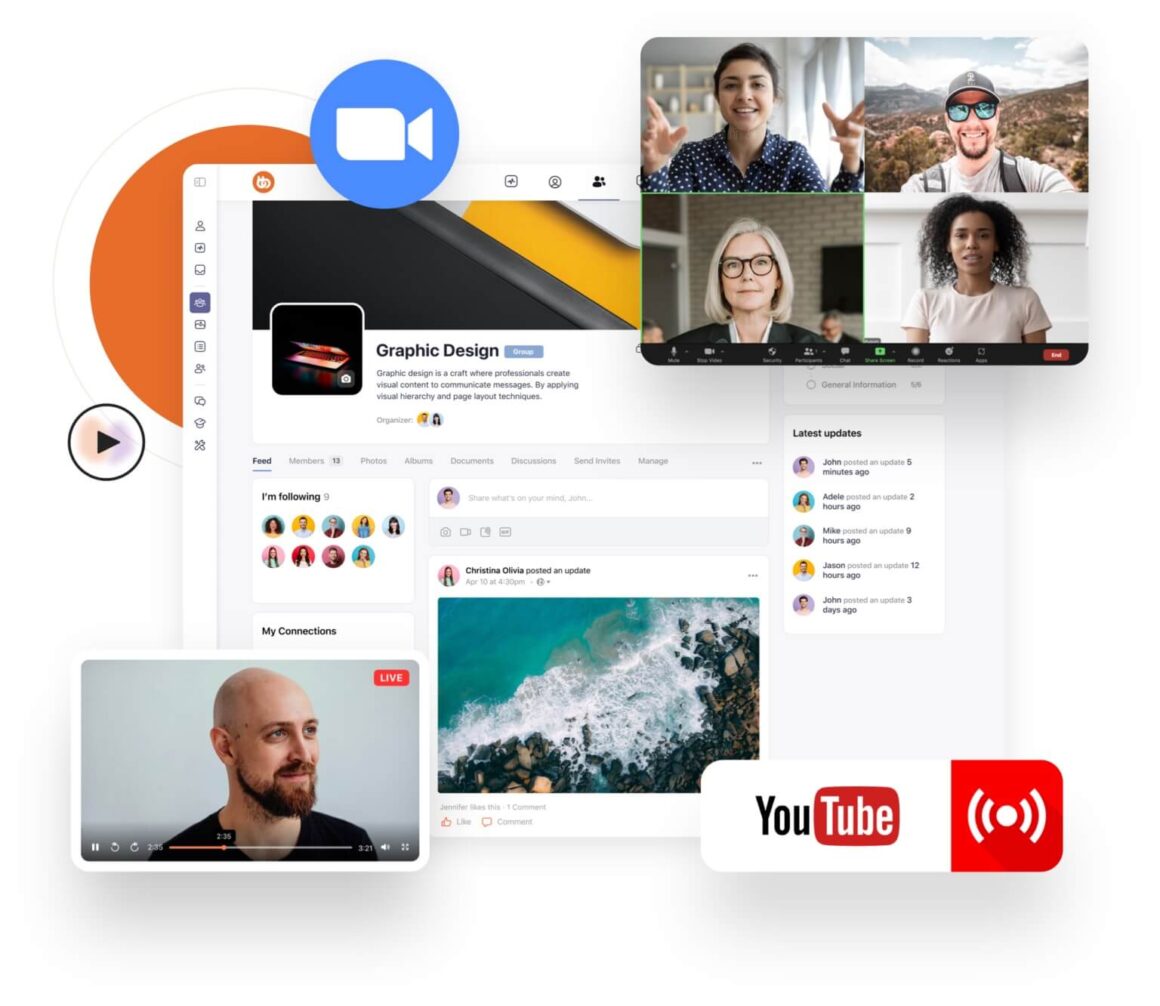 BuddyBoss Pricing
While it might cost thousands of dollars to create a comprehensive social networking site from scratch, the BuddBoss platform gives you a cost-effective solution to create your own social site.
You can start your own networking site just for $228. Also, don't forget to get an exclusive 10% discount using our coupon mentioned above in the article.
If you wish to use the product on more than one site, you can go for 5 sites license for $288 or 10 sites license for $388.
You will get a 100% Risk-Free Money-Back Guarantee for 14 days.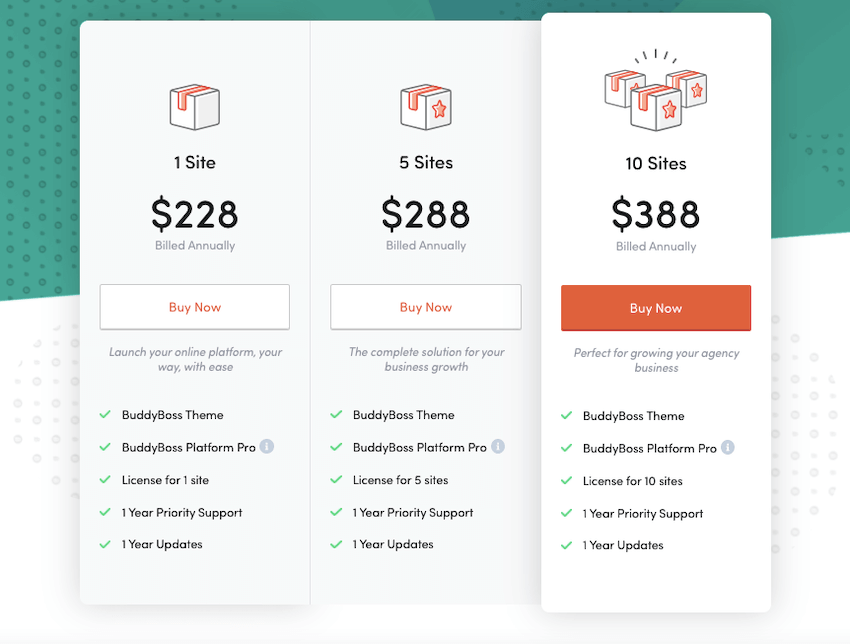 Use our coupon code "begindot10" to get the exclusive 10% discount on any BuddyBoss product