Dropshipping success is directly linked to the products you sell in your shop. If you don't have the right product that solves a specific problem for your customers, succeeding in dropshipping could be difficult for you.
Dropshippers should look for the winning product if they want to make dropshipping and e-commerce a viable business.
There are many product search tools. Minea is one of the most trusted tools for finding winning products. It's a complete tool that has been proven to be useful for dropshippers and eCommerce merchants.
Minea: How do you find a winning product?
This article will provide answers to your question.
What is Minea?
Minea is a product research tool for dropshippers and e-merchants. The product research stage of any online sales business is the most important. You will likely face too many difficulties if you fail at this step.
This means that a poor product won't be sold, no matter how well-marketed it may be.
To find a product that sells easily, it is necessary to look at the market and compare what works with other products. Minea talks about this. This tool's purpose is to spy on rivals and gather relevant information (ads marketing strategies, store analysis results, etc.) about the products they sell.
This information will help you choose the right product for your online store. It will also give you insight into the marketing strategies you should use to make these products easy to sell.
Minea's chrome extension makes it easier to use the app on your smartphone or tablet.
To discover more features, you can test Minea already for free. The basic version of the app is only €49 per year. The Premium option costs €99 and allows for more complex searches.
The Minea adspy tool and its features.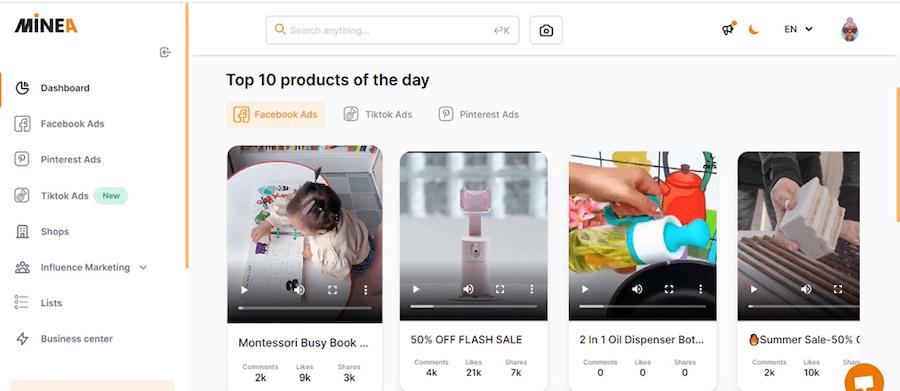 After your subscription, you will have direct access to the Minea app. The interface is very intuitive and allows anyone to quickly get to grips with the tool to start looking for a product.
At the very top of the main interface, you have the search bar in which you can directly type a keyword (Buy now, Purchase now, Get now, Free shipping…) to start your product search.
Further down on the main interface, you have the list of the top 10 products of the day. Every day, Minea makes a compilation of the 10 best products from the various ads collected on social networks. Several e-merchants have admitted to having found winning products in this list offered by the app. Do not hesitate to test some products from this list.
On the other hand, if you want to start your product search directly yourself, you can click on one of the platforms located on the left interface (Facebook, Pinterest, Tiktok).
For each social network, Minea displays, by default, the latest ads that its algorithms have collected. It is up to you to use the filters to refine the ads to display only those related to dropshipping or e-commerce.
Find a winning product using Minea's filters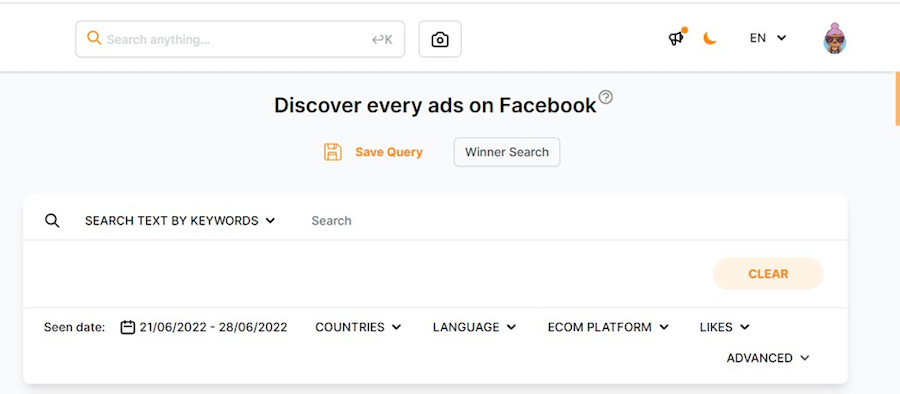 Minea allows you to filter your search by:
Keywords: You can search for ads that are based on keywords with this filter. Dropshipping keywords such as Buy now, Get now and Free shipping or free shipping are common. These keywords can be used to search for dropshipping ads.
Ad view date: You can filter your results using the date Minea's algorithms found the ad via social media. Dropshipping is best if you prioritize the most recent ads. To increase your chances of finding new products on the market, keep the dates within the last 14 to 30 days.
Country: This filter lets you see ads that are successful in one country and then duplicate them in another. This filter can be useful to quickly locate products that are selling well in the American market, since most of the top-selling product trends leave the United States.
E-commerce platform: Dropshipping stores are most often created on popular platforms like Shopify or WooCommerce. Optimize your results to show only dropshipping products.
Interactions are likes, shares, and comments that occur on an advertisement. This data is a key indicator of product potential. These data are a crucial indicator for your search. Use the filters to ensure that you only see ads that have received engagement from users.
Media type: The media filter lets you filter ads based upon the visual used. Dropshipping and e-commerce are two different things. Advertisers prefer to show product usage via videos. To increase your chances of finding dropshipping winning products, you can choose the videos from this filter.
Minea offers many other filters that can be used to optimize your results. You can experiment with them to find the one that works best for you.
Analysis of competitor shops on Minea
Minea allows you to view ads from Facebook, Pinterest, and TikTok. You can also analyze dropshipping or e-commerce stores. To access the shops database, click "Shops" on the main interface.
You can also use the filters to personalize search results based on multiple criteria, such as:
Technology (Shopify, Woocommerce, Wix, Bigcommerce…)
Niche (Beauty and Jewellery, Decoration, Clothing
Country
Alexa positioning (the ranking of the website in search engines)
Influence marketing with Minea
Every day, influencer marketing is growing in popularity. Many brands are turning to influencers to help promote their products and/or services.
Influence marketing is a must-have if you want your business to grow quickly and reach the next level. Only Minea, out of all the product research tools available, allows for deep analysis of influencer market metrics.
This tool lets you analyze product placements made via influencers. It allows you to identify the top brands making a mark in the dropshipping or e-commerce market through influence marketing.
Analyze the latest product placements on Minea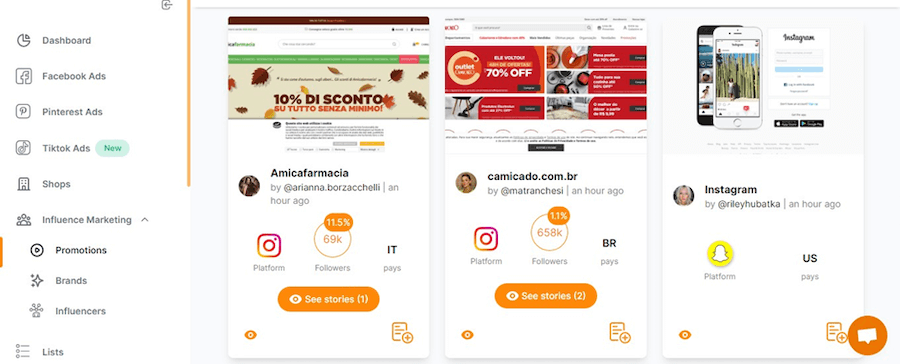 To view the interface that combines all promotions made by influencers via Instagram, TikTok and Snapchat, click on "Promotions" from the influencer marketing window.
You can filter for promotions by:
Category (Technology and Beauty, Jewelry, Baby, Clothing, Decoration
Country
Social networks (Instagram and Snapchat)
The number of followers of the influencer that advertised.
Clicking on a promotion will give you more information, such as how many views it has received and the engagement rate.
Analyze brands
Minea's interface for Brands brings together all major brands who excel in influencer marketing. You can also sort the brands by niche, ad period, and technology (Shopify Woocommerce, Prestashop).
These filters will enable you to identify the top brands on the market and see their influencer marketing strategies.
Find influencers for your product
Uncertainty about which influencers to promote your product is one of the biggest mistakes in influencer marketing. Most e-merchants make the wrong decision and lose money as a result.
Minea also offers an influencer search tool. It is now impossible to make a mistake when choosing an influencer for product placement.
You can use the filters in this interface to identify your niche and to find information about the people who are most likely to be interested in your product. Minea will show you the top influencers in your niche.
It's up to you to decide which one is most important to you.
Conclusion
We can only say that Minea is the one-stop tool you need to quickly find a winning product for dropshipping and e-commerce.
Minea stands out among its competitors because of its advanced features, which allow you to filter your results with extremely high precision. Both ads, brands, influencers, product placements, and shops can be analyzed.