In this article, we have listed the must have WordPress plugins for blogs. However, you don't have to use all of them, you can choose the ones that are important for your blog.
While using the important plugins are critical for a blog, a huge number of plugins can slow down your site to a large extent. So, use the ones that are really important for your blog.
We have tried to cover the plugins from all important aspect of a blog in this post with a popular alternative that you can use instead of the one we listed here.
WordPress is the most widely used platform for the bloggers and from a complete newbie to seasoned bloggers use this platform to publish their content.
The plugins are one of the most important factors why the platform is so popular. There are thousands of WordPress plugins available for you to use and you will find a plugin for almost anything you can think of.
In fact, it is really easy to get overwhelmed with the number of options you get for all different functionality on your blog.
For example, here we have listed over 30 best social media WordPress plugins and those are just a few out of the huge available options.
Similarly, there are plugins for all different functionalities that you can pick and choose from.
Must-Have WordPress Plugins
Yoast WordPress SEO Plugin
The Yoast SEO is one the most popular SEO WordPress plugins as it uses organic SEO techniques to improve your site's visibility on the internet.
Organic SEO is required by all websites for enhanced results and optimizing the website. Yoast SEO has a pre-defined list of credibility factors that help you in determining your SEO score. You can change the content and improve the SEO score for optimization.
Yoast is the best plugin for the newbie users as well as the seasoned bloggers. If you are new to blogging, just follow the on-page optimization rules shown by the plugin while you are creating your blog post.
Moreover, the readability can be set as per the Yoast SEO guidelines.
Best Features
Free to Use
One-Page SEO Optimization
Readability Analysis of Blog posts
Overall Site Optimization Features
Social Media Cards and Optimization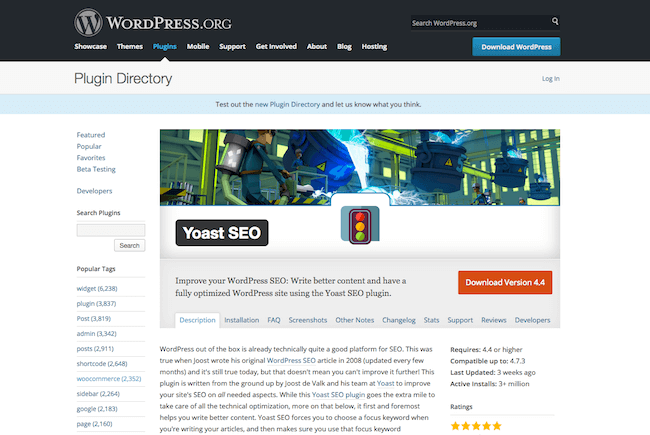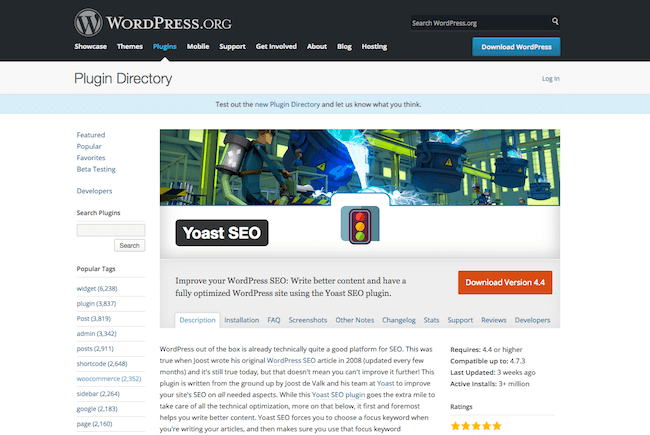 All in One (AIO) SEO pack
If you don't want to use the Yoast SEO plugin, the All in One SEO is another very popular options. The highly demanded SEO related software helps you at all levels of content creation, marketing, and designing of the website. Google search engine is optimized easily with this power-packed All in one SEO pack.
This is similar to Yoast SEO and together, both rule the WordPress SEO space.
Best Features
Free to Use
Google AMP Support
All Custom Post Types
XML Sitemap
Get Rid Of Duplicate Content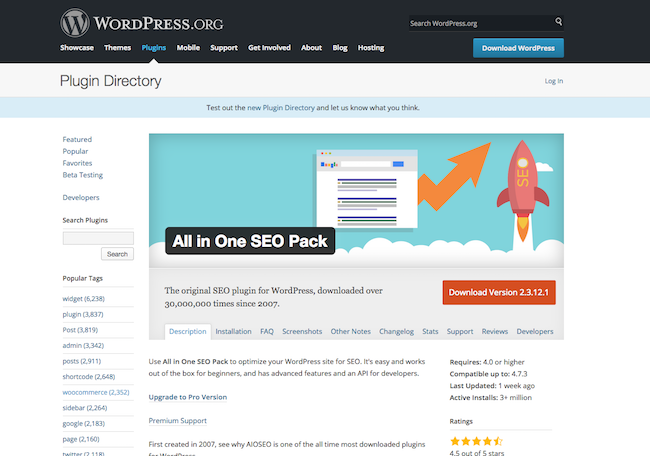 Contact Form 7
This plugin helps to administer multiple contact forms which you can easily modify with a simple markup. This plugin helps convert your visitors into reliable customers.
You can get details like name, contact information, professions, subscription preferences, and so on. Whenever someone fills up the contact form, you get it in your email id.
You don't need to login to the WordPress site to see who has contacted you. We have listed the best WordPress contact form plugins in this post.
Best Features
Free & Reliable Plugin
Easy to Use Interface
Create Unlimited Contact Forms
Use Anywhere With Shortcode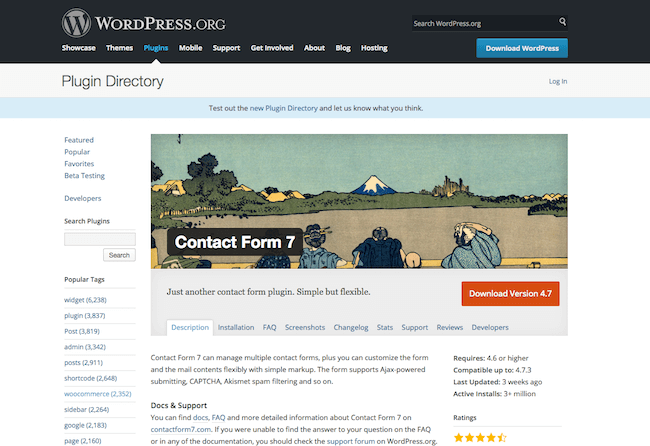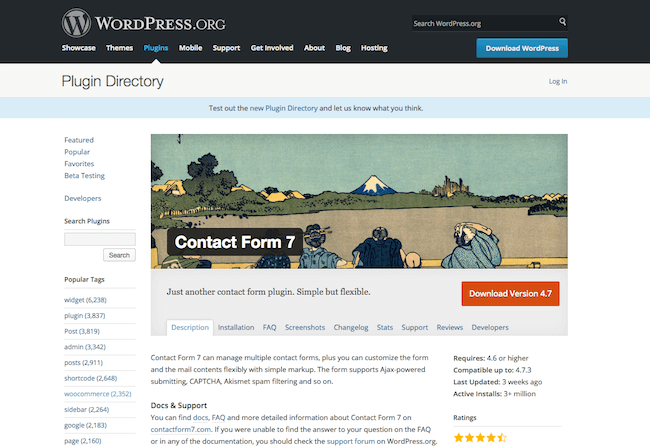 W3 Total Cache
A caching plugin is recommended for the small as well as bigger sites. The cache plugin can help you to speed up your WordPress site to a large extent.
The cache plugin will create the copy of your pages in the user's browser so that when they visit your site the next time, it will load a lot quicker.
The quality cache plugin like the W3 Total Cache offers you a number of other features along with the simple caching solution. You can minify your CSS & jQuery files with this plugin, it also offers you the option to connect CDN with your site.
Best Features
Free to Use
Powerful Controls
File Minification Features
CDN Controls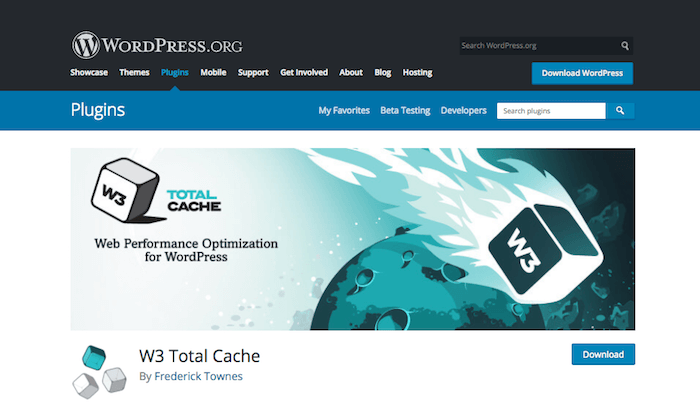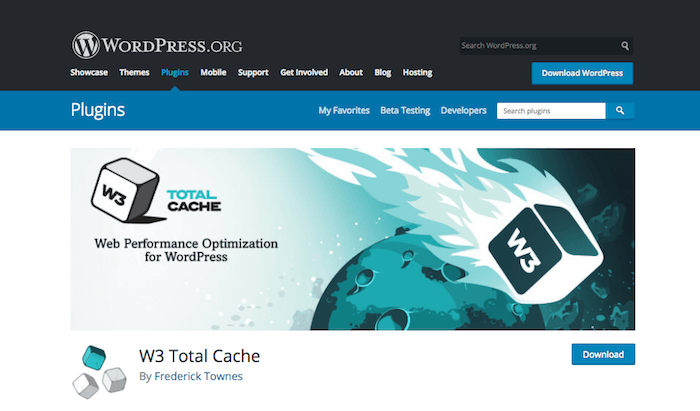 WP Super Cache
This is another recommended cache plugins If you want to cut down costs and enhance the loading time, then it's best to use WP Super Cache.
WP Super Cache doesn't process the heavier and more expensive WordPress PHP scripts.
Instead, it creates static HTML files from your dynamic WordPress blog. Thus, making it quite popular in the WordPress cache plugins.
It's free to use and with premium add-ons, you can accelerate its performance for your blog.
Best Features
Free to Use
Relatively Simple Settings
Does a Perfect Job for Small & Medium Size Sites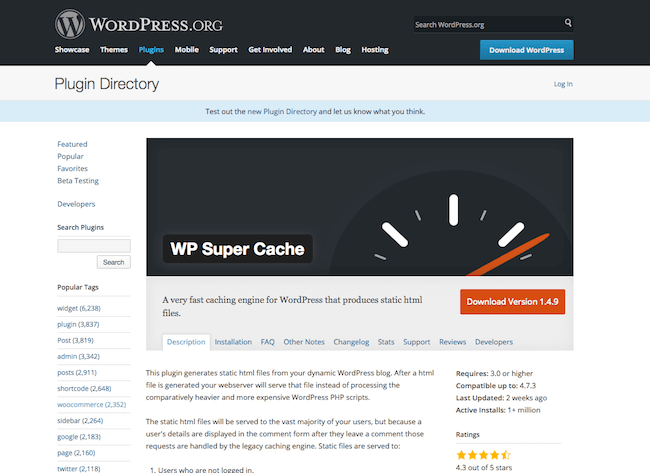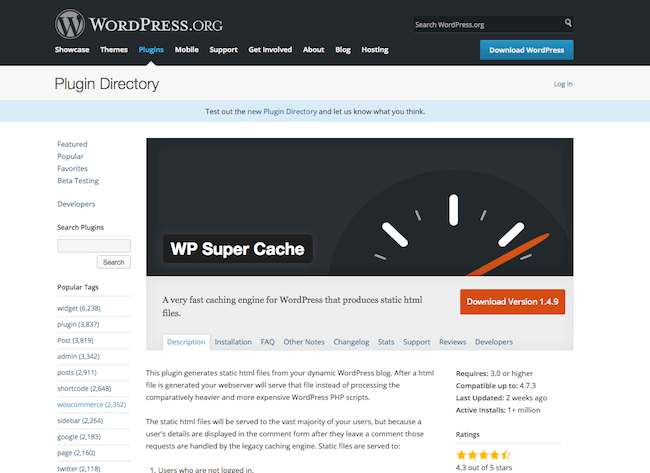 Google Analytics for WordPress By MonsterInsights
The plugin has been downloaded multiple times, and it helps to analyze the progress tracking of your website by synchronizing it with Google Analytics. This plugin provides additional data for search result pages and error pages.
It makes things easier by tracking progress by latest tracking codes. You don't need to login to the Google Analytics dashboard to assess the results. You can analyze and measure statistics rights from the WordPress dashboard.
Best Features
Free To Use
Real-Time Statistics on Your WP Dashboard
eCommerce Analytics Tracking
Referral Tracking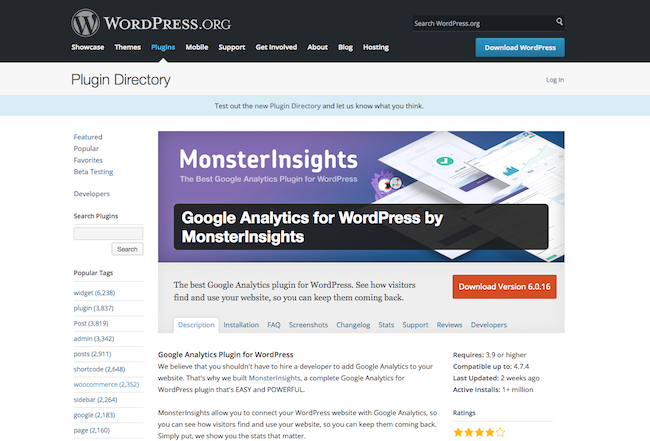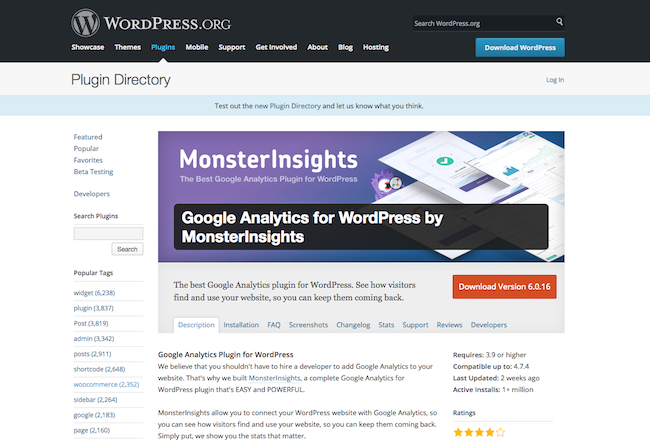 WP Notification Bar
A notification bar plugin is a basic requirement for the blogs these days because it can do a lot for your blog. You can use the notification bar to attract your visitor's attention to any offer or announcement on your site.
Most of the notification plugin gives you the options to use it as an email subscription bar as well.
Let's have a look at the WP Notification bar plugin created by the MyThemeShop team. This plugin is quick and loaded with features.
You can use this notification bar to show the most popular deals on your site or you can use it as email subscription form.
This plugin offers you complete control over the notification bar where you wish to show it and when you wish to show it.
Best Features
Different Color Schemes
Extremely Flexible
Full Control Over The Placement
Show Different Bar For Different Pages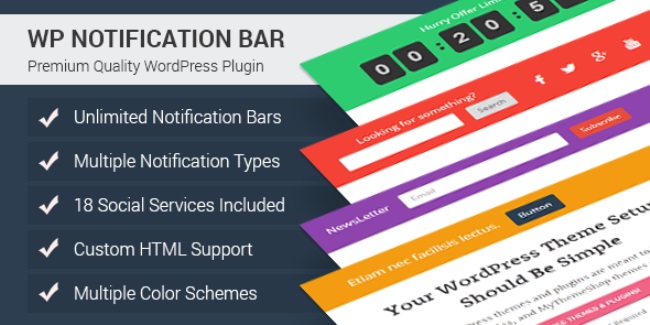 Bloom Plugin
Email subscription form is a basic requirement for any website. Settings up an email opt-in form for your site should be one of your top priorities.
The Bloom email subscription plugin created by the Elegant Themes is one of the best options available. You can create amazing email opt-in forms with great controls with this plugin.
You can set up a pop-up subscription form as well as sidebar widget as per your requirement. You can also create an inline form that can be placed below each article.
You have the option to control when you wish to show the form to your users. We have created this detailed review of Bloom plugin here.
Best Features
Comes in The Package Along With Divi Theme & Other Products
Amazing Controls to Customize The Display.
Fully Customizable Designs
Number of Great Looking Ready Templates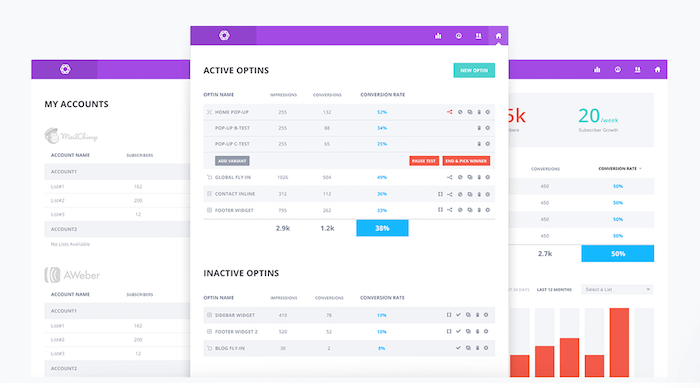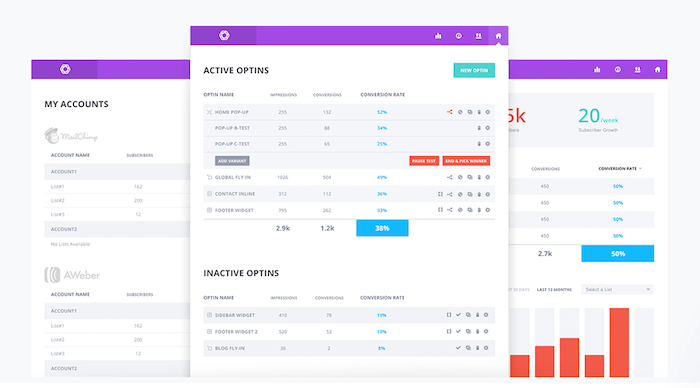 Social Warfare
Once your site is ready with fresh content, you will need a social media plugin to add and optimize your social sharing options.
You need to make sure that it is easier for your visitors to share your content on the social media sites so that you can constantly drive traffic from the leading social sites.
The Social Warfare is one of the best social sharing WordPress plugins available in the market. This plugin offers you very easy to use interface to set up your social sharing buttons.
The features that attract me to this plugin is the ability to retrieve the old social sharing count if your site loses it for any reason such as move your site to HTTPS from HTTP.
Best Features
All Leading Social Platforms Covered
Easy To Use Interface
Great Looking Modern Buttons
Fast Loading Design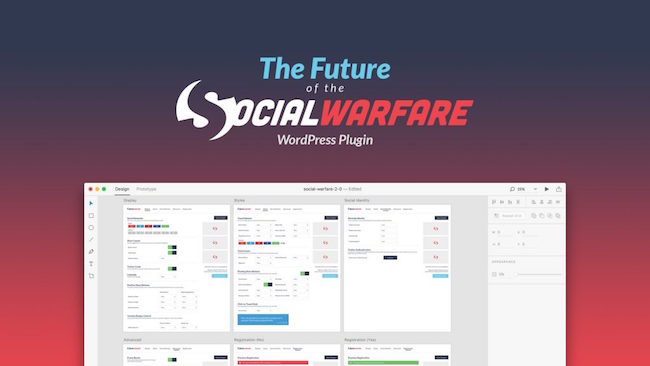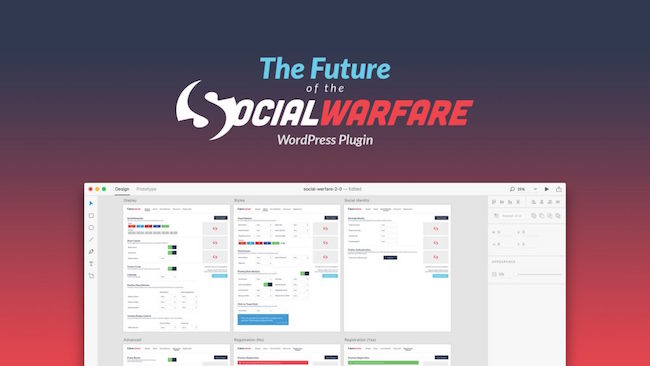 Revolution Slider
With easily customized functionalities including transitions, animation, and effects, the Revolution Slider plugin allows popular posts to be showcased with high custom functions and increases engagement in your website as it provides a universal slide solution.
You get this slider plugin with many popular premium WordPress themes. It is by far the most popular premium slider WordPress plugins that will help you to create stunning slides.
Best Features
Over 140 Ready To Use Designs
Amazing Free Templates
Huge Free Object Library
Comprehensive Slider Dashboard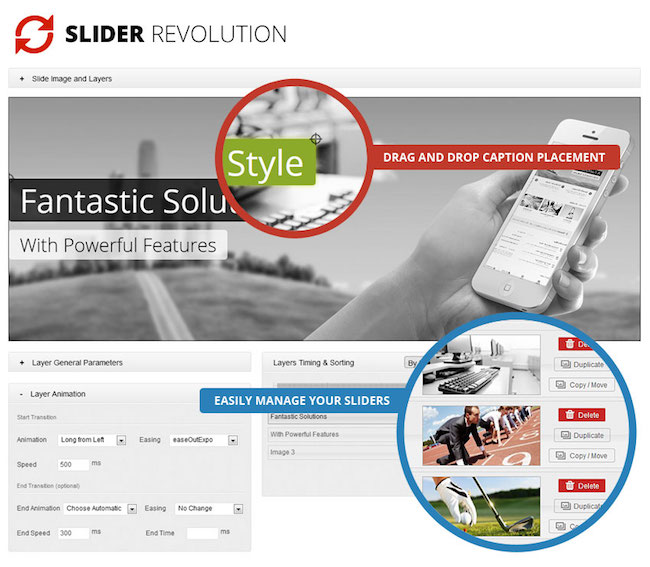 Nextgen Gallery
With features such as lightbox effects, regulating the size, timing, transitions, style, controls, and various functionalities, the Nextgen Gallery Plugin is a very useful power engine to help manage and uploading images for galleries.
It enables you to import metadata, edit thumbnails, and upload in batches, group galleries into albums, add/delete/sort/rearrange images.
It comes in 2 inbuilt front-end display styles. This plugin is undoubtedly the most popular WordPress plugins of all with over 10 million downloads.
Best Features
Free to Use
Amazing Thumbnail & Big Size Gallery
Use Anywhere With Shortcode
Powerful Controls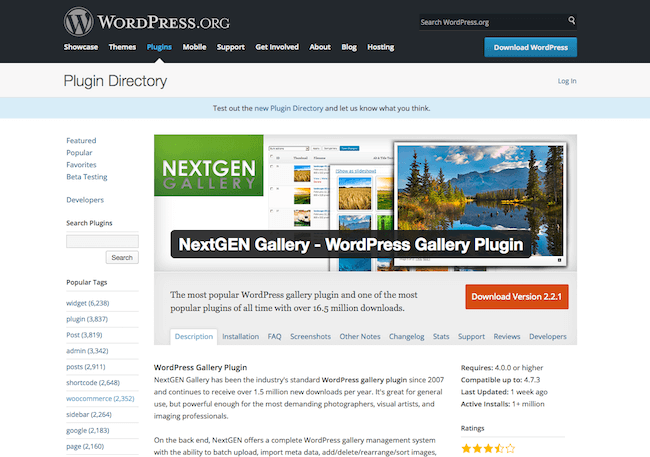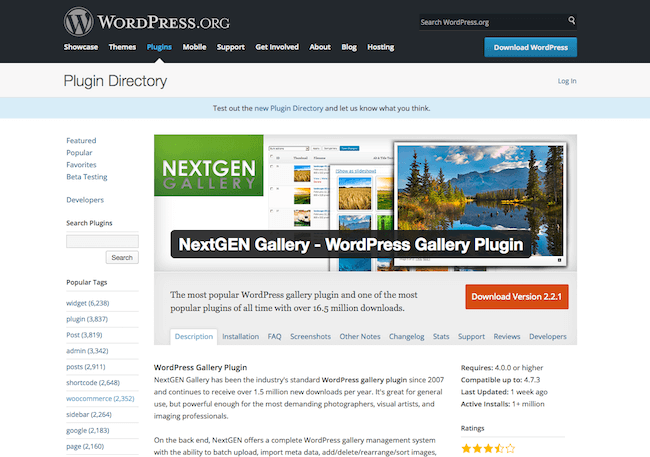 WooCommerce
WooCommerce is an engaging and popular eCommerce plugin which helps you sell anything in the most interactive and appealing manner.
Websites today are all involved in various sorts of eCommerce and here, the plugin WooCommerce is the real reason why e-commerce websites often end up as popular WordPress portals.
Even a simple WordPress theme can transform into an e-commerce website through this plugin.
Best Features
Free to Use
Hundreds of Popular Extensions
Easily Scalable
Thousands of Supporting Themes Available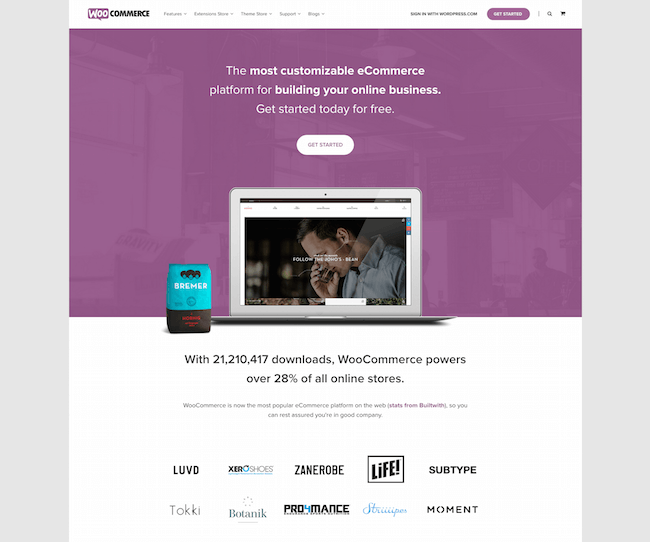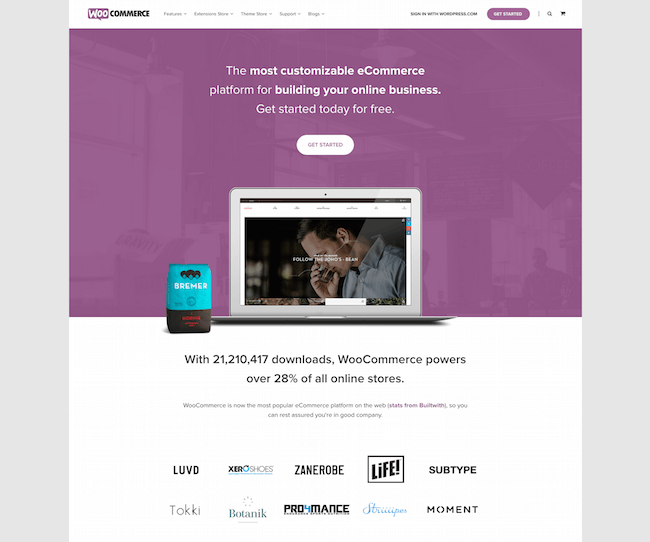 CSS Hero
If you wish to customize the design of your theme, you can use this amazing plugin to customize the coding. You can use it to customize your theme quickly with the amazing live editor.
You don't have to be a coding expert to customize your theme anymore. You can use the intuitive interface of CSSHero to change things with just a few clicks of your mouse.
Best Features
Easy to Use Interface
Customize Responsive Designs Easily
Simple Draging Modules
Font. Color & Other Controls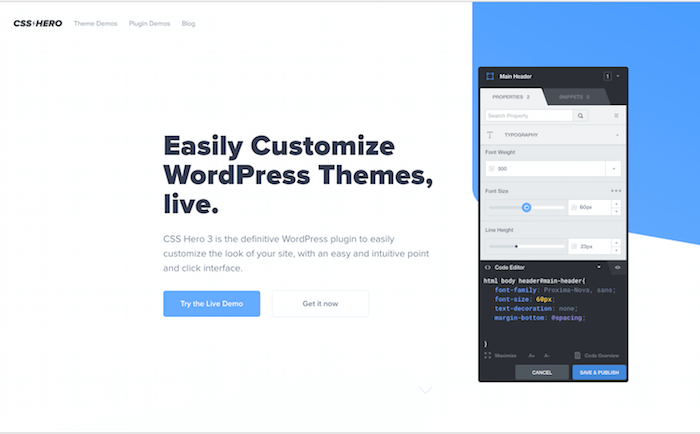 MemberPress
If you wish to create a membership site which can be a great business model to earn recurring revenue, this is a great plugin for you.
This plugin is created to offers you all the features and options that you will need to create a top quality membership site.
This plugin gives you the option to different subscription packages and you can allow your users access depending on the subscription package.
Best Features
Comprehensive Membership Model
Create Different Subscription Packages
Limit Access According to Subscription Package
Sell Digital Goods With Different Subscription Packages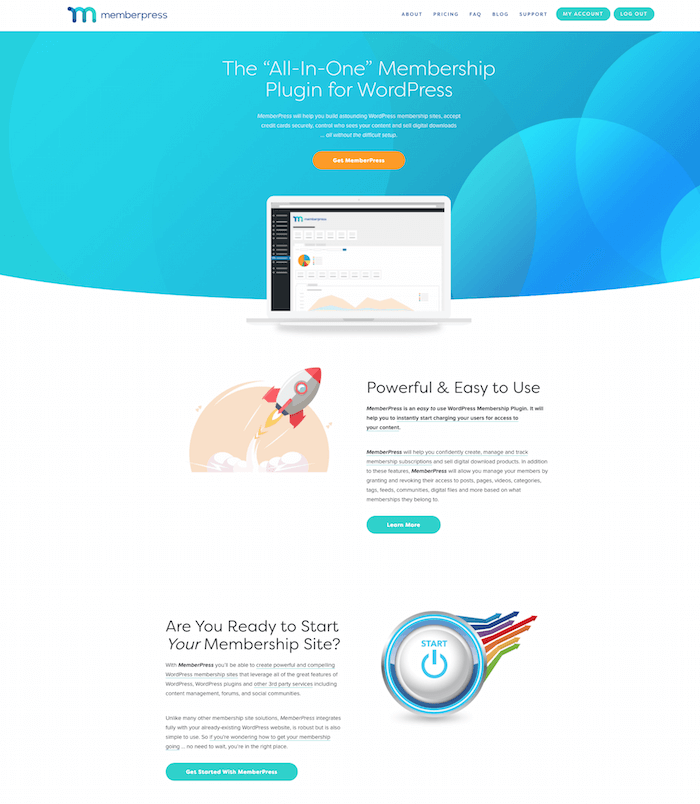 WP-Polls
WP-Polls plugin lets you add polls on your web blog posts which engage your audience with interactive surveys. Surveys can be related to your website, and it is a quite useful method of keeping people logged on to your blog.
Surveys have been proved to increase engagement rates, and therefore, it is advised to install WP-Polls on your WordPress blog.
We have created this post about the best polls & survey plugins for you to find more options.
Best Features
Free to Use
Easy User Interface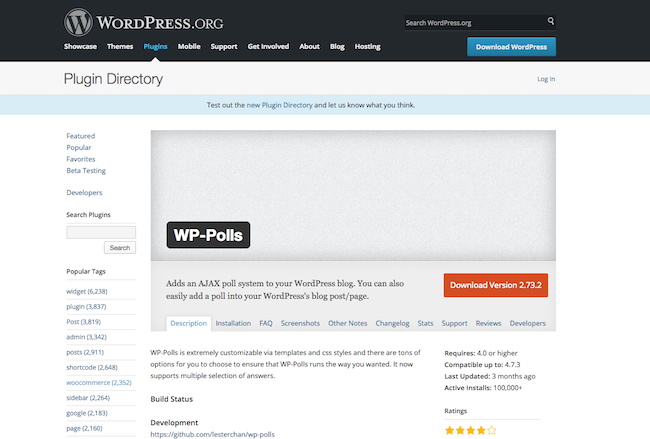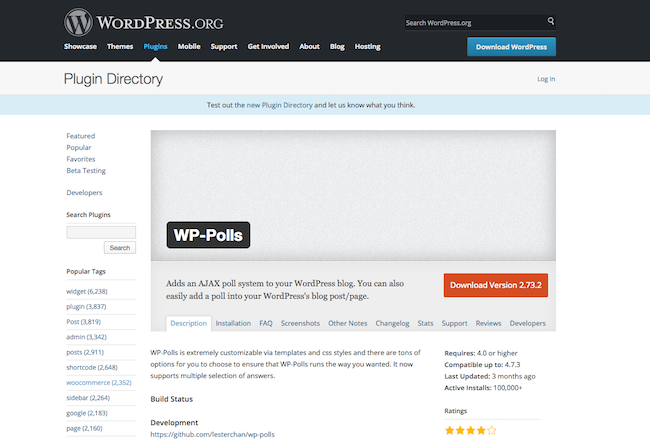 Simple Social Icons
Adding of social sharing icons to any plugin area becomes quite easy with the Simple Social Icons. This is quite useful when you don't want any difficulty while enabling interactive social sharing icons.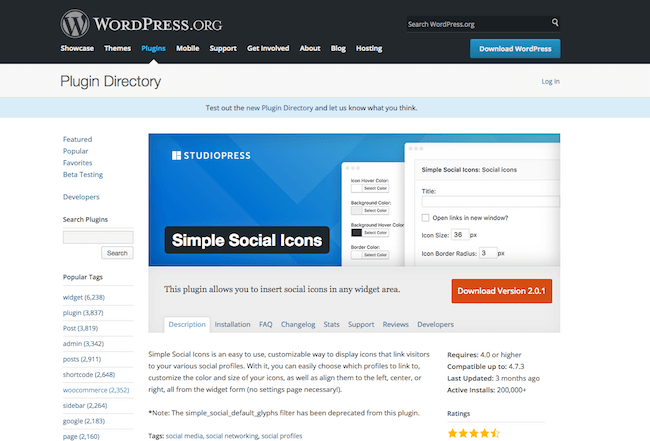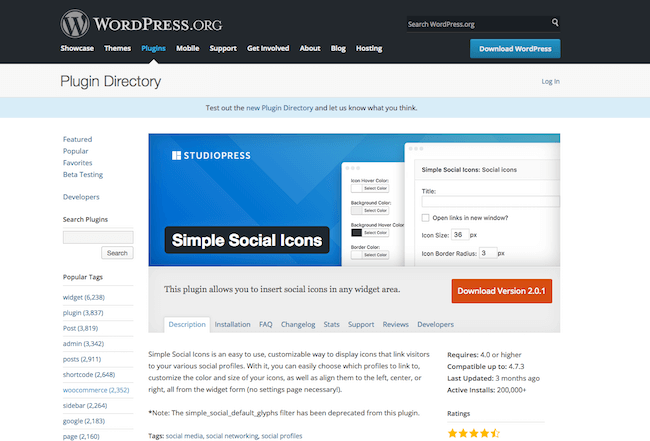 Endnote
These plugins will improve the usability of your WordPress sites. The WordPress plugins repository contains millions of plugins, and these 11 are just the tip of the iceberg.