Google Site Kit is a plugin created by Google for WordPress users to make it simple and easy for the millions of WordPress users to take advantage of Google's services.
If you are wondering how to get started with the Google Site Kit plugin, we will have a look at the process in detail here.
What is Google Site Kit?
Before we proceed with how to setup Google Site Kit, let's first understand what it is?
Google Site Kit is a plugin created by Google for WordPress users to link Google's services to your WordPress site by making it simple and easy.
So, it works like a bridge between your website and Google.
You can use the Google Site Kit to link the following services.
No matter if you are a pro or a newbie WordPress user, the Google Site Kit will surely make things easier for you.
The main objective of Google Site Kit is to make it easier for the webmasters to stay updated with the site matrix and get all the data right on the WordPress dashboard so that you can continuously work on improving and growing your business.
As the admin of your WordPress site, you will be able to stay updated with the performance of your site without even leaving your site. All the data will be at your fingertips.
So, Let's get Started With Google Site Kit.
Google Site Kit is free to use WordPress plugin that you can install right from your WordPress dashboard, so let's begin.
Step 1. Go to your WordPress dashboard, plugins >> add new. Find Google Site Kit, you will see the plugin, you just need to install and activate it.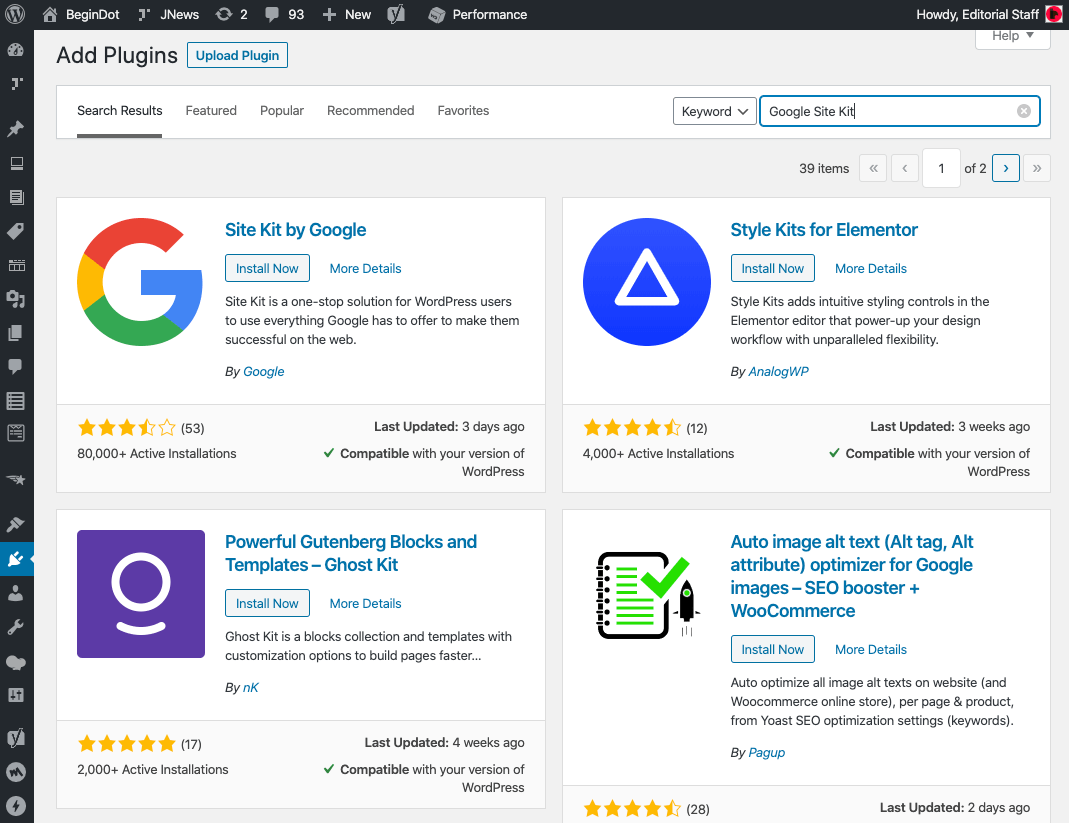 Step 2. Once you activate the plugin, you need to start the process of setting up the plugin.
You will have to log in with the respective G Mail account so that Google can access your console.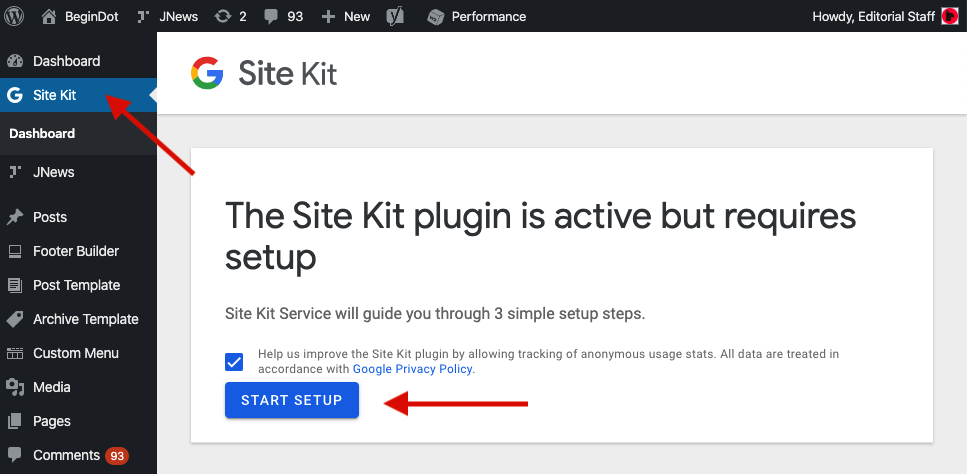 Step 3. In the next step, you will get an option to sign on to your account and allow the Google Site Kit to access your data.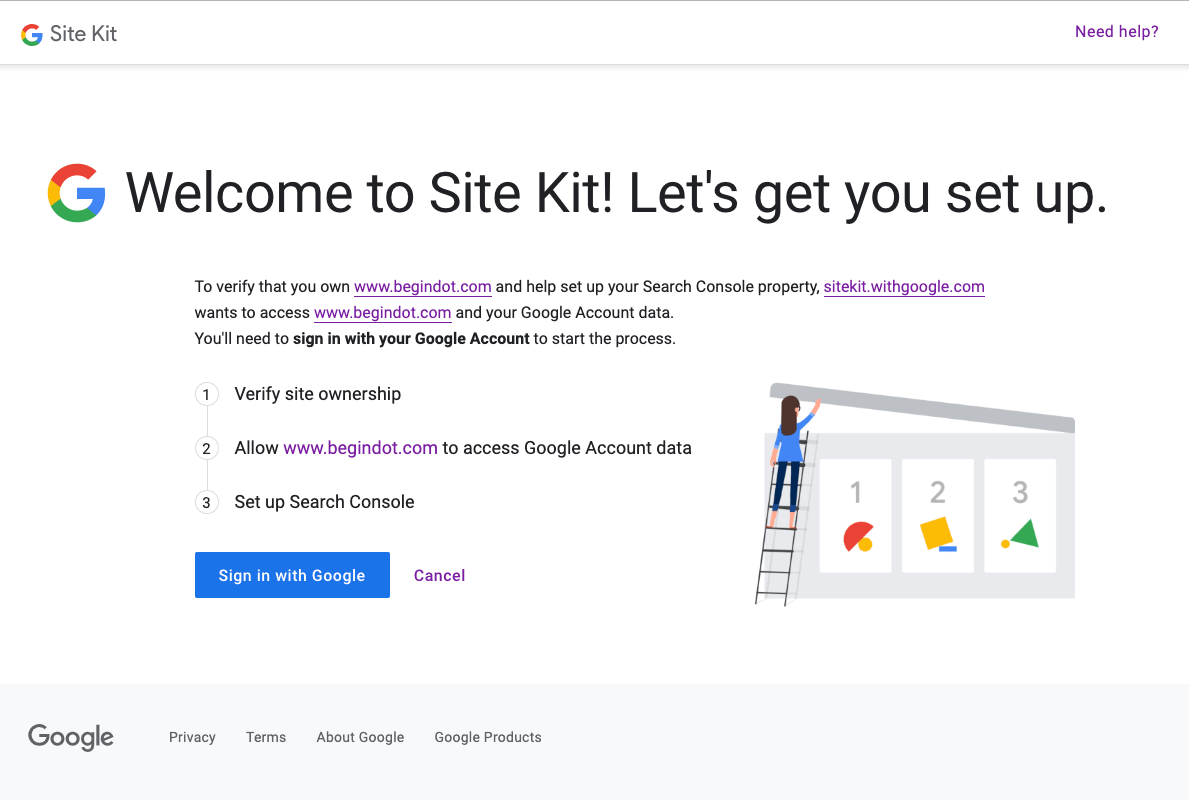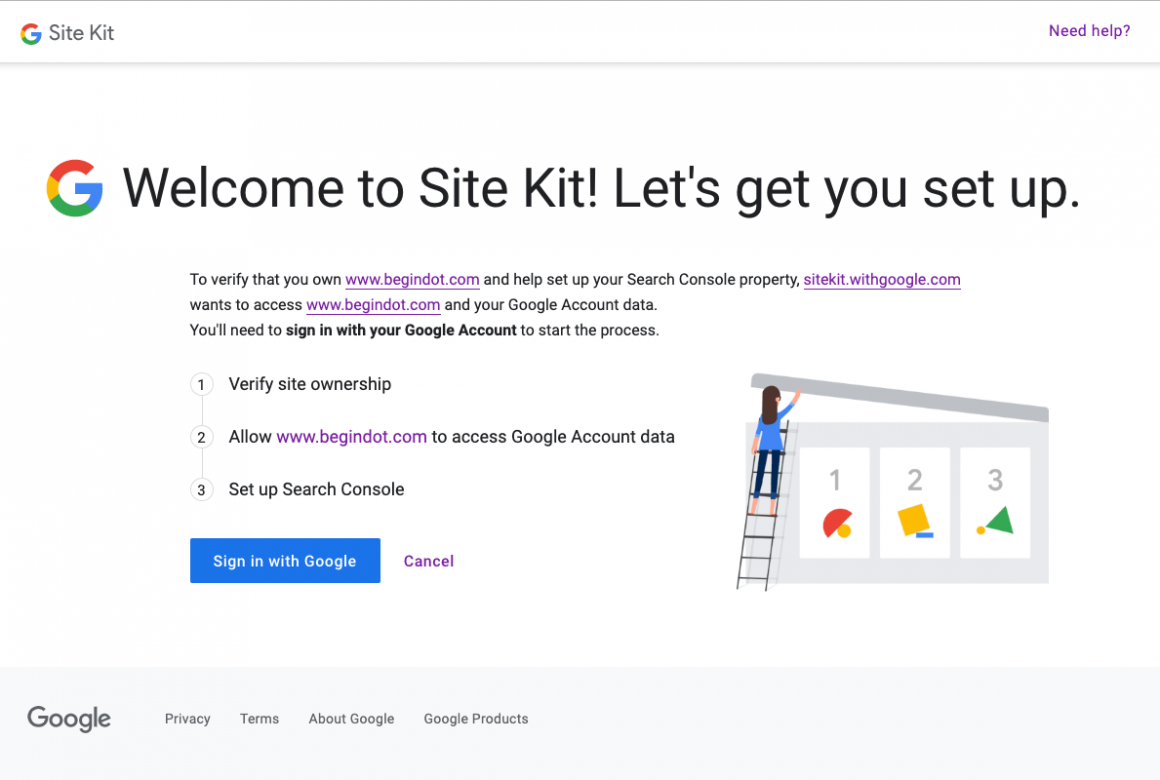 Once the tool gets access, you will get the success message that your site is ready with the Google Site Kit.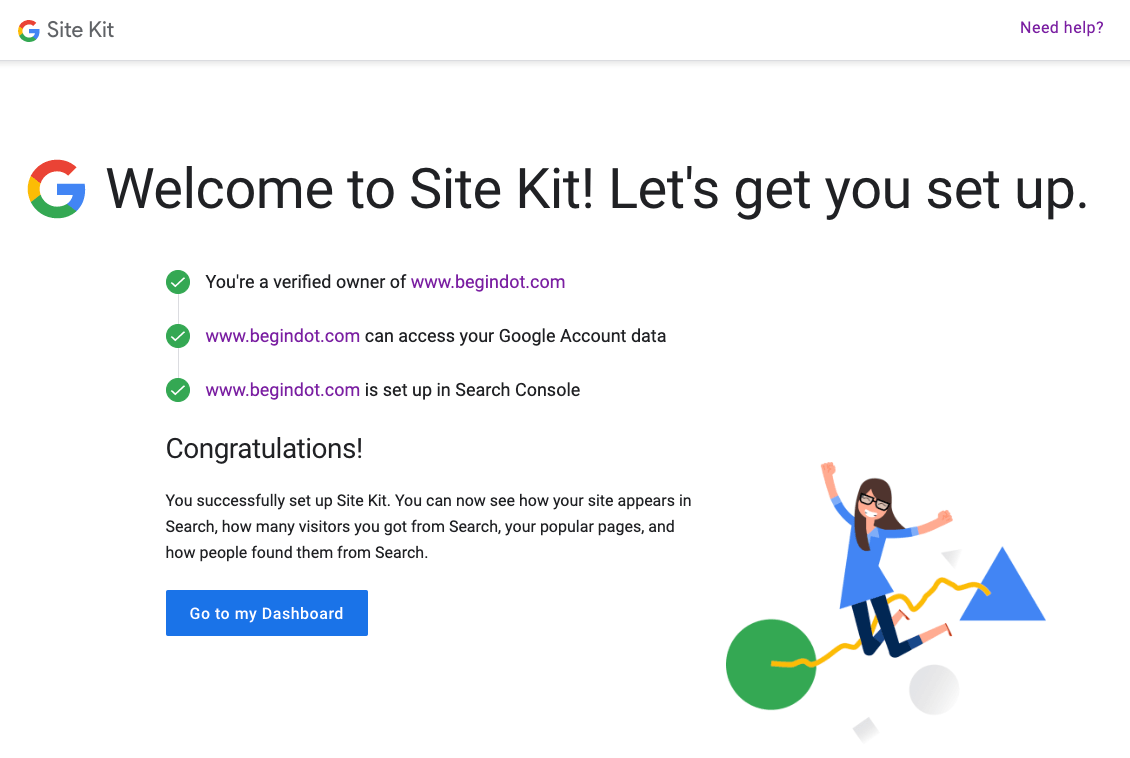 Step 4. You can click on the go to my dashboard option to go to the site kit dashboard on your site.
The Google search console is linked now and you will see the console data on the dashboard.
Step 5. You get the option to link more Google services such as Google Analytics, AdSense, Page Speed Insight, etc.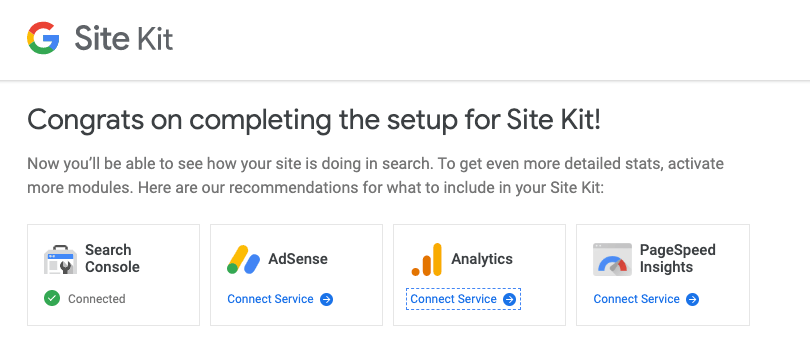 Once you link Google Analytics, you will get the analytics data right on your WordPress dashboard.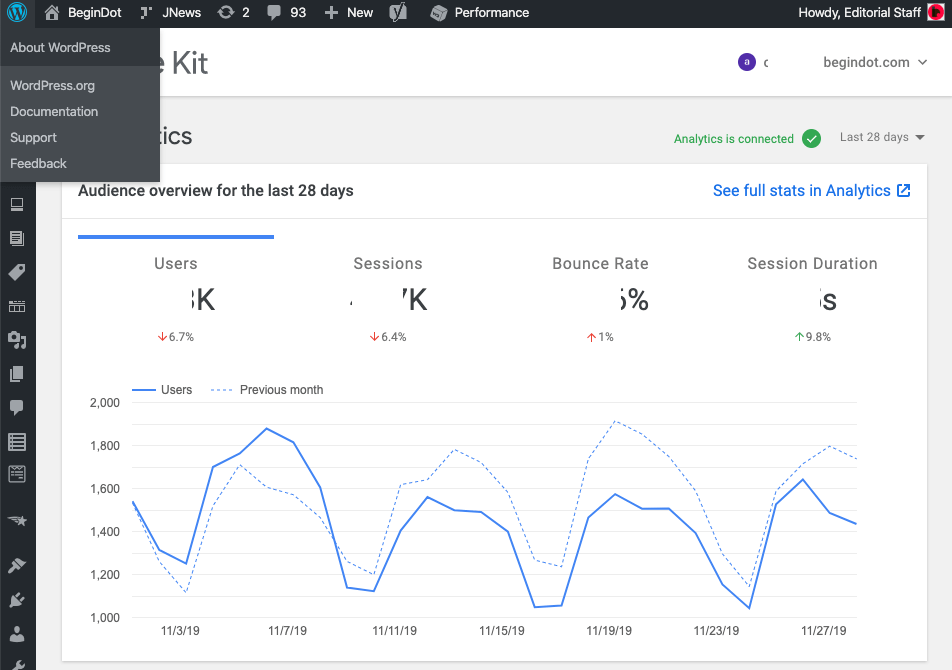 The advantage of using Google Site Kit is that you can access any page data quickly on your dashboard. If you want to analyze a particular post on how it is doing while updating the page, you don't have to go to Google Analytics and find that particular page.
If you are logged in to your site using your admin account, you will see an option in the Admin bar fort Site Kit, you can click on that option to access the analytics data for that page.
Here is a glimpse of one page.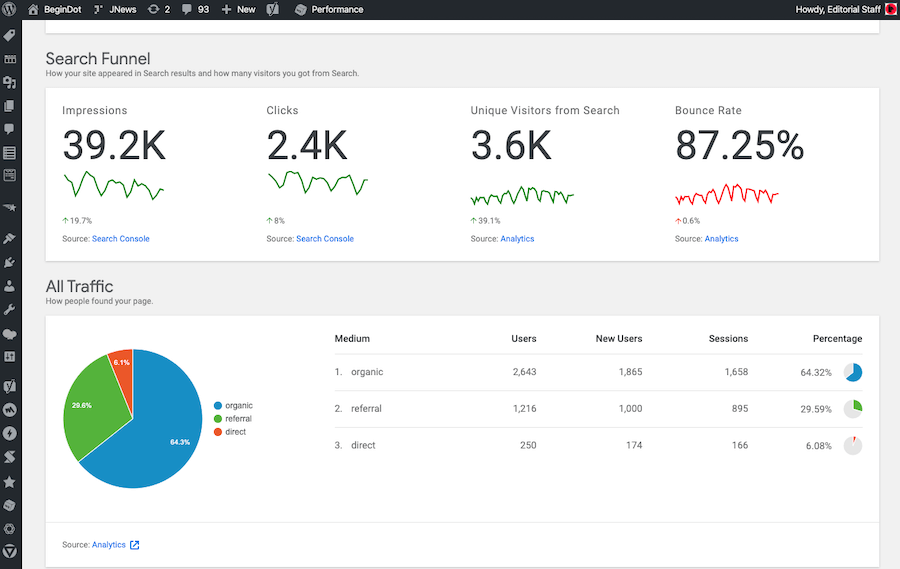 Connect More Services
You can connect more services to improve the overall performance of your site. Go to the settings page of Google Site Kit on your WordPress dashboard to connect more services.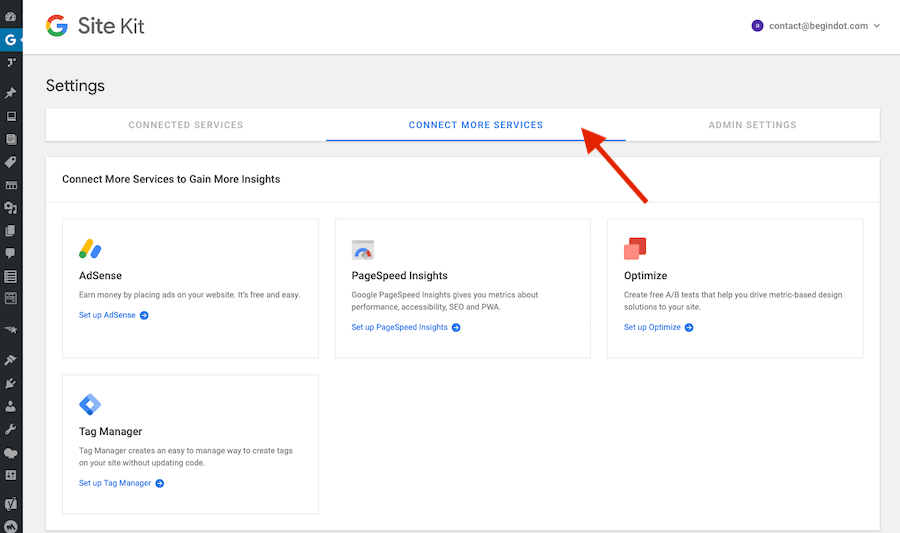 Let's Understand Google Optimize
Google Optimize is a service by Google to test your site regularly to improve the performance.
It is free to use service to do A/B testing of different factors on your site.
You can test different versions of your site to understand what your customers are liking. You can also test different Google Ad types so that you can increase conversion and your revenue.
You can visit Optimize by Google and start using the services for free.
Once you are done setting up your Optimize account, you can start adding different variants of your site to test it.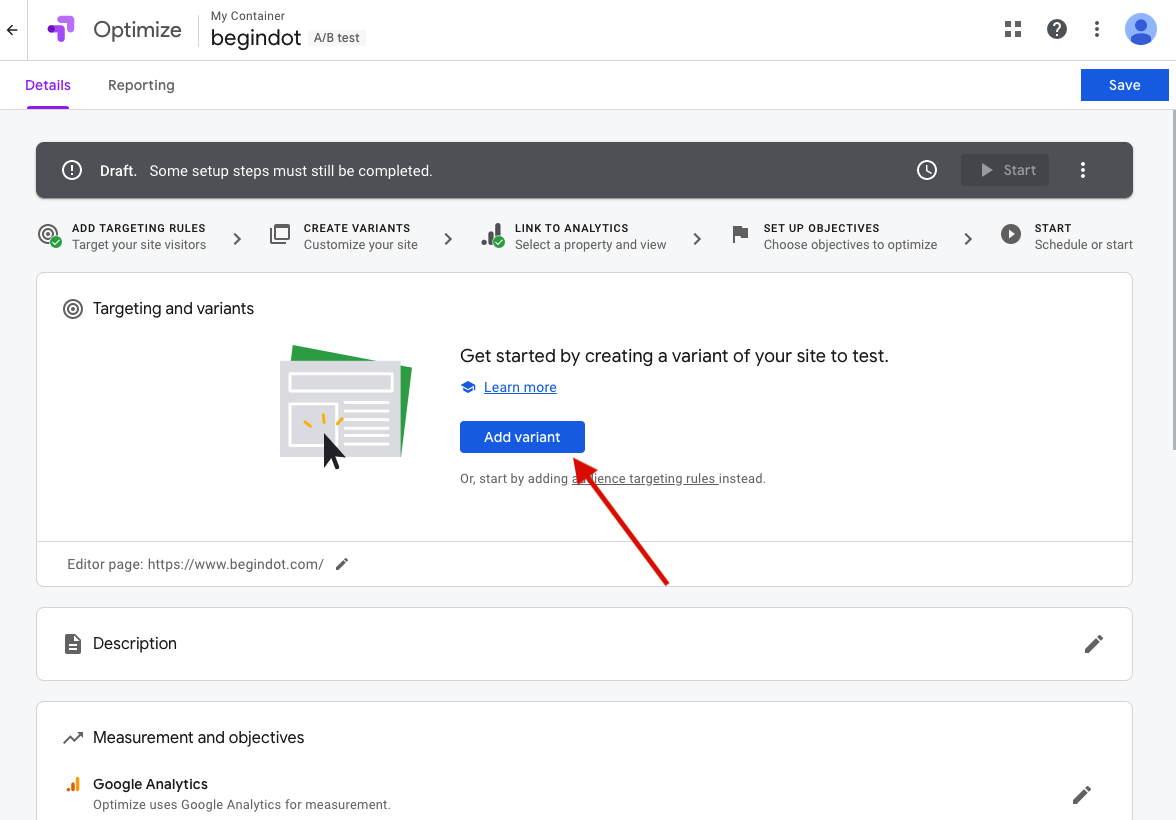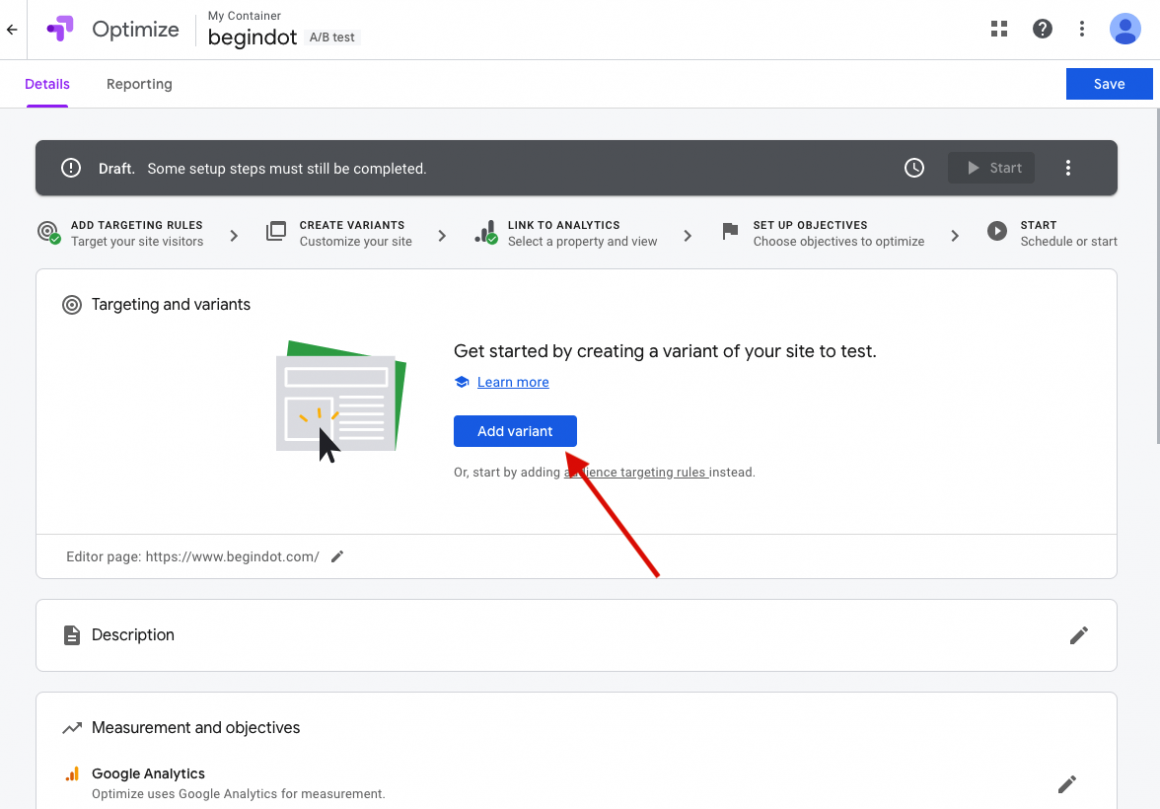 You can link your Google Optimize account using the Google Site Kit so that you can access the data right on your WordPress dashboard.
Similarly, you can connect Google Page Speed to keep a track of the loading speed of your site so that you can work on it to improve further.
Final Word
As Google Site Kit is free to use plugin and it makes your life easier by offering you a quick and simple option to analyze each page of your site right on your website.
As you can see in the process above, you don't need any technical knowledge to use Google Site Kit, you just have to link your accounts to make the best use of this free service.
So, get started now. If you have any questions, feedback around the Google Site Kit plugin, do let us know by using the comment section below.