Everything sells on Amazon like hotcakes! Their sales for the year 2019 alone were over 280 billion dollars. 2020 is no different as more and more people want to get their share of the pie.
Who wouldn't like Amazon to sell their designs, right? But let's be real: not everyone has the balance to start selling their products at discounted rates.
Fortunately, content creators are in luck with Amazon Merch, a new way of selling your designs on Amazon without spending thousands on inventory.
With Amazon Merch, selling your products without the hassle of inventory is very much possible!
If you are a blogger or a content creator and have not explored it yet, now is the perfect time to get involved. To know more about how and why you should get started, continue reading.
What is Amazon Merch?
Amazon has started its merch titled Amazon Merch that allows you to create customized designs for free. It is a print-on-demand service where content creators and bloggers can sell their designs without any upfront cost.
It sounds like a dream, doesn't it? Even popular brands like Disney, Marvel, Fortnite, and Cartoon Network are using it.
Why You Should You Make Use os Amazon Merch?
---
01. No Up-Front Cost
The first thing that makes Amazon Merch beneficial for you is the lack of up-front cost. Since Amazon takes care of everything, starting from production to logistics and even customer service, it saves you the cost of purchasing and storing stock.
All they need from you is a little creativity, and your job is done.
02. No Hassle Of Shipping
You simply have to create your design, choose the colors and specifications, and then let Amazon take care of the rest. Using Prime shipping, your products can reach the customers faster than any other service.
03. Risk-Free Investment
One thing that stops small businesses or bloggers to step into having their own business is the risk of loss. Amazon covers bloggers on that aspect as well. With their world-class printing technology, they print products with each sale, so you don't have to worry about the unsold stock as well.
04. Passive Income
On every product sold with your design on it, Amazon pays you royalties. What's more, you can watch your revenue grow every day using the Amazon Analysis tools that let you track your sales and gives you an insight into your best selling products as well.
05. Minimal Time & Skill Requirement
Who said you need to have a background in designing to create some cool shirts for customers? You don't have to give up on any of your blogging activities to earn some extra bucks.
If you can come up with some catchy text, or minimal text, even that could do the work for you. In minimum time and with minimal work, your designs will be available to millions and billions of customers worldwide.
How Does Amazon Merch Work?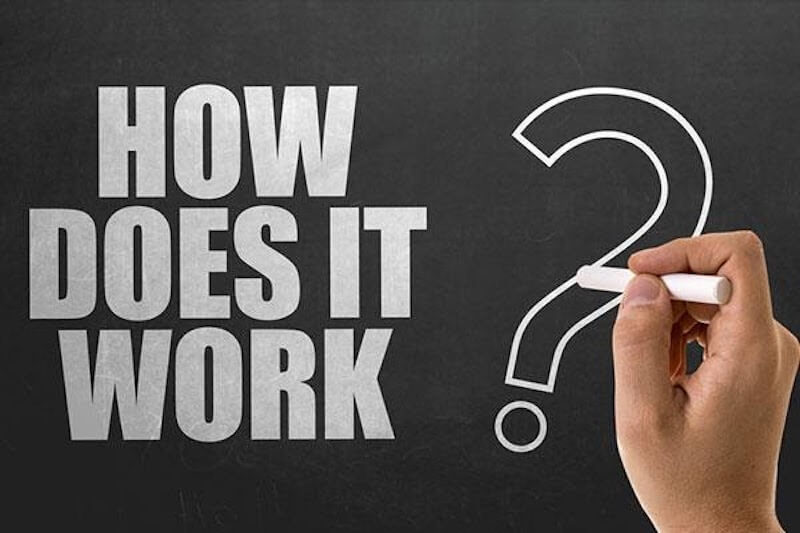 The process is fairly simple, let's break it down for you!
01. Create your account
First things first, apply on this landing page. All you have to do is fill out their form and then wait. This is where you have to be patient because a response may take up to 3 months.
But once Amazon approves you, you just need to fill out some basic information and get started.
02. Create Your Startup Game-plan
Your business plan is the most crucial part of your startup. Find your target audience, choose a niche market, and try to come up with new ideas that set you apart from new businesses.
Don't forget to keep an eye on any significant event that people would like to engage with. To see what is trending in the market, you can also use Google Trends.
03. Recognize Listings
You can upload your designs and promote products on the dashboard. At first, you are at Tier 1 and only allowed up to 25 designs, but once you have sold them, Amazon upgrades you to Tier 2 and allows you to create up to 100 designs. More the designs, more the opportunity to sell your products and make money.
Tiers may look like a hassle in the beginning, but it only allows good designs to proceed and helps to keep spammers from flooding the market.
04. Create Products
To begin with, you can create your mock product to see how it works. Create on-brand products based on what's popular; you can figure that out using Amazon Best Sellers tab. However, at the same time, you should also choose designs with less competition to make your mark initially.
We recommend using designs that resonate with your followers; for instance, Safiya Nygard, a popular YouTuber, is known for her gothic sense of style and so her Merch is mostly in the black color palette.
Staying true to your brand tell your audience that you are not just selling stuff to make money, but rather that you are selling merchandise so that your followers can become part of an exclusive club.
Add products from your dashboard and choose the upload artwork button. Don't worry if you are not sure how to edit it perfectly, Amazon offers several templates to choose from to make your journey easier.
Another notable thing here is to make sure you are not violating any of their rules, such as using existing trademarks, putting up objectionable content, or any contact information. Failure to comply with the guidelines might get you suspended from the website.
05. Merch Research
When it comes to apparel business, research is the key. Consider demographic, geographic, behavioral, and psychographic factors. While you are researching, don't forget to check if any design or quote you are using comes under any copyright infringements.
06. Promote & Sell
Before you think of using any external means to promote your product, check out the two solutions that Amazon provides to sellers.
These options are simple and easy to understand; therefore, you can market your own products initially. However, if you want to be really effective, it's best to use a professional Digital Marketing Service.
Conclusion
Selling your products online is not an easy job; it requires time and money, but Amazon merch gives you the perfect shot at selling your products without both. Have you tried the platform? If you are a successful seller and would like to share your story, let us know!