If you want to know how to flip a website to make money, we have listed the process in this article.
If you are not aware of the term flipping, it means growing a website a and then selling it to make good money.
Andrej Ilisin is an entrepreneur with a unique story: he has used blogging as a way to speed towards an early retirement.
In 2009, Andrej, a young Eastern European father built his own website with under $1,000, sold it for just under $10,000 and then built another one using that capital (about German Shepherds) and sold it for over $50,000.
Since then, he has been replicating that process time-and-time again. In-fact, he has even created two ventures that have been helping ordinary people do the same.
His company, Alpha Investors — an agency for helping people to develop profitable websites which can be sold for a fortune — is now worth over 7 figures.
Moreover, his new project, investors.club — which is more of a marketplace for making buying and selling websites like he used to do easy, is competing with the biggest names in the industry.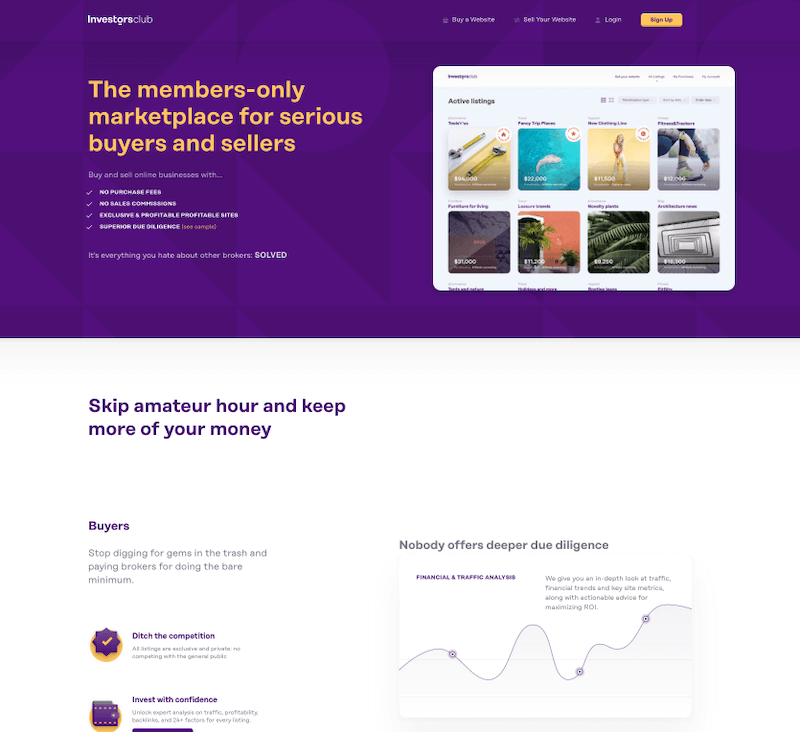 Whether you're a website buyer hunting for high quality vetted websites or someone with the desire to make money online right now by selling websites, Andrej has created the place to make it happen.
We've spoken to Andrej regarding what advice would be necessary for somebody who fits the above characteristics and he has pitched the perfect roadmap and information, important for website buyers and sellers:
Selling Your Website Step One: Finding Your Niche
Of course in order to sell a website you are first going to have to own one and the only way you can own a website is by buying one or registering a new domain or buying an old domain.
Since this guide is about buying and selling websites, we'll focus on the first one. The website which you buy is best to fit one of these 2 options: Relative to a niche or having existing potential. What does this mean?
Buying a website relative to a niche
A niche market is a subset of a market on which a specific product or service is focused. Typically you want it to be unsaturated and undeveloped (new) but with a high potential for traffic.
One way to know if you've got a good niche is by simply recognising the buzz around it, although this requires a little bit more conjecture.
Andrej doesn't recommend this though. Instead, the best way to find a niche requires market research, knowledge and predictions. You could find out the quantitative strength of a niche — such as how many people are searching for your niche on Google or asking, is my niche picking up much publicity on Social Media?
Some paid tools can help you figure out the potential of a niche to a tee. Ahrefs, for example, helps you to find out how much traction a niche is getting on Google.
It lets you search for your general keyword and find out the variations of it which are the least competitive but have large traffic volumes.
If you have Ahrefs, head to keyword explorer, type in your niche keyword. For example "buying websites", then head to All Keyword Ideas on the left and type in Minimum KD (keyword difficulty) 0 and maximum 10 lets say. And then click 'volume' and insert minimum 1000.
This will help you find niches where there is less competition but a good amount of traffic to play for — traffic which could turn into conversions of a product or service — making any websites that dominate this niche very valuable.
With all this in mind, you are going to need a domain name. This is going to be the face of your website, the thing people will type in if they want to specifically find your site.
It must be noted that if people are generically searching for something related to you, google won't prioritise your website in ranking you in the search hierarchy because of your domain name these days.
There are other SEO strategies and algorithms google follows to do this. Nonetheless, a strong domain can contribute to building a rapport with the consumer as they will believe you are specifically dedicated and tailored to this field.
Once you have your chosen niche and domain, that's when you will start creating content relating to your niche, but more on that shortly.
Buying an already existing website with potential
Buying an existing website is often more expensive than creating your own because somebody else has already put time and effort into it. What will really make this worth it is the potential for greatness that it may possess. But what is this potential? How can you spot it?
If the website is already in a niche, that is a great start because it will have an elongated lifespan compared to a website with thousands of other substitutes and you won't have many competitors if you are to purchase it.
When we speak about the potential for a website, we mean there are possibilities for it. These could be: mass growth, large traffic, high profile and credibility. You should also know that the more visible these possibilities may be to other potential buyers, the more expensive the website is going to be.
Selling Your Website Step Two: Building And Maintaining Your Engagement
So now you either have a brand new website or a semi established one. Time to start building engagement: building rapport, gaining visitors and increasing value. This is important because all three of those targets link and help each other.
The more rapport you build with visitors, the more frequent they will return which will help broadcast your website to new visitors which in turn increases the value of the website. This will require a mixture of technical, analytical and creative skills.
What Is Engagement And How Can I Build It?
Engagement can be defined as how often visitors will view your page, how long they will stay on the page and how often they will return – an analytic very important to buyers and sellers for websites.
Building engagement can be done mainly by publishing high quality content that is up to date with the current affairs and has a balance of unbiased opinions.
This is metaphorically the food that your animals are coming to eat. You can choose to write this yourself or outsource it to somebody else passionate in the field.
Growing And Increasing Your Engagement
The most important factors that will grow your site's audience will be:
SEO may be a strange new concept to many, but in short it involves you building your website in a way that makes it easy for search engines like Google to know what your site is about and reliably bring it up in searches. More of a complicated strategy but with a little research can be figured out and applied.
Paid advertising is the most costly form of engaging members, but if you're after a niche audience, for only a few pounds a day you can reach a large number of your audience, whether that's on social media or Google. This helps introduce your website to people who will benefit from it but wouldn't come across it.
PR (Public Relations) is linked to building a rapport with the visitor. You want the visitors to trust that you are a reliable source with a high level of knowledge in the field. This was they will tend to return if they seek further information on something regarding similar topics they have read about on your website.
Backlinks (Link Building): One of the best ways to help your site show up in online searches is by getting in touch with other site creators similar to yours and linking to each other's content.
These are known as backlinks and from Google's perspective they make your website look very valuable. It's a seal of approval effectively. If other websites are sharing your content, then it must be good and it's great PR for your site.
For the duration of the building and selling of your website, you will need to keep this engagement up even if you are comfortable with it. The way you do this is to carry on feeding the animals! Keep publishing content without it dropping value.
Selling Your Website Step Three: Building A Community
If you have an engaged audience, then the more ways you give them to interact and gain value from each other, the better.
Selling a brand is infinitely more valuable than simply selling a website, so work on growing your community with the same importance as the website itself.
If you include your audience in say experiments you do, challenges, competitions. The more they are going to return to your page. You can add a forum section to your page where visitors can ask questions, conversate or share their own similar stories.
Similarly in the age of social media your website is not limited to just it's website itself. You can expand into social media platforms such as Facebook, Instagram or Twitter.
Maybe people could here share photos, short stories or videos of similar experiences they have had to what you describe on your website.
By doing this you are now introducing your website to the followers and associates of your visitors as well.
Selling Your Website Step Four: Selling Your Website!
Once you are happy with where your website is at and are ready to sell it, you need to think about what the best price is going to be to sell it at and when the best time to sell it is.
Value
The buyer (If they know anything about websites) is going to value your website based on:
It is worth noting that the Investors Club website does offer a valuation service which will give you a fair, unbiased valuation of your website.
Timing
Timing is important to selling a website if you want to maximise profits, if you believe that there is still potential for growth into certain markets or of certain areas of the website, squeeze them out before you sell it.
If there is an event coming up that writing about will substantially increase your visitors, postpone the sale to make sure you can pitch with the best possible figures.
Remember: read read read. This post was just a short introduction to the topic of website flipping. For more detailed instructions and guides, check out the Investors club guides and follow your favourite digital marketers, such as Ryan Stewart and Craig Campbell.