WordPress offers plenty of useful resources for its users ranging from powerful plugins to built-in features like analyzing site stats.
With the increasing consumption and creation of content, different platforms are offering tools and features making the user experience better day by day. One such innovative feature in use these days is "infinite scroll".
What is Infinite Scroll?
Infinite Scroll is being used on various sites all across the web. Traditionally, a user had to click on the page to load more content and it would open up on a new page.
In an effort to make content consumption faster and better, web giants such as Facebook, Twitter etc. have introduced Infinite Scroll which loads more content as soon as you reach the bottom of the page.
Various sites which have been using Infinite Scroll have seen a rapid rise in the time spent by users on the page as more content loads automatically and the whole user experience becomes faster and smoother.
Benefits of Infinite Scroll
Before you go ahead and enable infinite scroll option for your WordPress site, you need to know how it can benefit your website.
One of the main benefits of adding an infinite scrolling option to any website is around the bounce rate.
If you have teh basic knowledge of SEO, you probably know that high bounce rate if not good for a site. Search engine like Google can come the conclusion that your content is not useful or engaging and that can impact the search ranking.
When you add the infinite scrolling option to your site, the users will be offered with new content.
Now, there are two places where you can add infinite scrolling, the archive page, and the single blog pages.
You might have seen on many high authority news sites how they keep the users engaged by offering the next article as they finish reading one.
This can be really effective in increasing overall engagement on your site.
How to install Infinite Scroll on your WordPress website?
There are many ways you can add infinite scroll to your WordPress site. Some WordPress themes come with built-in Infinite Scroll that you can activate or deactivate as per your preferences.
If your website's theme doesn't come with built-in Infinite Scroll, then you can install a Plugin.
Steps for installing an Infinite Scroll Plugin to your website:
The first thing you need to do is to install and activate the Infinite Scroll plugin. Once the plugin is activated, your website will have a new menu option under the settings tab called Infinite Scroll.
It will work without any issue on most of the blogs.
However, in case your blog's settings are customized, you will have to alter the "Selectors". You can do it by clicking on the selectors' tab on plugin's settings page.
Please Note: This plugin is not updated for last 2 years. However, it should work perfectly with any WordPress theme.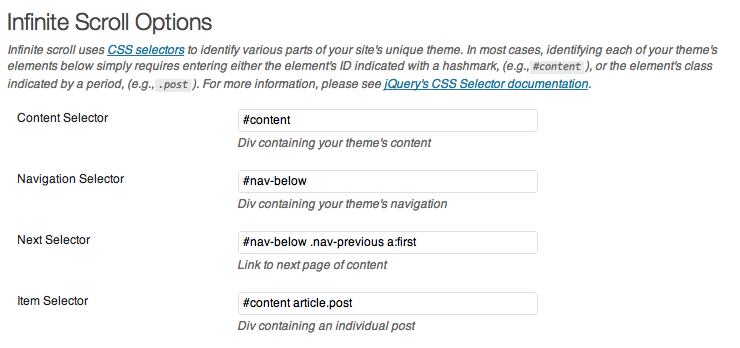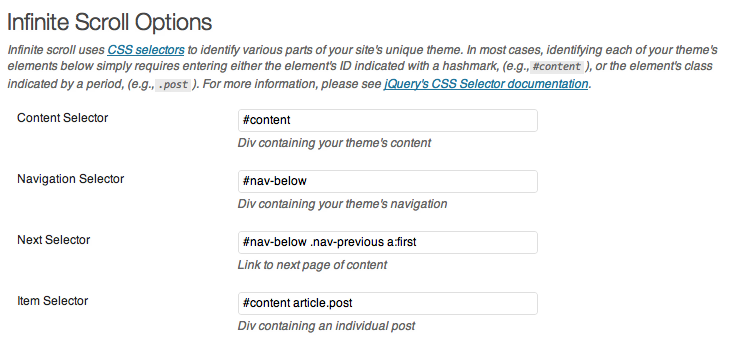 The selectors are filled by default in the plugin. Most WordPress themes use the div #content as the content selector. The div helps in wrapping the content on the main page.
For posts, the default selector is set to #content div.post on most blogs.
You won't need to change the Navigation selector and Next Page selector as most of the themes use it. Further, to customize the loading text, images, and end text, you can open the General Options screen.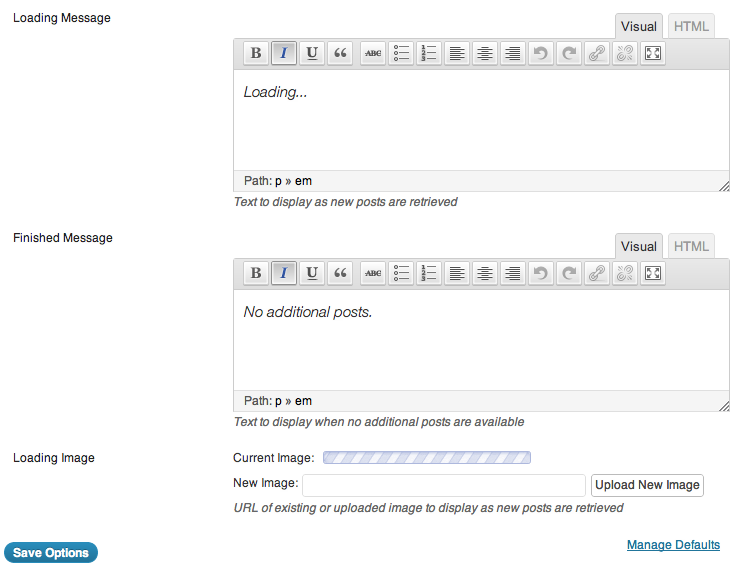 All in all, Infinite Scroll plugin offers a wide range of features and will help your website to enhance the user experience.
However, it is important to note that the Infinite Scroll Plugin won't work on category/tag pages; it works only on your blog's homepage.
Use Catch Infinite Scroll
Here is another plugin that you can use to add infinite scroll option to your WordPress site.
It gives you the option to choose between auto scroll or click to scroll by adding a custom image or text such as Load More.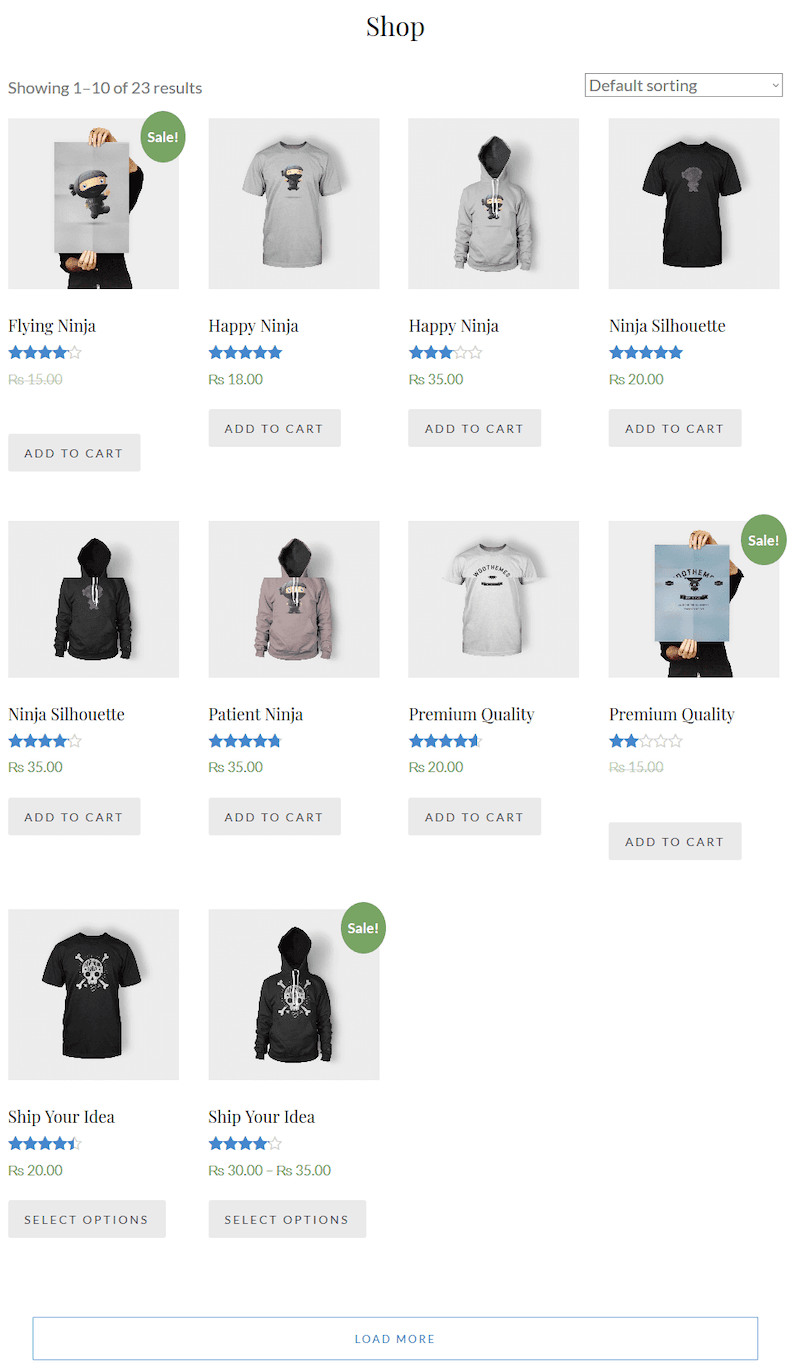 WordPress Infinite Scroll – Ajax Load More
If you wish to have more control over the load more options, here is a plugin that you can use to add the load more options with much better control.
We have already created an article about how to add load more option in WordPress sites. This article will help you to understand it in detail.
The Ajax Load More plugin is one of the best options to add the load more button to your posts making it easier for the users to load the posts quickly.
The Ajax Load More plugin can add the infinite scroll option to any content type, the posts, pages, custom posts as well as WooCommerce product pages.
Once you add and activate the plugin, it will add the plugin admin controls on your dashboard where you can finalize your settings.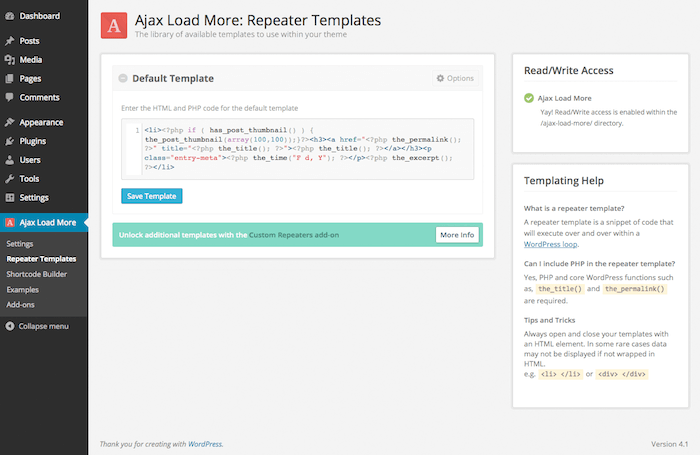 The plugin comes with the shortcode builder and you can have a number of different parameters to make sure that it is perfect for your site.
The details are available on the plugin page, you can check and adjust the parameters as per your requirement.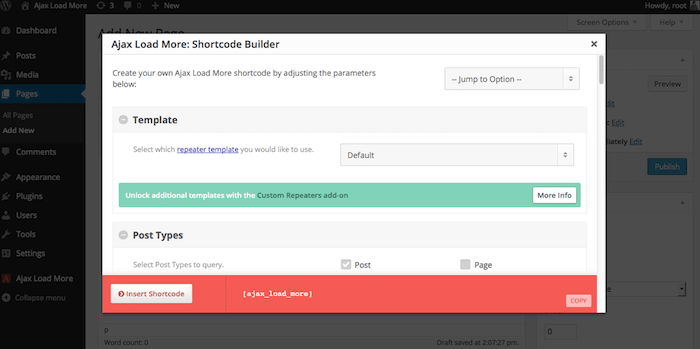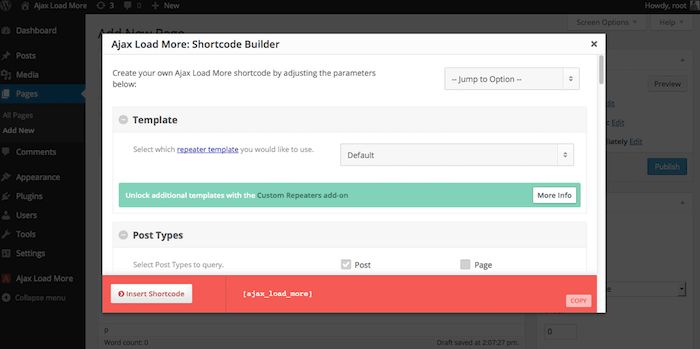 Should I use Infinite Scroll?
Installing an infinite scroll feature on your website is a matter of minutes, but the question which arises is should it really be used?
Well, just like many of your website's preferences, installing this feature is a personal decision that you have to take. While the newness of Infinite Scroll will attract your website visitors' attention, there may be some cases where the feature doesn't work well.
Some websites even reported server crash during high traffic times with Infinite Scroll.
Moreover, the websites with infinite scroll can't offer footer which may be a disappointment for some visitors.
All in all, this new feature comes with some pros and some cons, but there are high chances that having it on your website will enhance the user experience.
The art of blogging is learned with trial and error; why not give this a try?