If you ask a content marketer the importance of commenting, he will always tell you how it is important to have comments on your content.
However, there are many cases when it is necessary to turn off commenting for good.
WordPress, by default, have commenting enabled. And, this can be annoying for multiple reasons. For example, you wouldn't want to have a comment option on your sales page or maybe the about us page.
Another common reason to remove comment section is not to let visitors comment on controversial content. One of the solutions to the above problems is to disable comment section completely.
Before we go through the actual method of disabling comment section, let's go through the reasons why you should do so.
Reasons Why You May Need to Disable Comment on Your WordPress Site.
01.

Controversial Posts
Controversial posts can lead to toxic behavior from the visitors, and bring down the quality of the site or even hamper the reading experience of the users.
To avoid it completely, the comment section should be disabled. This type of strategy is mainly executed by big news websites such as CNN or Returns.
To ensure that only meaningful comments are shared, the sites share the email address of the writer/editor, so the reader at least has the option to share their opinion.
02.

Improve Load Times
Website loading time plays a vital role in the success of the website. Many competitive websites might prefer to disable comments on some page as it can help them rank better on them.
This is true because of the fact that each time a comment loads, a new request is sent to the database, increasing the loading time of the page.
If you think that your page requires faster loading time, then you can go forward and disable it. If you think that you cannot disable commenting completely, then you can try to do the lazy load for the comment section.
03.

Completely Shutting Down Spam
Spam is a prevalent problem current website go through. If your site is getting spammed continuously, then you might want to disable comments temporarily or on the pages which are the main target of the spammers.
Especially if you are using the default WordPress comment system without any additional spam protection, you will have to spend hours deleting spam comments every single day.
Some of the other WordPress commenting systems can still give you some relief.
Disable Comments in WordPress
Disabling comments can be easily done in WordPress. There are multiple ways you can do it.
Let's go through them one by one.
Disabling comments through the standard dashboard settings
One of the easiest ways to disable comments on all posts is to go to Settings > Discussion simply.
As we already discussed above, WordPress, by default, have comments enabled on all the posts and pages. As it is allowed on every page and post, you can disable it by simply unchecking an option.
Disable comments on the future posts
In the Settings> Discussion, you need to uncheck the option, "allow people to post comments on articles." This will only disable comments on the future posts and not the old ones.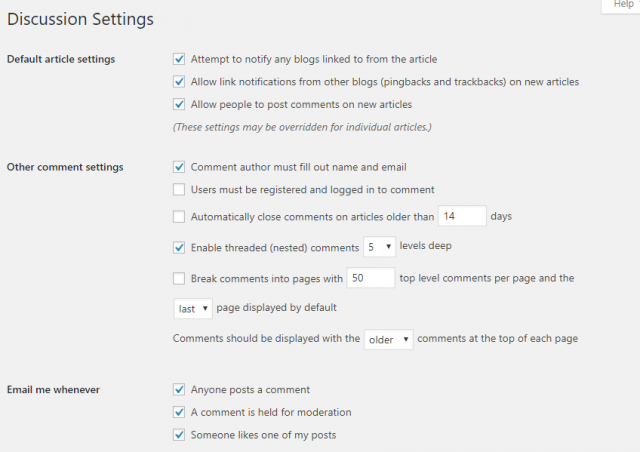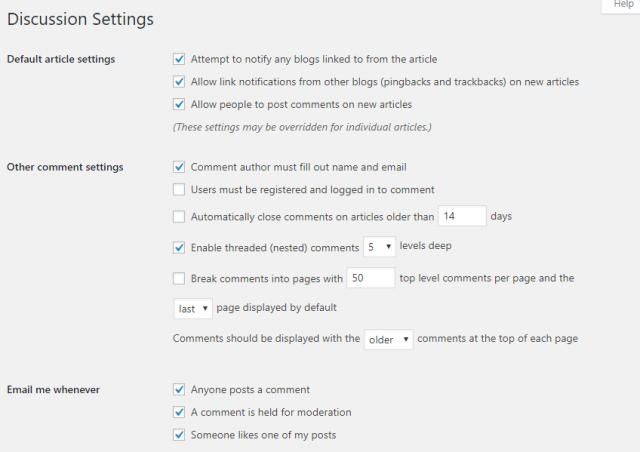 Disable comments on the current posts
To disable comments on the current posts, you need to go to Dashboard > Comments. After you reach there, you need to select all the comments that need to be removed, and then click on "Move to Trash."
Once selected, click on "Apply" button.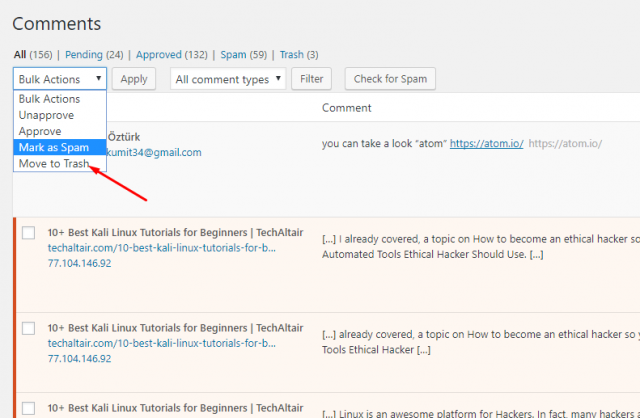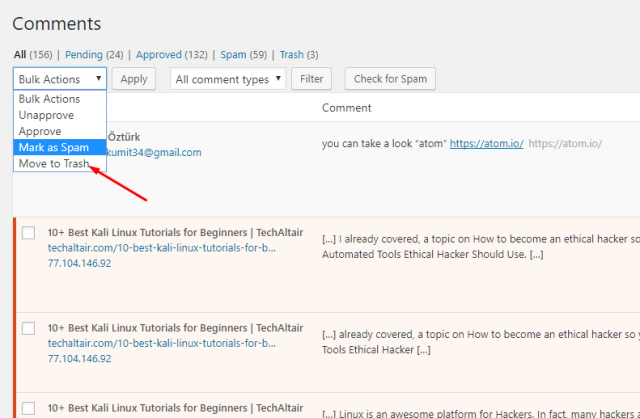 Disabling comments on existing posts individually
Individual post control is sometimes necessary. In that case, you need to go to the post you don't want to allow comments on, click on "Edit Post.". Once inside a post, you need to check the discussion box as shown in the image below.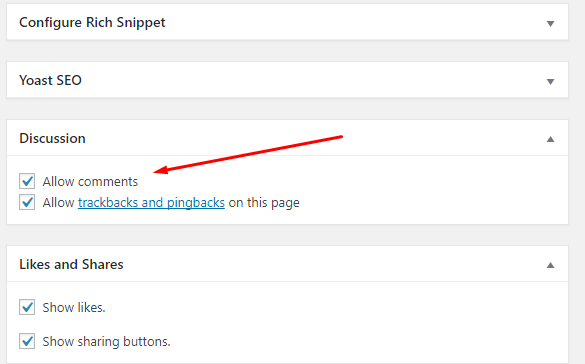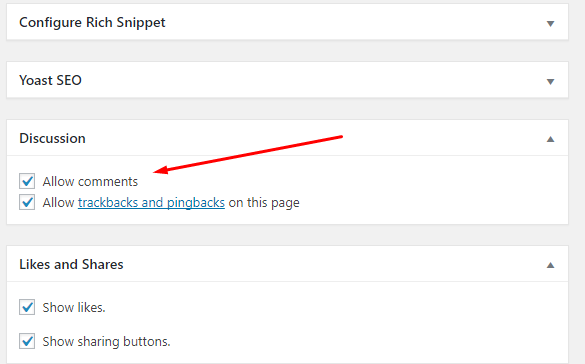 If you are not able to find the Discussion box, you need to enable it using the "Screen Options" located at the top right.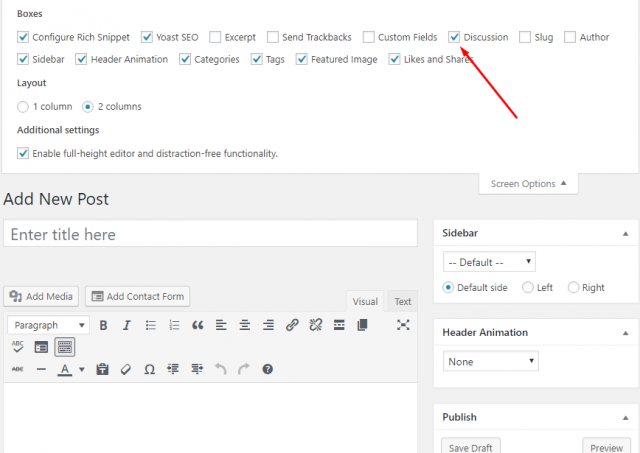 WordPress Plugins for Disabling Comments
WordPress ecosystem is one of the strongest ecosystems out there for developers and users. And, that where you can get plugins for doing almost everything.
If you don't like the manual method shown above, you can use the plugins for disabling comments. Let's list the best ones below.
01.

Disable comments by Samir

Disable comments is a very popular plugin developer by Samir Shah. With over 1+ million installations, you can gauge the effectiveness of the plugin.

With this plugin, you can disable comments globally or according to the post type, i.e., pages, posts, attachments. The plugin can also be used to disable comments over multi-sites.

Note: Only use this plugin if you want to remove comments from your WordPress installation completely. If you need granular control, it is advised to go through the manual process discussed above.

02.

Disable Comments by Robosoft

Disable comments by Robosoft is a different plugin that does the same task, i.e., disable comments completely from the site. This plugin is absolutely easy to use and can be managed easily by both experts and novices.


03.

Akismet Plugin

This plugin is not exactly for disabling comments, but it helps you to weed out the spam comments that you get. If you are worried about spam comments and don't want to disable comments (even temporarily), then you need to install Akismet plugin.

It is very efficient at identifying and removing spam comments automatically. Yup, all you need to do is install it!


Wrapping Up
Disabling comment is a big step, and you should take a proper decision before implementing it. In this article, we went through the best possible ways to disable comments on your WordPress website.
You can either use a plugin or do it manually. The choice depends on what you want to achieve.
So, which method are you going to use and why? Let us know in the comment section below.