Blocks plugins are quite popular through WordPress users. People install them to add more features to the pages and make them more eye-catching.
That is why there is a huge number of such add-ons on the market. To find the superior plugin becomes harder and harder. So we are going to help you with this difficult decision.
In this article, we would like to overview and compare two popular blocks plugins for WordPress. Meet ZeGuten and CoBlocks. They both are simple in use and have several blocks that will enrich your website with reliability and performance.
ZeGuten plugin
This add-on is newer on the marketplace but it quickly succeeded and made a conquest of many WordPress users. ZeGuten has a wide collection of blocks that grows every month.
The plugin regularly receives updates, so you can be sure that everything will work ideally, and all the bugs will be removed.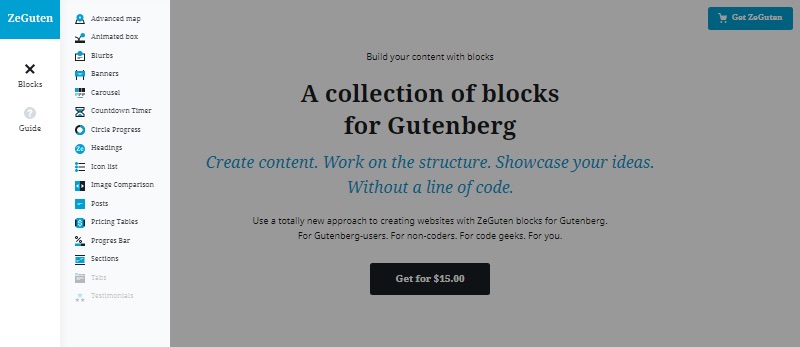 ZeGuten is compatible with the latest versions of WordPress and its native editor Gutenberg. It will become the best assistant both for professional developers and newbies because there is no need in code lines to build the content.
Just paste the block from the collection to your working field and customize it according to your needs.
CoBlocks add-on
The suit of CoBlocks elements is aimed at empowering the websites with professional tools, good-looking content, and a simple way of editing. You will get an ability to space and align the content, structurize it into attractive columns, rows, grids, and many more.
Use the modern way of content building without coding knowledge and web development experience. Discover settings that you can attune to make your website look better. That is what you will get installing CoBlocks.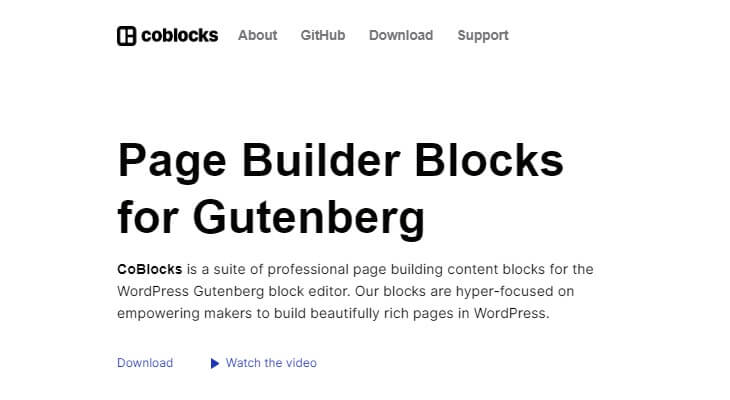 Discover how many blocks you will get
As we mentioned above the number of ZeGuten blocks is replenished every month but now the collection contains 15 elements. Inside the ZeGuten package you will find Animated box, Carousel, Blurbs, Banners that are good for creating ads.
With Countdown timer, Circle progress and Progress bar, Pricing table, and more you can add infographics and information about your services.
Posts block allow showcasing your posts in Chess, Grid, Carousel, List, and Masonry layouts. It will help you build an attractive blog page and expand the number of readers. There are also other blocks you will like.
The CoBlocks plugin includes 27 blocks such as 5 gallery blocks, 4 blocks for content building, 3 blocks for social links, and 2 post blocks.
Also, there are some more useful blocks, for example, Accordion block, Gif block, Author Profile block, Events block, Food & Drinks block, Features block, Form block, GitHub Gist block, Map block, Pricing Table block, Media Card block, Services block, etc.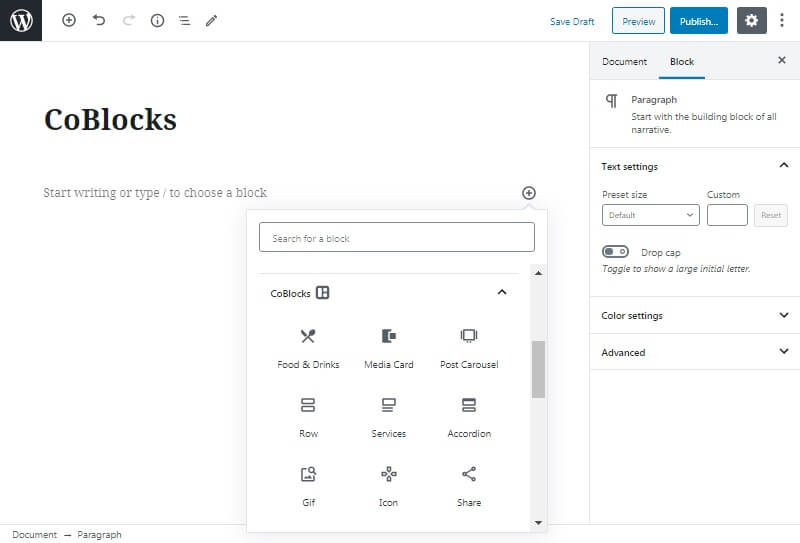 Customization options
ZeGuten add-on allows you to customize each element of your block. You are free to resize it, set borders from several layouts, drop shadow, change paddings, align content, and more. Some blocks consist of several parts and you can attune them separately from each other.
Section block appears as a single structural element. It gives you opportunities to organize the content in up to six columns set color, gradient, image, and even video background. You can create a custom shape for your background and combine it with any type of these backgrounds.
Use pre-made layouts that are also included in ZeGuten collection to save your time and make the elements look more professional and attractive.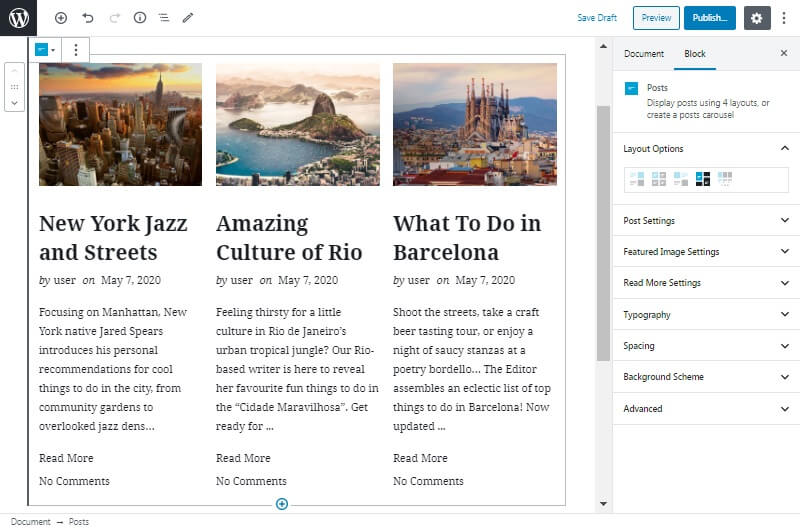 CoBlocks has a little different customizing scheme. Being more technically oriented the plugin offers you custom properties for choosing the color from the wide pallette and set it for your background and text.
However, the add-on won't give you such a huge variety of customizing properties as ZeGuten because its developers are more focused on the amount of built-in blocks. That is why it is satisfied only with 3 settings tabs for each element.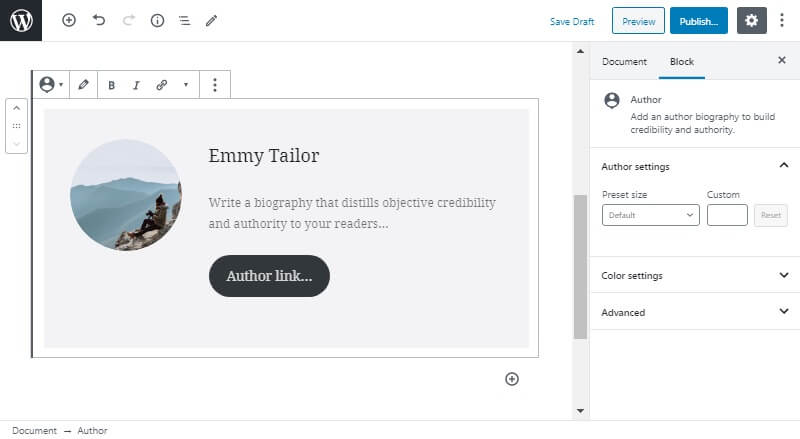 Typography settings
Using ZeGuten blocks you can pick any font you need from rich Google fonts library. Choose the font family you like the most, select its font style, subset, and weight, change size, line height, text decoration, letter spacing, and more.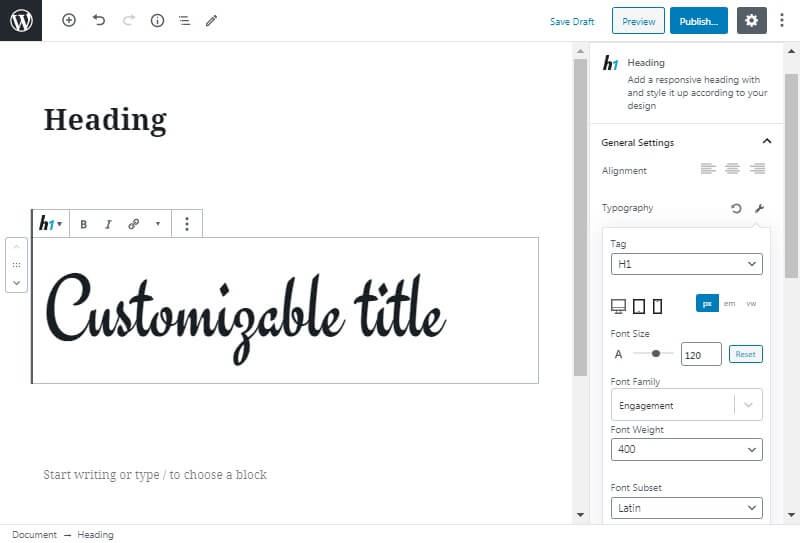 In ZeGuten typography settings you can also choose the HTML tag that will help you change the text hierarchy. Choose the color for your text to finalize the typography customization process.
CoBlocks offers you to design the pages with eyepopping typography settings with the help of the Typography Control Panel. Select custom font, its weight, line height, and make other transformations for any CoBlocks element.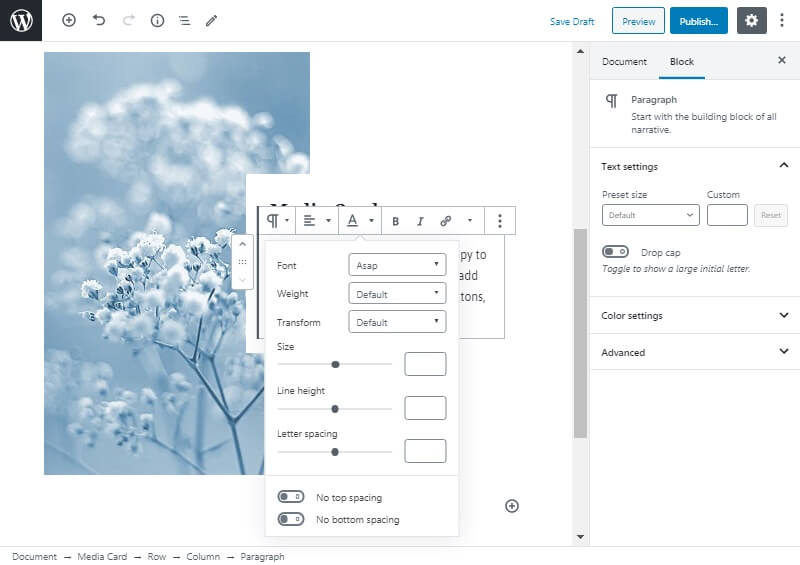 Responsiveness and performance
ZeGuten plugin offers you to customize each block according to the different screen resolutions. Above alignment settings, you will find three device icons.
Click on them to start customizing the block for the desktop, tablet, and mobile screens separately. Set different margins and paddings values, border properties, icon and box sizes, etc.
As ZeGuten was developed with SEO in mind, you can simply reach the high ranks in search. Don't worry about the page loading speed. ZeGuten blocks are optimized for high performance.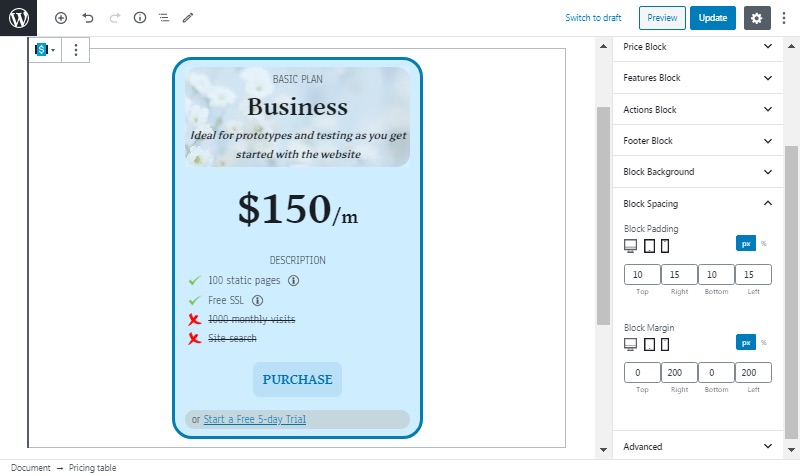 Using the Row block of CoBlocks add-on you can stylize the section that is based on its responsive grid structure. Select the layout with the necessary number of columns, resize the borders dragging the divider, and change paddings.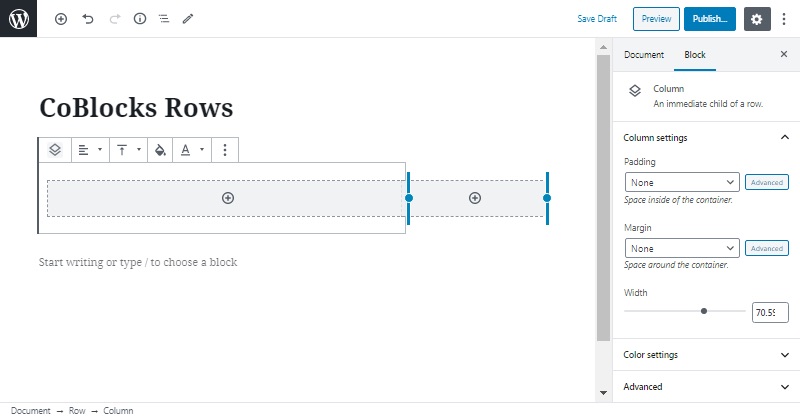 Use plugins to empower the pages
Both of these blocks plugins, ZeGuten and CoBlocks, are powerful and will be a great addition to your pages. We gave you some of their most important features that will help you build fast and reliable content. Wich one to choose there is only your decision. Definitely, you can use them all simultaneously.
ZeGuten plugin is well-documented, so you will be informed about all its features and possibilities. Furthermore, if you run into difficulties, you can also ask the support team for help. Create a ticket in the support system or write them in the Facebook chat.
The CoBlocks comes without documentation and offers you only basic support but the developers will answer all questions you are interested in and help solve your problems.
The WordPress add-ons are the best way to save your time and impress users with the affluent operability of your website. You can set free your imagination and start building content without even a touch of code.