This is a collection of best Twitter WordPress plugins that will help you to integrate the popular social site with your WordPress blog.
We have already listed some of the best social media WordPress plugins here in this post, you will get more plugin options in that post that can do a comprehensive job on your site.
Twitter is a platform no online business should ignore, along with sending a good amount of traffic to your site this platform can do a great job in terms of building authority for your business.
You must use Twitter regularly, there are some amazing Twitter automation tools that will help you to manage some of your tasks on automation.
Also, don't miss this article about the best tools to scale up Twitter marketing. These tools will surely help you to make the best out of Twitter.
Twitter has a huge userbase and if you are using this platform to best of it's potential you will be receiving huge traffic to your site from around the world, and it's free targetted traffic.
There are some amazing Twitter feed widget plugins for WordPress that will make it a lot easier for you to showcase your Twitter feed on your site's sidebar.
Though most of the modern day WordPress themes offer you a great implementation of social media, they may not have a comprehensive solution for the Twitter platform.
The plugins listed in this article will take care of your Twitter needs perfectly.
Best Twitter Feed Widget WordPress Plugins
The Official Twitter Widget
if you don't want to use any plugin as every plugin you add to your site will have some impact on the loading time of your site, you can use the official Twitter widget option.
The process of creating a Twitter widget is straight and simple and you don't need any technical skill to get the job done.
You just select the widget type, put the URL and stylee your widget. Once the widget is ready just copy and paste the code provided by the system.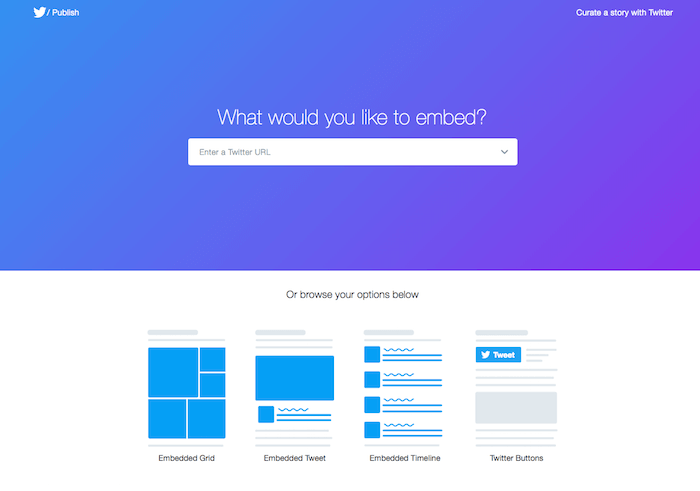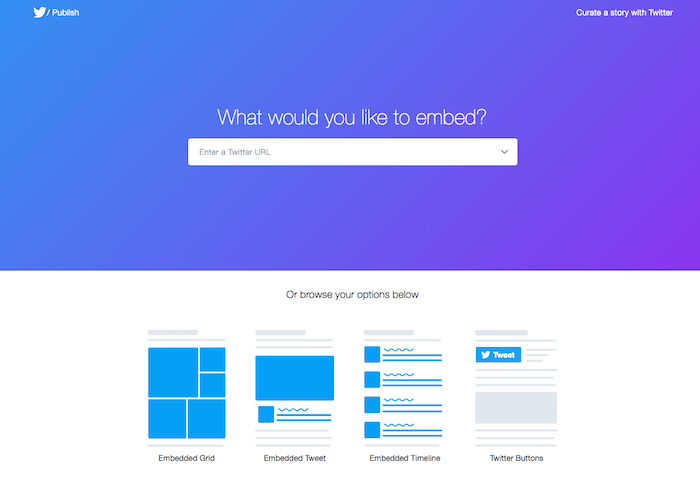 Social Warfare
Social Warfare is one of the most comprehensive social sharing plugins for WordPress. This plugin offers you everything that you need to make the best use of the popular social media sites.
Social Warfare plugin adds great looking super fast loading social sharing buttons to your blog and make sure that the conversion increases by multiple folds.
Now, as most of the sites are moving towards SSL from NON-SSL sites; there is a possibility that you will lose your social proof; but not with Social Warfare as it offers you the option to recover all the social proof when you change your domain name or move to SSL.
As we are talking about the Twitter plugins in this post, Social Warfare plugin offers you rich Twitter card options with big images and other options.
This plugin also offers you the custom tweet option where you can have your custom tweet that will show when a user clicks the Twitter button.
Also, it offers you the shareable quote option. You will be able to customize the tweetable quotes making it super easy for the users to tweet your post.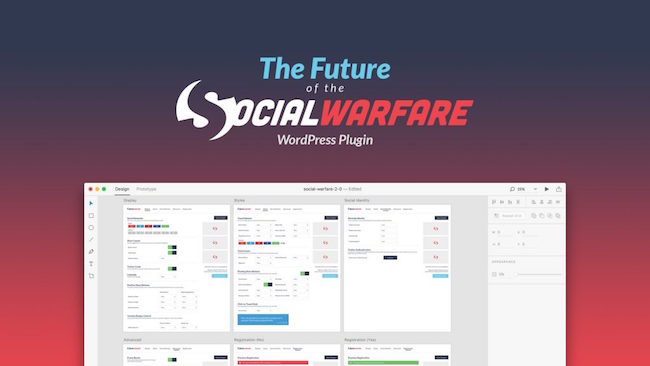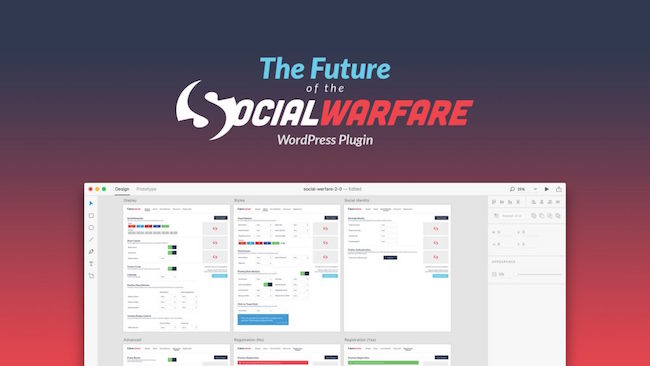 Revive Old Post
As the name suggests, this plugin is created to give a new life to your old articles. This plugin is one of the best and must use social plugin for WordPress blogs.
Social media automation is a big business these days and you will have to spend a lot of money every month to share your content to your social profiles automatically. Though some of the tools offer you free services it comes with the limitation.
Here is a plugin for WordPress that can do the same things with just one-time investment. You will be able to share unlimited content to your social accounts on automation.
This plugin helps you to share your posts with all the leading social sites like the Facebook, Twitter, LinkedIn etc.
Other than the normal blog posts, you can also use this plugin to share custom post types.
With this plugin, you will have complete control over what you wish to share with your followers. You can share the title of the post, with custom #hashtags and mention your @username. You can also share a complete custom message as per your requirement.
To save your time and effort, the plugin gives you the option to generate hashtags automatically for your posts.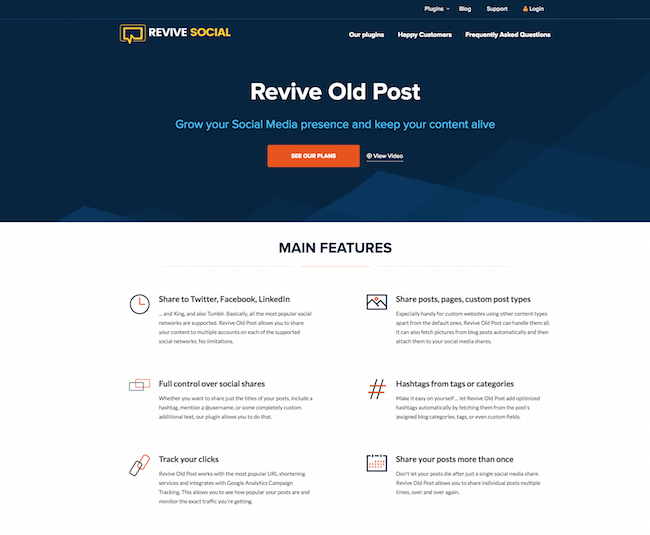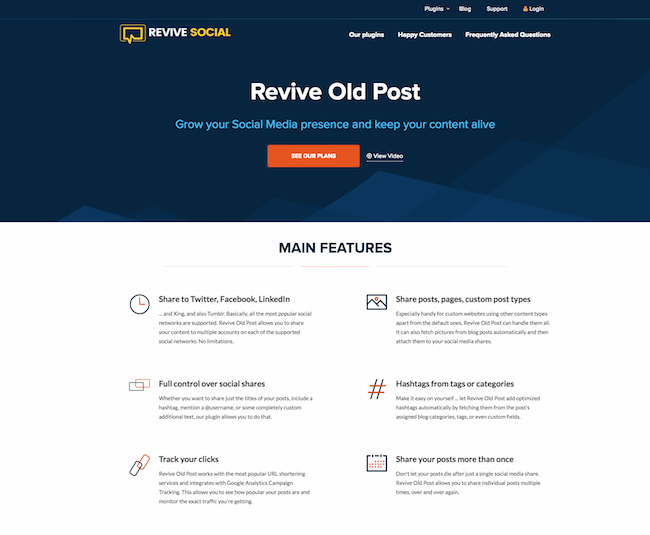 AccessPress Twitter Feed Pro
If you want to have more control over how you want to showcase your Twitter feed and with more features, this is the plugin you need.
This plugin offers you a comprehensive solution to showcase any Twitter feed account on your site. You can fetch the latest Tweet from any Twitter account.
It offers you twelve different templates to choose from. So, you will be able to fine-tune the design of the Twitter feed template to match your site.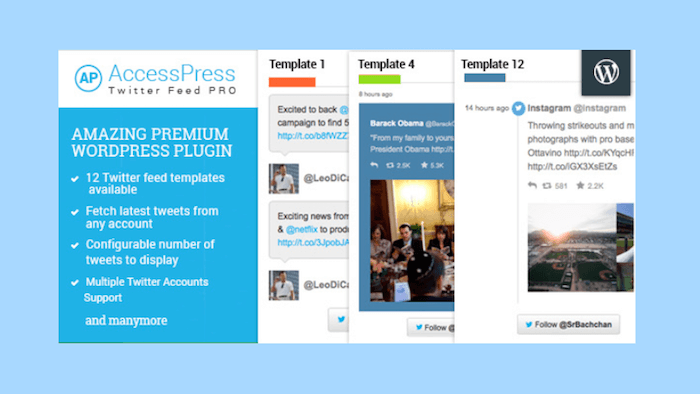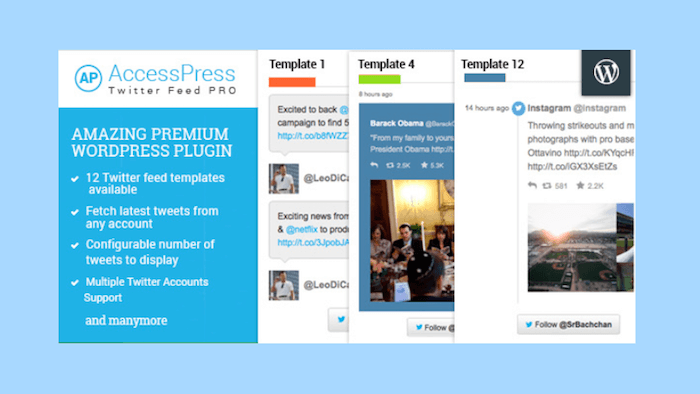 Twitter Info Widget WordPress Plugin
This is a comprehensive Twitter plugin for WordPress if you are really active on Twitter and want to make the best out of this platform; the Twitter Infor plugin will be very helpful for you.
It is a highly customizable WordPress plugin that you can design to match your site. You can change the color combination of the widget and show a custom message before and after the plugin.
As the plugin provides you shortcode, you can place the widget anywhere you wish to.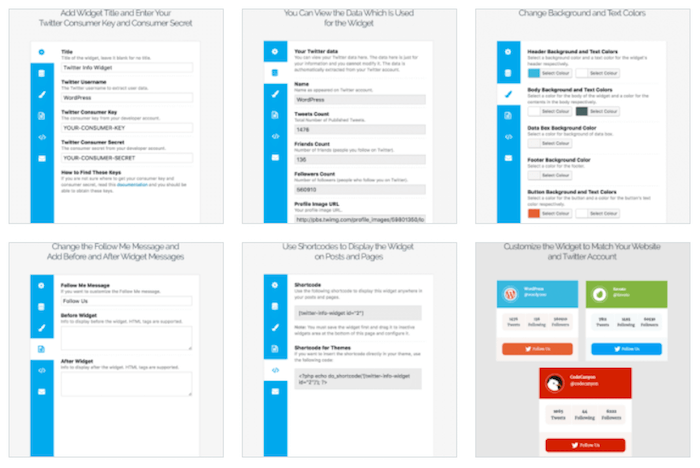 Tweetlab
A very useful WordPress plugin to integrate Twitter feed. With this plugin, you can showcase the Twitter feed in a horizontal or vertical slider.
It offers you Twitter card option to integrate perfectly. For the feed, it gives you multiple queries, multiple tag options so that you can make it interesting.
The plugin offers you four ready to be used template designs to choose from. Along with that, it offers you very easy customization possibilities.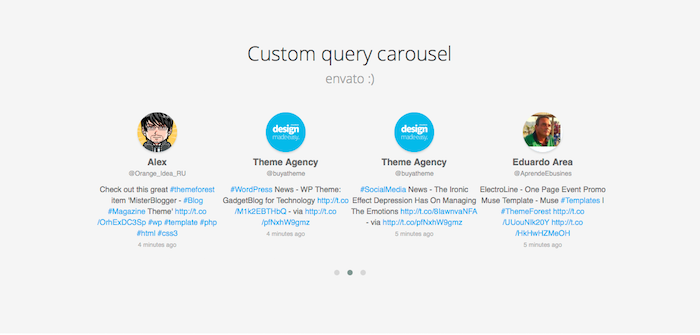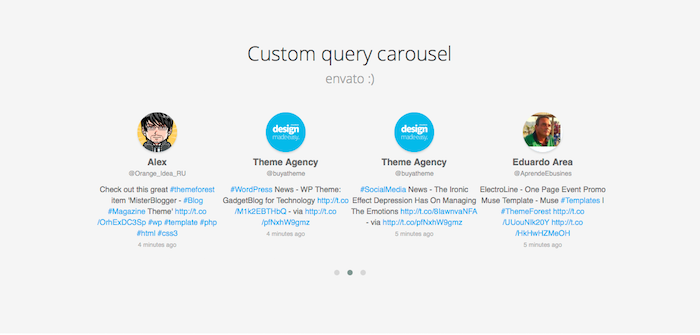 Twitter Feed
As the name suggests, this is a Twitter feed plugin for WordPress. It's a fully responsive WordPress theme that will help you to show the Twitter feed from multiple accounts.
This plugin offers you custom implementation option. You can fully customize the design of the plugin and show it anywhere on your site with the provided shortcode.
You can show profile pictures, links from the accounts. For the automation purpose, this plugin has implemented corn job.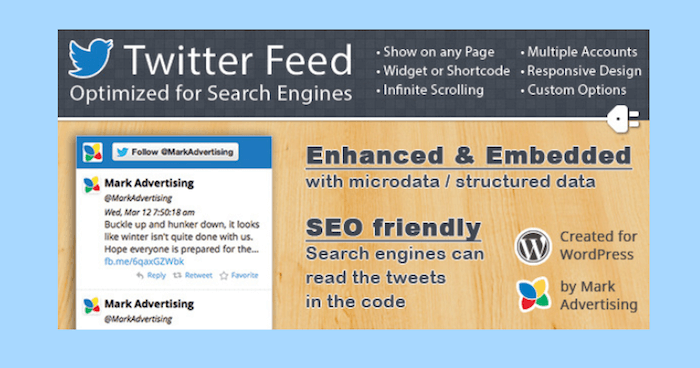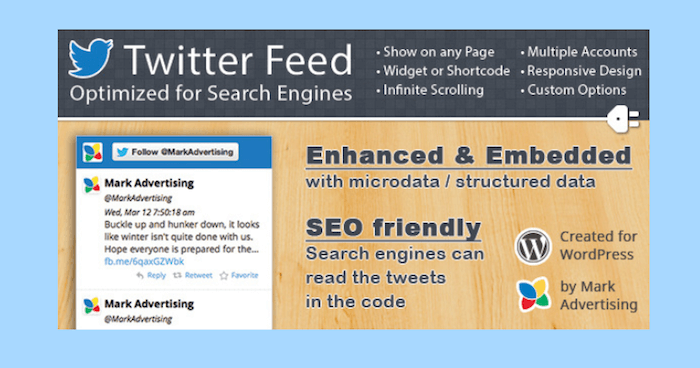 Layers Twitter Feed Widget
A quick and easy to implement Twitter feed widget plugin for WordPress. With this plugin, you will be able to create your feed and showcase it on your site.
You can control the username you want to use for the feed, the number of Tweets you want to show as well as the color combination of the feed widget.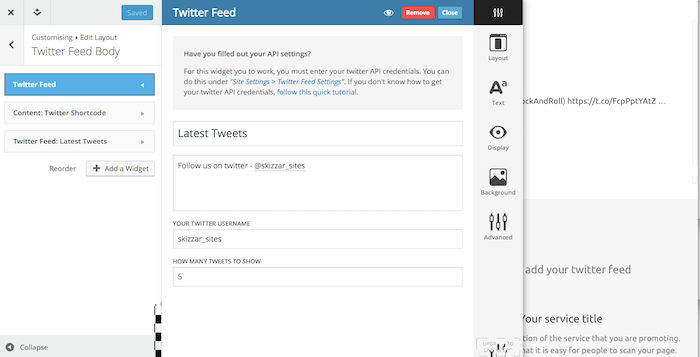 Twitter Ultimate-Wordpress Plugin
A powerful and highly customizable Twitter feed widget plugin for WordPress. With this plugin, you will be able to show multiple instances.
This plugin allows you to show real-time Tweets as well as live Tweets making it a nice integration for your WordPress site.
You can show Tweets from usernames as well as from keywords. So, if you are managing a travel-related blog, you can display all the important tweets related to travel blogging.
As the admin, you will have the total control over your Twitter widget. You can control the number of Tweets you wish to show, the incoming speed, the width, and overall look of the widget, profile image on/off option and a lot more.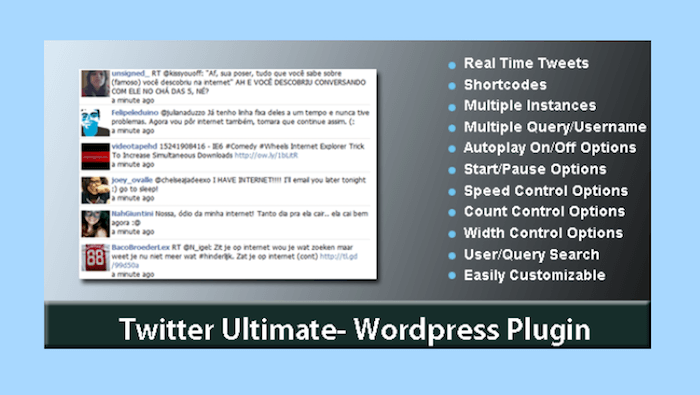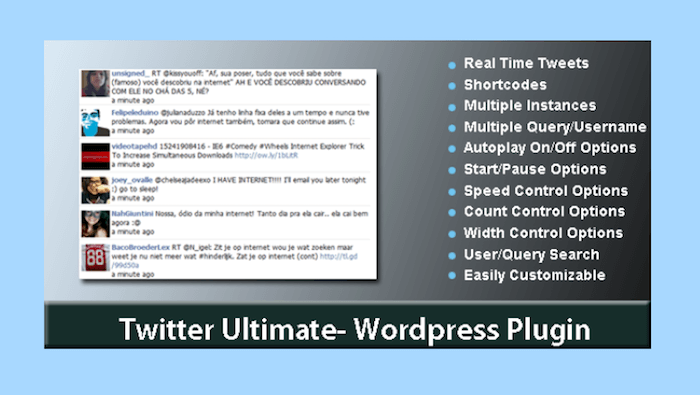 Twitter
The official Twitter plugin for WordPress, it's a simple and useful plugin if you wish to make the best out of the Twitter platform.
With the help of this plugin, you can easily embed any Twitter content on your site and make sure it looks like a part of your site with the provided customizations.
It also matches the text of the embed content with your site's font. This plugin also offers you public tweet button that you can place your content.
Another great option of this plugin is that you can display a number of tweets in a great looking grid layout to make it trendy.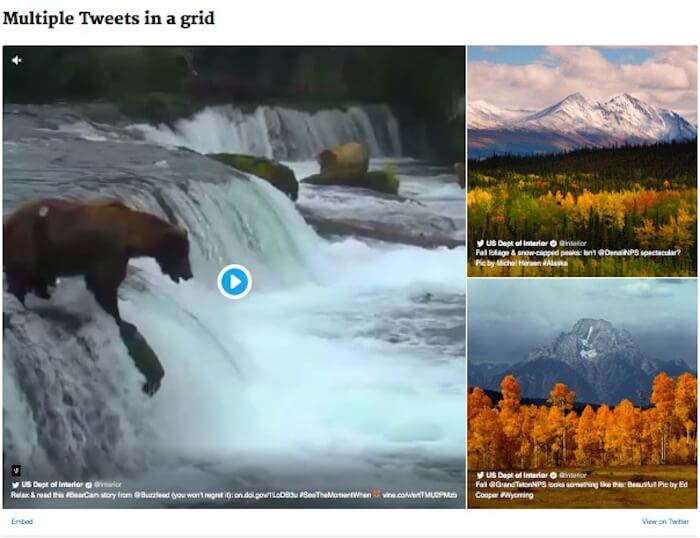 Custom Twitter Feeds
A free yet powerful Twitter feed plugin for the WordPress sites. This plugin comes with amazing customizations that will help you to brand the Twitter feed as per your requirement.
The plugin by default inherits the style of your site and you can further customize it according to your need.
With the plugin, you can show as many feeds you want to show from different accounts. You can show the feed from your own accounts, your followers feed or even custom hashtags.