Are you looking for the best Instagram post-scheduling tools? We got you covered in this article
When it comes to social media marketing success, the timing of your posts can make a big difference. You'll need to ensure that you are scheduling your Instagram posts at the best possible times.
The scheduling efforts you put in will ensure that you've got more control over your Instagram experience.
More importantly, you are ensuring that you're making your content more visible and helpful in many situations.
These ten particular tools will help you to schedule your Instagram posts and make sure that your posts get the maximum visibility.
Also, if you are an active Pinterest user, don't forget to check our collection of top tools to schedule Pinterest Pins.
Top Instagram Scheduling Tools
Instagram is one of the most popular Social media platforms at the moment for general users as well as for marketers. It is the best platform to engage around any brand and if you are just starting with your new product or any other small business, you must get started with Instagram marketing.
Here are the options to schedule Instagram posts
01. Tailwind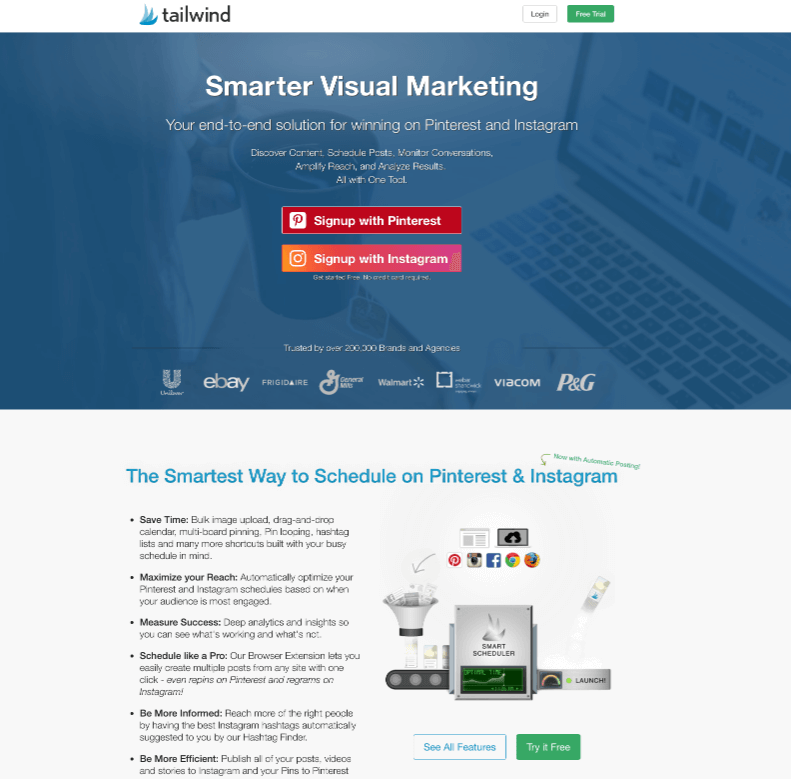 One of the most comprehensive social media management tools, Tailwind offers you detailed options when it comes to creating and posting content to your Insta feed. The drag-and-drop functionality of Tailwind is important to see for how it handles hashtag lists for many connections.
You can work with Instagram and Pinterest schedules alike with Tailwind. The design that Tailwind uses focuses on simplicity and ensuring there are no problems with what might work.
Tailwind can automatically publish to your Instagram profile, so there will be no notification or push request in between. You can schedule all your post for the week in 10 minutes and keep your account active with fresh new content while you focus on your core business.
Tailwind gives you the option to schedule normal images as well as Instagram stories to your account. You can also schedule the relevant hashtags in the first comment to keep your caption clean.
It offers you an advanced hashtag finder to find the most relevant hashtags for your posts.
Tailwind will do all the research you need so that you can schedule the posts during the peak time when most of your audience will be active.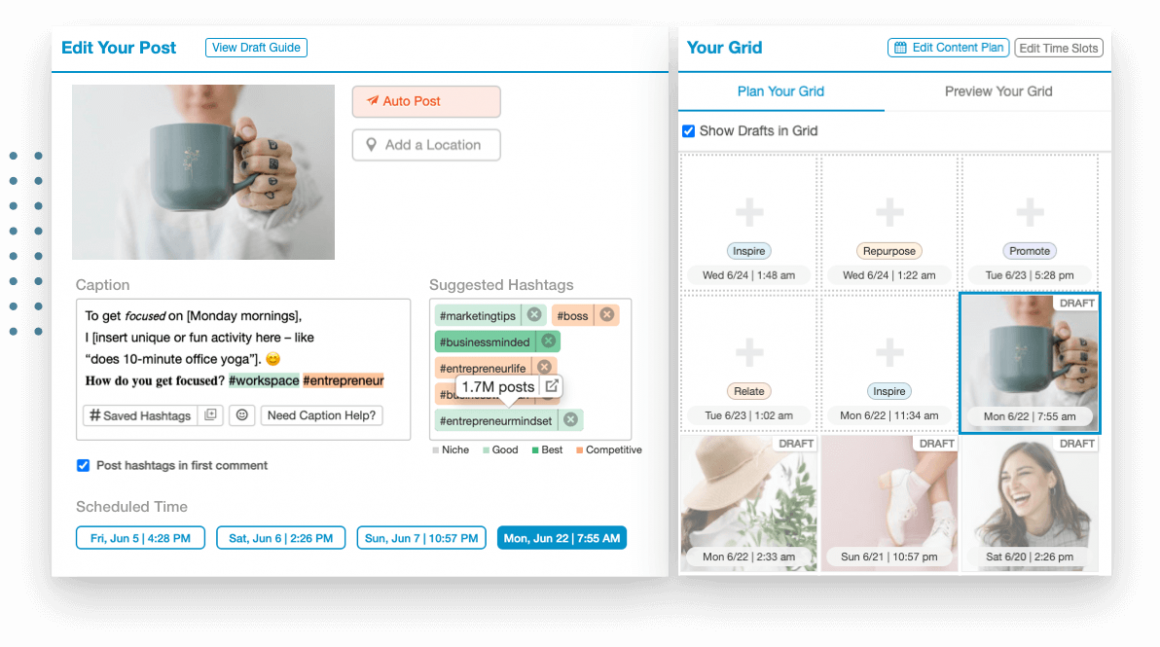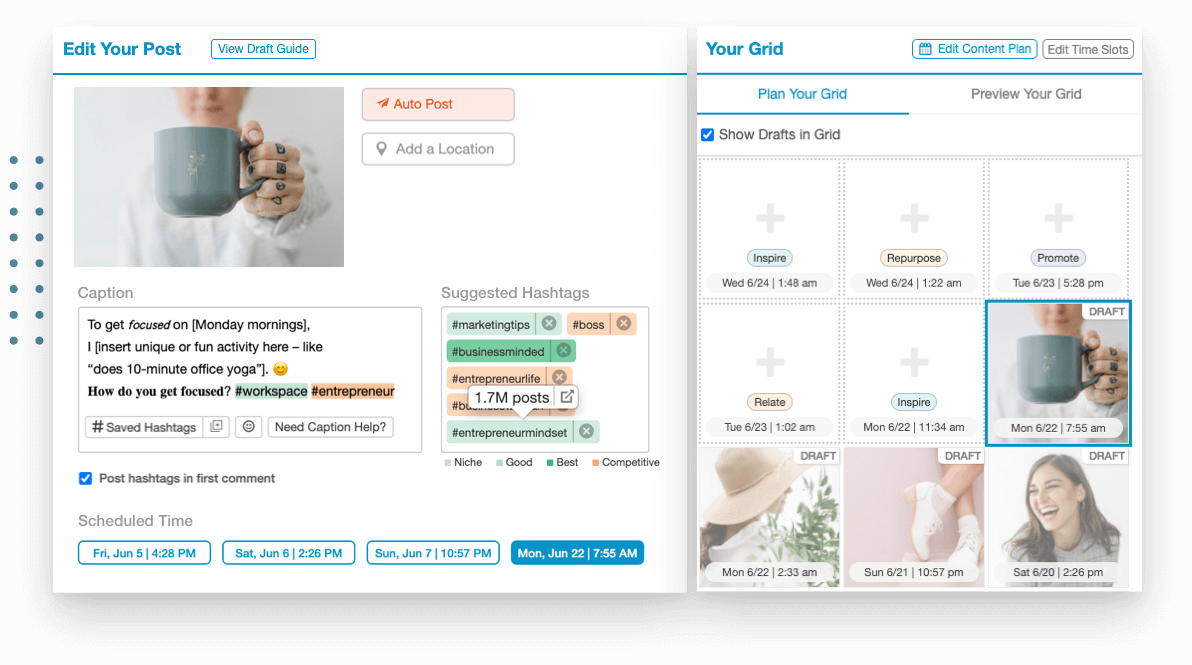 Track Performance
Tailwind gives you the tools and detailed stats around the performance of your posts to make sure that you are aware of what is working and what is not.
You can view your feed before the posts go live and keep a track of everything that is going to your profile.
Get daily, weekly or monthly reports on the performance of your posts.
Another advantage of using Tailwind is that you can create a custom landing page with all your important pages in place and put it on your profile bio by using the Tailwind auto-updating profile bio link to drive more traffic back to your pages.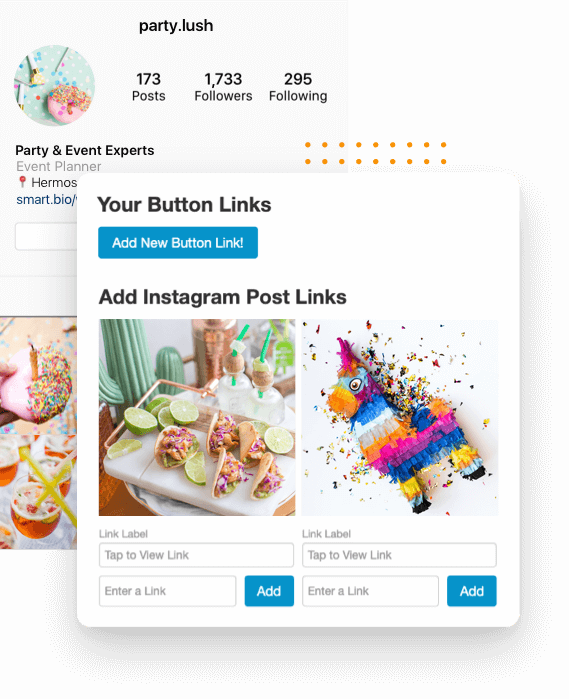 02. Semrush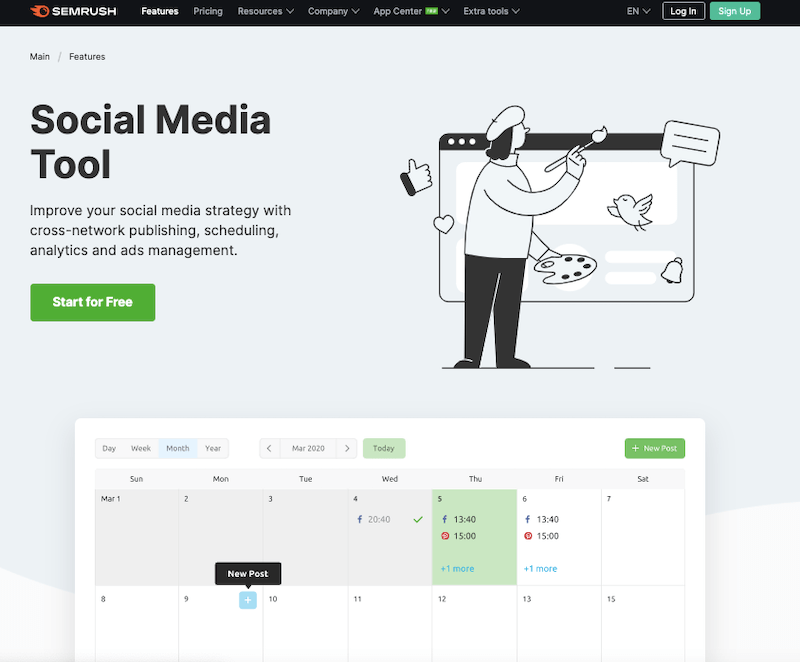 While we know Semrush as one of the most popular platforms for SEO and marketing analysis, it comes with a complete social media management toolset that you can use to manage and schedule your posts.
Semrush is one of the most preferred competitor analysis software that you can use to find the top-performing keywords, and complete the backlink profile of any website. This is a single software that can do almost everything that you need when it comes to marketing and growing your business.
As we are talking about the Instagram post scheduler in this article, the social media tools offered by Semrush gives you the option to schedule your posts to Facebook, Twitter, Instagram, Pinterest, and LinkedIn.
Don't miss our detailed review of Semrush.
03. Circleboom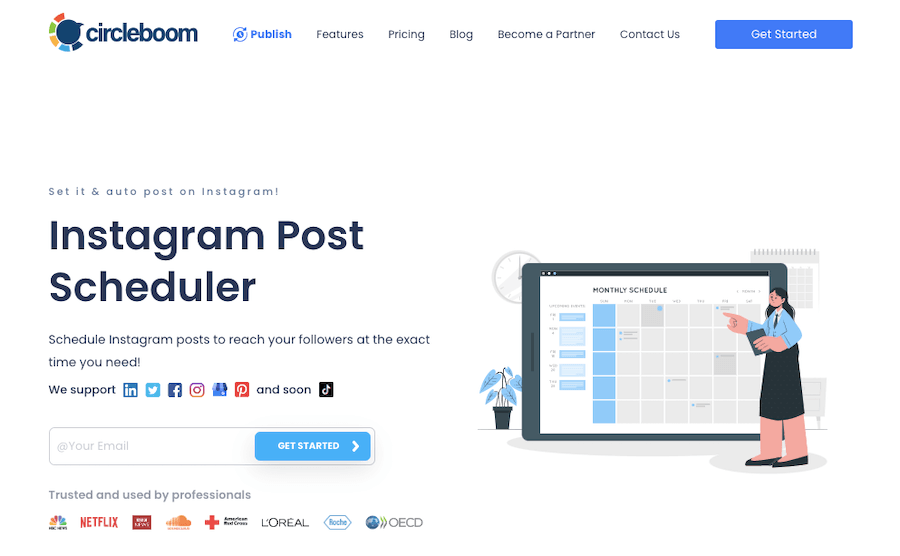 Circleboom is one of the leading social media management software that comes with a comprehensive solution to manage all the leading social media channels. You can use this platform to schedule your posts for Instagram and other networks.
You can manage multiple Instagram accounts using the Circleboom platform and auto-post each account at the right time.
You will have a comprehensive Instagram post calendar and manage your content queue and manage changes as per your need.
04. Missinglettr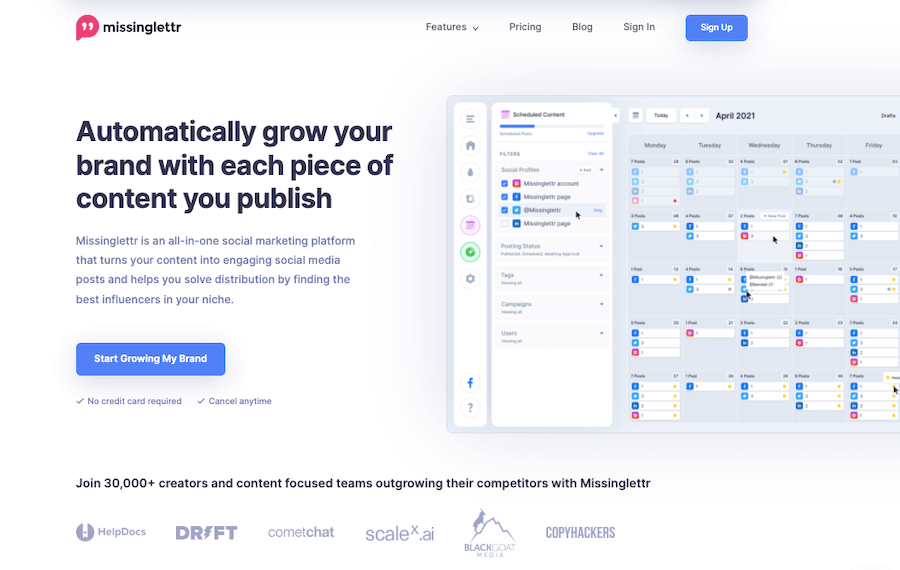 Missinglettr is another top-quality comprehensive social media management platform that can help you to plan and schedule content for all the leading social networks including Instagram.
It comes with social media calendar to plan and organize all your content and the Drip content feature will publish the posts at the right time.
05. Sendible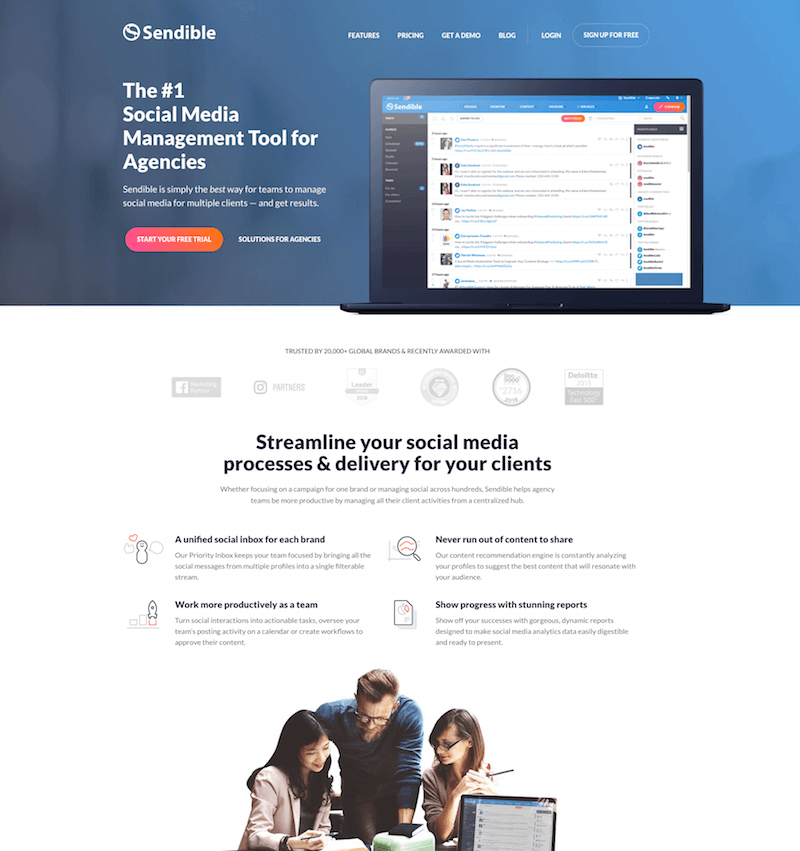 The thorough management tools offered by Sendible make it an outstanding choice for use.
With Sendible, you can manage social media online with many clients and produce unique social inboxes for each brand you're working with.
The best part of using Sendible is that the design lets you work with collaborative efforts where you can get more bits of content managed online in many departments and venues.
When it comes to Instagram posts, Sendible makes it super simple for users to create great-looking posts with the help of Canva integration and schedule them. You can schedule your stories or Insta images for your chosen time.
Here is a detailed review of Sendible.
06. Social Champ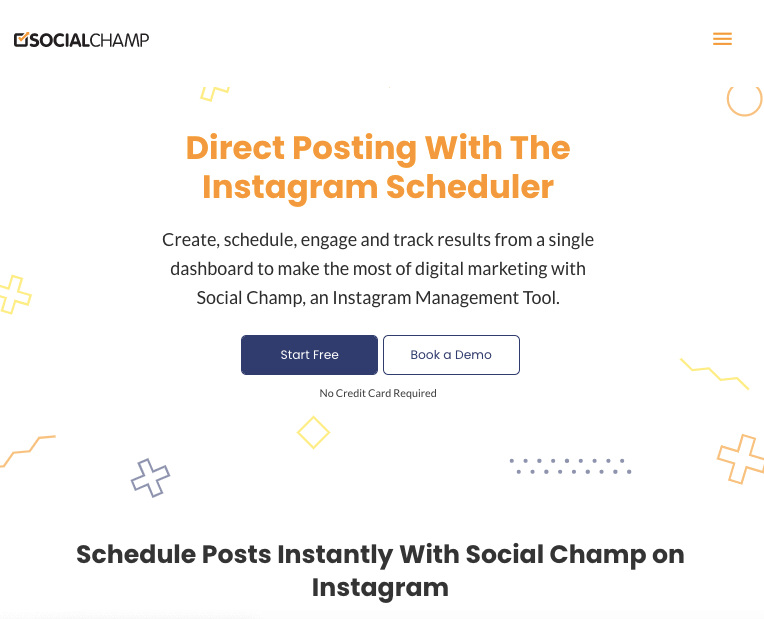 If you are looking for an easier yet a powerful Instagram management tool, then Social Champ is an intuitive tool for your Instagram accounts. The tool integrates with all the major social media platforms, and Instagram is one of them.
With its vibrant UI, the tool allows you to create, schedule, and track all your Instagram posts within one centralized dashboard. Social Champ is a feature-rich tool helping you to escalate your Instagram marketing. With in-app visual integration, Auto RSS, Monitoring Analytics, Social Inbox and more exclusive features, it should definitely be on the top of your list.
07. InstaChamp By MobileMonkey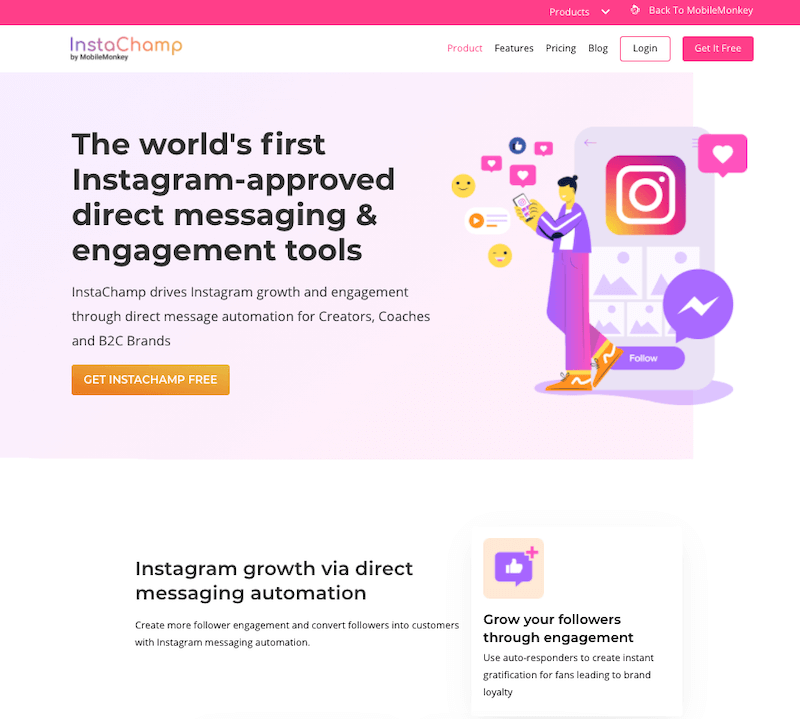 InstaChamp is a very handy tool for small businesses and B2B brands as far as Instagram marketing is concerned. You can use this software to automate direct messaging on Instagram.
It can help you to increase engagement around your brand by creating automated messages for all kinds of discussions and inquiries.
Your business will be available on Instagram round the clock and respond to DMs automatically. It will help you to convert leads into paying customers by answering all their queries on time.
InstaChamp can also help you to increase followers by incentivizing post comments and Story Mentions.
08. HopperHQ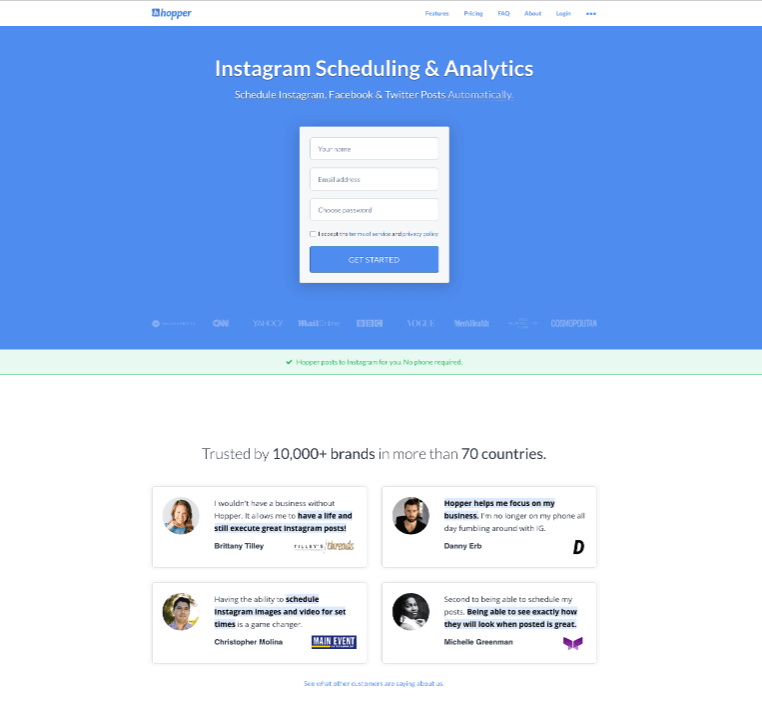 HopperHQ helps you with scheduling Instagram posts while also using analytics to figure out what you are doing with your content.
With HopperHQ, you can handle many tasks surrounding your content. The HopperHQ design helps you to manage multiple accounts at a time, thus giving you extra help with managing your content.
09. Brandwatch
Brandwatch is one of the most comprehensive social media management software that offers 360-degree solutions when it comes to managing social media and data.
It comes with the option to schedule and publish content across channels. Brandwatch provides an excellent social media post-scheduling tool that allows you to easily plan and publish your content. With Brandwatch, you can:
10. Later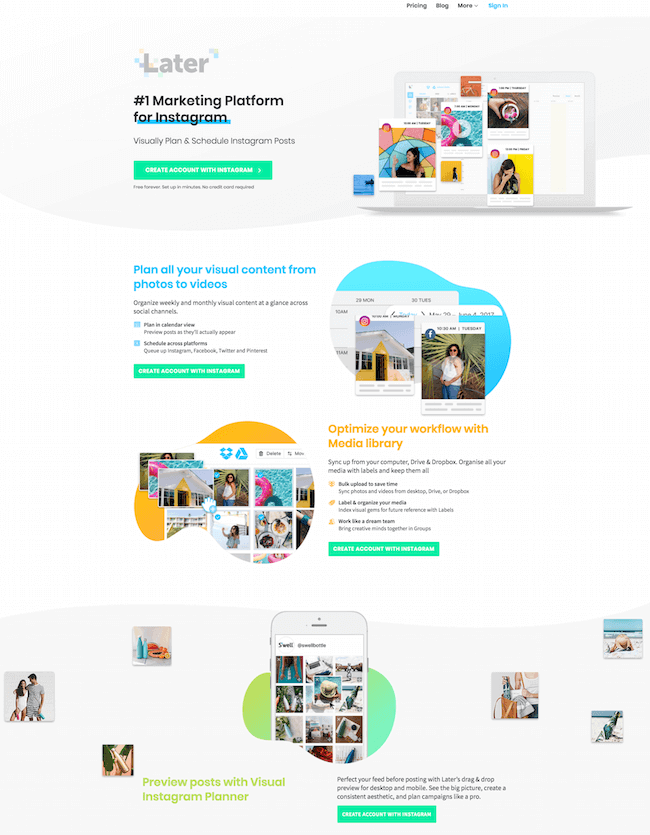 Formerly known as Latergramme, Later is a tool that lets you sign in with Instagram without having to get a separate account ready.
A calendar view feature helps you to time your posts with extra accuracy and control in mind, thus simplifying what you are doing with your content.
11. HootSuite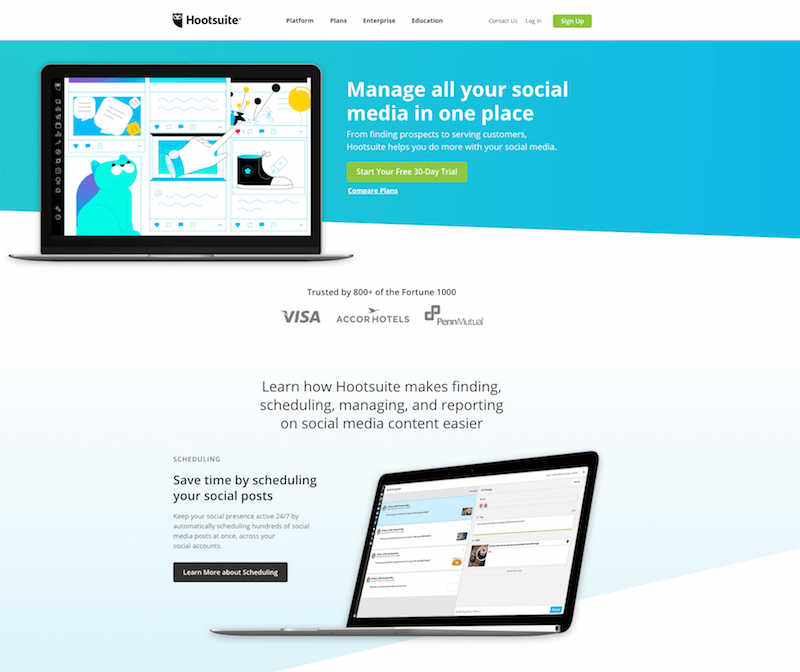 You can also use HootSuite for your Instagram post needs, although the popular part of HootSuite is that it is capable of working on all your social media sites.
These include help for managing Instagram posts in minutes. The functionality of HootSuite includes a design that is simple to use.
12. Combin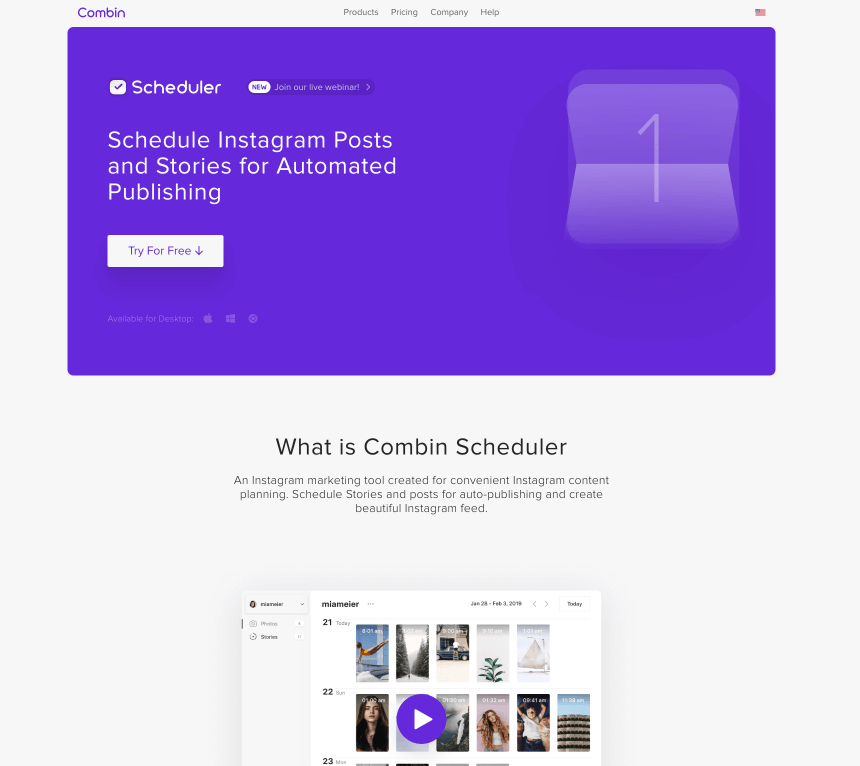 Combin is a tool that is created to grow your Instagram following. This tool will let you plan your Instagram content and schedule it according to your timeline.
If Instagram is your focus platform at the moment, and you wish to become an Instagram influencer; this tool will be very helpful for you.
Not only just scheduling your content for Instagram, but this tool can also be used to manage multiple Insta accounts from a single platform. You can also automate the whole process of communicating with your audience.
13. Shorby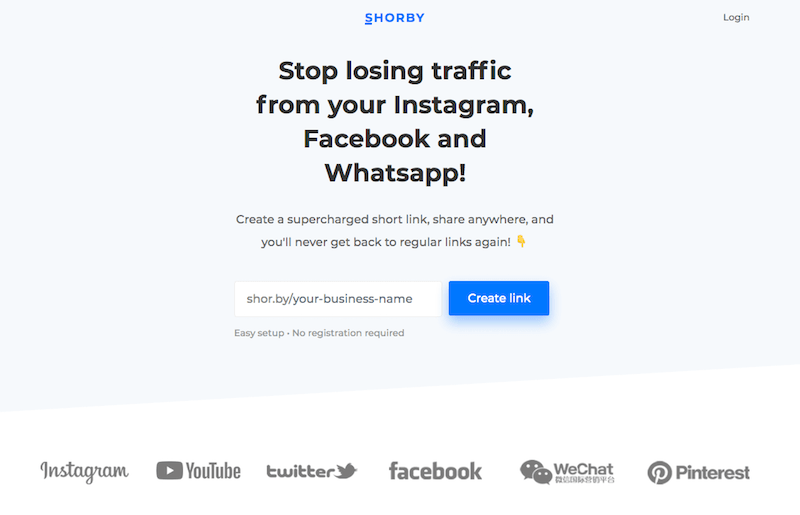 Your next option to see is Shorby, a place that focuses heavily on Instagram bio links.
With Shorby, you can schedule times for posting messages and for adjusting any bio links you want to utilize.
Content can be promoted based on the specific entities that you want people to follow you through. The design gives you extra control over your work.
14. Hashtagify.me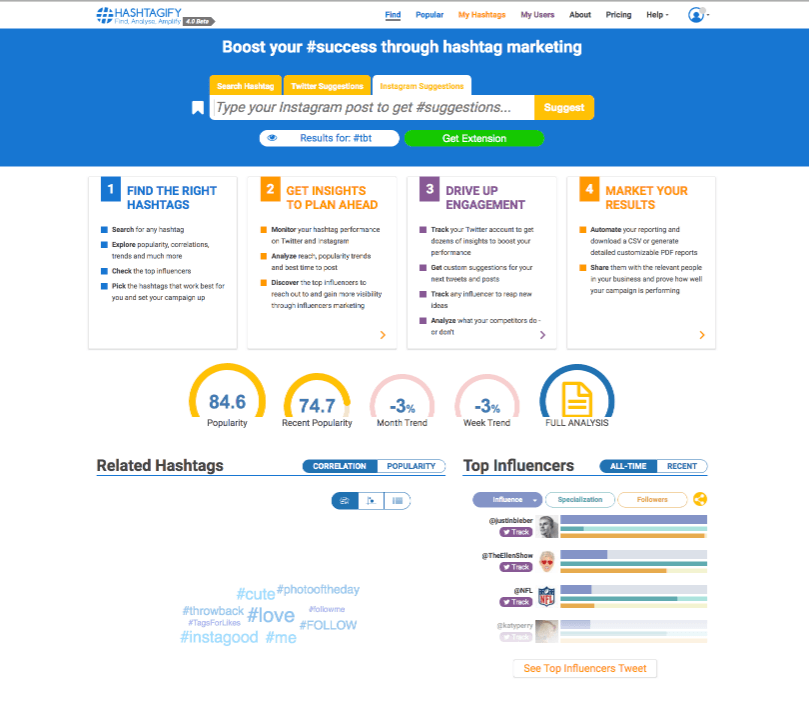 It is true that Hashtagify.me focuses mainly on Twitter, what with it working with hashtags.
But Hashtagify.me can also work when you need help with managing Instagram content.
You can review when certain hashtags are working and schedule your posts based on the times when you need to get those hashtags up and running.
The support offered by Hashtagify.me ensures you'll have more control over the content you have on the site.
15. Iconosquare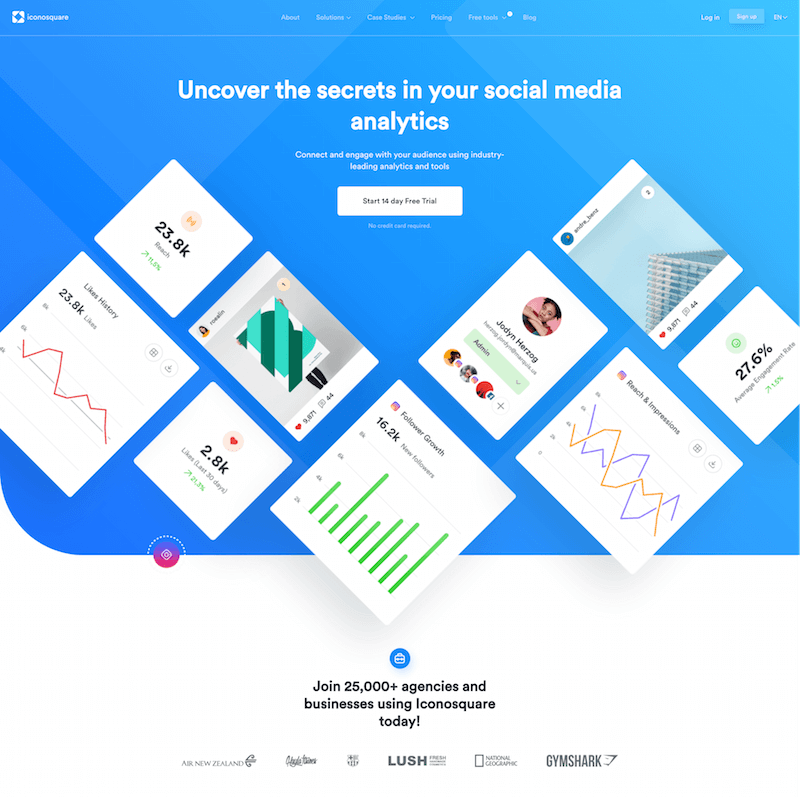 You can also use Iconosquare when you're aiming to find the best Instagram points for use.
Iconosquare lets you handle reviews on locations, growth, and gains or losses. You can analyze these times based on what you are doing, thus helping you move forward and see how well your content works.
16. Agorapulse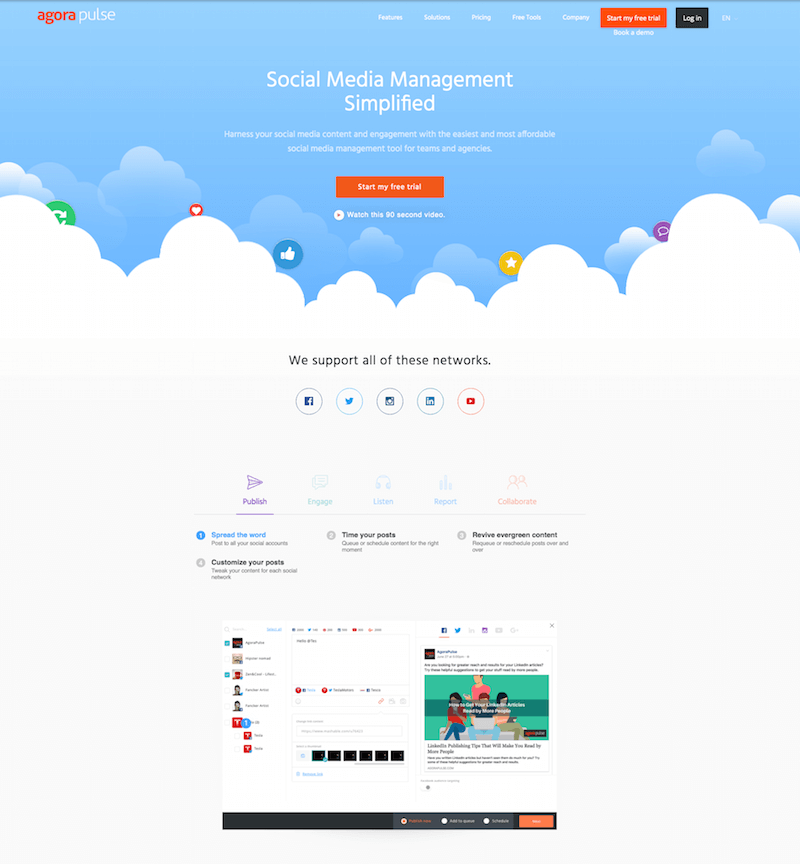 The exciting part of using Agorapulse is that it gives you a simple approach to scheduling your posts.
You can use Agorapulse to identify different times surrounding the work you're planning. You can use this to republish many of the particular messages you want to share with others.
17. Autogrammer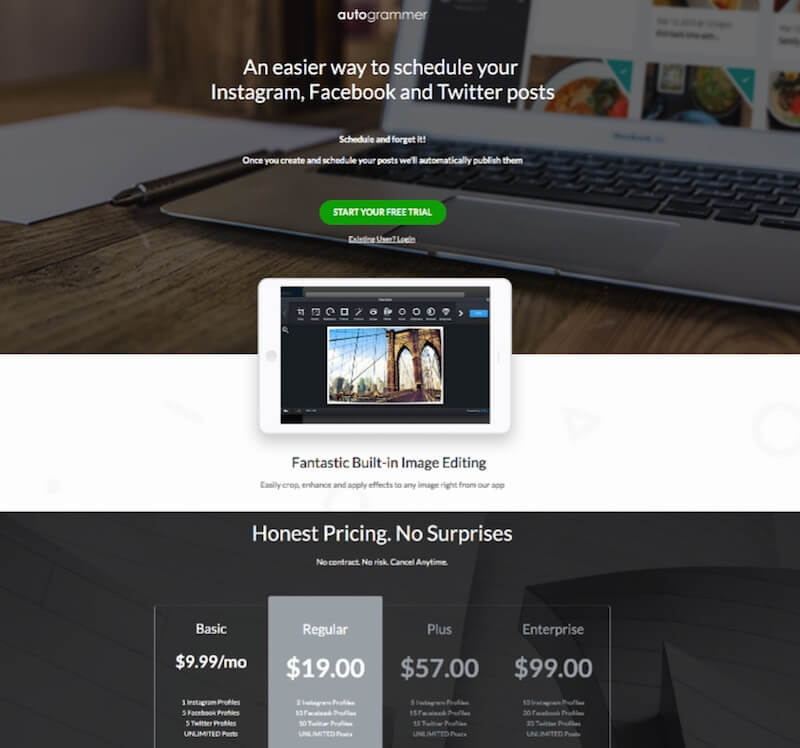 Your last choice to see is Autogrammer, a tool that works for all major social media platforms.
With Autogrammer, you can schedule new posts in moments and get those messages out fast to other people.
The design of Autogrammer lets you figure out where you are going with your content and how well the data you have is to be read and reviewed.
18. Onlypult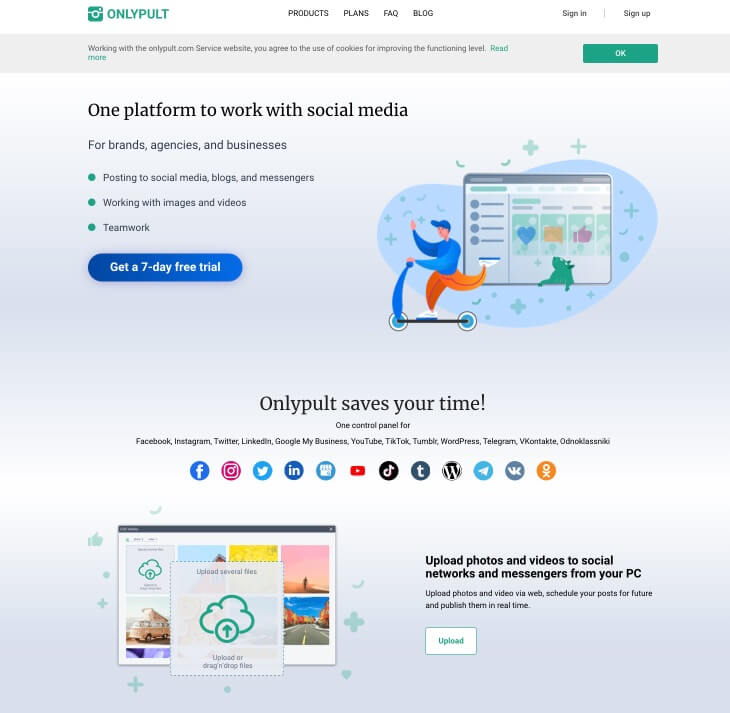 Onlypult is another very handy social media management tool that offers you one single platform to manage all your social media handles, it will help you to save a lot of your time and make you more productive.
Along with Instagram, you can manage your Facebook, Twitter, LinkedIn, Google My Business, YouTube, TikTok, Tumblr, WordPress, Telegram, VKontakte, Odnoklassniki.
So, multiply your social media traffic and conversion by effectively using your time. You can upload your social media content and schedule them for any future time.
You can also allow your team members to manage your social media account from the Onlypult dashboard.
Final Word
The choices you have for appealing Instagram posts should be noted. You'll have to see what can work when you need something of value for your active needs.
Look at how well you can get different options ready for your work efforts.
If you find this article useful, don't forget to share it with your friends
Further Read