Are you looking for a long-lost friend or to check details about a possible neighbor or a potential employee?
Luckily, the internet has created some of the best people search platforms that will make the search process simpler.
It's a small world, after all!
So, we've listed the best people search platforms that will not only help you curate basic information such as an address but will also conduct detailed background checks on criminal offenses and social media activity.
Let's dive right in!
01.

PeopleFinders
By using more than 43 million public records to provide information, PeopleFinder is our number one bet on the best people search platforms.
How can one find the details of another person on PeopleFinders?
The quick-and hassle-free search engine lets you find someone by name, phone, email, and address.
Although the free plan can provide you with certain personal details, such as age, family members, and phone numbers, you can continue with background checks and criminal history by subscribing to the paid plans.
Benefits:
Lightning fast and reliable people search engine.
It is relatively inexpensive to extract deep information.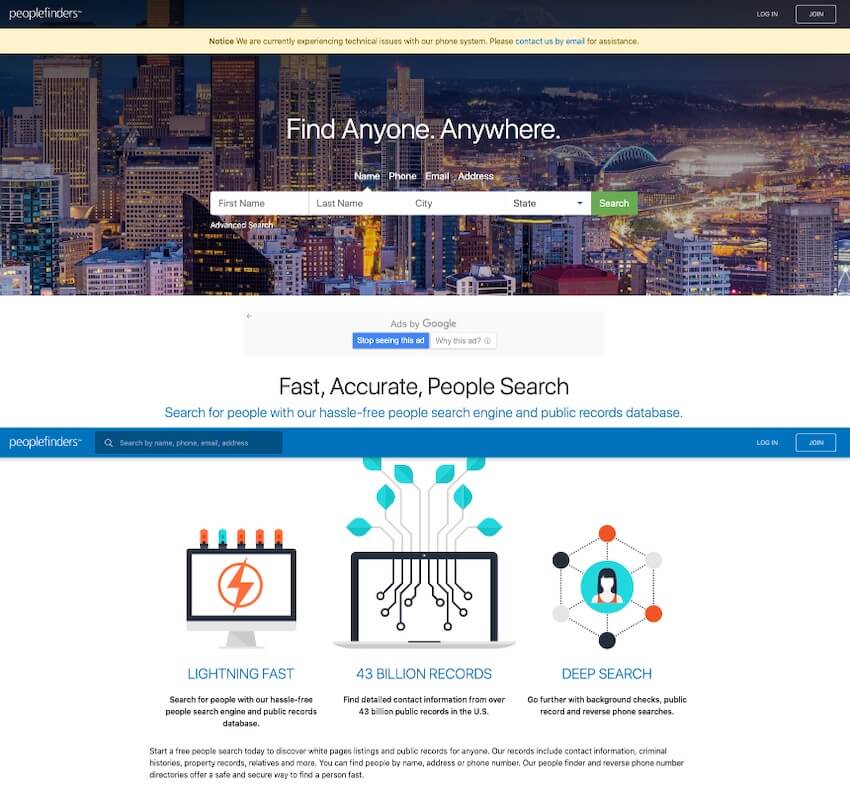 02.

Information.com
Information.com's people search stands out over others because of the complete picture it can give you about someone. 
While it's extremely easy to use and pulls up results quickly, it's incredibly powerful. Like all the best people searches, it shows you public records, like criminal records, previous addresses, phone numbers, and their relatives. 
However, what sets it apart is that it also shows you all their social media accounts and dating profiles, so you can find out more about them, plus will have lots of options for how to contact them.
Benefits:
Simple interface that brings you answers quickly 
Up-to-date, accurate results 
Includes social media accounts and dating profiles in their results
03.

BeenVerified
While other sites on this list include the best personal background checks, BeenVerified is known for monitoring someone's employment history.
What are the sources that can be used to search for this information?
For an easy-to-use source of information, BeenVerified provides you with seven options, i.e. phone, email, address, VIN, unclaimed money, and username search.
Although most of these features can only be accessed after you subscribe to their monthly subscription, you can still get basic information in the free plan. In addition, like PeopleFinders, you also get background checks and criminal records.
Benefits:
One of the best platforms to track a person's work history.
BeenVerified gathers information from various sources like LinkedIn and Facebook.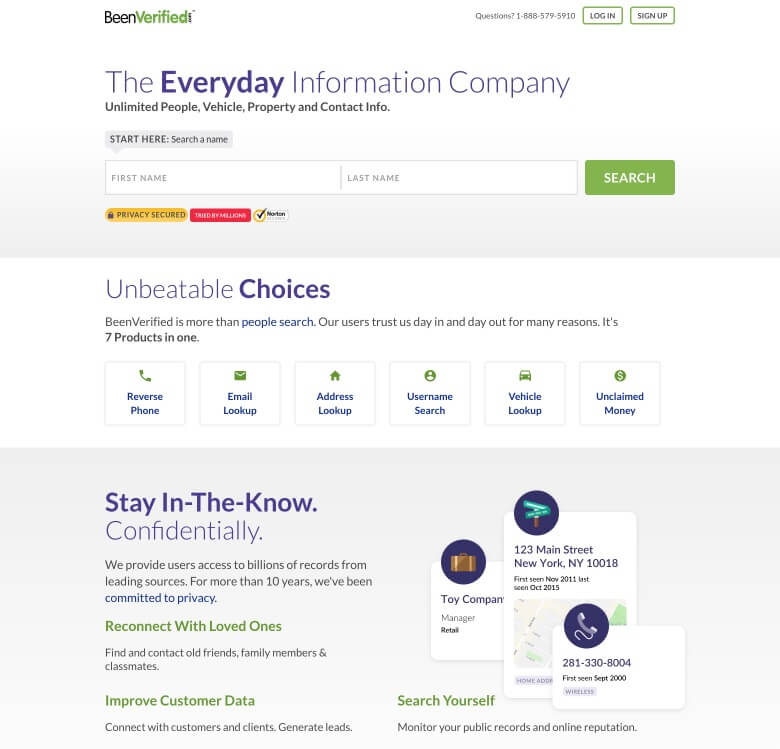 04.

Zoominfo
One of the largest B2B solutions to find business contacts, Zoominfo has a database of more than 150 million business contacts.
If you are looking for a platform to find business prospects, Zoominfo is a great platform to start with. The platform gives you access to over 50 million direct contact numbers, over 40 million mobile numbers and 130 million email addresses.
Benefits:
One of the best platforms for business contacts
Largest database of phone numbers and email addresses
Find top management of any company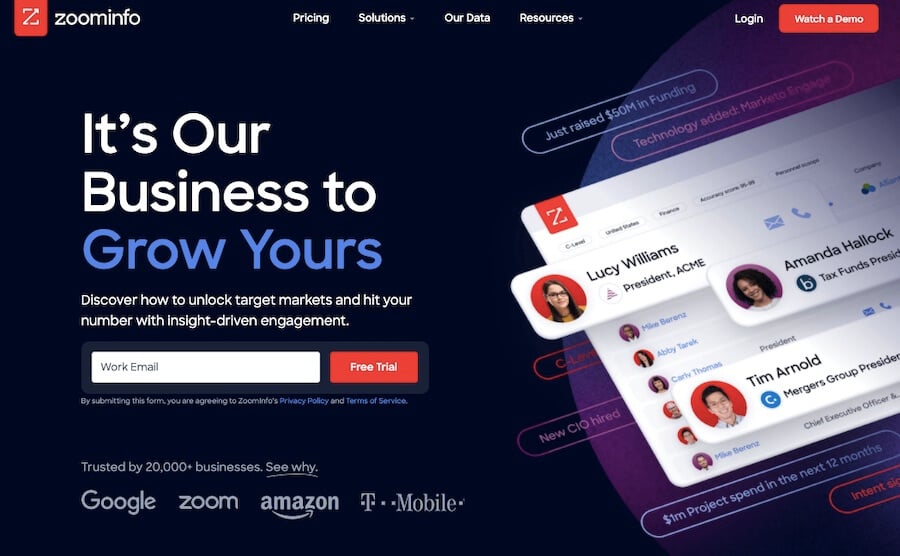 05.

Intelius
Being in business for more than 15 years, Intelius has acquired more than 20 billion public records to satisfy your information needs.
How can one have access to the details they need?
You can search by name, address, and phone number, and Intelius will keep your identity fully confidential.
From checking an associate's criminal records and background checks to finding out who's calling and reviewing property data, Intelius has got you covered.
Benefits:
Intelius displays a brilliant spider graph that accesses different data points and showcases how different people are connected in the same report.
Not only the data is brilliantly visualized but also the searches are kept confidential.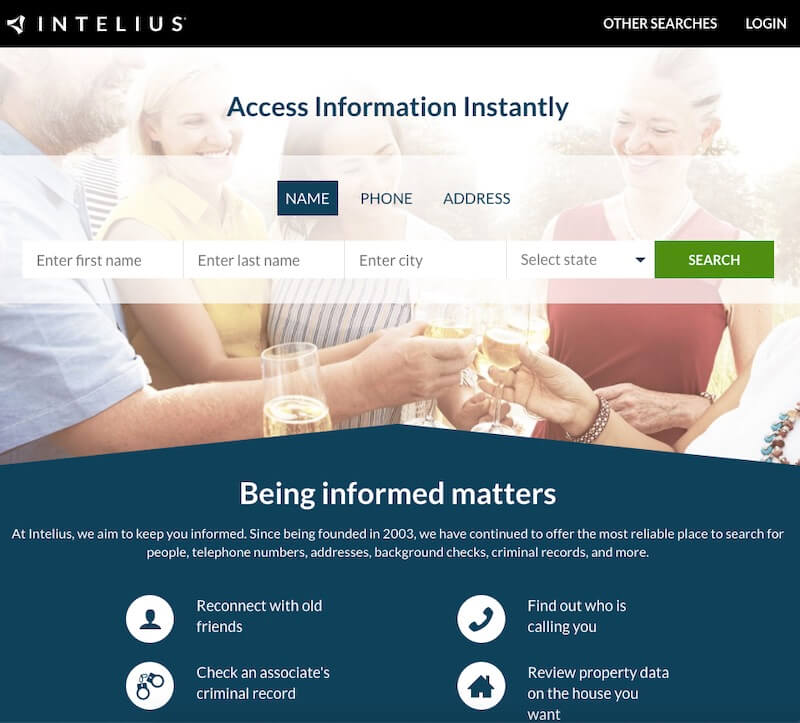 06.

411.Com
411 is another popular people search platform where you can find contact details, addresses of people. It is part of Whitepages, millions of use this platform every month to find contact details.
The site is simple to use, you can select the options it offers (people search, contact search, address search) and find the details you are looking for.
07.

TruthFinder
With a comprehensive search that involves even minute information such as traffic offenses, weapon permits, and dating profiles, TruthFinder may be the perfect search platform.
Where do you check for this information on the platform?
While the free plan offered only basic personal information, the paid plan would show everything from the history of education to the last blog post.
Benefits:
The location requirement is optional as you can search easily by entering the full name of a person.
It offers tons of valuable information.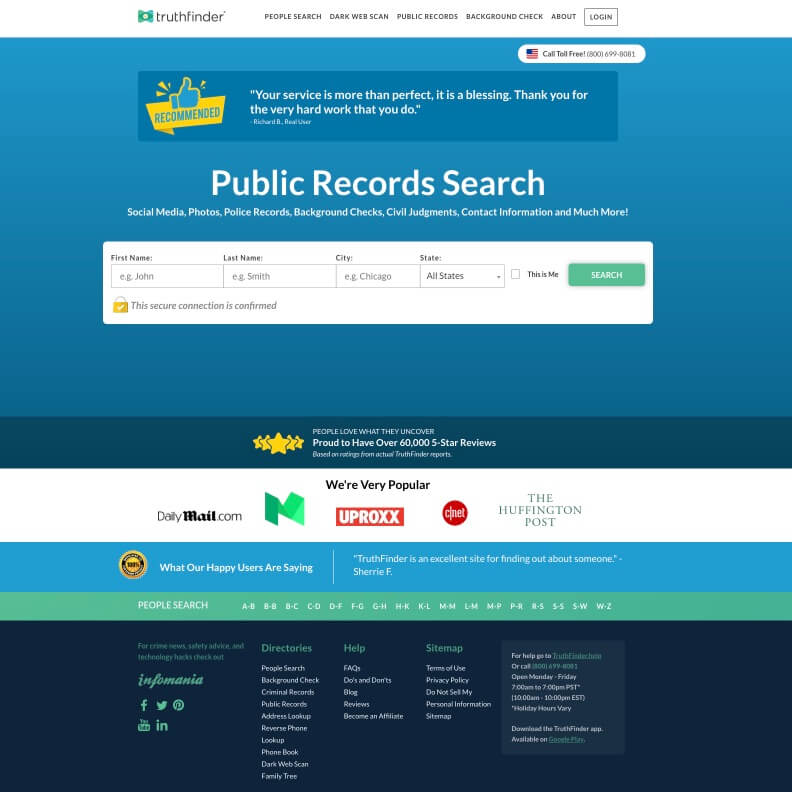 08.

Instant Checkmate
Too frequently, under the high monthly price tag, Instant Checkmate is ignored in people search engines. The accurate reports of this platform, however, claimed BBB's A+ rating.
How can one use this platform?
Like TruthFinder, you just have to enter the full name of the person.
Instant Checkmate delivers a comprehensive set of reports that includes criminal history, marriage history, weapon permits, and bankruptcy information.
Benefits:
As far as accuracy is concerned, it is one of the best people search platforms.
Unlike its competitors, it covers marriage information as well.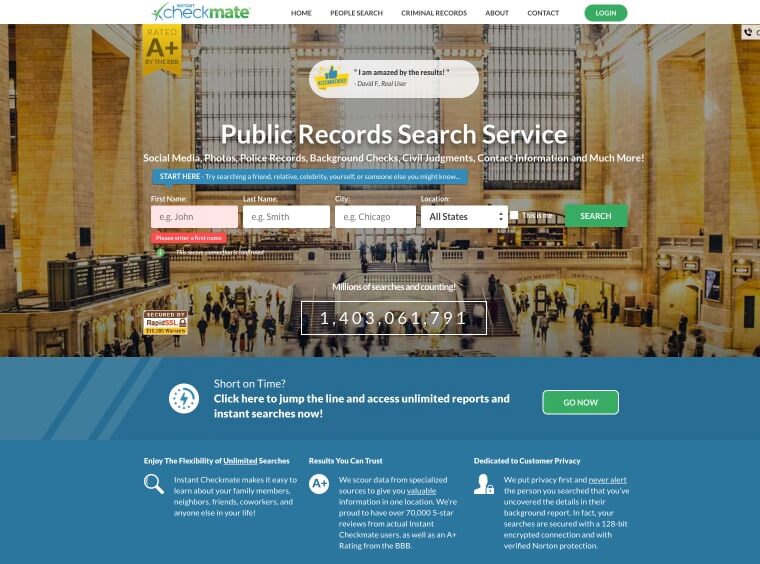 09.

Facebook
Stalking on social media sites is the most popular source of people's personal information, and Facebook can be the best platform for this. It's got millions of daily users.
How can one use Facebook to extract information?
Although you can search by entering the person's name and city or school, you can also search through people with whom they went to high school or the friends of friends method.
Benefits:
It is a free platform.
You might gain some valuable information that other platforms can't provide.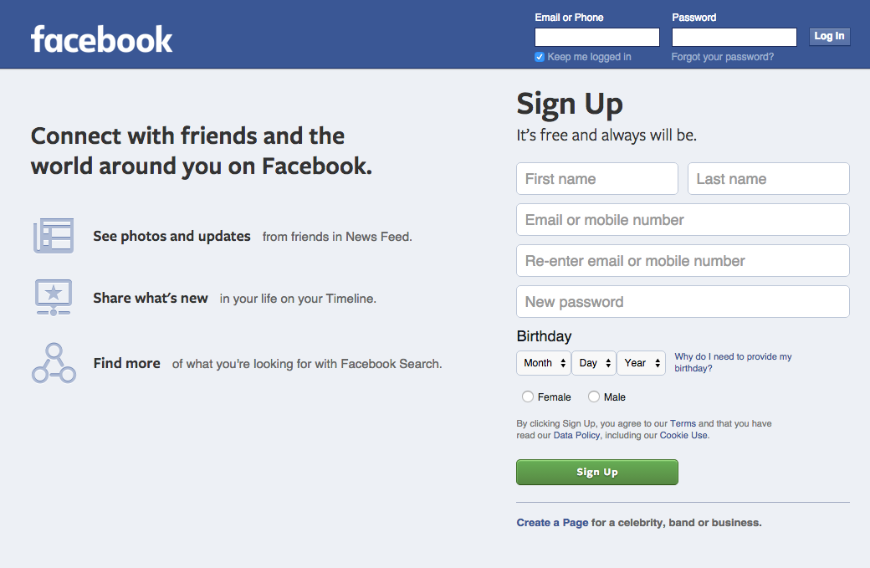 10.

US Search
US Search was considered to be one of the most efficient and affordable platforms before other competitors entered the market, but it still has a lot to offer.
How can a background check be run through US Search?
Although accuracy is subject to some limitations, background checks can be carried out by name, phone number, and address.
It provides valuable information such as criminal and marriage records, social media, and property ownership.
Benefits:
The presentation of the reports is easily readable.
You don't have to pay the subscription fee to download the basic information report.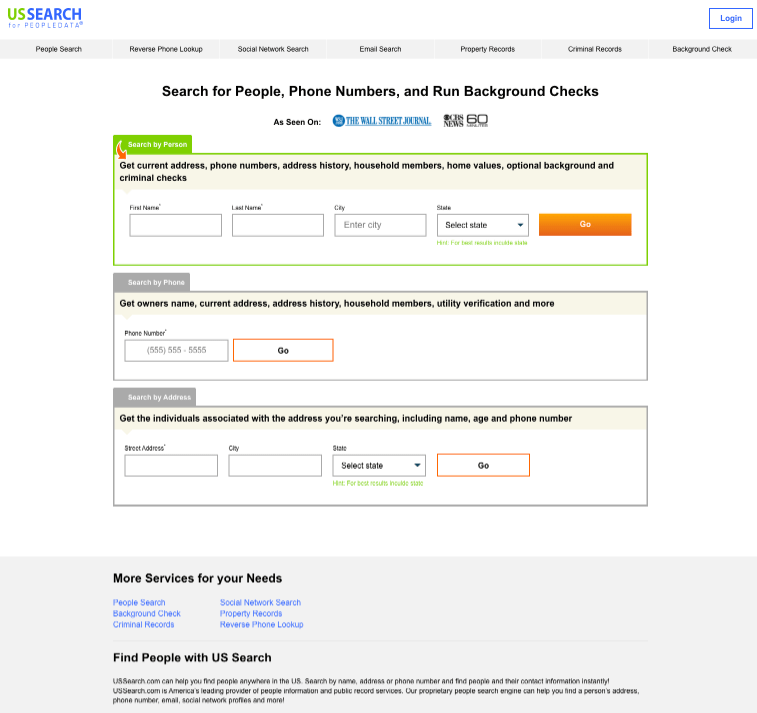 11.

PeekYou
PeekYou runs the extra mile with you as the platform digs a little deep to extract the information that you require. It manages to grab information from various social media platforms such as Pinterest, Facebook, and Instagram.
How can locate a person through this platform?
PeekYou not only allows you to search by entering the full name but also through the username that a person uses on the social network.
Benefits:
The opportunity to search for usernames across different social networking communities is the best feature.
It provides data that is available to the public and respects the privacy norms.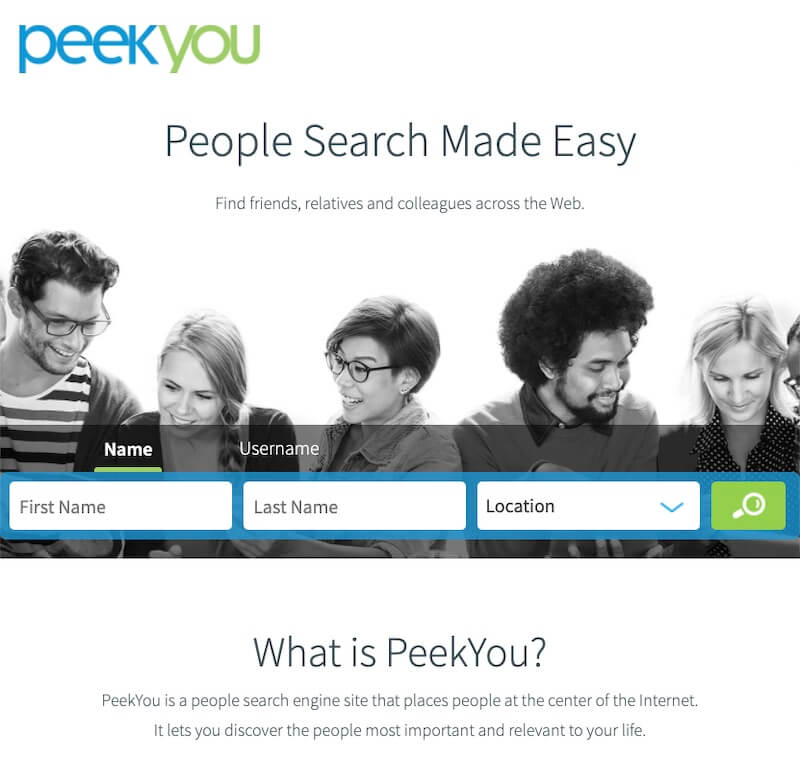 12.

Zabasearch
One of the best platforms to conduct free background checks, Zabasearch can offer valuable information such as criminal records, reverse phone lookup, and child predator checks.
How does Zabasearch work?
You can use Zabasearch either by entering a person's full name or phone number.
While the free plan won't provide you with all the information, you would've to pay $50 through Intelius to know every detail.
Benefits:
A very simple user interface that makes quick searching easier.
It will provide basic information for free.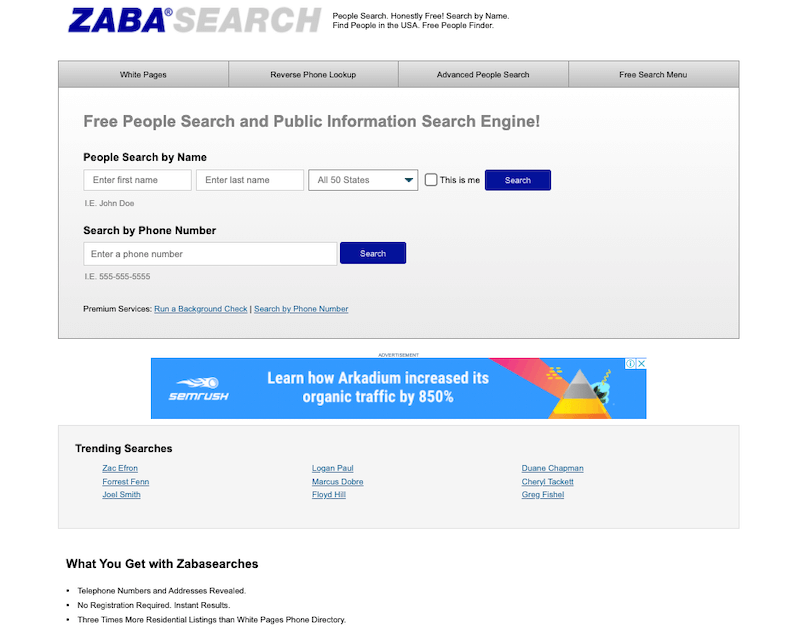 13.

LinkedIn
LinkedIn is working as a social media networking site that helps to establish professional networks. It can therefore also be used as a platform for the quest for a person's education and employment background.
How do you use LinkedIn to search for people?
You may simply search for the name or organization in which one operates. In addition, it also provides you with some filtering options.
LinkedIn informs the person about you if you're checking their profile as a registered user.
Benefits:
LinkedIn is known for its reliable information data.
With the help of the Sales Navigator or Recruiter account, you can use other filters as well.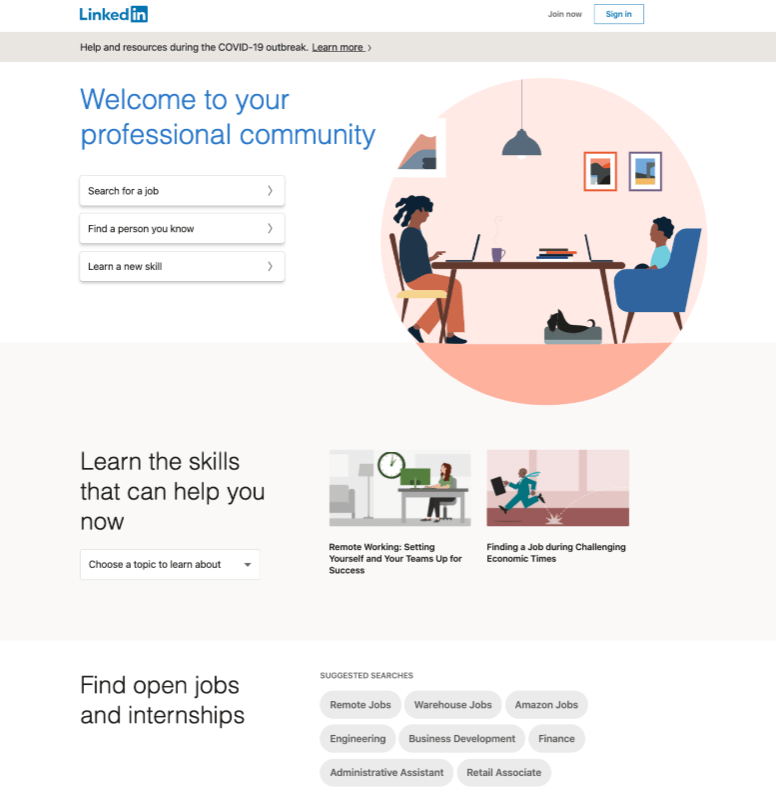 14.

Pipl
Let's just say that Pipl is going to do some deep research than just check out some of the social media sites. The data collected by Pipl will also cover non-typical sites such as Soundcloud and other employment-related websites.
How can you use Pipl?
This investigative tool can be used by name, e-mail address, social media username, or phone number.
This platform helps you to collect the personal, professional, as well as social information of a person.
Benefits:
You can even track changes in online and offline identity information.
It helps you to uncover the connection between people and social handles.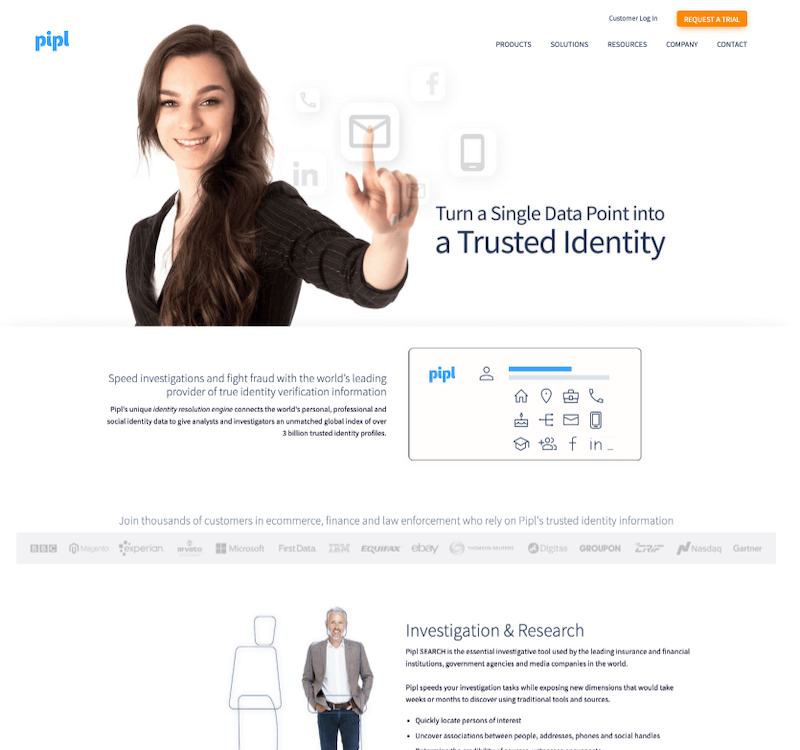 15.

TruePeopleSearch
TruePeopleSearch is an ideal platform that shows how much basic and free information can help. We're saying this because the free information will include addresses, phone numbers, ages, family tree, and associated names. 
How can one search on TruePeopleSearch?
TruePeopleSearch has provided you with three filters to search for the person you're looking for – name, phone number, and address. 
To get a complete report, you have to subscribe to its paid plans.
Benefits:
The platform doesn't even require the last name of the person.
Even the free plan offers valuable basic information.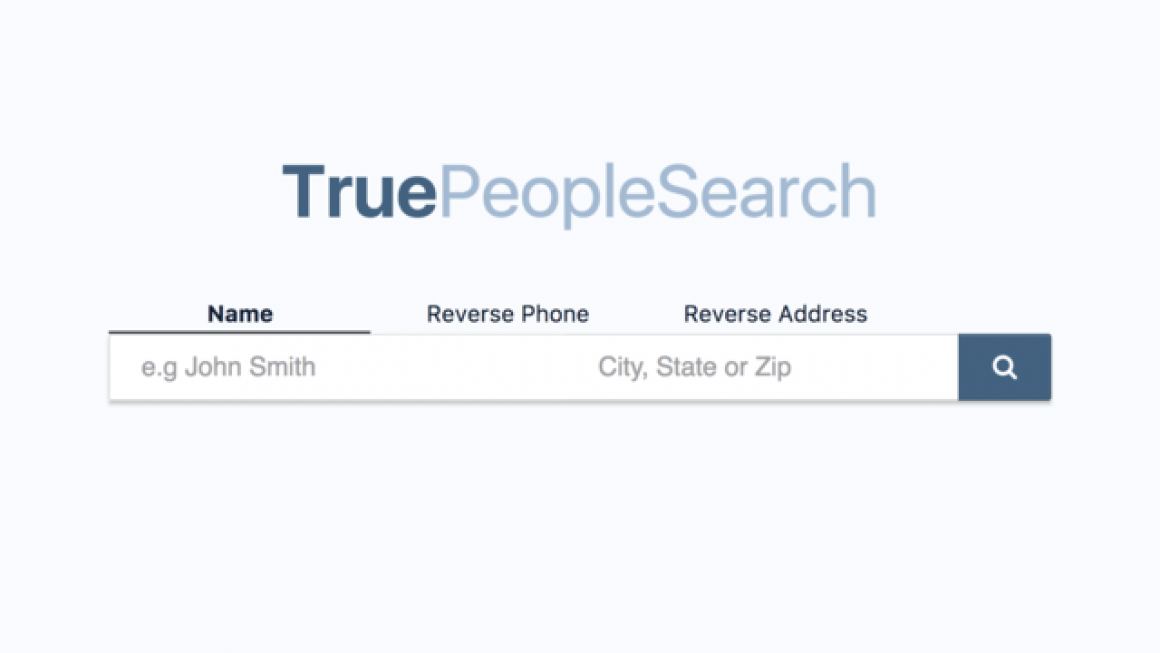 16.

Classmates
Looking for a classmate, but you just remember the name and the name of the high school? Classmates, the only U.S. website, has you covered.
How can I access Classmate to find a person?
To start with, you'd have to pick the city/state and high school. Then you're going to have to enter the name of the person. Pretty easy!
Benefits:
Many people have registered to the site, making it a good bet to find the person you're looking for.
The user-interface and steps to find the person are relatively easy.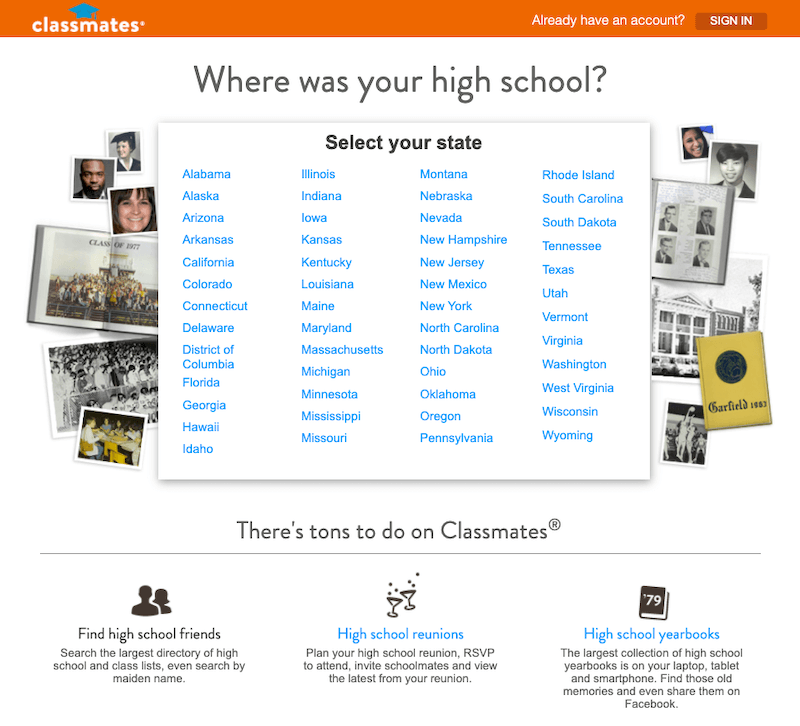 17.

Whitepages
Whitepages is a very powerful tool that not only covers social or professional information but also a deep background check on criminal and property records.
How can one use Whitepages?
You can search on Whitepages by entering your full name, address, or phone number. 
While the free plan will cover basic information such as an address, phone number, and family members, you would have to subscribe to a premium plan to access a full background report.
Benefits:
The premium plan is pretty affordable.
There's a special tool for tenant screening.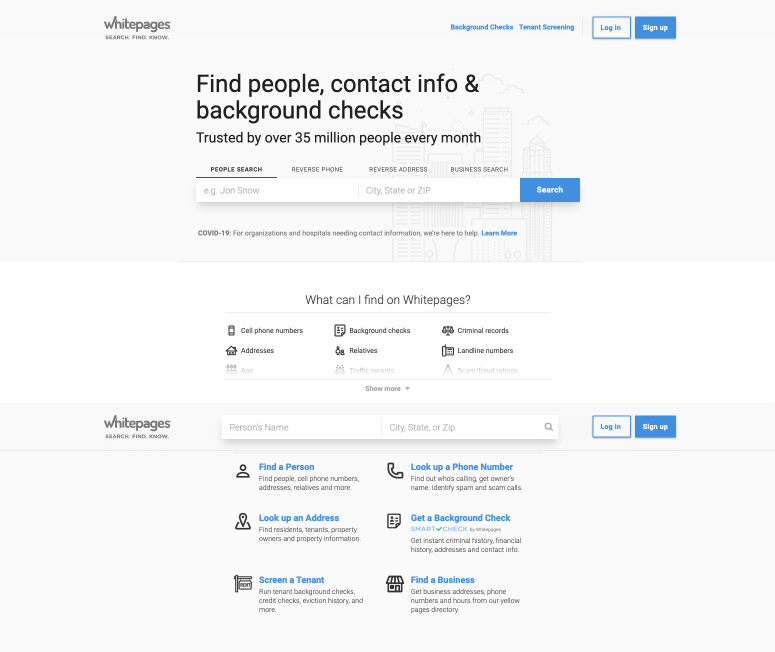 18.

Address Search
As the name suggests, this address search platform gives you access to over 95 million email addresses and 140 million mailing addresses.
However, the services of this platform are limited to US. You can use the platform to send emails to the chosen email ID.
Address Search is free to use. So, if you are looking for an address for someone in the United States; this is a great resource for you.
Benefits:
Big database of email and mailing addresses
Free to use
Limited to the United States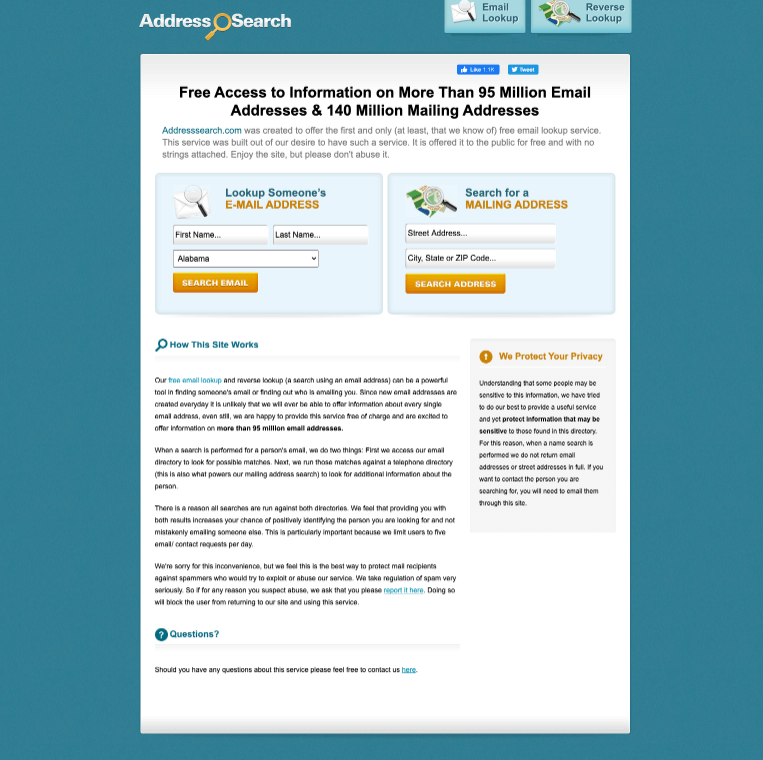 19.

Google Search
While it may not be a specially crafted people search engine, it's still a fairly resourceful search engine.
You can search for people with the help of specific keywords such as location, employer, social media profile, etc. You can also search for the person you're looking for using the reverse image search option.
Benefits:
The biggest benefit is that it is completely free to use.
You can use the advanced search page for more filters.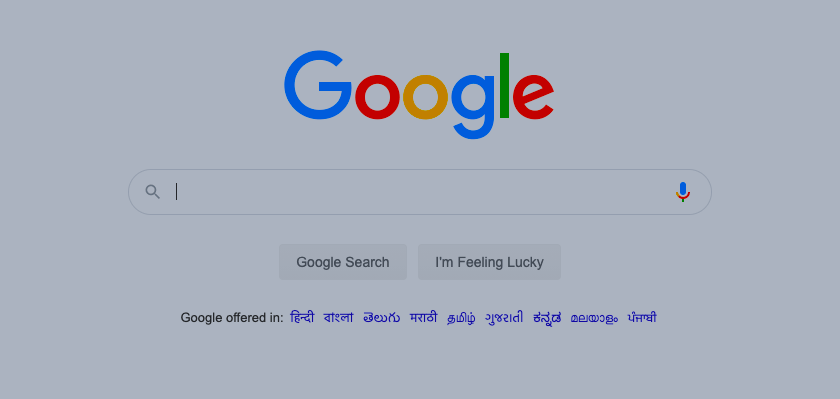 20.

Spokeo
Spokeo is another prominent people search platform with databases of billions. You can simply make a search with name, address, phone numbers, etc.
The system will search through public records, court records, consumer records, and social networking records to give you precise results.
This platform only works in the US. So, you need to be clear about your requirement before you sign up for this service. They offer paid membership options that start at $14.95 per month.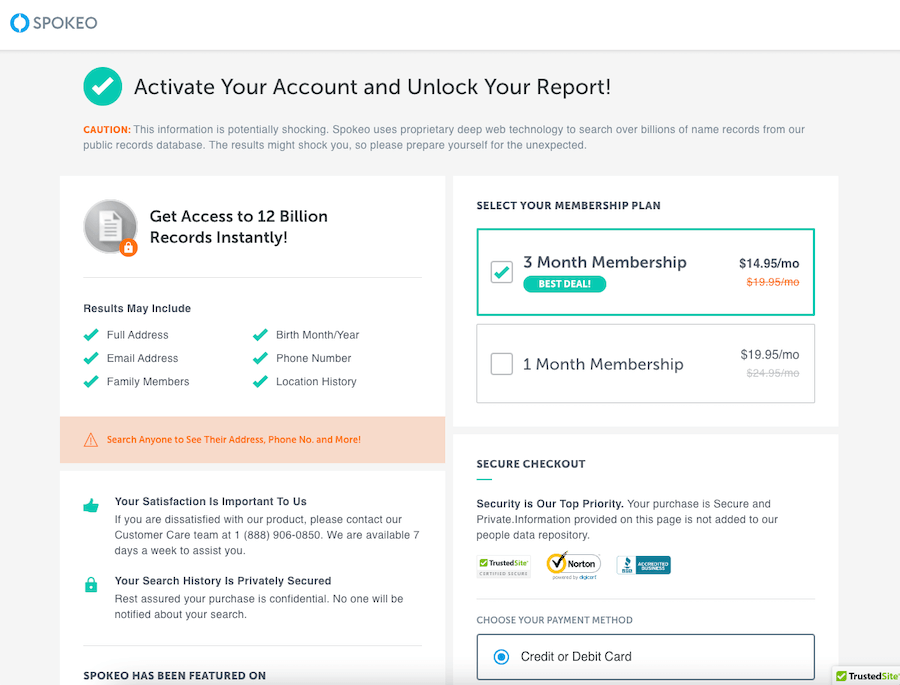 Conclusion
From PeopleFinder to Google Search, these were some of the best people search platforms available. While some of them may work only in the USA, others may work globally.
We hope you'll find the person you're looking for. Happy people searching!