Whether you're a remote worker looking to enhance productivity or a manager aiming to streamline operations, these top time-tracking solutions for remote employees are here to lend a helping hand.
Here's our list of top-time tracking software.
Connecteam has you covered with its comprehensive features, ranging from time tracking and task management to communication and training, making remote collaboration seamless and efficient.
The platform offers easy-to-use time tracking tools, allowing you to log your work hours accurately and providing valuable insights into your productivity. You can also easily chat with team members, share files, and stay up-to-date on important updates, ensuring smooth collaboration even from a distance.
Top features:
Provides detailed reports and analytics
Monitors work hours for different tasks and projects
Exports data to your payroll system
Offers GPS tracking and geofencing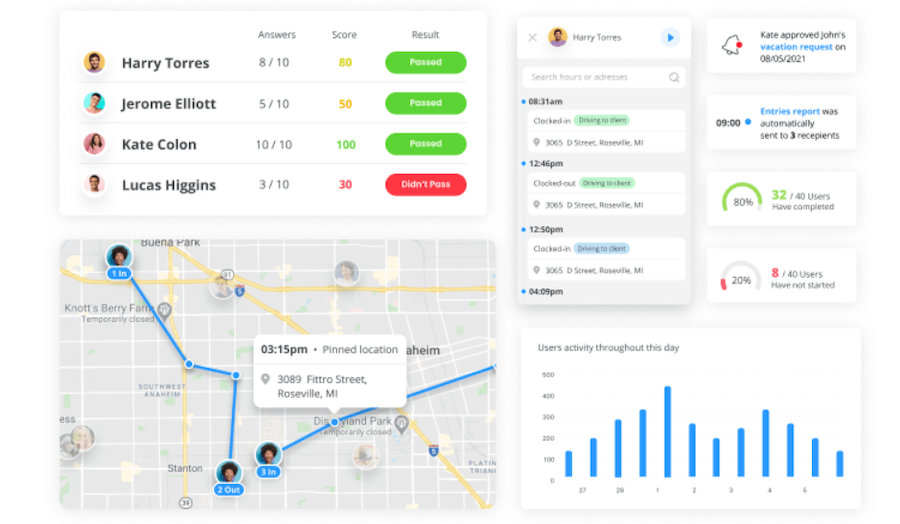 If you're a remote worker, Traqq is your ultimate ally for time tracking. With its user-friendly interface and simple setup, you can easily monitor how you spend your working hours. No more manual tracking or jotting down notes – Traqq does the job for you.
One of the best things about Traqq is its ability to run in the background, discreetly capturing your work hours without interrupting your focus. This means you can concentrate on your tasks without constantly checking the clock. Plus, Traqq provides valuable insights into your productivity patterns, allowing you to pinpoint areas for improvement and boosting your overall efficiency.

Top features:
Analyzes activity throughout the day
Identifies idle time
Continues tracking even when offline
Provides an opportunity to blur screenshots to ensure privacy and security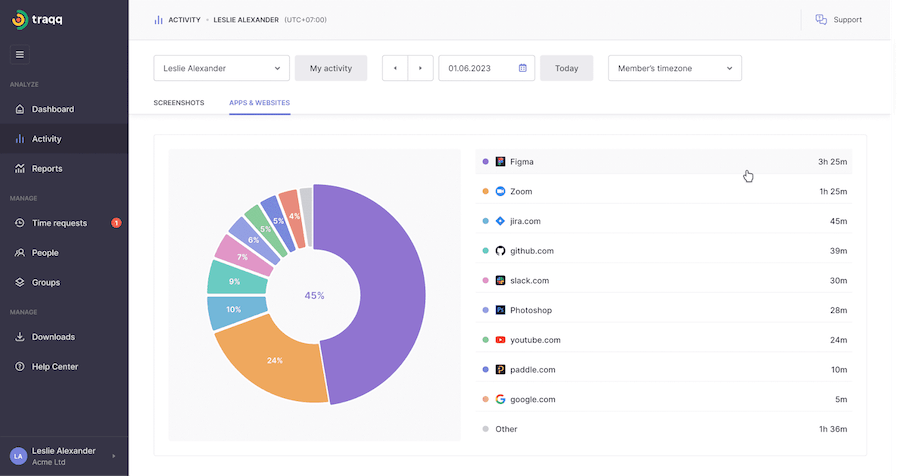 03. Clockify 
Clockify stands out for its exceptional versatility. Whether you're working on different projects or collaborating with various teams, Clockify can handle it all. You can create multiple projects, assign tasks, and track time separately for each one.
With this level of flexibility, you can effortlessly stay organized and maintain your focus throughout your workday, making remote work a breeze.

Clockify also offers seamless integration with other productivity tools you may already be using. Whether it's project management software, communication platforms, or calendars, Clockify effortlessly syncs with them all, making your workflow even more efficient.
Top features:
Provides detailed reports
Offers the built-in Pomodoro timer
Syncs your tracked time with your preferred calendar app
Allows you to create professional invoices directly from your tracked time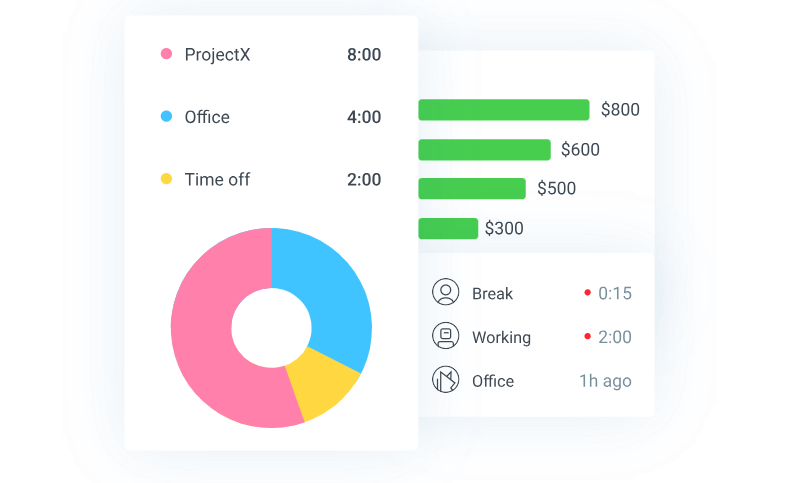 04. DeskTime
This time-tracking software for remote employees gives you valuable insights into your daily activities, helping you identify any time-wasting habits and areas for improvement. DeskTime allows you to track the time you spend on various applications and websites, giving you a clear picture of your digital habits.

DeskTime also provides you with customizable reports and timesheets, making it easy to track billable hours and generate accurate client invoices.
Top features:
Monitors the time you spent on specific Google Docs, Word, and Excel documents
Allows you to create cards with the contact information of your team members
Provides a mobile app
Creates detailed reports for specific projects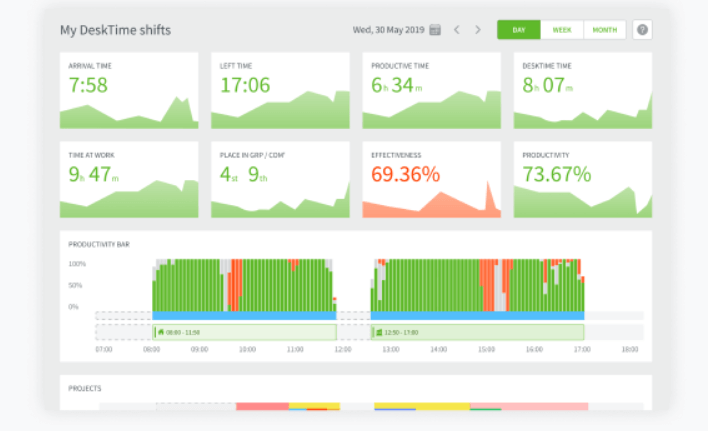 05. Hubstaff
Hubstaff allows you to track work hours across various projects and clients. You can effortlessly switch between tasks, making it ideal for remote workers handling multiple assignments simultaneously.
Additionally, Hubstaff's automatic screenshots and activity monitoring feature help ensure accountability and transparency while working remotely.
The software also offers a habit tracker app. With this tool, you can monitor and analyze your daily habits, helping you identify patterns and areas for improvement in your work routine.
Top features:
Provides GPS location tracking
Tracks the time allocated to various apps and websites
Easily connects with widely-used project management and accounting tools
Creates detailed timesheets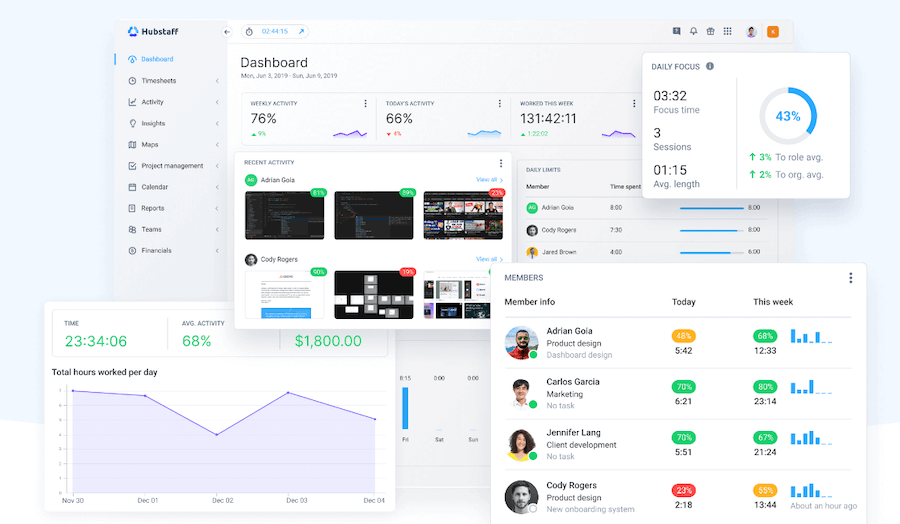 06. Replicon
Replicon simplifies time tracking and project management for you. You can easily log your work hours, track tasks, and stay on top of deadlines without any hassle.
One of the standout features of this time tracking software for remote employees is its real-time visibility into your work. You can access comprehensive reports and analytics to obtain valuable productivity and performance insights.
Replicon's ability to integrate with other popular business tools further streamlines your workflow, making it an essential companion for remote workers.
Top features:
Monitors task progress in real-time
Provides time tracking and payroll compliance in one centralized platform
Records data even in offline mode
Offers automatic time tracking across 100+ work apps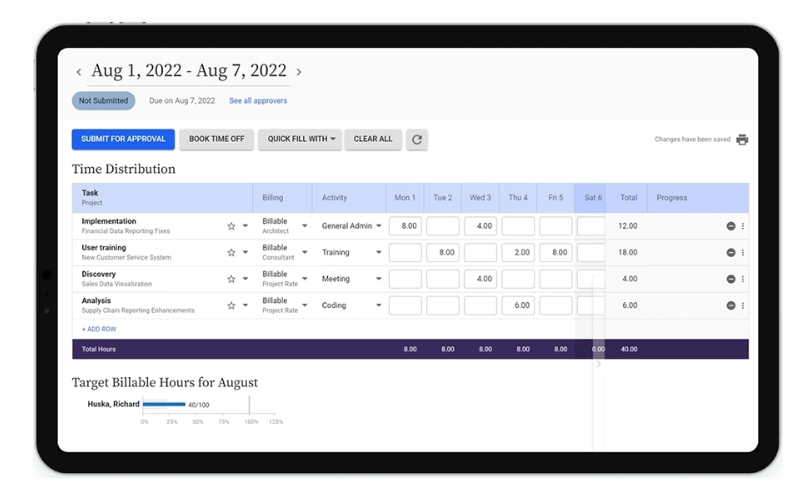 07. TimeCamp
One of TimeCamp's remarkable features is its comprehensive reporting and insights. You can gain valuable data on your time usage, uncover productivity trends, and identify areas for improvement.
With TimeCamp's integrations with popular tools, you can sync your work apps effortlessly, ensuring a seamless workflow.
The tool empowers you to effortlessly track project time, allowing you to monitor progress, allocate resources efficiently, and ensure successful project completion as a remote worker.
Top features:
Provides a user-friendly desktop app
Allows you to secure your data as the tool is fully GDPR-compliant
Integrates with payroll tools
Enables you to access data through both timesheet and graphical, calendar-like views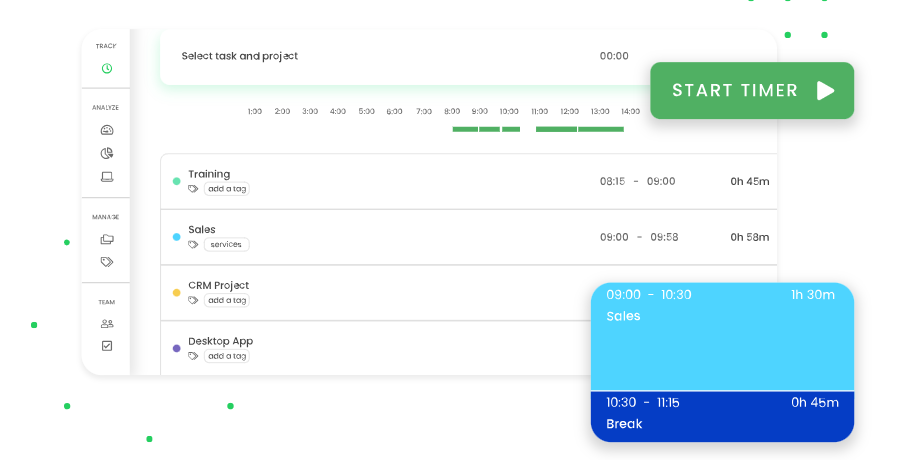 08. Buddy Punch
With Buddy Punch, you can effortlessly clock in and out using either your smartphone (iOS or Android) or computer (Desktop or Mac). No matter where you are, this time-tracking app for remote employees ensures accurate time management without any hassle.
Buddy Punch also provides customizable reports. You can tailor your reports according to your preferences, selecting the data points that matter most to you.
Moreover, Buddy Punch takes care of you with its great customer support team. If you encounter any issues or have questions about the platform, their team is ready to assist you promptly and effectively.
Top features:
Allows you to create and manage work schedules
Helps to keep track of your or your employees' overtime hours and breaks
Provides real-time reports
With this tool, you can set up notifications and reminders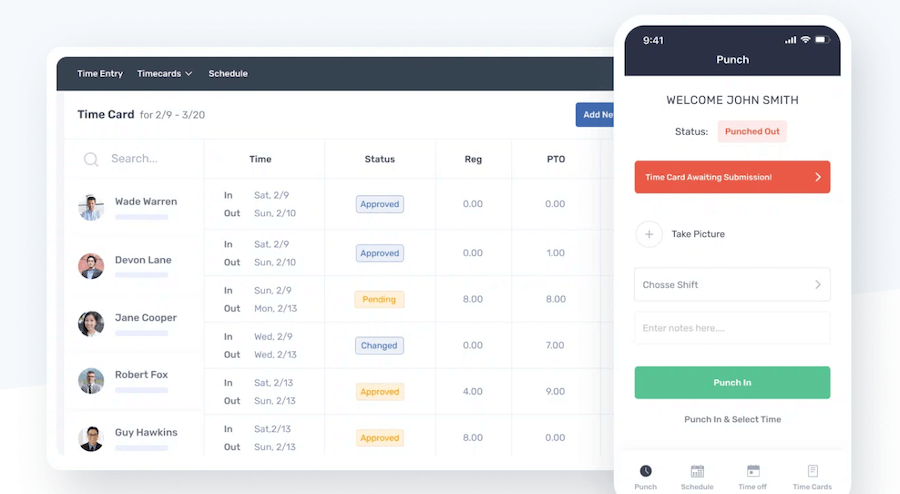 09. Apploye
Apploye is a remote worker's best companion, providing you with the tools to optimize your productivity and time management.
Its user-friendly interface and accurate time-tracking features allow you to focus on your tasks without the stress of manual tracking. With daily, weekly, monthly, and custom timesheets, you can easily review and analyze your work hours, ensuring transparency and accountability in your remote work setup.
One of the standout advantages of this tool is its task management system. You can create, assign, and track tasks with ease, keeping your workflow organized and on track.
Top features:
Allows you to create a client database and conveniently invoice them based on the work completed
Tracks work hours on desktop, mobile, and Chrome extension
Captures instant screenshots
With Live Feed, you can monitor employees' status in real-time
10. Deputy
With Deputy's accurate timesheets and seamless integration with payroll software, you can rest assured that your time is accurately tracked, and your compensation is handled efficiently.
Additionally, Deputy's user-friendly interface and intuitive features make it easy for you to navigate the platform. You can effortlessly request time off, swap shifts with colleagues, and receive notifications about upcoming tasks.
With its mobile app, you can access your schedule, make updates, and communicate with your team on-the-go.

Top features:
Offers scheduling software that efficiently allocates meal or rest breaks
With Deputy, employee wages are accurately calculated for each shift
Integrates with payroll, point of sale, and HR systems
Allows managing employee leave and staff availability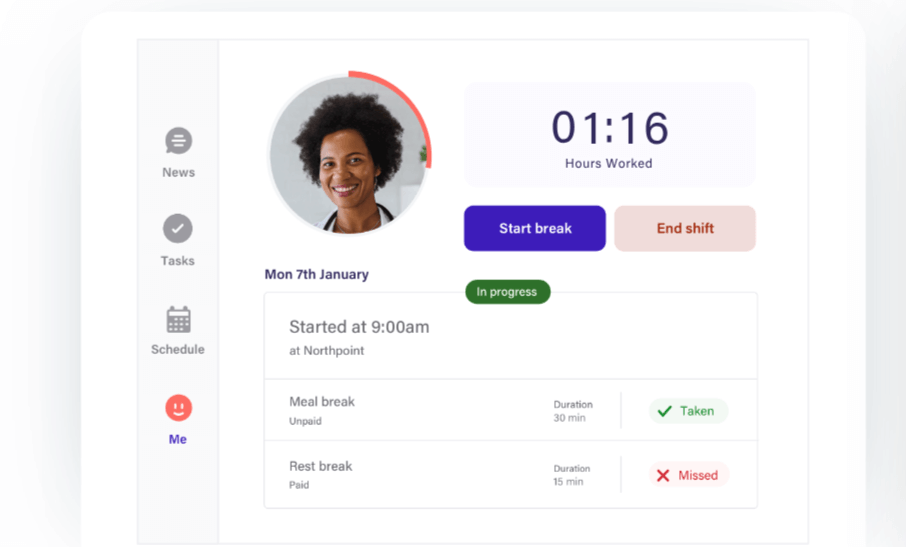 Conclusion
These time-tracking software options offer valuable solutions for remote employees seeking enhanced productivity.
From accurate time tracking and task management to seamless integration with payroll and reporting tools, each platform caters to the unique needs of remote work setups.