Are you looking for the best table builder plugins for your WordPress site? Well, we have listed the top table plugin options in this article.
Using an Excel sheet (or similar software) to present data in an organized matter is a standard practice in corporate offices and during our college days.
This practice helps us to present data in a way that looks neat and helps us understand the data better.
But, what about the data that we display on our WordPress website?
We certainly can use similar tools to organize the data on our website so that the audience can understand it easily and it looks professional.
Now, as we are talking about the table builder plugins, we will look at the best options we have in this article.
Table Builder Plugin FAQs
---
01

. Why do we need a table builder WordPress plugin?

Though it is not mandatory to have a table builder plugin on your WordPress site. It certainly is an added advantage to have a quality table plugin that can help us present our content in a professional and organized way.

How you create and present your content on your blog makes a big difference to the overall quality and success of your blog.
02

. Is the default Gutenberg table block good enough?

It depends on your requirements. If you are not using the table option to present your data on a regular basis and you have a basic need for the table option, then the default table block is good to go.

However, if you need more control, design options and flexibility, you will need to use a table plugin.
03

. What is the advantage of using a table plugin?

A quality table plugin gives you the control and option to display your data in an organized manner making it easier for the users to understand it better.

You must have come across nicely presented tables with data when you visit an authority site. Even you can create similar tables using any of the table plugins mentioned in this article.
04

. Is there any SEO advantage of using a table plugin?

Even is there is no direct correlation between using a table plugin and SEO, it will certainly help to improve the readability and overall quality of your blog post making it more engaging.
05

. Where to find the best table WordPress plugins?

We have listed all the top table builder plugins in this article. You don't need to look at any other source to find the best table plugin.

Hope this helps.
01

. Ninja Tables

A very powerful and comprehensive table builder WordPress plugin, the Ninja Tables will certainly make it simple for you to create any kind of table.

We have reviewed the Ninja Tables plugin here. You can have a look at the article to understand the plugin better.

Ninja Table is undoubtedly one of the most comprehensive table builder WordPress plugins that offer you all the possibilities in terms of features and design.

If you wish to create a product comparison site, the Ninja Tables plugin makes it very simple for you to present the comparison content in a nicely designed comparison table, the way that the high authority sites do.

Creating an Amazon Affiliate Site.

Creating a niche Amazon affiliate site has been a profitable business model for millions. If you are planning to create your own Amazon affiliate site, Ninja Tables will be a great add-on to your site.

The plugin offers you an easy option to create and present the products in a beautiful table layout.

Here is how it looks.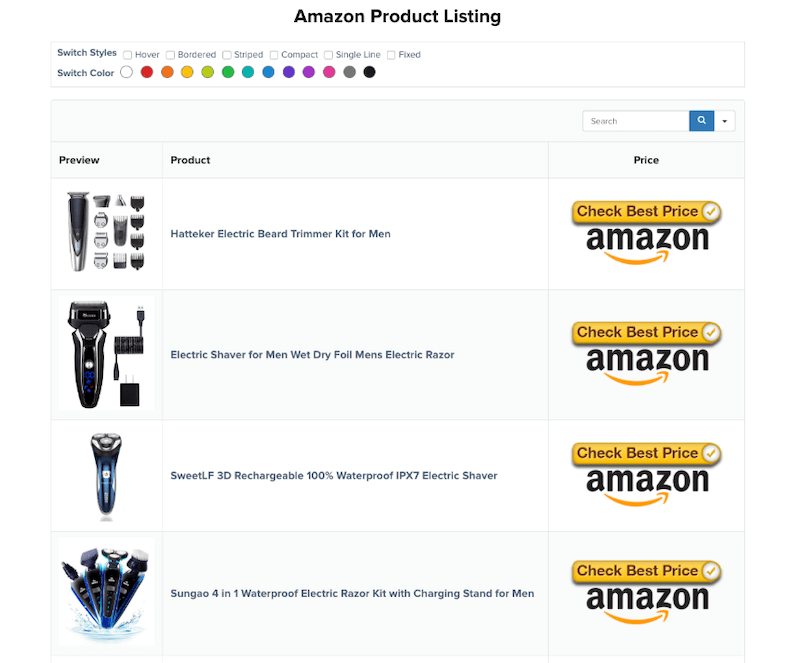 As far as the design is concerned, you will have complete control over the look and feel. You can use your own color code to make sure that the tables look like an integral part of your site.
This plugin is not just for data, you can use it to present your blogs posts in a table format, you can showcase your videos, products and more.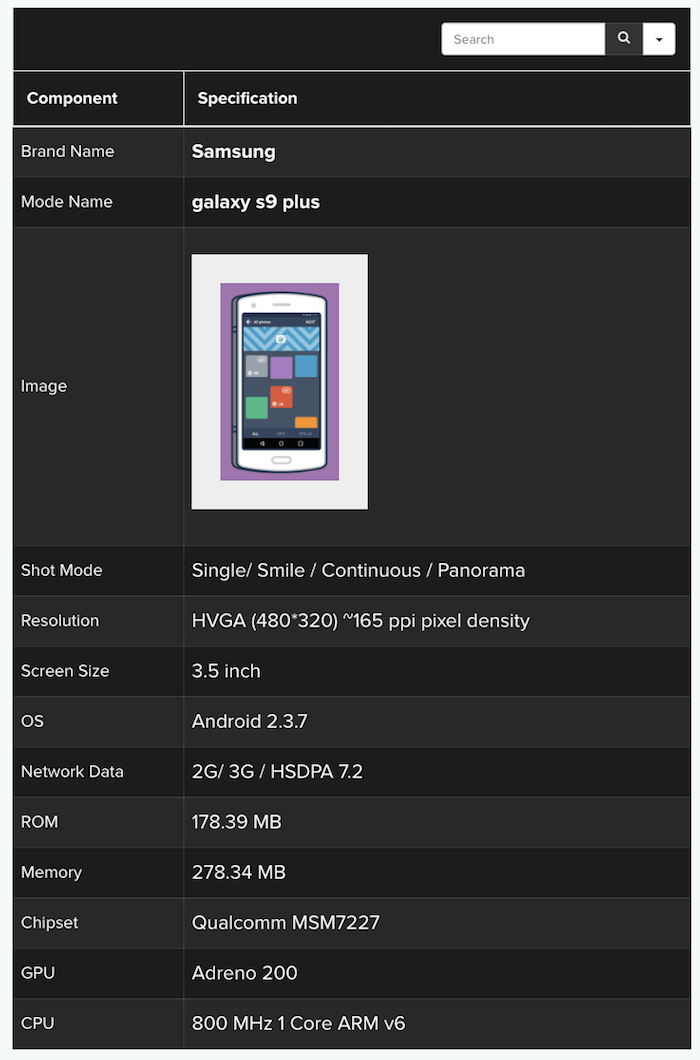 Ninja Tables offers you all those features and options that you expect in a high-quality premium table plugins.
Here are some of the key highlights.
02

. WP Table Builder

WP Table Builder is a drag and drop table builder plugin for WordPress. With this plugin, you can create beautiful product comparison tables for your Amazon affiliate blog.

The plugin provides a drag and drop interface allowing you to quickly build tables. The tables built using the plugin are fully responsive as well.

WP Table Builder offers five elements to build your table. These are:
Text
Image
Button 
List
With just these five elements, you can create Amazon product tables that look like this: 
The plugin features many customization options allowing you to completely control look and feel of your table.
You can customize the table header, set alternate colors for columns and rows, font color, cell background color, alignment options, list icons, and more. It also has other essential table building features such as cell splitting, cell merging, etc.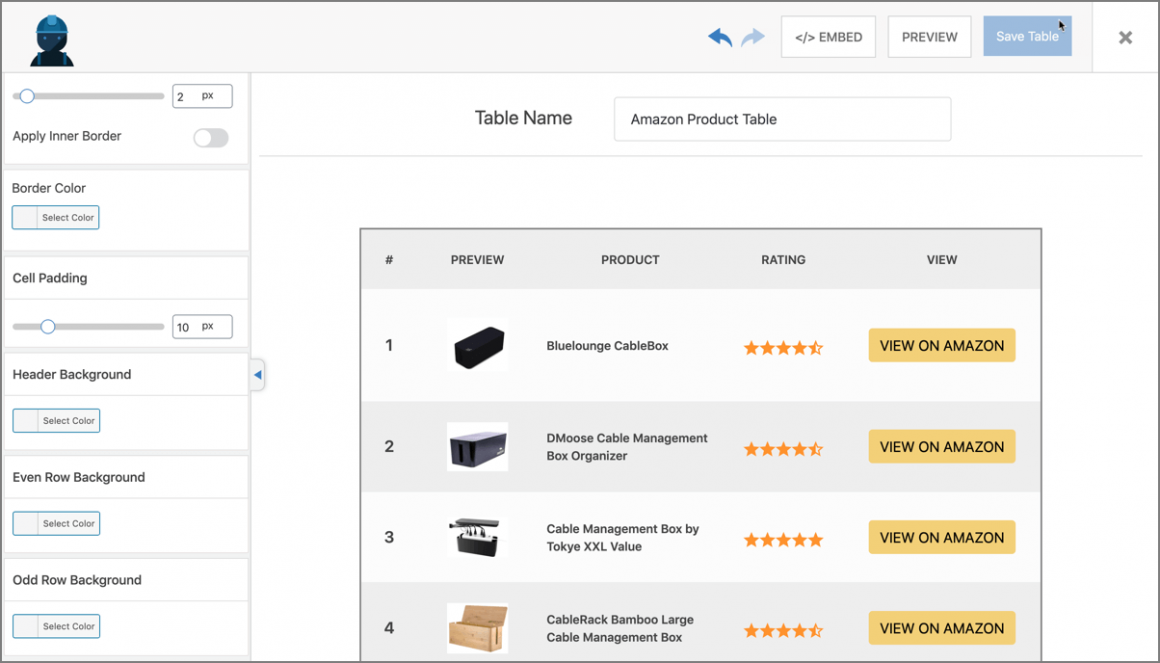 WP Table Builder supports shortcodes allowing you to insert and embed the table anywhere on your website with ease.
Since the plugin is very lightweight, the tables you add to your website will not affect the loading speed at all. 
WP Table Builder WordPress plugin is completely free with no premium add-ons or charges. That's what makes it one of the most favourite and must-have plugins for Amazon affiliate marketers. 
With the WP Table Builder plugin in your arsenal, you can quickly and easily create stunning comparison tables for your Amazon products and boost your affiliate revenue.
03

. TablePress
Another very popular free table builder plugin, the TablePress plugin has been around for years.
With over 800k active installations, TablePress is one of the most widely used table plugins.
It is simple and easy to use table plugin that offers you the option to insert a table anywhere using the shortcode.
When you present the data using the Tablepress plugin, your users will have amazing control to sort the data using the filter options offered by the plugin.
The spreadsheet-like interface offers a familiar feel to the users while looking at the data helping them understand it better.
Though the free plugin option is good to go, there are a number of premium add-ons that you can get from the home site of the plugin to make your tables more comprehensive.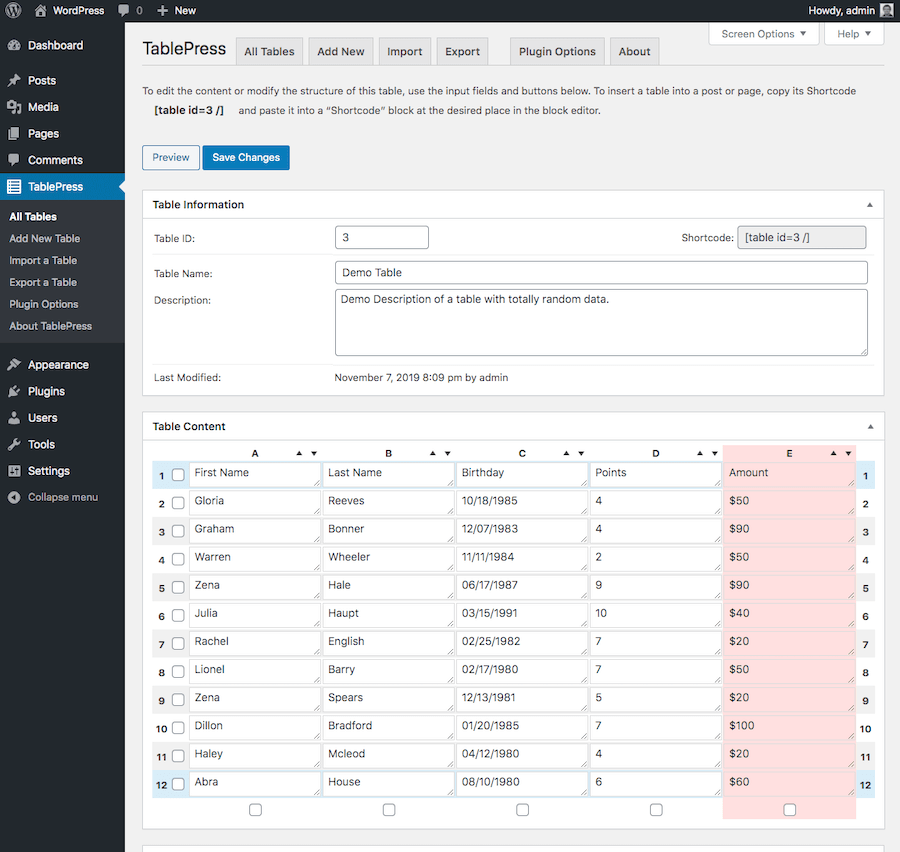 04

. WP Table Manager

WP Table Manager is another great option for you. It is a great option to create a comprehensive table with high flexibility.

The spreadsheet interface makes it easier for the admin as well as users to use the tables.

You have the option to export and import Excel sheets or Google Sheets to help you make your process quicker while using old data from an Excel sheet.

As the admin, this plugin gives you the option to manage the access level of your tables based on user roles.

WP Table Manager is fully compatible with the WooCommerce and other important plugins.

The plugin offers you a number of different design themes to make the design process easier for newbie users.

You can use this table plugin to create any kind of table on your site. Be it a normal data table or a classic product comparison or a pricing table, this plugin just fits into your requirement.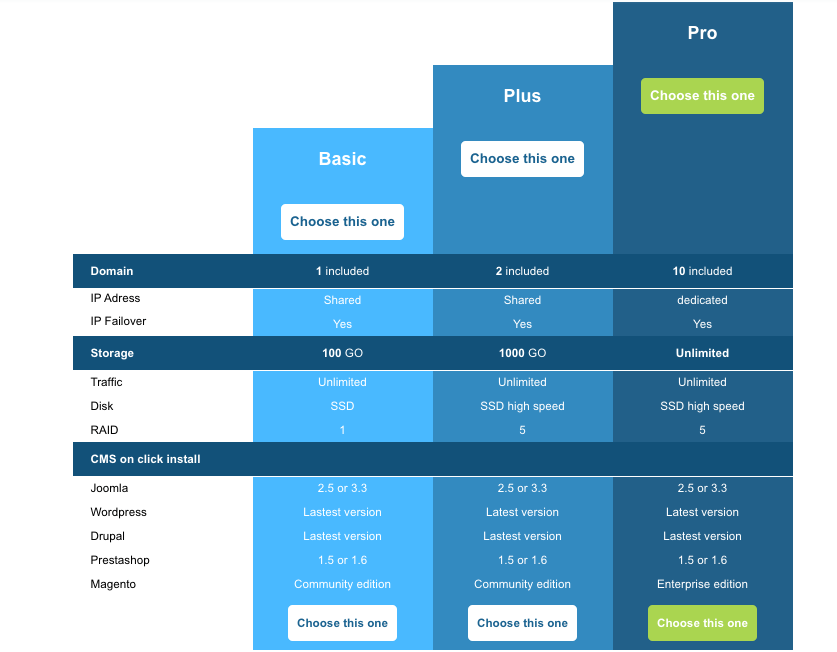 Here are some of the important features of WP Table Manager.
05

. League Table

Create beautiful, fully responsive tables on your WordPress site using the League Table plugin. Though this plugin is created with the sports-related tables in mind, you can use it for any kind of site.

You have the option to highlight specific cells to make sure that your users are attracted to the data you wish to highlight.

The plugin is highly customizable to make sure that you can change it according to your needs.

Your users will be able to sort data easily as the plugin gives you the option to filter the data.
06

. ARPrice

If you are looking for a high-quality pricing table plugin, here is the plugin you need. One of the most comprehensive pricing table plugins, ARPrice plugin offers you all the features and options that you may ever need.

With over 300 templates, you will never run out of possibilities. When it comes to design, you can create any kind of table that you can imagine.
07

. Advanced Tables

Another premium table builder WordPress plugins that give you the option to create a user-friendly table.

The plugin comes with an Excel-style editor that makes it simple for the users to create data-driven tables.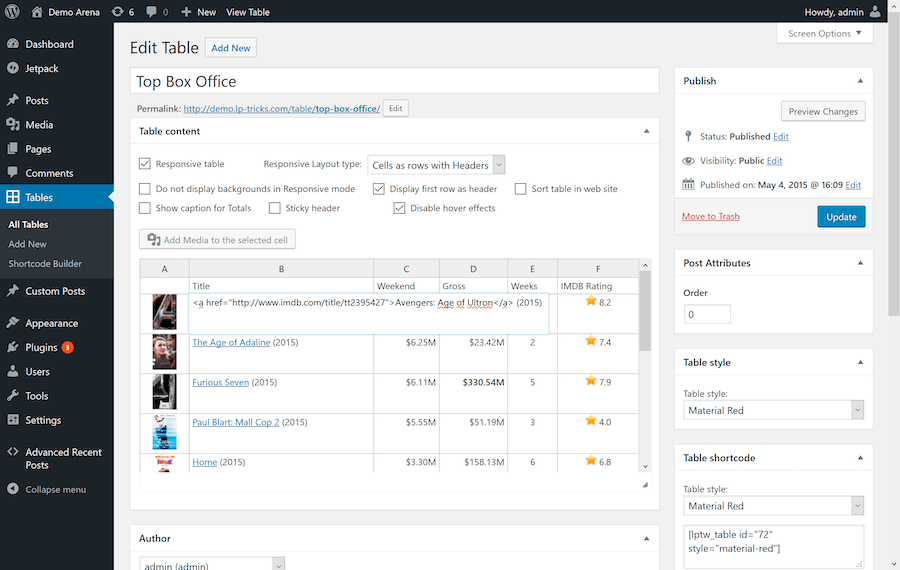 08

. wpDataTables

A simple free to use WordPress table plugin that you can use to create data tables and charts. If you want more featured and options you can try the premium version of wpDataTables as well.

This table plugin gives you the option to insert data from Excel, CVS, PHP and other data sources.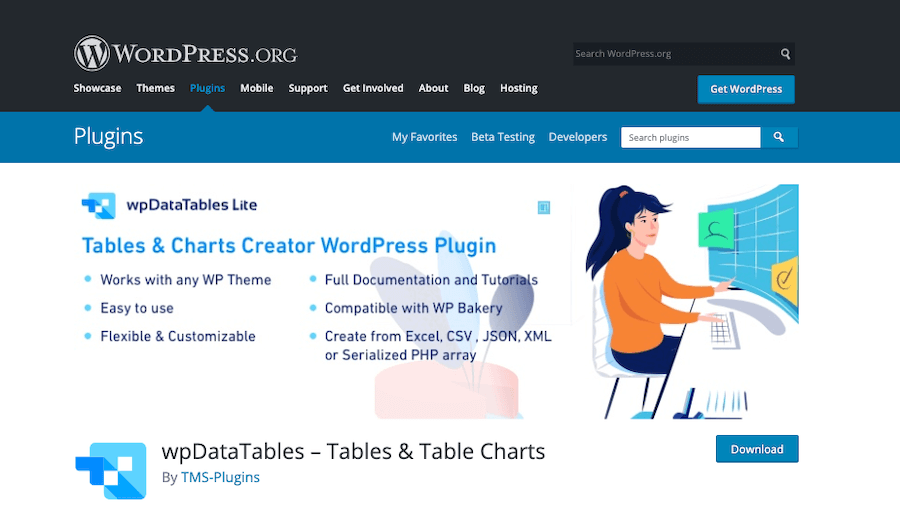 09

. Advanced Gutenberg

if you are not happy with the basic Gutenberg table block, this is the plugin you need. Advanced Gutenberg table block options bring in amazing features and enhancements to help you create great-looking tables.

We have already published a detailed review of the Advanced Gutenberg plugin that you can read to understand more about the product.

The table block offers you a number of customization options for the table block making it a lot more comprehensive.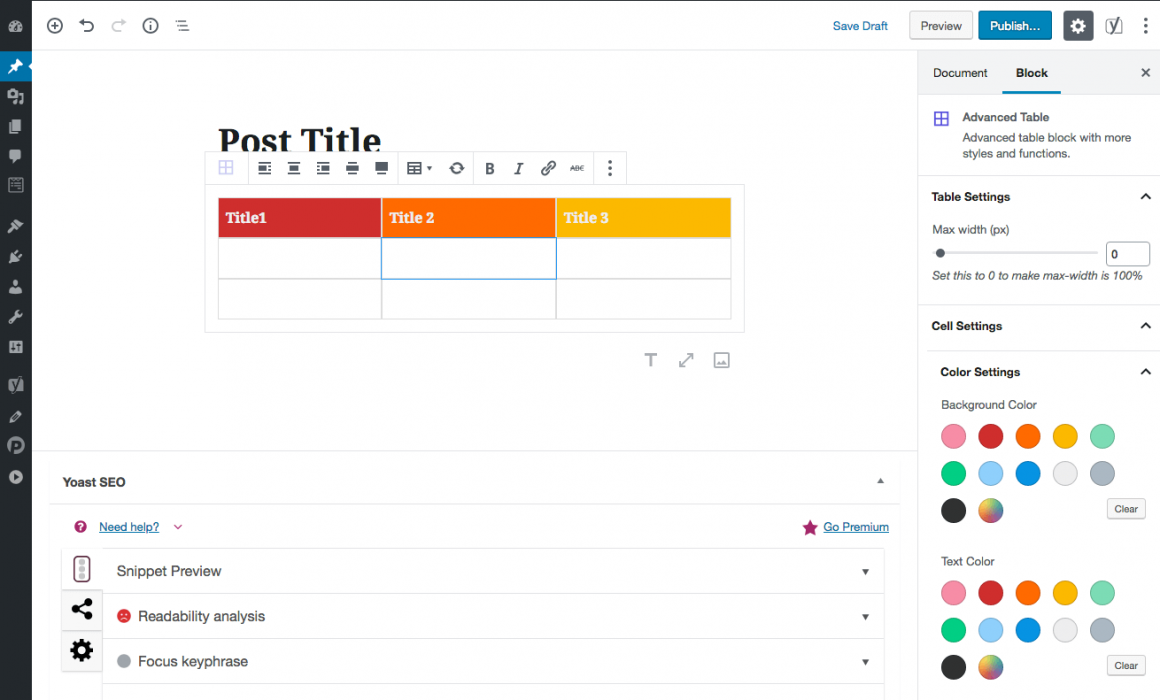 Unlike the default Gutenberg Table Block, you can use your own color scheme for the tables. You can have a custom border style for the tables.
10

. JTRT Responsive Tables

Another free to use table plugin for WordPress. You can use Excel, CSV file to create your data tables. You can insert formulas into your table to make it even more comprehensive.

This advanced HTML table editor will help you to create lightweight and user-friendly tables on your WordPress site.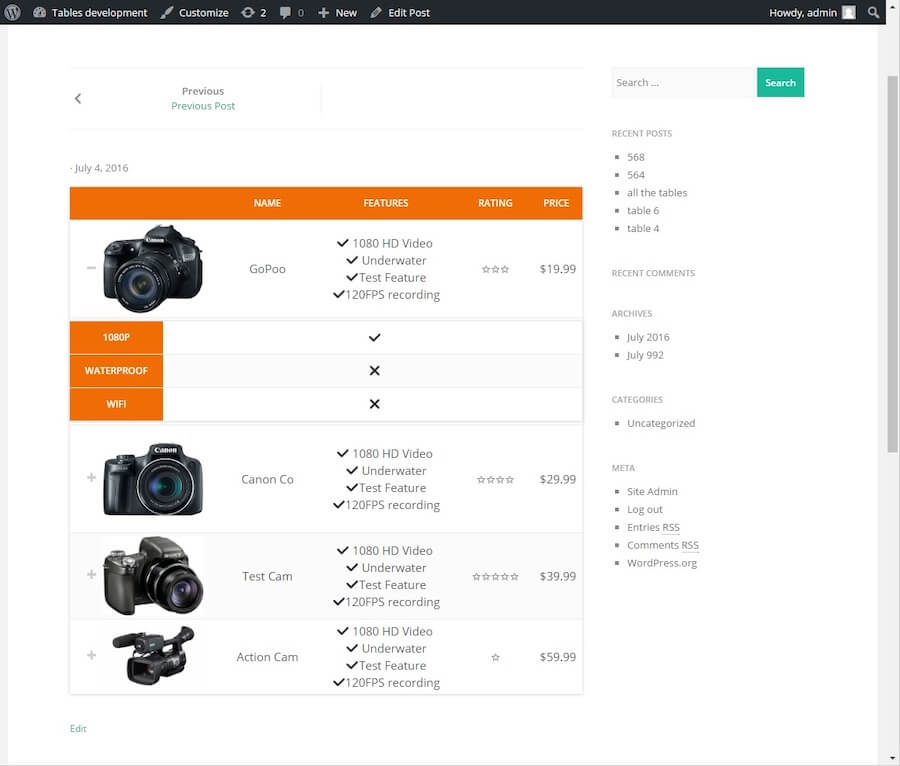 Final Word
So, these are some of the best table builder plugin options we have for WordPress. Though there are a few more options, you don't have to look at those as you can find free as well as quality premium table plugins above in the list.
If you are using the Gutenberg editor and wish to enhance the default Gutenberg editor table option, the Advanced Gutenberg plugin is a good option to go for.
If you are looking for a free custom table plugin, WP Table Builder is a good option to go for.
If you have any questions regarding the table plugin we mentioned in the list, feel free to post a comment using the comment form below.
Don't miss the articles below