If you wish to create a product review site, here is a list of best review WordPress plugins that will help you to get started quickly.
Our world is now full of options. And although this is a good thing, too many options can be paralyzing. This situation has paved forth the necessity for reviewers in our day-to-day discourse. 
Now taking that you are here, it can be concluded that you want to boast reviews of things on your website or blog. With the purpose being clear, the real question now boils down to the method we are going to use.
What will make your audience come to your site? How do you give a proper representation of your critique through your website? Well, if you are using a WordPress website then there are plugins to help you manage the situation.
Installing a plugin will give you all the necessary features and functionalities to start adding reviews. So without further ado, here is our list of the Top Review Plugins for WordPress:
Top Review WordPress Plugins
The best WordPress review plugins that you can use to create a product review site. You can allow your audience to submit their own reviews to make your site active and fresh with new content regularly.
WP Review Pro
WP Review Pro is a user-friendly and powerful WordPress plugin that will help you make rich snippets for your reviews to show up on the search engines.
Furthermore, the plugin also brings in added features that allow your users to rate and review your posts and content simply when adding a comment.
The plugin offers you 16 different design options for your review section. It will help you to make your review section match perfectly with your site.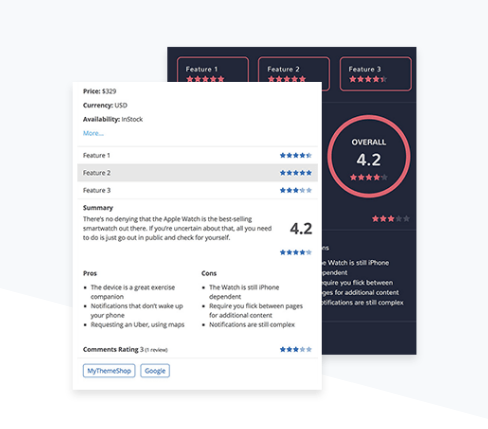 Also, if you wish to engage your visitors and allow them to submit their own reviews on your site, this plugin offers you the option to have customer reviews.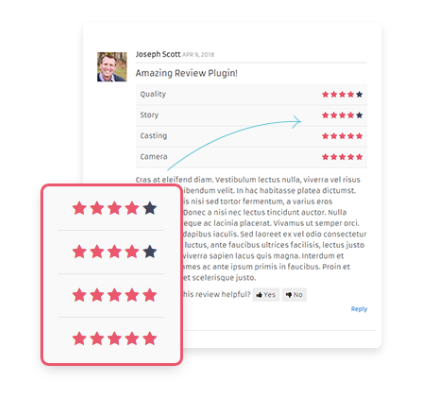 Along with the review, the plugin gives you the option to create a great-looking comparison chart for different products on your site.
For example, when you write about WordPress WordPress hosting, you can create a detailed table of comparison with the link to buy the product and the same for any other type of product.
The plugin comes with great modern-looking designs for the comparison chart making it extremely engaging and professional.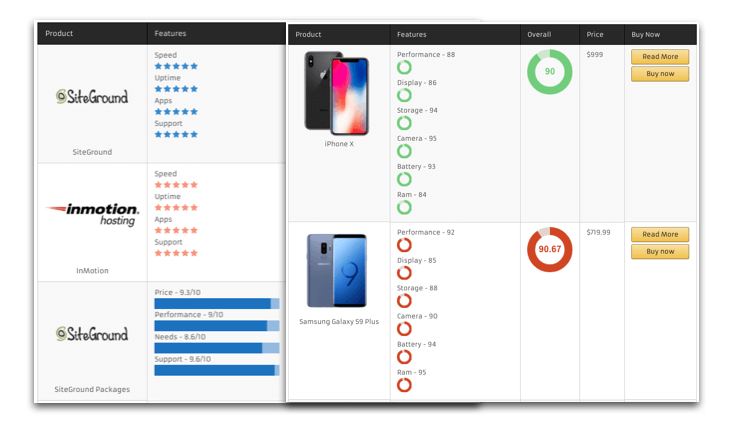 Some of its other notable features include support for multiple rating systems, CSS animation reviews, Global rating types, automatic start rating on thumbnails, unlimited color options, Shortcode support and so on.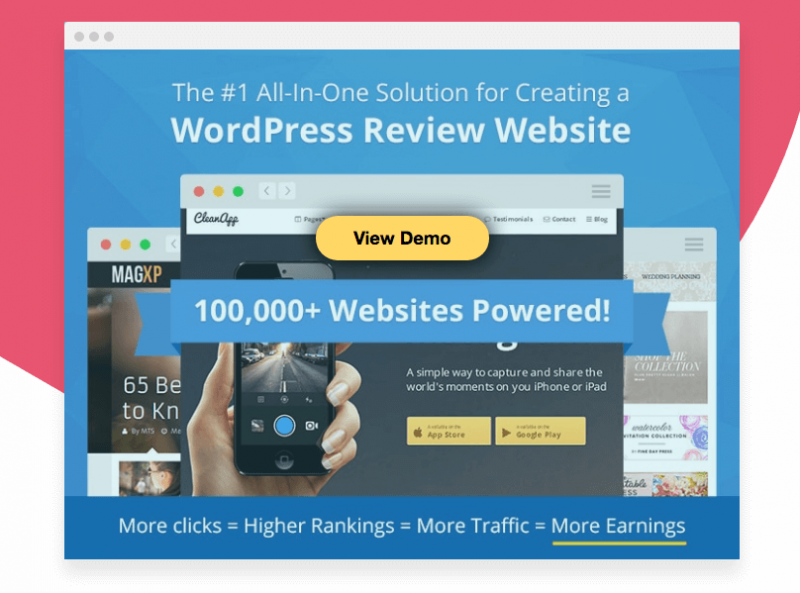 Taqyeem
Taqyeem WordPress review plugin helps you to add lovely ratings and reviews to your posts, pages, and other custom post types. You can consider using this plugin if your site's demographics are particularly young people.
It has a nice collection of options that will help you to customize your rating style, incorporate one of the three review styles, offer multiple options for rating images, unlimited colors, and much more.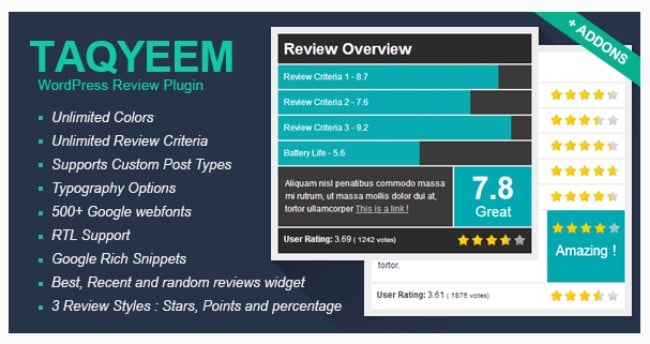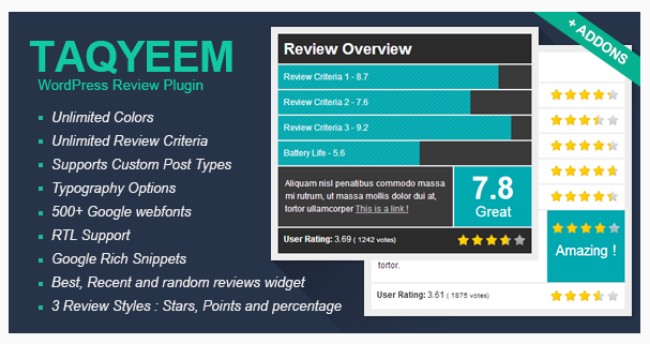 WP Rich Snippets
WP Rich Snippets is one of the most popular and widely used WordPress product review plugins. This plugin has been around for a long time now and it is used by many pro bloggers and marketers from around the world.
This plugin is simple yet very powerful to make sure that you have a strong presence in your product review niche.
No matter what kind of product you want to review on your site, this plugin will offer you all the options and features that you need to create the perfect review site.
The plugin adds all the required schema structured markup on your site for better WordPress SEO. As it's a rich snippet plugin, your review results will show with the star rating on the search engine result page and that will surely increase the click-through rate of your site.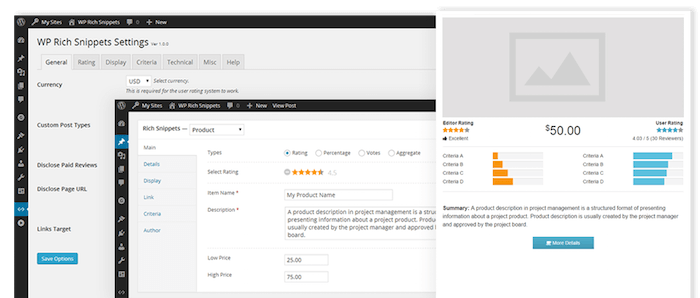 StarCat Reviews Plugin
StarCat Reviews plugin is a WordPress review plugin that converts any type of website into a review website. You can include reviews into any post or page including a blog post, WooCommerce product page, or any custom post type.
Your reviews can have Multiple Rating Criteria, Pros & Cons, Review Replies, and an overall review score. It works seamlessly with any decently coded WordPress theme and supports rich snippets in Google search results.
For creating a full-fledged product review website, this plugin gives you various premium add-ons in bundles that have Reviews Post Type, Comparison Table, Review Voting, Photo Reviews, and many more.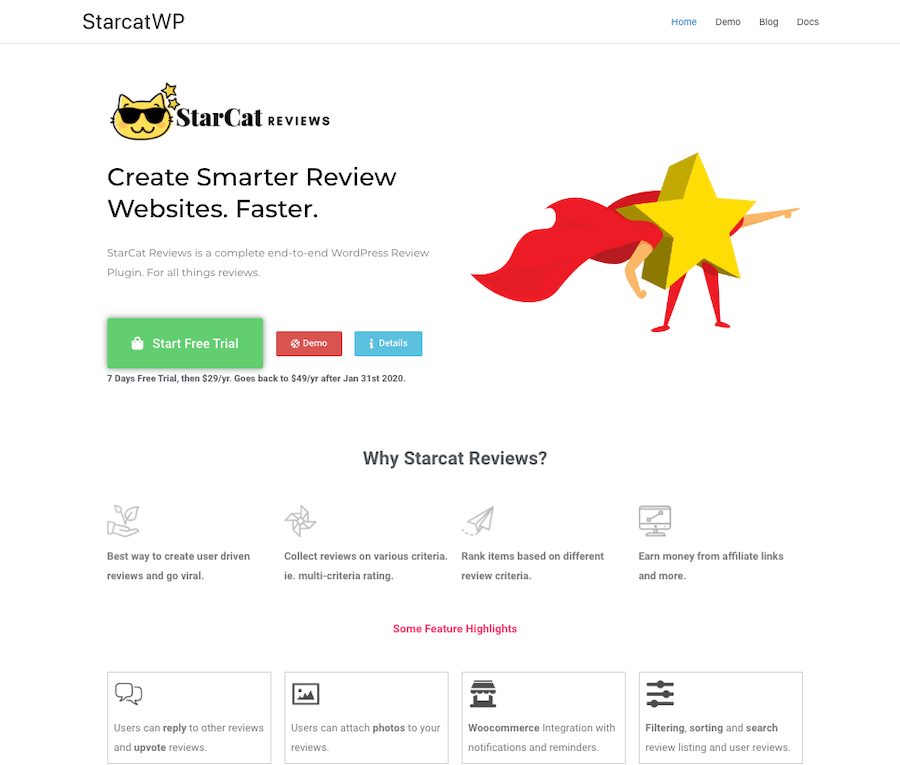 Google Places Reviews Pro
With this review plugin, you will be able to increase the trust factor for your local business. You can showcase the reviews on your site to make it bright and attractive.
Attract more reviews for your local business with perfect placement of the review widget which will in turn help to improve Google search ranking.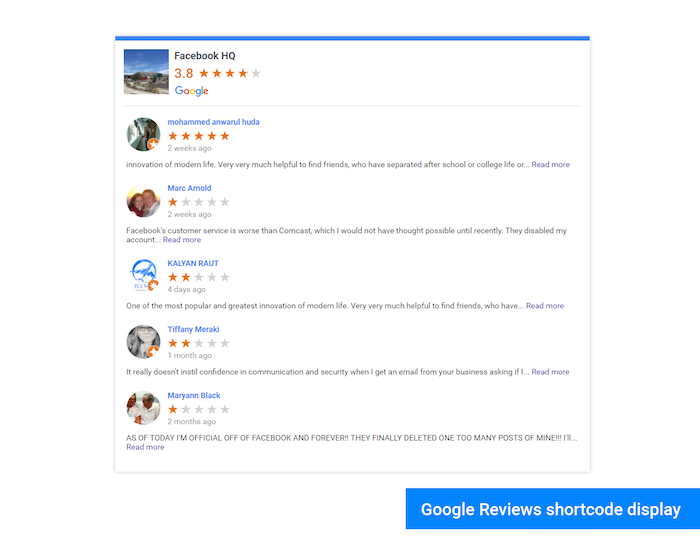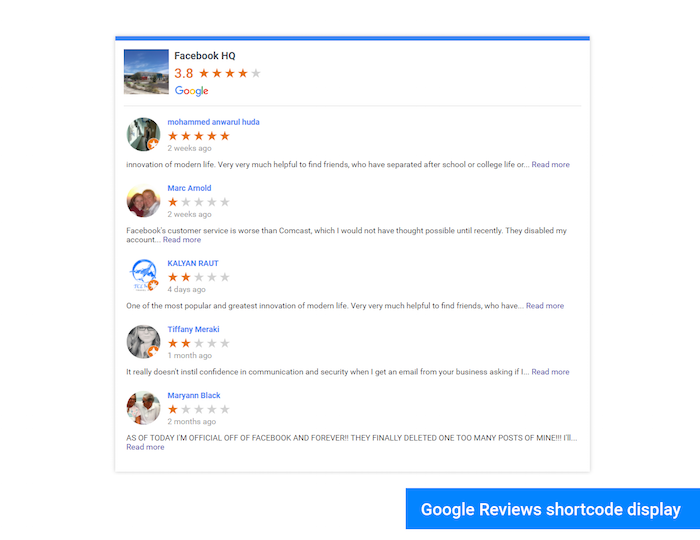 kk Star Ratings
KK Star Rating plugin is one of the most widely used post-review plugins for WordPress. This plugin has been there for a long time now and works perfectly for any niche site.
This is a simple plugin that offers you all the options that you expect in a review plugin, you can set a great looking star rating for your posts, you can switch on/off rich snippets for search engines.
The rich snippets option will make your blog post stand out from the search results and increase the click-through rate for your posts.
It also comes with a built-in widget that you can use to show the top-rated posts on your blog to attract more users to those articles.
It also has the feature to have a unique IP-based rating system so that you can limit the voting by any user.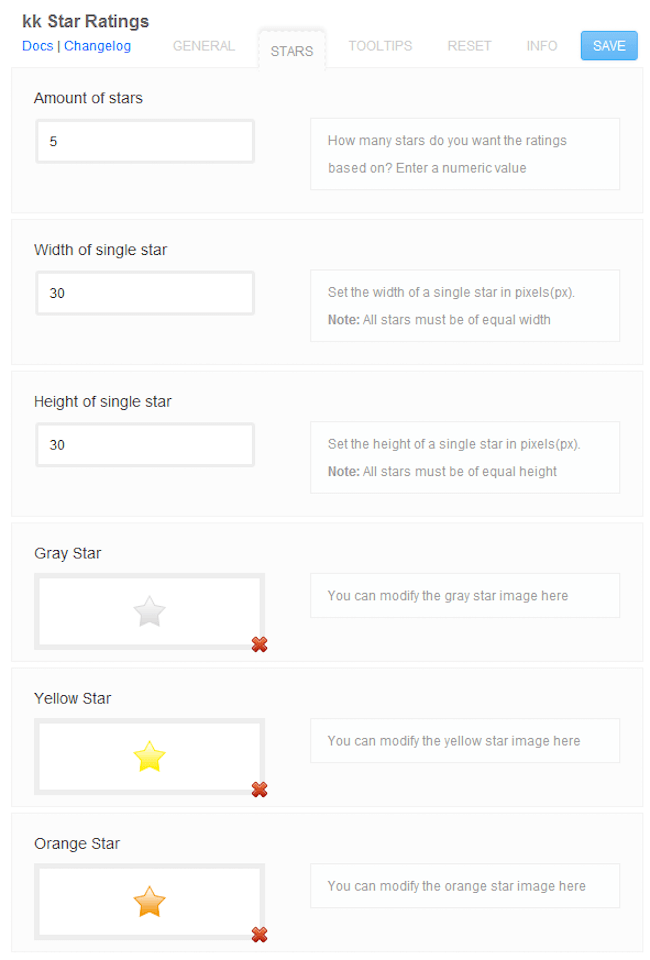 Good Reviews For WP
Good Reviews help to make reviews and testimonials on your website and then show them in posts, pages and even widgets using a search engine-friendly schema markup.
The plugin uses schema.org markup to help search engines identify and integrate the reviews with your listings directly on the search engine results page.
Other than this, you can use the plugin to add a picture of the reviewer, add reviews to your pages, posts or sidebars, add list reviews, single reviews and even use schema.org markup for SEO.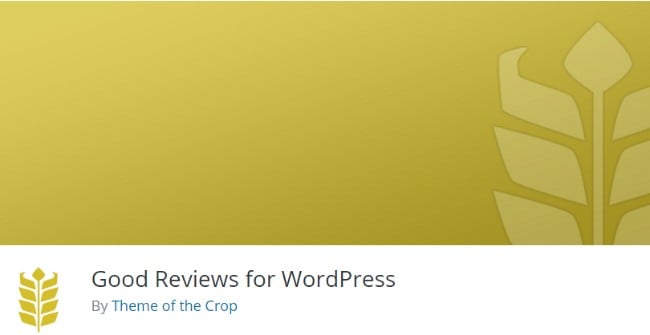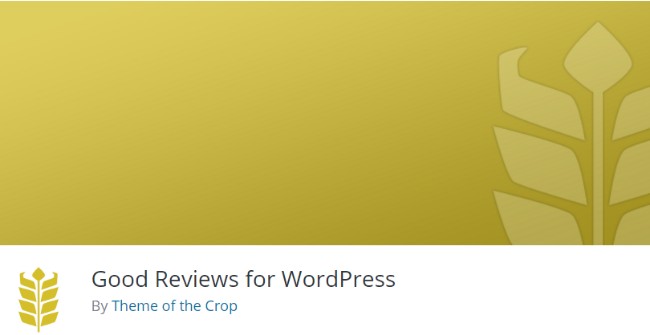 All in One Schema Rich Snippets
If your product review doesn't have the rich snippet for the search engines, it becomes meaningless from the SEO perspective.
This rich snippet plugin for WordPress will help you to bring in all the requirements as well as Schema rich snippet is concerned.
You have the select the product review option offered by the plugin and once you publish your review with this plugin, your post will have the star rating in the search results which will help you to increase the click-through rate of your content.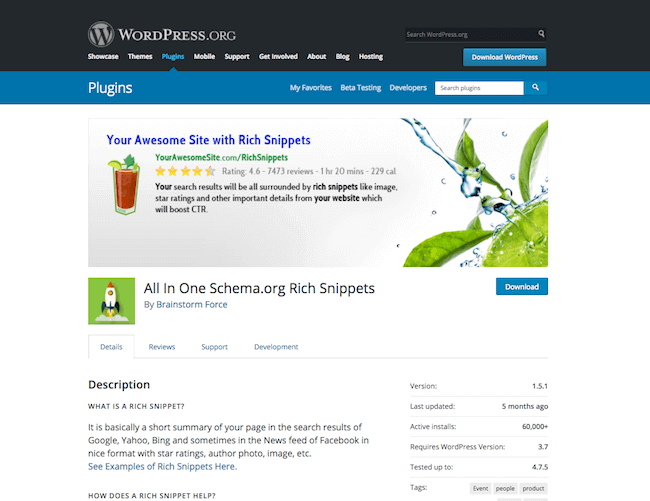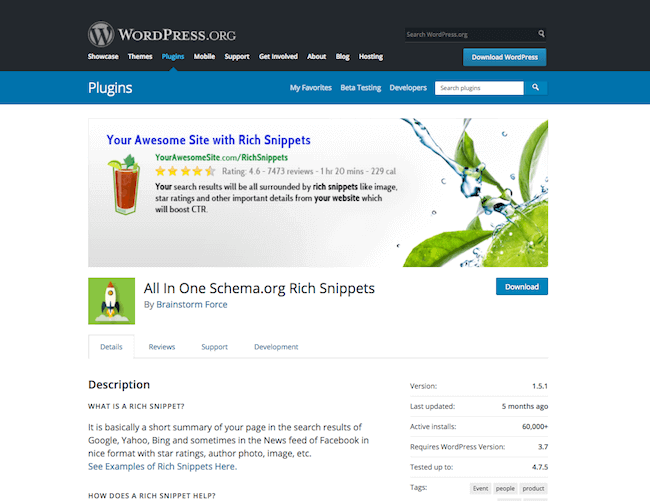 Reviewer WordPress Plugin
Reviewer allows you to include reviews and comparison tables to your blog posts and pages, which can be a handy function if you are looking to build a review website.
The plugin also comes packed with nearly eight customizable themes to choose something that better suits your site's aesthetics.
Some notable features of the plugin include functionalities like support for user ratings from your blog visitors, five different rating modes including the default five star, support for user image along with provided ratings, and so on.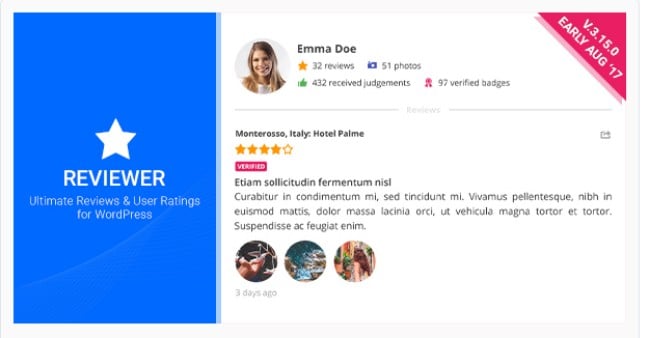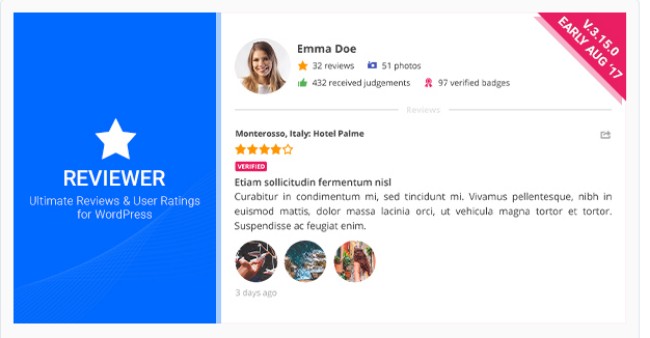 Let's Review WordPress Plugin
Let's Review is a WordPress plugin that allows you to add beautiful and responsive review boxes on your posts. Every features and functionality provided by the plugin have a very modern feel to it as far as design is concerned.
Notable features of the plugin include options for unlimited criteria, unlimited positive and negative reviews, unlimited affiliate buttons, inbuilt gallery options, the ability to use any images for the reviews, visitor rating options, powerful widgets with a lot of customization options, and loads more.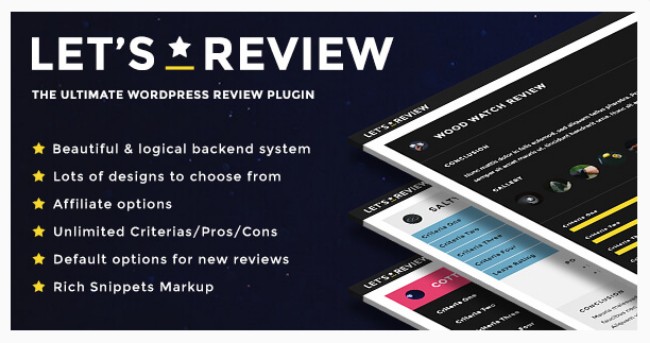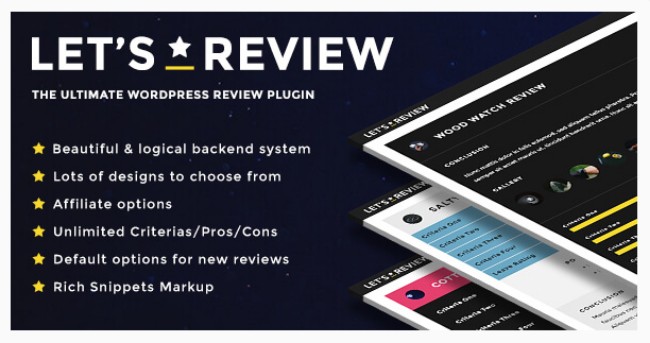 Author hReview
Author hReview is specifically designed to help you, the site owner to insert ratings and stars on your posts and pages.
This functionality will not and cannot be extended to your visitors. So if you are crafting a website where people are coming to simply and only read your reviews, then this is the plugin to do the job.
Options are also kept to the minimum and include only the necessities, so you don't feel confused using the whole thing.
Some of its notable features include options for Rich Snippets, Google Rich Snippet testing tools, Spam reporting for Google Rich Snippet, and a few more customization options.


Ultimate Reviews
Ultimate Reviews is a free but very useful and feature-packed review plugin for WordPress. This is a minimal plugin that works with the WooCommerce stores as well.
This plugin offers you additional review fields such as value, appearance, quality of the product, etc. You can customize the look and feel of the review system with custom CSS as per your requirement.
If you are managing a WooCommerce product store, you can replace the default review system of WooCommerce with Ultimate Reviews.
It offers you the rich snippets option to make your posts better in the search results. The users have the option to upload images or videos in the reviews.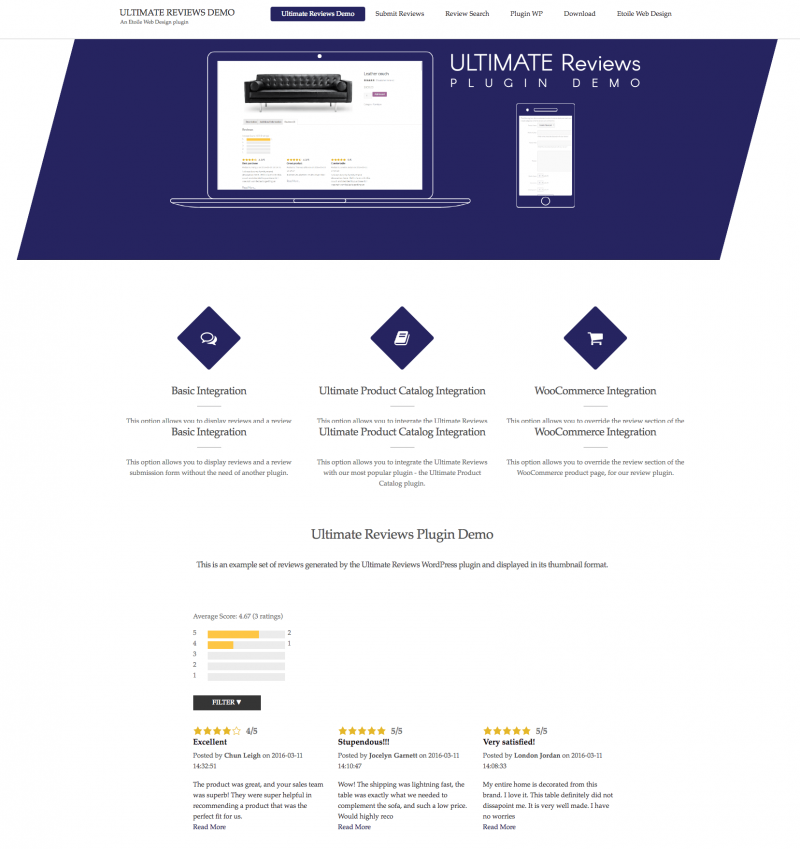 Rich Reviews
Rich Reviews is a shortcode-centric review plugin for WordPress websites. Simply go through all the settings that come with the plugin, copy the provided shortcode, and then past them in your posts or pages.
There are basically three types of shortcodes provided by the plugin – show, form, and snippet. Once you have created a shortcode, just add it to your posts and pages of your website.
Another impressive feature of the plugin is that you can add your own reviews along with that of your users.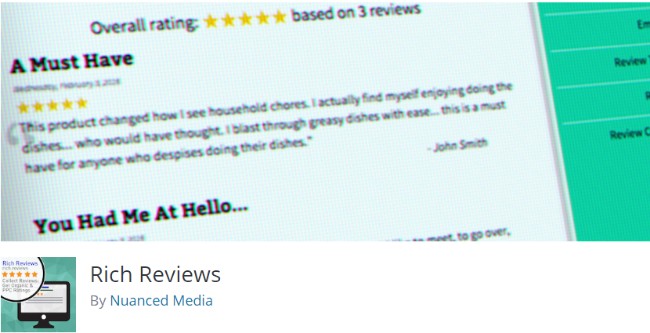 WP Customer Reviews
As the name suggests, this is a plugin that is created for the customer review option.
Customer reviews are most valuable for any online business as it gives you an option to show testimonial from genuine customers and it can increase your customer base at a much quicker pace.
The plugin offers you complete control over the options and features of the plugin and you have the option to select which review you wish to show on the site and which you don't.
The plugin comes with a number of anti-spam options to protect your site from spammers. The plugin offers you a shortcode option to add the review to any of your pages or post.
As the admin, you will have complete control over the system and you can edit each and every review for text and the date of the review.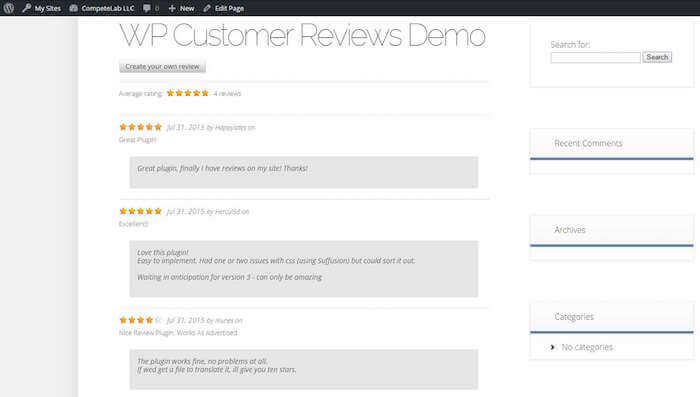 Site Reviews
Another very effective customer review and rating plugin for WordPress. You can use this plugin to create a product review site where your customers will submit their reviews.
As the admin of the site, you will have the option to moderate the reviews before they are published on the site.
The visitors of the site need to login to the site before they can submit their reviews, this will keep the spam under control to a huge extent.
The plugin offers you both shortcode as well as a widget option to display the reviews.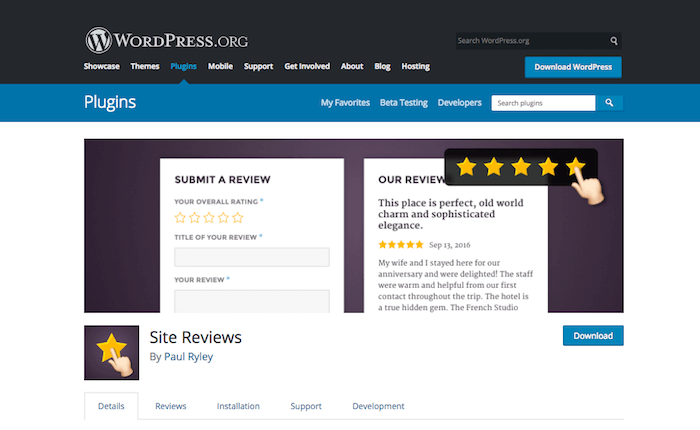 In Conclusion
So this was our list of the best WordPress plugins for reviewing purposes. If you have happened to use any one of these, then do let your fellow readers know about your experience to help them out and further add to the scope of this read.
Furthermore, if you have used some other review plugin that failed to make it to the list, then also cite them out in the comments section.