The push notification WordPress plugins will help you to connect to your audience easily.
Keeping in touch with your customers/users is crucial if you want to grow and succeed in this competitive online environment.
Increasing subscribers allows you to get in touch with your customers on a regular basis to inform them about new content to your blog, or new updates regarding your products, and so on.
And now with push notifications, the scope of staying in touch with your users is increased ten-fold.
You will be able to send notifications to your users regarding new updates to your website similar to how apps send notifications to mobile users. You can do this for both of your desktop and mobile users as well.
Now, if you own a WordPress website, setting up push notification is as simple as it gets.
For the purpose of this read, we will be looking at some of the best push notifications plugins for WordPress.
These plugins will not only help you set up push notifications on your website but also help you with a multitude of related functionalities.
Also, don't miss our collection of best notification bar WordPress plugins.
So without further ado, here is our list of the Best Push Notification WordPress Plugins:
OneSignal Push Notifications
OneSignal Push Notifications is among the most popular WordPress push notification plugins in the market.
The free plugin on the WordPress repository has more than 100k active installations, it is certainly one of the top options to go for.
And best of all, it offers a free plan which offers mostly all the necessary features for you to set up a successful push notification campaign on your WordPress website.
Once you have set up the plugin, the users simply have to affirm that they wish to receive push notifications for updates from your site, and that's it.
There are also plenty of other options that gives you certain insight as well as control how the push notifications.
Features:
Supports both desktop and mobile devices.

Supported browsers include Chrome, Safari, Microsoft Edge, Opera, Firefox, and so on.

Automatic Notifications to followers every time you update or publish a new post.

Specify how you want to send notifications to visitors based on their language, frequency of visits to your site, and so on.

Customize the opt-in form.

Real-time analytics.

A/B testing.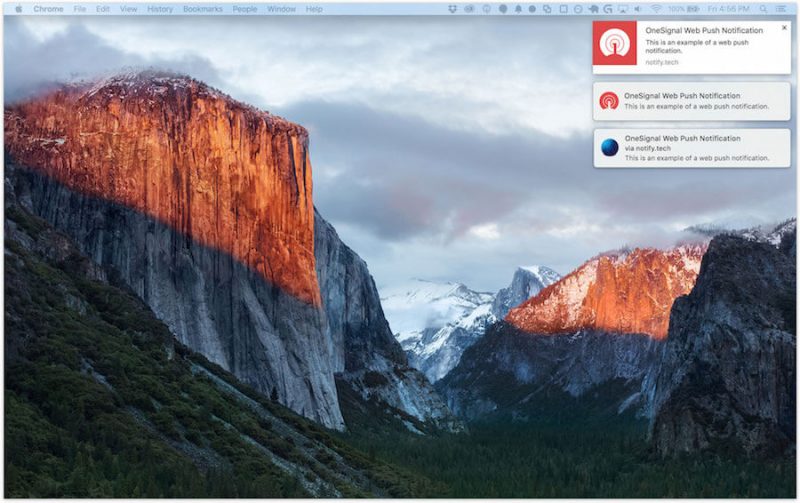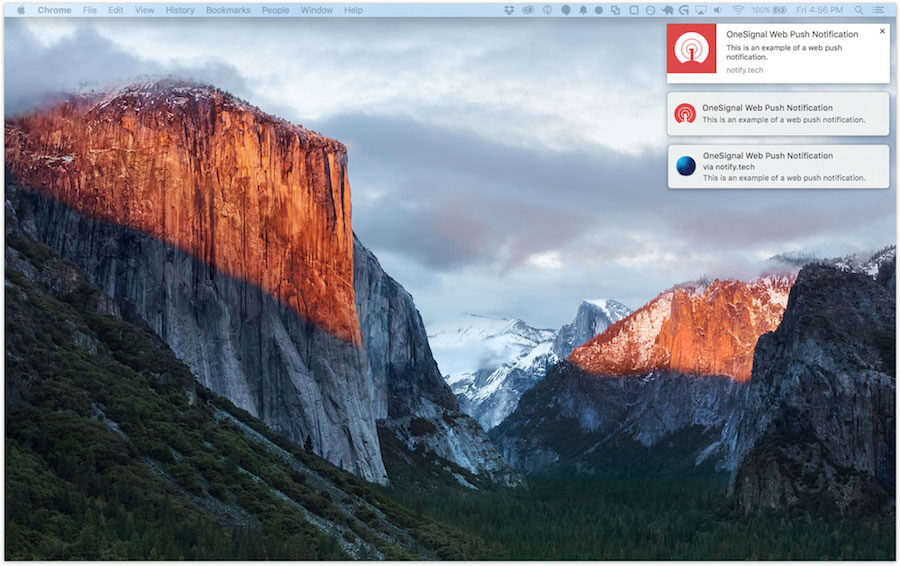 Push Notification by PushAssist
PushAssist WordPress plugin for Push Notifications delivers features and functionalities that are quite comparable to what you get with OneSignal.
For example, you can segment your users, send automatic notifications, and even access detailed analytics on user engagement.
However, it stands out from OneSignal with the added advantage of previewing how your notifications will look in real life.
Besides this, you will get access to a bunch of opt-in templates for better customization.
Features:
Compatible with all popular devices, OS, and browsers.

Templates to customize how the push notification opt-in will look.

Preview option for the notifications.

Delay displaying the opt-in prompt by a set amount of time.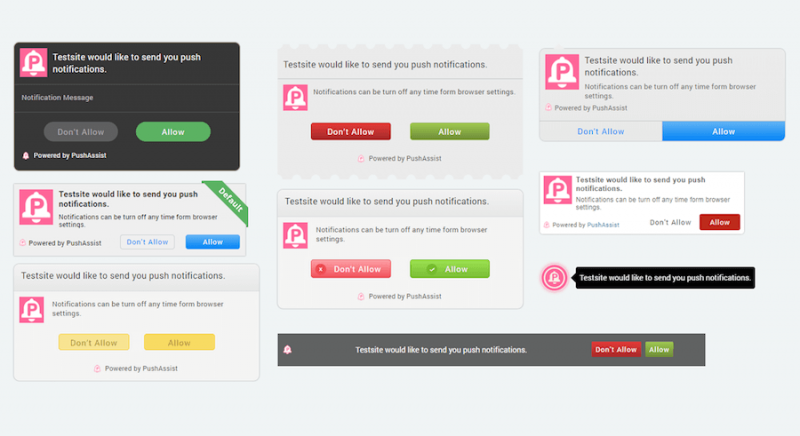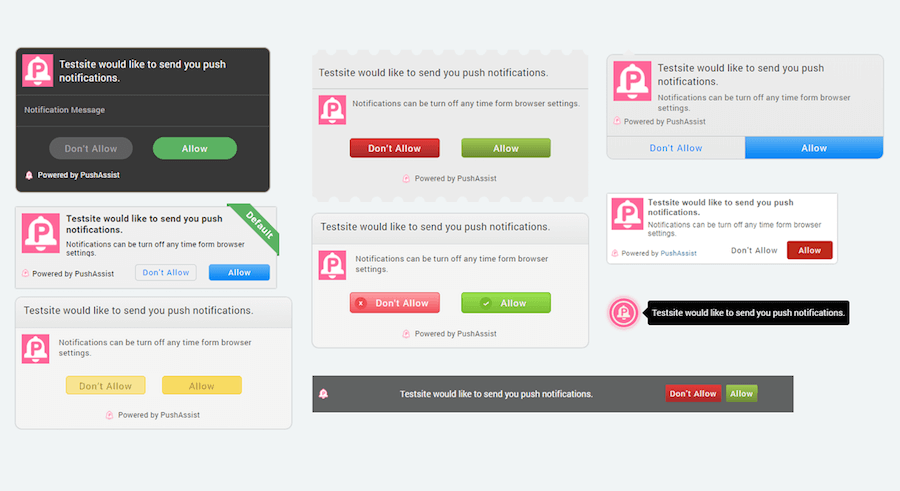 PushAlert
PushAlert is another nice option to add the push notification option to your WordPress site. The plugin adds the option right on the editor to make it easier for the users.
This kind of browser push notification can send you real-time traffic immediately after you publish your article.
Push notifications have a very high click-through rate when it is compared to any other form of marketing.
So, you must include a plugin to offer an option to your visitors so that they are able to subscribe to your push notifications.
One of the most important features and advantage of PushAlert is that it deeply integrates itself with the WooCommerce plugin and send the users notification about the abandoned carts, price drop and other important details.
This will certainly help you to retain some of your customers and increase revenue from your business.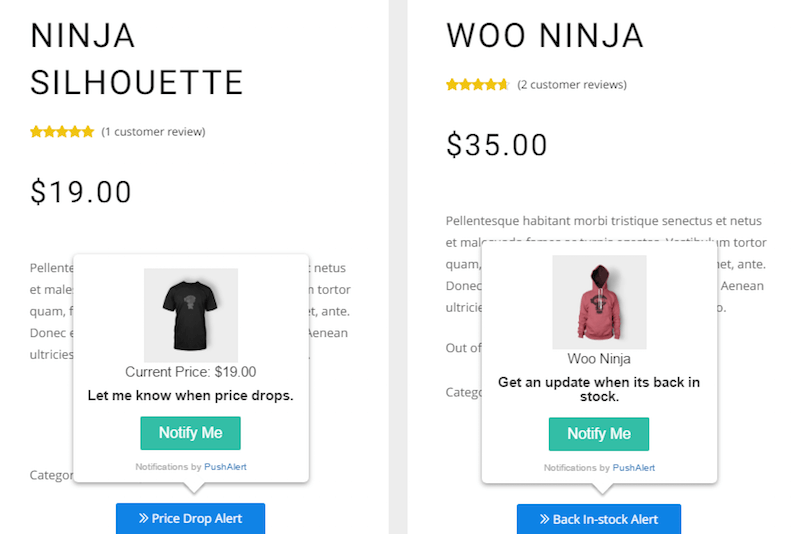 PushEngage
PushEngage is a dedicated online platform for personalized browser push notifications. It offers a WordPress plugin that you can install on your website to avail of all its functionalities.
However, you will need to create an account with PushEngage and use their API to integrate it into your WordPress website/blog.
Their free plan supports up to 2500 subscribers and there is no limit on how many notifications you want to send to them.
Features:
Automatically segment users based on landing page URL or URL they browsed.

Option to create a series of auto push notifications.

A single account will allow you to manage multiple sites and users.

Option to send automatic notifications based on user activity while on the website.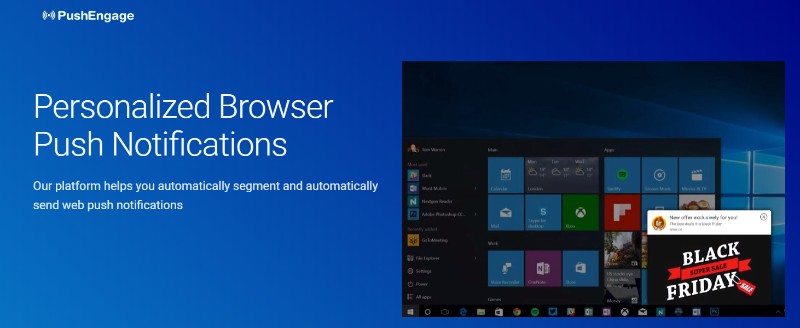 Web Push Notification by iZooto
The Web Push Notification WordPress plugin by iZooto helps you send highly personalized push notifications to your users from maximum conversions. It is also super easy to set up which helps beginners quickly start their marketing game.
However, much like PushEngage, this is also a dedicated platform for web notifications. Therefore, once installed and activated, you will have to log in with your iZooto account to complete the integration.
Features:
Compatible with Android but not iOS.

Compatible with all desktop OS including Windows, OS X, and Linux.

Covers all popular browsers including Chrome, Firefox, Safari, and UC browser.

Allows for creating rich notifications.

Option to create custom push notification subscribe box.

PushCrew
PushCrew is another platform for creating your push notification marketing strategy.
Their services are not dedicated to WordPress in particular, but you can install their WordPress plugin to avail those functionalities for your WordPress website.
And so, similar to the above platforms we mentioned, you will need to have PushCrew account to use the plugin.
Not their plans do come in a free as well as the paid version. The free version gives you access to all features with a simple restriction of a maximum of 500 subscribers.
Anything above that, and you will have to choose one of their paid subscription plans.
Features:
Compatible on all devices including desktops, tablets, and mobile phones.

Send Contextual messages to your users.

Triggered Campaigns.

Segmentation – partition your subscribers into meaning categories coupled with conditional statements.

Cart Recovery.
PushUp
PushUp Notification is limiting in the sense it is only compatible with Safari. This means you will be able to send push notification from your WordPress website to Mac users only.
But with that in mind, the plugin does offer some nifty functionalities which make it the marketing quite effective.
For example, there is a handy "publish" button which enables you to choose whether or not you want this particular blog/news update to be sent as a web notification.
Besides this, let's say your website particularly targets Apple device owners, then it is an excellent plugin for your needs.
Features:
In-depth analytics allows you to monitor user engagement.

Option to select if you want to send a notification or not.

Scalable plans which start out in a free tier.

Intuitive backend interface for controlling through the WordPress dashboard.

100% white-labeled.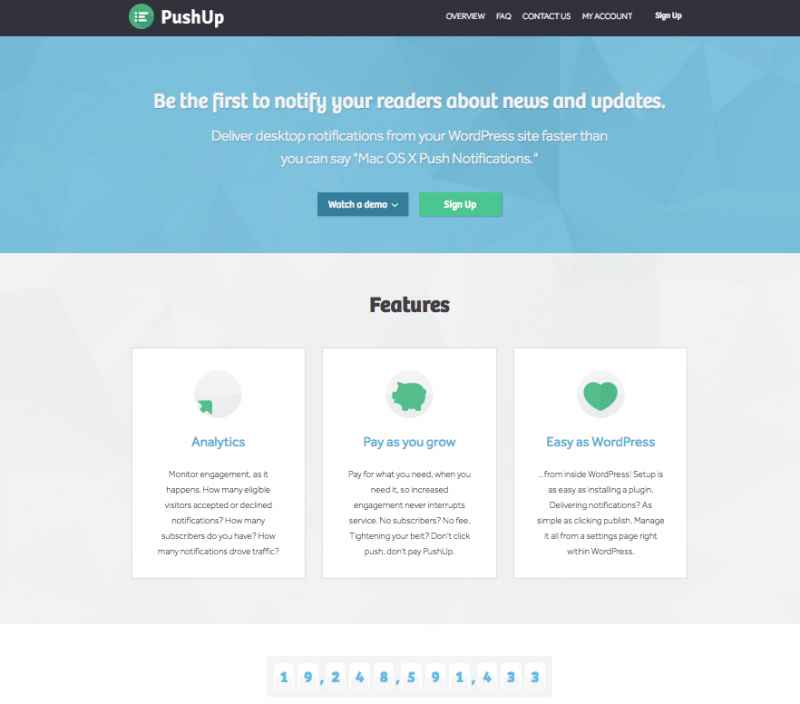 Push Notification by Delite Studio
Push Notifications by Delite Studio comes in a free as well as the paid version, with the latter offering unlimited notification as well as cross-browser support.
If your users base comes from varying browsers and OS, then this is the plugin to choose for your marketing.
Now, no matter if you go for the free version or the paid one, you will get access to a variety of advanced features.
This includes stuff like a built-in hub in your WordPress dashboard from where you can manage all the notifications you send out.
You can even create beautiful and unique apps without needing to create your server-side backend.
Features:
It doesn't use any third-party server. No need to pay for delivery.

Instant notification to users.

Powerful API integrations like REST API, JSON, and others.

Users can pick what type of notification they wish to receive.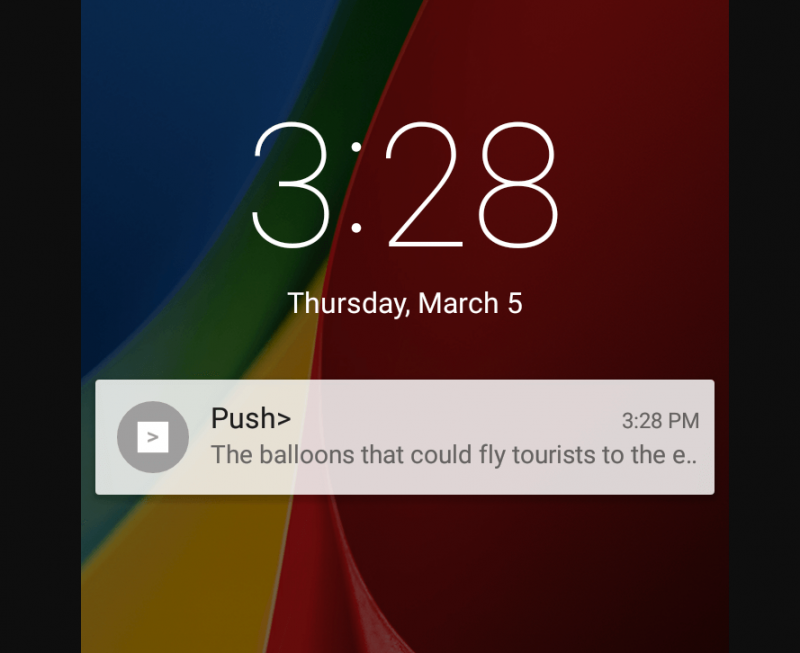 Push Monkey
Push Monkey WordPress plugin is for sending push notifications to your subscribers informing them about new content or an abandoned cart. This makes it an excellent plugin for not only blogs but also for e-commerce sites as well.
The plugin works with all devices and all major browsers, so compatibility will not be an issue. It is filled with plenty of options which lets you target the notifications properly so you can increase engagement and maximize conversions.
Features:
Control and customize what type of notifications you want to send out.

Segmentation and geolocation for the push notifications.

Automate push notifications such that it triggers as soon as you publish a new post.

Get detailed insight and statistics on user engagement.

WooCommerce integration.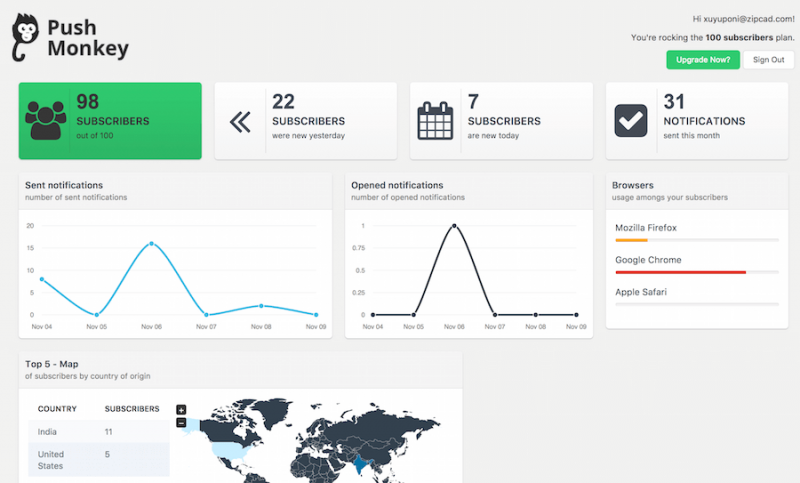 In Conclusion:
So these were our picks for the top push notification plugins for WordPress websites. Do let us know if you found the read to be helpful, do let us know which plugin appealed to you the most.
Also, if you have used or currently are using any of the above-mentioned plugins, then don't forget to write about your experience in the comments section.
Your contribution will be highly appreciated, and it might help your fellow readers with their personal decision as well.