The privacy policy page is one of the most important and must-have pages for every website. It is the second most important page after the about us page.
In fact, it is probably the most important page because it is ok not to have the about us page (recommended to have one as it will give details about your business to your potential customers and audience). However, it is not mandatory to have a privacy policy page.
After the GDPR policy, the privacy page has become even more important. It is mandatory to inform your audience about the privacy rules of your site, what are the data that you are collecting from your site, how you are going to use that data etc.
If you are a newbie user and have no clue about the GDPR update, read more about DGPR on Wikipedia. We have published an article about the top GRPR compliance WordPress plugins to help you make your site GDPR compliant quickly.
Along with the privacy policy page on your site, it is important to have a cookie policy. You need to show the cookie policy settings on the site so that users can agree to the policy before they use your site.
After settings up your site, you need to create the privacy policy site. If your site doesn't have strong and transparent privacy your site will not be approved for many important platforms such as Google AdSense.
While it can be a little confusing for newbie users to create a quality privacy policy, the privacy policy generators mentioned in this article will handhold you to create the perfect page for you.
01

. Free Privacy Policy
As the name suggests, this is a site that provides you with the option to generate the privacy policy for your site for free.
This is a newbie-friendly site, you just have to answer a few questions related to your business and the system will create a privacy policy for your site.
The Free Privacy Policy generator is updated with all the important regulations from around the world, like the GDPR to make your site safe from every angle.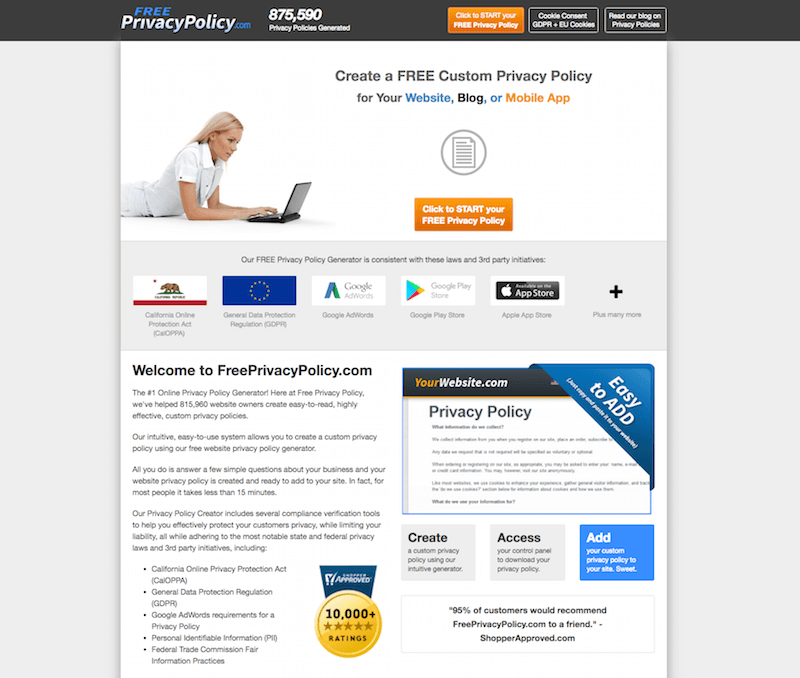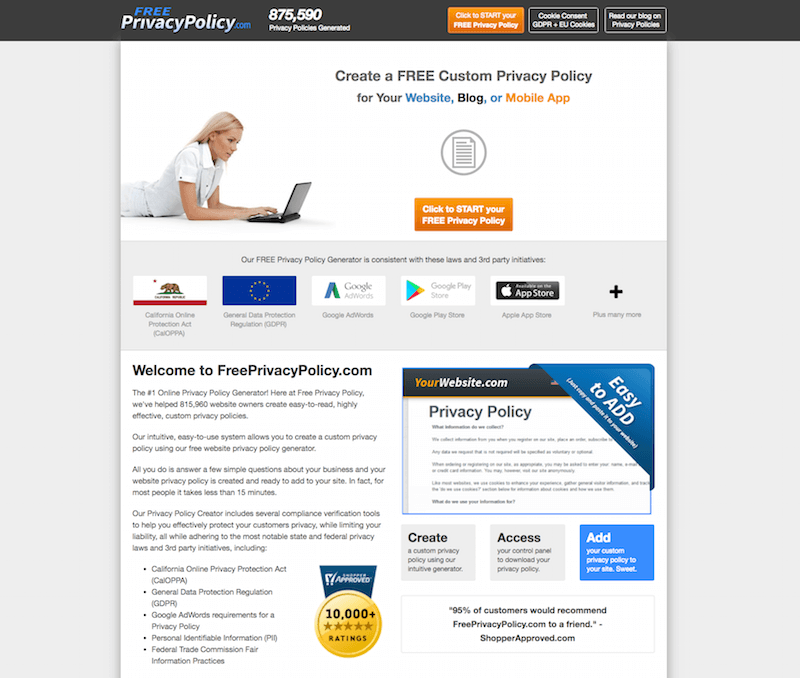 02

. Privacy Policies
One of the best sites to create the privacy policy of your site, privacypolicy.com is a popular choice to create a comprehensive page.
The site offers you a very simple step-by-step process to create your privacy policy page. You just have to keep selecting from the option it gives you depending on your site type and your page will be ready in a couple of minutes.
Select your business type, you can use this tool to create the page for your website or your app. If you are creating the page for your website, select the website from the list and move to the next option.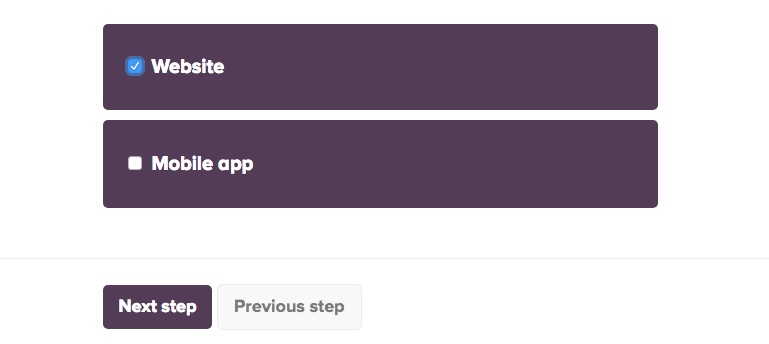 In the next step, you have the option to select your business type. Select the option accordingly and move to the next step.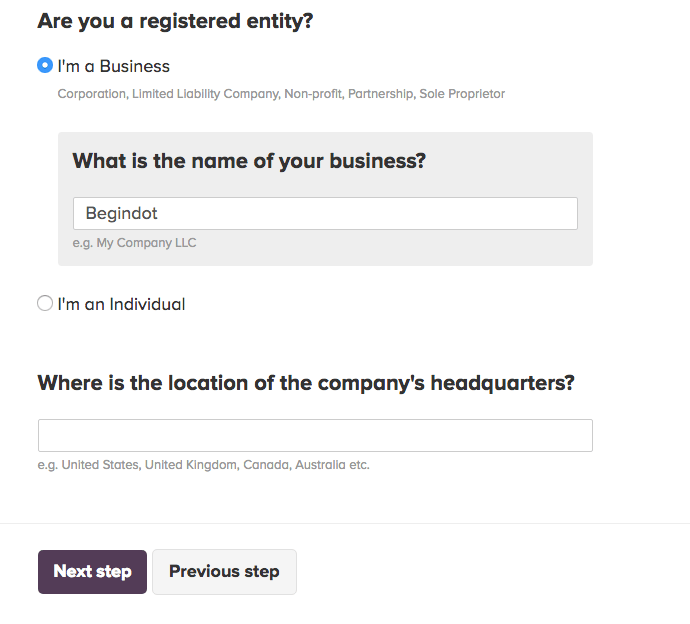 Similarly, there are a number of steps that you will have to answer, for example, the location of your business, the URL of your website, the email subscription tool and email marketing service you are using etc.
03

. TermsFeed
Another very useful site while you are creating your website. Along with the privacy policy page, you have the option to create the terms & conditions page, cookie policy page, disclaimer etc.
the tool is updated to follow all the important regulations like the California Online Privacy Protection Act, EU General Data Protection Regulation and others.
The tool is simple and quick and it will do the job perfectly for your app or your website.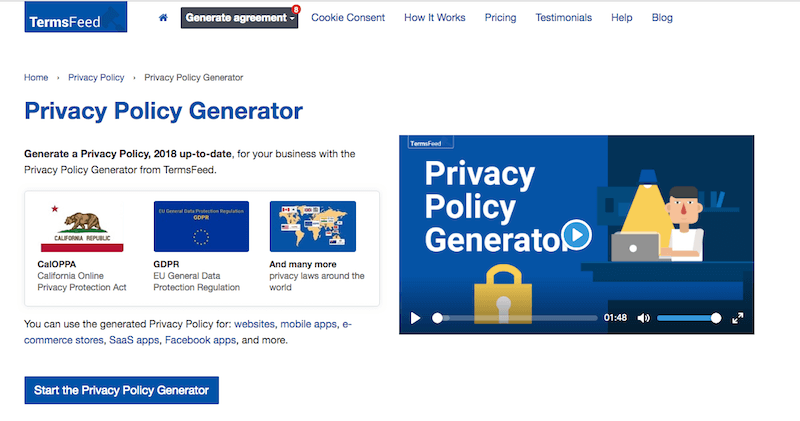 04

. Shopify
Shopify offers a privacy policy generator that you can use to create your privacy policy page. The tools have been updated to include the requirements of GDPR compliance.
If you are managing a Shopify store, this is probably the best tool to create privacy for your store.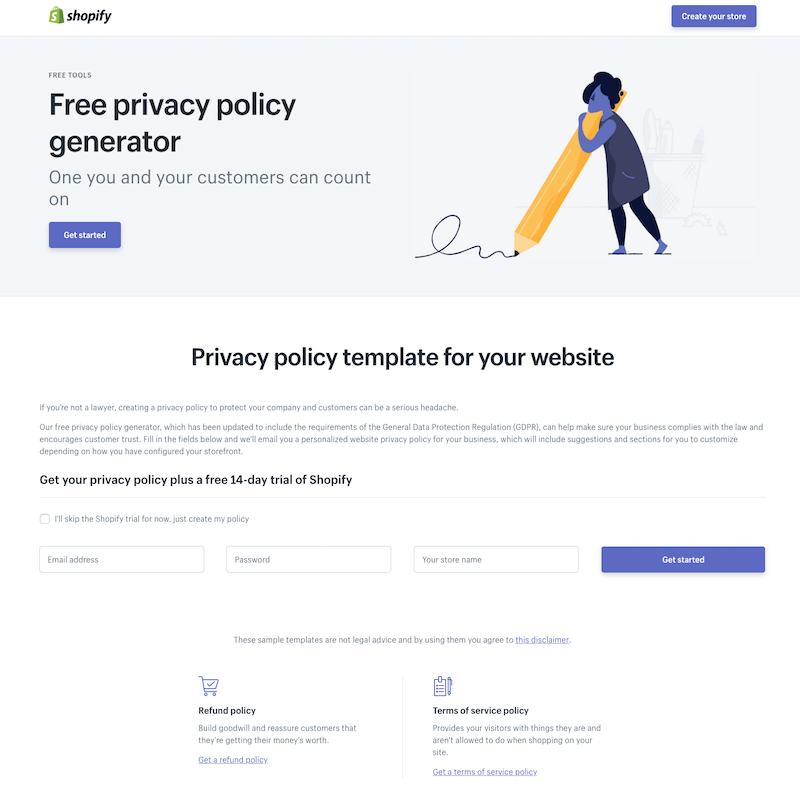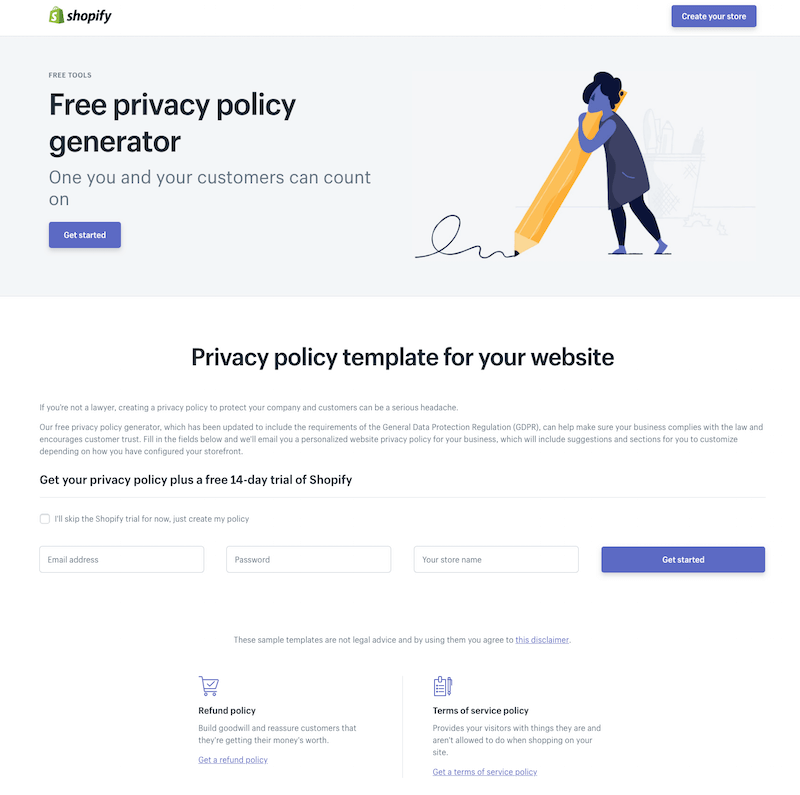 05

. Auto Terms of Service and Privacy Policy Plugin
As the name suggests, this is is a WordPress plugin to generate the terms and the privacy policy page for your site.
This plugin is being used by over 100k active users and it will make the process really simple and easier for you.
If you are looking for a plugin to update the GDPR regulations for your site, you can use this plugin as it does it perfectly.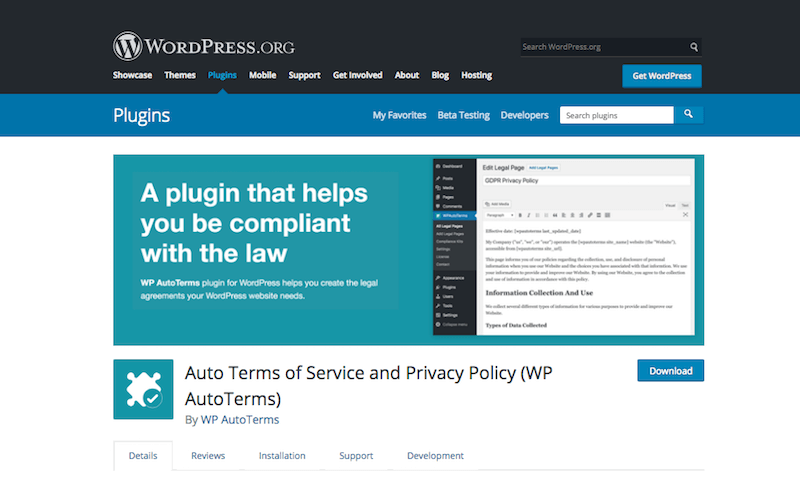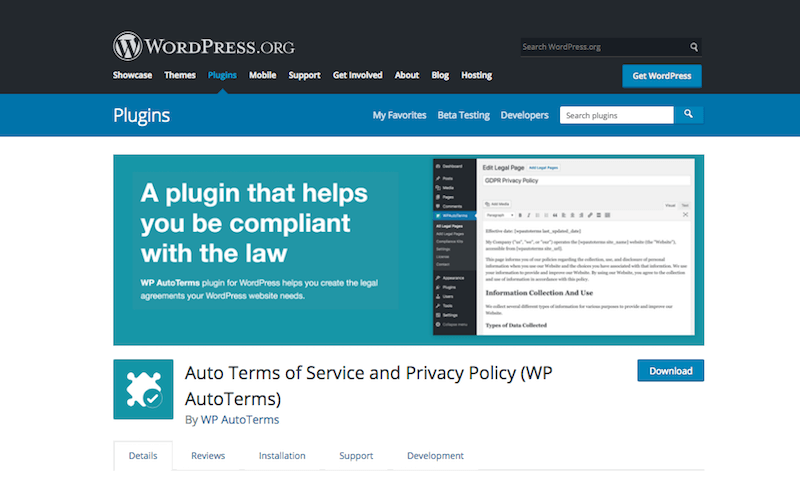 06

. Iubenda
Another very useful site is to generate the privacy policy and the cookie policy for any site. This site will help you to create a comprehensive and safe policy page that will cover all the important aspects such as Google Analytics, Facebook conversion tracking, mailing list etc.
This site helps you to generate legal pages in eight different languages to make things easier for you.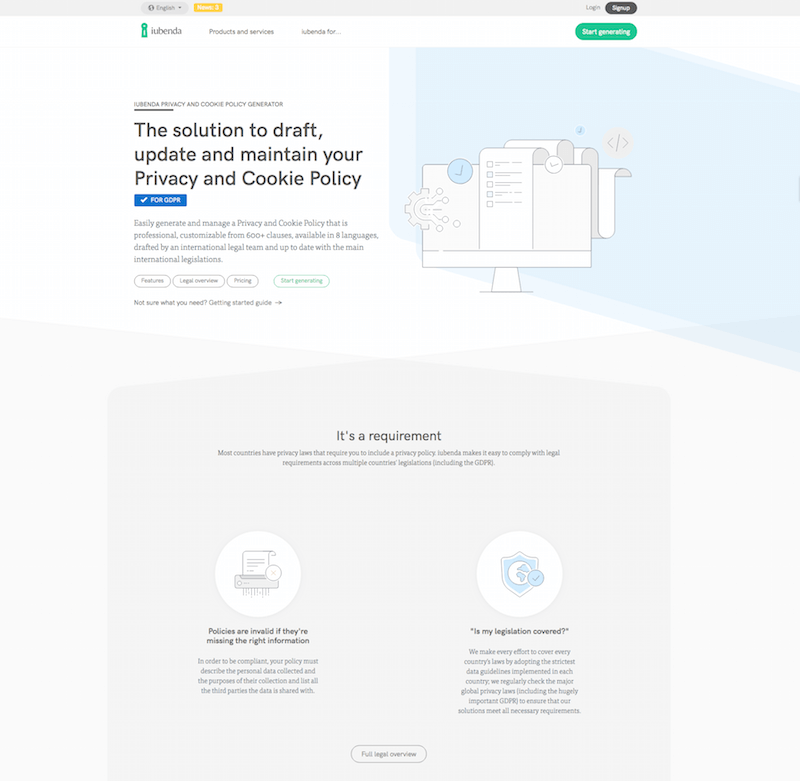 07

. Get Terms Privacy Policy Generator
A very handy site to generate the privacy policy and the terms page for your site. The site is simple and easy to use, you just have to fill in the details of your site and get started.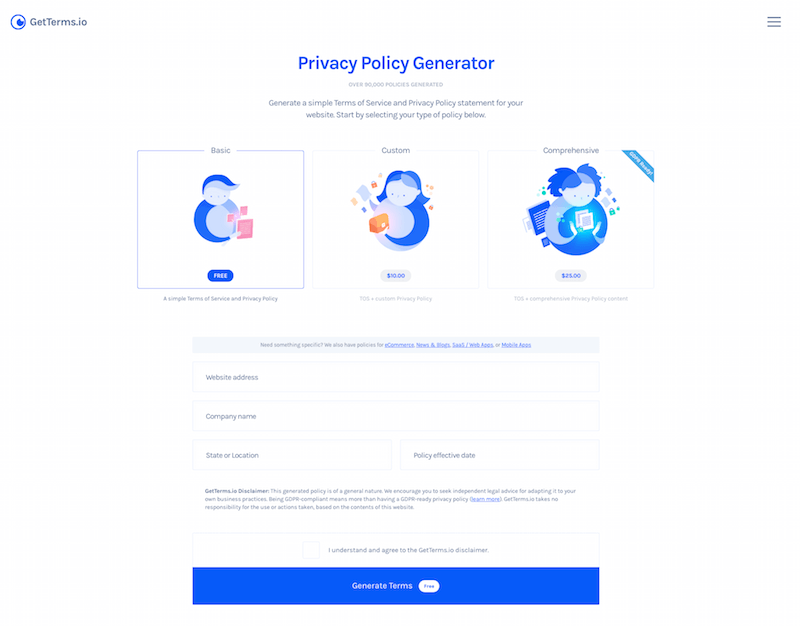 08

. App Privacy Policy Generator
As the name suggests, this is a privacy policy generator for mobile phone apps. This is a very handy tool to generate privacy policy and terms and conditions for your app which is very important.
While you might not have the legal knowledge to create these important pages, this simple page will help you to generate it quickly just by adding a few simple details of your business.
You have to add details like the name of the app, the contact details, app type etc.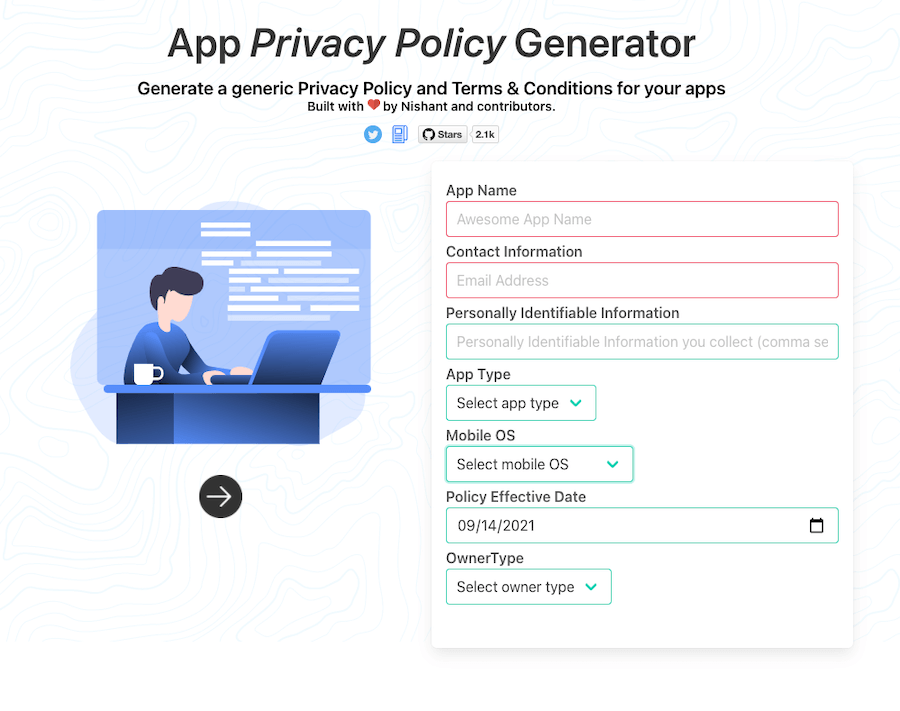 Final Word
These are some of the best privacy policy generator tools that you can use to create the most important legal pages for your site.
It is extremely important to update your privacy page and make it compliant with the regulations like GDPR, so if you have not done it already; make sure to use any of these sites to create or update your pages.