Pinterest is one of the top traffic-driving platforms for many bloggers and online businesses. If you are not making the best use of Pinterest, you are probably losing a huge potential customer base.
Pinterest is not just a social site but a search engine in itself, most users browse Pinterest to find new things and find inspiration, articles, and ideas.
We have created a detailed article on how to optimize your post for Pinterest SEO and how you can drive a lot of traffic back to your site.
I'm sure this article will help you to understand how to use Pinterest to the best of its potential.
Now, when we talk about the ways to drive traffic from Pinterest. You will most certainly have to make it easy for your users to share your content on Pinterest.
As we all know, Pinterest is an image-sharing platform, so you will have to make sure that your images are optimized for Pinterest sharing.
Like any other platform, there are certain parameters that influence the effectiveness of Pinterest marketing, here is a nice post about driving traffic from Pinterest.
You will need Pinterest post-scheduling tools that will help you to drive traffic from Pinterest while you are sleeping.
Before you proceed with this article about the best Pinterest WordPress plugins, don't forget to check our bigger collection of best social media WordPress plugins.
Let's have a look at this collection of Pinterest Plugins
Social Snap
Probably the most comprehensive social media plugin for the WordPress platform at the moment, Social Snap offers you everything that you will need as far as social features are concerned.
Not just Pinterest, Social Snap gives you the option to optimize your content for 30 different social media sites.
You have the option to place the social sharing button anywhere you wish to. And the plugin comes with an amazing design customization option to make sure that you have the perfect design to make it look modern and get the maximum result.
Along with social sharing, this plugin gives you the option to show the follow buttons with your total followers count for each platform.
Also, if you are using any other plugin at the moment and displaying the share count, the Social Snap plugin gives you the option to import the social sharing counts so that you don't miss them while migrating to this plugin.
Social Snap is currently being used by many authority blogs and it is one of the highly recommended plugins for WordPress users.
Other than the normal social sharing options, this plugin offers you features like social login, click to tweet so that you are able to engage your users.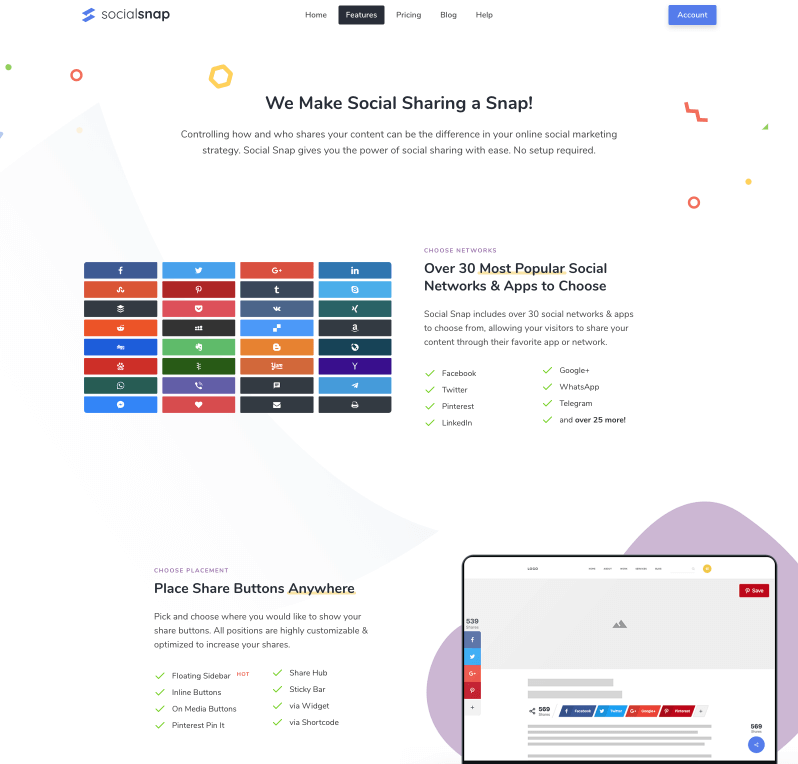 Social Warfare
Social Warfare is a top-quality social sharing plugin for WordPress that is used by many top marketers and bloggers.
This plugin offers you all the features and options that you expect in a top-quality social plugin. From design to placement, this plugin offers you multiple options.
We have reviewed Social Warfare in detail for you to understand the full potential of this amazing plugin.
As we are talking about Pinterest promotion, this plugin can do wonder for you if you are using it to best of its potential.
Social Warfare offers you an option to upload a Pinterest-specific image and description so that your post is ready for Pinterest promotion.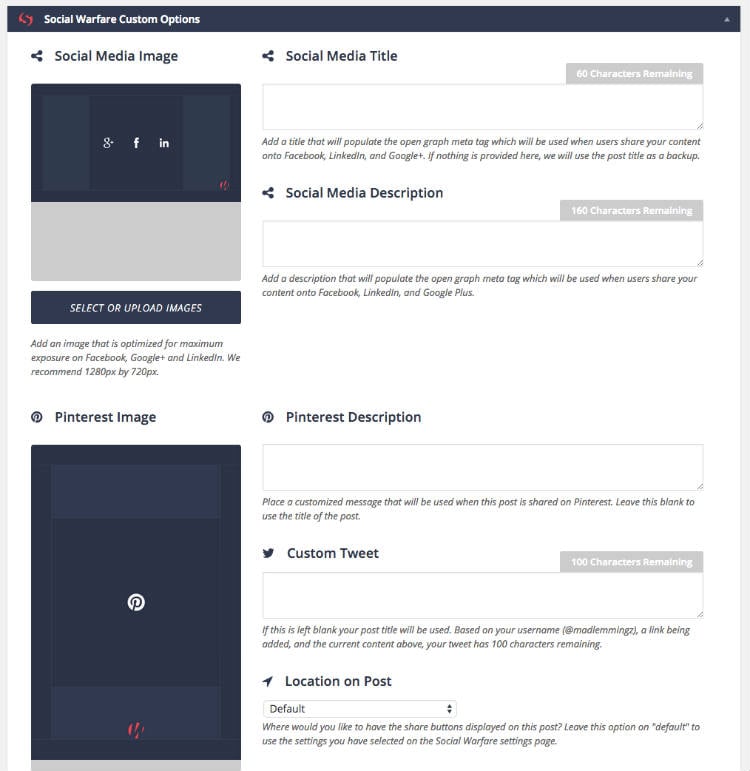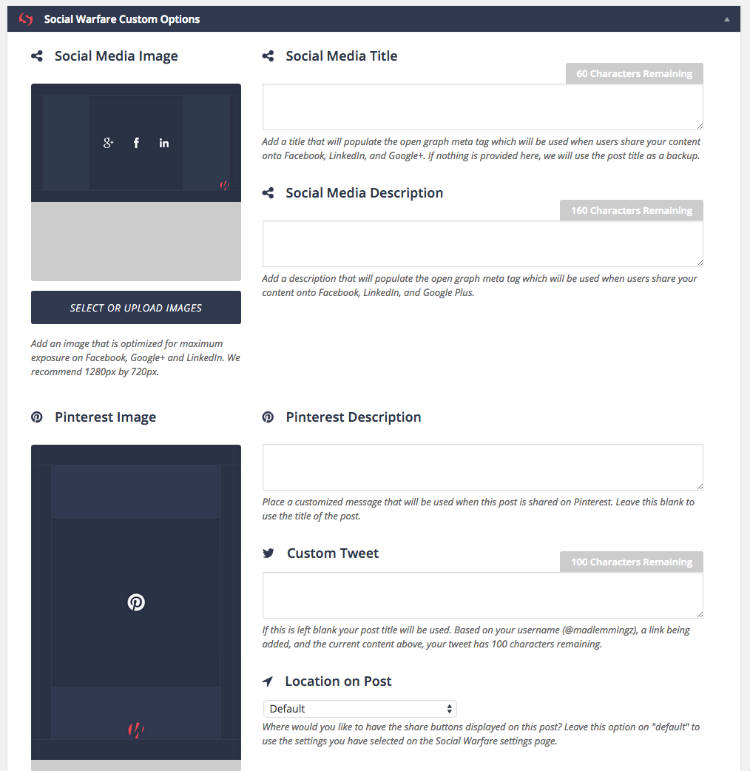 It also gives you an option to add the share on the Pinterest button that will show when any user hovers on your images to make it easier for them.
Social Warfare offers you a very easy to use admin panel where you can manage the settings for your site.
There are certain features like the option to recover social count when there is a change in your URL structure, or you shift your site from HTTP to HTTPs makes this plugin unique and extremely effective.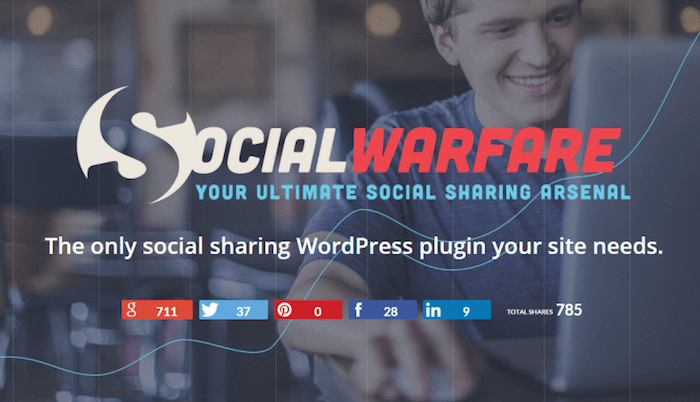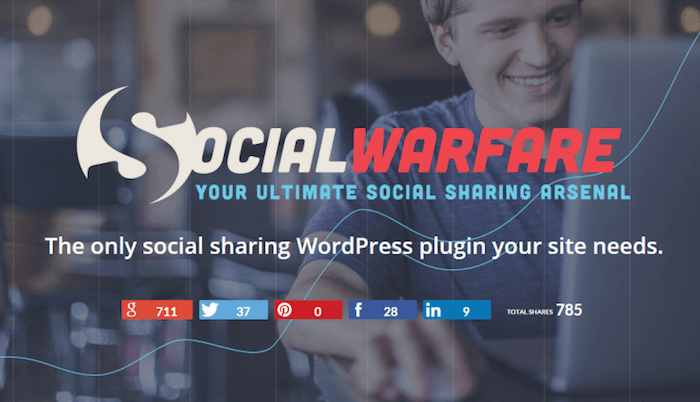 Monarch
Monarch is a premium product from the popular ElegantThemes store. We know Elegant Themes for products like the multipurpose Divi theme, and the popular Bloom plugin; Monarch is an equally important product from the store.
Along with all the other important social sharing features, Monarch plugin gives you an option to optimize your posts for Pinterest sharing. It gives you an option to show the Pin It button on your images as the users hover on any of your images.
It makes the entire process quick and simple. You just have to select the option on the Monarch settings page and done.
Monarch plugin is a powerful, feature-rich and easy to use. You get a complete admin panel for this plugin where you can manage all the settings for your site.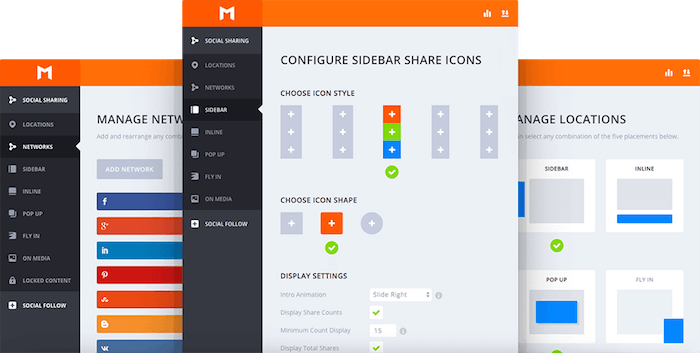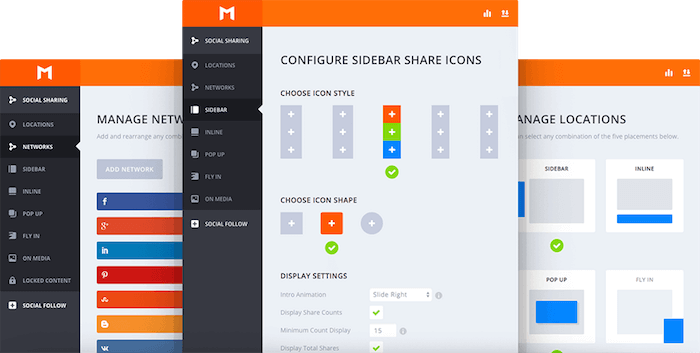 Monarch plugin offers you different placement options to choose from. You can optimize your site for maximum social sharing by setting up the placement of the buttons perfectly.
You have amazing design options for the buttons to choose from. And the best part is that you get access to Divi Theme, Bloom plugin, and all other Elegantthemes products when you buy this plugin as they offer membership packages.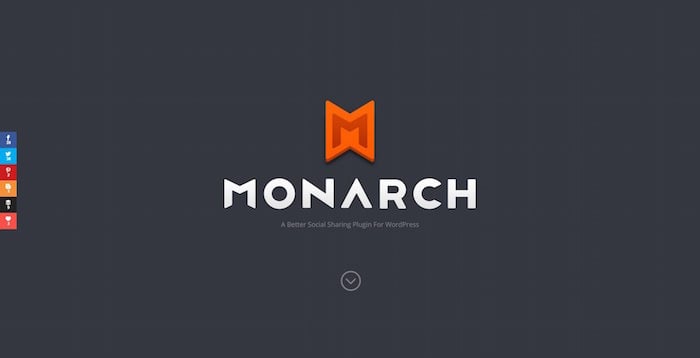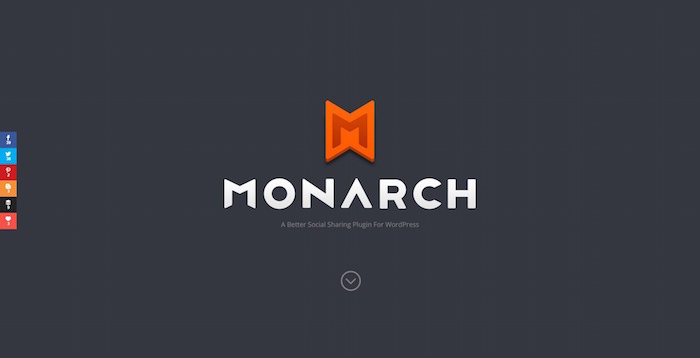 Another comprehensive social sharing WordPress plugins, Easy Social Share Buttons is a huge plugin with so many features.
The optimized Pinterest image sharing option is just one of the options from a long list.
To start with, Easy Social Share Buttons plugin offers you a complete admin panel where you can manage all the settings for your site.
If you are just starting to use this plugin, it may need some time for you to understand the overall setting options for this plugin.
It comes with a huge collection of button designs to choose from and many placement options to perfectly optimize your site for maximum social sharing.
Social counter, sticky social bar, different placement, amazing button designs, social follow widget, complete social activity analytics and a lot more.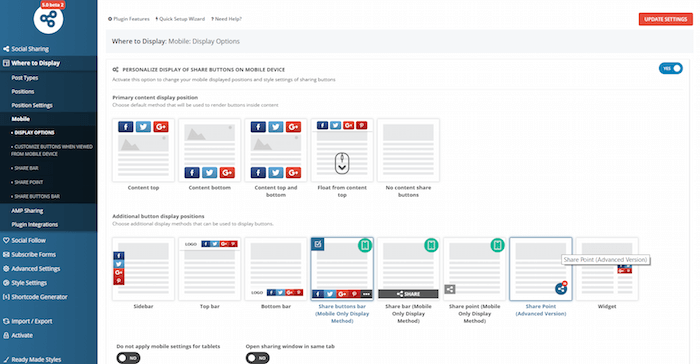 Image Sharer is a great plugin by Sumo who is known for creating conversion-focused WordPress products.
This plugin is no different, it will increase the number of your social sharing to a huge extent. If your site is focused around images, you must use a quality plugin that will make it easier for your users to share your content.
This plugin comes in free as well as a pro version. If you need more flexibility in terms of look and features, I will recommend you to go for the pro version.
You can control where your images to be shared, you can select the social platforms like Twitter, Facebook, Pinterest etc.
You also have the control on which devices you wish to apply the image sharing options.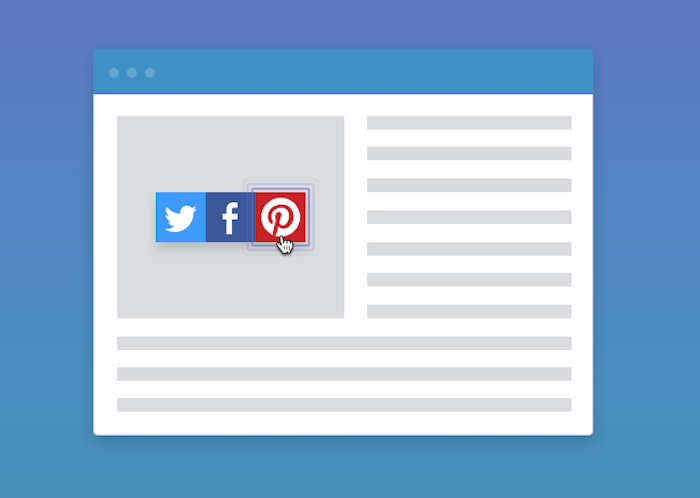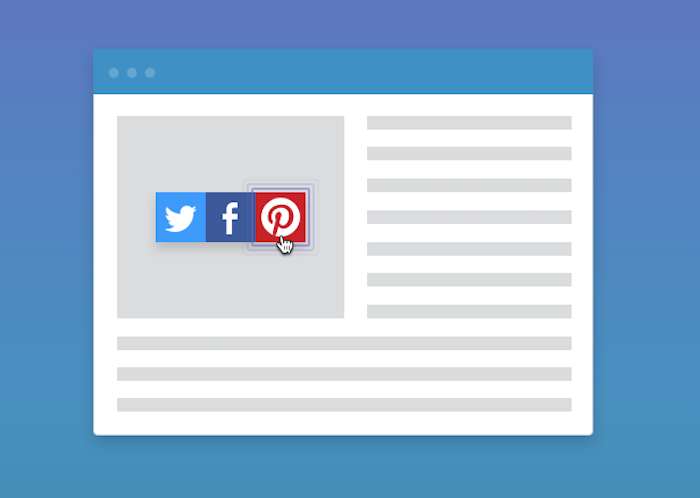 Pinterest to WordPress plugin
There are many bloggers whose main traffic source is Pinterest, and this plugin will be extremely useful for all those bloggers.
With this plugin, you can make a perfect combination of Pinterest and your site.
You can display any board from your site or any Pin form your site as WordPress gallery on your site. And the best part is that you can completely automate the process.
You can also customize the look and feel of the image with unlimited color options and a huge collection of background patterns.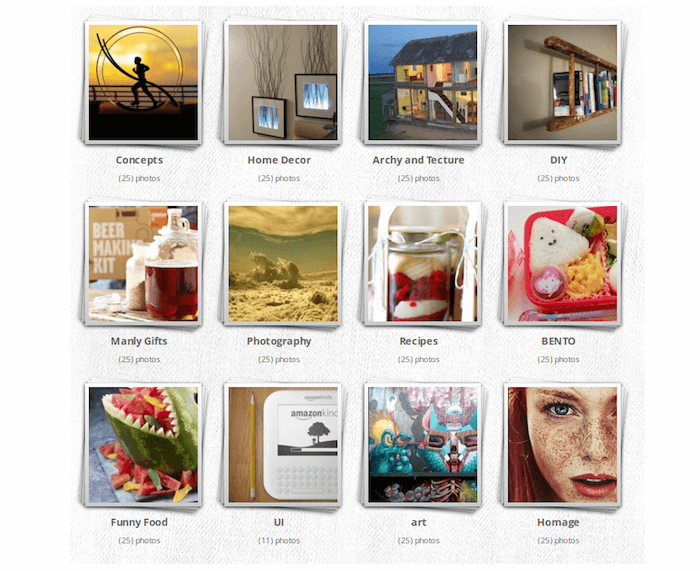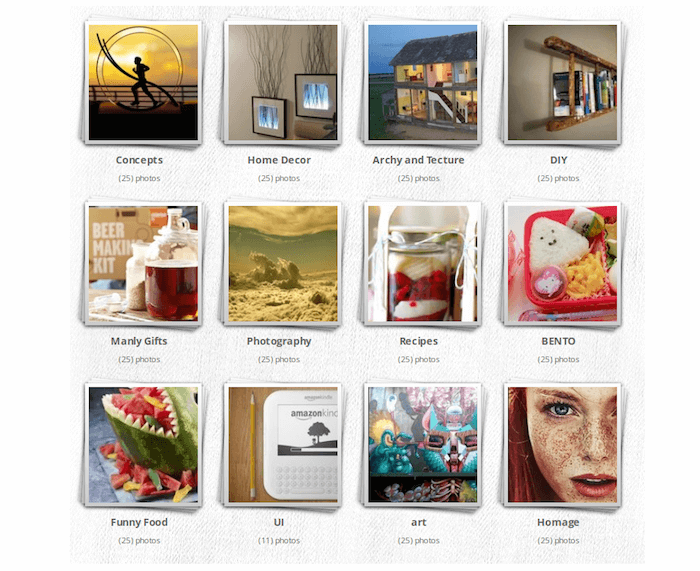 Pinterest "Pin It" Button
Another simple, quick and easy to use Pinterest WordPress plugin that will help you to add Pin It button to your posts.
The plugin comes with some different settings options to choose from. You can allow your users to select which image to Pin for your post.
You have the option to hide the Pin It option for certain posts as per your requirement. You can add Pin It button anywhere on your site with a shortcode.
This free plugin has over 20k active installations.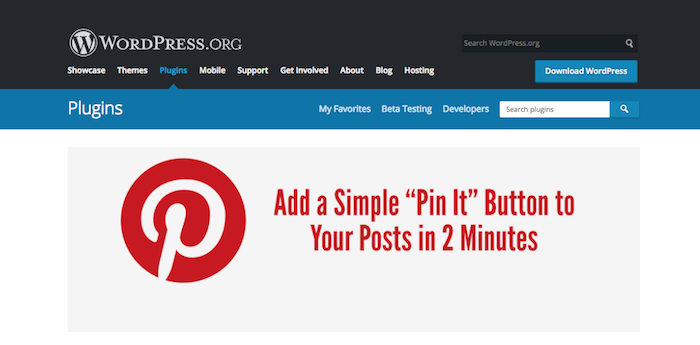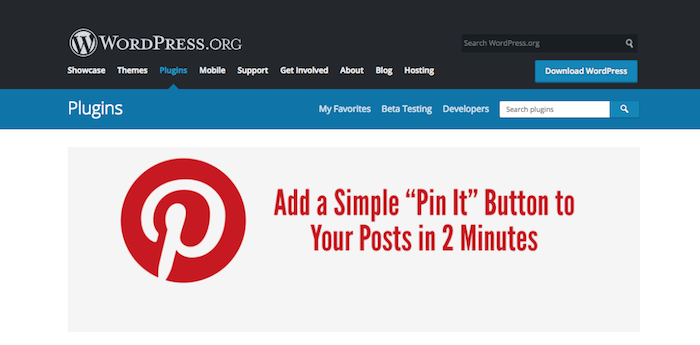 Pinterest Pinboard Widget
With this Pinterest plugin, you can add your favorite Pins from your Pinboards on your sidebar. You can display the widget on your sidebar
To keep the performance up, the Pins are cached every 15 min.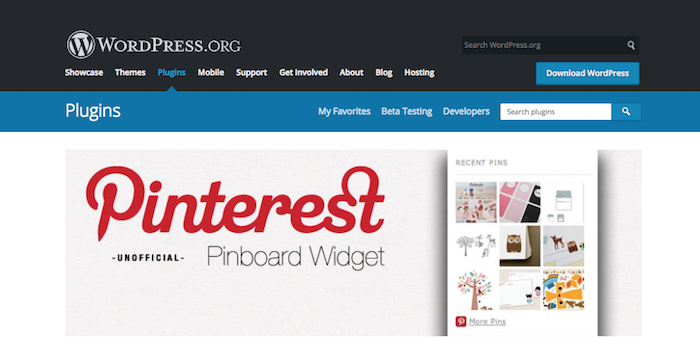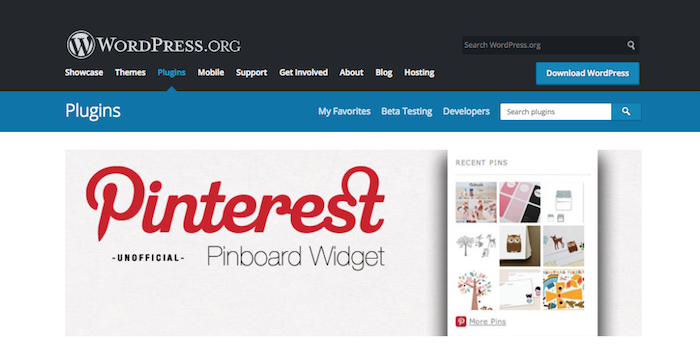 Pretty Pinterest Pins
With this plugin, you can showcase your Pins in the sidebar of your site. It offers a beautiful, clean layout to showcase your work in style.
You offer you certain important settings such as the option to pull Pins from any board or user. You have the option to show or hide image caption.
Also, it offers you the option to display follow me on the Pinterest button under your Pins.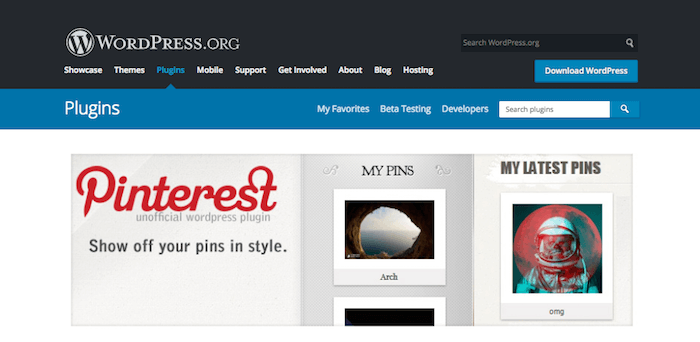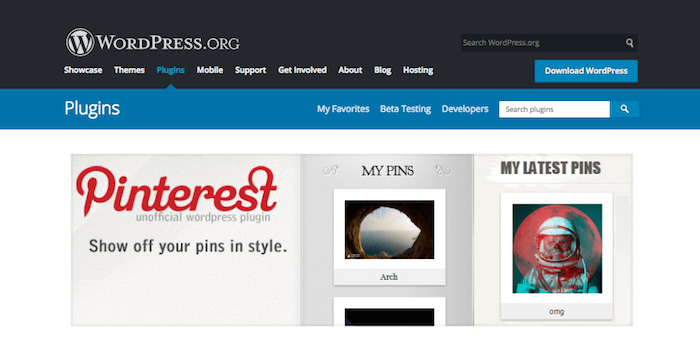 Final Word
The above-mentioned plugins are some of the best Pinterest WordPress plugins that will help you to make the best out of the popular platform.
Please note, some of the free plugins mentioned in the post are not updated recently, However, they still work perfectly, and you can use them on your site.
If you know any other quality plugin, don't hesitate to mention that using the comment form below.