This is a collection of the best PDf WordPress plugins. In case you are dealing with PDF regularly, these plugins will surely help you by making things easier.
The value of a blog deeply relies on its content. Now, you are allowed to post multiple types of content on your website.
For example, there is the option to post images files, video files, audio files, and traditional text file contents.
You can also add PDFs on your website as well if you think that to be necessary. However, you will need to install WordPress plugins so that PDFs can be viewed on your website.
Now for the scope of this read, we have put together a list of the best PDF viewer plugins for WordPress. There are in fact, a lot of plugins advertised to help you with this task but not all of them are good.
And many times, the best ones are outshined with mediocre plugins that just have had some good marketing. This read will help you to bypass such false marketing, and find all of the best plugins for the purpose.
Don't miss our article about how to upload PDF on your WordPress site.
So without further ado, here is the list of Best PDF Viewer WordPress Plugins
Top PDF WordPress Plugins
---
PDF viewer for WordPress
PDF viewer for WordPress is one of the top-selling highest-rated WordPress plugins for viewing PDF files. With it installed you can display all your PDF files in a nice reader that is fully customizable and has a responsive design.
Users will be able to print, zoom, share, download and do a lot more with their PDF files.
Other than this, the plugin has a feature-rich admin panel to control all its aspects. There is also no limit on the number of PDF files or their size.
You get the option to link to PDF files as well as embed PDF files inside any one of your pages. The plugin also provides easy integration with Google Analytics which is another welcomed option.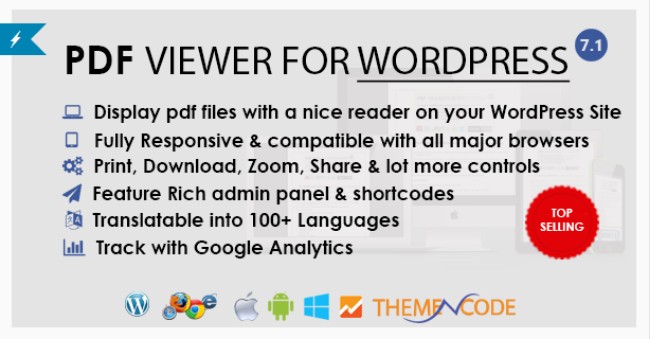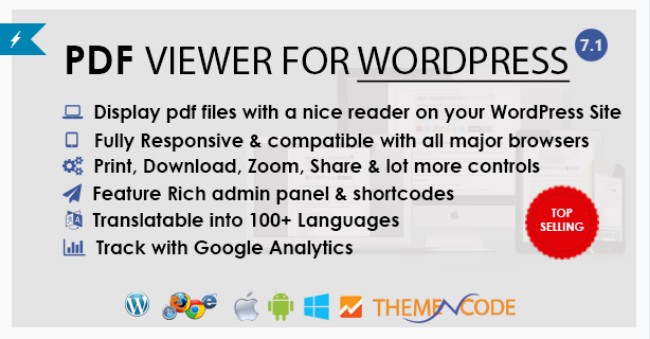 WordPress PDF Catalog
This is one of the most comprehensive PDF viewer plugins. This theme offers you over 35 different layouts, 5 category layouts, and tons of other design options.
With this plugin, you can tell your story in the most engaging way. You can insert a table of content so that it looks professional and user-friendly.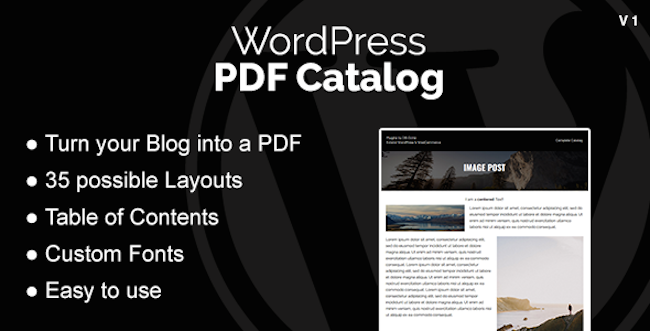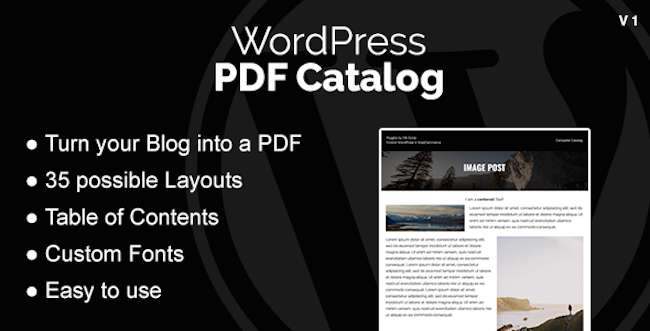 Real3D FlipBook WordPress Plugin
Real3D FlipBook WordPress Plugin integrates a flipbook-style PDF viewer on your website. Design-wise; it might be considered the best plugin on this list.
As far as visuals and aesthetics are concerned, you can rest assured that the plugin will deliver more than what you expected.
This is the ideal plugin to get if you want to showcase image-rich pamphlets with your clients and customers.
Notable features of the plugin would be its magnificent page-flipping technology which is the best we have seen resembling real life.
The user interface is also fully customizable, so you can make it the way you like. The plugin supports both PDFs and image files. As far as negatives are concerned, one might say, such high visuals are not necessary, and the price is on the expensive side.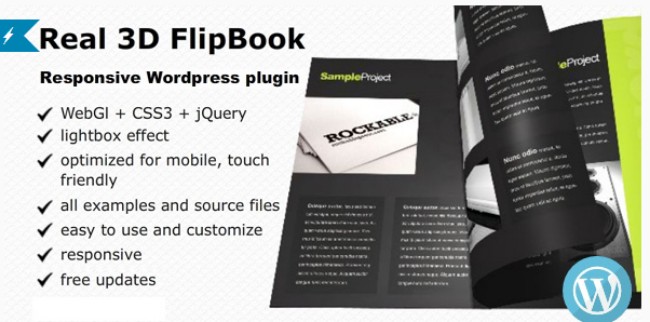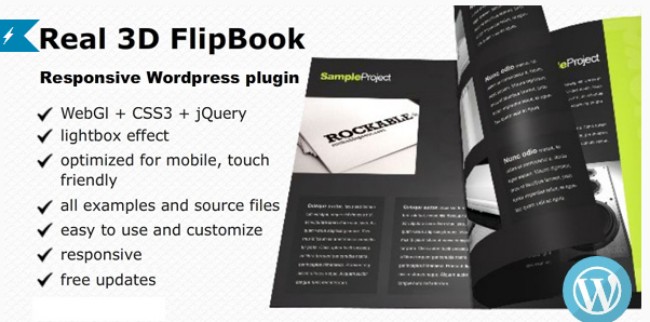 The previously discussed plugins were some of the premium options that you could choose to display PDFs on your website. Coming up next, we will be focusing on the best free-to-use PDF viewers.
You can get most of these from the WordPress repository.
WP Advanced PDF
WP Advanced PDF is a very simple free WordPress plugin that will enable your users to create a PDF version of your posts and pages.
If you are regularly writing tutorial-related content on your site, this plugin will be very useful for you.
You can also use this plugin to create the PDF version of any of the premium content of your site and offer it to the users who subscribe to your email list.
The plugin offers you a number of useful features to keep your brand image intact through all the PDFs created.
It gives you the option to add the logo to the PDF so that the other users who see the PDF version of the post also get the idea of your brand.
You also have the option to set a custom font for the PDFs so that it looks good and makes it reader-friendly.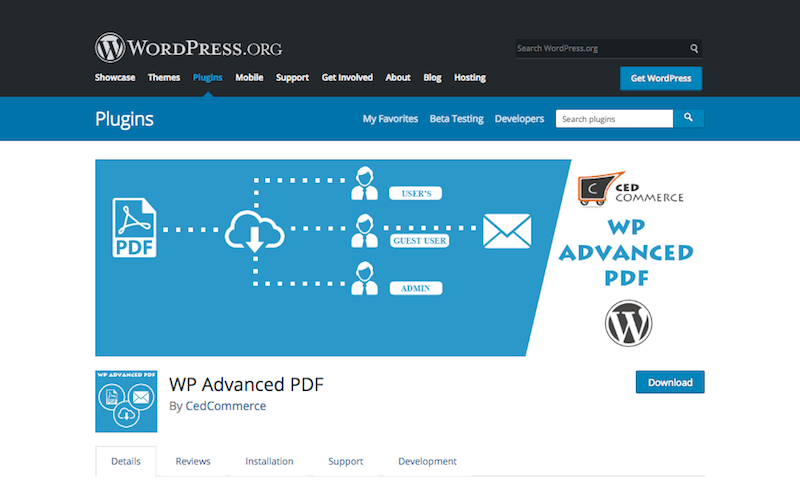 PDF Viewer
PDF Viewer WordPress plugin is a pretty old player in this category and has not been updated for over two years now. However, instead of taking it as a negative, you can consider that perfection can't be upgraded.
This is a robust plugin with a bunch of useful features that are available for free. But you should take note that since the developers have stopped maintaining it, there might be some security threats.
Now if you are willing to take the risk, let's take a look at some of its awesome features. A dedicated functionality lets you search for keywords to find specific spots in the document.
There are inbuilt options to help you manage the dimensions of the PDF viewer. Shortcodes are also supported.

Simple PDF Viewer
Simple PDF Viewer utilizes the popular Google Document Viewer to help view PDF documents on your website. The plugin allows you to insert PDF files into your posts or pages from your WordPress media library.
There is a pro version to the plugin that brings in a lot more features, however with the free one; you get access to pretty much all the basic options and functions that are available with Google Document Viewer.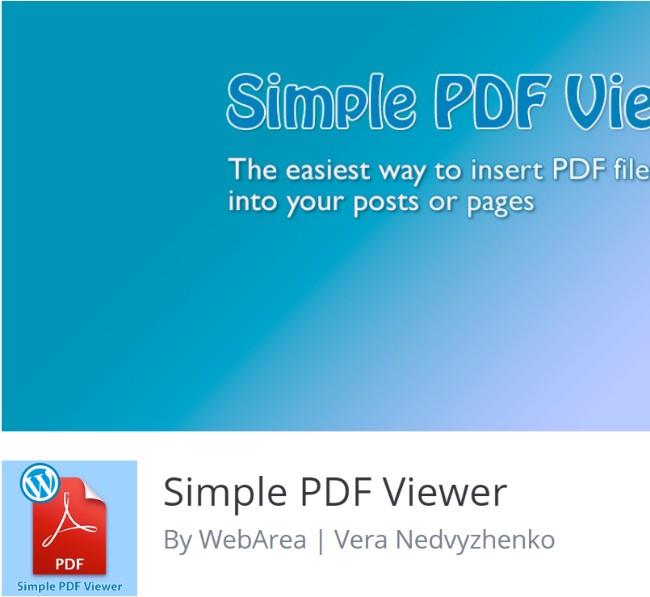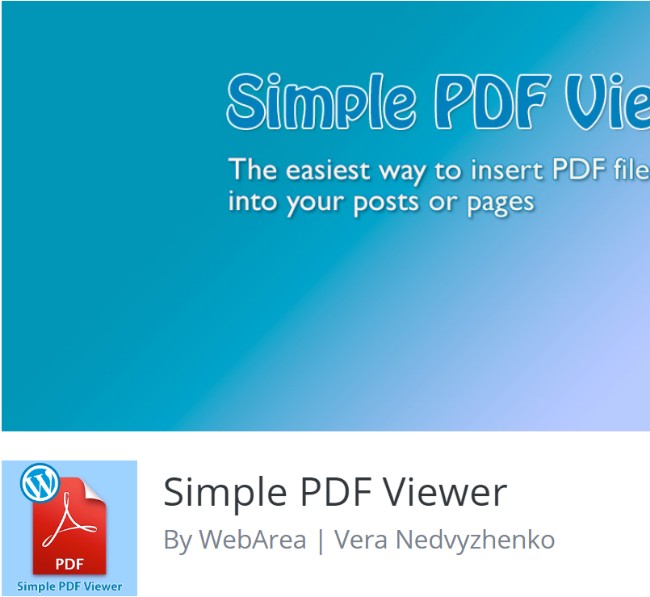 Gravity PDF
Gravity PDF is a high-quality pdf file management WordPress plugin. If you use this plugin, there is no need for a third-party API to manage your files.
Your PDF files will be completely safe and it will be sure that there is no data security issue.
The plugin will help you to personalize the PDF that is generated with your logo, and custom font to make sure that it looks like an integral part of your brand.
To make the overall process smooth, it can automatically email the PDF files when a user completes a form, so if you are giving away any knowledgebase files to your users, this is a great plugin to have.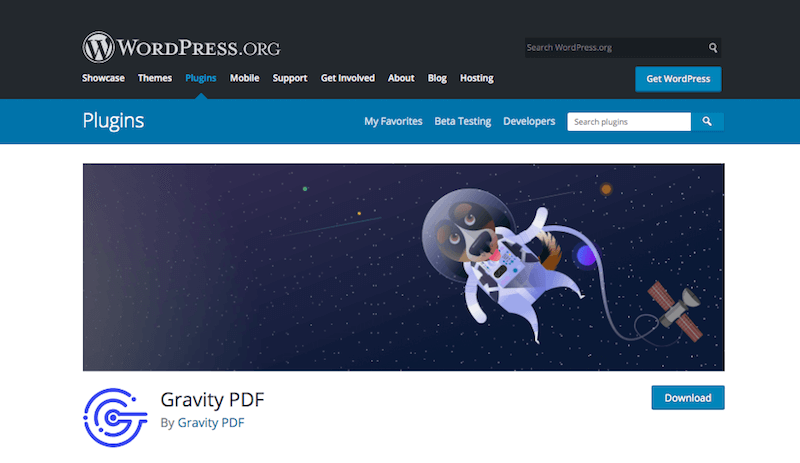 Flowpaper
Flowpaper allows you to embed your PDF files onto your website as flipbooks for your users to read through. The plugin is ideal for you if you tend to use catalog, magazine, or brochure PDFs on your website.
Do note; there is a limit on the size of the PDFs files that can be uploaded to the Flowpaper cloud, the upper limit is 15 MB.
You get options to embed PDFs on your website through the use of URLs or simply by uploading it to your WordPress.
There are plenty of customization options to change the look of the flipbook; there is also a light and dark theme for you to choose from.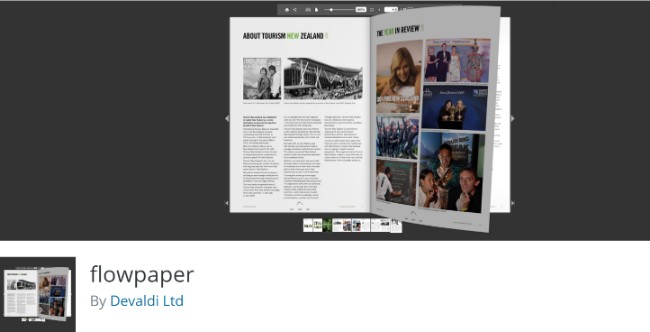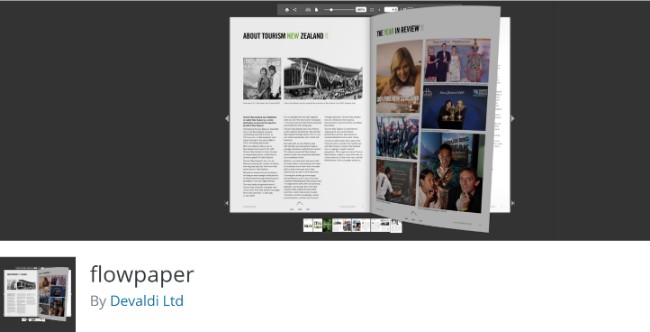 WP Booklet
WP Booklet is the plugin you go for if you want to showcase your PDFs in a magazine-style display on your WordPress website.
In some cases, the plugin can be considered as a downsized version of the premium Real3D FlipBook WordPress Plugin we mentioned earlier.
It makes use of flip animations and page popups to create a sense of reading a pamphlet or magazine. Besides PDF files, the plugin also does the same for all your image files as well.
For design purposes, there are pre-built templates for beginners and a bunch of customization options for the more experienced individuals. To help users navigate through the documents, the plugin makes use of thumbnails.
There is also a bulk upload option for PDFs and images.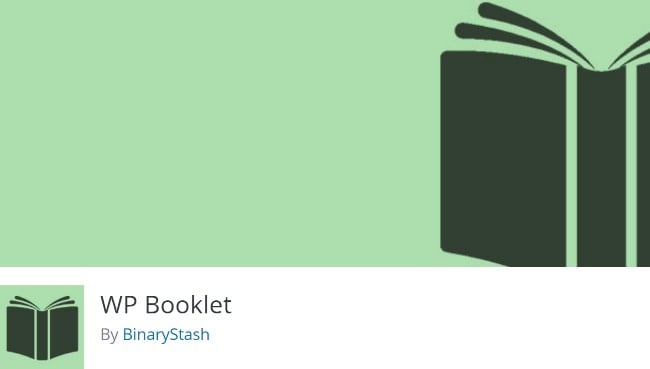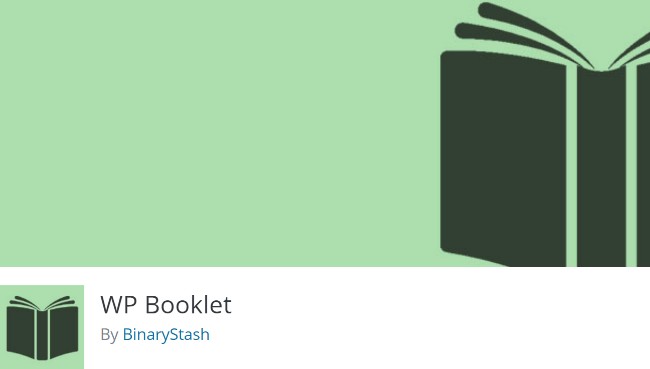 Vanilla PDF embed
Vanilla PDF Embed WordPress plugin is mainly used to help you embed PDF document files on your website. It is very easy to use.
All you need to do is install the plugin and upload the PDF document files to your WordPress media library.
You will get an attachment URL for your PDF file which you simply have to paste in a separate link into your WordPress Visual Editor and you are done.
The PDF will get embedded onto that page or post seamlessly, and you will not have to deal with any more technicalities. You also get access to some options that let you control some parameters of the PDF embeds like width, height, title, and so on.


PDF Embedder
PDF Embedder WordPress plugin offers one of the cleanest ways to present PDF files on your website.
The plugin comes with most of the necessary features you will need to display PDF files on your website including a quick upload button, a PDF embed button, and regular navigation functions.
The embedded PDFs get snapped onto the screen seamlessly, but also gives you the option to set it manually. It uses JavaScript codes to display PDF files. Hence the visual experience is also very smooth.
All this is available with the free version of the plugin, and if you get the premium version, then many more features will be added to your toolset.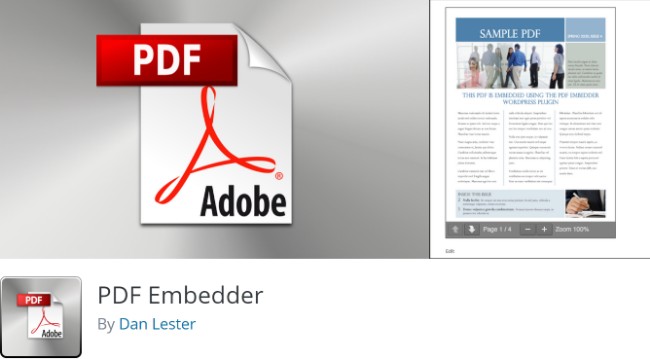 Google Doc Embedder
Google Doc Embedder WordPress plugin isn't exclusively designed to embed PDF files only. It supports a wide range of file types that you can seamlessly embed to your website through WordPress, post editor.
The plugin can also help you to translate the document files you embed on your website so that you can cater your content to different people. The plugin also supports shortcodes.
Do note that all your embedded PDFs or any other document are not saved on your own server, but use the Google cloud platform.
Also, there is no upload functionality to help you use local documents, and you are only stuck to using URL-based embedding.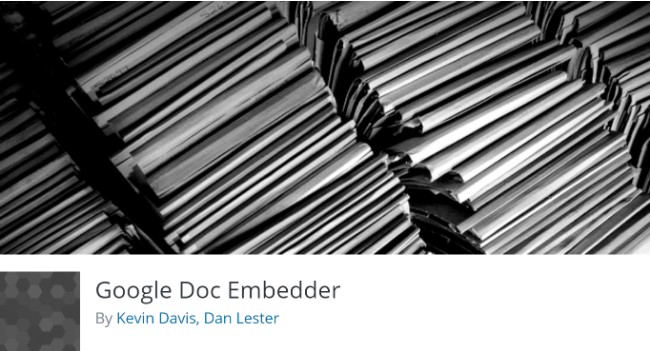 Wonder PDF Embed
Another useful PDF viewer WordPress plugin that you can use to embed PDF files on your site. This plugin can display PDF files by using Mozilla's PDF.js
You have the option to quickly add the PDF files by using the shortcode provided by the plugin.
There is one condition though, the PDF files that you wish to display on your site must be hosted in the same domain name.
Overall, it is a quick and simple WordPress PDF viewer plugin that offers you a responsive interface to host PDF files.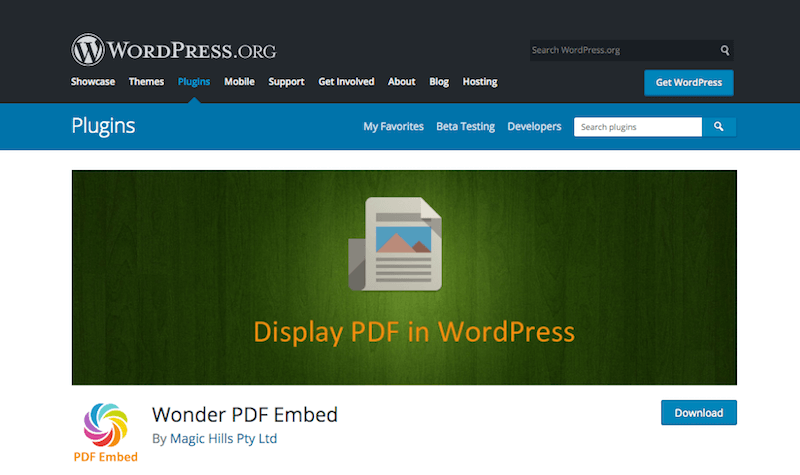 PDF & Print by BestWebSoft
With this plugin, you can quickly add PDF and Print buttons to your WordPress site post, pages, archives, custom post types, and search results.
The users can quickly convert their content to PDF and print it. As the admin, you will have complete control over where and how you wish to show the buttons.
You can add the buttons using a widget or anywhere on the site by using a shortcode. You also have control over who can see the buttons. So, if you are managing a membership site, you can show the options to a few users and hide them from the rest.
To make your documents look better, you can add a custom featured image to the document and you can set the custom size for the featured image.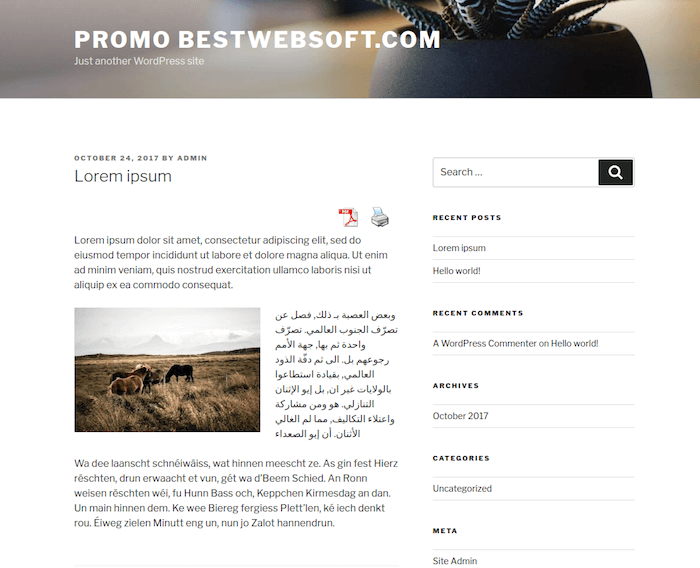 In Conclusion:
So this was our list of the Best PDF Viewer WordPress Plugins. Do let us know what you thought about the list in the comment section below.
Also, tell us if you decided to pick one of these plugins to help enhance your website's functionality. Give an insight into your experience with the plugin. Your fellow readers will love your contributions.
Here is a nice article about how to edit a PDF file, that will surely be helpful for you.
Again, if you happen to use another plugin that is powerful but left out of this list, then go ahead and mention them in the comments below. People will love to have some more options.