A collection of best live chat WordPress plugins, we have listed a few PHP live chat scripts as well as software that can be integrated with any WordPress site.
Most of the content on the internet is one way. Whether it be text, images, videos or GIFs, the content creator is the speaker, and everybody else is the listener.
Now this is good on a sole entertainment basis, but sometimes people do have questions, sometimes the content isn't self-explanatory, and sometimes people do wish to have questions answered one on one.
For example, 67% of all customers don't make a purchase, and the majority of this happens because they have unanswered questions or uncertainty about your products or services.
To do away with such problems, you can install Live Chat features on your website.
It also adds a level of personal touch to your website/blog. You will be able to provide exceptional customer service, far better and more appealing than email-based support.
You will be able to address their problems instantly which is always a plus for your customers because nobody likes waiting.
Again, as discussed, many people leave an e-store because of ambiguity. And so with live chat functionality, you can address these potential customers, resolve their doubts and queries, and increase your conversions.
Now if you are a WordPress user, you will be glad to learn that the platform is filled with some amazing plugins that will enable you to chat with your customers one on one.
In fact, there are so many plugins under this category that you might even get confused about which one is best and which one suits your needs.
In this post, we have put together a list of the Best Live Chat WordPress plugins. So without further ado, let's get this list rolling:
Live Support Chat
If you are selling any product or services through your website, having online chat support will surely increase your sales.
many products don't take off because of bad support. If you offer great support, your users will be happy and your sales will go up through word of mouth publicity.
The group chat solution is another advantage of the plugin, you can invite and host a chat with upto 50 users. This will help you to give a demo of your product to multiple users at a time.
Along with WordPress, this chat system works on most of the other CMS and platforms.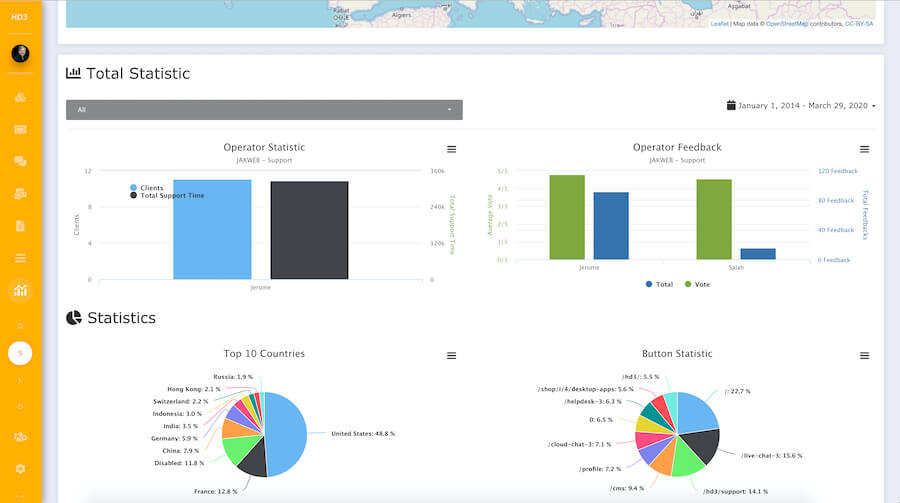 Chatwee
This is a great WordPress live chat plugin that will bring top-quality engagement to your site. As already mentioned above, a chat system on your site can make a big difference to your conversion.
It is always a great idea to make it easier for your visitors to content you can find people like to read or buy from the sites with a real human behind it.
So, interactions and engagement matter a lot.
This plugin will bring a completely modern chat interface to your site. It offers you all the features and options to make your chat system perfectly integrate with your site.
It's a free as well as paid chat plugin, the free version of the plugin is limited as compared to the paid options. The free version of the plugin offers up to 5 simultaneous users whereas the paid version can go up to 1000 users.
The group chat option is available on the paid version. If you are managing a smaller site with limited users, the free version of the plugin is good enough to get started. You can always upgrade whenever you need it as your business grows.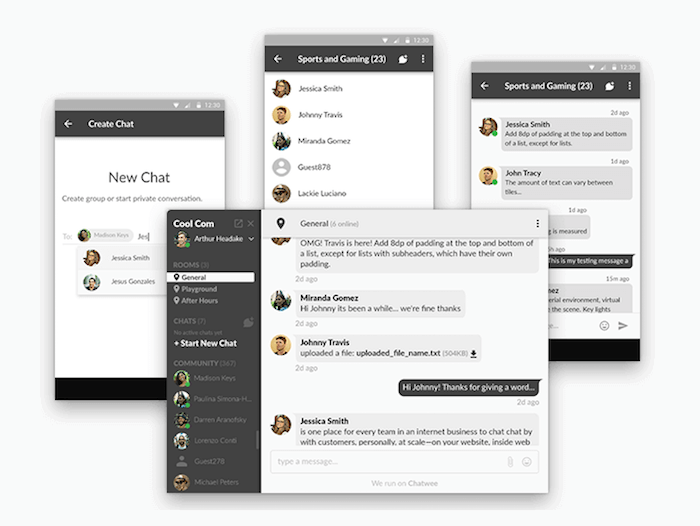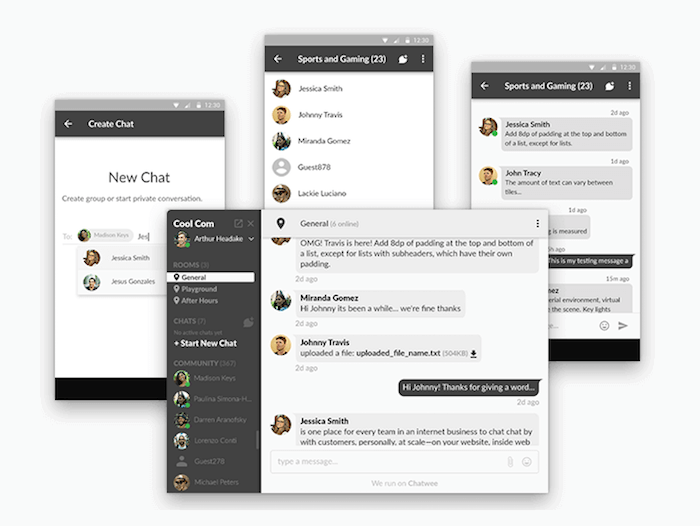 GetSiteControl
Not just the live chat plugin, the GetSiteControl tool is a bundle of different tools that you get for a very limited price. Once you have this tool, you will not need any other tool for email marketing, online poll & survey or live chat.
The GetSiteControl tool offers you complete control over all these widgets. You can change the look and feel of the tool as well as comprehensive targeting options to make sure that it works perfectly for your business.
You have the option to integrate the most popular CRM and email marketing providers to make sure it works perfectly for your business.
Let's look at the live chat option as well as talk about the chat plugins in this article.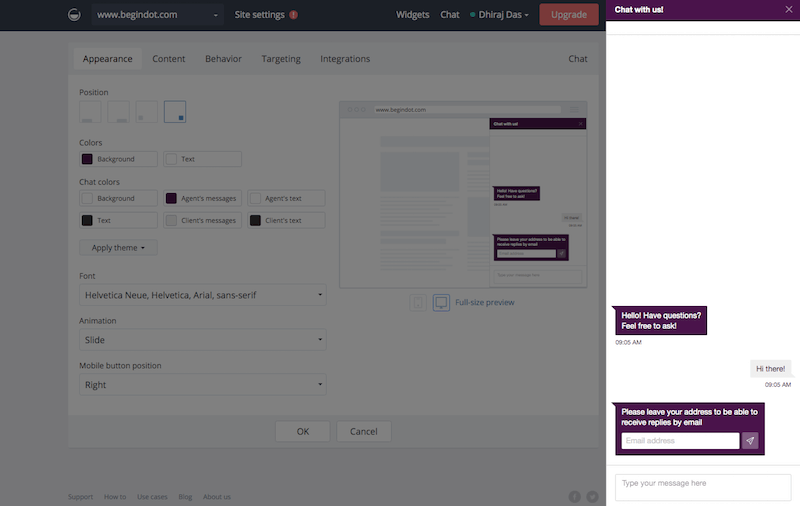 The tool offers you a comprehensive live chat solution for your business. You can use the tool for offering customer support or for upselling to increase your overall revenue.
The tool offers you customization options, so you can easily make it blend seamlessly with your website.
Live Chat Unlimited & Live Chat Complete
Live Chat Unlimited and Live Chat Complete are the same WordPress plugin offering support for unlimited website installation and single website installation respectively. It is fully customizable which means you will be able to mold it accordingly to your site's design language.
There are also plenty of beautiful skins which you can apply to your chatbox. Also, the plugin is open source and gets regular updates bundled with awesome features.
Feature-wise, it gives you complete liberty in creating and deleting operators from your support team. There is also an option that allows multiple operators to pitch in and provide answers to a single user's question.
Apart from that, there is email integration, chat logs, and Pushover notifications for when visitors log into one of the chats. Also, if none of your operators are online, then customers can fill out a contact form for necessary times.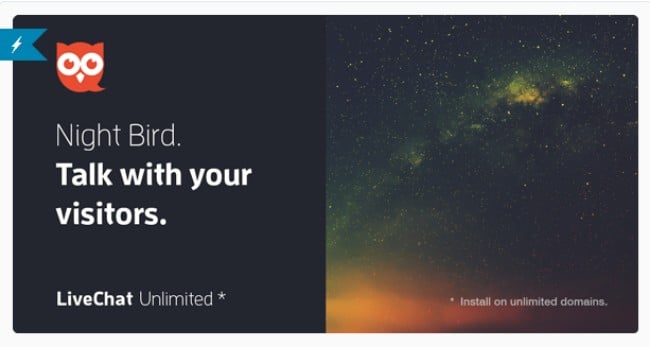 Live Chat by OggFlow
Another great free live chat plugin option for WordPress. This plugin lets you handle all the customer interactions and have full control over your system.
The free version of the plugin will let one member of your team use the system, but you can use it for unlimited live chat sessions.
As the plugin offers you some paid subscriptions with more powerful features, you can upgrade your subscription to paid version whenever you want.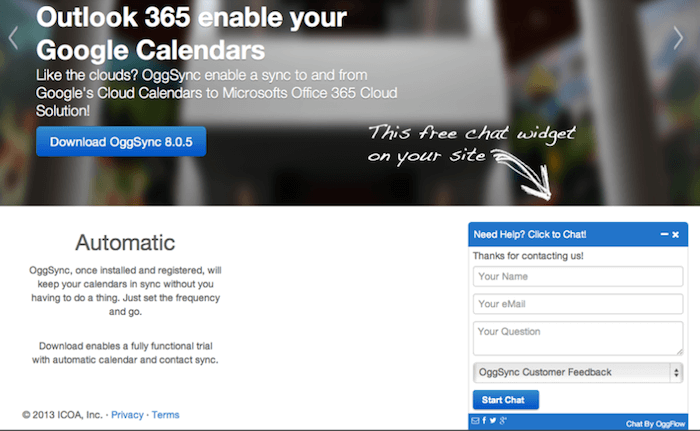 LiveChat
LiveChat is unquestionably the industry leader when it comes to live-chat software. And with their WordPress plugin, you will get their powerful features integrated into your WordPress website. The first thing to note is the Live Chat UI.
The interface is fully responsive which means it works on mobile, desktops, and laptops. It also boasts a wonderful design style that is customizable to suit the aesthetics of your website.
Useful features provided by the plugin include an option to add survey forms at the end of every chat session to help evaluate the proficiency of your support team.
You can also enable a ticketing system right from the live chat system so users can take a support ticket during their off-hours.
It also provides active integration with popular CRM software, Google Analytics, Zendesk, and many the popular email marketing services.
The plugin comes with a very professional-looking interface that will surely enhance the overall feel of your site and make your business look very professional.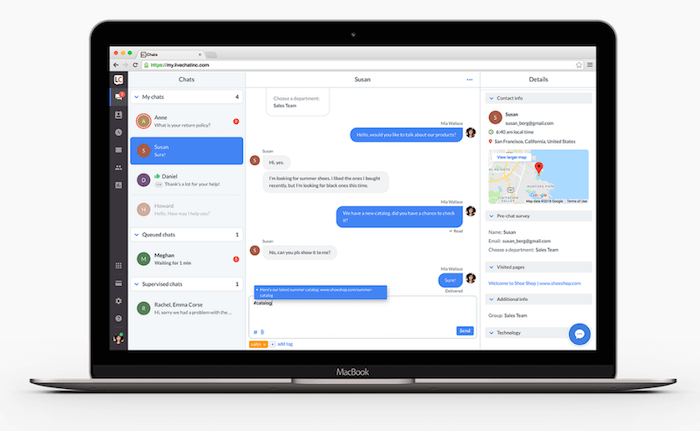 It's a mobile-friendly plugin, so you don't have to keep sitting in front of your desktop all the time, you can take your business anywhere along with you and still be connected to your clients.
In fact, when you have this live chat system, it will increase your business and revenue to a great extent. As someone lands on your site, you can invite them for a chat making it easier for you to convert them to your customer.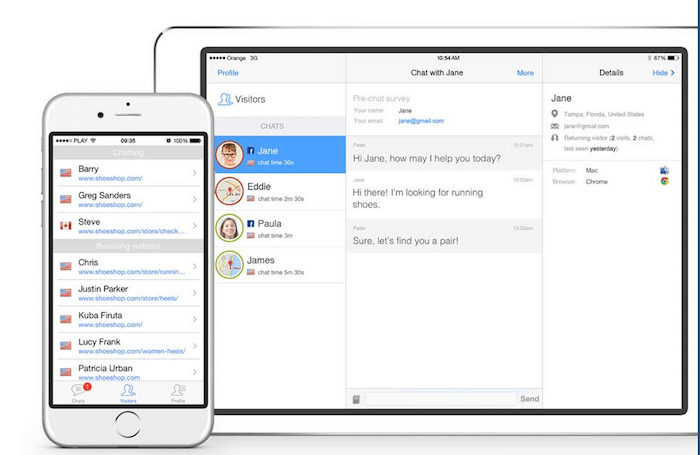 And on top of all these features, the plugin manages to load up super fast and provide its services to your customers the moment they come to your website.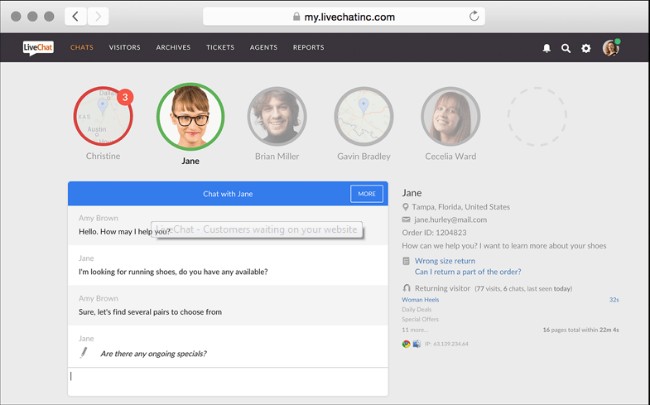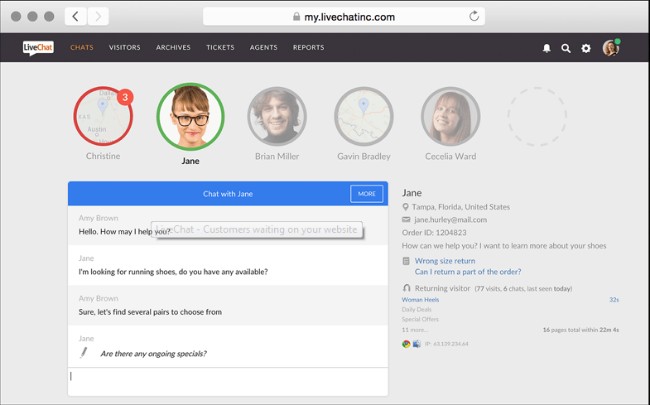 ZenDesk Chat
ZenDesk Chat was formerly known as Zopim and is one of the most popular Live Chat services as far as WordPress is concerned.
The plugin is available for free right off the WordPress repository, but we recommend you upgrade to its premium version to avail all the useful features.
Overall, the plugin is known for its high customizability, wonderful design style with stylish layouts and themes, and ease of use. However, it does offer a lot more functionalities.
First of all, there is a mobile app that you can use to answer customers on the go. The dashboard is also loaded with many useful metrics that let you check chat performances, and chat history, and learn about your users in real-time.
Then there are chat triggers that you can use to launch the chat box automatically once the user has made certain actions.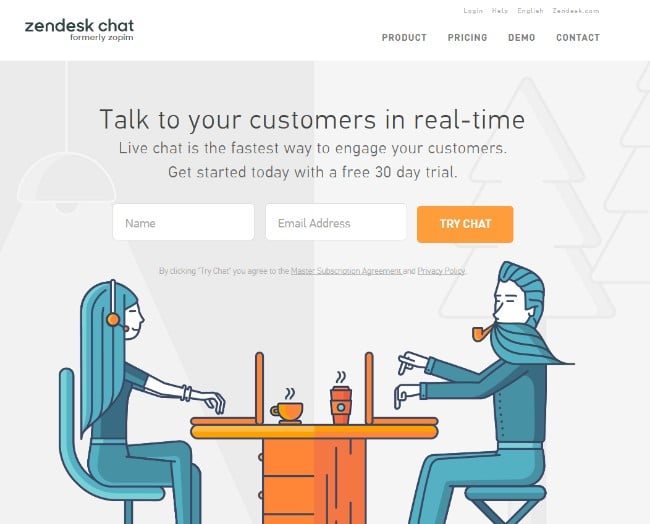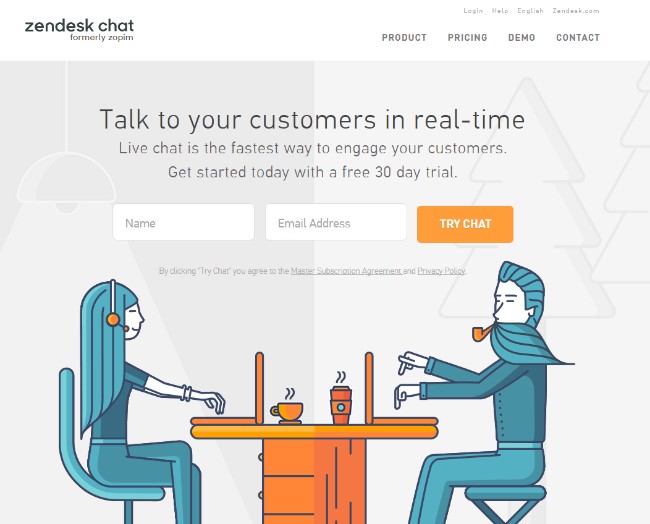 Olark
Olark Live Chat is another popular live chat software available to aid your online business. It is designed to work on an array of platforms out of which WordPress is one. It offers a plugin that you need to install, and as easy as that, the software will be integrated into your website.
It also offers easy integration with other services like Salesforce, Zendesk, Highrise, and so on. There are even mobile apps that you can use to connect with Olark and chat with your customers on the go.
Some of its impressive features include a rich set of customization tools to make it look and feel like a part of your website.
Also, if there is some reason for which you can't attend to a particular client, the software also allows you to set up automated messaging.
Other than this, you get useful tools like a team management option and real-time reporting so you can evaluate your support team's performance.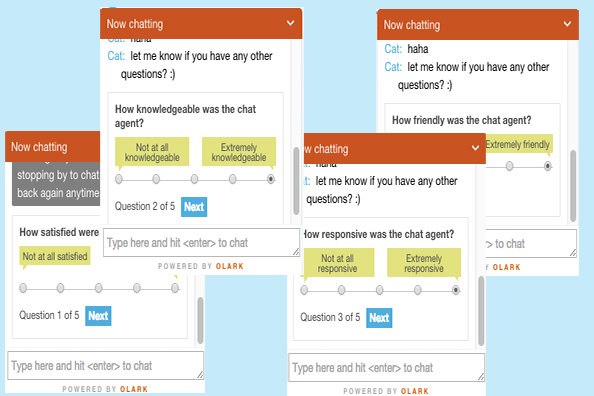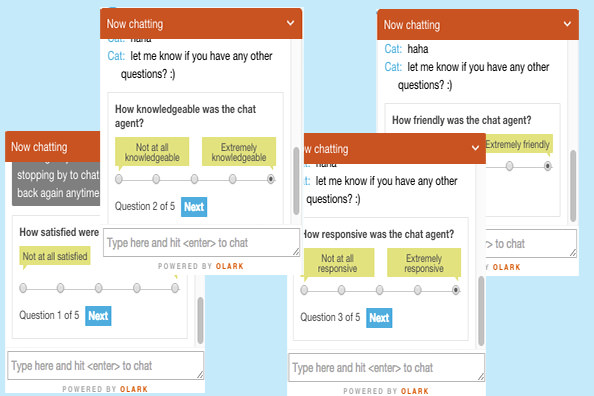 Pure Chat
Pure Chat would be your recommended go-to live chat plugin if your highest criteria were to have a chatbox that is customizable to no end.
No doubt you will be able to create eye-catching, beautiful chat boxes, which your customers won't mind appreciating and looking at while waiting for your response.
See, looks do matter! The plugin offers an extensive list of tools like unlimited colors, an array of amazing animations, custom image support, and so on.
However, it is not merely all looks with no substance. In fact, you will get very premium functionalities like an analytic tool, multi-chat management, proactive chat triggers, and many more. There is also the option to enable a schedule for when your live chat feature will be on or off.
Now, by default, all the live chat boxes will convert into an opt-in form which you can then use with any MailChimp email list.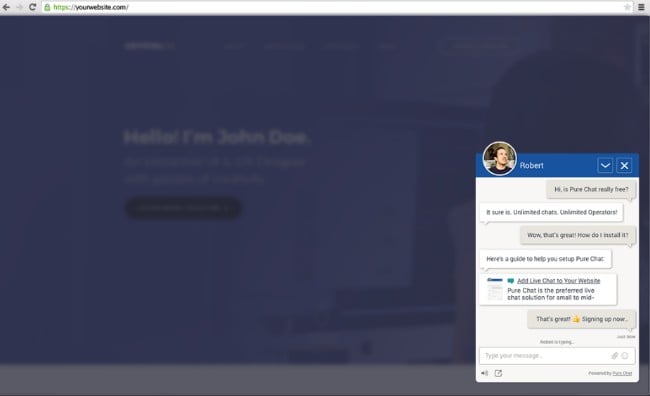 Formilla Live Chat
Formilla is a very efficient Live Chat tool that is available in a free as well as a paid variant. In fact, the plugin is so feature-rich that you can simply use the free version if you only receive a moderate amount of traffic to your website.
You will also get support for proactive chat, even with the free version. However, you will only be allowed up to 30 chats per month.
However, with the premium version, you get support to manage a lot of chats, which is necessary for high-traffic websites. Then there are customization options that you can use to change the look and feel of your website.
Premium users will also get the advantage of chatting via Android or iOS, which means you can stay in touch while on the go. Other impressive features that you will get include real-time visitor monitoring, offline email forms, chat queues, and much more.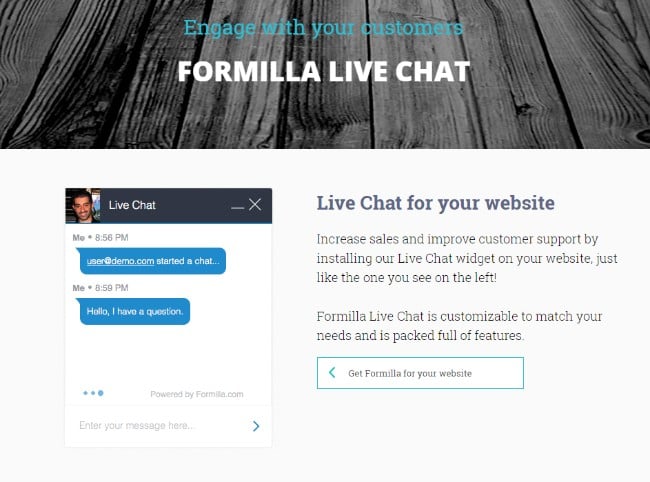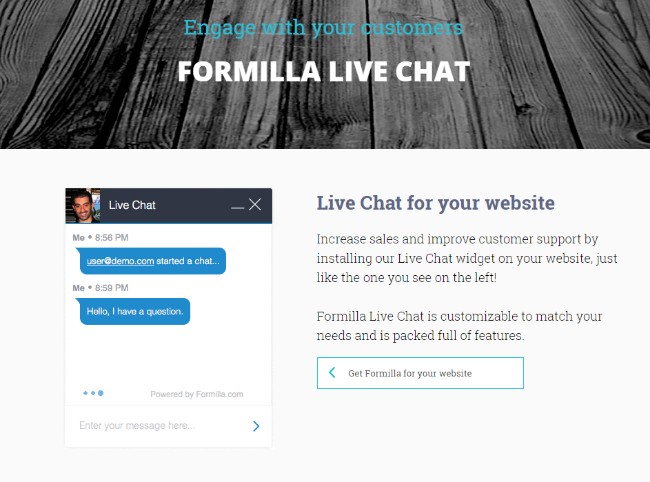 TIDIO Live Chat
TIDIO Live Chat plugin for WordPress offers one of the most intuitive UI amongst the bunch. So if you are new to WordPress, and want to provide live chat support to your customers, then we highly recommended that you try out this plugin.
As far as looks are concerned, the plugin is available in three different designs which can be color customized to match the aesthetics of your site.
All of the chats that you have activated are handled directly from the Tidio chat tab which will be installed on your WordPress dashboard. You can also manage them through your mobile via downloading the corresponding application.
The plugin supports features like automatic messaging to your customers if for some reason you are busy. Again, if the customer leaves the chat, there is the option to continue via email.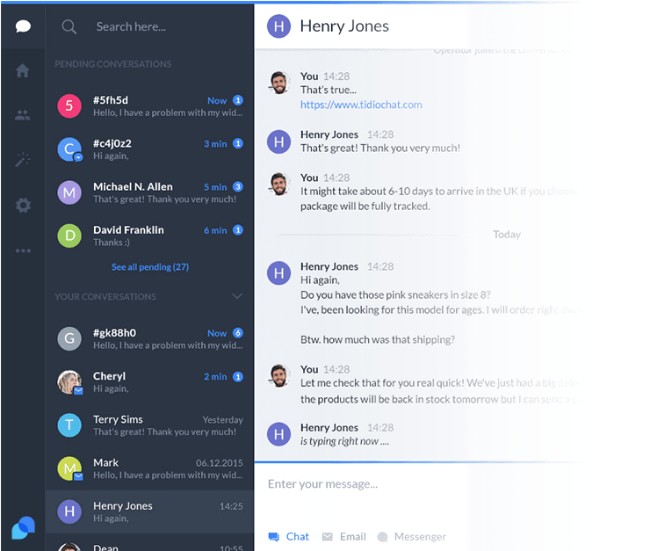 WP Live Chat Support
As the name suggests, this plugin is created for live chat support for the business. A live chat can be very helpful to get more business because the potential clients get that extra assured that there will be someone to support them immediately if there is an issue.
WP Live Chat Support is a free WordPress plugin that will help you to offer support to your clients. This is a great plugin for small businesses.
With this plugin, you can have unlimited simultaneous live chat sessions which is a great and very helpful feature because many paid plugins have limitations.
The plugin offers you comprehensive settings regarding design and use. You can change the color combination of your live chat widget to make sure that it looks like a part of your site.
The plugin readily offers you six different chat theme options to choose from, and you can fine-tune the design as per your requirement.
The users will be able to move the live chat widget across their screen so that it is easier for them to use the chat along with other work they are doing.
The plugin also saves the offline messages when you are not online for live support so that you can come back and answer the messages.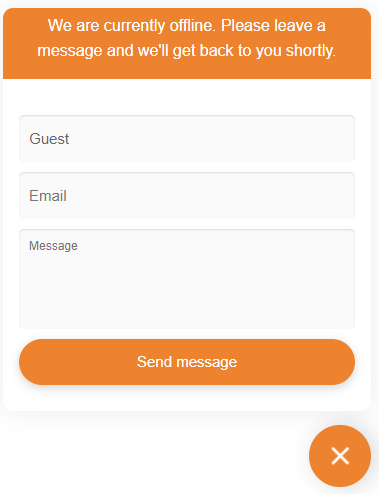 WP Live Chat Support
This is a free live chat plugin and it offers you a pro version as well in case you need more features to the overall support system for your business.
This plugin lets you have unlimited simultaneous live chats, so your entire support team can handle a number of customers at the same time.
The plugin comes with easy to use admin and user interface to make sure that your users can take the advantage of the live chat support system to get their issues sorted immediately.
You can fully customize the look and feel of the live chat system to make sure that it looks like an integral part of your site. You have a number of pre-created themes that you can use.
When the live chat system is switched off or your agents are not active, the users can post offline messages and they are stored in the system so that you can have a look at them later and reply.
Also, you have the option to set up an offline custom message so that your users feel confident that someone will come and reply to their messages soon.
Another useful feature is the option to create polls and surveys that you can show before or after the chat session to engage your users further and you can use this feature to know what your users and liking and what they are not.
As the admin, you will get the desktop notification whenever there is a new live chat session from your users' end which is another great feature.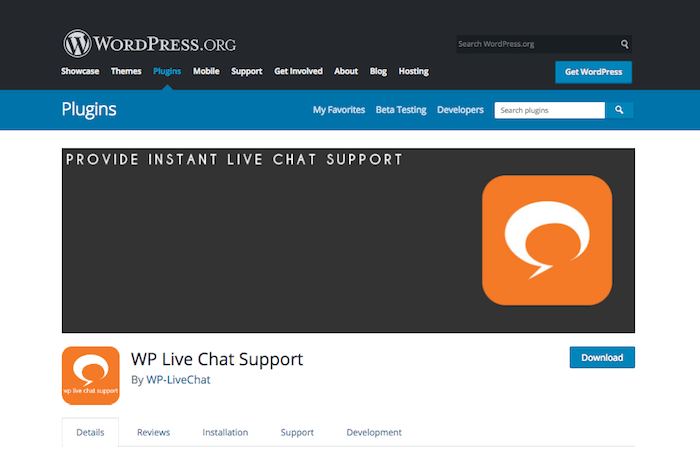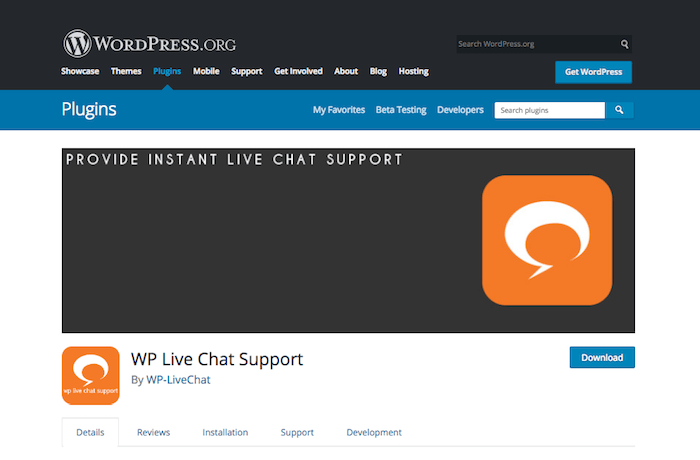 Zoho SalesIQ
Not only live chat but a complete sales support system for the WordPress sites. This is a complete intelligence system that is free to use.
With this Zoho plugin, you will be aware of your website visitors. If you are managing your online store on WordPress, this system will give you amazing details of your store visitors like the geolocation, referring source, etc so that you can easily make your business decisions based on the data.
This live chat system comes with an automated trigger to engage your store visitors to increase the revenue for your site.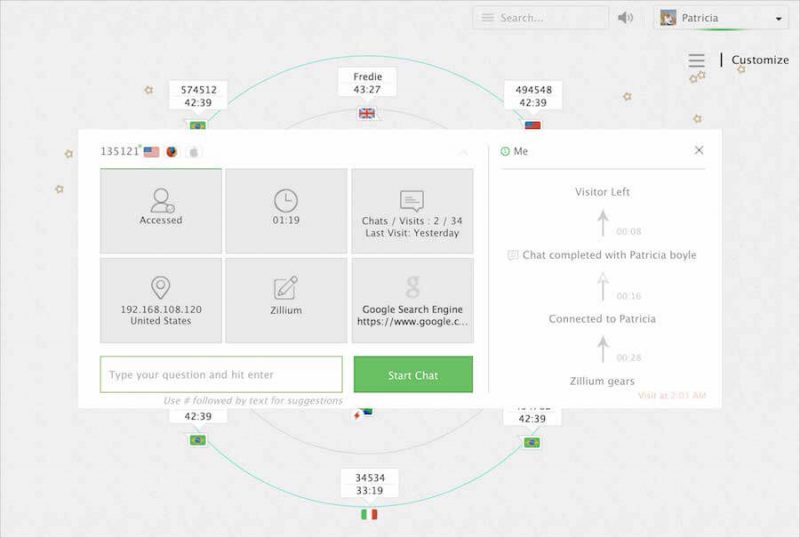 Conclusion
So these were our picks for the Best Live Chat WordPress Plugins. Hope you found this read to be helpful. All of the plugins we have mentioned here are top-notch and the best in the category.
However, as we said, there are plenty of such plugins, and all of them can't be covered in this concise list.
So if you know of any awesome plugins that we didn't mention on the list, then please feel free to cite them in the comments section. Your fellow readers will love to have more options, especially from someone in the community.
Also, if you decide to use any one of the mentioned plugins, do leave us a comment about your experience with it. All of us will love to hear your insights and your experiences.