Instagram, as you might already know, is one of the most popular social media platforms. It has a huge user base that you can use to cleverly complement your online business.
Social media has changed online marketing is done, and if your business is not taking advantage of popular social sites like Facebook, Instagram or Pinterest to drive traffic; you are probably missing a lot of potential customers.
Which social site will be effective for your business will depend on the niche of your business. However, you must try leveraging all the top social sites for your business.
If you are managing a media kind of blog or any other kind of online business where you post a lot of images, then Instagram will prove to be a great source of the traffic to your website.
Now, there are some ways to increase Instagram followers sharing your Instagram feed on your site can be a very effective way to increase conversion. We have created a detailed article about the best ways to increase Instagram followers here.
Whatever the reason, integrating Instagram with your WordPress website can be a great means of bettering your content marketing strategy.
This being said, here we will be taking a look at Best Instagram Plugins for WordPress.
Best Instagram WordPress Plugins
01

. Uncanny Automator

If you ever wanted software like Zapier for WordPress to automate workflows and make it easier to integrate with all other important tools and apps, Uncanny Automator is the answer for you.

It can help you to integrate your WordPress site with popular software and apps to make it easier for you to manage your business. It can integrate your site with 100+ plugins and apps and automate processes.

When it comes to integration with Instagram, it can share an image to your Instagram profile as you publish a new post on your blog.

It can also connect different apps with Instagram. For example, if you are using LifterLMS for your online learning site, it can share the certificate on Instagram as a student completes a course.
02

. The Instagram Feed Pro

An amazing plugin for Instagram lovers who want to show their photos on Instagram on their site with a great-looking layout.

This is an Instagram feed plugin that will help you to showcase any of your Insta account photos on any WordPress site. The plugin offers you a great-looking modern grid layout to showcase the images in style.

The plugin offers you amazing flexibility in terms of the content that you wish to showcase. You can show photos from any Insta account, with any hashtag or country, etc.

You can showcase the mix of content from the different accounts on the same page or on different pages according to your need.

Other than the above-mentioned grid layout, the plugin also offers you an option to showcase the photos on a sliding carousel

The plugin offers you an infinity load option, a lightbox option to view the photos, HTML5 video support, an amazing shortcode option, and a lot more.
03

. Instagram Theater

Instagram Theater is a paid plugin with which you can create an Instagram gallery and portfolio for your WordPress website.

The plugin provides options to showcase the images through thumbnail grids, or lists, or even via full-screen mode.

All the images are taken from Instagram by multiple users or locations using hashtags that you can set up. One more thing to note about the plugin is that it is very stylish and good-looking, and also sports a responsive design.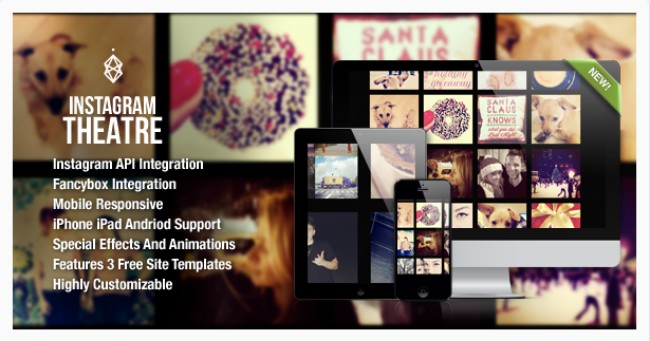 04

. Instagram Journal

Instagram Journal is one of the most comprehensive Instagram plugins in this list that will help you to make the best out of the popular social site.

With this plugin you will be able to showcase images from any account, the images you liked, your friends' images, photos with a particular hashtag, photos with location and more.

This plugin offers you great options regarding the design of the feed. You can control the color of the photos, custom photo size, gallery size and a lot more.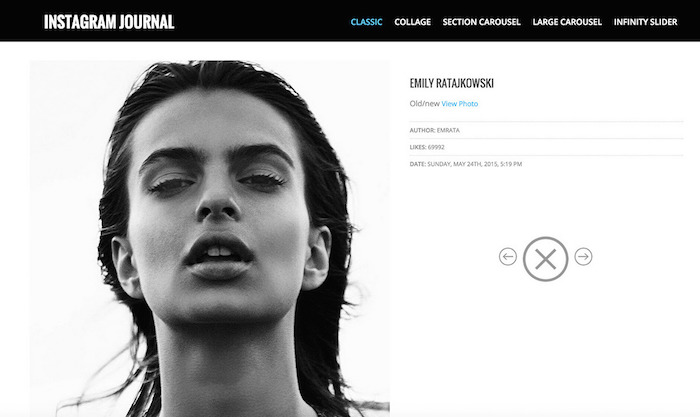 05

. WPZOOM Social Feed Widget

Another very useful free Instagram widget plugin that you can download from the WordPress plugin directory and use on your site.

The plugin is perfectly compatible with all WordPress themes. So, you don't have to change your theme to showcase the Instagram posts.

You can use this plugin to display posts from any Instagram account, not just your own account.

You have the option to showcase upto 12 images from any Insta account.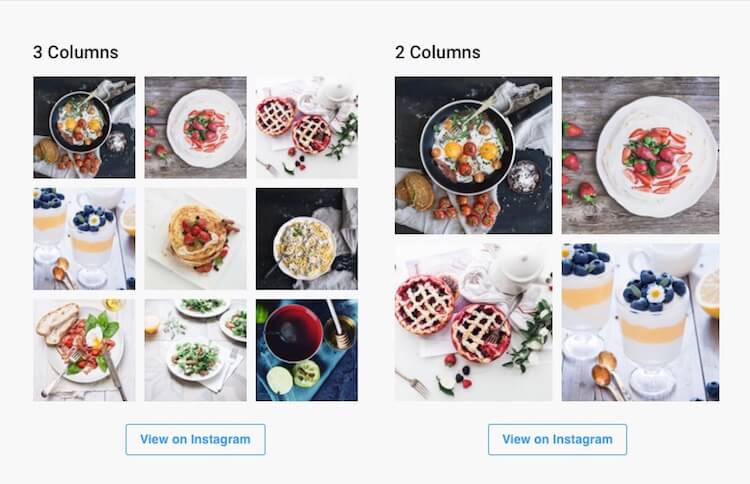 06

. Feed Them Social

Feed Them Social is a comprehensive social media plugin for WordPress which includes many more social media platforms including Instagram.

Through the use of this plugin, you would be able to easily place a copy of your Instagram feed directly onto a page of your website in the same way it appears on its respective website variant.

This is a very flexible plugin that allows you to show your feed on other social sites like Facebook, Twitter Instagram

You will be able to create an unlimited feed and showcase them anywhere on your site with the shortcode or widget.


07

. Enjoy Instagram

Enjoy Instagram is a free plugin that you can use to show your Instagram feed with the hashtag and public account images in a great-looking carousel and grid design.

Once you install this plugin, you will be able to able to display Instagram images anywhere on the site with the provided shortcode or the widget.

This plugin offers you amazing flexibility regarding how you want to showcase the images. You can show more than one feed on the same page.

You will also have complete control over the look and feel of the grid; you can manage the space between each image so that it looks neat.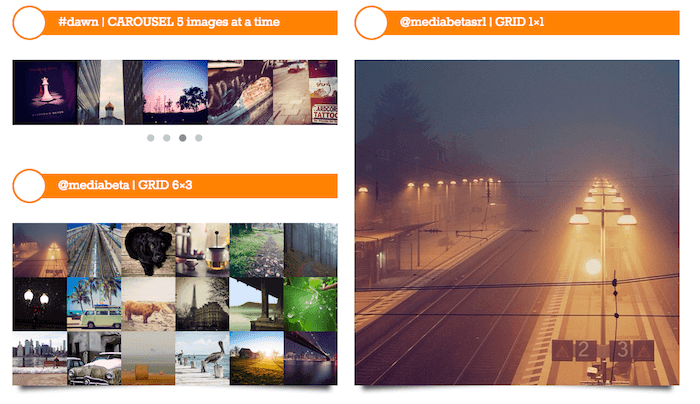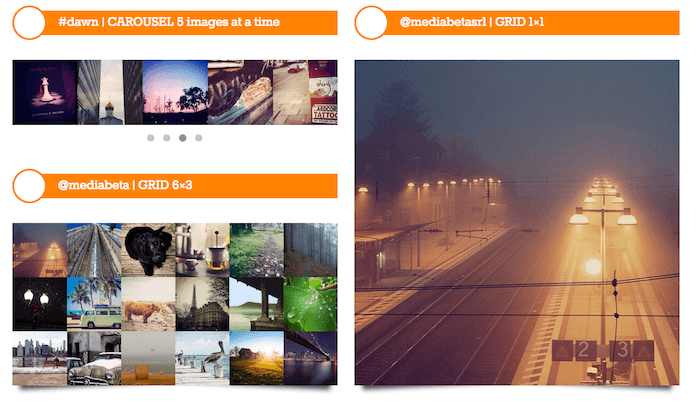 08

. Intagrate

Integrate is an Automatic Instagram Image publishing plugin for WordPress websites. The plugin is highly flexible and rich in features.

For example, you have the option to include an unlimited number of Instagram accounts, multiple streams, video integrations, comment integrations and so on.

Some of its other impressive features include the ability for image moderation, scheduled posting, hashtag filtering, full content control, Google Map Integration and loads more.

09

. Instagram Slider Widget

The Instagram Slider Widget is a free and responsive plugin that can help you to showcase Instagram images on your WordPress website.

There is a limitation however of 12 latest images if you are referring to a public Instagram user or 18 images from hashtags.

A few notable aspects of the theme include the fact that there is no API key needed and that all the Instagram images are imported in the form of WordPress attachments.

You can also have the plugin display the images in the form of a slider or a thumbnail.


10

. Enjoy Plugin for Instagram

With Enjoy Plugin For Instagram set up on your WordPress website you can showcase Instagram images or videos in Carousels or Grid View.

The plugin also allows you to publish Instagram images on your pages, posts, and even sidebars with the use of shortcodes and sliders.

Everything is also responsive which takes care of your worries about how your site will look on a mobile device.

11

. AccessPress Instagram Feed Plugin (Free)

AccessPress Instagram Feed is a basic free WordPress plugin that allows you to include your Instagram feed pictures without the annoying widget box and cluttering image descriptions.

The plugin removes all the clutter and now gives you the raw image and the option to include some layout options, sliders, lightbox, etc. to showcase your Instagram images.

There is also a paid version for the plugin, but the extra features that you would be getting with the extra money are rather gimmicky and nothing new.


12

. Instagram Feed

Instagram Feed, as the name implies, gives you the ability to include the Instagram pictures of any non-private Instagram account on your WordPress website, either in a single feed or multiple different ones.

Now even though the plugin is free, it comes with a plethora of features that can help enrich the overall experience.

Some of these notable features include built-in shortcodes, infinite load more options, a follow button for the Instagram profile, beautiful headers, and complete control over customizability options like height, width, number of photos, image size, background color and so on.


In Conclusion:
So this was our list of the best Instagram plugins for WordPress. Do let us know how you liked using the plugins.
Also if you are using an Instagram plugin with your site which you think deserves a mention then go ahead and do so in the comments section. Your fellow readers will benefit from the options.