If you are looking for the best image watermarking WordPress plugins, we have listed the top options in this article.
If you are managing any online business, I'm sure that you are aware of the importance of good quality images.
In fact, not only online business but the offline business also need quality images to be shared on social media sites.
However, in this article we will stick to the WordPress sites and how you can make sure that your images are not stolen by others.
It is not easy to protect your images these days because as they get released on the internet, people can find your images on Google and other platform and use them for their benefit.
So, how do you protect your custom designed images or the images that you can purchased the copyright?
Well, watermarking your images is one solution that works to a large extent.
Let's have a look at the best image watermarking WordPress plugins.
Envira Gallery
One of the most popular gallery WordPress plugins, the Envira Gallery plugin offers you easy to use drag and drop gallery builder, so if you are managing a site that revolves around images, this is a great plugin for you.
Along with many other features, the Envira Gallery plugin gives you the option to protect your images by watermarking them.
The plugin is fully responsive and it will make sure that your site looks great on mobile devices.
In fact, if you are managing a site to sell images, Envira Gallery will help you to showcase your images in the most elegant way along with the watermark of your brand.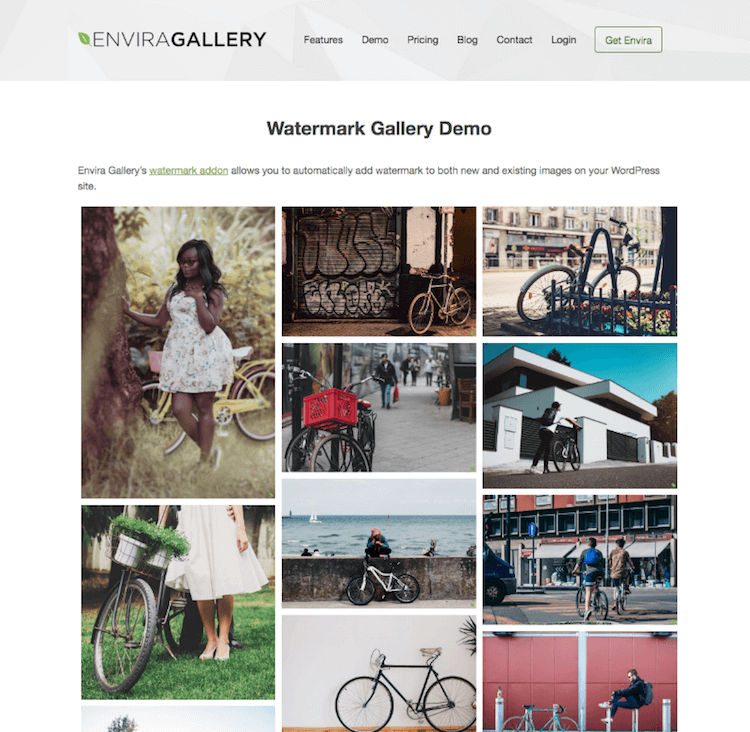 Global Gallery
Global Gallery is a WordPress responsive gallery plugin that allows you to create beautiful image galleries with ease. With just a few clicks, you can add images from your media library and turn them into stunning galleries that are responsive and look great on all devices.
You can also customize your galleries with a variety of options, such as choosing the number of columns, the size of your images, and whether or not to crop them. You can also choose from a variety of lightbox options to display your images in a larger format.
Global Gallery is a great way to showcase your images in a stylish and responsive way. It's easy to use and comes with all the features you need to create beautiful galleries.
The plugin also comes with built-in watermarking option to make sure that your images are branded properly.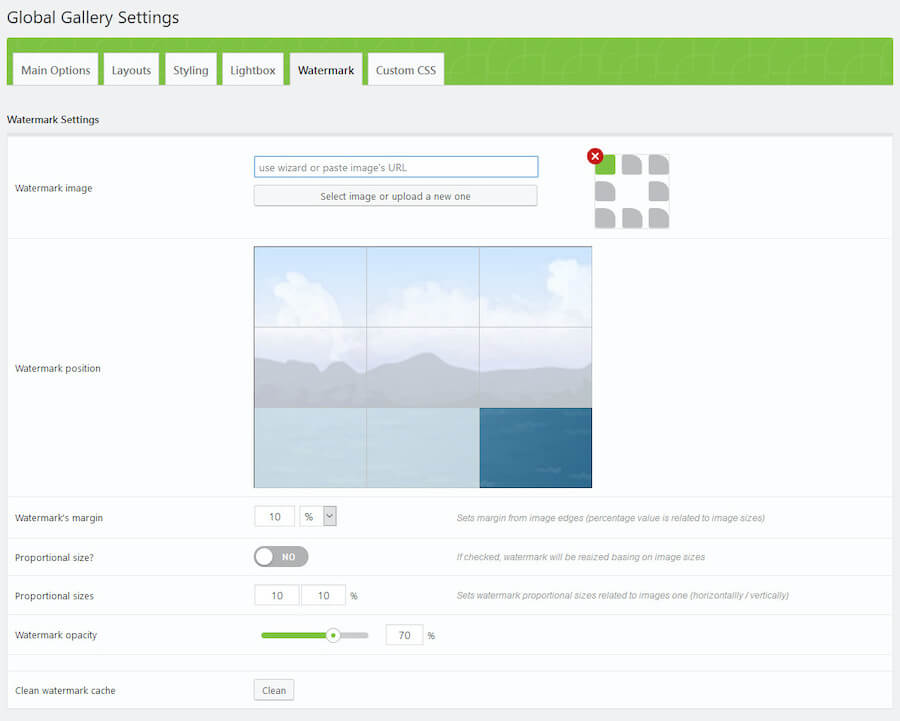 Easy Watermark
As the name suggests, this is a image watermark plugin for the WordPress sites. The plugin is free to use and it will make sure that your images are protected.
This plugin can watermark the most common image file types such as the jpg, png or gif.
You will have the option to set the opacity of the text in the range of 0 to 100% to make sure that your brand is visible on the image.
As WordPress creates a number of different image dimensions as per requirement of the theme, the plugin will watermark all those images to make a complete solution.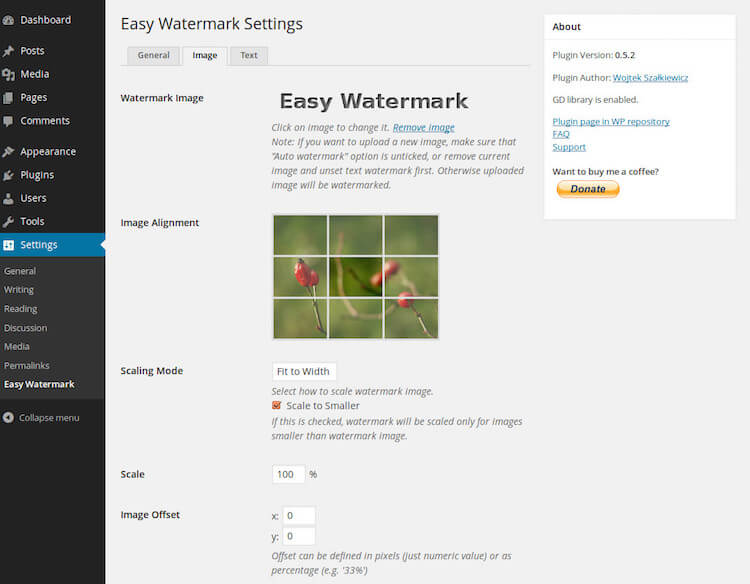 WooCommerce Product Image Watermark Plugin
When it comes to eCommerce sites, the images pays a very important role because a customer will make their decision looking at the image to large extent.
So, you need to make sure that you have good quality image of the products to offer a good idea about the product. And you can protect your images with branded text or images using this amazing plugin.
It is a flexible plugin that gives you the option to put the watermark anywhere on the image, you can also select a particular category of images where you would like to put the watermark leaving other categories as it is.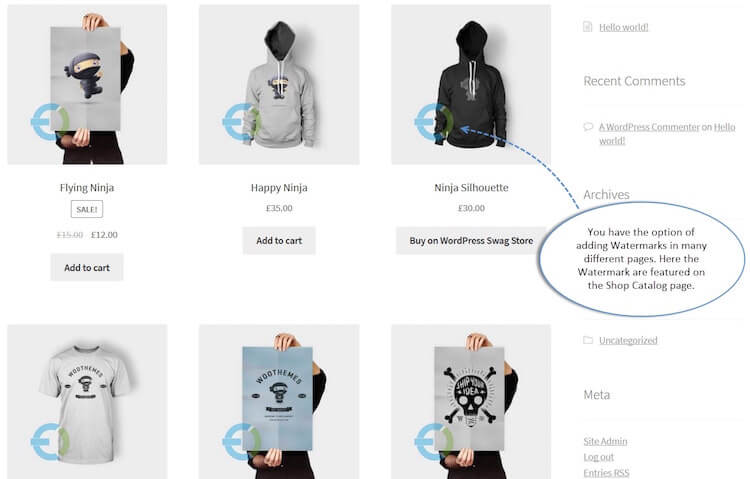 Pro Bulk Watermark Plugin for WordPress
It is a simple premium WordPress plugin to bulk watermark the images on your WordPress site. The plugin will not do any changes to the main source image.
You can use your logo or add a custom image to watermark the images you also have the option to change the alignment of the images.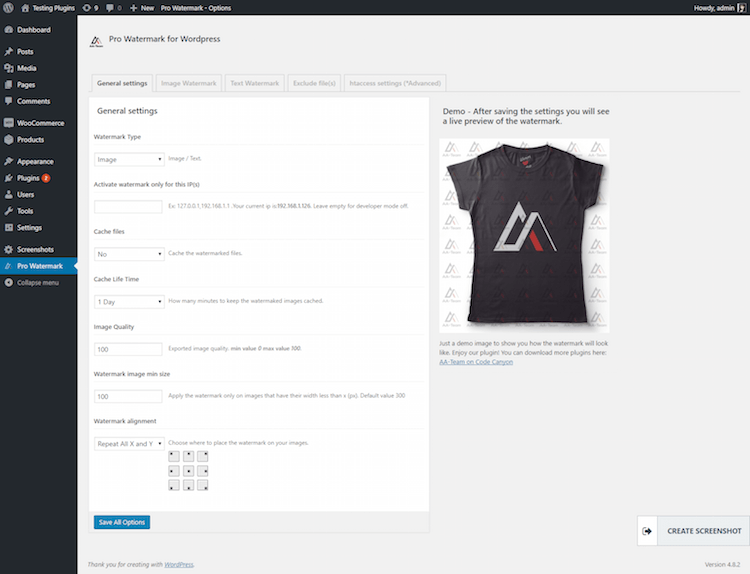 Smart Content Protector
A very handy WordPress plugin when it comes to content protection on your site. This plugin will make sure that no one can copy your text or images on your site.
It will disable the copy shortcuts so that no one can just come and copy any text on your site. And when it comes to images, it has the option to watermark your images with your branding.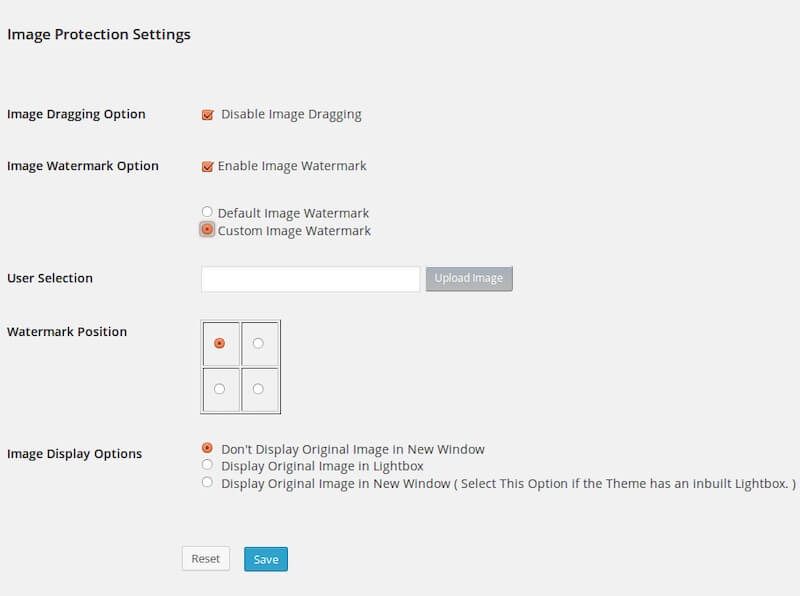 Image Watermark
Image Watermark is a free to use image watermarking plugin that works perfectly on any WordPress site. The plugin offers a quick option to watermark an image that is present in the media folder. It will add the watermark to the images automatically as you upload them on your site.
Another advantage of the plugin is that you can watermark all the old images that you have previously uploaded in the media folder.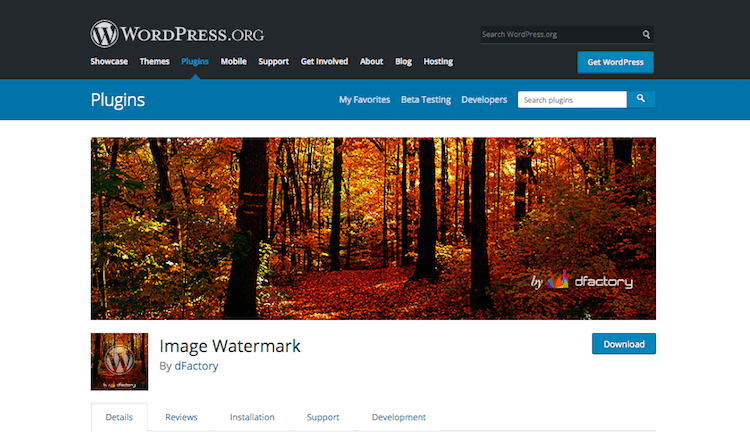 Final Word
These are some of the best image watermarking plugins for WordPress that will help you to add your logo to each image that you upload in your WordPress site.
There are a few more plugin options that we will have a look and add them to the list soon.
Don't Miss The Following Articles