If you are looking for a top-quality Dental website template, here we are with some of the best HTML templates for Dental sites.
It is very important to have a well-designed website if you are in the healthcare sector.
Helping potential patients to find you and offering relevant information like contact details, doctor's experience, and work details and details of services on offer is very important.
If you want to market yourself it's important to be as thorough with your website's design as you are with your profession.
Here are some of the best HTML templates that you can use to design your web pages. They are all based on HTML which is far more efficient than other platforms as well.
Webster
If you are looking for a multi-purpose website template that caters to dentists, you should check out Webster.
While the theme itself does not focus specifically on dentistry, you can use it for any field of medicine. There is a total of 450 HTML5 web pages that you can add to your website for adding to your website.
From full-screen sliders to appointment forms, all-important webpage elements are available for you to download.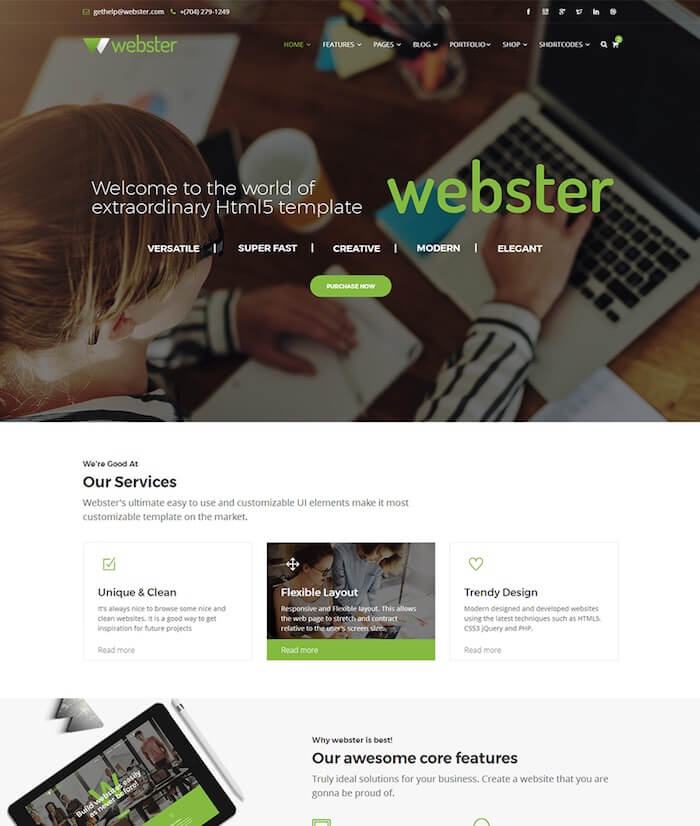 Findoctor
If you want to set up a website that allows your audience to find local dentists in their are and schedule appointments, this is one of the ideal templates to go for.
Users do not need to visit other websites and bookings can be scheduled directly from the site.
Unlike other templates on the list, Findoctor is tuned towards helping those who want to create a directory to help patients.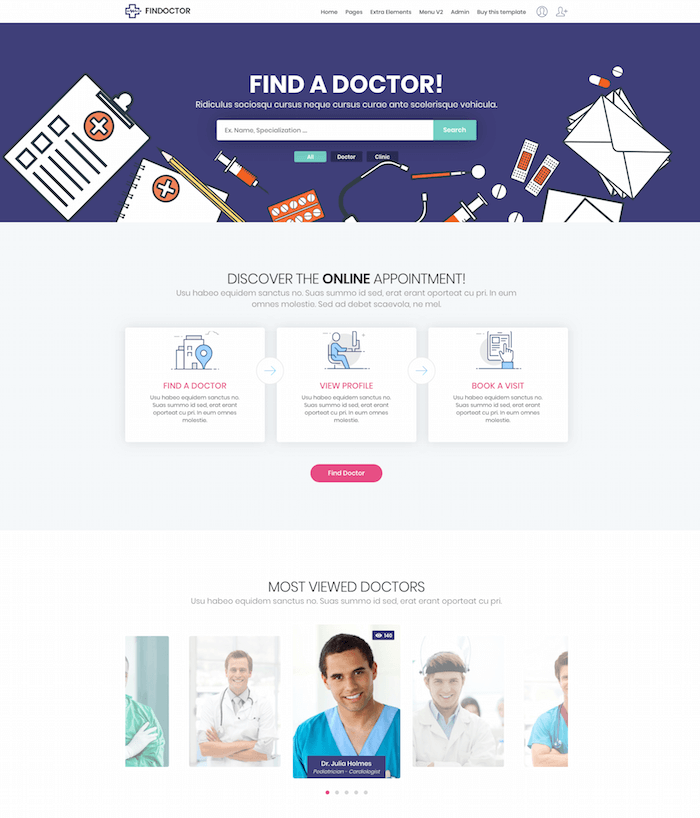 Dentallox
A very professional-looking, clean and minimal website template was created for dental websites. You can use this HTML template to create your dental website with a very minimum investment.
It is a fully responsive modern website template with all the important features and options that can help you to create any website related to the medical business.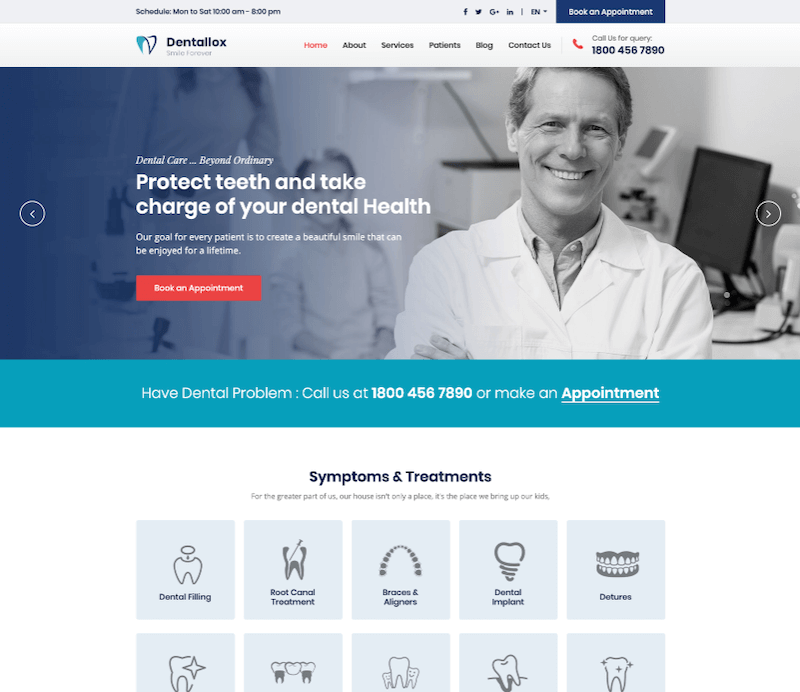 Klev Dental & Medical HTML Template
A custom-created template for dental websites, the Klev template is a very beautiful, clean and minimal design.
A fully responsive and retina-ready website template that will make your site look great on all devices.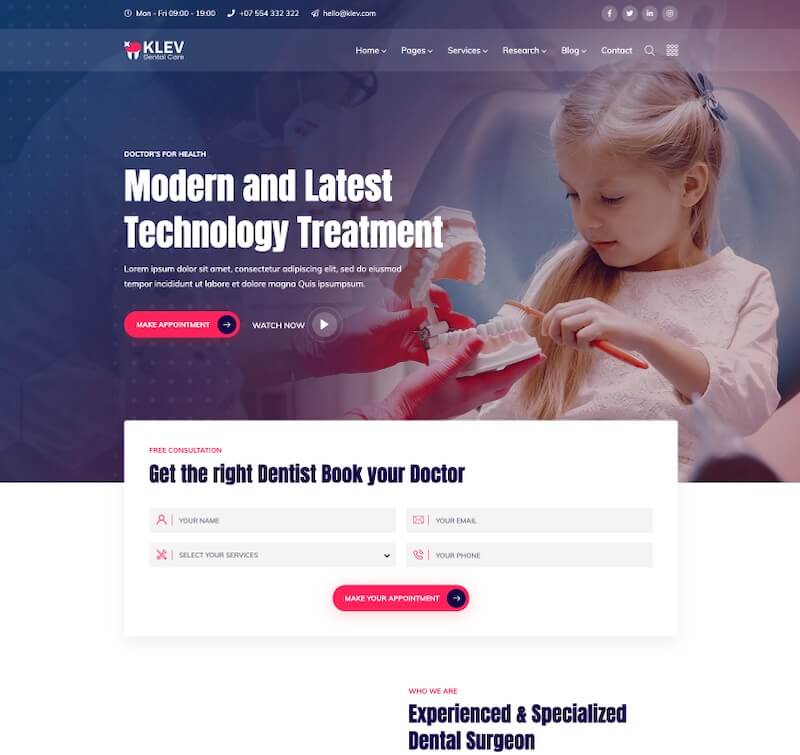 Pharma+
If you want to create professional templates with little effort you can do so with Pharma+.
The template comes with a visual page builder, a number of free fonts and animations that you can use. There are PHP widgets available that you can use for easily creating pages in very little time.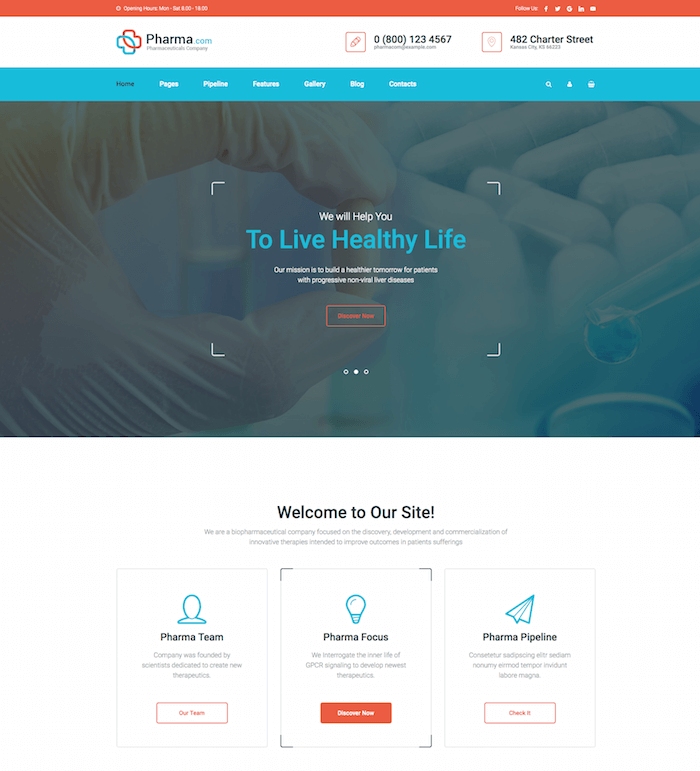 Bacotna
Bacotna is one of the most versatile web templates available and you can use it for not just dentistry but also other medical fields.
The template offers a number of customization tools and the overall design is quite clean and simple.
You have access to a number of fancy effects that you can to your page to make it look better without sacrificing performance. There are dozens of color presets to choose from, multiple header designs and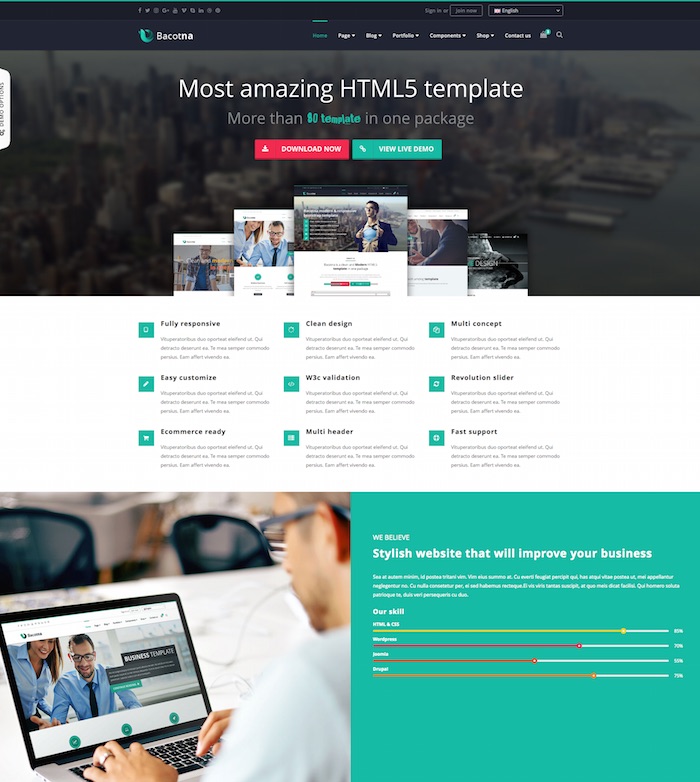 Dental Pro
Dental Pro is one of the few niche templates that were designed keeping the needs of dentists in mind.
The themes have nice animations that you can customize and everything from the index page to the contact forms can be edited to suit your needs.
If you are looking for a template that has plenty of boxes and a clean user interface, this is definitely one you should be looking at.
There are a number of widgets available that you can use for a very customized experience that will set your website apart from others who are using the same theme.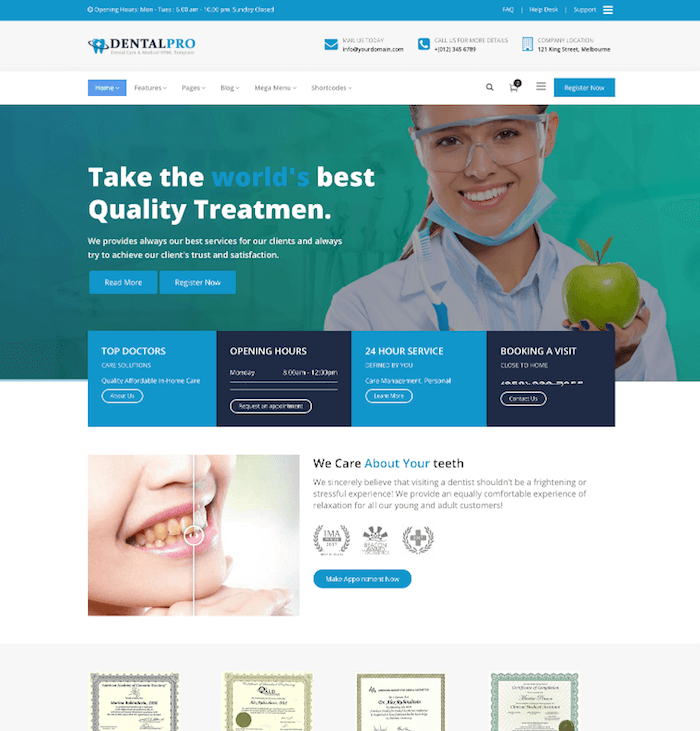 Senior Press
Senior Press is meant to be a portal that helps the elderly seek medical services including dental services.
The website template makes it very easy for the elderly to navigate and there is RTL language support as well.
Pre-defined demo images are available under all major tabs to help users read and understand the services on offer from medical professionals.
There are dozens of pages that are fully customizable and you will have no trouble editing the pages to suit your profession.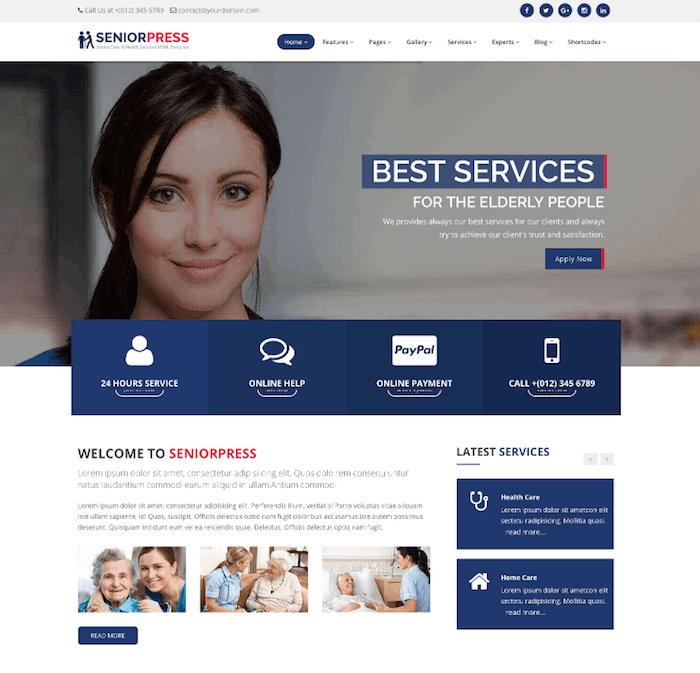 MediCo
MediCo allows you to make five unique websites using their templates. The HTML5 template is very easy to use and it includes one that is specifically designed for dentists while the other templates are for non-dentistry categories.
You can re-adjust and edit various UI elements in no time thanks to the clean and simple design. You can choose from a number of layouts as well as a dark and light theme for added customization.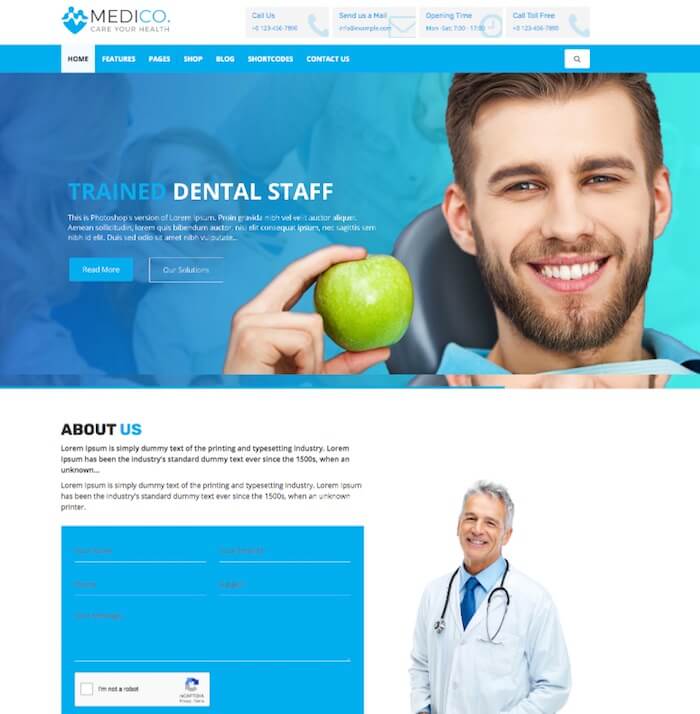 Medical
The Medical HTML5 templates are well-designed and you also get cross-browser compatibility so your website reaches out to the greatest number of people possible.
There are two home styles to choose from and there are individual improvements you can make to them as well.
The responsive design and high performance should make your choice very easy for you when picking from a selection of templates out there.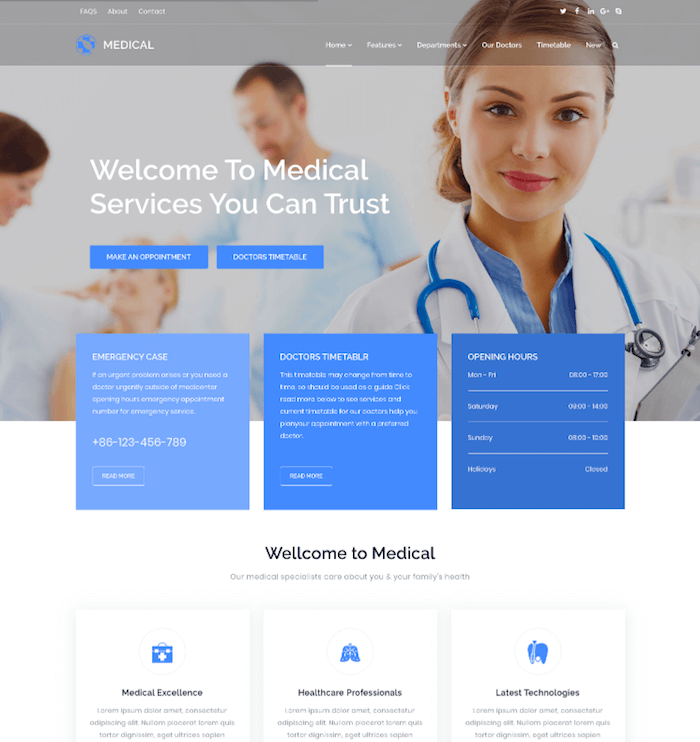 Klinik
Klinink offers a number of high-end features via its HTML5 template. The website is responsive and retina-ready and ticks all the checkboxes when it comes to compatibility with all major browsers.
The website works seamlessly on all platforms and you can customize it to your heart's content.
With six home styles and 55 pages available, you can create the perfect dentistry website in no time. The theme also allows users to setup appointment forms for online booking.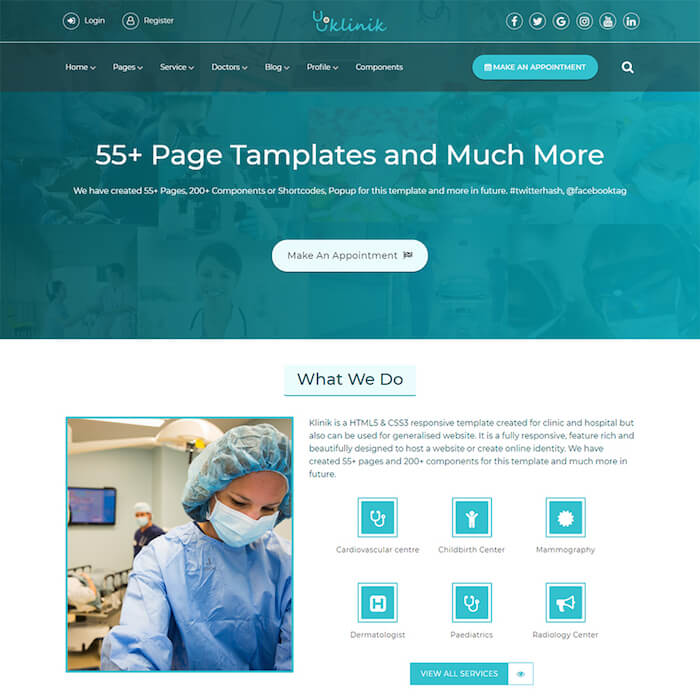 Labora
Labora was designed keeping laboratory and pharmaceutical websites in mind but the template can also be used for other medical services.
The template offers scrollable sidebars with a number of customization options. There are various inner pages that are available as well for adding pages like partners, careers, and cases amongst many more.
PHP configuration files are present for further development and a built-in mailing system is offered by Labora as well.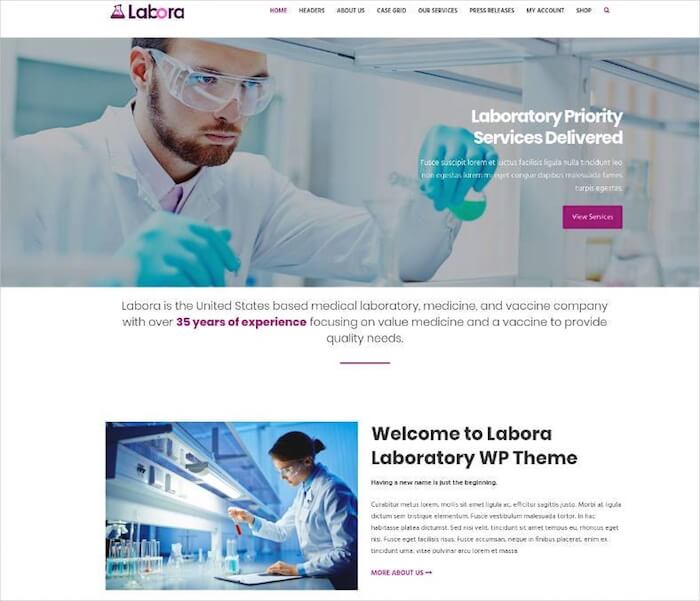 Health CarePlus
Health CarePlus is an HTML5 medical website template that is catered towards users who are not very accustomed to programming.
You do not have to be adept at web design to tweak the various UI elements to get the most out of the theme.
You will be able to adjust slider animations, icons, text and overall page design with just a few simple clicks.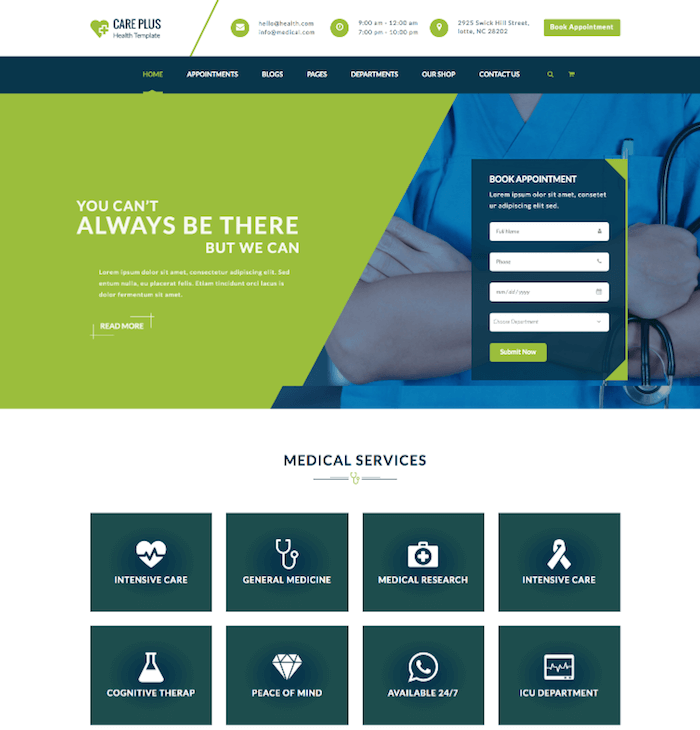 PLUME
PLUME is a multifunctional template that you can use for a wide variety of purposes but it helps dentists customize their websites greatly. PLUME is one of the most customizable themes out there and it comes with its own custom fonts.
You can not only use the theme for dentistry but also for general websites as well. The code is very clean and it comes with a functional AJAX form that you can use to set up contact forms.
If you need email services that are available as well via MailChimp. There are dozens of usable shortcodes, footers, and fourteen headers.
The website is fully ready to use and all you need to do is add in important information about your business and customize it accordingly.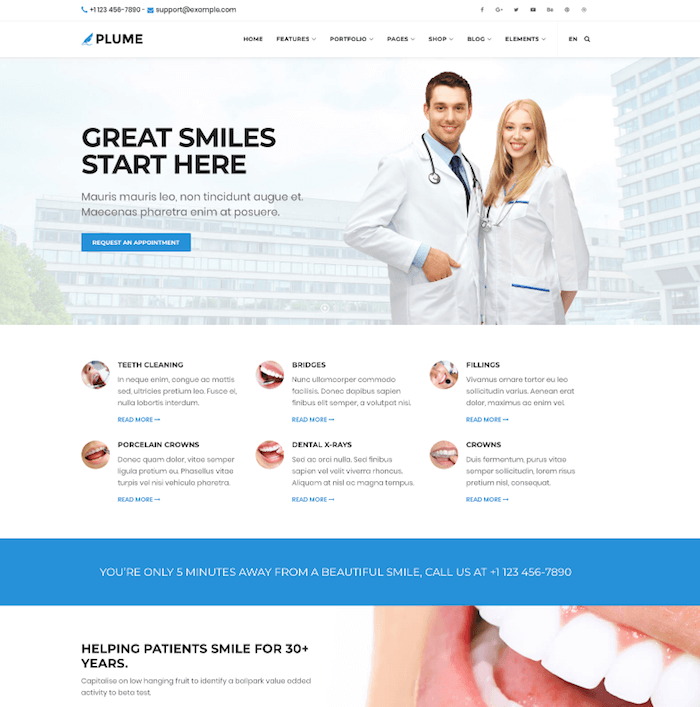 Canvas
Canvas is one of the best-designed HTML templates for medical professionals. If you want something that is very professional meant for both single-page and multi-page sites you can use the theme without a hitch.
The single-page theme is ideal for anyone looking for a theme that has no fuss involved but if you want to create a large-scale website there are over 70 pages on offer.
With over 550 pre-built HTML pages available for download you will never run out of options to choose from. There are gallery pages and customizable sliders available as well if you want to offer a visual demonstration of all your services.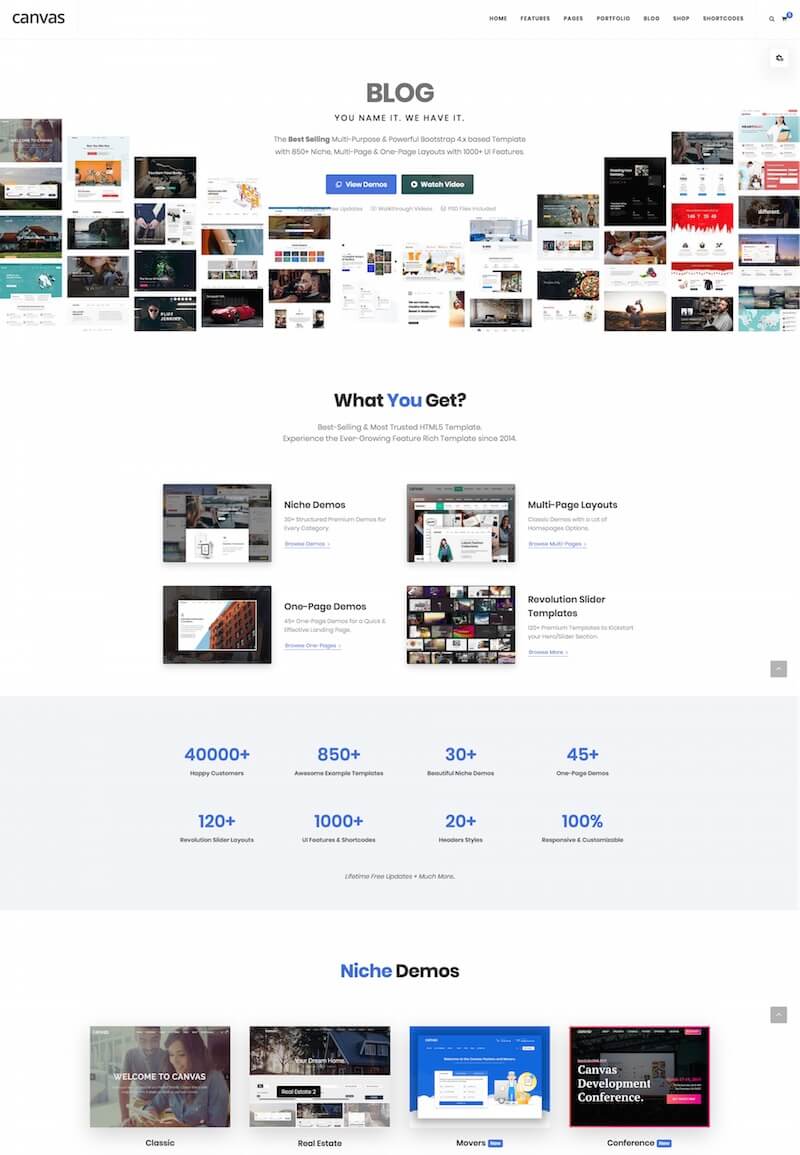 Kallyas
Kallyas is an HTML template that can help improve your visitor count with its well-designed pages. There are over 14 variations of the home page that you can customize.
All of the UI elements are customizable and if you want creative control over your website design, Kallyas offers that to you.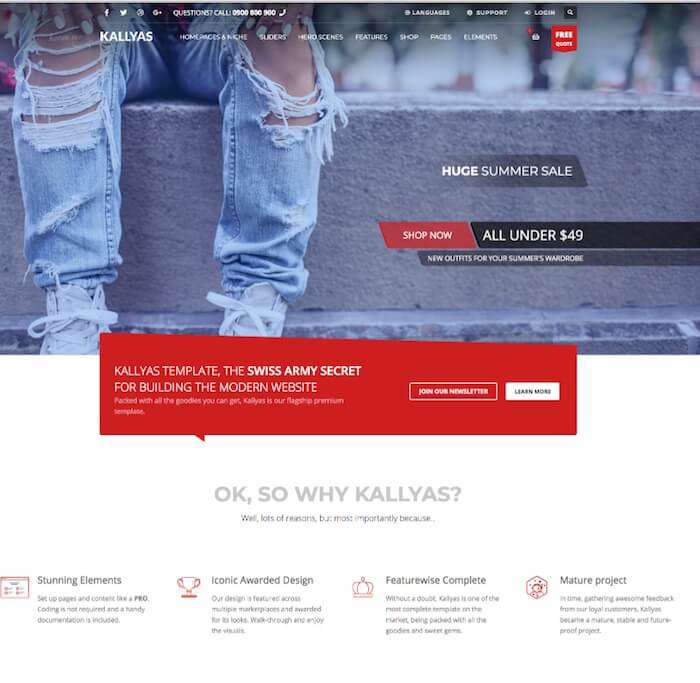 LeadGen
LeadGen is one of the most professional web templates available for users who want to create a website based in the medical industry.
You can create a number of professional websites in minutes and there are 32 demo websites available as well to give you creative ideas that you can pick up.
HealthZone
This is one of the best web templates for dentists who want to set up their own websites.
The HealthZone template is responsive and your audience will be able to access your website seamlessly regardless of the device type they are on.
The pages have been carefully handpicked by the developers to ensure you do not need to add any pages yourself. Appointments, testimonials, social media pages, and galleries are all available in the template.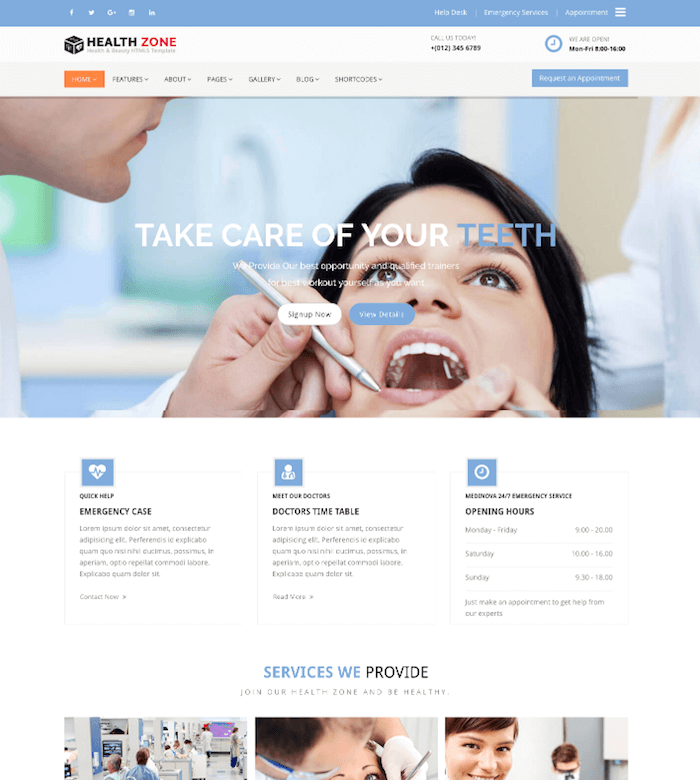 Health & Medical HTML
If you want to offer healthcare services and are looking for a dynamic theme based on HTML, the Health & Medical HTML is one of the most user-friendly options available to users.
You do not need to get web development services separately thanks to the simple design anyone can use. The grid-based design is perfect for anyone who wants a professional website with clean aesthetics.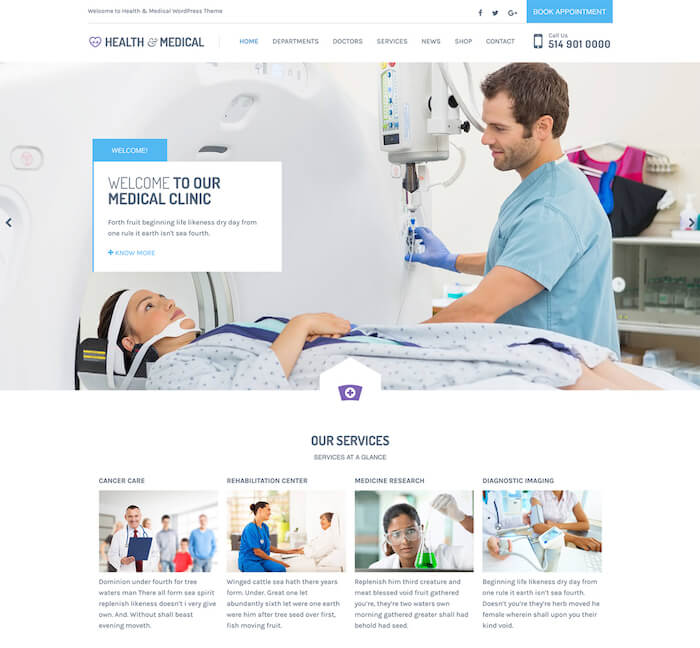 Psychologist
Even though Psychologist is marketed as a template meant for mental care professionals, the theme is very flexible and can be used for dentistry or other medical fields as well.
There are single as well as multi-page layouts that you can use. The Bootstrap 3 / HTML template is responsive and your audience will be able to access your site on any platform.
Final Word
These are some of the best HTML templates for Dentists and medical-related sites. All of these templates offer you a great-looking modern design that can offer a very professional feel to your website.